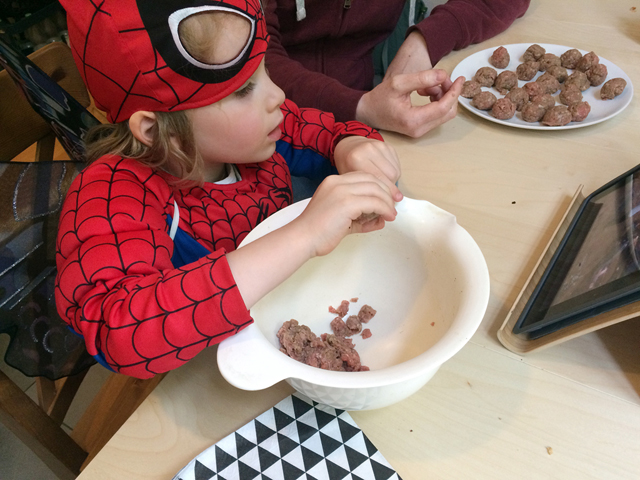 Meatballs and Magic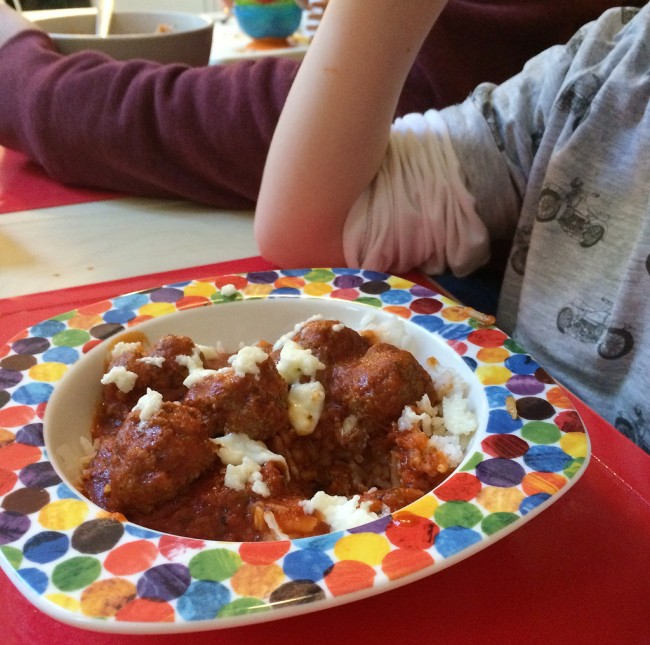 For a while now, we've developed a bit of a weekend family food ritual. Don't you just love family rituals? I do! So I wanted to share ours with you. The ritual involves two of our favourite things – meatballs, and magic! One of our staple dishes and a firm family favourite from youngest to oldest, is home made meatballs in tomato sauce over rice. We usually have it on two to three weekends each month (it varies whether we have it Saturday or Sundays). It used to be just us adults cooking, but ever since our eldest has been old enough to understand that he mustn't lick his fingers when handling raw meat, we have been involving him in the preparation. These days, the tasks are divided up as follows: daddy preps the meatball mixture, then him and The Boy make the meatballs – one of them portioning out the mixture, the other rolling each portion into a perfect ball – whilst I stick some rice in the rice cooker and make the sauce. To make the task move along a bit better, the boys stick some magic shows on Youtube. They started out with old episodes of Paul Daniels (when he recently passed away, we had a Paul Daniels meatball tribute night!), then moved on to Penn & Teller. When I say 'make the task move along a bit better' I actually mean 'slow it down a lot', because it takes them at least twice as long as if I would just quickly roll the meatballs out myself. But where would be the fun in that?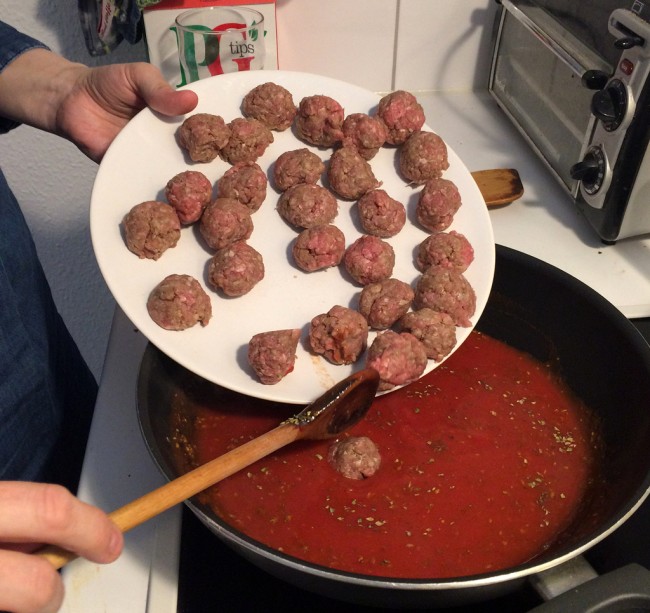 Ingredients
(serves 4)
500g mince meat
1 heaped teaspoon ground ginger
1 heaped teaspoon ground garlic
1 tablespoon ground coriander
1/2 teaspoon ground cumin
Worchester sauce*
olive oil
500g tomato passata
tomato puree
1 teaspoon bouillon powder
1 teaspoon dried oregano
1 teaspoon dired basil
salt and cracked black pepper
4 servings of cooked rice
mozzarella to serve (optional)
*If you are cooking gluten free, please check the Worchester sauce as not all brands are gluten free, and even the same brand can vary between countries!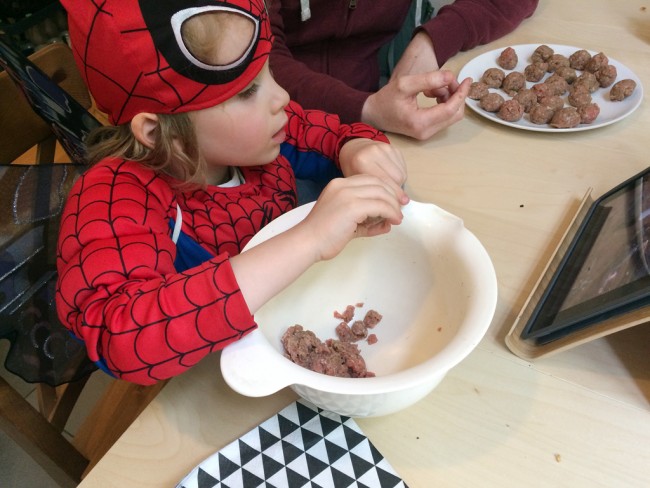 Spider-man costume and butterfly wings are optional in the preparation of this recipe!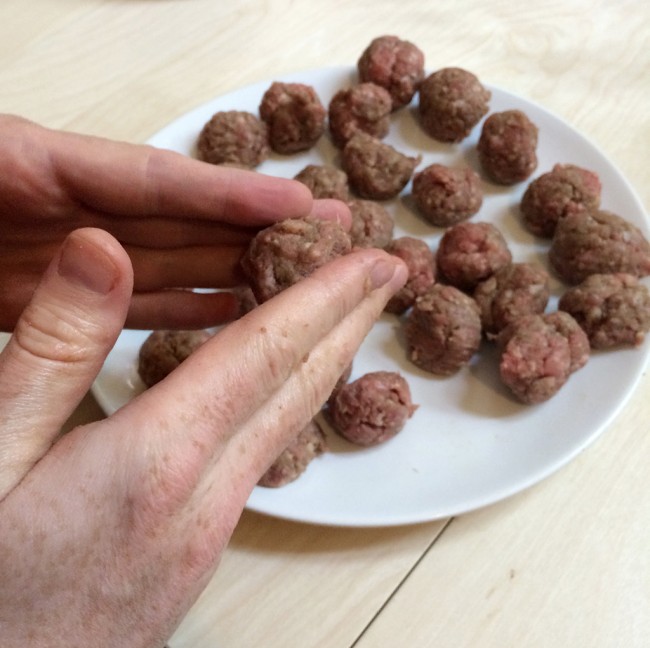 Directions
For the meatballs, put the mince, garlic powder, ground spices, a generous dash of Worchester sauce, and a good cracking of black pepper into a bowl and mix well (we just use our hands to mash it all in). Then form the mixture into small meatballs – you can get an idea of the size from the photos, we usually end up with around three dozen or so.
For the sauce, heat up a good glug or olive oil in a frying pan. Add the passata, half the amount again of water, and a generous squeeze of tomato puree. Mix until you have a smooth sauce, and season with the bouillon powder, dried herbs, and salt and pepper.
Add the meatballs to the sauce and simmer for another 20-30 minutes, stirring occasionally, until the meatballs are cooked through and the sauce has a nice consistency.
Serve over fluffy rice, and (optional) scatter with pieces of torn up mozzarella. Magic!