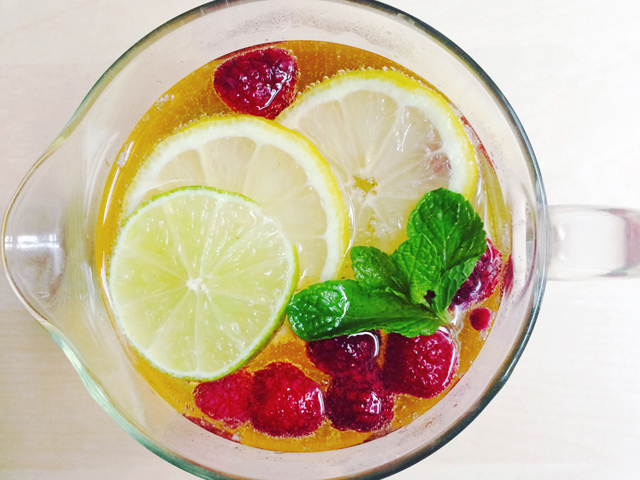 Maibowle – or for the Love of Woodruff
I can't believe we've almost reached the end of May! Before the month runs out, I wanted to share a much loved German beverage with you related to May: the 'Maibowle', a punch that uses aromatised wine as its base. One of the key ingredients is 'Waldmeister', a sweet woodland herb that goes by the English name 'Woodruff' but is virtually unknown in the UK.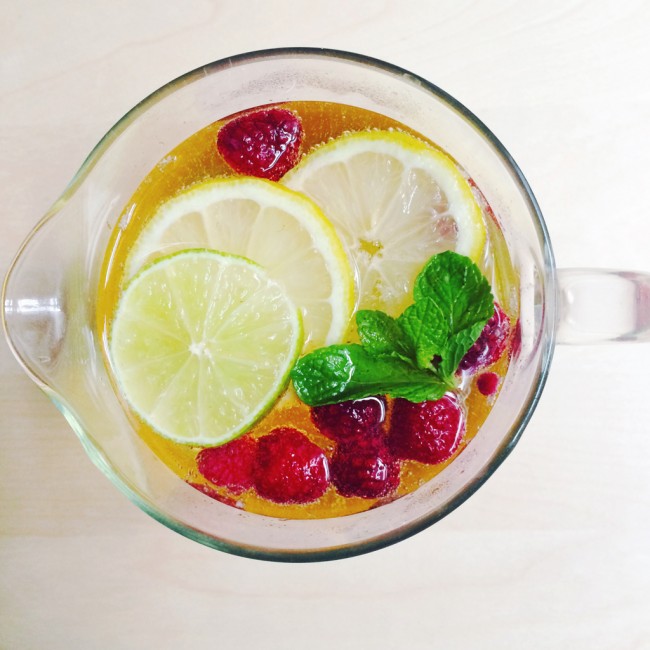 In Germany, however, Waldmeister is a popular flavouring for sweets and desserts – in the UK, green jelly is usually lime or sometimes apple flavoured, in Germany it's almost always Waldmeister. Ice lollies, ice cream (my favourite flavour!), quarks and yoghurts, sherbet powder and boiled sweets, they all come in Waldmeister here. As a syrup, it's used for lemonades, mixed with beer – in a popular drink called 'Berliner Weisse' – or in this case, to flavour wine. It's an acquired taste, and if you'd prefer it a bit more subtle or don't like your drinks to be bright green, you can use fresh Woodruff instead to infuse your wine. You'll only find it in the shops for a brief period in Spring, which I guess is where Maibowle gets its name from.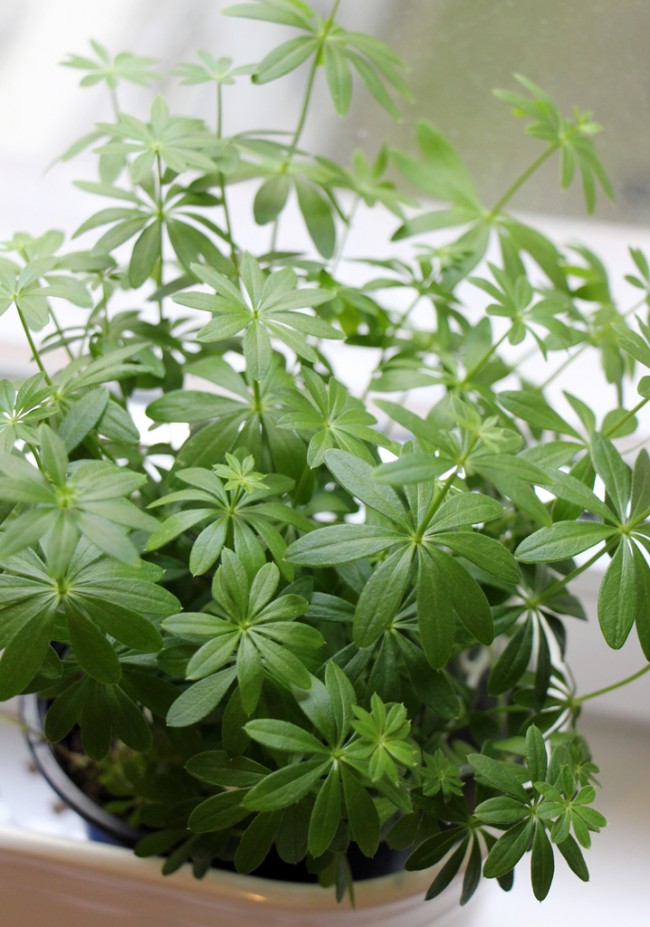 Ingredients
2 bottles of dry white wine
1 bottle of medium dry sparkling white wine (or 'Sekt' in German)
1 bunch of Waldmeister
a couple of lemons
optional: raspberries or strawberries, mint, slices of lime
Directions
Attention: making Maibowle requires preparations a day in advance!
Step 1: First of all, you will need to wilt your Waldmeister, as only then will it fully release its sweet fragrance. Tie your Waldmeister into a bunch with some parcel string, and hang it up to wilt for a couple of hours or – even better – over night. Meanwhile, don't forget to stick your bottles of wine in the fridge!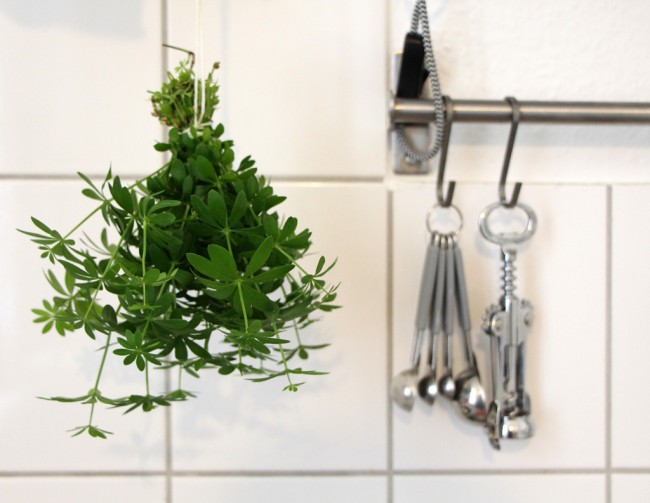 Step 2: Once the Waldmeister has wilted, fill one of the chilled bottles of dry white wine in to a jug, and hang the bunch of Waldmeister in to it – make sure only the leaves are submerged and not the ends of the stalks, otherwise if may end up tasting bitter! Leave to infuse for at least half an hour, up to two hours, depending how strongly you want it flavoured. We left ours for an hour and it was very subtle, it could have done with another hour.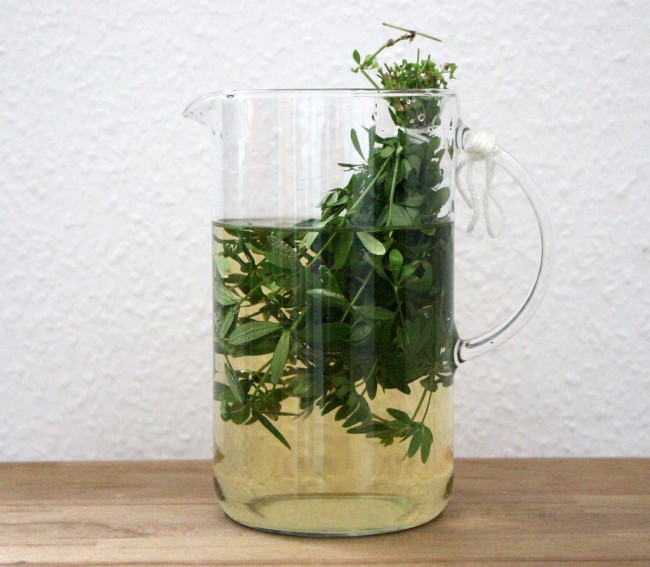 Step 3: Remove the Waldmeister and top up with the other bottle of wine and the sparkling wine.
Step 4: Add a squeeze or two of lemon juice, and some slices of lemon.
Step 5: (optional) Wine, Waldmeister and a squeeze of lemon juice is your basic recipe, but you can spruce it up a bit by adding some slices of lime, mint leaves and/ or a couple of berries. Strawberries are a popular addition, as they are also in season at the same time of year, but I popped in some frozen raspberries we had in the freezer, which doubled up in keeping the Maibowle cool.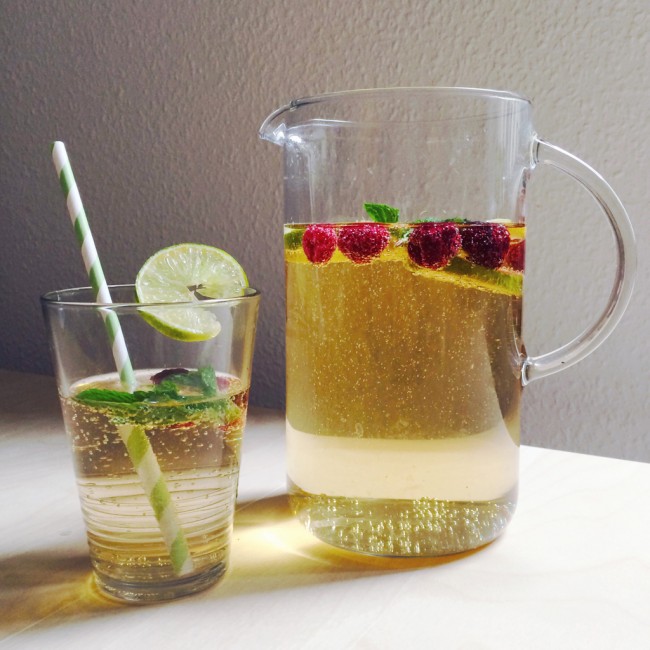 Enjoy!