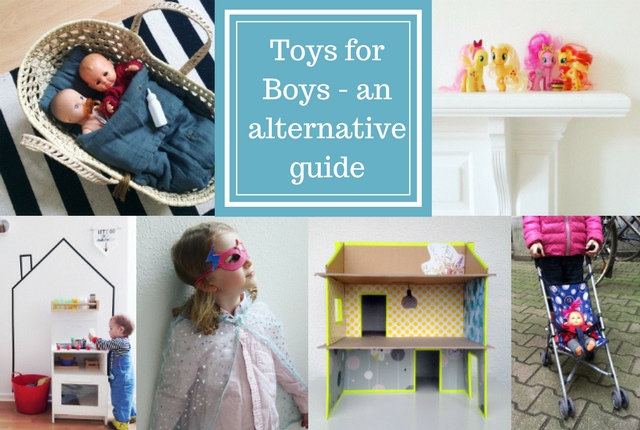 Toys for Boys – An Alternative Gift Guide
In the run up to Christmas, the internet is always flooded with gift guides of all descriptions. My favourite gift guides for kids are those that are themed by interests – such as gift guides for explorers, music lovers, little cooks, engineers or architects, or my own recent guides for book bugs or creative kids. These kinds of gift guides are really helpful for choosing gifts for children based on their personality or interests. Gift guides by age are also helpful, as what is suitable for an 8 year old won't necessarily be suitable for a 2 year old. But what I absolutely cannot stand, are the 'His & Hers' gift guides. They drive me crazy for grown-ups, since I generally tend to prefer the things on the mens' gift guides (with the exception of beard grooming kits, lol), but they drive me even more crazy when they are for kids. Every time I see another 'boys toys' vs 'girls toys' gift guide, I alternatively want to scream in to my pillow or punch a wall. I have two boys, and yes, they love cars, and Transformers, and Star Wars and all that kind of stuff. So do a lot of girls I know. And my boys love other things too! So I've put together an alternative 'Toys for Boys' gift guide, to counter all those other ones. Of course, taking my own advice, it should just be called 'Toys for Kids' gift guide, but in the interest of getting my point across, I hope you know what I mean by it!
A Doll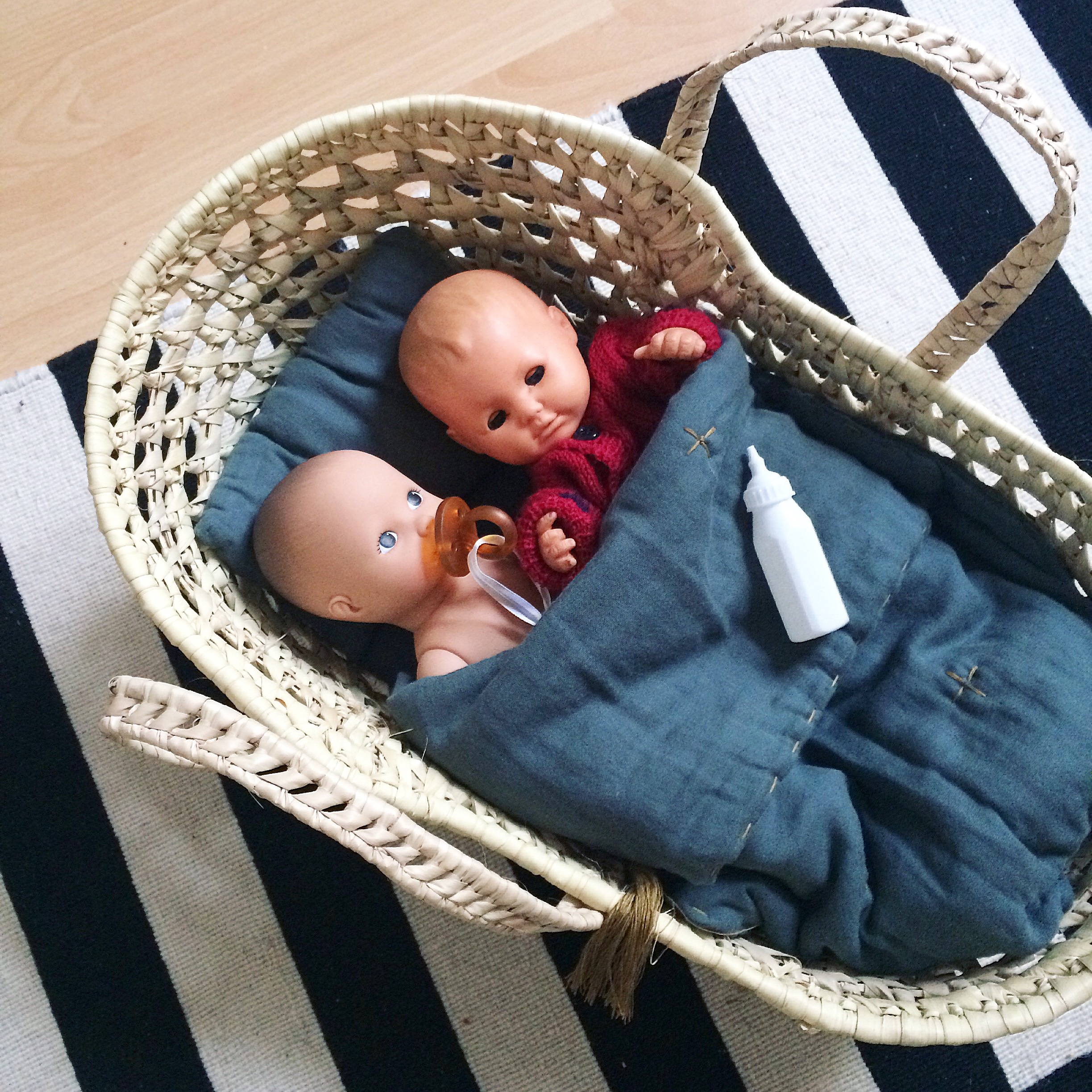 Here's a thing I don't get: everyone is talking about fathers being more involved in child rearing, parenting roles being shared equally across genders, all that kind of thing. No one bats an eyelid any more, when you see men pushing a stroller, or carrying a baby in a sling. "Look what a great dad!", they say. But god forbid a boy plays with dolls. Then everyone is suddenly up in arms. Can they not connect the dots? We expect modern fathers to tend to and nurture their children, and like so many things in life, the best time to sow the seeds for that is when they are children themselves. So, when boys play with dolls, they are role playing and practicing parenthood – most likely copying their own fathers – just the same way girls are. Anyway, that was a slightly long and ranty intro to say, that dolls make great gifts for boys! My elder son got his baby doll when he was 3.5 and I was pregnant with his little brother. It is actually my old doll, which he found when I was going through boxes looking for baby stuff, and he immediately pounced on it and declared it his own. Her name is Betty. My younger son got his baby doll when he was 2. He already liked playing with Betty, but when asked what he wanted for Christmas said he would like a baby of his own. So Henry entered our lives. He is anatomically correct, but I didn't chose him because I wanted a boy doll for a boy, but because we already had a girl doll and I thought it would be nice for them to have one of each. Baby doll Henry is from Götz, a brand popular in Germany. It is available from Amazon (Afilliate link) here in the UK, but there are many other great brands out there that make dolls too. The basket is something else I got on the boys' request, because they said their babies needed somewhere to sleep! It's from Numero74.
A Dolls Pushchair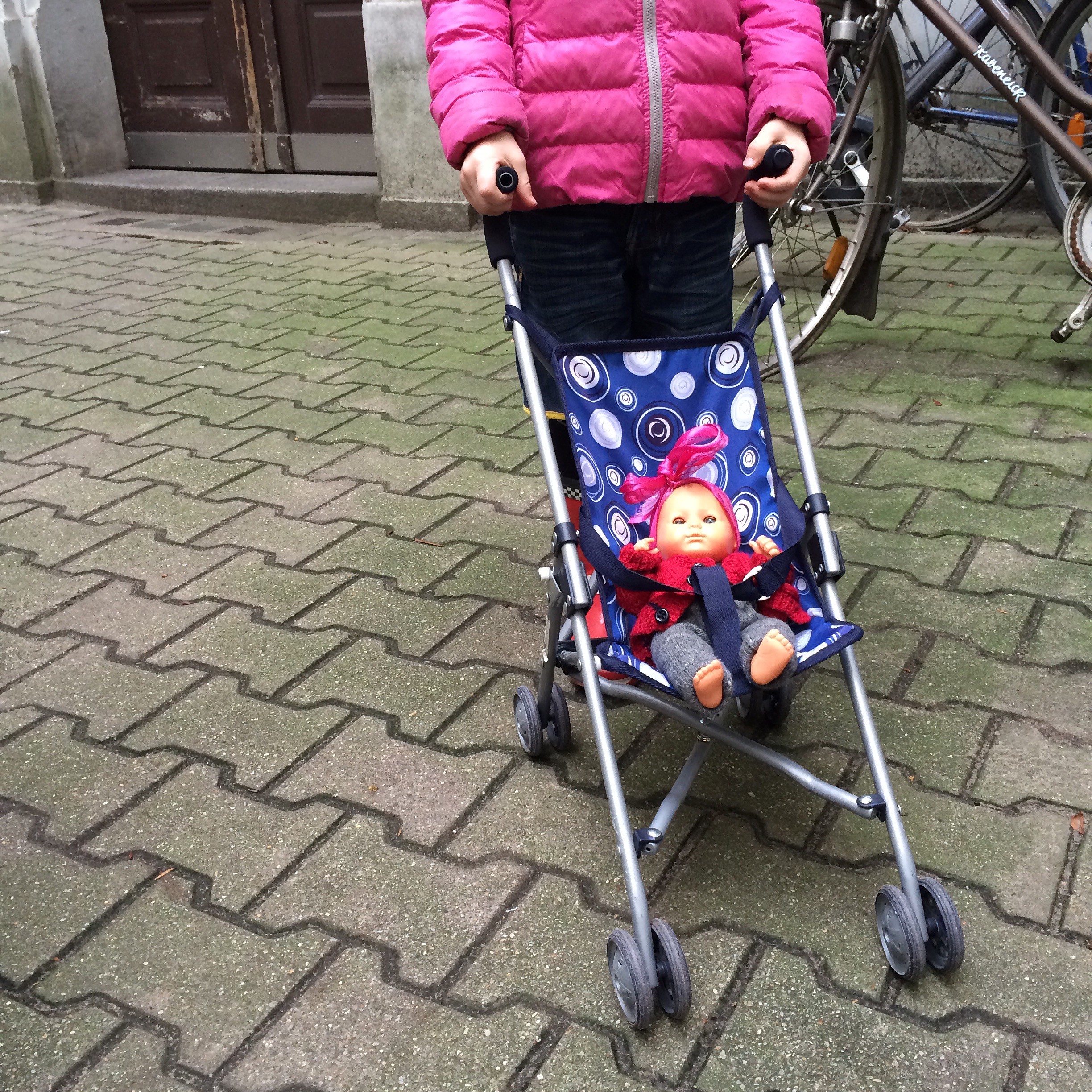 If you have a doll, then a pushchair to push the doll around in is another great gift. Loved by both girls and boys to push their 'babies' round in, just like mummy and daddy. This pushchair actually predates Betty doll, and was first used to ferry a beloved zebra around for a couple of years. Back then, it was tricky finding one that wasn't either Pepto Bismol pink. There are a few more options around now, though pink and purple still prevail a lot. Which on the one hand doesn't matter, because pink is just a colour! On the other hand, it would be nice to have some more choices.
A Play Kitchen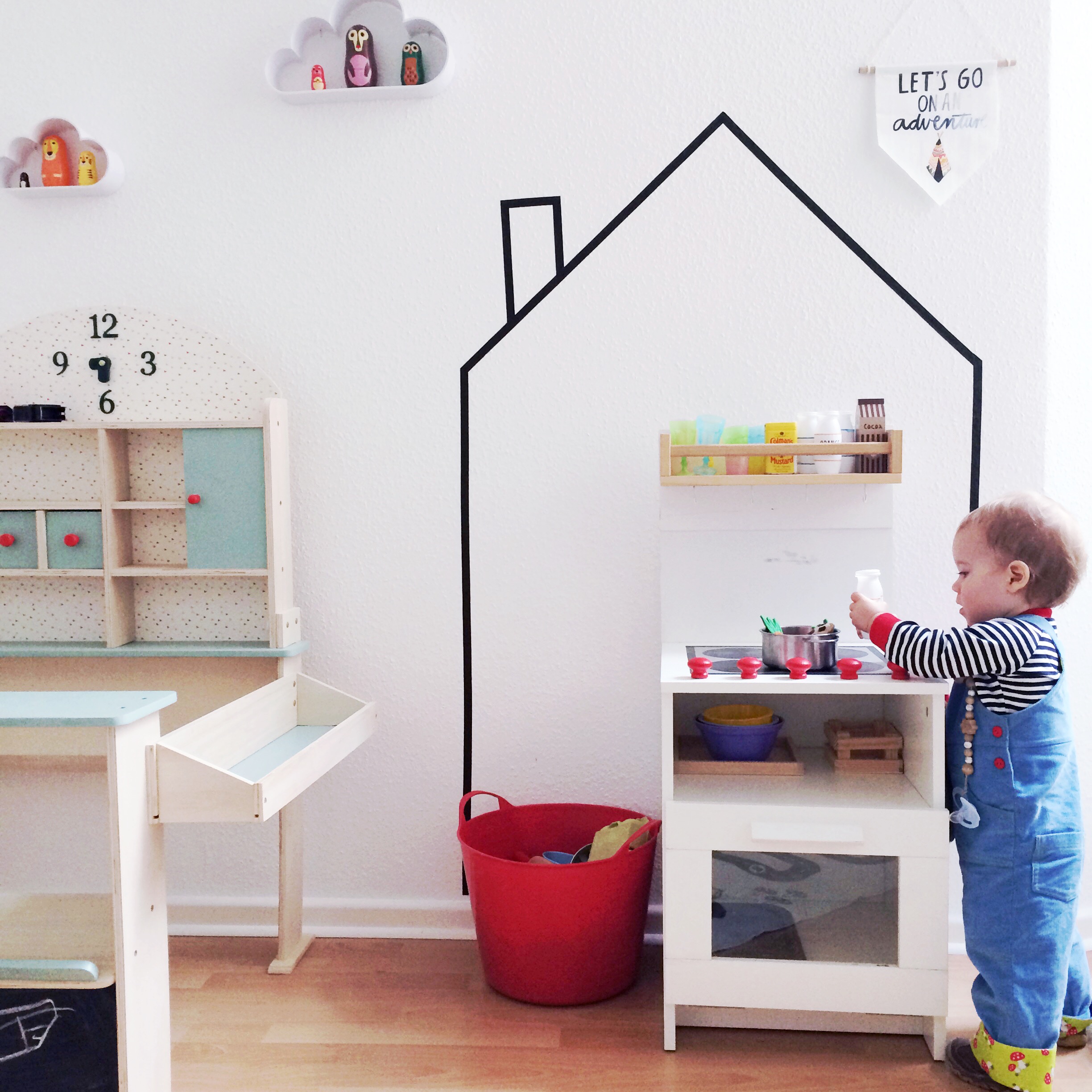 Play kitchens are another toy, which used to be marketed quite firmly at girls. Maybe it's the old fashioned view, that women are the ones in the kitchen, doing all the cooking, but on the other hand you have all these celebrity male chefs being celebrated in the media. Where do people think they cook? In thin air? No, in a kitchen! Anyway, it's nice to see things have changed, and there is now a wide range of play kitchens available in various sizes, price ranges and colours – and some of them even use boys in the pictures for their marketing materials! Our play kitchen has definitely always been a favourite with both our boys. If you are feeling up for a challenge, you could even try your hand at making your own >> DIY Play Kitchen (and while you're at it, why not check out my tips on how to stock a play kitchen on a budget)
A Dollhouse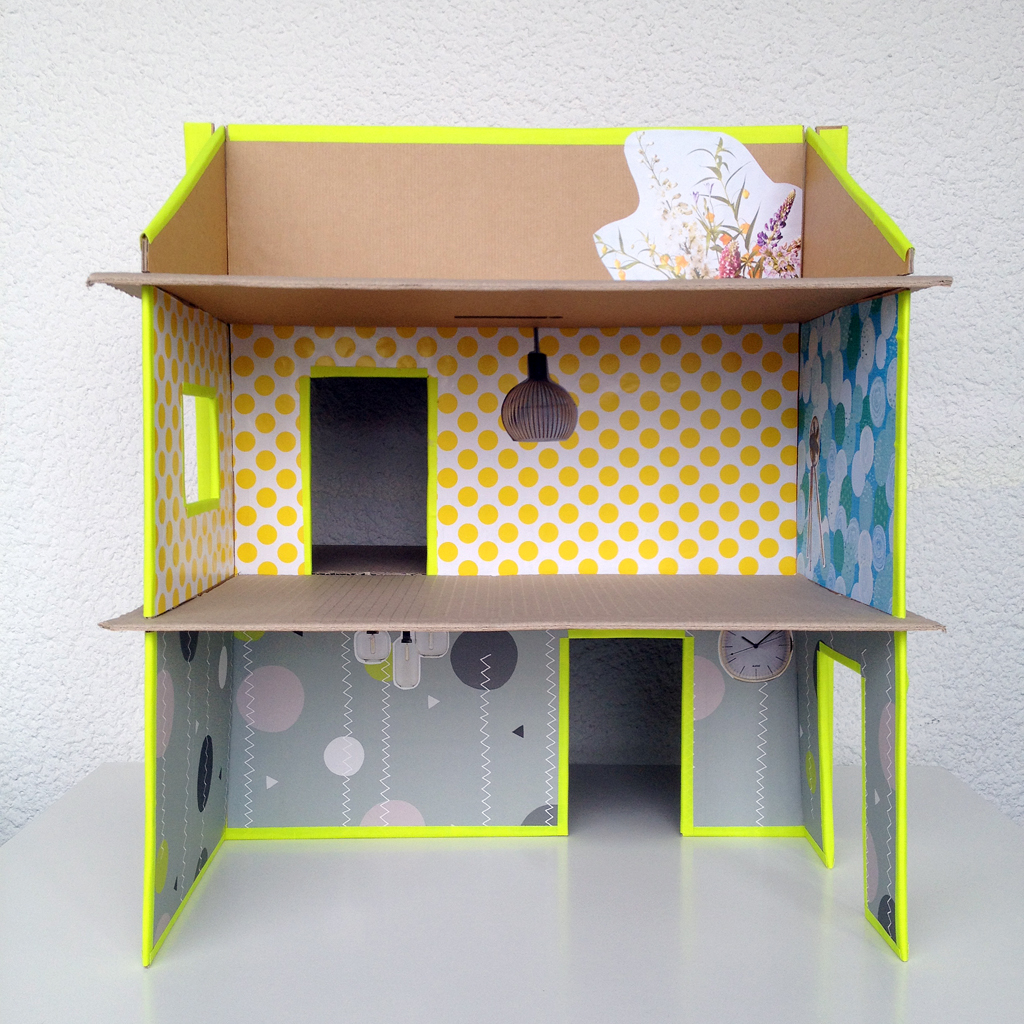 A Dollhouse is another one of those classic gifts, that regularly pops up in gift guides for girls but I've rarely seen in gift guides for boys. But given the chance, they love to play with dollhouses too. We used to have my old dollhouse in the playroom of our old apartment, and their little teddy bears were quite happy living in it. We eventually got rid of that dollhouse, because it was very big and took up a lot of space (there are of course also smaller ones on the market that you can buy), and we built our own DIY dollhouse out of cardboard instead, that folds away when you are finished playing. It was so much fun to make!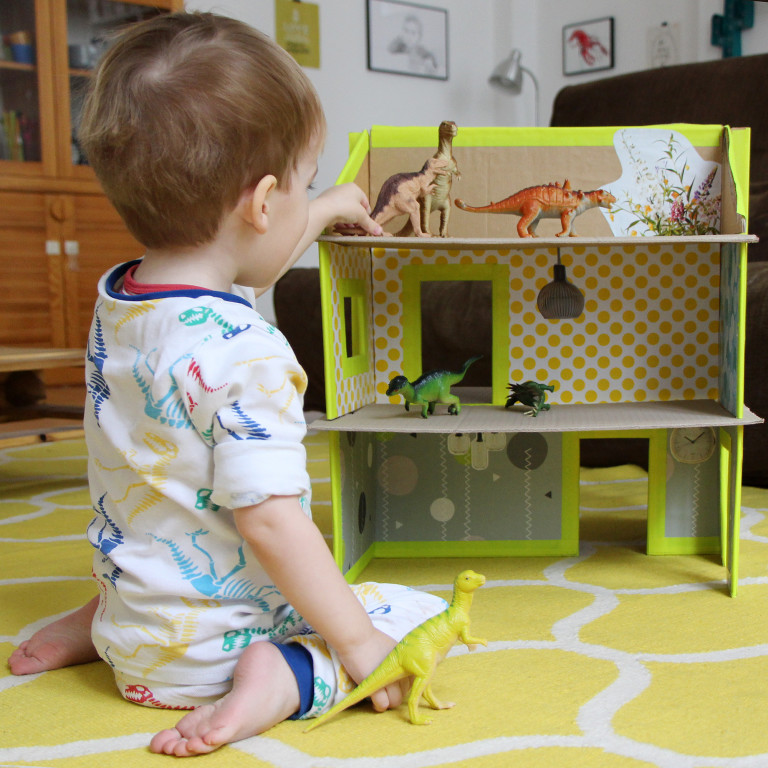 Whether it's a family of dolls or teddy bears, action figures or dinosaurs that live in it, a dollhouse is a great toy for role playing, for both girls and boy!
My Little Ponies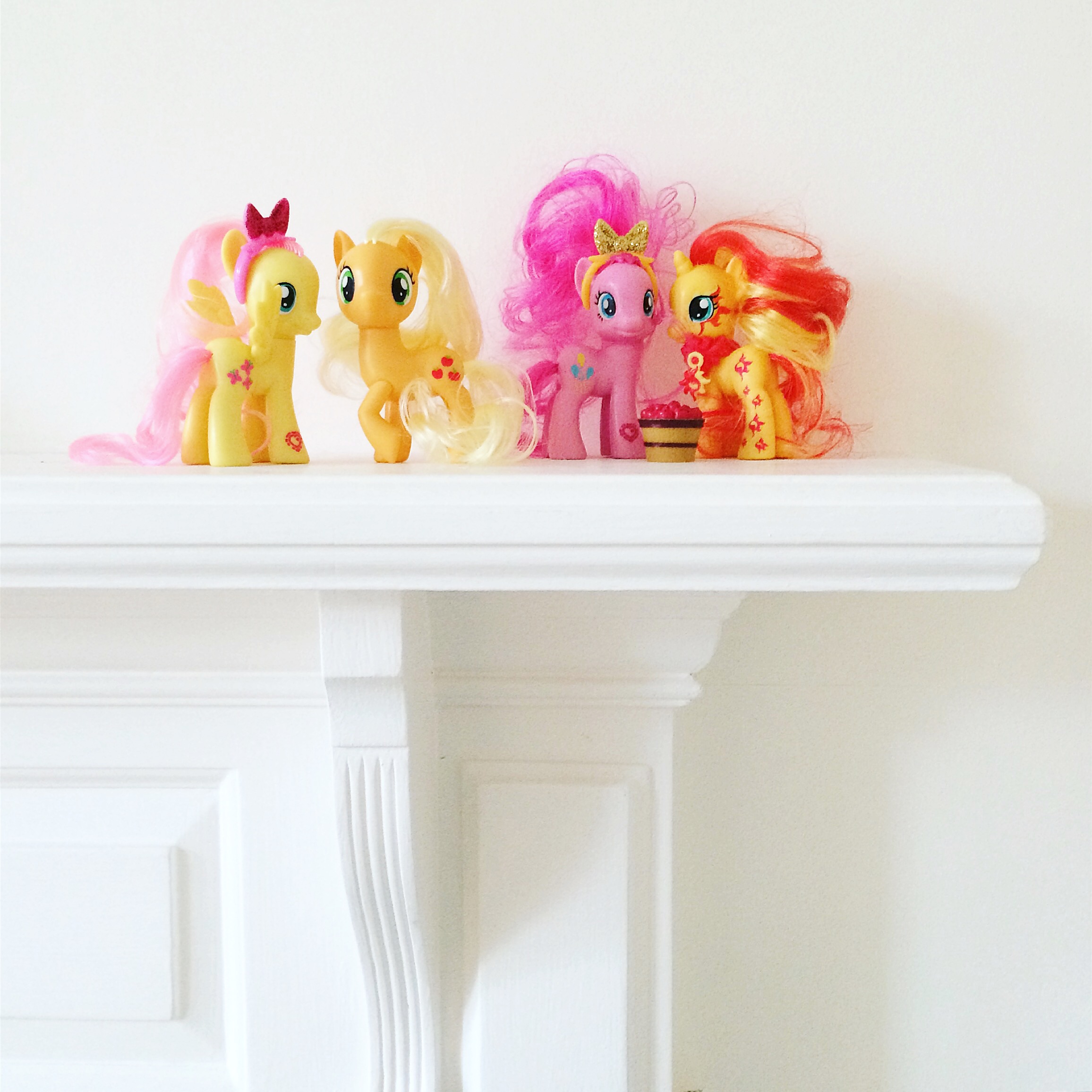 Do you know who this colourful collection of My Little Ponies belongs too? My boys! When we went on holiday to the US last year, our rental apartment had Netflix and the boys discovered the My Little Ponies cartoon series. It became an instant favourite. All the main characters are female, but so what? It's a programme about friendship, which boys can learn from too, and it's fun and colourful. My older boy already really loved horses – he'd beg to go on the pony rides at any event we went to where they had them – so it makes sense that he would like a cartoon about horses. If kids don't have a problem with it, adults shouldn't either. Nor should there be a need to invent terms like 'Brony' to validate boys liking them. They are just toys! Fun colourful toys! And as you can see, Ponies and Power Rangers can quite happily exist together.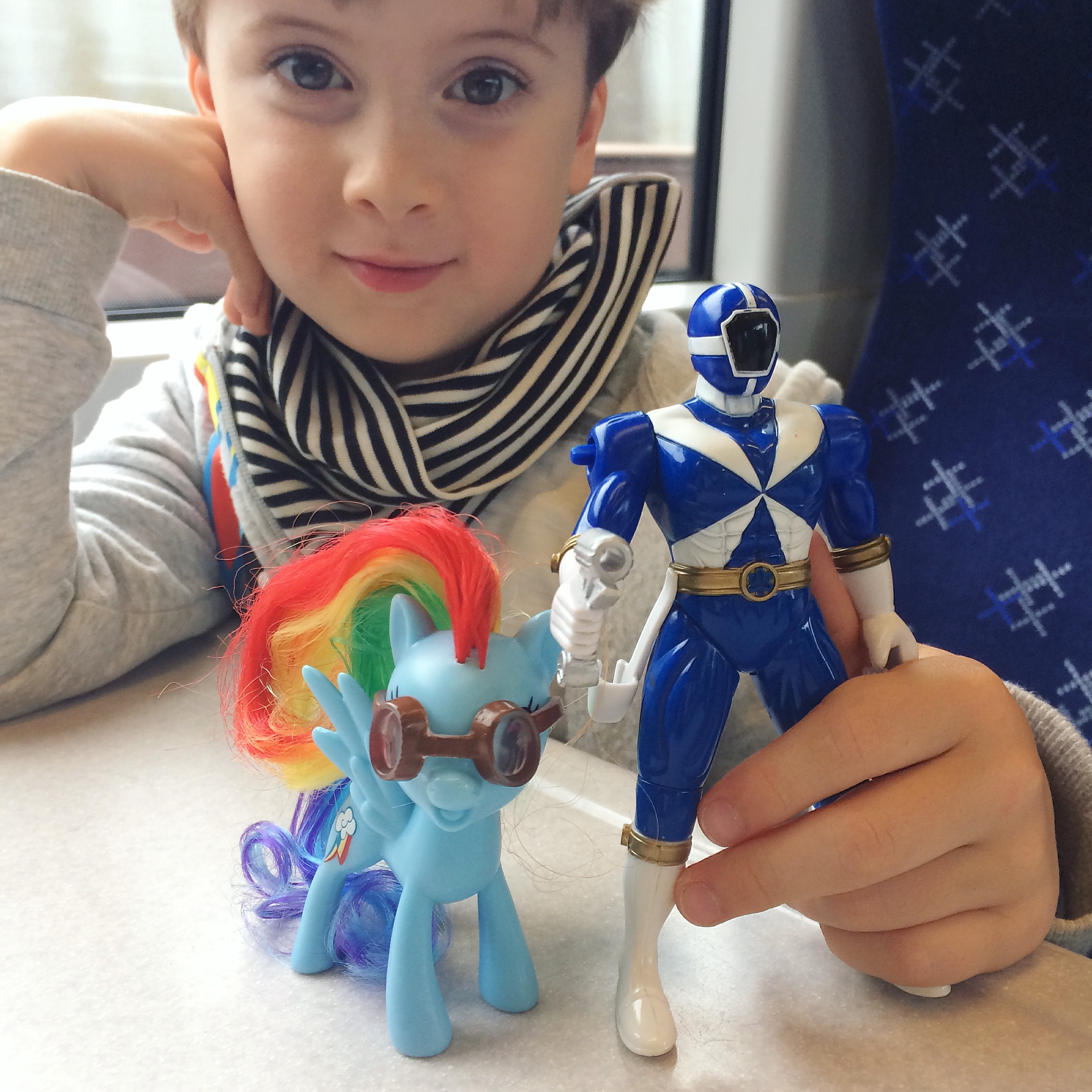 Dressing Up Clothes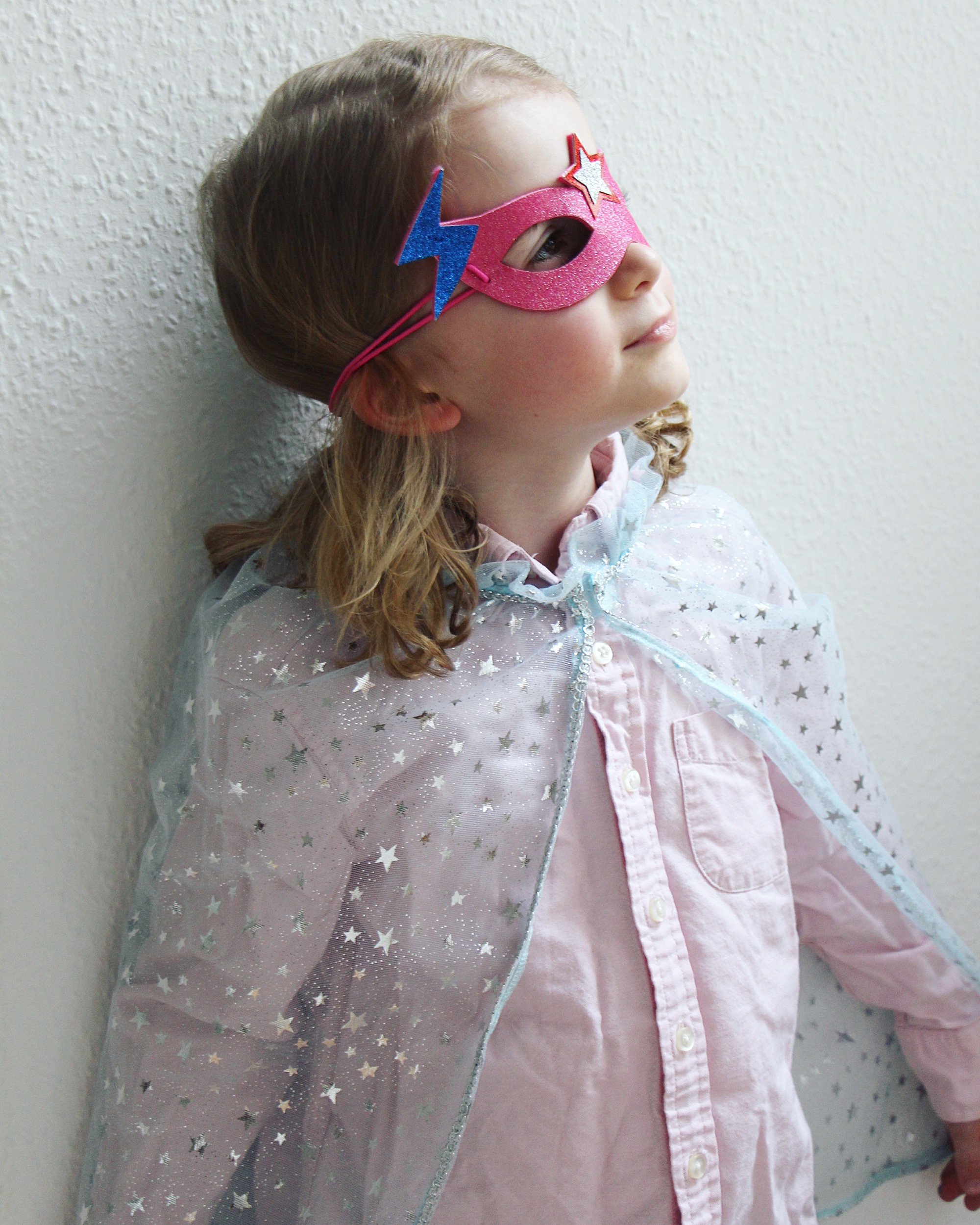 If you feel your child's room is already overflowing with toys and they don't need any more, how about expanding their dressing up box? Dressing up is one of my boy's favourite all time activities, and they have been know to hit the streets in costume even outside of Carnival and Hallowe'en. And yes, their dressing up box includes superhero outfits, knights tunics, fireman and racing car driver helmets, cowboy and pirate ensembles. It also includes just a random selection of scarves, cloaks, hats and masks, to let their imaginations run free when dressing up. And it includes dressing up clothes in all colours, such as the fab mask and sparkly cloak above. He turned up to a birthday party like that. It wasn't even a costume party, he just felt like dressing up. When asked "What are you dressed up as?" he replied "Oskar. Just Oskar." Fantastic! So, why not add a bit of pink or sparkle to a boy's dressing up box this Christmas!
---
Please note: Products marked as Amazon Affiliate links mean, that if you buy these products via the links, I will receive a small commission at no extra cost to you, which helps to keep this blog running. Thank you.