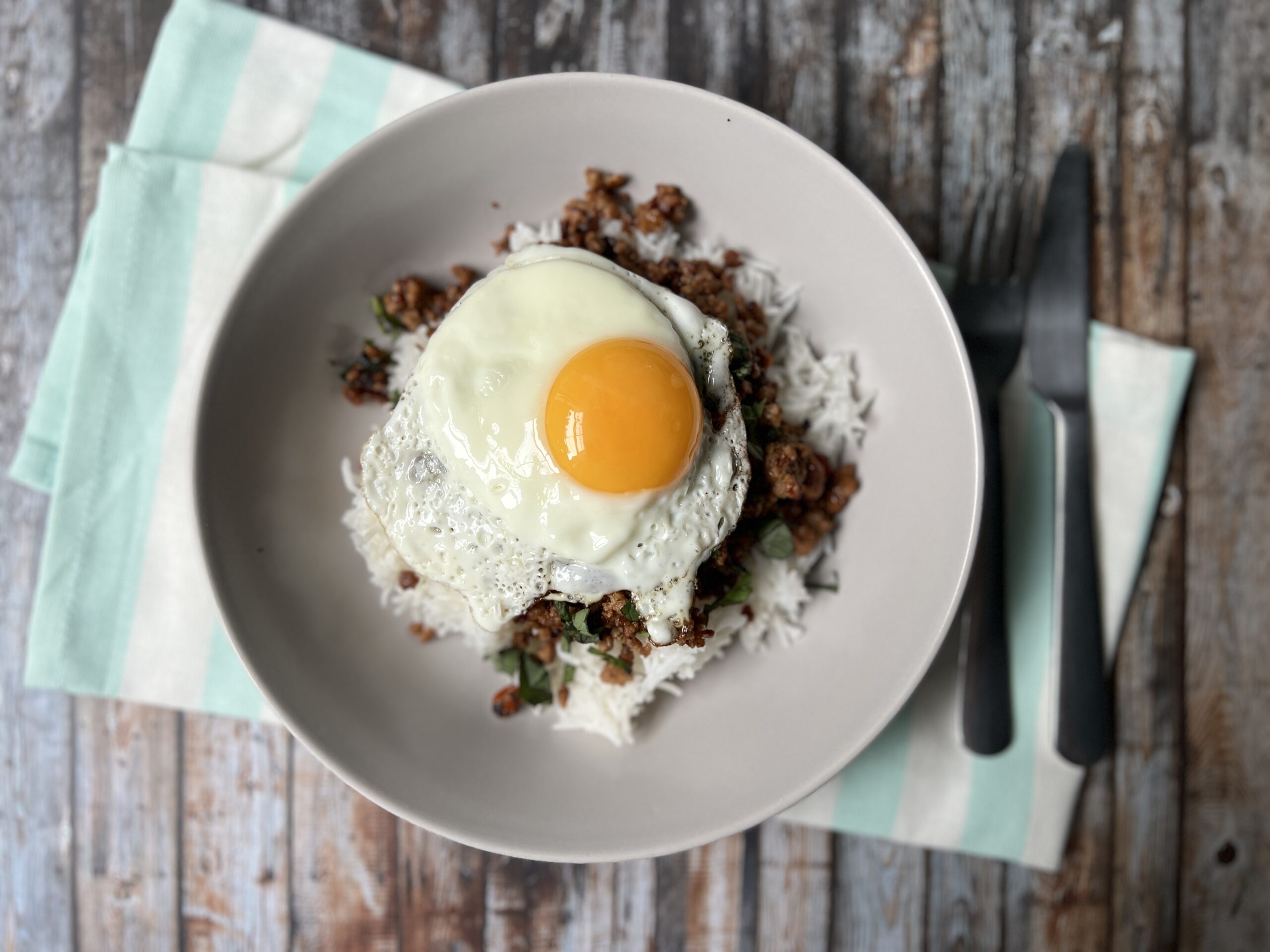 Spicy Turkey Mince with Fried Egg
If you have kids who don't mind a bit of spice in their food, this quick and easy dish is perfect for a midweek meal. It's quickly become one of my boys' favourites – though they do like to have a big glass of milk with it to tone down the heat!
Ingredients
(serves 4)
2 Tbsp vegetable oil
2 large shallots, peeled and finely chopped
3 small red chillis, finely chopped*
4 cloves of garlic, grated or minced
500g turkey mince
Juice of 1 lime
1 Tbsp soft brown sugar
1 Tbsp soy sauce
1 Tbsp fish sauce
2 Tbsp oyster sauce
1 bunch of Thai basil (optional)
4 eggs
You'll also need enough basmati rice for four people. If you are cooking for fewer than four people, this is also great for leftovers the next day, but in that case only fry one egg per person to serve (see below) and fry up fresh eggs when you have the leftovers.
*If you want the dish less spicy, you can experiment with using fewer chillis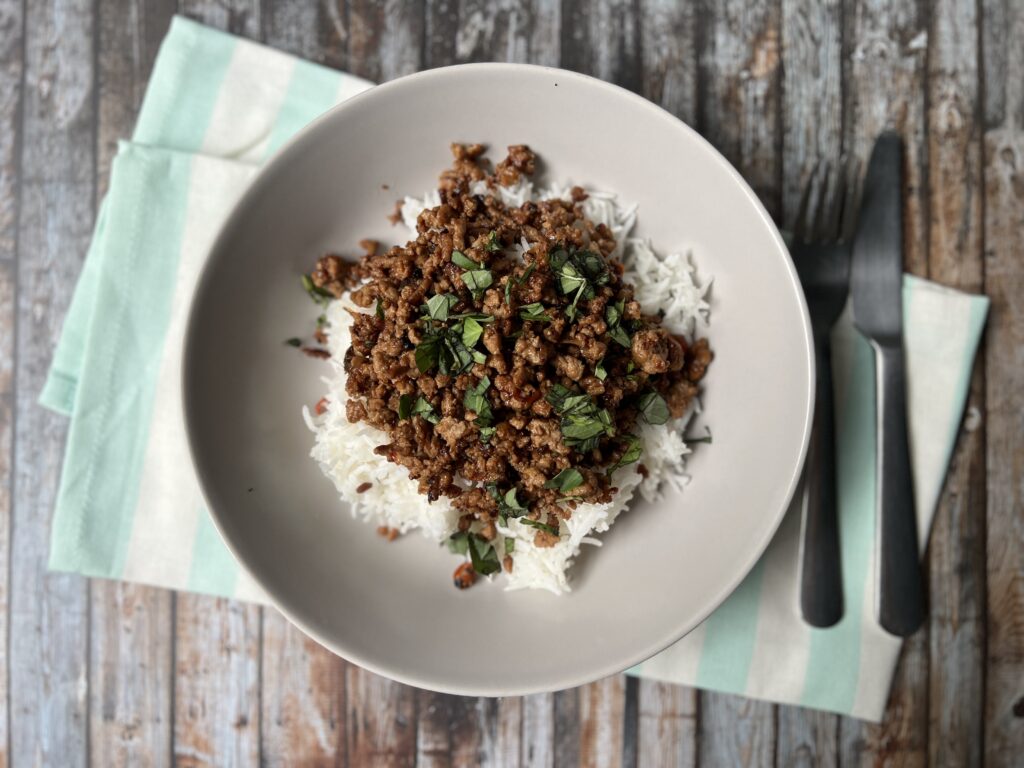 Directions
First, put the rice on to cook via your preferred method (we use a rice cooker).
While the rice is cooking, heat 2 Tbsp of vegetable oil in a large frying pan or wok over a high heat.
Add the chopped shallots and chillis and fry for 2 minutes, stirring constantly.
Add the grated/minced garlic and fry for another 30 seconds or so. Garlic can burn very quickly, so careful not to leave it too long.
Add the turkey mince, breaking it up with a spoon as it cooks. Keep moving it around the pan/wok until it's cooked on all sides.
In a cup or small bowl, mix together the sugar, lime juice, soy sauce, fish sauce and oyster sauce. Pour over the turkey mince and mix thoroughly.
Cook for another 3-5 minutes until the mince starts to go brown and crispy, then turn down the heat to the lowest setting to keep it warm.
Once the rice is cooked, quickly fry four eggs in a separate saucepan.
To serve, dish up rice for everyone in bowls, divide the mince between the four bowls, and top each bowl with a fried egg.
If you want an extra portion of vegetables with this, we like to have it with some steamed broccoli on the side. My boys both love broccoli – the trick is not to overcook it, so it's still a bit crunchy (unlike the broccoli they serve at school lunches, which is always cooked to mush).
OPTIONAL: Chop some Thai basil to mix in to the mince before serving. The slight aniseed flavour balances well with the heat of the dish. My eldest does not like Thai basil, whereas my younger boy loves it, so I chop it up separately and put out a wee bowl of it at the dinner table for everyone who wants it to mix in to their plate. If you can't get hold of Thai basil, just leave it out. Do not substitute with regular basil, as despite the shared named it's quite a different flavour.