Quick & Easy No-Sew Knight's Costume
Last week I posted about our trip to the Medieval Festival at Berlin's Domäne Dahlem, complete with Knights' tournament. The day before our trip, I had suggested to Oskar that he could wear his Knight's helmet, to which – I should have seen it coming – he replied that he needed a costume too, to go with the helmet. I didn't want to spend hours frantically sewing a costume, but I had an idea for a quick and easy 'no-sew' Knight's tunic, and the only thing we needed to get for it was a length of felt. Everything else I had at home, and luckily we have a craft store within walking distance of our house. So, in the end, Oskar got his costume – and there was enough material left over to make one for Mr Fox too.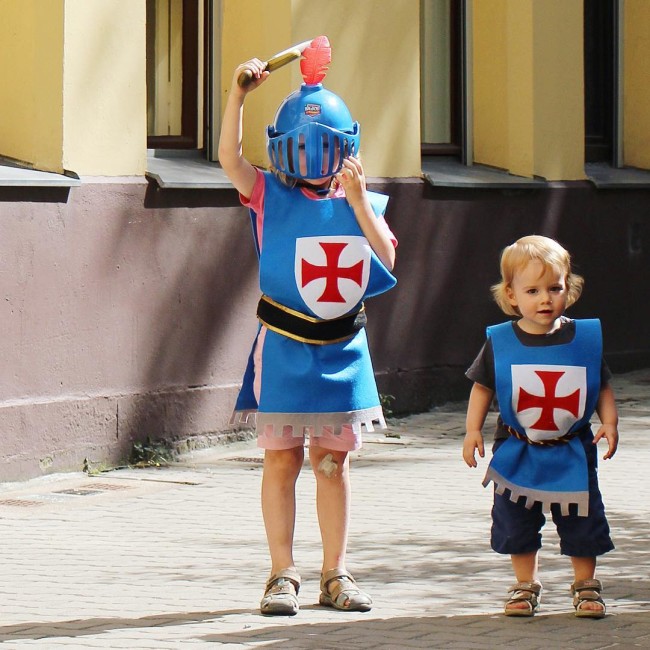 After sharing pics of the boys in their costumes, lots of people asked how I made them, so I've put together a little tutorial. I'm not showing off when I say these were easy to make – they really are. The project involves zero sewing, and it only took me about an hour to make both costumes (plus about half an hour getting the templates right, but you now have the benefit of being able to just download them below!)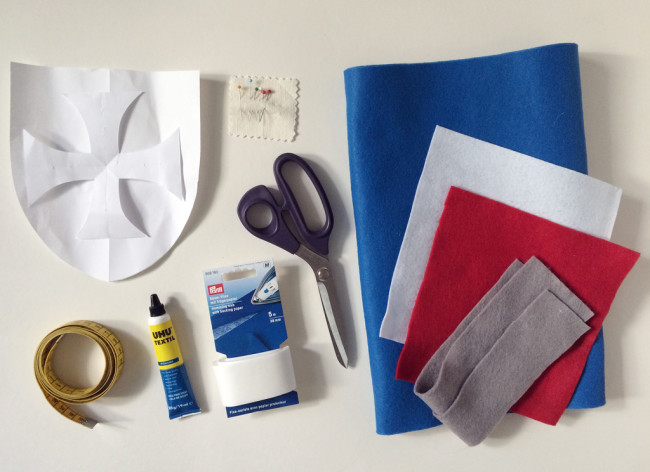 This is what you will need per costume:
one large piece of blue felt (for the 2 yr old size I used a 24cm x 88cm piece, for the 6 yr old size I used a 34cm x 128cm piece)
one piece of white felt, at least 20 x 22cm
one piece of red felt, at least 15 x 15cm
two strips of grey felt, the same width as your Knight's tunic x 5cm (optional)
shield and cross template (download below)
pins (optional, but handy for keeping templates in place when cutting out)
sharp scissors
measuring tape
fabric glue and/or hemming web
You will also need a belt, some ribbon, or even an old tie to hold the tunic in place. And you may need an iron, depending on your glue and whether or not you are using hemming web, in which case you will also need a tea towel or muslin to put over the felt when ironing so it doesn't melt! You can also, of course, use different colours of felt if you like.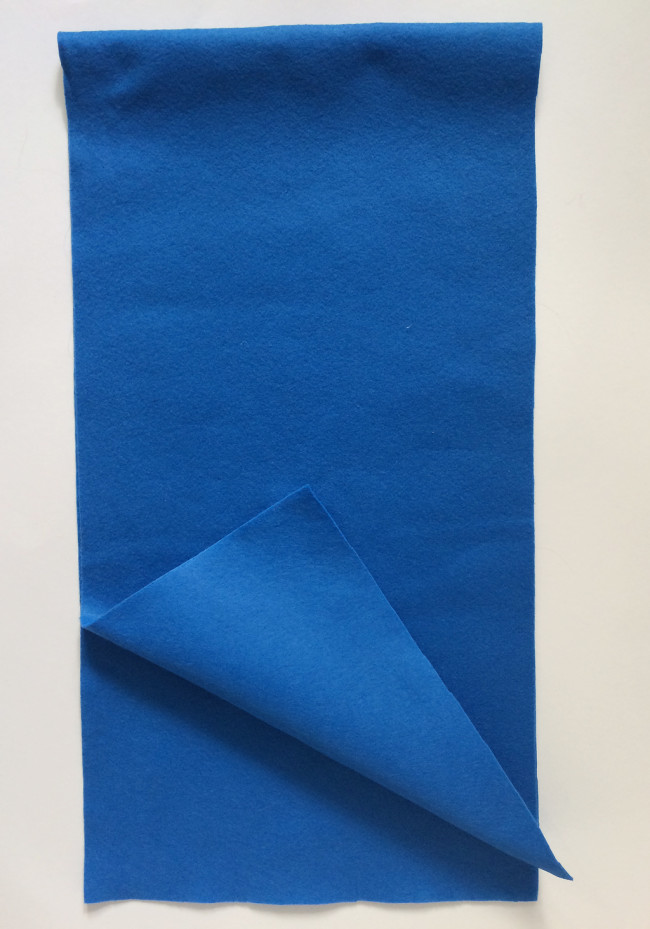 Step 1: Measure and cut out your piece of blue felt. For the width, I measured across the shoulders, and for the length from the shoulder down to above the knee and then double that. Which meant, I ended up with a piece sized 24cm x 88cm piece for my almost 2 yr old, and a piece sized 34cm x 128cm for my almost 6 yr old.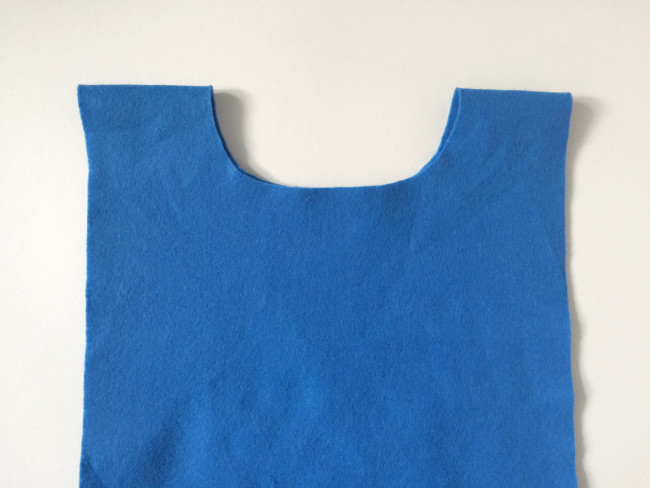 Step 2: Fold your blue piece of felt in half length wise, then cut a head hole in to the folded edge. I made it a bit smaller to begin with, then tested to see it if fit over their heads, then made it a little bigger bit by bit. You can always make it bigger if it's too small, but you can't stick any back on again if you cut too big a hole to begin with! For the 2 yr old, the head hole starts 5.5cm in from the edge and for the 6 yr old 8.5cm from the edge.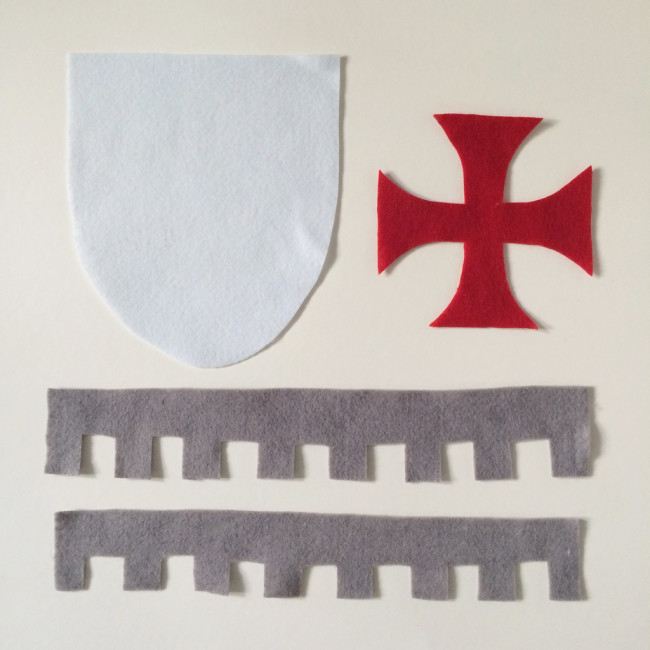 Step 3: Cut out the embellishments. You will need one shield in white and one cross in red for the chest emblem, and (optional) two strips of grey for the hem. For the shield and cross I made templates, which you can download below. For the grey hemming I eyeballed it – I just snipped along the strip of fabric with the scissors every couple of cm, then cut out the bits in between to make the pattern above.
Step 4: Glue the cross on to the shield, and the shield on to the chest of the Knight's tunic (as above). Follow the instructions on your fabric glue – some require them to be ironed to set the glue, after leaving it to dry for a while. That's what mine required. Most craft shop felt is synthetic and will melt if you iron directly over it (I learned the hard way!) so remember to put a tea towel or muslin in between! You could also use iron on webbing instead of the glue, but it's a bit of a faff cutting it in to the right size and shape so I opted for fabric glue instead since 'easy' and 'quick' was what I was going for!
Also, if I am making one of these again, I would put the shield slightly higher up as it got in the way a bit of the belt when we tied the tunic in to place.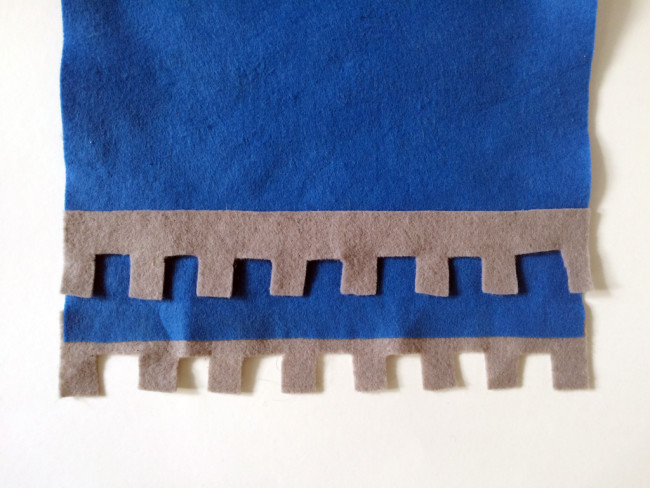 Step 5 (optional): Use iron on webbing to fix the grey strips of felt on to the bottom hems of the tunic – since the webbing comes in long strips, this was the quickest option in this case and didn't use up loads of glue. But you can of course use fabric glue instead if you don't have any webbing. For an even easier option, just leave out this step and go for a straight blue hem instead.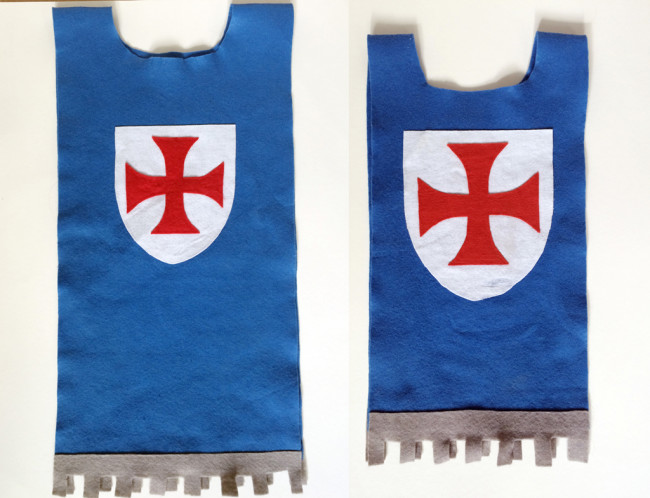 Ta da! The finished costumes. As you can see, the shield looks much larger on the small costume on the right, because I used the same template for both. If you feel like it, you could scale down the templates to make a smaller version, but I was happy with it like this.
Now you just need something to tie the tunic in place, and your Knight is ready to go! My older boy reused a belt from a pirate costume he already had, and for the little one we used my old school tie.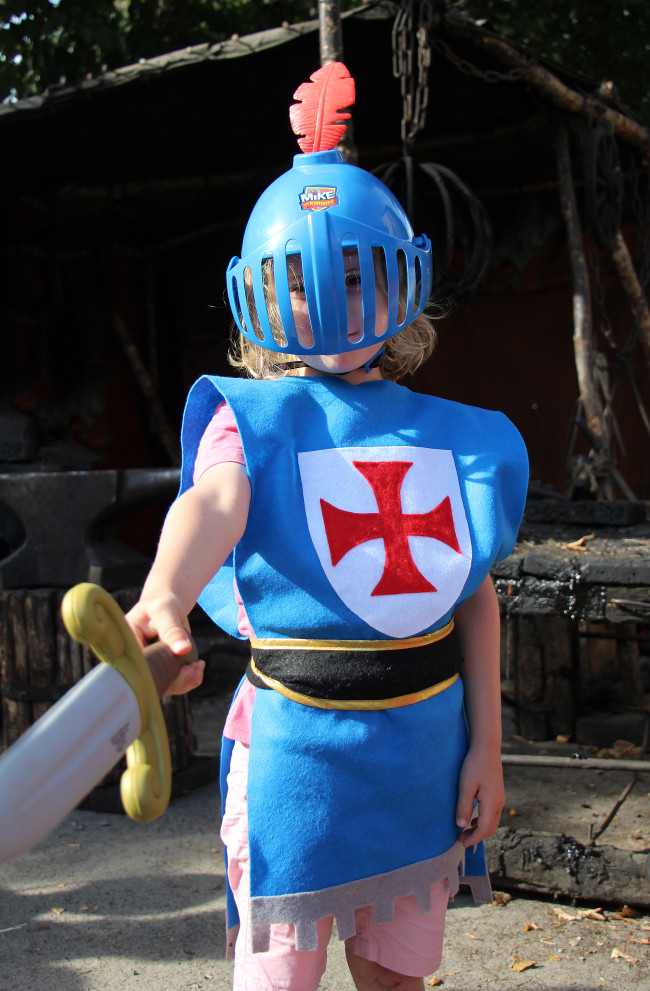 If you make any Knights' costumes from this tutorial, I would love to see your pictures! You can share them with me over on Facebook or Twitter, or tag me on Instagram.