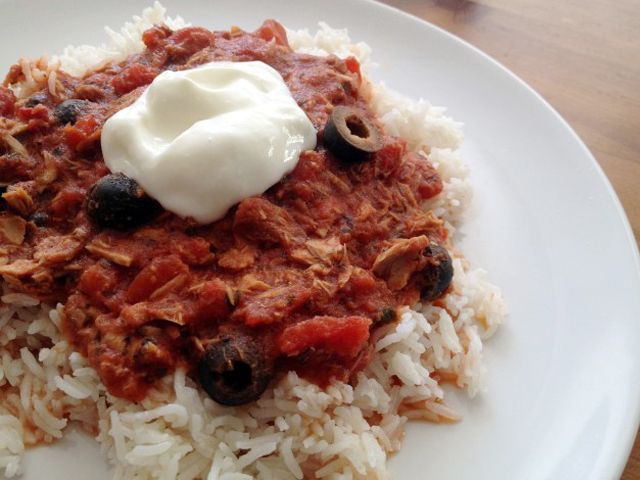 Tuna, Olive & Tomato Sauce on Rice
Looking for a quick and easy recipe that can be whipped up in an instance using store cupboard staples? Look no further! Our tuna, olive & tomato sauce on rice can be put together in no time, the longest part of this recipe is waiting for the rice to cook! Both our kids love this.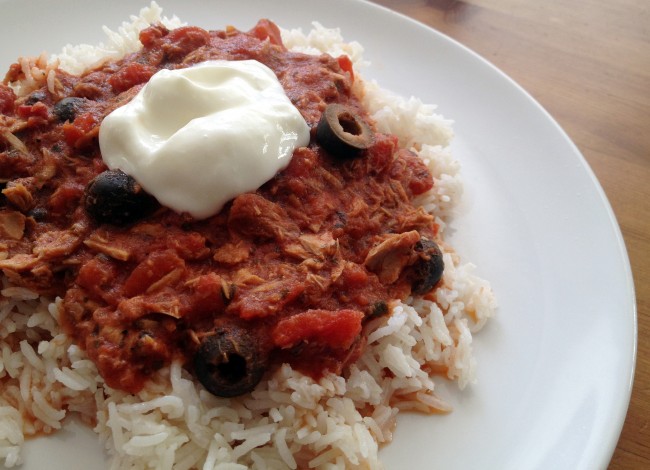 Ingredients (serves 3-4)
1 tin tuna in brine
1 tin chopped tomatoes
1 small jar of black olives
1-2 teaspoons Italian mixed herbs (OR 1 teaspoon oregano, 1 teaspoon basil)
salt and pepper
sour cream to serve (optional)
You'll also need 3 to 4 portions of cooked rice. I stick ours in the rice cooker before I start making the sauce.
Directions
Throw the drained tuna, tine of tomatoes and black olives in to a saucepan together and mix. Now that we have the wee one eating with us I chop up the olives a little, but I used to just throw them in whole.
Add about half a tin of water to the mix to thin the sauce out a little, then season with the herbs, a pinch of salt, and some cracked black pepper.
Serve the sauce on the rice, with a dollop of sour cream if you like.