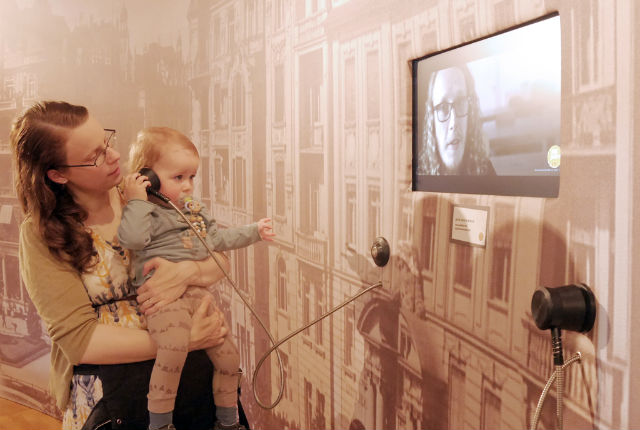 Babies in Museums at Berlin's Ephraim Palais
Today, I want to talk about a very special project close to my hear. A couple of years ago, there was a seminar in the UK about 'Babies in Museums'. Lots of great examples were being shared around, of museums working with the 0+ age group and making museums more accessible to families with very young children. Something I felt was lacking in Berlin, where there seems to be little for the under 5s, and even less for the under 3s. I started wondering whether there was nothing on offer because people with babies and toddlers didn't come, or whether they didn't come because there was nothing on offer. I asked around and quickly discovered, that the biggest barrier seems to be admission prices. Something which I can relate to myself – I'm happy to pay full admission price to a museum if I know I can spend a good amount of time looking around, but I'll think twice if there's a chance my little one might have a meltdown and I have to leave after 10 or 20 minutes. Especially if it's a museum I've never been to before, where I don't know what to expect.
When sharing my frustrations of visiting museums with young kids in Berlin, with friends and colleagues back in the UK, they kept telling me, "Then do something about it!' And so I finally did. I came up with an idea for breaking down some of those barriers, and I found a museum willing to develop the idea with me, and thus, thanks to the Stadtmuseum Berlin, the project 'Elternzeit Kultur' was launched at the Ephraim Palais last week. The project aims to break down some barriers between parents and carers of young children and the museum, to give them a chance to get to know the museum, and to feel explicitly welcome. Visitors with babies up to age 18 months are invited to visit the current special exhibition 'Stadt der Frauen' for free once a month, until the end of August when the exhibition and the pilot project comes to an end. So last week, on the last Tuesday in May, Mr Fox (who *just* scraped in to the 18 month age limit) and I went to check out the first ever Elternzeit Kultur.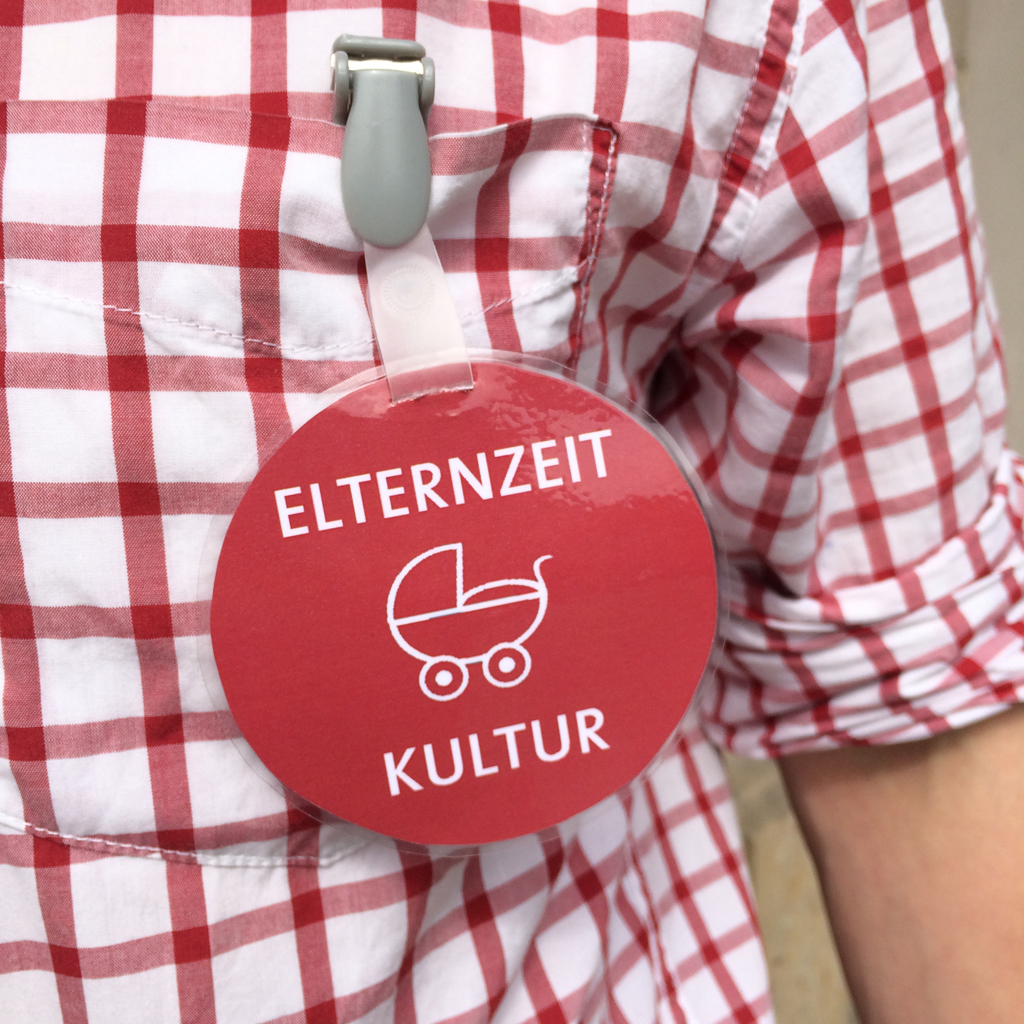 We were warmly welcomed at the entrance, where all staff were easily identifiable by their red 'Elternzeit Kultur' badges. You could tell the museum had really put its heart in to this pilot project. Although visitors with babies had been encouraged, where possible, to bring a baby carrier as space for prams was limited, since we were so early and it was not busy, we were told we could take the pram inside. But I decided to switch to the carrier anyway, as I thought there may be others coming after us more in need of taking in their pram, e.g. with sleeping babies or babies too small for carriers. So we were shown to the pram parking area, and I strapped Mr Fox in.
We then headed up the stairs to the exhibition. 'Stadt der Frauen' (Engl: City of Women) presents the life stories of 20 women – 5 each from the areas of politics, business, art and innovation – showing how "they cast off the corset of societal constraints, what they experienced and how they helped to shape [Berlin's] history". The exhibition includes over 400 objects, artworks, and items of personal memorabilia, augmented by media stations, multilingual texts and audio guides (though I didn't use the audio guide on this occasion). Mr Fox was particularly fascinated by an animated portrait, which started to talk to us as we walked up to it.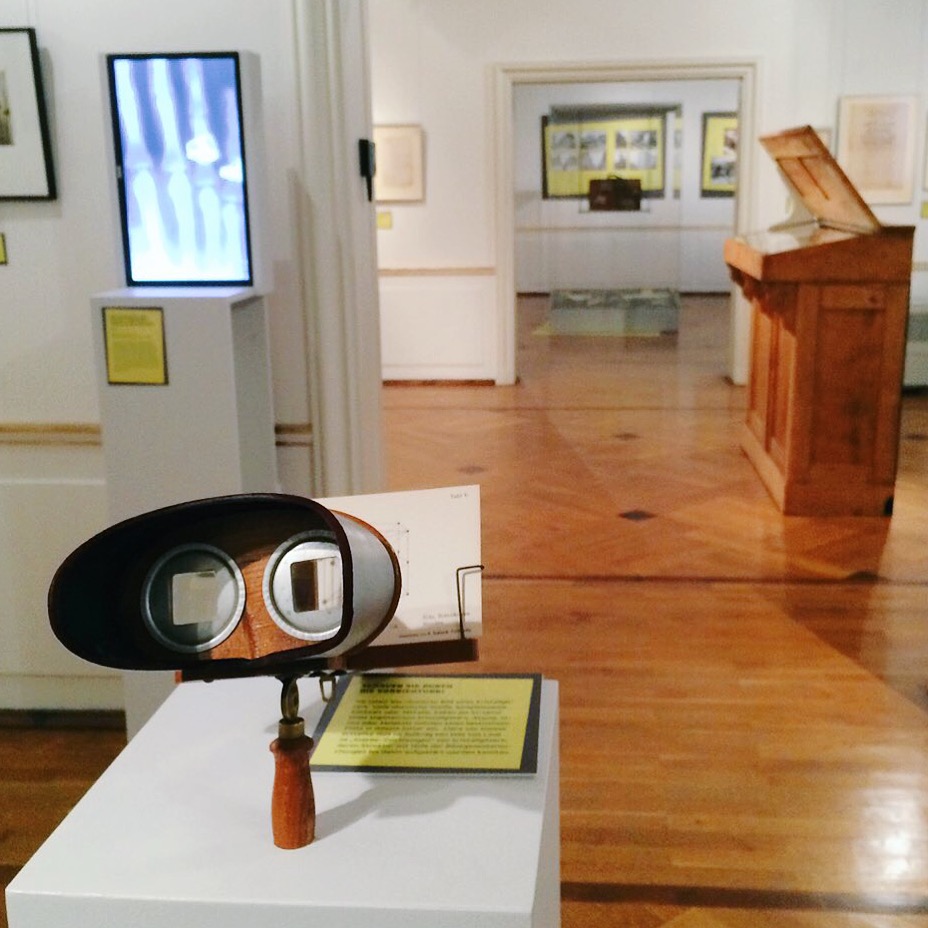 There was also a roving 'live speaker' on hand during the first half of the day, who was there to tell visitors a little more about the exhibition and to answer any questions, as and when needed. Kind of in lieu of a full guided tour. I thought this was a great idea, since a full guided tour is most often too long when I'm out and about with Mr Fox as he'll get bored about half way through. So I was able to find out a little more about Emilie Winkelmann (1875 – 1951), Germany's first female architect, before MR Fox made it clear that it was time to move on.
Another of the media stations, that Mr Fox really enjoyed, was a mirror with a projection of two people, who started talking when you pressed the button. We had some silly fun taking selfies in the mirror. Above you can see us caught in the act by Martin Schäfer, from the Stadtmuseum, and below is one of the selfies we took.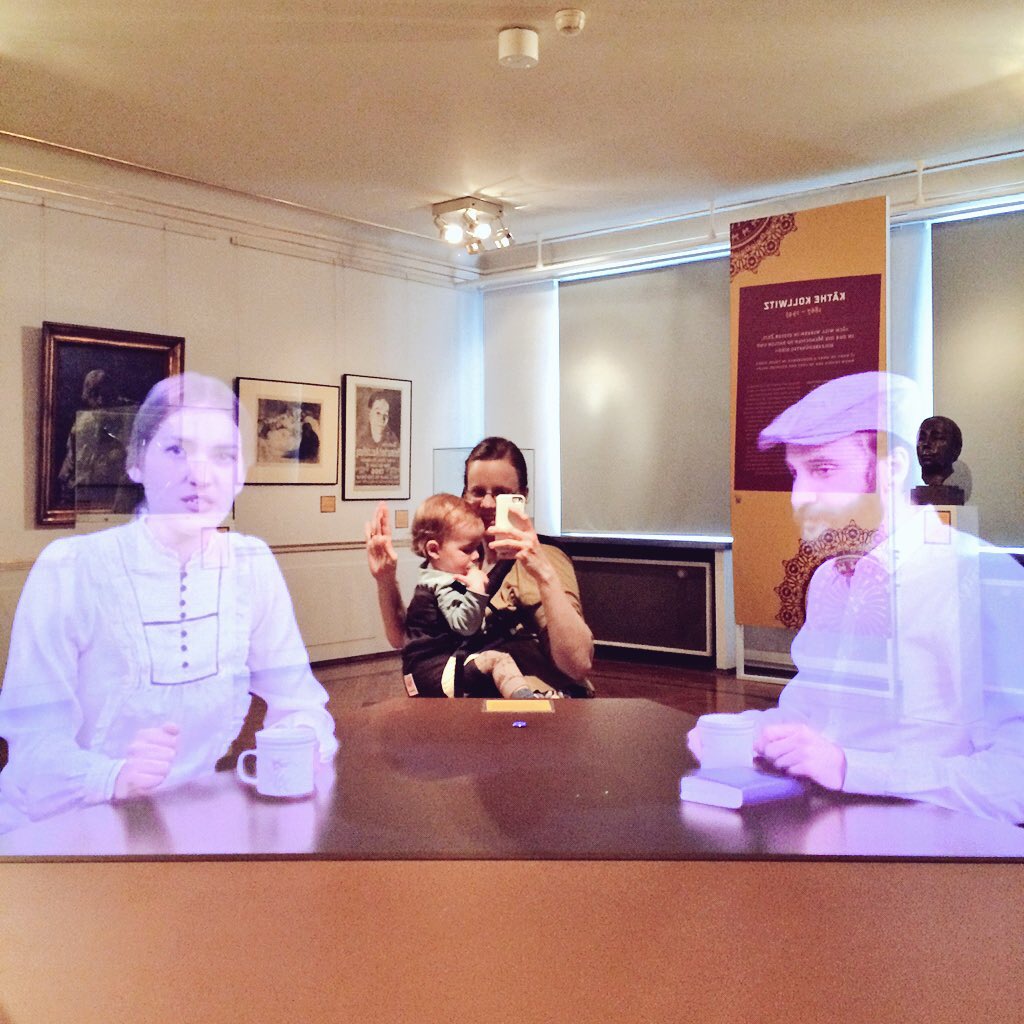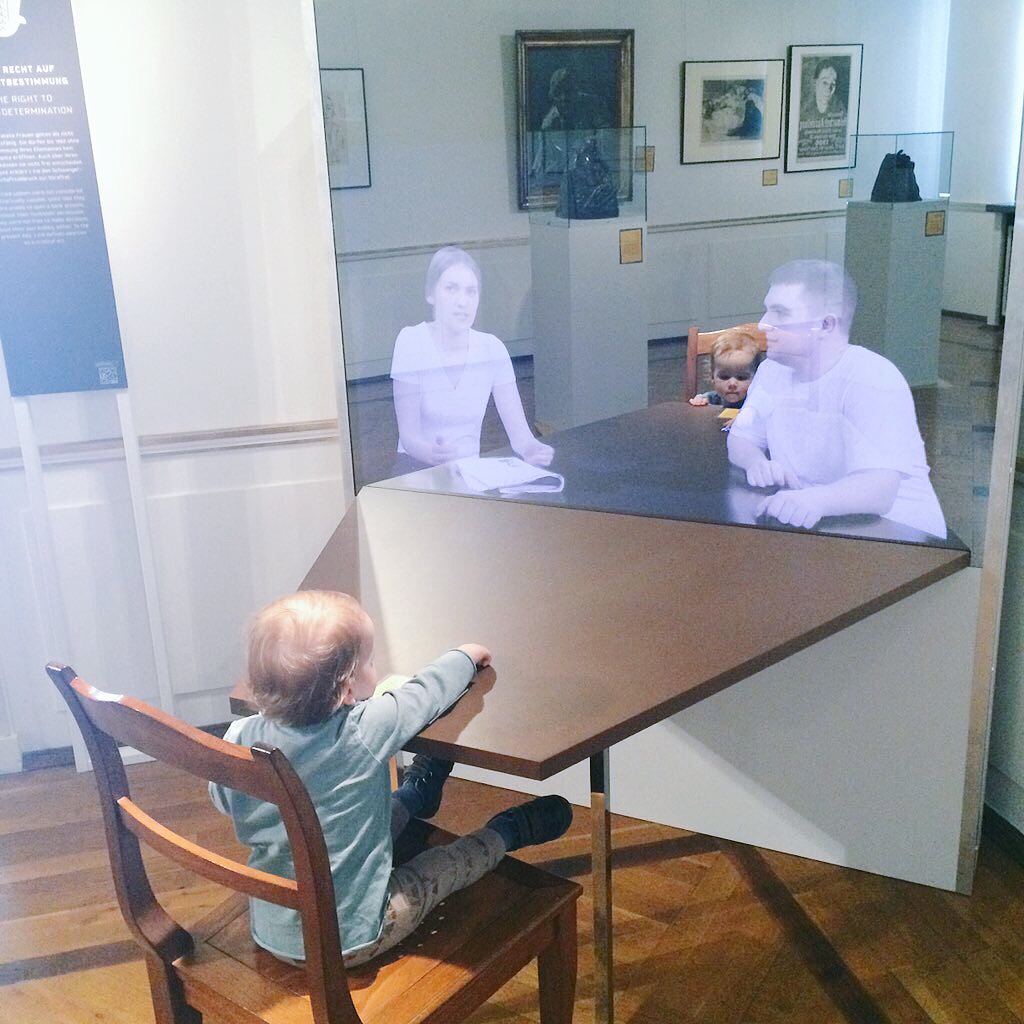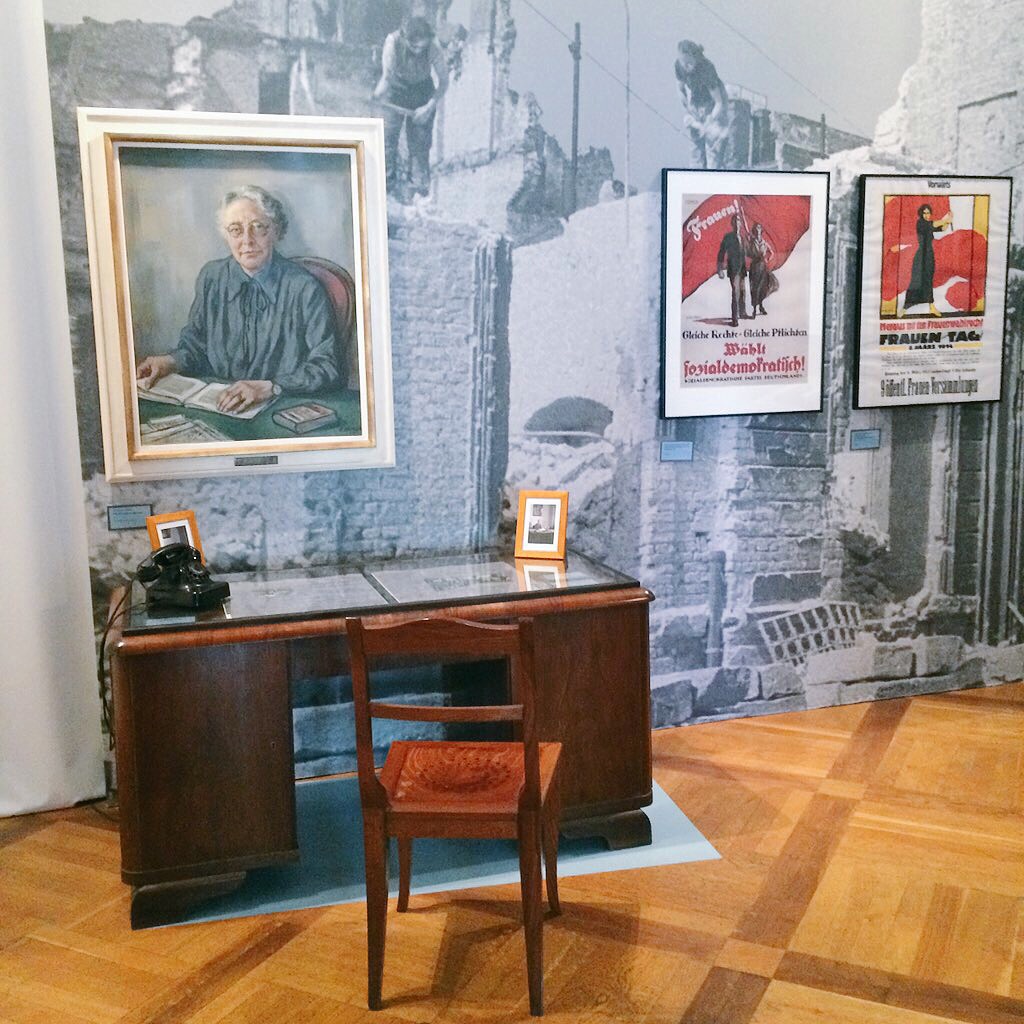 I had another little wander around the exhibition, reading more about some of the women, such as zoologist and former director of the Berlin Zoo, Katharina Heinroth, and Louise Schroeder, Berlin's first and to date only Lord Mayor (see above). But Mr Fox soon became restless, strapped in to the carrier, and also a bit hot and bothered, since it was a sweltering summer day. Eventually I had to take him out, as he wanted to walk about and explore things. It's not an exhibition geared at children, but he really enjoyed picking up and listening to all the audio stations. Some of the staff seemed a little more nervous than others about a toddler on the loose, but to their credit, they were all perfectly polite and never gave me the feeling that we were unwelcome in any way. I'd particularly like to thank the lady with the blue streaked hair, who made such an effort to cheer up Mr Fox when he was all hot and bothered, and even reappeared with a paper fan and started fanning him to cool him down!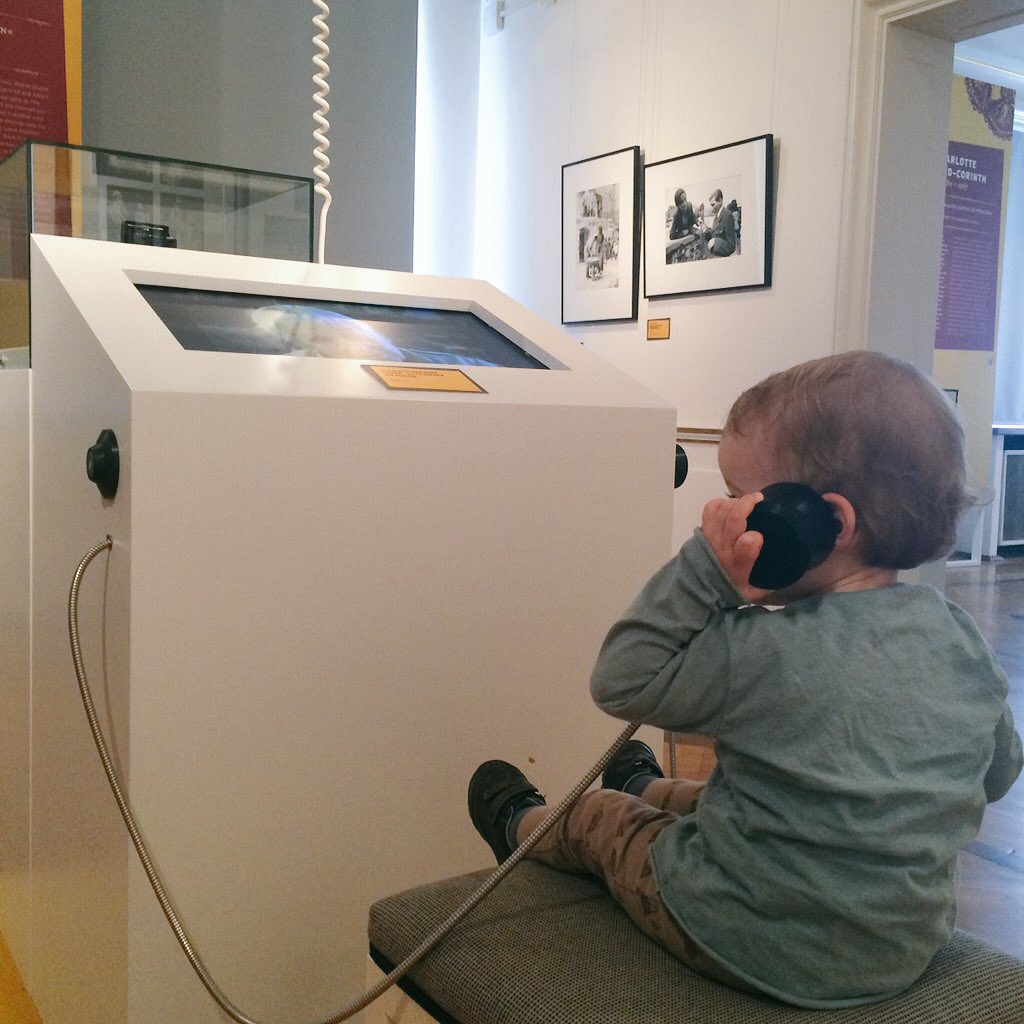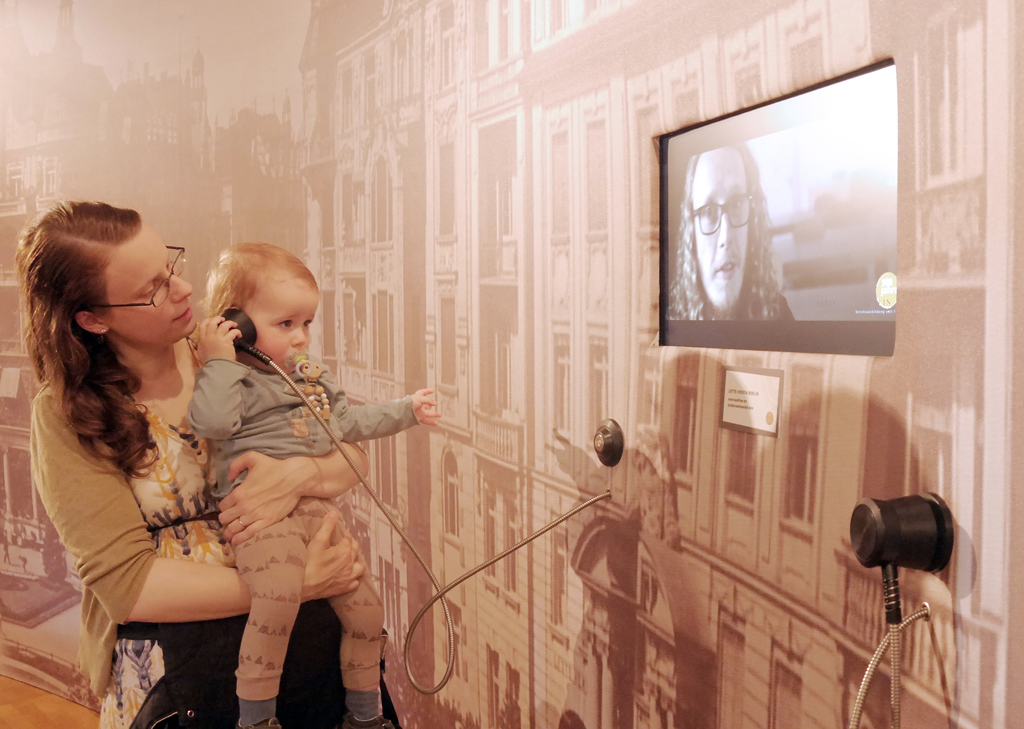 Finally, about 90 minutes after we first arrived, my date was sending all the signals that it was time to go. Mr Independent insisted on walking down all three flights of stairs by himself, so it took us a while to get down, but it gave me plenty of time to admire the beautiful stairwell and portrait at the bottom.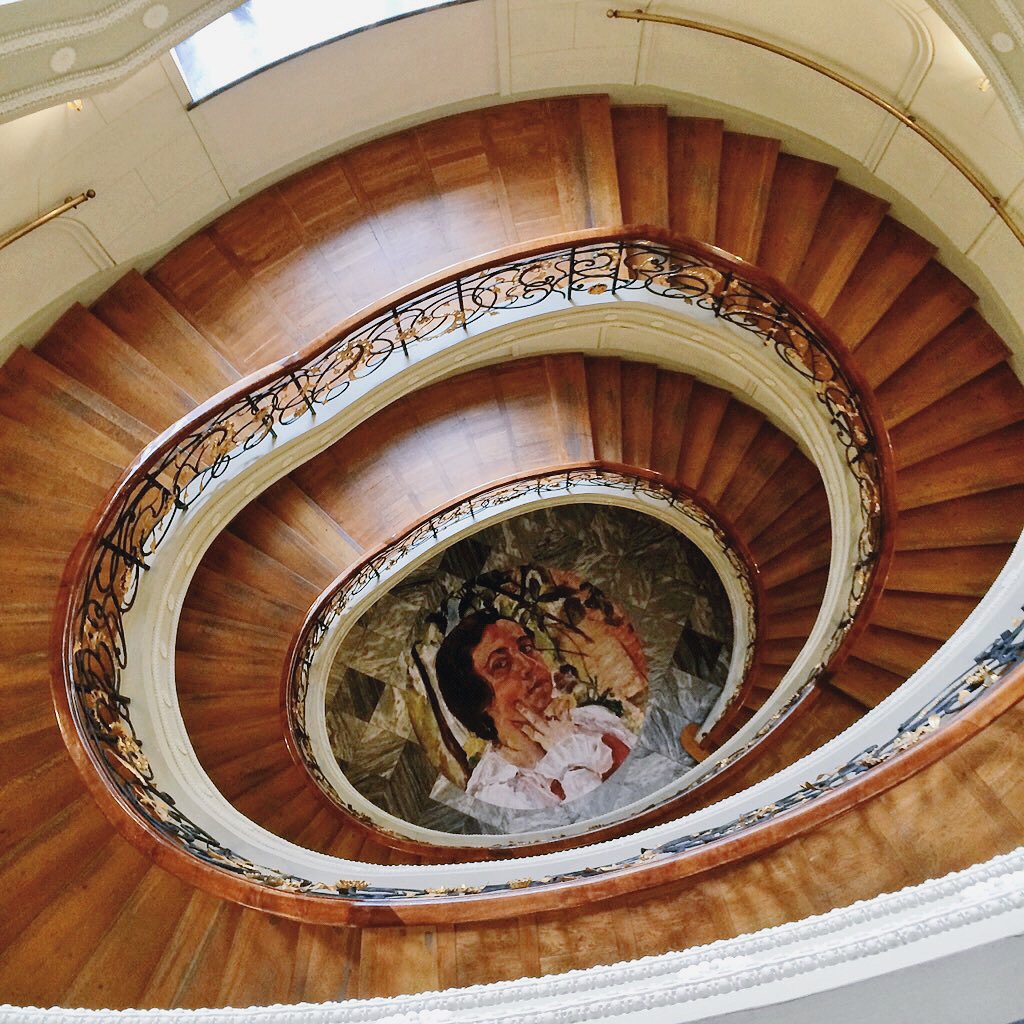 Before heading home, we had a little rest and a snack in the education room, which had been set aside for that purpose and for anyone needing to change their babies or wanting a little privacy to nurse.
The Stadtmuseum later shared some comments from the Ephraim Palais' guest books, saying what a lovely initiative for parents this had been, and great opportunity for mums and kids. So, a big THANK YOU to the Stadtmuseum Berlin for having faith in my idea and taking the leap! Thank you also to all the parents that came along with their babies. I'm told there were almost 50 in total over the course of the day! We look forward to the remaining three 'Elternzeit Kultur' dates (28th June, 26th July, 23rd August) and hope they will be as well received. And if the pilot project goes well, then hopefully Elternzeit Kultur will continue in the future.