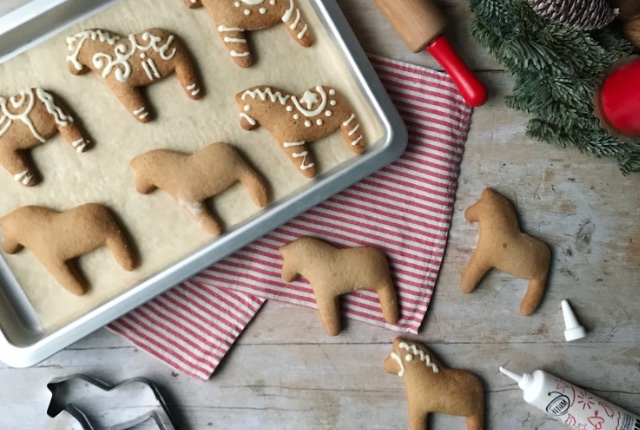 Gluten Free Gingerbread-Lebkuchen Horses
There's this German audio drama series called 'Bibi & Tina' about two friends – one of whom is a witch from the city, the other lives at a riding school in the country – and the adventures they have. My boys are big fans of this series, and in one of the Christmas episodes, they end up selling Lebkuchen horses at a Christmas market, so this year we decided to bake our own Lebkuchen horses. I experimented with gluten free German Lebkuchen recipes, but they ended in disaster with the Lebkuchen literally falling apart, so in the end I found a gluten free British recipe for gingerbread men and adapted this to include some German Lebkuchen ingredients such as honey, brown sugar and of course Lebkuchen spice. The result was a very yummy hybrid between German Lebkuchen and British gingerbread – and we've already baked a second batch horses!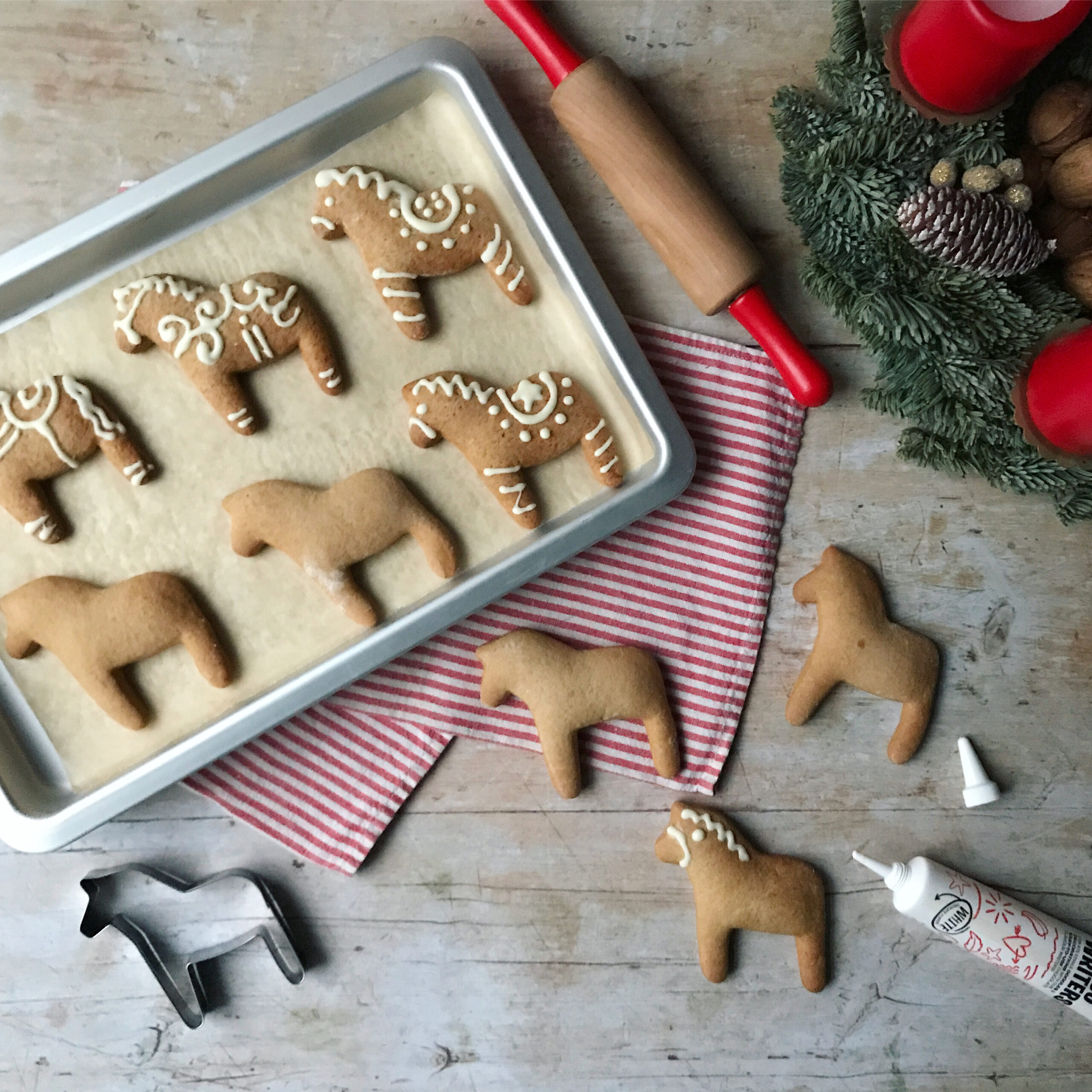 To cut a long preamble short, here's the recipe we ended up with:
Ingredients
200g plain gluten free flour (plus some extra for dusting)
2 tsp 'Lebkuchen' spice*
1/2 tsp xanthan gum
1/4tsp bicarbonate of soda
50g light brown sugar
50g butter
2 Tbsp runny honey
1 egg, whisked
The original recipe just used ginger and cinnamon, but Lebkuchen spice ("Lebkuchen-Gewürz") includes a lot of other spices. In Germany you can buy it ready mixed. There isn't a definitive mix, and you'll find each brand is a little different, but cinnamon, cloves, nutmeg, coriander, cardamom and star anise seem to be in pretty much all of them. I've also seen mixes which include  fennel, ginger, all spice, and orange or lemon zest. If you can't get hold of Lebkuchen spice you can mix up your own batch (though you might need a mortar and pestle to grind some of them), and you can use it for other things too, for example it's lovely to spice up some Christmassy hot chocolate with.
Lebkuchen Spice Mix:
3 Tbsp ground cinnamon
2 tsp ground cloves
1/2 tsp each of ground nutmeg, ground cardamom, ground coriander, and ground star anise
I have found all of these in large supermarkets here in the UK, except for ground star anise. You can buy ground star anise online, or you can grind up whole star anise, which are easier to find (you grind up the whole thing, pod and seeds). If you really can't get your hands on star anise then you could leave it out, you'll still get close to that Lebkuchen taste with the nutmeg, cloves and cardamom. Optionally, you can also add 1/2 tsp each of ginger, all spice, or ground fennel seeds. And a pinch of grated orange and/or lemon zest, though add that in fresh at the point of baking, don't add it to the mix if you are making a batch to keep.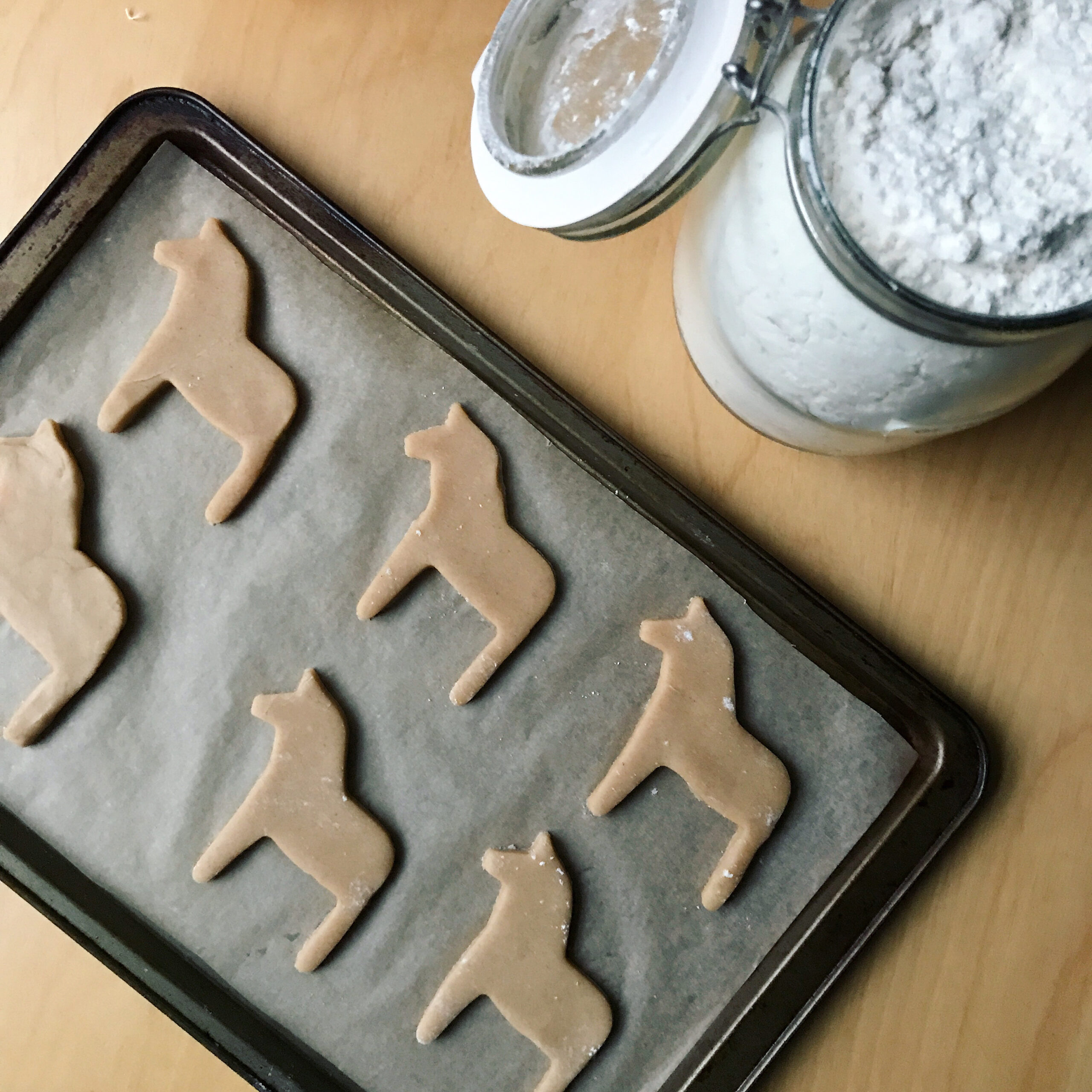 Directions
Sieve the flour, spice, xanthan gum and bicarb in to a mixing bowl.
In a small saucepan, heat the sugar, butter and honey over a low heat until the butter has melted, and stir to combine everything. Turn off the heat and leave to cool slightly for 5-10 minutes.
Pour the wet ingredients in to the dry ingredients, add the egg, and mixed everything together in to a smooth dough. I used a spoon first, until the dough starts to come together, then give it a good knead through with my hands.
Wrap the dough in cling film – or an eco friendly alternative – and leave to chill in the fridge for 2 hours or until you are ready to bake (the first I made the dough in the evening and baked it the next morning).
Once the dough is ready for baking, pre-heat your oven to 180 C or 160 C for a fan oven.
Give your dough a quick knead – but don't overwork it or it will get too warm. Dust your work surface with some flour and roll out the dough to approx. 5mm thick.
Cut out your shapes – you don't have to use horses – and transfer to a baking sheet lined with grease proof paper. We needed two trays.
Knead the leftover dough in to a ball, roll it out again and cut out more shapes until you have used up the dough. We got twelve horses from this recipe, which measure roughly 8cm x 8cm each.
Bake each tray in the oven for around 10-12 minutes. It depends a little on your oven, so take them out after ten if they are starting to go dark.
Leave to cool completely before decorating – we used melted white chocolate to pipe on details. You could also use icing sugar (mix icing sugar with a teaspoon or two of water to a pipeable thickness).