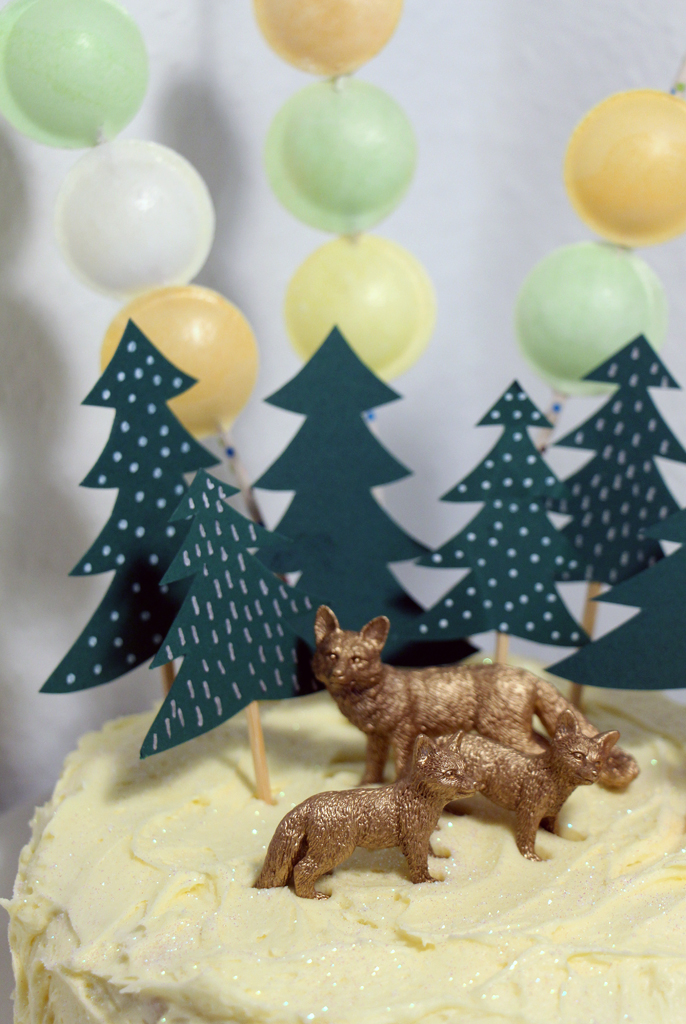 Fantastic Mr Fox 1st Birthday Party
Last weekend, we celebrated Mr Fox's first birthday. Yes, one year old already, can you believe it! When The Boy turned one, we kept it really low key, because really they are too young to care at that age – but this time round I had the itch to go wild on a theme. Possibly because people had been giving me things 'for a party' leading up to his birthday. Like a fox cookie cutter. And fox napkins. And when your (middle) name is Fox, and your nickname is Mr Fox, really there can only be one theme for your first birthday party: Fantastic Mr Fox!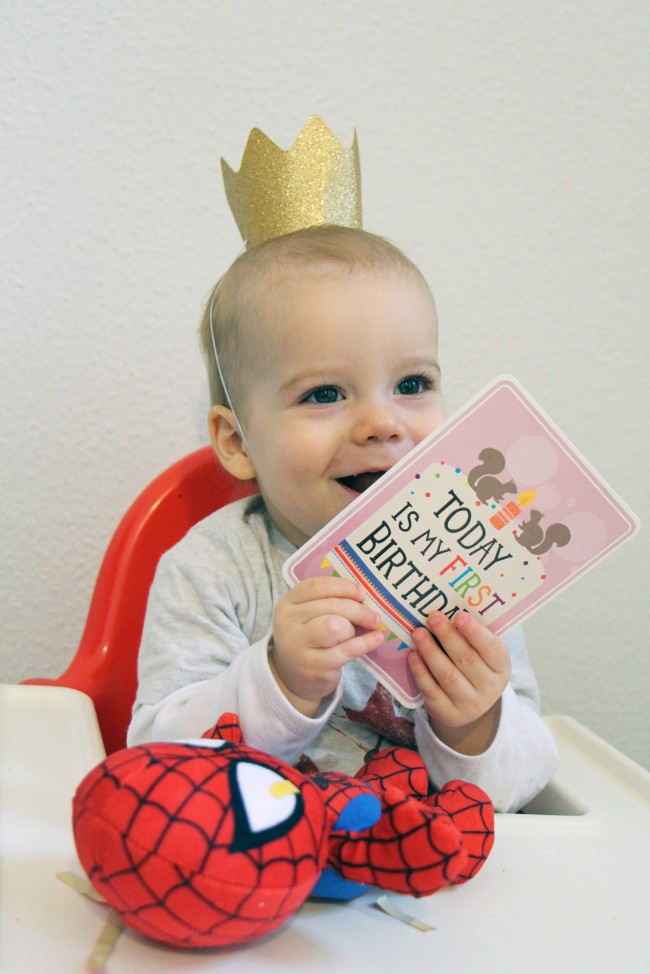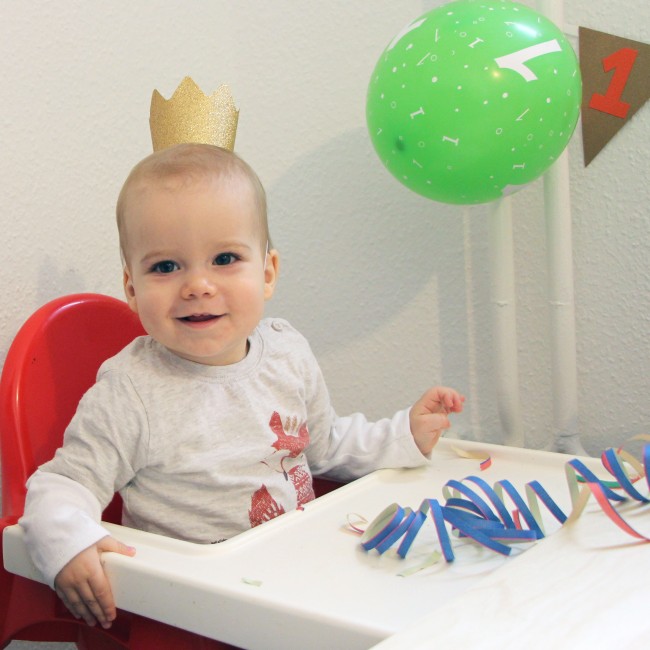 His birthday was on a Friday, but we celebrated the following Sunday, so we actually had two cakes. On the Friday we had a simple, baby friendly (i.e. does not crumble, no icing etc) carrot cake. The fox theme was already coming through in the gift wrapping paper, and the bunting I had made for him using afore mentioned fox cookie cutter as a template. And there were some foxy presents received too. Not to forget the birthday boy's birthday party attire/ t-shirt :)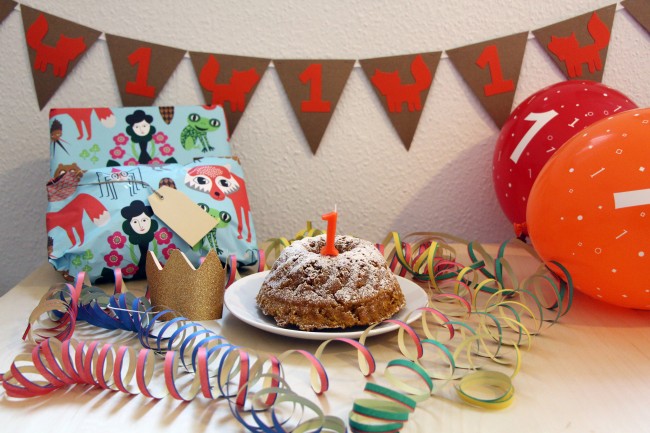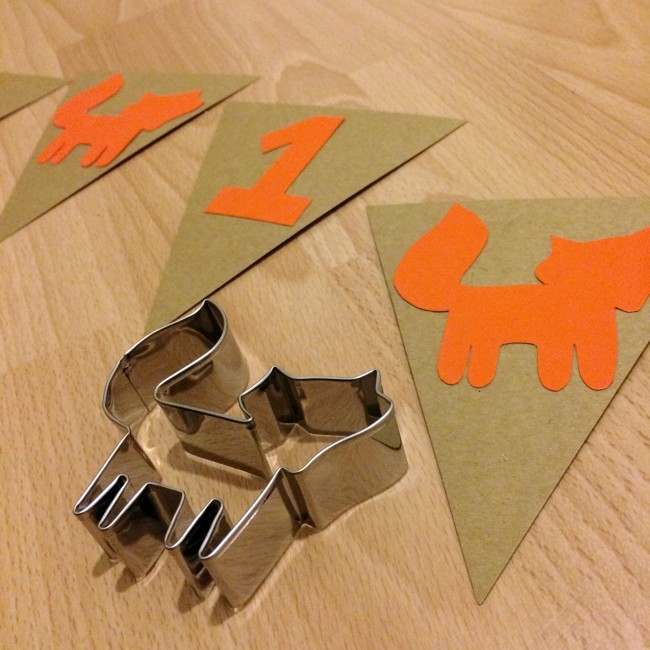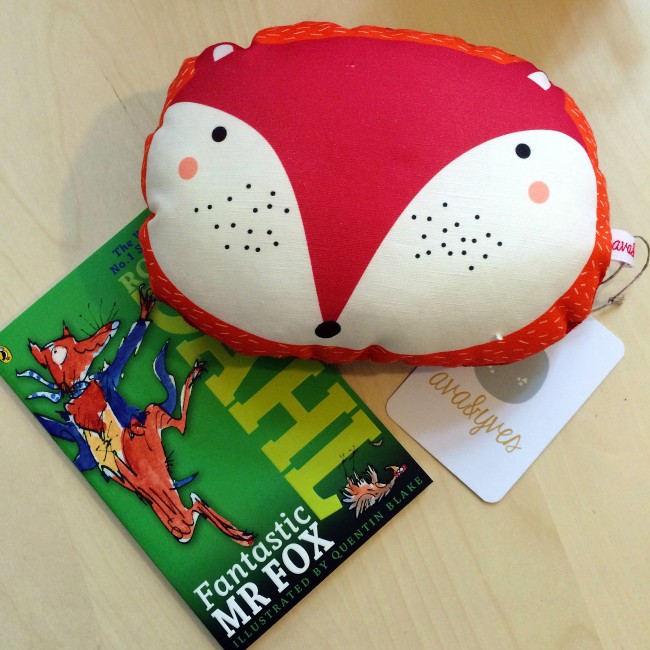 In the run up to the party, I baked some chocolate cupcakes and a lemon cake on the Saturday, which I then only had to ice on the Sunday morning.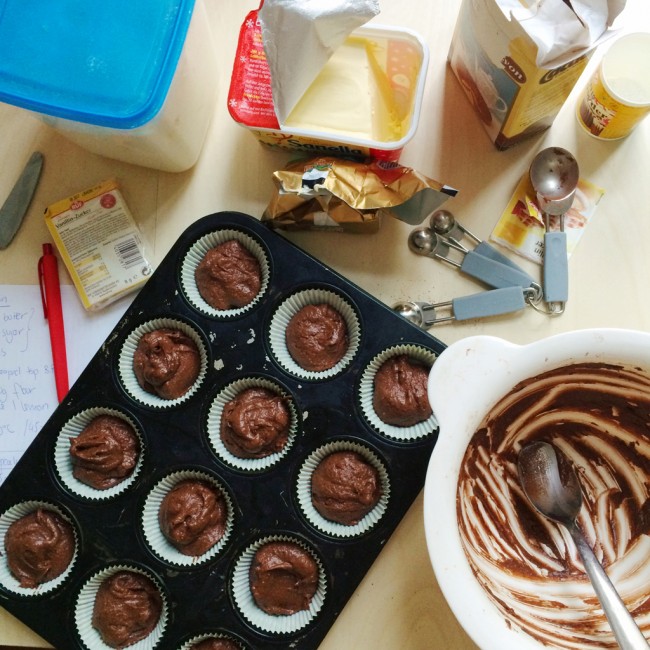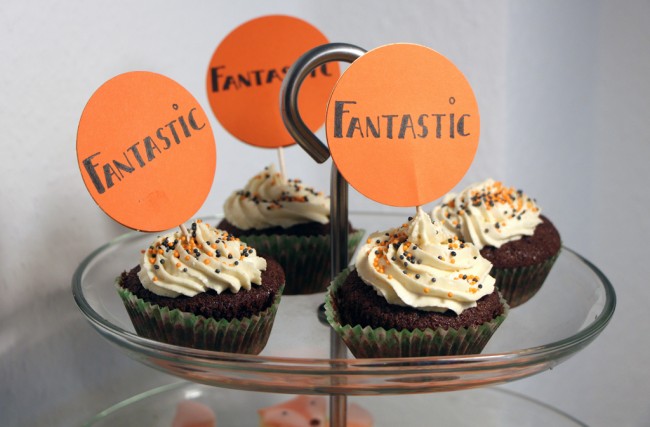 I'd also been collecting empty jam jars to make party favours. The idea is nothing new, you can find it in many variations all over Pinterest, I was just adding my own interpretation of it. I stuck some fox cub figures on to the jam jar lids with a glue gun, then spray painted them bronze. Once everything had dried and aired (to get rid of the paint smell), I filled the jars with sweeties. One jar for each guest/ family coming. And one for The Boy, of course. I also spray painted another fox and two cubs to use as cake toppers.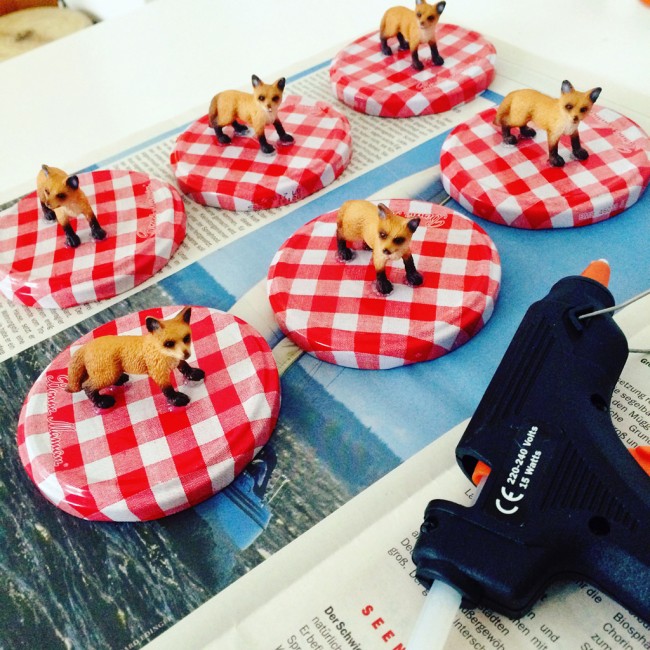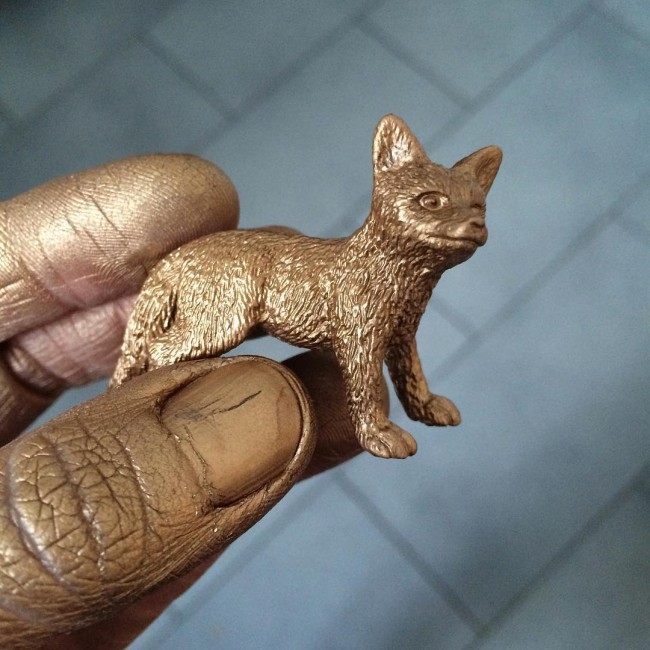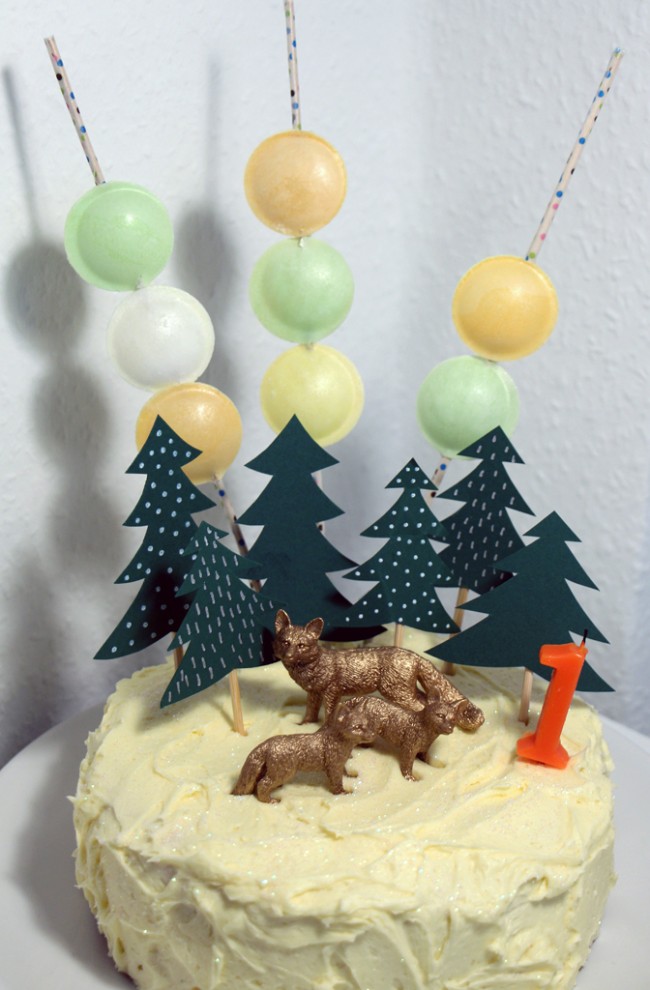 So here's the cake table on the afternoon of the party. Oh yeah, we didn't just use the fox cookie cutter for the bunting – I also baked some fox cookies which I iced on the Saturday evening.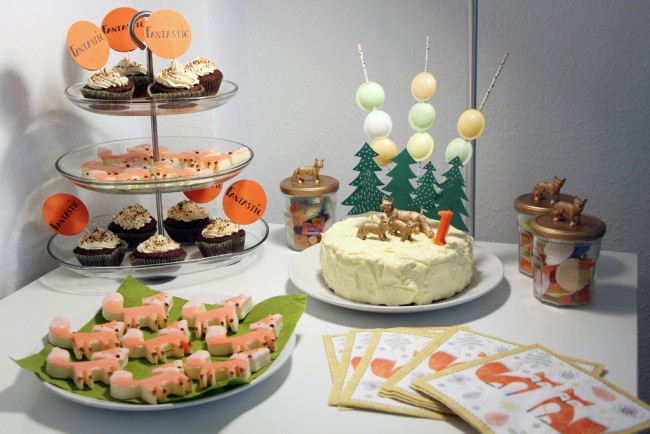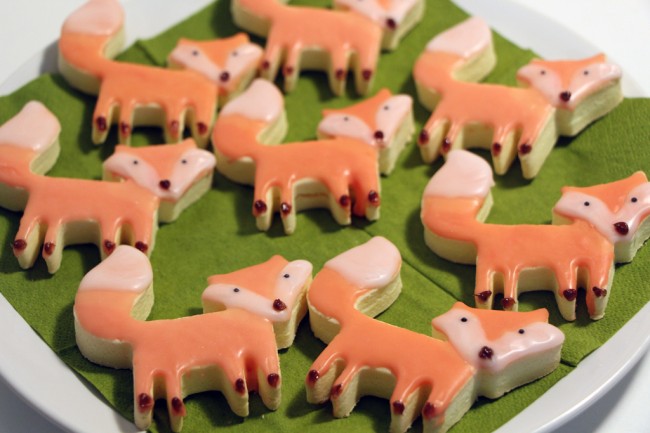 I hand lettered some 'Fantastic' cupcake toppers to go with our theme, putting my newly found skills from the hand lettering workshop I attended last month to good use. Sadly, since the majority of our international guests had never head of Roald Dahl, and neither read the book nor seen the movie 'Fantastic Mr Fox', the theme – and the significance of the cup cake toppers – was kind of lost on them…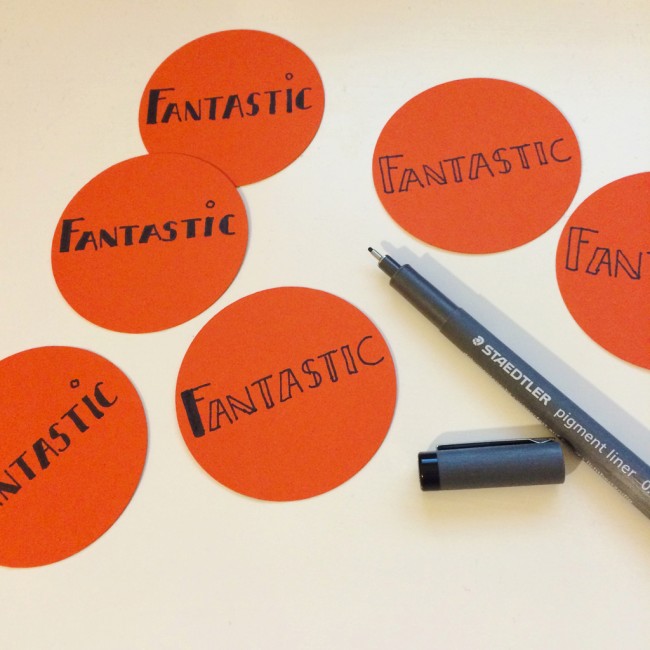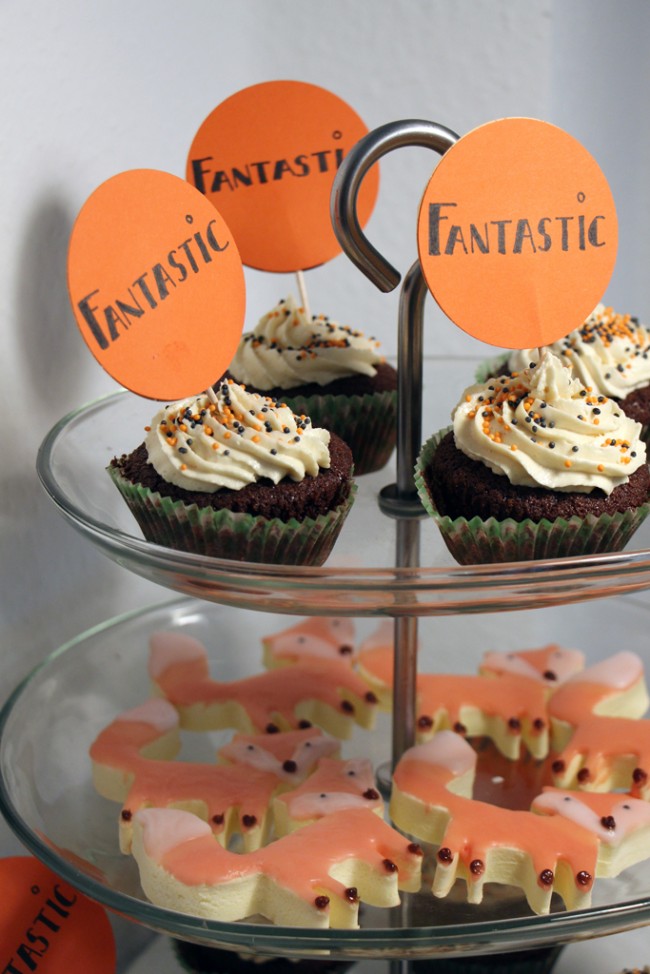 By the way, here's a trick to make an easy cake that looks like you spent hours on it: bake a really simple cake, like a vanilla, chocolate or lemon sponge (we went with lemon as we already had the chocolate cupcakes and vanilla cookies), with a simple butter icing slathered on top. Just google 'simple vanilla cake' (or even easier, just buy a cake mix packet – I had to bake mine from scratch as I wanted it to be gluten free so I could eat it too) and 'simple butter icing' (basically just icing sugar + butter). Really, just pick the easiest cake you can think of. THEN stick loads of decorations stuck to tooth picks or BBQ skewers on top. No need for any fancy icing experiments. I cut out the trees from green cardboard, but you can cut out anything you like. If cutting out your own shapes seems to daunting, cut things you like out of magazines, stick them on cardboard to make them sturdier, then stick them on toothpicks and shove them in your cake. The ones at the back are those flying saucer sherbet sweeties, stuck on to BBW skewers. Just keep sticking skewers and toothpicks in to your cake until it looks amazing. Oh yeah, and in the middle I pushed the fox figurines in to the icing. Any small toy would work – if you have or know any kids, go raid their toy box next time you need to decorate a cake. So, repeat after me: easy peasy cake (cake mix packets allowed) + stuff stuck to tooth picks/ skewers = minimal effort, maximum effect. Got it?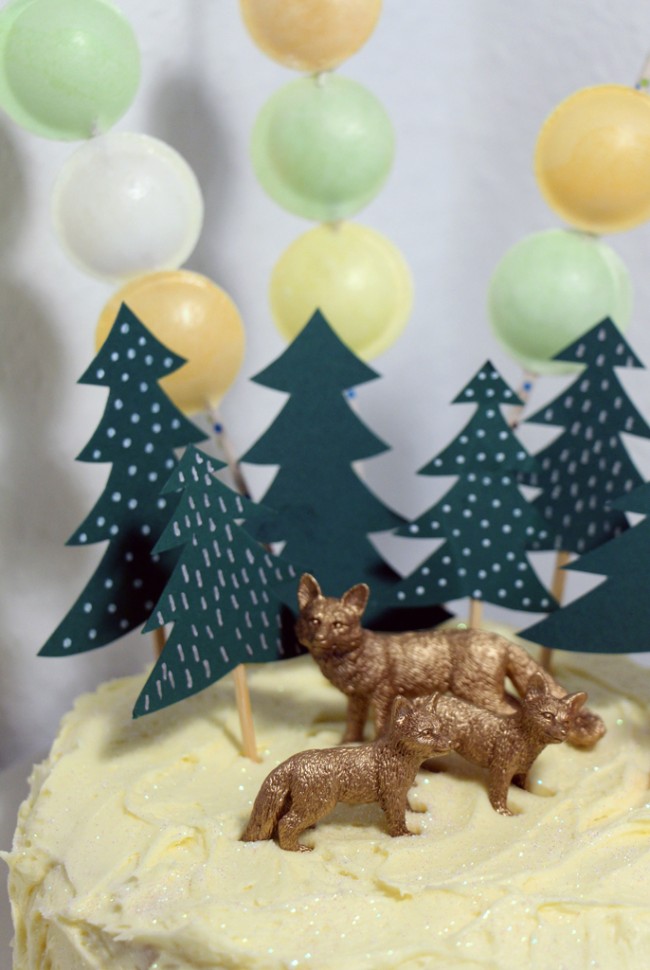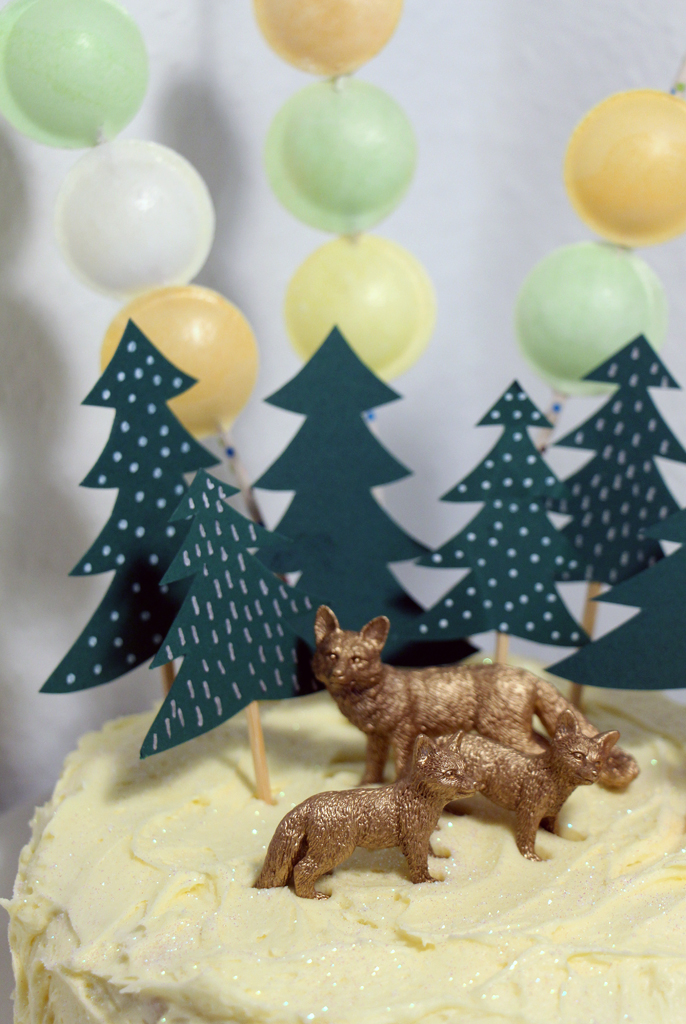 I also really pleased with how the party favours turned out. It took several coats to get good, even coverage, and I had bronze hands for about two days, but this was another minimal effort/ maximum effect kind of thing. And in the jars you can throw whatever sweeties you have to hand – in our case, the remaining flying saucers from the cake decorations (I had made the same skewers for The Boy's cake the week before), and the rest of the Hallowe'en candy!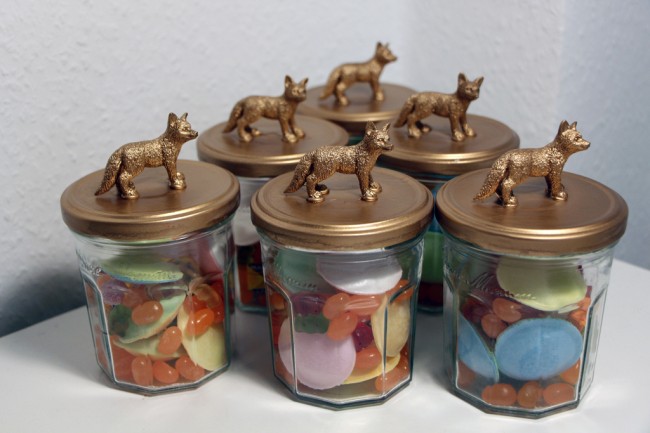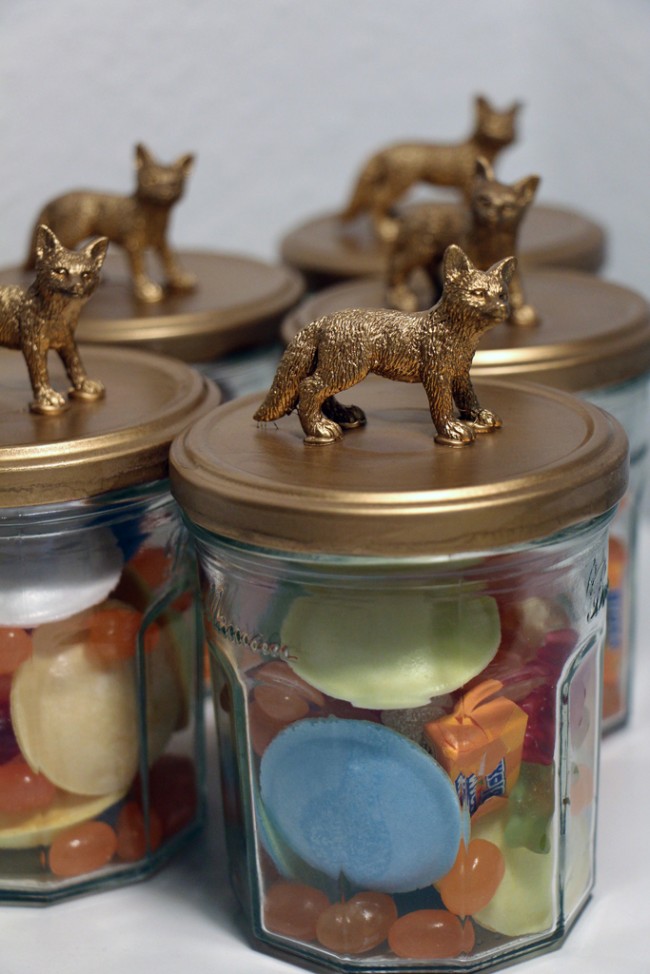 And last but not least, here's a close up of the fox napkins a friend sent me – aren't they the cutest ever!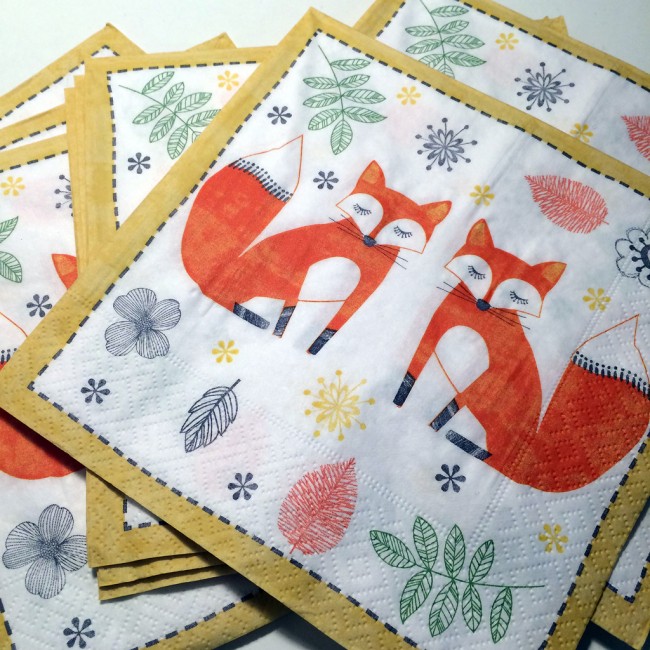 All in all it was a really lovely afternoon, and the cakes and cookies tasted as great as they looked (though the amount of buttercream icing on everything was possibly a little too 'British' for some of our guests, judging by the polite little piles of icing on the side of some plates, haha). People tell me I went to a lot of effort, for a party he'll probably never remember, but firstly, a lot of it was more effortless than it looked, as mentioned above; secondly, I love baking and decorating and fully enjoyed myself, so it didn't feel stressful; and thirdly, the party was more for us parents anyway, something I fully admitted from the outset. I mean hey, we were serving champagne. So yeah, the party was partly for Mr Fox, and partly for us to say 'high five, we made it through the first year'. Fantastic!