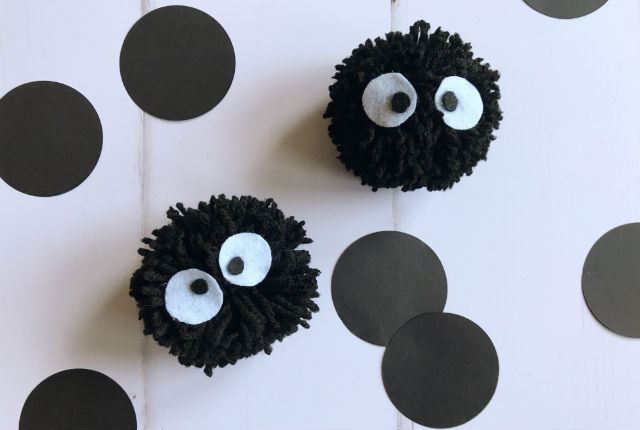 DIY Studio Ghibli Soot Sprites
I can't believe that this time last year we were in Japan! Such a fantastic experience, and the boys keep asking when we can go back. One of the many highlights of our trip, was our visit to the Ghibli Museum, which I wrote about already a wee while ago.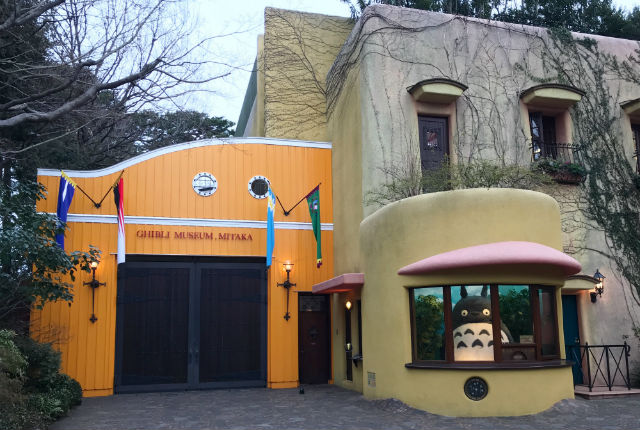 For those who haven't heard about Ghibli before, Studio Ghibli is an animation film studio based in Tokyo, and is best known for its anime feature films. We watched quite a few of the films with the boys before going over to Japan, and one of their favourite characters were the Susuwatari, or Soot Sprites in English. The Soot Sprites feature in both the My Neighbour Totoro and Spirited Away movies, and there is a window full of them that greets you at the entrance to the museum.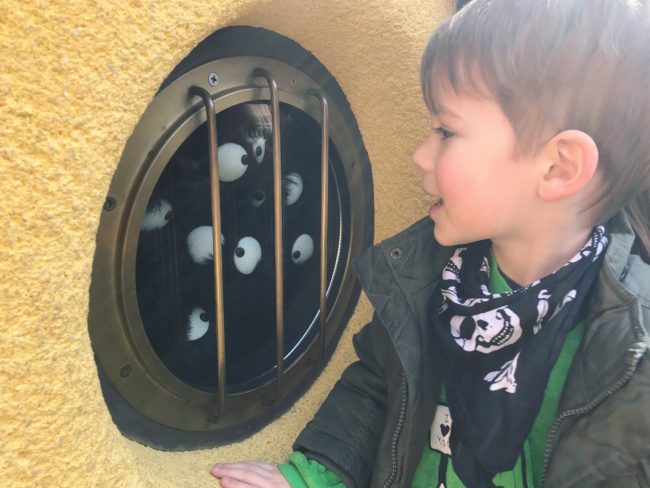 One of the things inside the museum, is a playroom for kids that features a giant Nekobus (or 'Cat Bus') to play on – also from the movie My Neighbour Totoro – and armfuls of life size Soot Sprites. A bit like a ball pit, but more fluffy. The boys couldn't get enough of them, so we bought one as a souvenir to take home: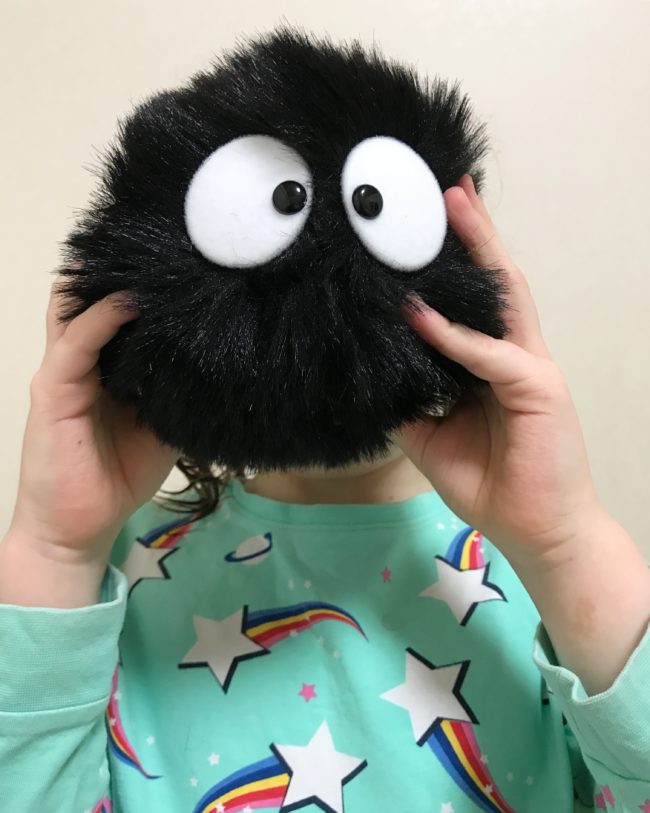 To celebrate the Studio Ghibli movies being released on Netflix recently, we decided to recreate that feeling of the room full of Soot Sprites at the museum, by making our own. It's really easy to do, because you basically just need to make some pompoms. And making pompoms is easier than ever. Gone are the days of laboriously pushing wool in and out of cardboard rings. If you have a pompom maker at home, you are definitely winning, but there is an even simpler way of making pompoms. A couple of years ago, I shared a trick here on the blog for making mini pompoms with the help of a fork – well, you can use the same technique by creating a fork substitute out of a piece of cardboard!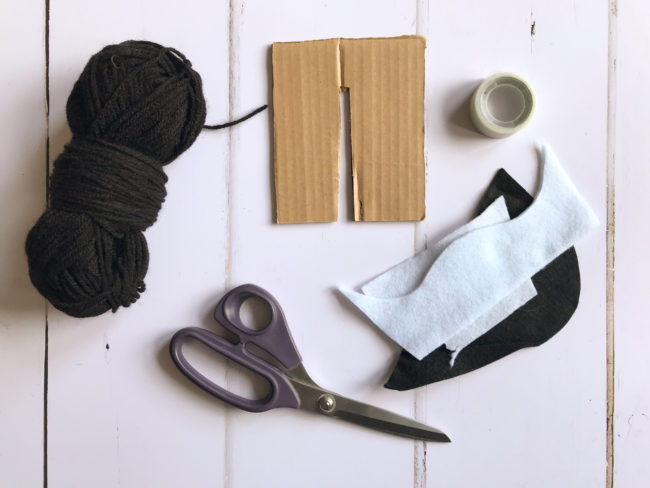 You will need:
A piece of sturdy cardboard, approx. 10cm x 15cm, with a slot cut down one side (see image above)
Some black wool or yarn, the thicker the better
Some scraps of white and black felt
Sticky tape
A pair of sharp scissors
And also some glue (I used a hot glue gun)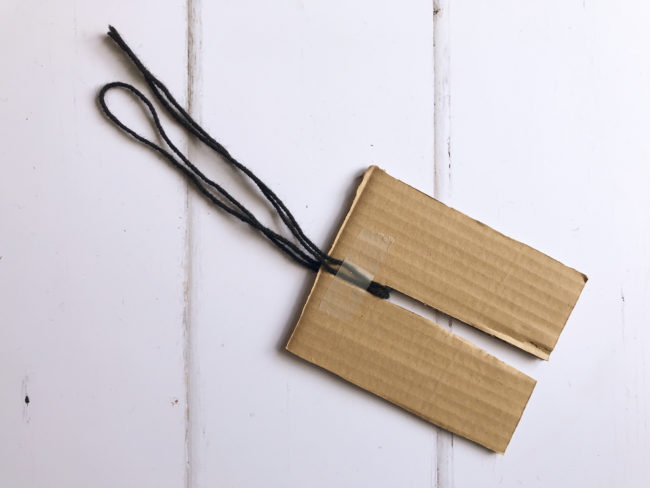 Step 1: Cut a piece of wool about 60cm long, double it up, and thread it through the slot in your piece of cardboard. Hold it in place with a bit of sticky tape on both sides, as shown above.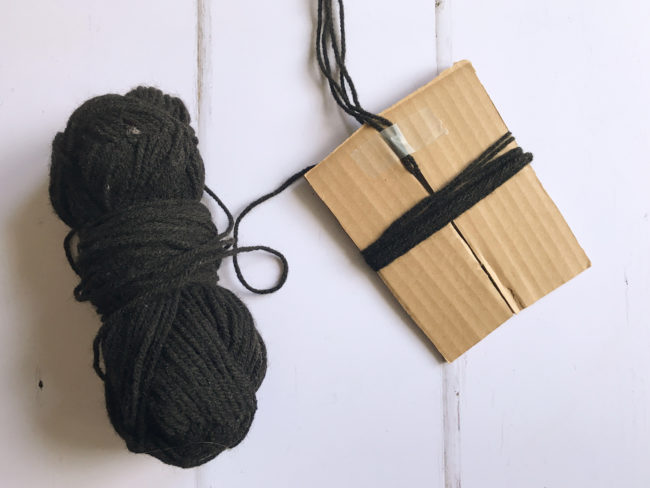 Step 2: Start winding the black wool around the piece of cardboard, across the slot. How many times you wind it round depends on how thick and fluffy you want your pompom to be. I wound it round 150 times for the first pompom I made, then decided I wanted it even thicker and fluffier so I did 200 on the next pompom. Then I ran out of wool, or I might have tried even more, but 200 was a good size.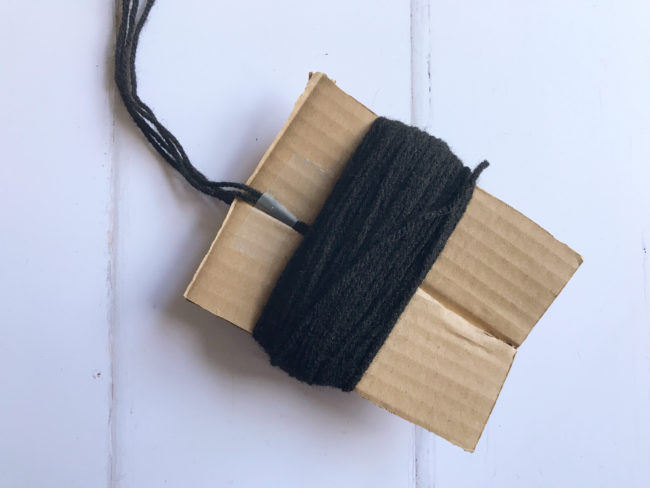 Step 3: When you think you have wound the wool around enough, remove the tape from the piece of wool you secured at the beginning and bring the back end through the slot to the front.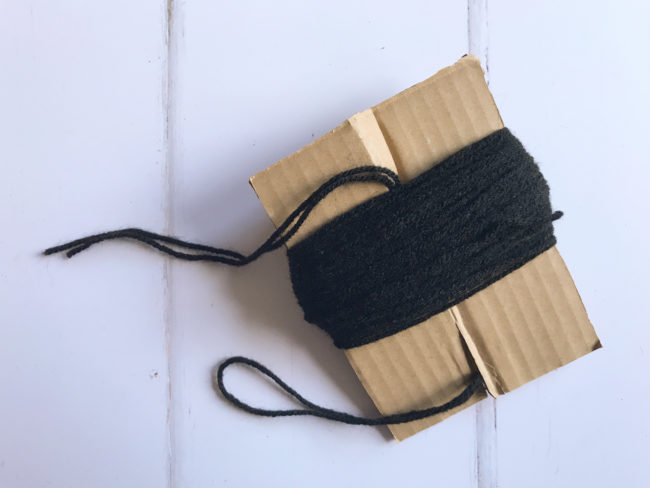 Step 4: Tie the two ends together in a double knot as tightly around the wound up wool, as you can. If the knot is not tight enough, your pompom will fall apart!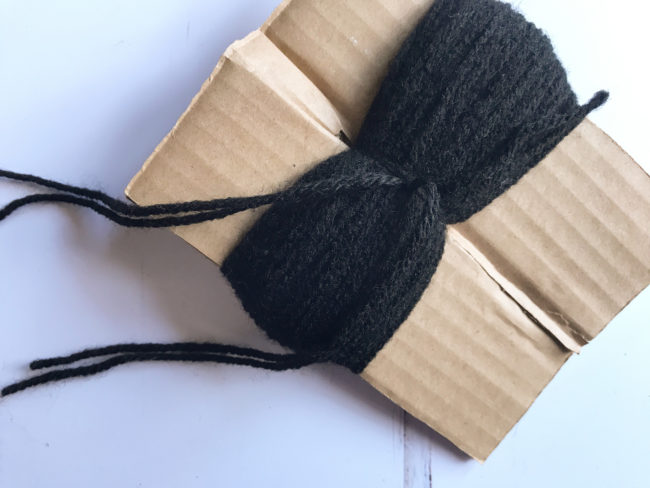 Step 5: Once you have the wool tightly secured with the knot, take your scissors and cut along the sides of the wound up wool, like so…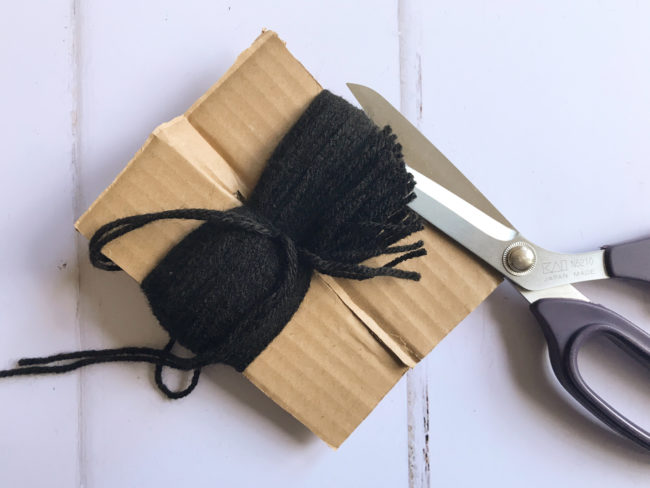 Do this on both sides, then carefully slide off your cardboard and you should have a pompom, albeit a quite floppy one at this point.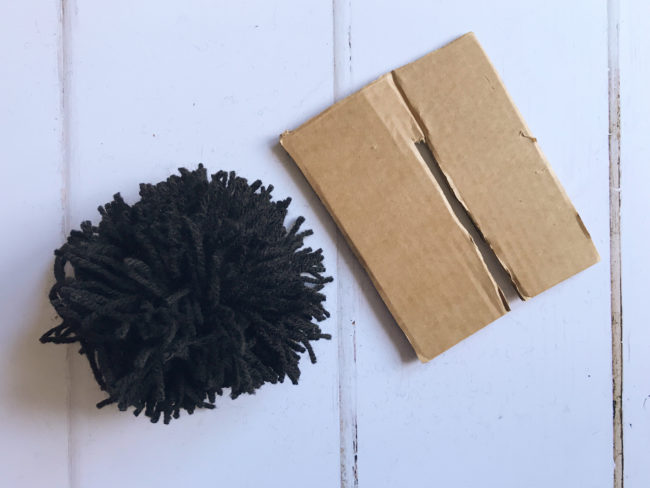 Step 6: To make your pompom look denser and thicker, you need to trim it a bit. It's a little tricky to get this even – if you are not carefully, you'll suddenly find you have cut away half of it! So try not to go overboard. Oh yeah, and this step is quite messy too. I did take a photo of the trimming process, but it turned out totally blurry as I didn't notice just how much wool fluff hat settled on everything. Oops!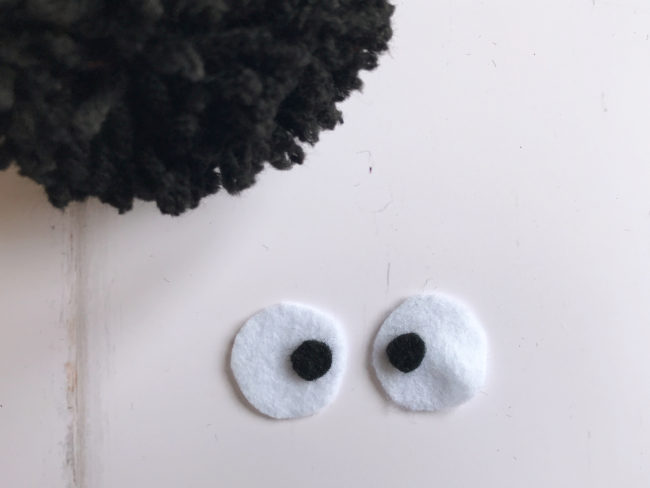 Step 7: The last step, to turn your pompom in to a Soot Sprite, is to add some eyes! Cut two eye sized circles out of your white scraps of felt, and two dots out of the black felt for the pupils. Honestly, I think trying to cut out the black dots evenly was the hardest part of this whole project! Then all you have to do is stick the black dots on to the white circles, and then stick them on to the pompoms. The hot glue worked really well for this, I have to confess I haven't tried it out with other types of glue yet.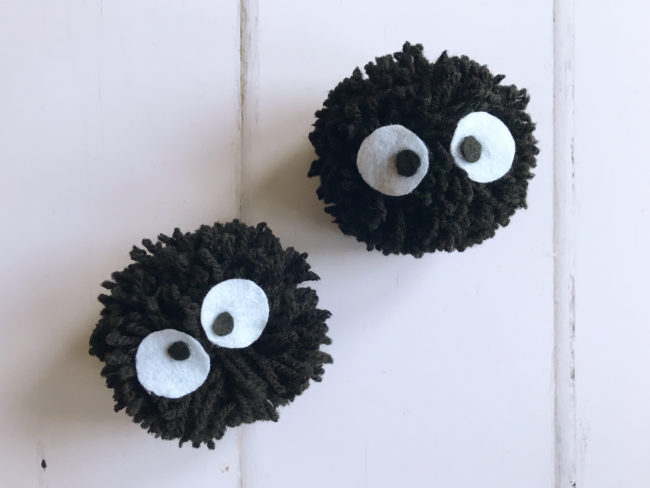 The eyes should both be pointing inwards, to give them the cross-eyed look of the Soot Sprites we bought at the Ghibli Museum. Here's our souvenir from the museum next to our home made Soot Sprites. My 5 year old said it looks like it's had babies, haha.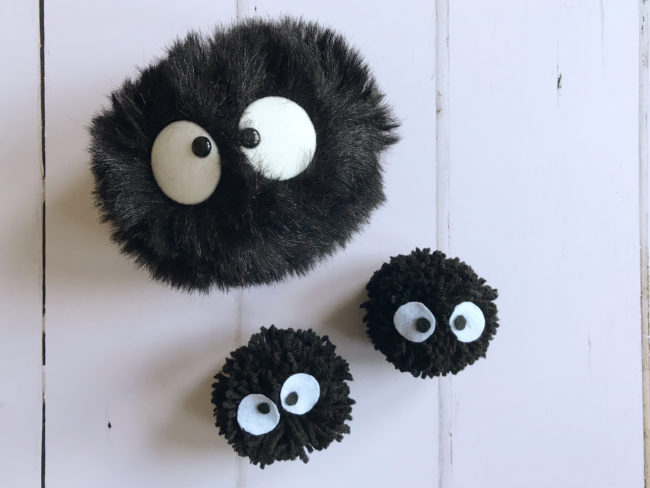 So there you go, your very own Soot Sprites! If you make your own I'd love to see them, so please feel free to tag me in on Twitter or Instagram.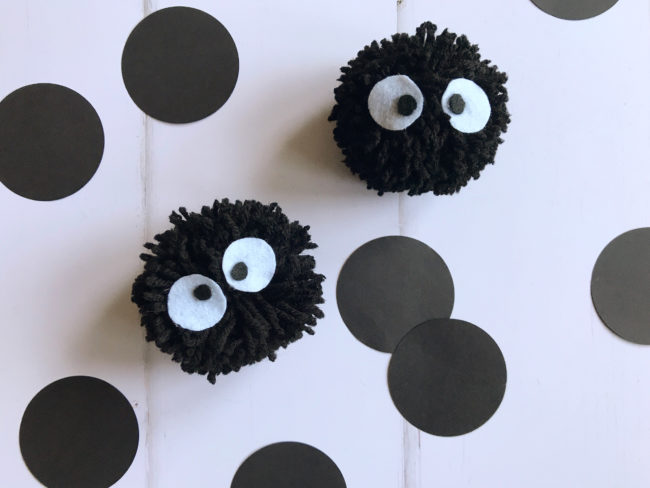 >> Find out more about the Ghibli Museum