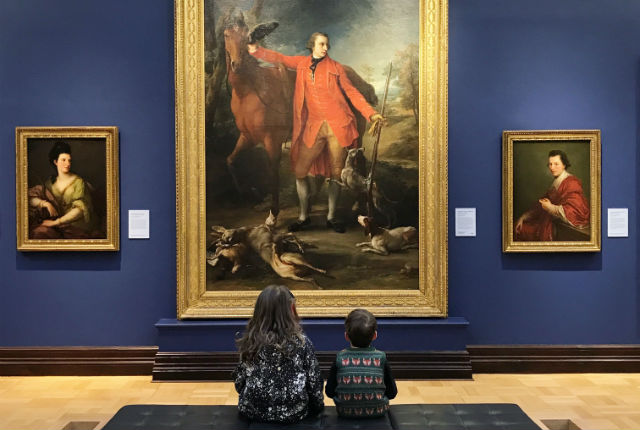 The Scottish Portrait Gallery with Kids
Happy Museum Monday! We are blessed with having some great family-friendly museums and galleries here in Edinburgh, and most of them offer free entry too. During our recent half-term break, we attended a great art workshop at the Scottish National Portrait Gallery, where we made house shaped collages out of various materials. It kept my boys busy for almost two hours, and it was absolutely free! Perfect way to spend an afternoon in the horrendous weather that has been battering the country.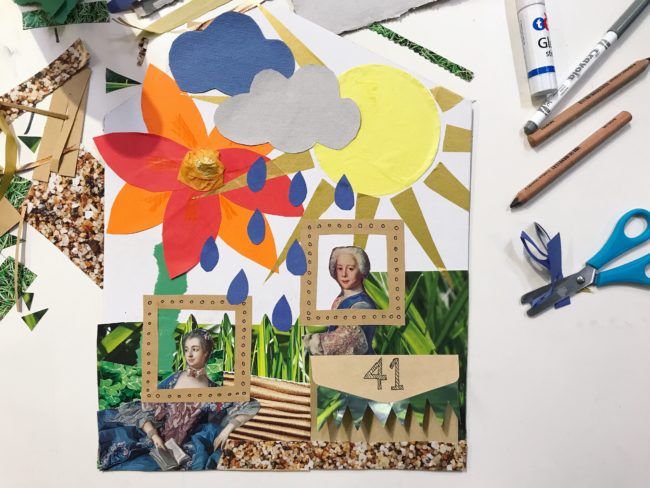 But the Portrait Gallery is a great place to visit with families all year round, not just during the holidays. The Gallery tells the stories the people who shaped Scotland's past, present and future, through paintings, photography, and even some sculptures. Displays include portraits of famous historical figures such as Mary Queen of Scots, Bonnie Prince Charlie and Robert Burns, through to more recent pioneers in science, sport and the arts. As well as the permanent exhibits, there are also temporary exhibitions which change on a regular basis, so there is always something new to see.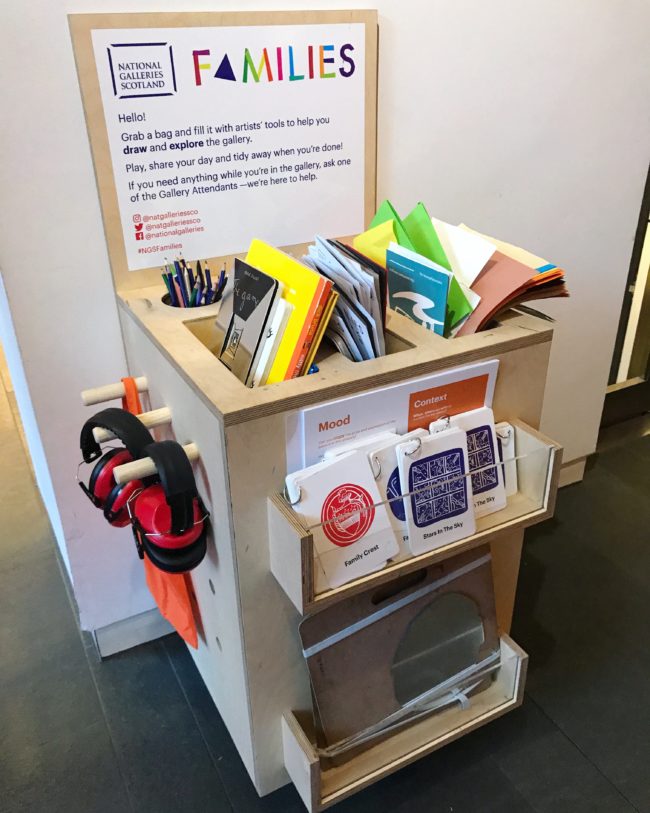 To help you explore the exhibitions, you can load up a bag with artists' tools from the Families cart, including clipboards, paper, and pencils, to draw what you see as you go around. There are ear defenders available too, for kids who are sensitive to noise.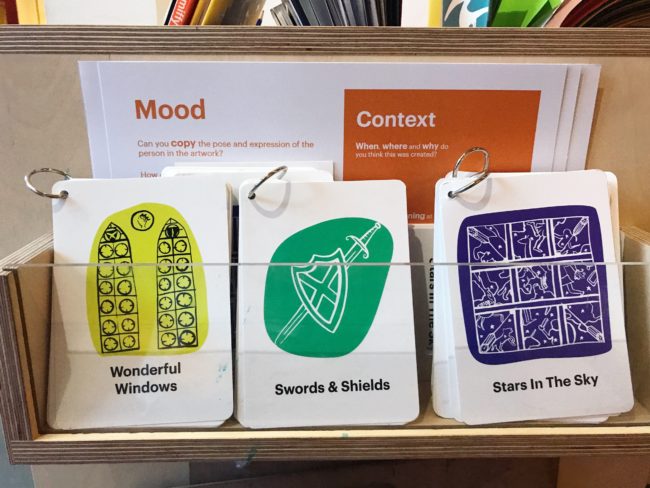 If you'd like some prompts to guide you as you go round, there are a couple of different options. You can grab a set of trail cards, which have over a dozen different prompts of things to look our for or think about, on the different levels of the Portrait Gallery.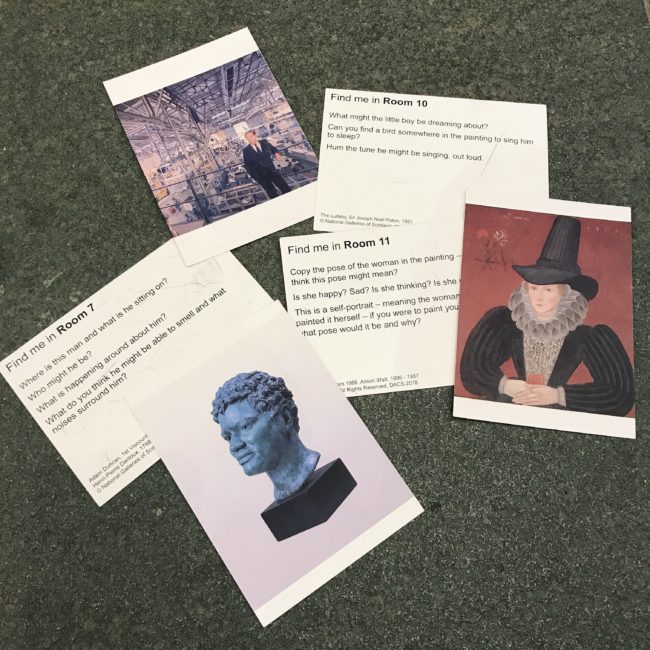 Or, there are postcards of specific artworks to find, with prompts and discussion points on the back. And, finally, you can pick up a copy of the free "Draw & Explore" sketchbook, which also covers the other locations of National Galleries Scotland, i.e. the Scottish National Gallery and the two buildings at the Scottish National Gallery of Modern Art.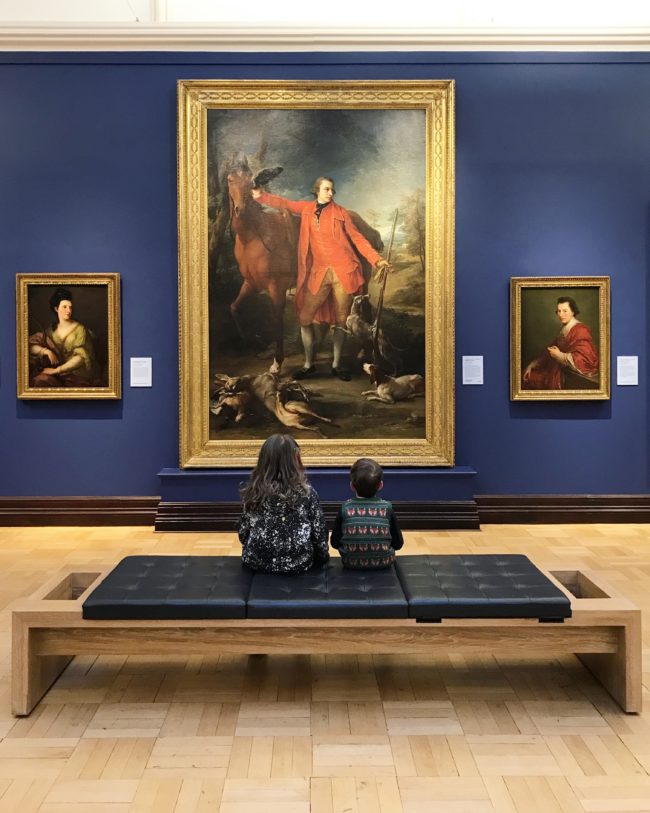 Of course, you can also make up your own activities. One of our favourite games to play is the 'Animal Game', where we see how many different kinds of animals we can find in an exhibition. This may be a bit more difficult in a portrait gallery than e.g. in a gallery with landscape paintings, but there were definitely some animals to be found. Another favourite game is picking a painting you would like to hang up at home, and my personal favourite is "Funniest Moustache", where – you've guessed it – we try to find the portrait with the most outlandish facial hair.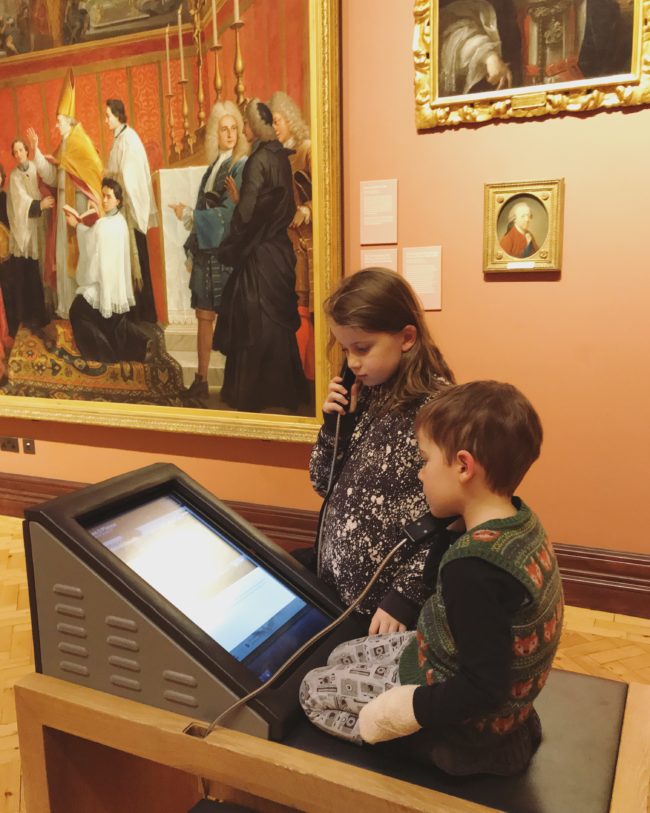 Throughout the galleries, you also find a number of multimedia stations, where you can find out a bit more about the artworks – the boys spent quite some time listening to audio and looking at pictures.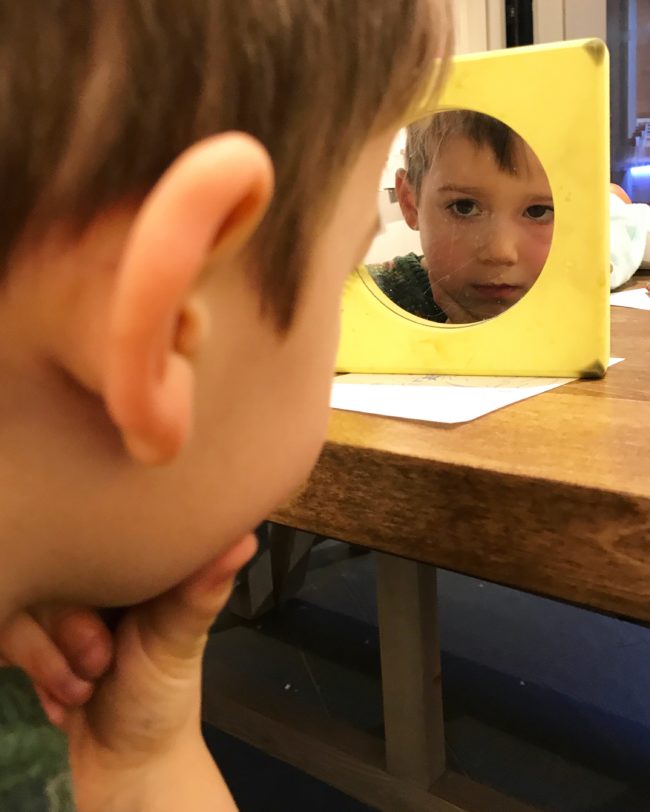 Another neat little feature was the self portrait drawing area on the ground floor. This was separate from the holiday craft activities and seems to be part of the Gallery's standard offering. There was a large table with paper and pencils, and lots of different handheld mirrors so that you could look at yourself while you were drawing your self portrait. When you were done, you could either take it home, or add hang it up alongside the self portraits of other visitors.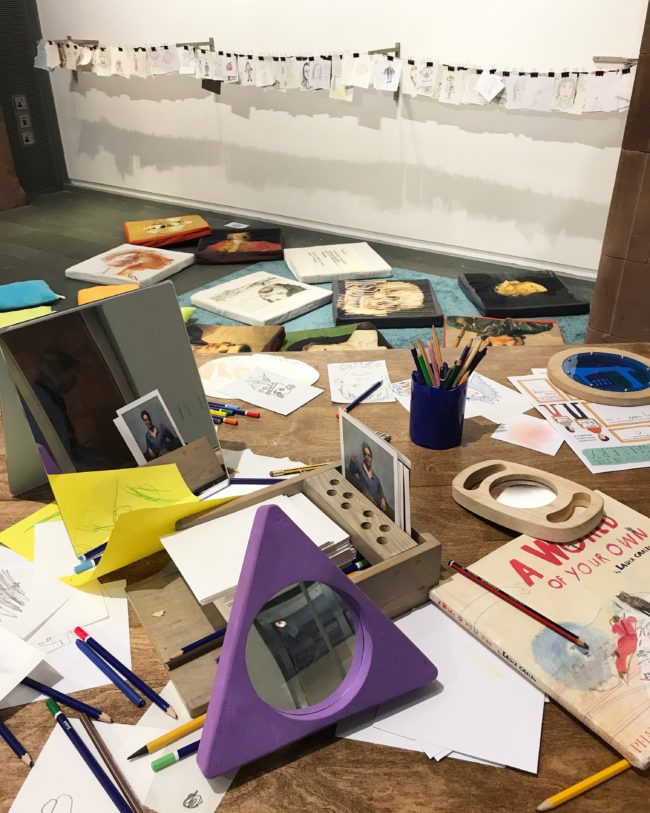 Finally, my boys really enjoyed the dressing area. There were lots of different clothes and props to dress up with – Oskar, my 9 year old, was really taken with the pair of surrealist lobster gloves and has informed me he now wants a pair of his own for his birthday! Haha. There is also a big frame that you can stand behind and pose as a portrait, which is great for photo ops.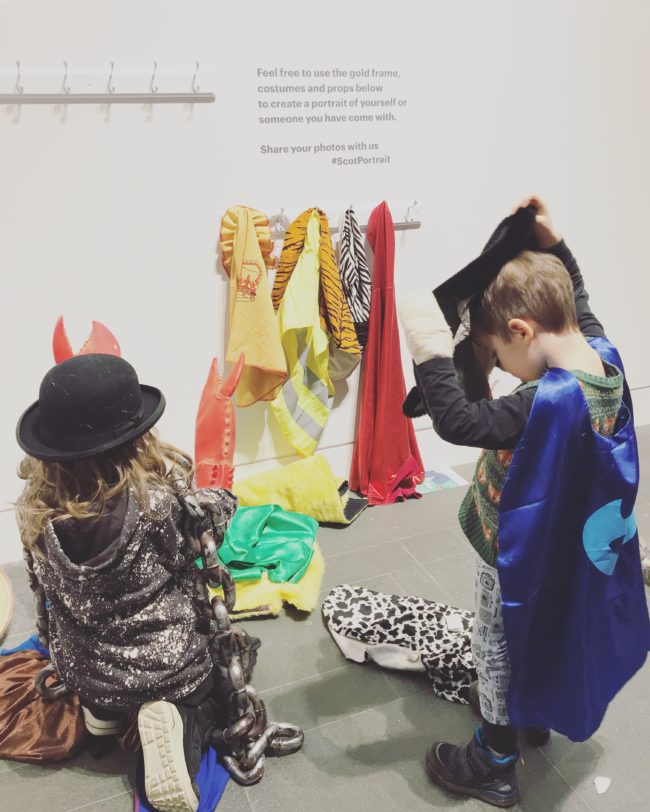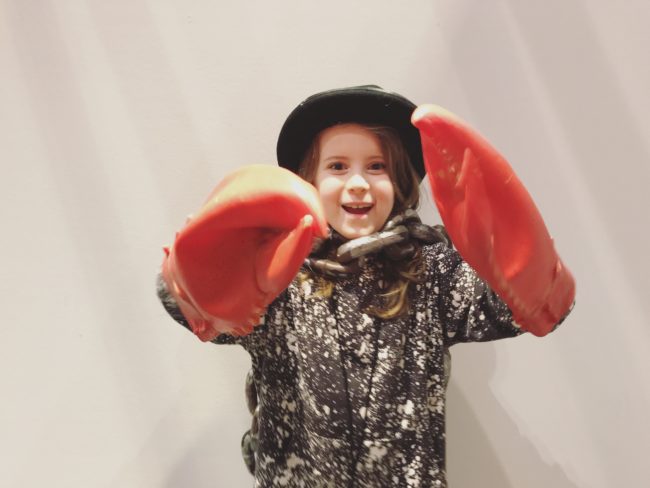 All in all, with the holiday workshop and our tour of the exhibitions afterwards, we spent over three hours at the Portrait Gallery! And we didn't even see half of it, or have time to go for coffee and cake in the fabulous cafe. We have eaten there of previous visits, and they do really nice food, including child friendly and gluten free options. They also offer a really nice afternoon tea, which you need to book in advance – we did this a couple years ago for my birthday.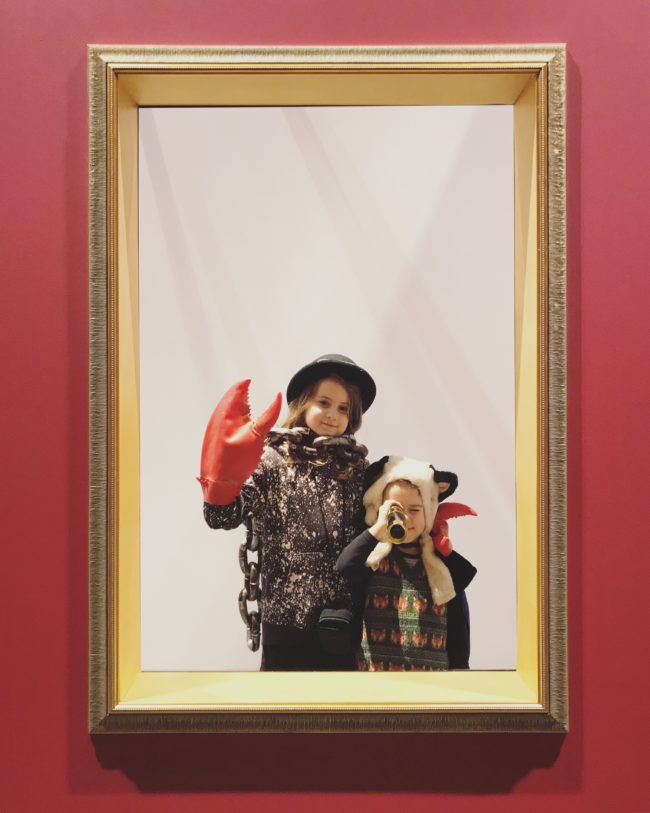 The Scottish National Portrait Gallery is open daily from 10am to 5pm and admission is free, though there is sometimes a charge for special temporary exhibitions. There are baby changing facilities and a buggy park available, as well as high chairs and bottle warming facilities in the cafe. My only quibble is that the lockers there are non-returnable coin lockers, so think carefully about what you leave in them because if you need to get anything out during your visit, you will have to pay again to re-lock them.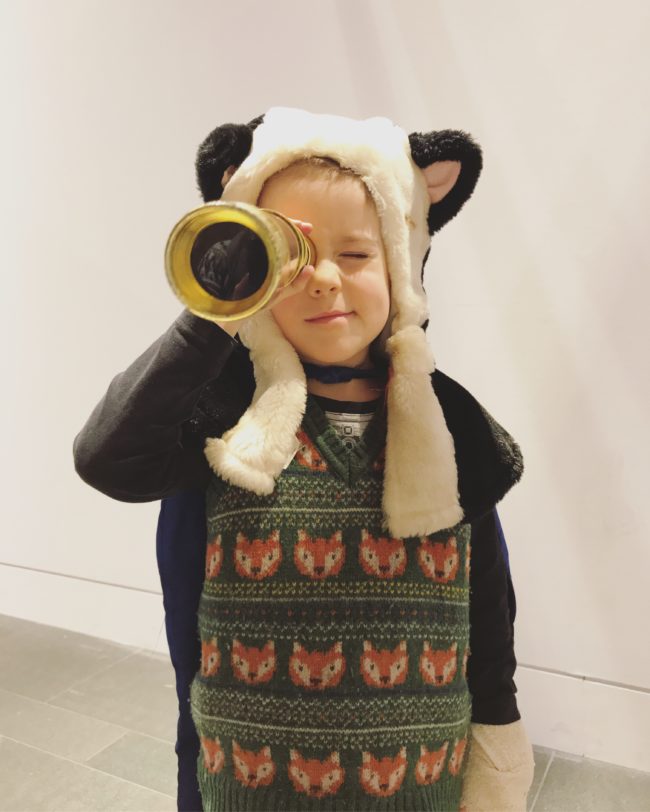 As well as special activities during school holidays, the Portrait Gallery also has regular events for families on weekends, as well as monthly baby-friendly informal gallery chats for grown-ups with little ones (BYOB or "bring your own baby"), and regular autism friendly early openings. You can find all up-to-date information about opening times and events on the National Galleries Scotland website.