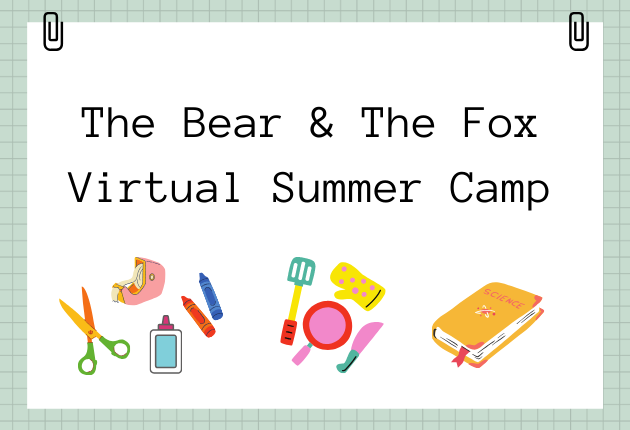 Bear & Fox Free Virtual Summer Camp
Hello everyone! I have something exciting to share with you. With a lot of people's summer plans interrupted, I thought I'd put together a little FREE virtual summer camp on the blog. The summer holidays started in Edinburgh today, and elsewhere in the UK will follow in a couple of weeks, so from next week and throughout all of July and August I will be posting four times a week with ideas and tutorials for things you can do at home, including craft ideas, recipes and science experiments. Everything will include step-by-step instructions so that it is easy to follow, no matter how experienced you are. I will also be using simple materials and ingredients as much as possible, that you should either have at home or can easily get your hands on, so that you don't need to go on a wild goose chase for anything.
Weekly Schedule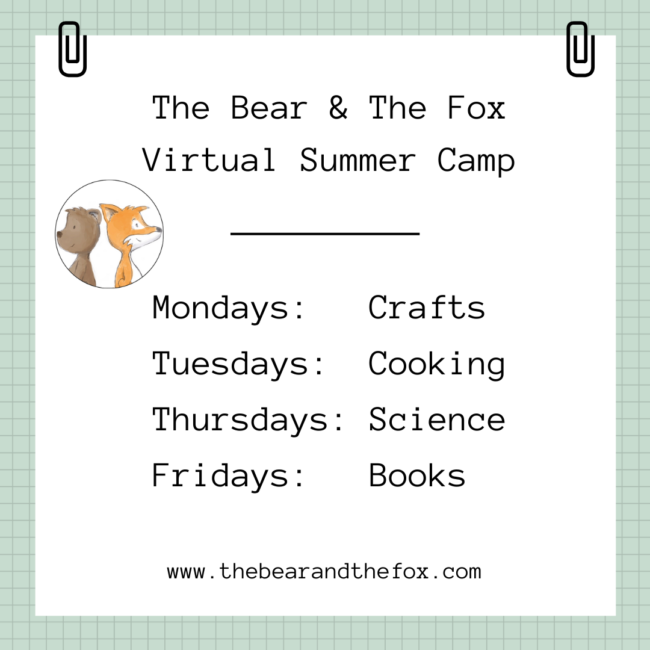 Mondays: Crafts
On Mondays, I will be sharing craft tutorials. These will require a mixture of basic craft materials, recycled or foraged materials, and maybe one or two things that you might have to additionally source. I haven't finalised all the crafts yet, but here is an idea of the kinds of things you will need:
Basic: plain white and coloured paper, plain white and coloured card, coloured pens/ pencils/crayons, crepes paper, ribbon, wool or twine, straws or wooden skewers, elastic bands, scissors, glue stick, sellotape, stapler
Recycled: egg cartons, empty cereal packet, empty toilet rolls, larger empty cardboard rolls (e.g. from kitchen roll, tin foil, cling film etc), large plastic milk or juice bottle tops 
Foraged: feathers, twigs or small sticks
Other: paper fasteners (also called brads or split pins), coloured crafting feathers (feathers you have collected are fine too but less colourful), party hats (can be substituted by making a cone out of card), wooden clothes pegs (the kind with the spring in the middle)
Tuesdays: Cooking
On Tuesdays I will share a recipe, either sweet or savoury, for something that is not only great too cook or bake for kids but also with kids. Each recipe will include not just the ingredients you will need, but also all the utensils you will need, and I'm going to be as detailed as possible in my directions for any first time cooks and bakers. Each recipe will also highlight which parts kids can help with, and which parts are best left to adults. And all the recipes will be gluten free or adaptable to be gluten free.
Thursdays: Science
On Thursdays, we will be doing some science. I will share some easy and safe science experiments, that you can do with just a few simple items. My boys and I have been busy testing these over the past few weeks, to make sure they are suitable and that they really work! We'll mostly be using items that you'll already have around the house or can easily get in your local supermarket, but there are a couple of things you might want to source in advance: effervescent tablets (e.g. Alka-Seltzer), food colouring, balloons, Blu-tack
Fridays: Books
And finally, on Fridays I will be sharing a short video with some book recommendations, to give you a sneak peek inside the books. This will be part of summer reading challenge – the Kids Books Bingo – which I am co-hosting with my friend Amanda from Books & Pieces for the second year in a row, so keep an eye out for that too. Each week, I will highlight one of the Bingo categories and share a couple books for that category.
[line]
I haven't finalised the order of all the activities yet, but if you sign up to my newsletter I will be sending out a short update each week with what we will be doing the following week, to give you time to gather any things you may not already have at home. (Scroll to the end of this post to see what you need for Week 1)
FAQs
How much is the Summer Camp?
It's free!! I've always blogged because I love to share, not to make big money out of it, so all the summer camp content will be available for free, right here on my blog, so that as many people as possible can join in regardless of their circumstances. No sign-ups or anything required (unless you want to join the newsletter, as mentioned above, but that is optional). However, with other work opportunities being a bit scarce at the moment, I made the decision to link my blog to the donation platform Ko-fi, where you can support your favourite creatives for the price of roughly a coffee (or more if you so wish). So if you enjoy the activities that I am sharing and are able to, you can support me on Ko-fi. I would really appreciate it.
What age is the Summer Camp for?
My boys are 5 and 9, but I have been doing these kinds of activities with them since they were about 2 so younger kids can definitely take part too (with some adult assistance). There's no upper limit really if you enjoy crafting, cooking or science.
Do I need to take part in the activities on the day?
No, the schedule is just to let you know what to expect when. The content will remain on the blog, so you can come back and do the activities at a later time if you already have plans that day.
What do I do if I get stuck on an activity?
Not a problem, just give me a shout. You can leave a comment on the relevant blog post or email me at jenni@thebearandthefox.com. You can also find me on Facebook, Twitter and Instagram.
I hope you enjoy the activities I have put together for you. I would love to see pictures of what you make, so if you want to share anything on Twitter or Instagram use the hashtag #bearandfoxsummercamp
[line]
Here's what you will need for Week 1 (beginning 29th June):
For Crafting: plain coloured paper, scissors, glue stick, and a black pen
For Cooking: 250g self-raising flour (gluten free if required), olive oil, salt, tomato puree, cheese, e.g. mozzarella or cheddar, dried oregano
For Science: celery sticks with leaves, food colouring