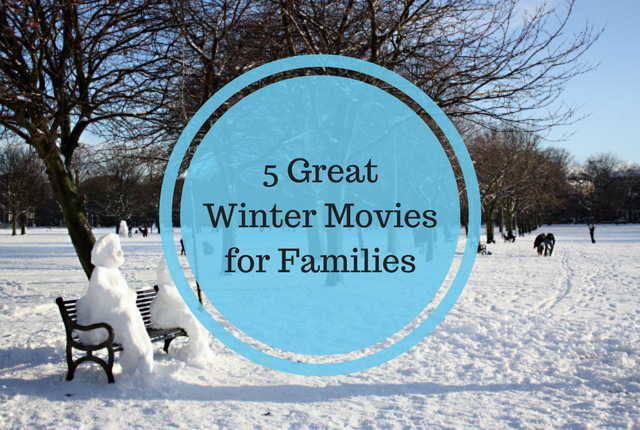 5 Great Winter Movies for Families
It's National Popcorn Day today! What better excuse to snuggle under a blanket with a nice big bowl of popcorn and watch a movie together. School only goes until noon on Fridays, so Friday often ends up as our default movie afternoon. And if weekdays aren't an option for you, there's always the weekend. After all, any day can be popcorn day – at least in our eyes! If you fancy some homemade popcorn, check out my recipe from earlier in the week for White Chocolate & Marshmallow Popcorn. Or, for something a little less decadent, you can also check out my previous Homemade Flavoured Popcorn recipes, featuring both sweet and savoury options.
If you are looking for some movie suggestions, I've rounded up some of our favourite Winter movies for families (that aren't Christmas movies!) There's something there for every age.
The Gruffalo's Child
"…the snow fell fast and the wind blew wild. Into the wood went the Gruffalo's Child." Released in 2011, this 30 minute animated movie adaptation of the much loved children's book has snow aplenty. A sequel to 'The Gruffalo', it features – as the title implies – the Gruffalo's child, who sets out in to the snowy woods in search of the Big Bad Mouse. Does he exist? And what will happen if they meet? This sweet movie is perfect for very little ones, and short enough to keep their attention.
Ice Age
I've lost count of how many times we've seen Ice Age. It was released in 2002, so chances are, a lot! As you may have guessed from the title, this animated movie is set during the days of the Ice Age. Animals are migrating South, but when Manny the wooly mammoth and Sid, a giant ground sloth, find a human baby, they set out on a journey to return him to his parents. They are joined by Diego, a saber-toothed tiger whose intentions are not entirely honourable. Will the trio succeed? And will Diego do the right thing in the end? This fun adventure provides plenty of ice, snow, and wintery feels, and Scrat the sabre-tooth squirrel adds some hilarity throughout. The movie comes in at around 80 minutes, so is not too long for little ones, and it's rated a PG. There are some scary scenes, so it depends a bit on your child. My 3 year old loves it, but comes for a cuddle for the scary moments.
Happy Feet
An animated movie set in the Antarctic, featuring hundreds of penguins. It doesn't get more wintery than that. Happy Feet, which dates back to 2006, is set in a colony of singing Emperor Penguins, who all have a special 'heartsong' to attract a mate. When Norma Jean and Memphis become mates, the egg is left in Memphis' care but her drops it, resulting in their son – Mumble – being unable to sing when he hatches. Instead, he can tap dance. He is ridiculed by the other penguins as he grows up, and ultimately is cast out by the elders and ends up going on an incredible adventure. Will he ever be allowed back home? And will he find true love, without a heartsong? This is a sweet movie, about learning to accept uniqueness, both in yourself and in others. There are several scary scenes in it though, so it may not be suitable for very little ones, but as always, it depends a bit on the individual child. My three year old wasn't so much scared, as bored. After about 20 minutes he kept asking if we could watch something else. The story is a bit slow moving in parts, so being fascinated by singing and dancing penguins is definitely a plus. My seven year old, on the other hand, loved it so much he asked when we could watch it again, as soon as it had finished! It's rated a PG, and comes in at just over 100 minutes.
Frozen
I guess you can't do a post about wintery family movies, without mentioning Frozen. Although it was released in 2013, I had never seen it before, but in the interest of blog post research, we finally watched it last week. It was okay, though I honestly don't see what all the fuss is about. It wouldn't feature in my Top 10 of Disney movies, and could never match the likes of Aladdin, The Little Mermaid, or Beauty & The Beast, to name just a few of my favourites. But I digress. So, we watched it, and while I maybe wasn't that impressed, the kids loved it! Both of them sat through it enthralled – though my 3 year old came over for a cuddle during the scary snow monster bit – and then they watched it again the next day before it expired (we had rented it for 48 hrs from Amazon). Just in case, like me, you've been living under a rock where Frozen is concerned, the story centres around two royal sisters, one of whom has cryokinetic powers and accidentally turns her kingdom to ice at her coronation. She flees in to the mountains, and her younger sister sets out to find her – with the aide of an iceman, his reindeer, and a talking snowman – to bring her back, break the curse, and release their kingdom from eternal Winter. Will there be a happy ending? Well, it's Disney, so… It's rated a PG, and comes in at just over 100 minutes. Unlike Happy Feet (see above) which is a similar length, my 3 year old didn't get bored despite it being quite long.
The Lion, The Witch & The Wardrobe
Speaking of eternal Winter, The Lion, The Witch & The Wardrobe isn't exactly a Winter movie, but eternal Winter does feature prominently in it, and is probably what most people picture when they think of the magical land of Narnia. Does the movie need any further introduction? In brief: four children discover a magical country though the back of a wardrobe, which is under control of the White Witch. With the guidance of a mystical lion named Aslan, they set out to fulfil their destiny and free Narnia, aided by a posse of talking animals and other fantastical creatures. There have been several movie adaptations of C.S. Lewis' much loved book, but this 2005 version surpasses them all with its cinematography. It's rated a PG, but there are quite a few scary scenes in this movie, including grave injuries and deaths, and at 143 minutes it's very long, so this is not one I would watch with my 3 year old. I have started watching it with my 7 year old in instalments – which isn't easy as his little brother is usually always around – and he is enjoying it so far.
Bonus: Cool Runnings
I thought I would sneak in a bonus feature, because I've just remembered that Cool Runnings – which came out all the way back in 1993 – is another great Winter movie! It's not a kids movie per se, and I haven't actually watched it with my boys yet, but I think my 7 year old would love this. It is loosely based on the true story of the Jamaica national bobsleigh team's debut during the 1988 Winter Olympics, though a lot if it is heavily fictionalised. It's a funny, feel-good sports comedy, and at 98 minutes it's not too long either. It's rated a PG.
So, how about you? What's your favourite Winter movie? Do feel free to share in the comments below.