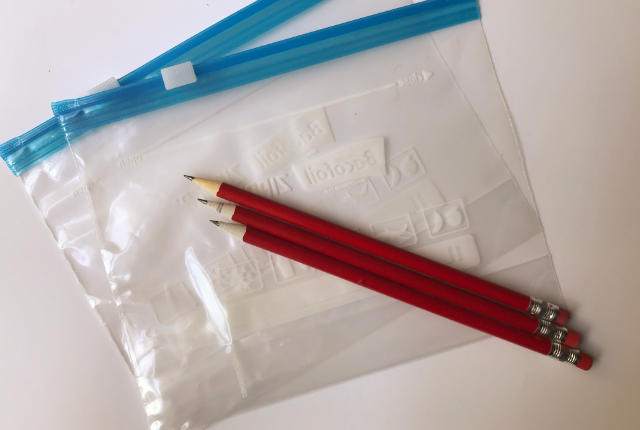 Leakproof Bag Experiment
Today is the third science session of our virtual summer camp. If you missed the introduction I recommend you go back and read it as it includes some general tips for all our science sessions.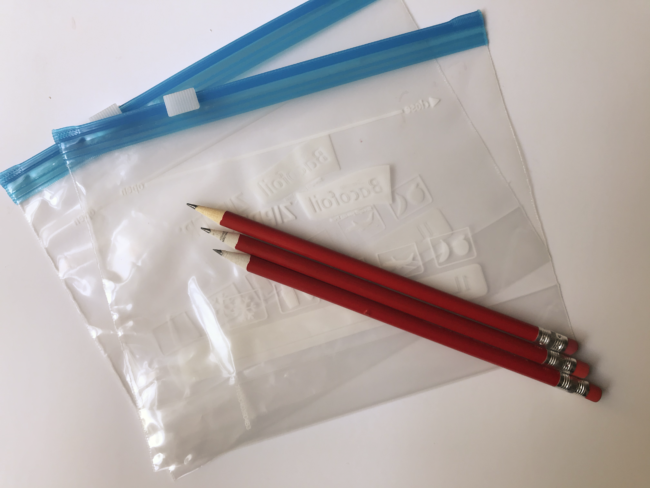 This week we are going to do a simple experiment which my boys both think is "super cool" – so much so that they wanted to do it several times in a row. All you will need is a sealable plastic sandwich bag (e.g. a Ziploc bag) and 3-5 round, sharp pencils. It needs to be sealable and not have any air holes or tears. If you don't want to waste a perfectly good sandwich bag, you can repurpose one that has been already used as long as it's not damaged.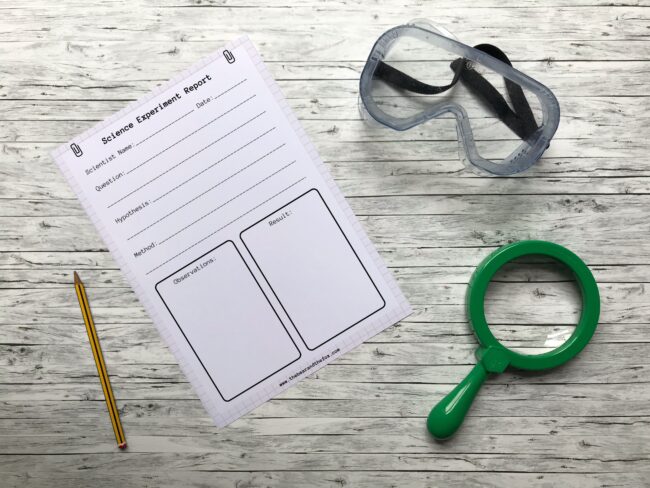 If you want to record your experiment – including your predictions, observations and findings – you can also download a copy of my free 'Science Experiment Report' sheet and either print it off or, if you don't have a printer, use it as a template to create your own. Depending on age, kids can either write and/ or draw their observations.
I've recorded a video of the experiment, which you will find further down the page. However, I recommend you try the experiment out yourselves first before watching the video, and then you can compare your results with ours. There's not much you can do wrong with this one – though I do recommend you do it outside! Or over a sink or bath.
Safety Tips: Be careful that younger children don't stab themselves with the sharp pencils. Other than that this experiment is perfectly safe, though you may get a bit wet.
Leakproof Bag Experiment
Step 1: Fill the bag with water and seal it.
Question: What do you think will happen when you stab the pencils through the bag? Record your predictions.
Step 2: Stab the pencils one by one all the way through the bag – in one side and out the other! But not all the way through, make sure you still have a bit of pencil sticking out each side of the bag. Record your observations.
Questions: What do you think will happen when you pull the pencils out? Record your predictions.
Step 3: Pull the pencils out of the bag (you definitely need to hold the bag over a sink or bath if you are not doing this outside!) Record your observations.
Here's a short video from when we did this experiment at home…
Questions: Why do you think the bag didn't leak when you stabbed it with the pencils? What changed when you pulled them out? Does it work if the bag isn't sealed? Experiment with using bags of different thicknesses, and pencils of different shapes and sizes. What works best?
Explanation
Plastic bags such as Ziploc bags are made of polymers. A polymer is a chemical compound made up of long chains of molecules that are flexible. The plastic bag is bendy and stretchy because of the flexible molecule chains. When you push the pencil in to the plastic bag, the sharp tip of the pencil pushes in between the chains that make up the polymers. Because the chains are flexible, they 'wrap' themselves around the pencil, forming a temporary seal that won't let the water out. When you pull out the pencil, the hole remains because the molecules have been permanently pushed aside, so the water leaks out.
If you enjoyed today's activity, please feel free to leave a comment or tag me in on Twitter and Instagram. Remember to use the hashtag #BearAndFoxSummerCamp if you are sharing any photos.
[line]
All Summer Camp activities are free to make them accessible to as many people as possible. However, if you enjoy the activities and are able to, you can support me with a donation on Ko-fi. Just hit the button below. Every little helps and is much appreciated. Thank you.