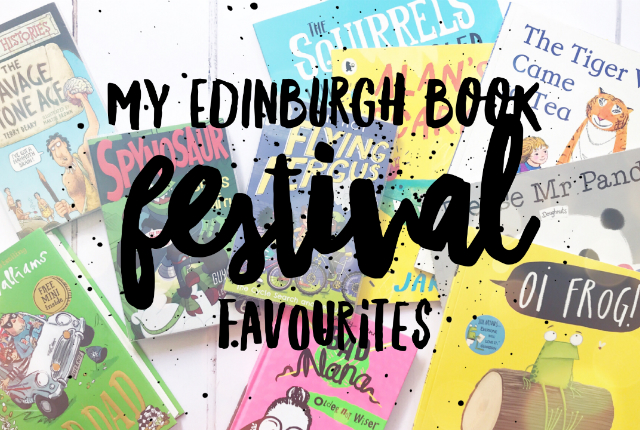 My 2018 Edinburgh Book Festival Favourites
I've got a special book post to share with you today – tickets for this year's Edinburgh International Book Festival, the world's largest public celebration of books, go on sale next week! The Festival itself takes place from the 11th to 27th August this year. The programme is already out, and includes over 200 events for children, families and young people, so I've put together a video to share some of my favourite authors and illustrators from the programme with you. Obviously, if you can't make it to the Festival, you can still check out my recommendations since you don't need to be in Edinburgh to read any of these books – perhaps you'll even discover some great summer reads for your family! I've included both picture books and chapter books, so there should be something for all ages.
Just a short disclaimer up front: I currently actually work for the Book Festival, but all the opinions and recommendations in the video are entirely my own. It's completely unrelated to my work, it's just me as a book lover having gone through the publicly available programme and picked out my favourites. And all the books I'm showing you are ones that I've either bought myself or borrowed from the library. So, now that we've got that out the way, let's crack on with some books!
If you enjoyed the video, I'd be really grateful if you would subscribe to my channel. Thanks!
List of Picture Books:
List of Chapter Books:
Sophy Henn: Bad Nana
The 'Flying Fergus Series' by Chris Hoy, Joanna Nadin & Clare Elsom: The Best Birthday Bike (Book 1), The Great Cycle Challenge (Book 2), The Big Biscuit Bike Off (Book 3), The Championship Cheats (Book 4), The Winning Team (Book 5), The Cycle Search and Rescue (Book 6), The Wreck-it Race (Book 7), Trouble on the Track (Book 8)
Julian Clary & David Roberts: The Bolds, The Bolds to the Rescue, The Bolds in Trouble
Alex T Smith: Mr Penguin: Mr Penguin and the Lost Treasure, Mr Penguin and the Fortress of Secrets
Guy Bass & Lee Robinson: Spynosaur, Spynosaur in The Spy's the Limit, Spynosaur in No More Mr Nice Spy
Terry Deary & Martin Brown Horrible Histories (lots of titles!)
---
Please note that all the book links in this post are Amazon affiliate links. That means if you buy any books via these links, I receive a small percentage – at no extra cost to you! – which helps to keep this blog running