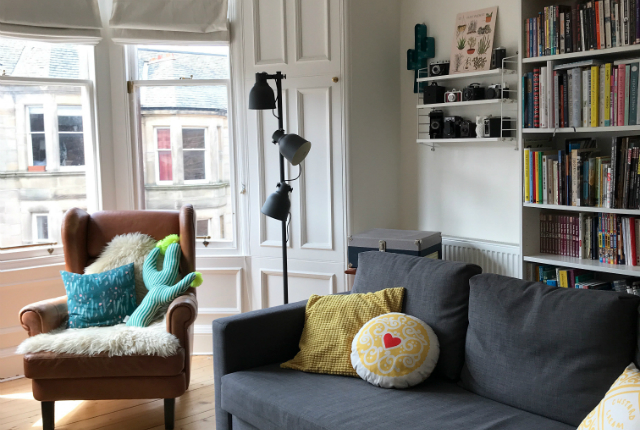 Home Tour: Living Room
Since sharing a tour of my boys' new room the other week, I've been asked several times if I could share some more of the rest of our apartment. So, ever eager to please (haha), I present to you our living room! And no, it's not always this tidy. It lasted for about all of ten minutes, I literally had to lock the boys out of the room to stop them messing the room up again *while* I was taking photos. Sigh.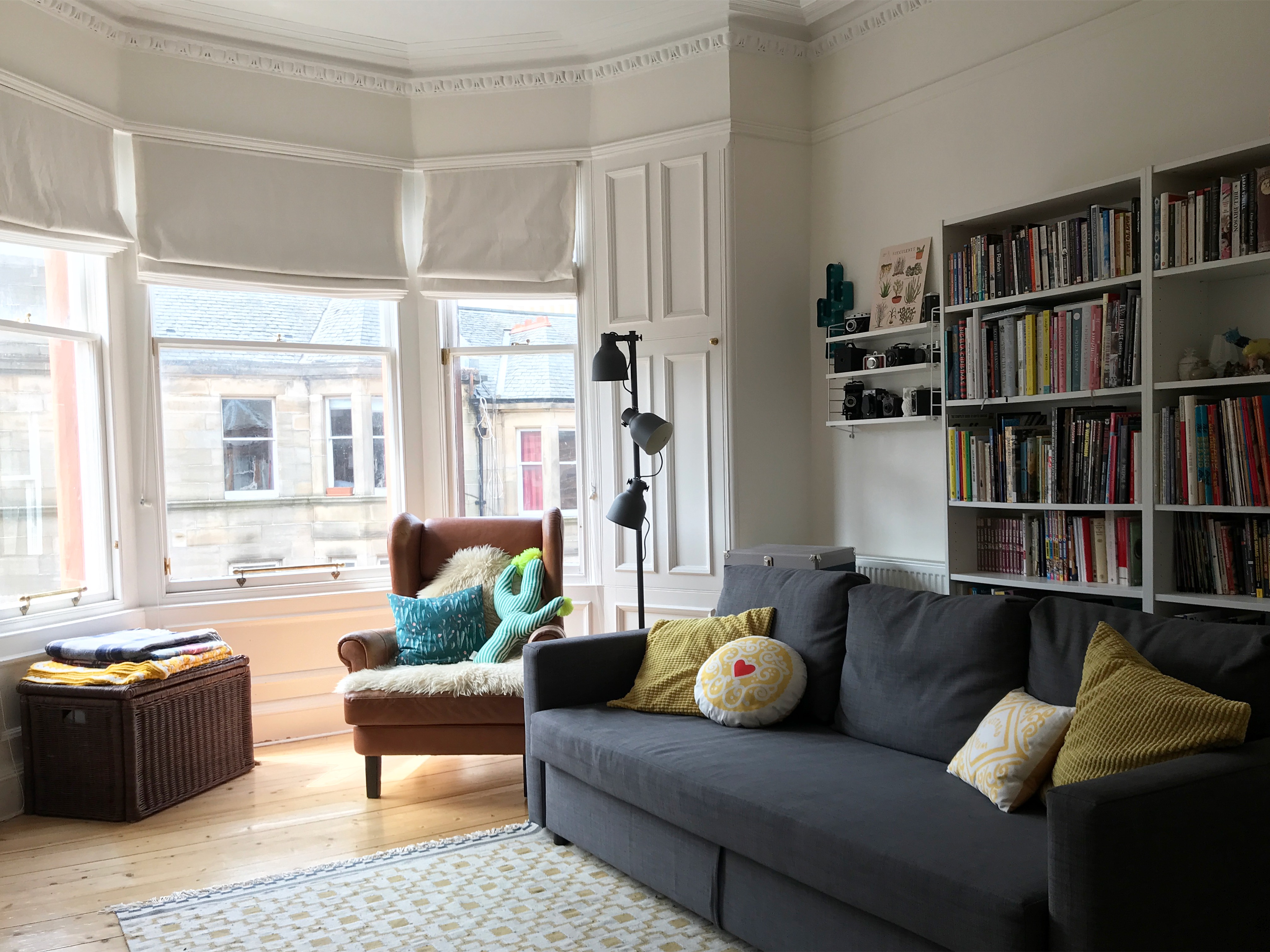 I love myself a good bay window. I kinda missed having one while we were in Berlin. It's the perfect place for a Christmas tree! I also love how you can look up and down the whole street from there. The wicker chest holds all the boy's dressing up clothes. We ran out of space for them in their room, now we no longer have a separate play room, but when they are all tidied away (i.e. never, haha) the wicker chest just blends in to the room.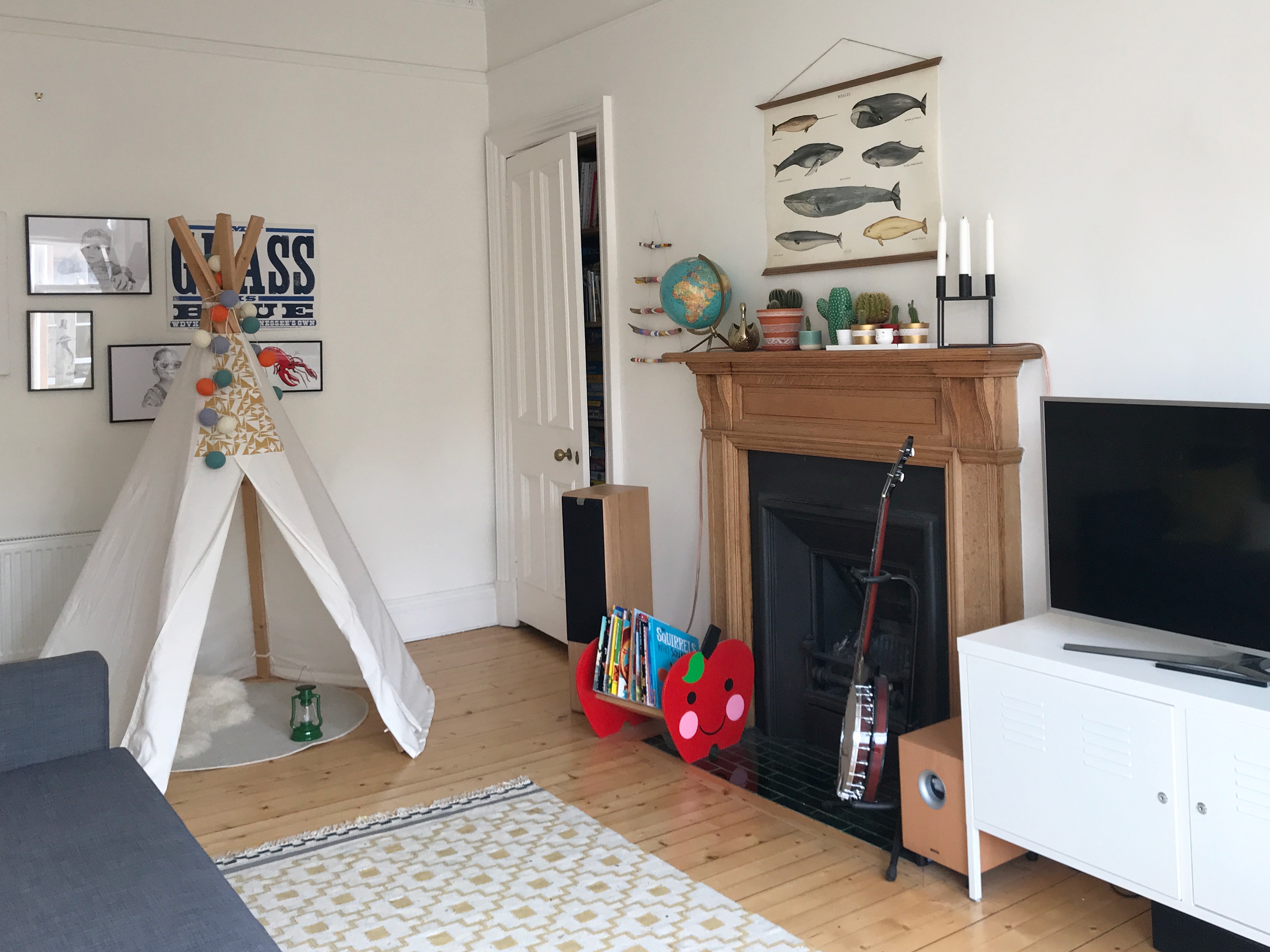 The teepee is another survivor from our former playroom. The boys don't actually play with it that often, but I just can't get myself to part with it. It was such a labour of love making it. Another DIY project was the little apple shelf – this is where we put our seasonal books, and also our library books so they don't get lost amongst the chaos.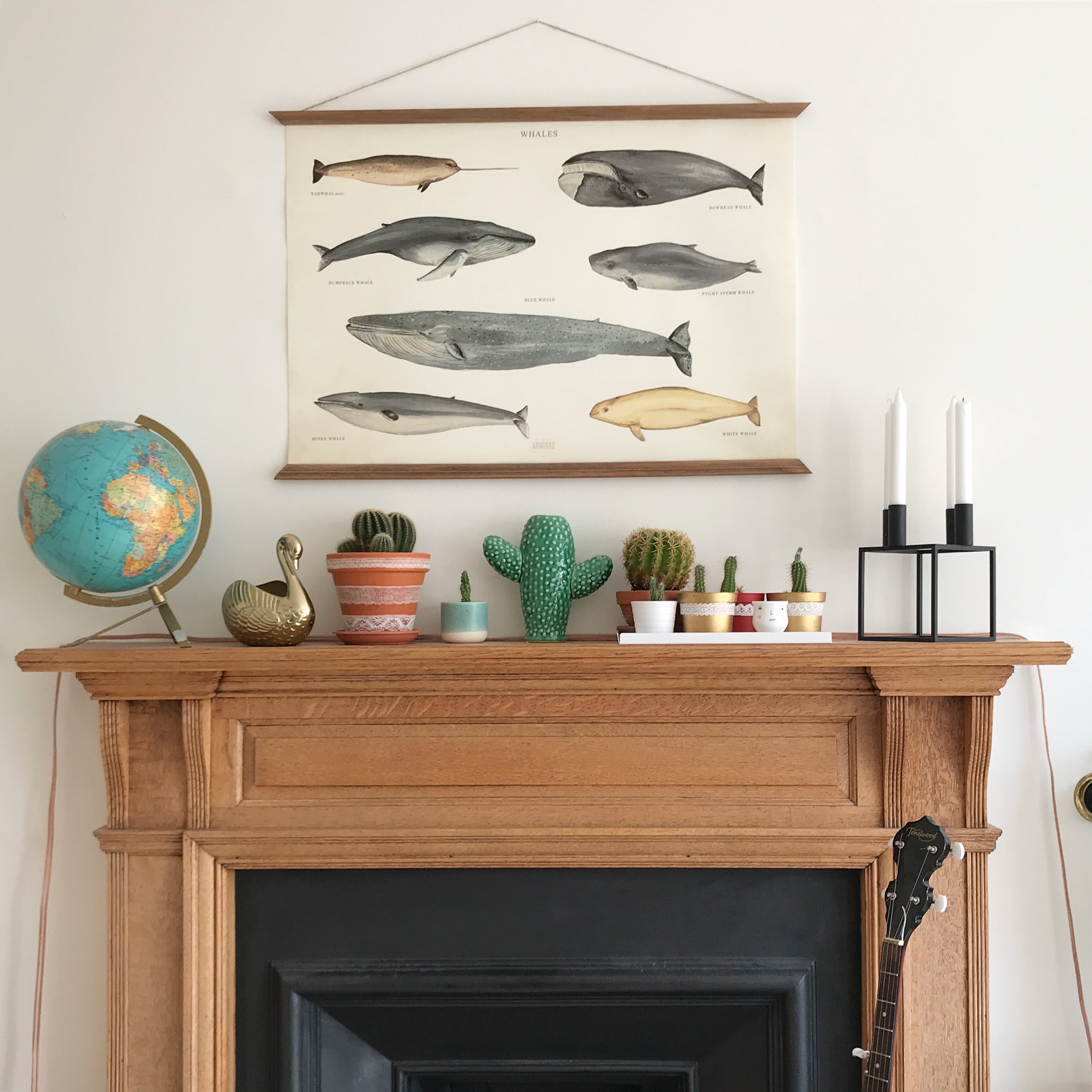 The mantlepiece is where I get to display some of my treasures. The old globe is from a flea market in Berlin. The cactus shaped vase is by Serax and the little ceramic pot next to it is by Studio Arhoj – bother came from 'Hallesches Haus', one of my favourite shops in Berlin. They also have a cafe and do a really tasty, changing lunch menu which almost always includes at least one gluten free option. A place definitely worth checking out if you are ever in Berlin and like good food and pretty things. Speaking of cacti, the little ones are all ones I grew from seeds about two years ago. I'm quite proud I've managed to keep them alive that long!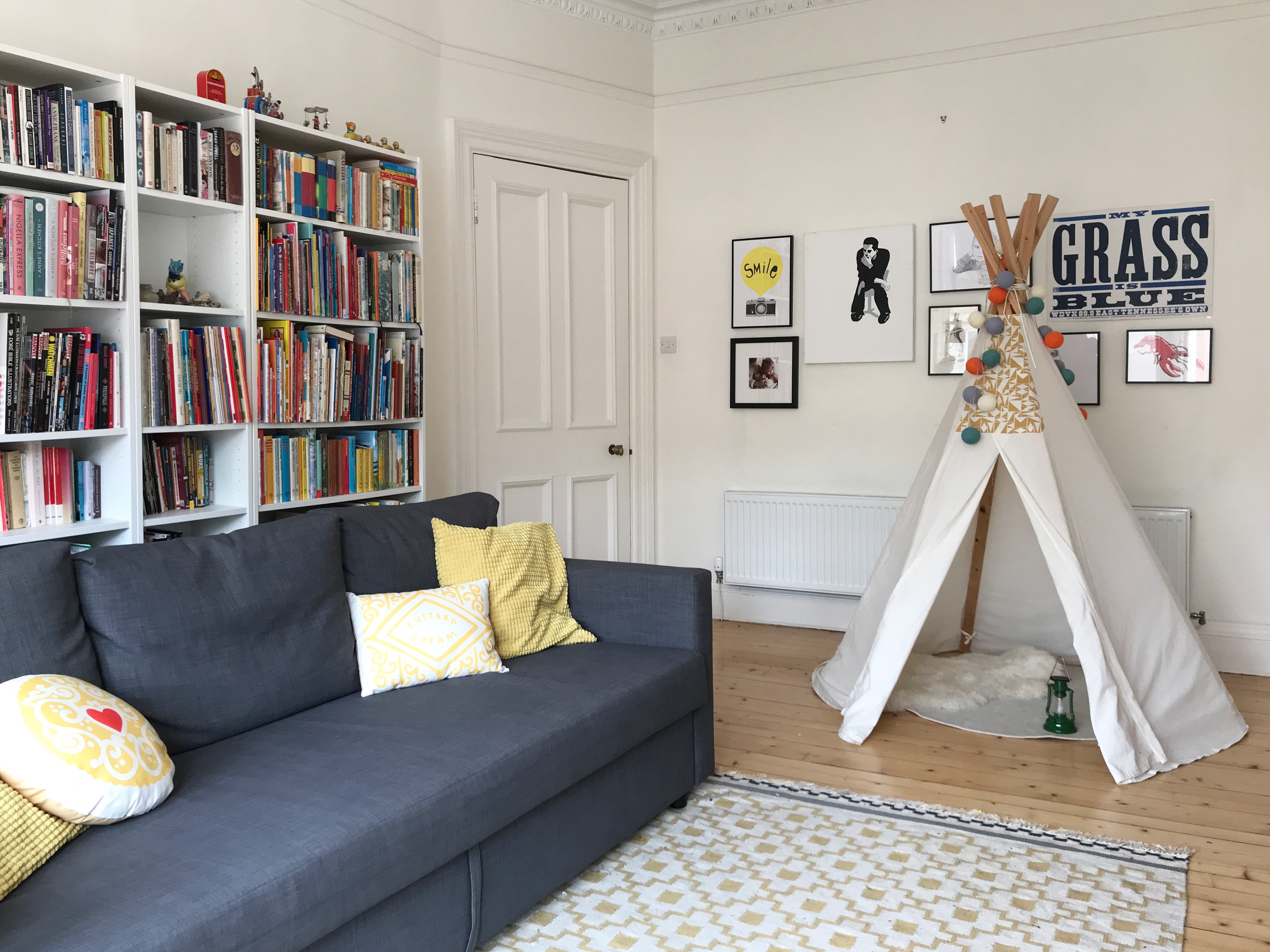 I love the colour combo of grey and yellow. The cookie shaped yellow cushions are both by Nikki McWilliams, a local Scottish designer. You can order them from her online shop, and they come in lots of different colours. She has other cookie cushions too.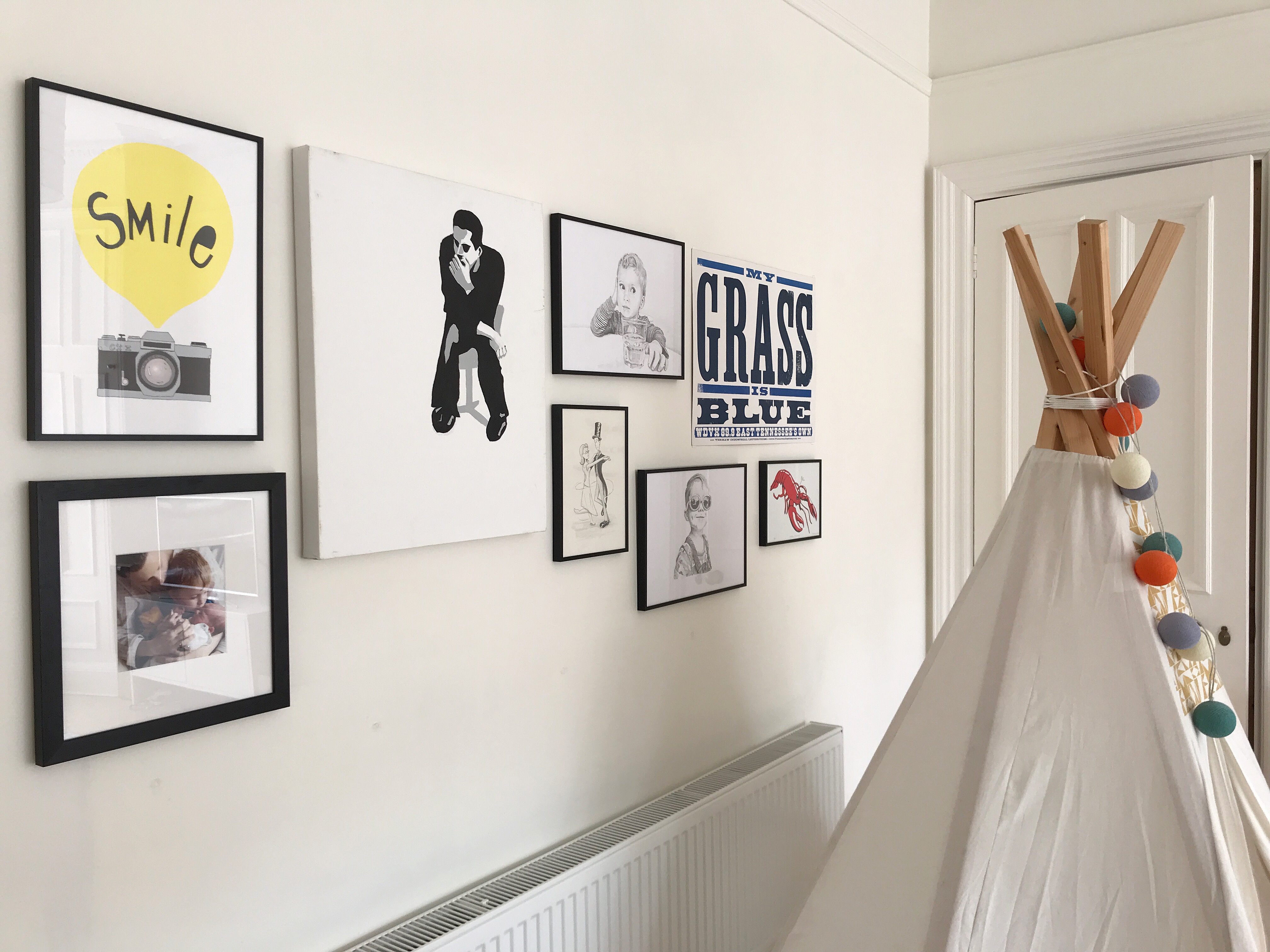 This is our little picture wall, which includes one of my favourite photographs, taken by my husband – it's me and my two boys in hospital on the day my younger son was born. The Smile print is from Seventy Tree, and the 'My Grass is Blue' poster is a souvenir from a radio station I visited in Tennessee when I was there for a summer exchange many moons ago as a student. The other pictures are all artworks by my husband, including the two pencil drawings of our boys.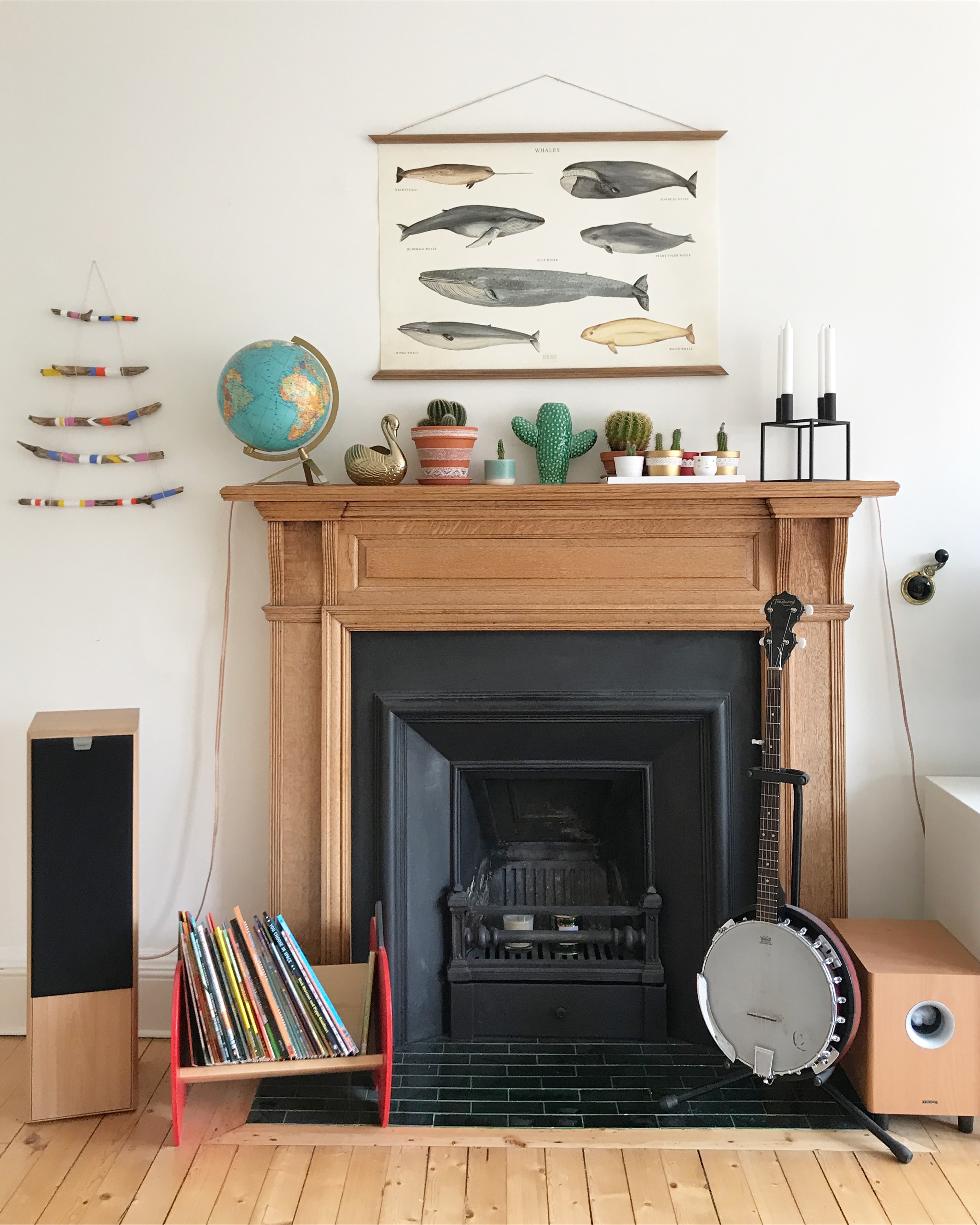 I get asked a lot about the whale print above our mantlepiece. It's from Atelier Arminho, and indie print shop from Portugal (I ordered it from their online store). The banjo is my husband's, by the way. We have a couple of stringed instruments, including a guitar, mandolin and ukulele (the latter is mine). I'd love to have enough space to display them all on a wall.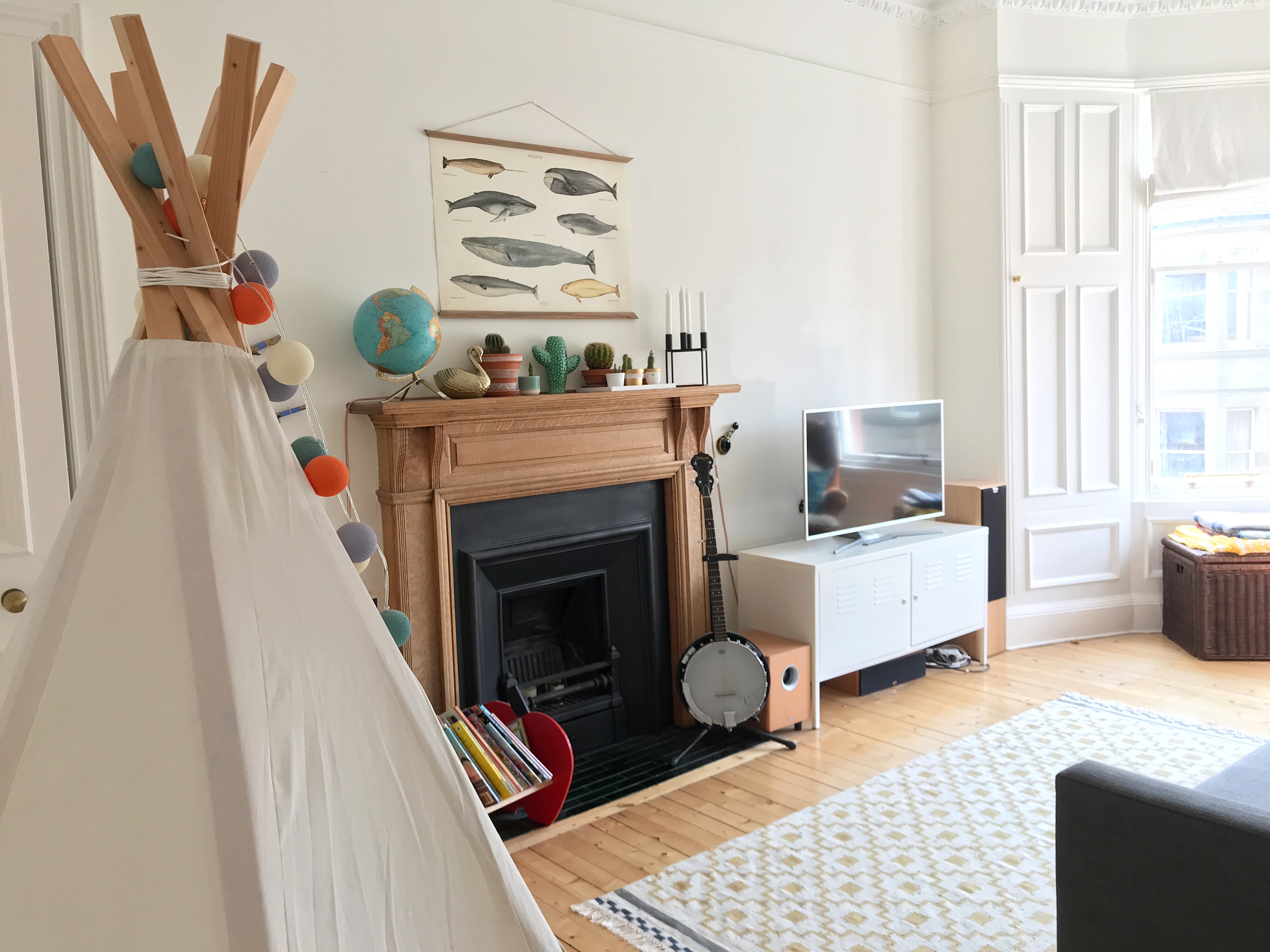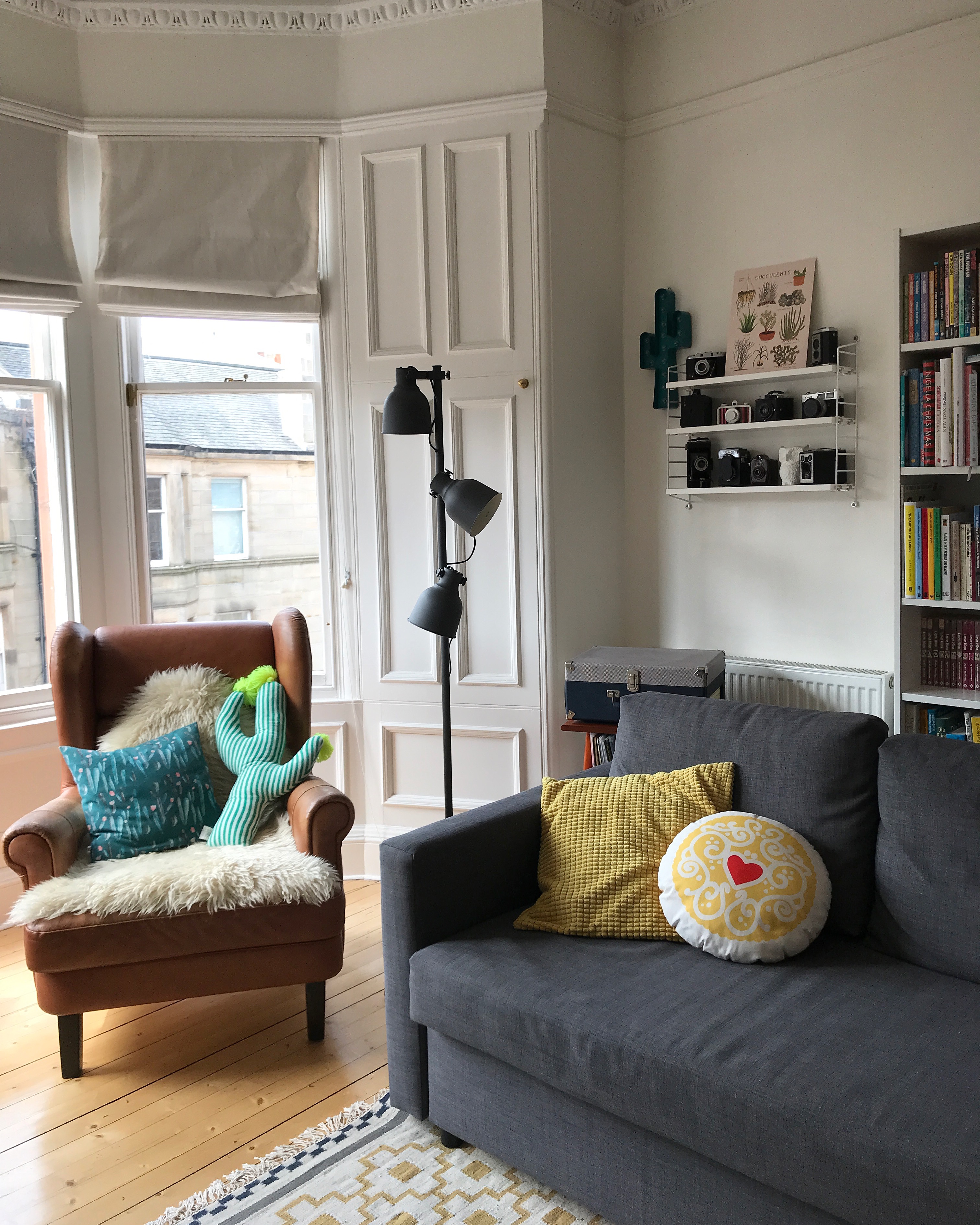 I get asked a lot about the leather armchair. It's a cast off from my parents, and they got it many years ago from Ikea. Most of our furniture in this room (and the rest of the house) is from Ikea actually – the bookcases, the sofa, the standing lamp, the media cabinet, even the rug. What can I say, I like their style. We try to personalise it with the little accessories from independent brands, and of course our DIY projects.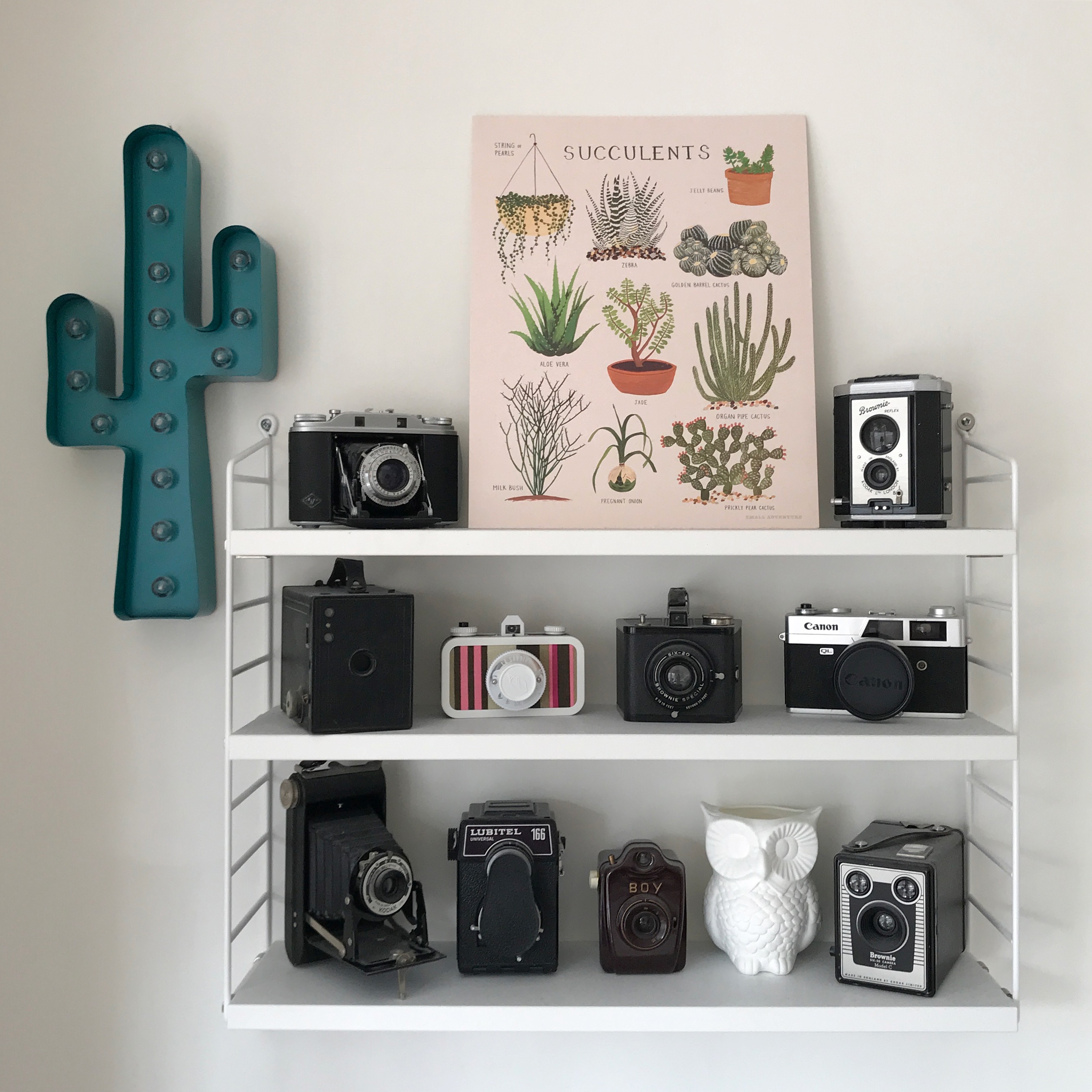 I don't know how I ended up collecting vintage cameras, but suddenly I had quite a lot of them. The one top left was my grandfather's, the others are from flea markets or gifts from friends. The succulents print is by Keiko Brodeur, a.k.a. Small Adventure – another find from Hallesches Haus in Berlin (see above) – and the matching cactus light is from Flying Tiger Copenhagen.
So, that was my little tour of our living room. I hope you enjoyed it!