Vanilla Pear Porridge
We love a good bowl of porridge for breakfast in our house. My boys are really in to pears at the moment, so I made them some porridge topped with warm pears sweetened entirely with vanilla, no extra sugar added. I have this amazing vanilla bean grinder from Dr Oetker, which I got in Germany, and I just grind some in to the pears during cooking. I haven't seen these grinders in the UK, but you could use a bit of vanilla extract or vanilla bean paste instead.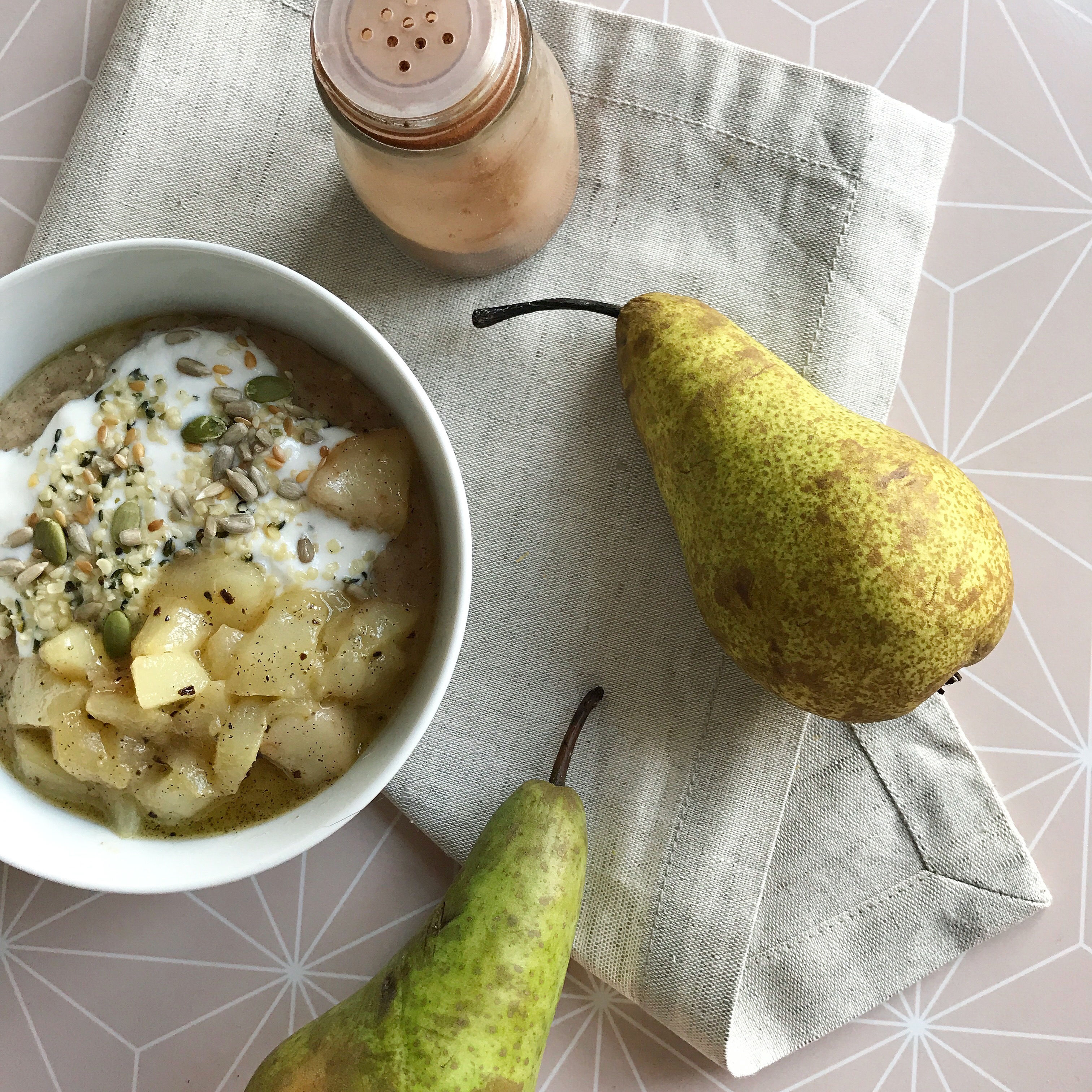 Ingredients (serves 1 adult or 2 kids)
4 Tbsp porridge oats (ca. 40g)
100ml water
100ml almond milk
2 tsp coconut oil
2 tsp nut butter (e.g. almond or cashew)
1/2 tsp ground cinnamon
1/2 tsp ground ginger
a dash of maple syrup
1 large pear
vanilla bean/ paste/ essence
Greek yoghurt to serve (optional)
mixed seeds to garnish (optional)
If you prefer, you can of course make it with all water or all milk. My general rule of thumb is 200ml liquid for 4 Tbsp of oats. We like ours quite thick, so add more liquid if you like yours runnier.
Directions
Mix the oats with 100ml boiling water in a pan, and leave to soak for 5 minutes. If you are using other oats, e.g. jumbo oats, you will probably need longer than 5 minutes. You want to oats to be softened and slightly mushy.
While the oats are soaking, peel, core and chop up the pear. Melt 1tsp of coconut oil in a saucepan, and sauté the pears over a medium heat until they are soft, adding in some vanilla to taste after a minute or so.
Once the oats have finished soaking, stir in the almond milk, remaining coconut oil, spices and maple syrup, and cook over a medium heat for about 5 minutes, stirring constantly, until it reaches a thick, creamy consistency.
Transfer to a bowl. If it seems too thick – the porridge will continue to thicken as it stands and cools – you can stir in another dash of almond milk to loosen it up.
Add a dollop of Greek yoghurt, and top with the sautéd pears. You can also sprinkle some seeds on top, we have keep a bag of mixed sunflower, pumpkin and sesame seeds in the house and the boys love adding a bit of crunch to their porridge.