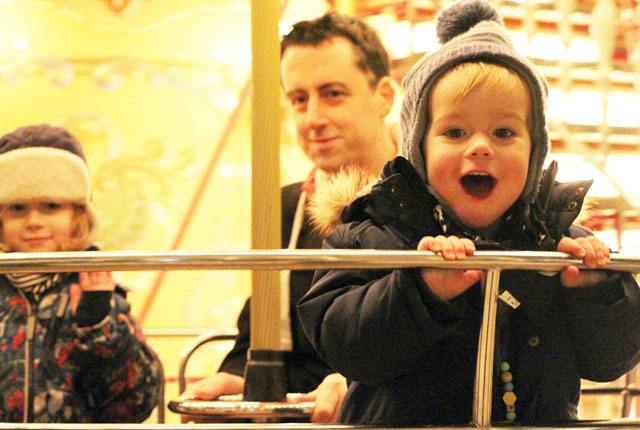 Travel with Kids – 48 hours in Copenhagen
This year, we've been trying to make Advent an extra special time. So on the first Advent weekend, we baked cookies and mulled some cider. On the second Advent weekend, we went on a steam train ride. And this past weekend – the third of Advent – we spent the weekend in Copenhagen! It's a great city to visit with children. We spent ten days there over Christmas, three years ago, and it was magical. This time, we had more of a micro adventure. It was a perfect weekend, with just the right itinerary and balance of things. We're thinking of doing it again in summer!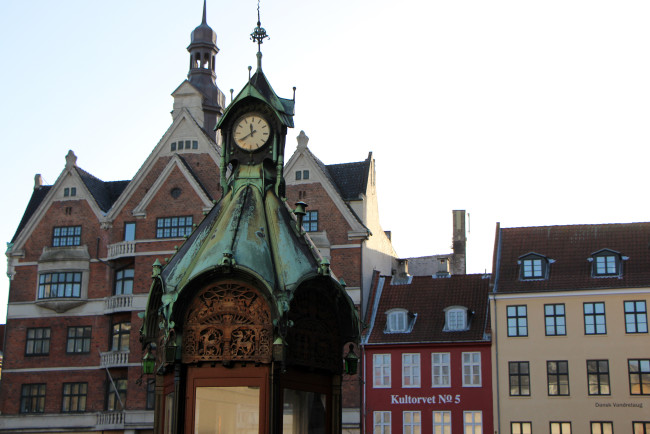 FRIDAY
There's a direct flight with Easy Jet from Berlin to Copenhagen on Friday evenings, around 8pm, so we headed to the airport after school/work. We were travelling with hand luggage only, but did check the stroller. After clearing security, we had dinner at McDonalds, which admittedly isn't the healthiest of meals but Schönefeld airport doesn't have a lot of options. We could have taken sandwiches with us, but since we only eat at fast food restaurants on average once or twice a year, we decided not to stress about it. And the toy from the kids meal kept the boys entertained until it was time to go to our gate, which was good since I'd forgotten to pack anything else. Not even a single one of their beloved cars. Parenting fail.
We landed in Copenhagen on time, and the stroller was already waiting for us at the bulky luggage point, so we just could hop straight on the Metro (with a small detour via the ticket machine). The Metro took us on a direct route to Forum Metro station, which was just a 5 minute walk away from our hotel. Less than an hour after landing, we were all in bed. We were staying at Cabinn Scandinavia, which is part of the Cabinn chain of budget hotels. As the name implies, the rooms are rather small, a bit like cabins on an overnight ferry, but for two nights it was fine. We booked a Standard room, which is for three people but we were able to book it for a family of four because we had a toddler with us who would be sharing a bed and we didn't have to pay any extra for him either. It saved us a bit of money as opposed to having to book a four bed room. We paid about 110 Euros per night for all of us. The Standard room has a bunk bed plus a pull out bed, so the Husband slept on the top bunk, I slept on the bottom bunk with the toddler, and our older boy slept on the pull out. Worked just fine.
SATURDAY
The hotel did offer breakfast, for a small extra cost, but we decided we'd rather go out and start the day at one of Copenhagen's many cosy cafes (though I had also brought some extra muesli bars on the trip, for the inevitable early morning munchies, since the kids usually have their breakfast much earlier). A friend had recommended Monellies, which turned out to have a nice little back room with a kids play area and drawing materials. The toddler played with the toy pram and dolls, whilst our older boy drew pictures which he was later invited to add to the wall of drawings. The menu was small and select, but jam rolls and yoghurt with muesli, washed down with coffee and hot chocolates, was all we needed.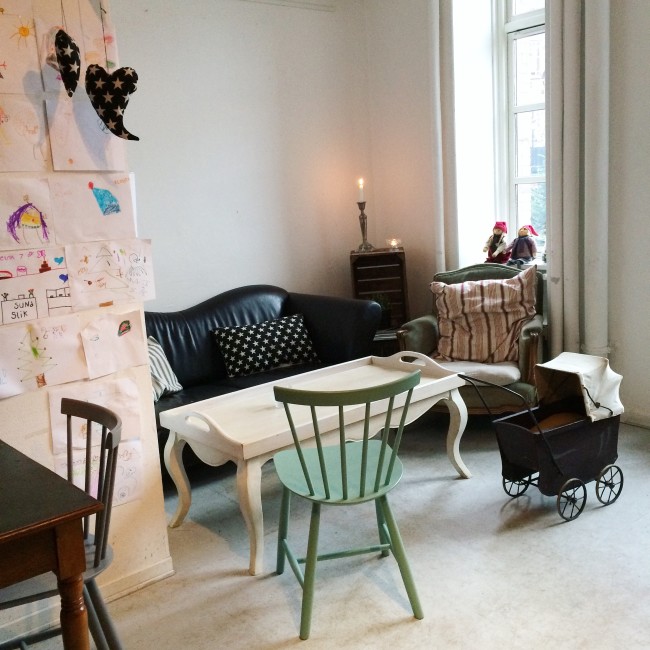 After breakfast, we jumped on the Metro at Forum station for a couple of stops, to Kongens Nytorv. Our destination that morning, was the Magasin du Nord department store right next to the station, for some Christmas shopping. We got there around 11am. We also took some time to look at the Christmas window decorations, and at the Christmas display outside the Hotel d'Angleterre next door. Even if you are visiting at another time of year, you may still want swing by Magasin (the Danish home design brands and luxury liquorice are my favourites) and the picturesque Nyhavn harbour area is worth a visit.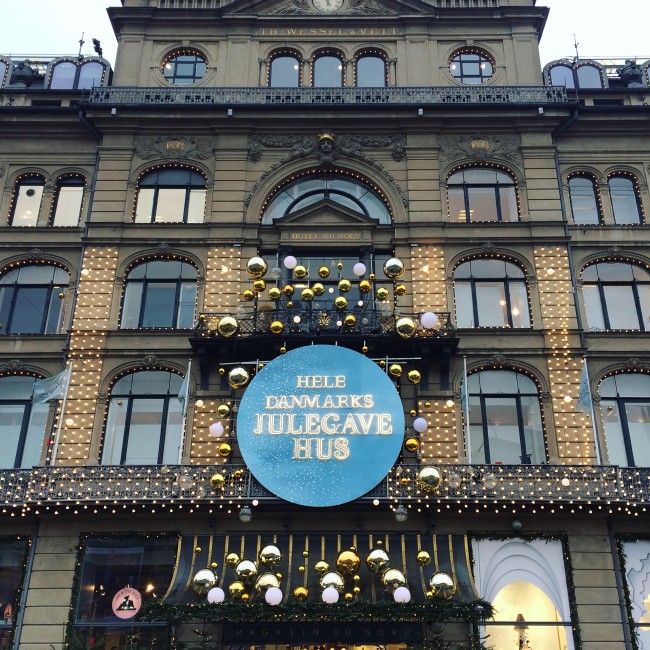 From there, we walked back through town in the direction of where we had come from to Nørreport station, via Strøget and then Købmagergade, taking in some more shops along the way. We stopped for lunch for some Danish hot dogs at 'Den Økologiske Pølsemand' stand next to Rundetaarn, Copenhagen's famous round tower. They are made with organic ingredients, and there was something for everyone – Danish style with all the trimmings for the Husband, French style – stuffed inside a roll so it can't fall out – for the boys, and the gluten free option of a side of root mash instead of a bun for me. If you have time, you can also go up Rundetaarn for fantastic views of the city (which we didn't do this time but have done in the past), and an alternative option for lunch on this route, is to hold out until you get to Nørreport and head to Torvehallerne market, which is just one block further along and offers a host of delicious food stalls for every preference. If you've not spent most of your morning Christmas shopping, like us, the Arbejdermuseet ('Workers Museum') is also just around the corner for Nørreport, on Rømersgade, and is fantastic with kids.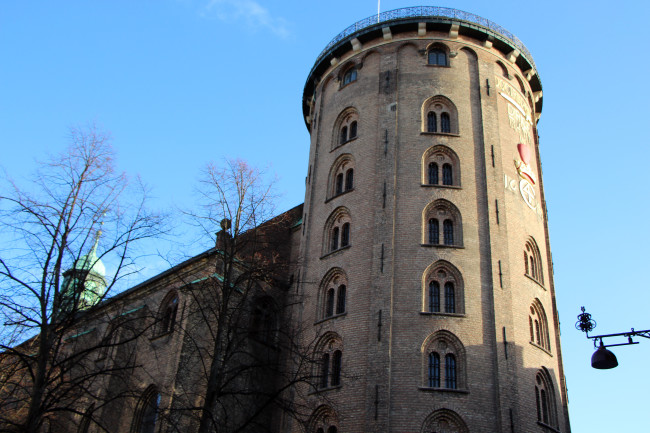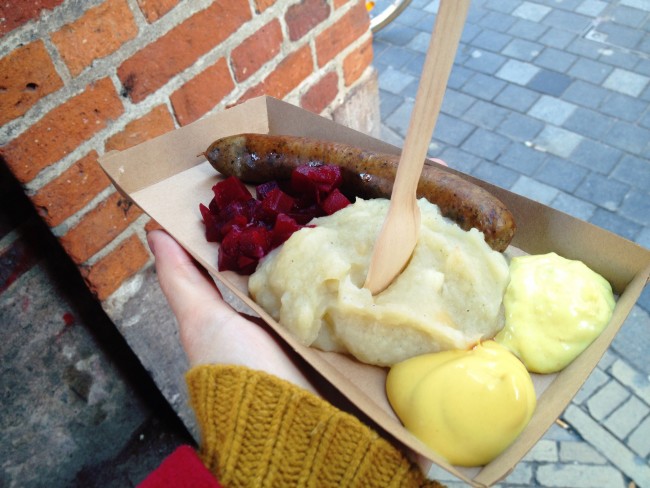 The last item on our itinerary for Saturday, was a visit to Tivoli, Copenhagen's popular amusement park which is open from April to September, and then for a couple of weeks of Hallowe'en and again over Christmas. We took the S train from Nørreport to Copenhagen Central Station, with Tivoli being just opposite the station, and arrived just after 3pm. We were unprepared for the large Q of people at the ticket office, reaching half way down the street, then discovered there was a separate Q for visitors with strollers, which only had a handful of people in front of us. It was still very crowded inside though, but I guess for a Saturday before Christmas that was to be expected. Last time we visited between Christmas and New Year, when it was much quieter.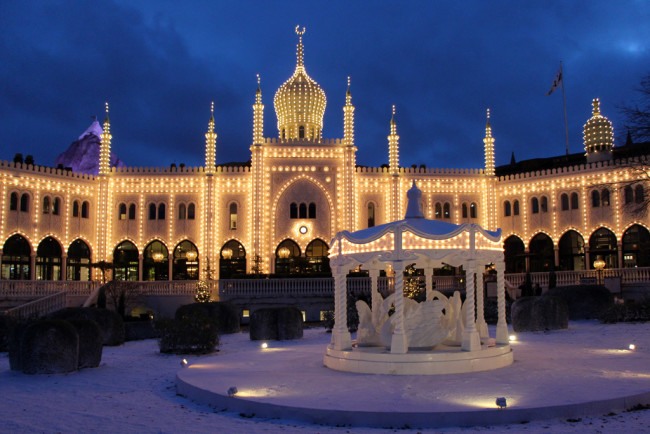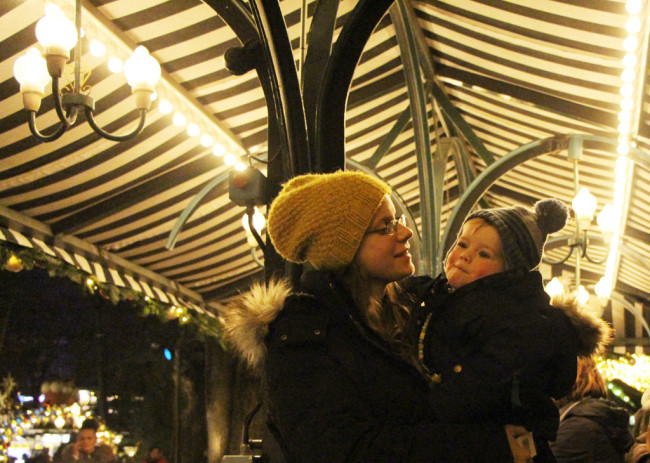 Kids under age 8 get free entry, so only us adults had to pay, but you still need to pay separately for the rides. You can either buy an unlimited ride ticket, or buy individual tickets. You will need between one and three tickets per ride, depending on the ride, though the ones for younger kids seem to be mostly one ticket. To make the multi tide ticket worth while, you need to go for about eight rides. We got both boys an unlimited ride ticket, which in hindsight was a mistake. It was totally worthwhile for our 6 year old, but it turned out that the 2 year old wasn't allowed on any rides on his own, and he needed someone over age 14 to accompany him so couldn't go with his brother. On the two carousels at Tivoli, parents are allowed to ride along with toddlers for free, to hold them, but on all other rides they need to pay for a ticket. And of course, he didn't want to just ride on the carousels when his brother was trying out other rides. So we ended up having to buy some extra tickets so we could ride with him. So, in short, for older kids an unlimited ride ticket is worthwhile, but for younger kids I'd recommend buying a bunch of individual tickets instead, which you can then divide up between your toddler and the accompanying adults.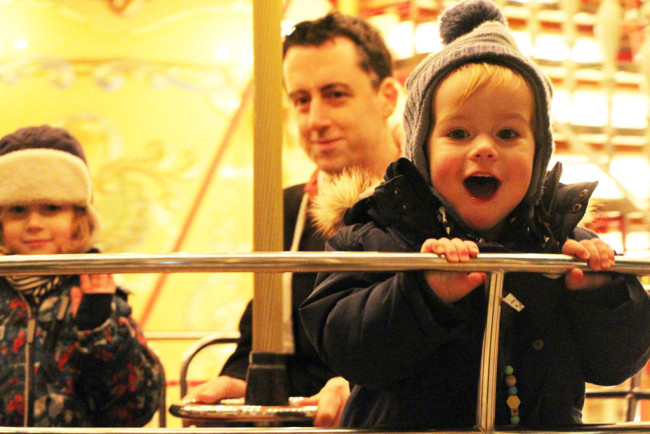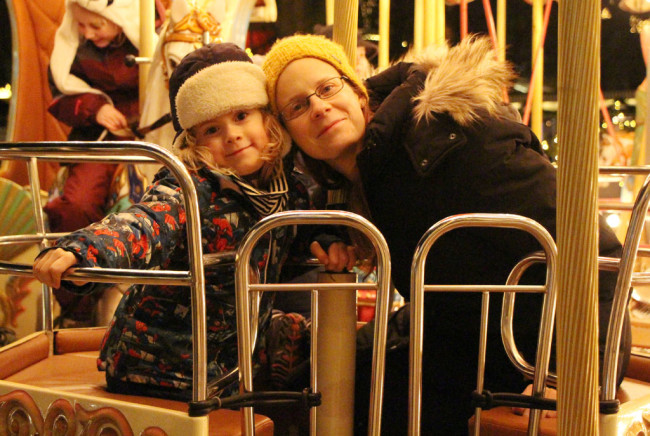 We had dinner at Wagamama's, which is really family friendly and attached to the Tivoli site (you get a stamp on your when you come in, so that you can re-exit in to Tivoli) but we did have to wait over half an hour to get in as it's also really popular. Some wise family had booked a table in advance, so if you know beforehand, then that's the way to go. We'll certainly be considering it if we go again. After a few more after dinner rides, we left around 8pm and walked back to the hotel.
SUNDAY
We had another – intentionally – slow start to the day on Sunday. After packing up, checking out and leaving our luggage at the hotel, we walked to the Laundromat Cafe on Gammel Kongevej. It's just what it says on the tin – a laundromat with a cafe attached, or vice versa. There's a children's play corner with lots of toys, and it's a popular destination with families. I don't know how we missed it on our last visit. On weekends, they serve a brunch menu, so we ordered two brunch plates which was plenty for us adults and to share with the kids: pancakes, bacon, sausages, eggs, potatoes, yoghurt with muesli, bread, chocolate butter – there was something to please everyone.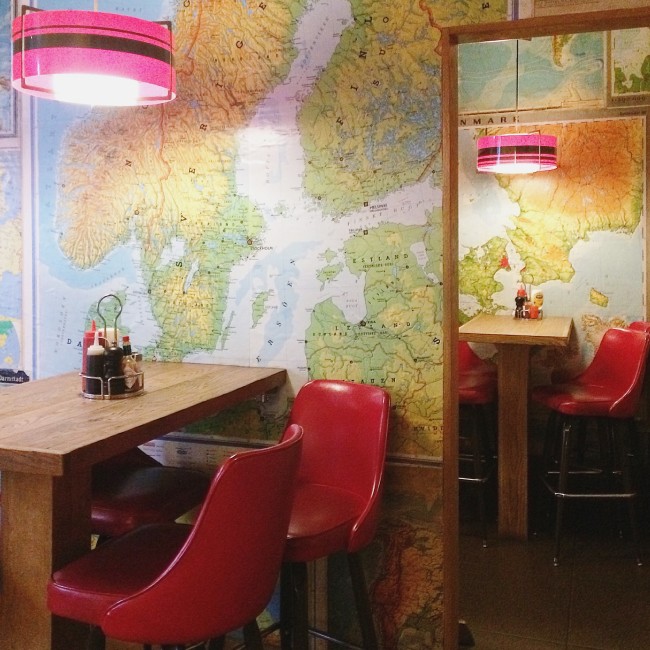 For our last itinerary point of the weekend, we had chosen to visit a museum. So, from the cafe, we walked to the National Museum, which took around half an hour, though the 9A bust that leaves opposite the cafe that will also take you most of the way there. Copenhagen has so many museums that are fantastic to visit with children (such as the Arbejdermuseet mentioned above). We visited quite a few on our previous trip, when our older son was then only 3, and decided that the museum our 2 year old would probably get the most out of would be the Nationalmuseet, which includes a separate Children's Museum. And we were right, he loved it. Both of them did. We did, however, have a look around the rest of the museum first, since we knew that once we got them to the Children's Museum, we wouldn't be able to get them to go anywhere else. Our older boy wanted to see the 'Viking stuff' and we also went to look at the toy displays on the top floor. But the Children's Museum was definitely the highlight for them, which has a ship's deck, school room, shop, Viking boat, kitchen, and other areas to play in. You can sit on a horse, have a sword fight, create your own exhibition, and so much more.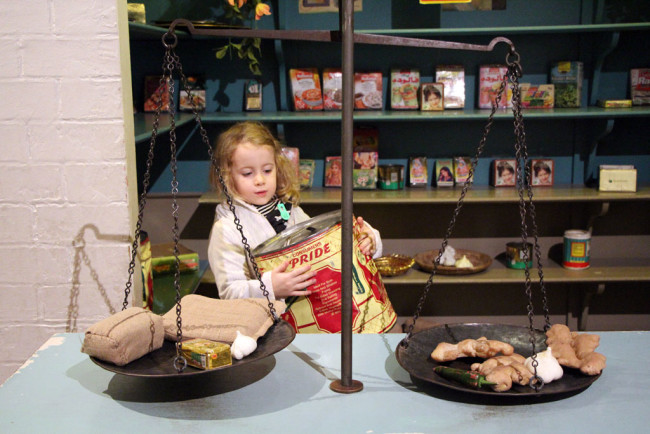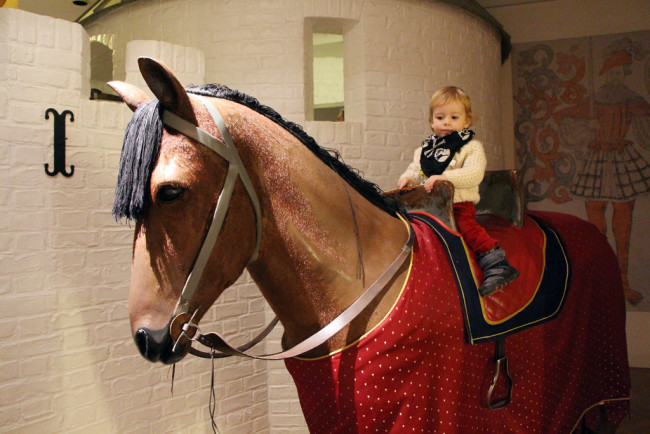 We reached the museum around noon, but after the massive brunch we had didn't need any lunch, just stopping for a drinks break in the cafe after a couple of hours. We left the museum at 3pm, walked back to the hotel to pick up our bags, then jumped on the Metro again at Forum and whizzed back to the airport. After security, we picked up some sandwiches to eat at the gate, whilst waiting to board out flight, which was at 6pm. We landed promptly in Berlin, jumped on a taxi home, and had the kids in bed by half past eight. It was a perfect weekend.
Do you have any great tips for places to take kids on a long weekend?