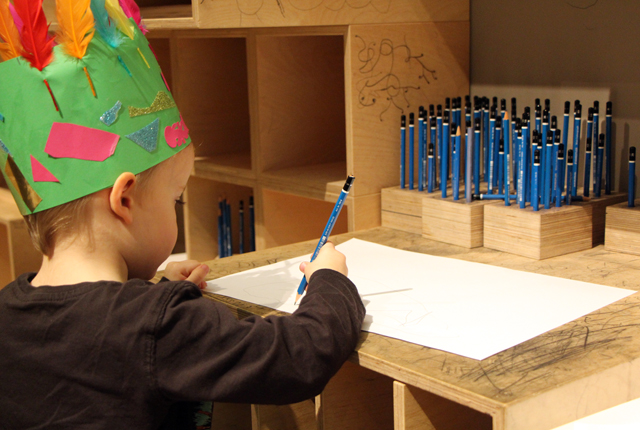 Family Fun at the Statens Museum for Kunst
Happy Museum Monday! We have another fabulous museum from Copenhagen to share with you this week: The Statens Museum for Kunst, or the National Gallery of Denmark. I think it's also the first art gallery we've reviewed in our Monday series so far. It's been a couple of years since we visited, but I've checked on their website and everything we did while we were there is still available!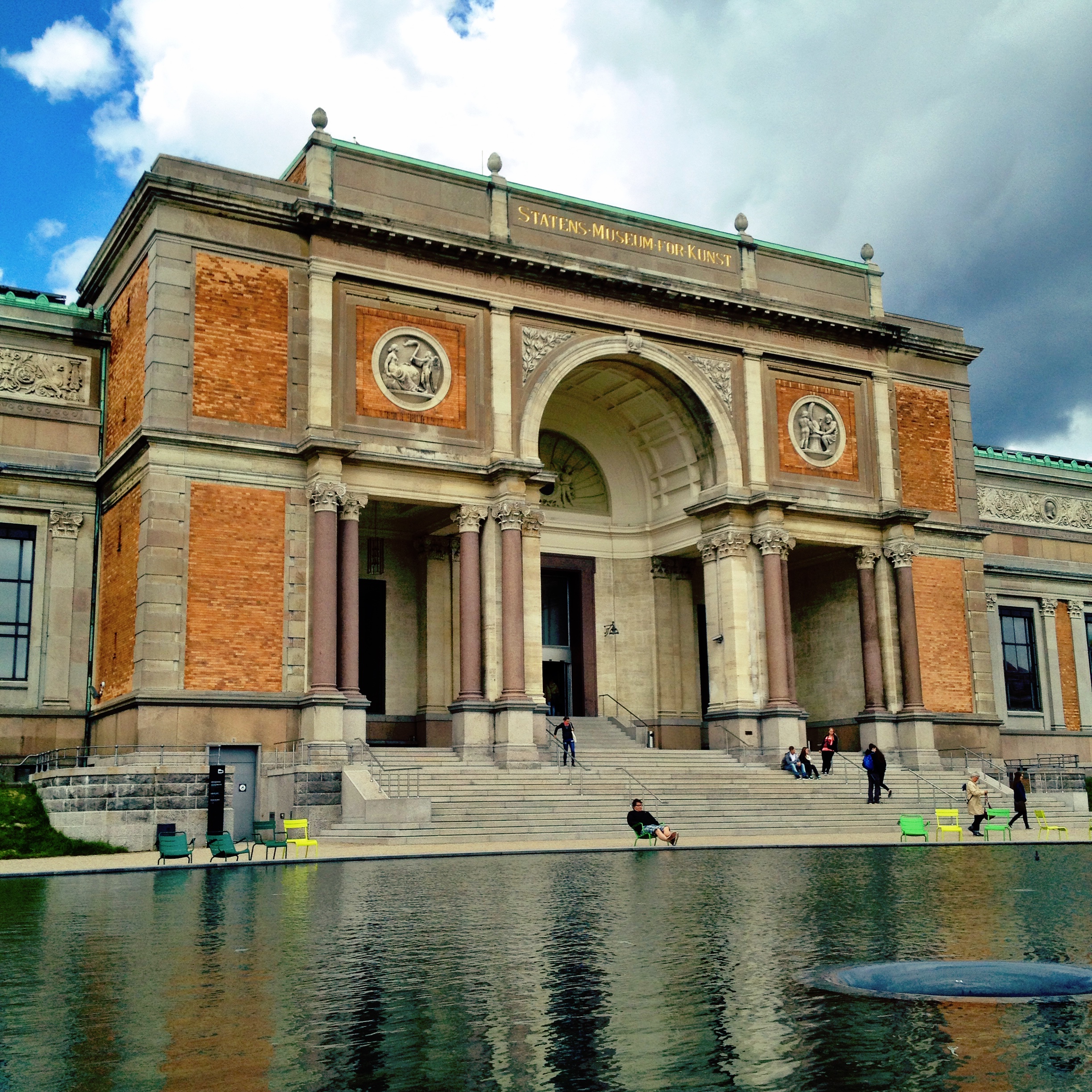 The museum has a range of offers for children and families. First up, there is the Children's Workshop, Denmark's largest creative studio for children. Every weekend, it opens its doors on Saturdays and Sundays from 11am to 4pm (and at additional times during holidays), with a new theme every month inspired by the art found in the museum collections and exhibitions. On the day we visited, the theme was making hats, with an incredible selection of materials to choose from.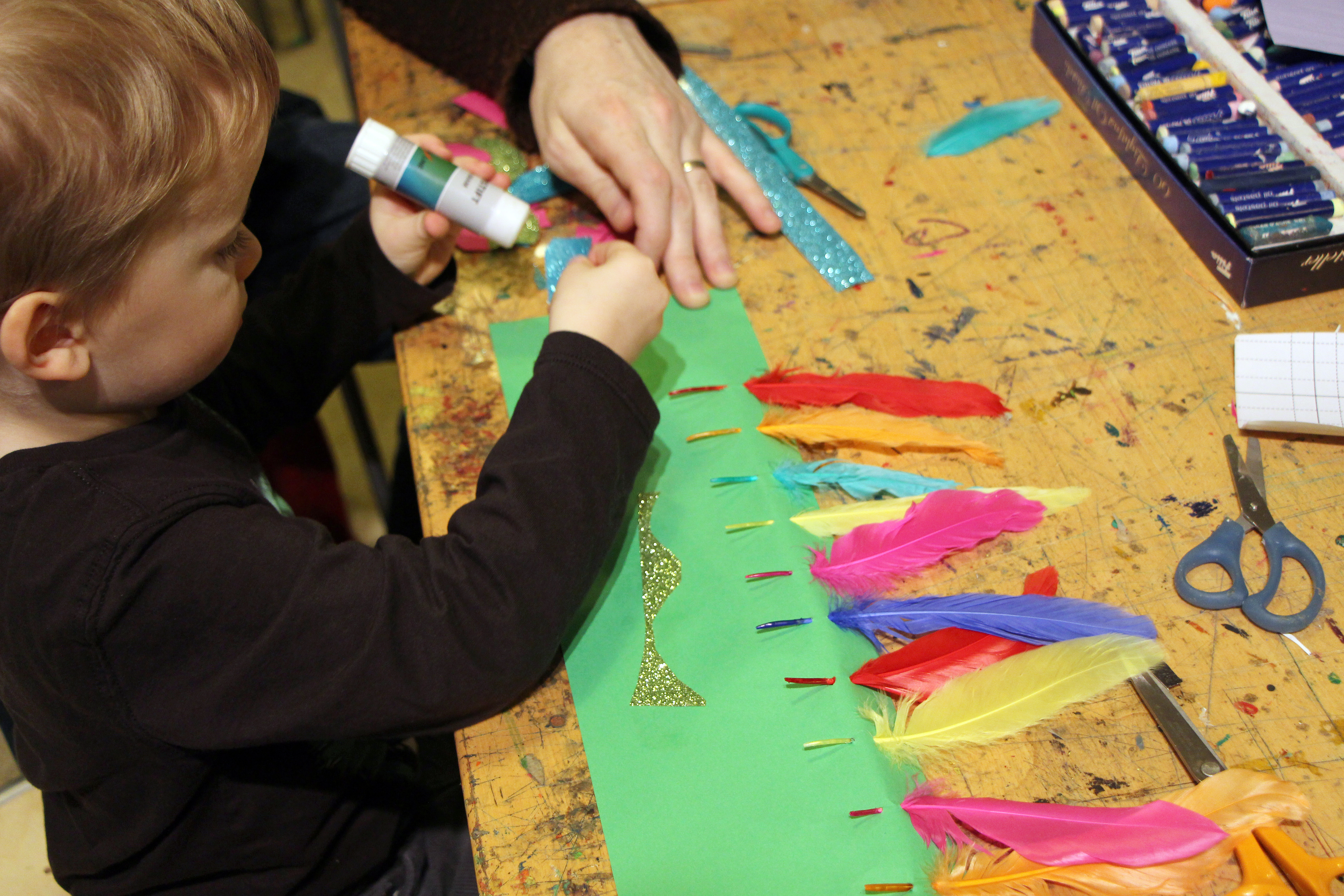 We kept it simple, but there were some kids there making truly astonishing structures out of sticks, CDs, wool, you name it, they were making it. There was a table with safety scissors and glue sticks for the littlest artists, and one with glue guns and sharper cutting implements for the older ones. We were also welcome to make anything else we wanted out of the materials if we didn't fancy a hat, and there was a painting corner with easels where kids can swing a paint brush. The staff were more than happy to explain everything to us in English. I think if we lived in Copenhagen, we'd be regular weekend visitors here!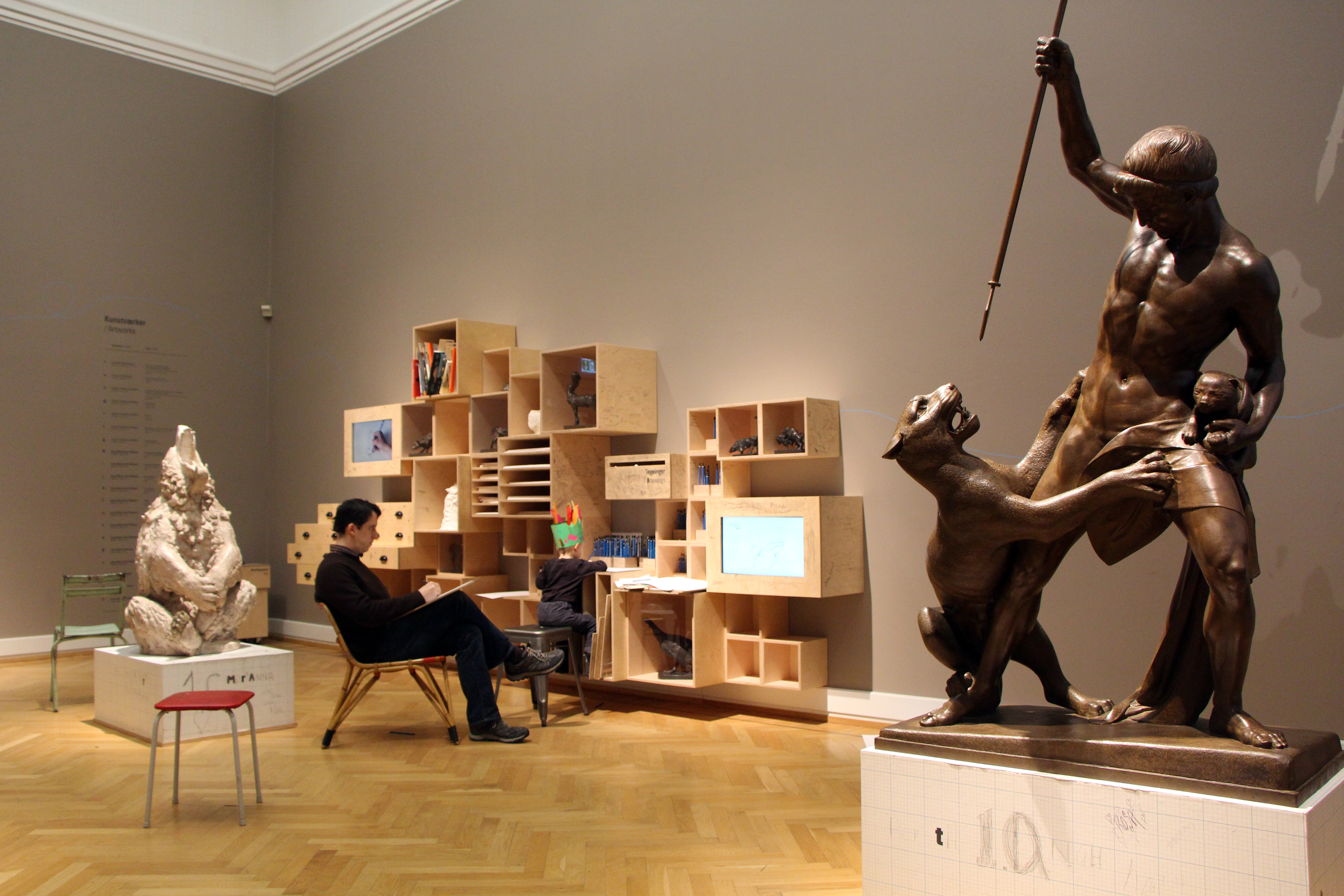 Next, we checked out the Sketching Room. Here there were a number of sculptures that visitors could sit down and try their hand at sketching. Our son, who was three at the time, had fun scribbling away with the pencils at hand whilst daddy – who is VERY good at drawing – had fun sketching him. Selected drawings from visitors were featured in a slide show for others to see, and in the drawers there were some original artworks from the collections to discover.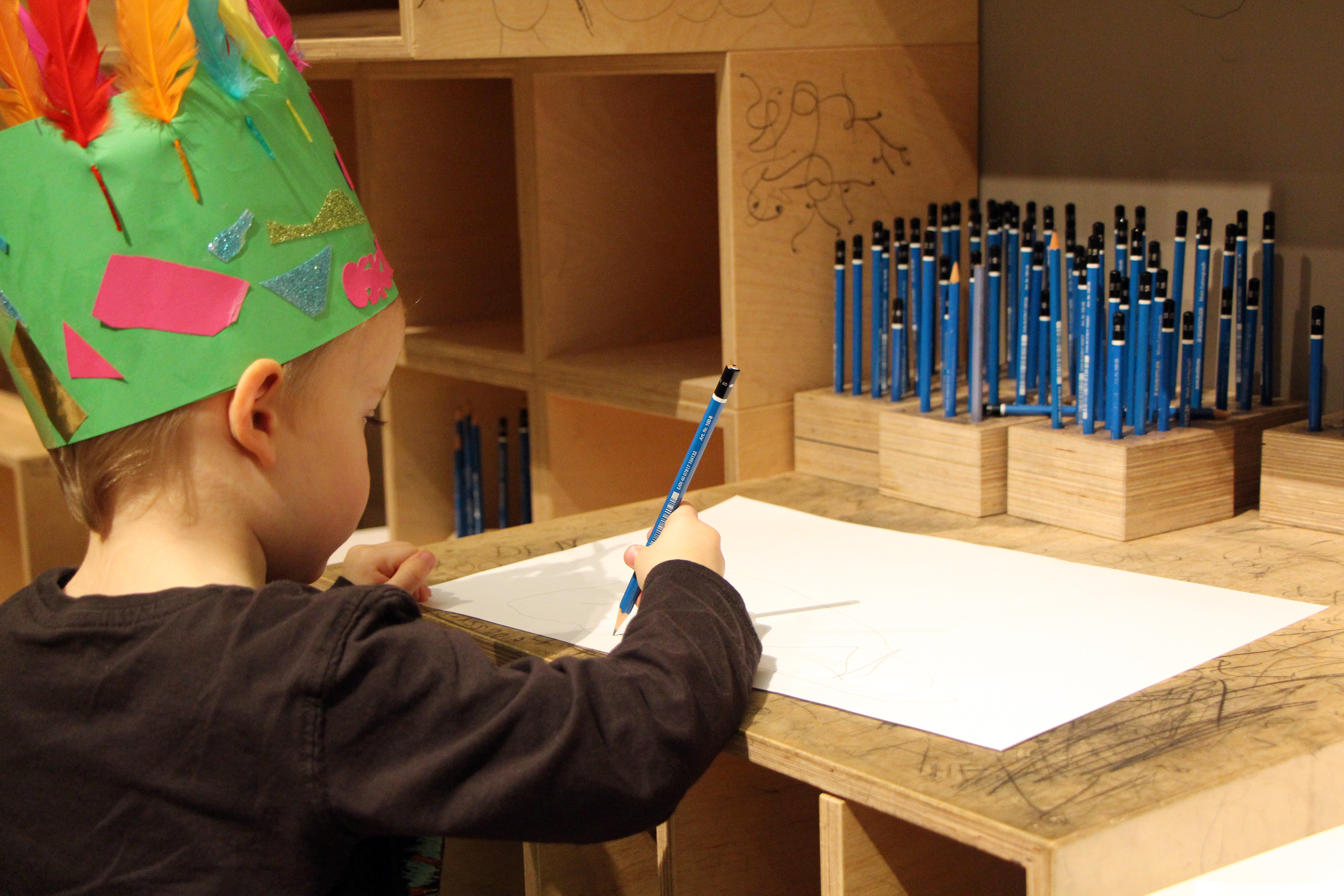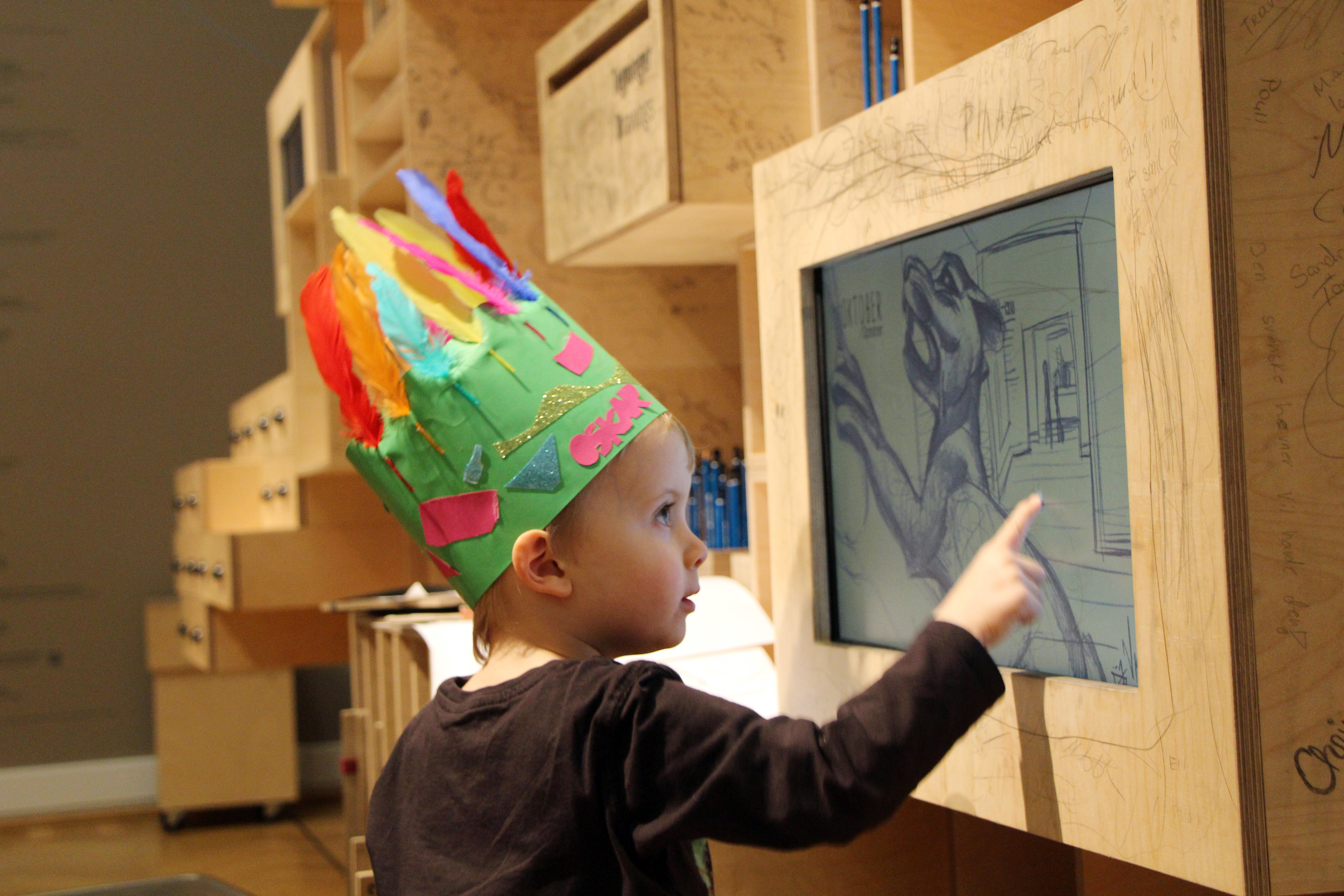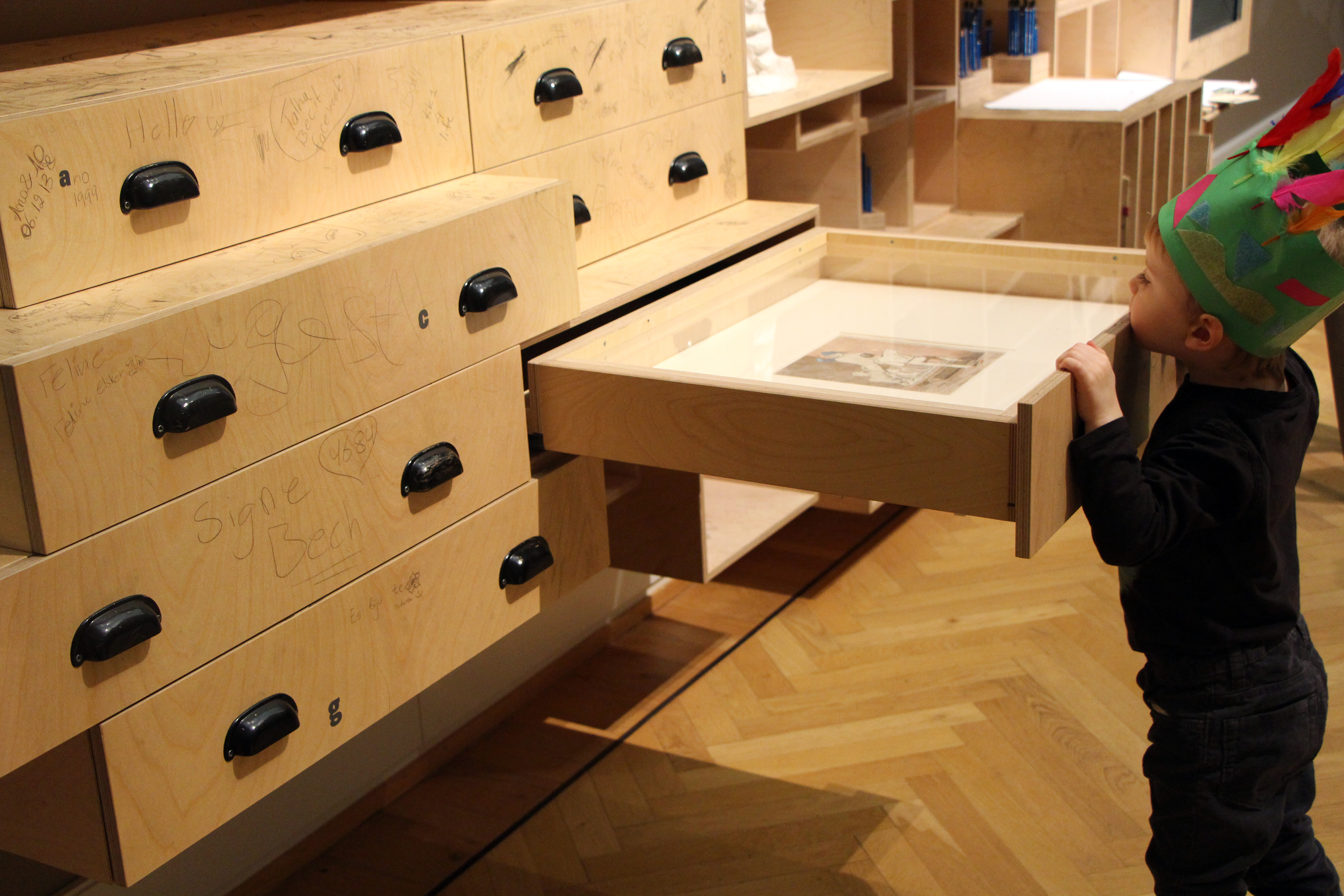 The final thing we tried out, was the family board game. The game is actually aimed at children age 6 and up, and the idea is that you match up a images with the large paintings on the walls of the European Art 1300 – 1800 gallery, and then tell stories to go with them. There are no winners or losers as such, the idea is to encourage families to make their own interpretations of the artworks. But since there were no other people playing at the time, we borrowed a set of cards from the table next to us, and instead played a game of 'Memory' – where you turn over cards and try to match up pairs – with our little one instead which he really enjoyed. Don't worry, lovely museum staff, we put everything back in its place before we left!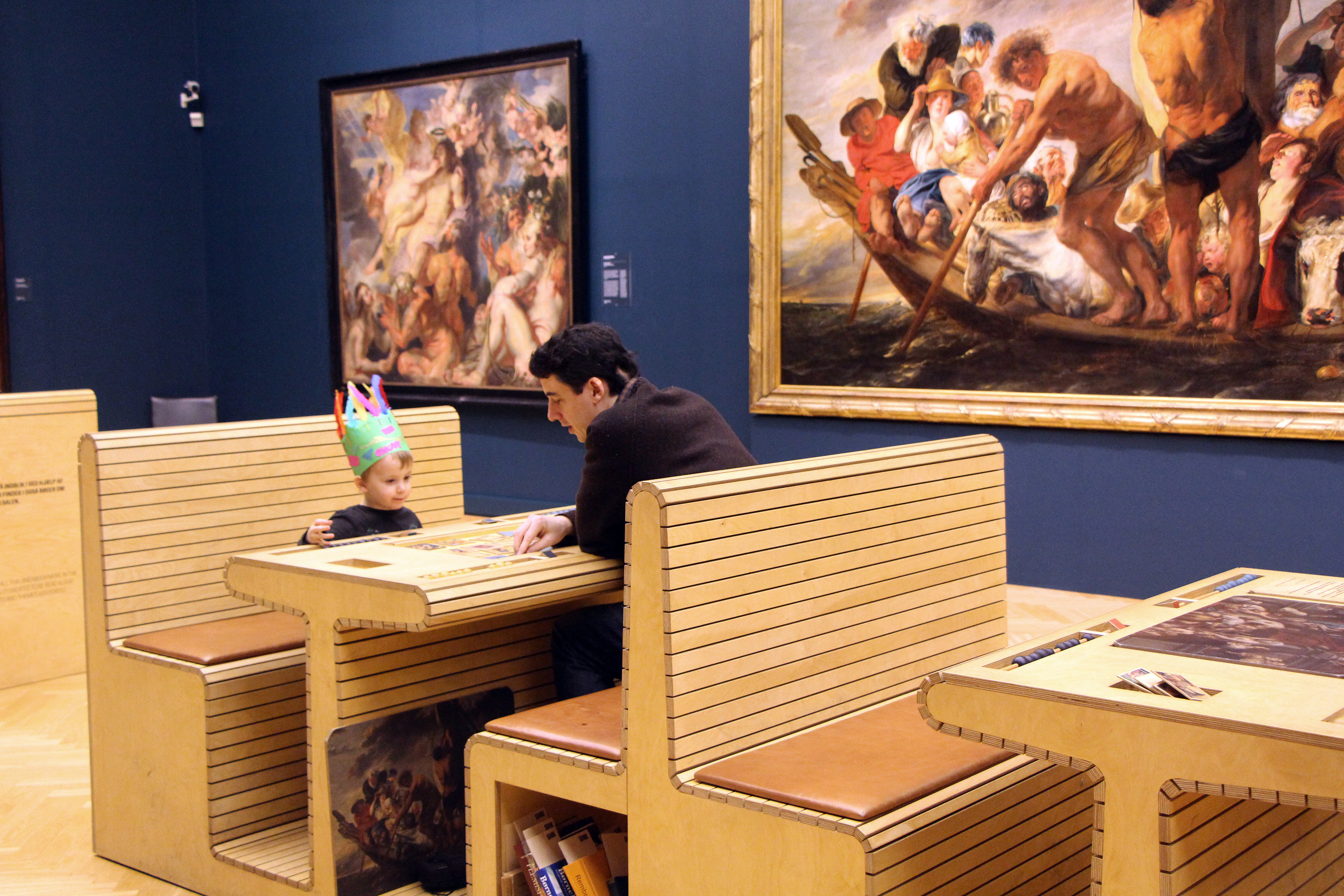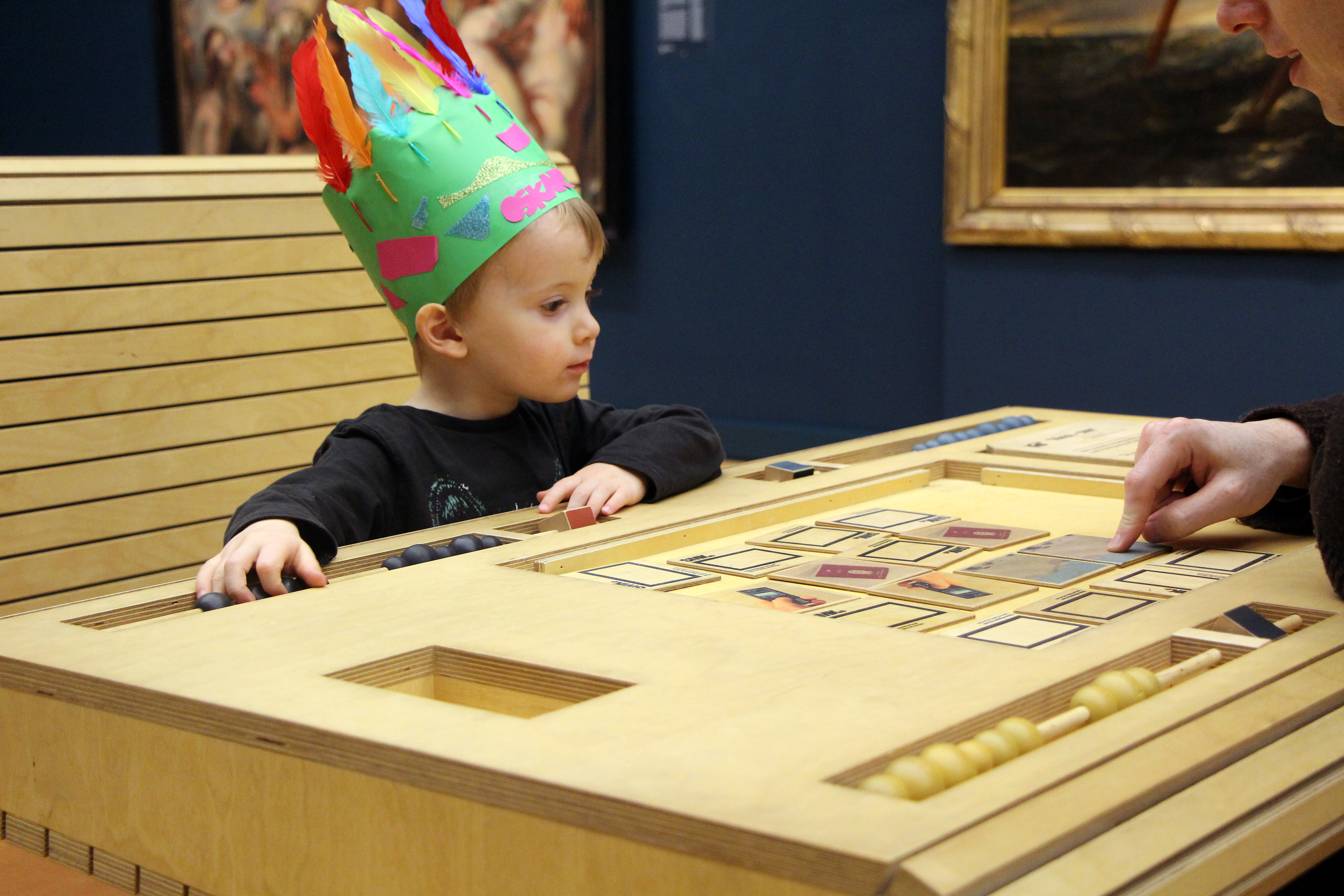 Of course, we also spent a little time just walking round the galleries and looking at the art work. Below is one of my favourite photographs I've taken of my boy at a museum, sitting there with his feather hat, carefree as could be, totally enthralled by the painting in front of him. Okay, so the skeletons are a bit gruesome, but it's what caught his eye. We didn't make it to the contemporary art section, which is always great with kids, so we'll definitely have to make it back to Copenhagen and go here again.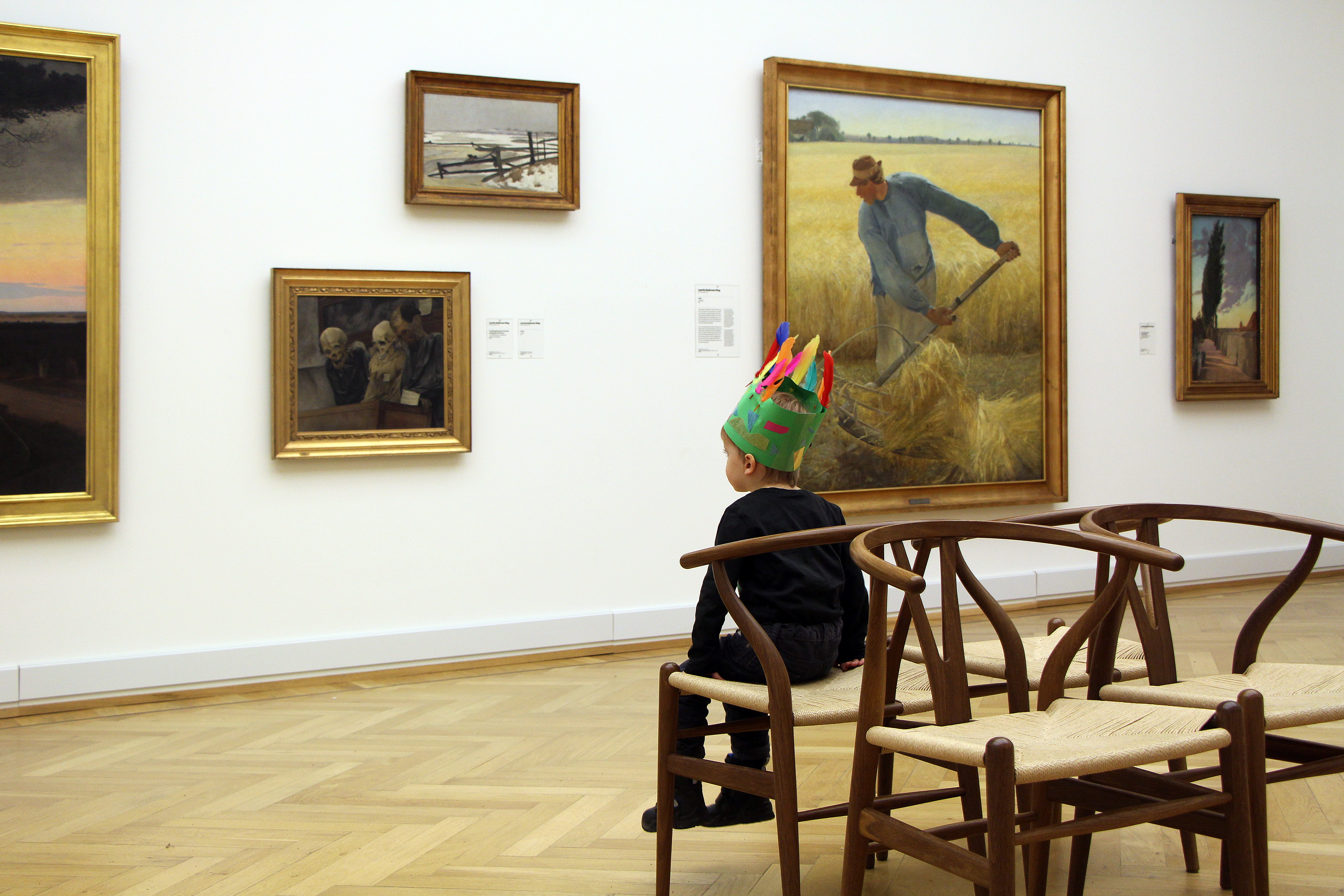 At one point, our boy did seem to reach his limit and went a bit ballistic, running around the galleries like a raging bull in a china shop. My first reaction was to look apologetically over to the museum guard, only to find him smiling as if to say "ah, kids, what can you do". Since our experiences with art galleries elsewhere, such as Berlin, had been quite the opposite, this was a pleasant surprise. However, we didn't want to test the patience of the friendly Danish museum staff, so we said our goodbyes at that point. But by then we'd been at the museum for well over two hours. In summary, this is the most positive experience visiting an art museum that I've had with kids and we get around a bit. If you want to introduce your kids to art and art museums at a very young age – which, as you know, I totally think you should – then this is a 'must visit' if you're ever in Copenhagen!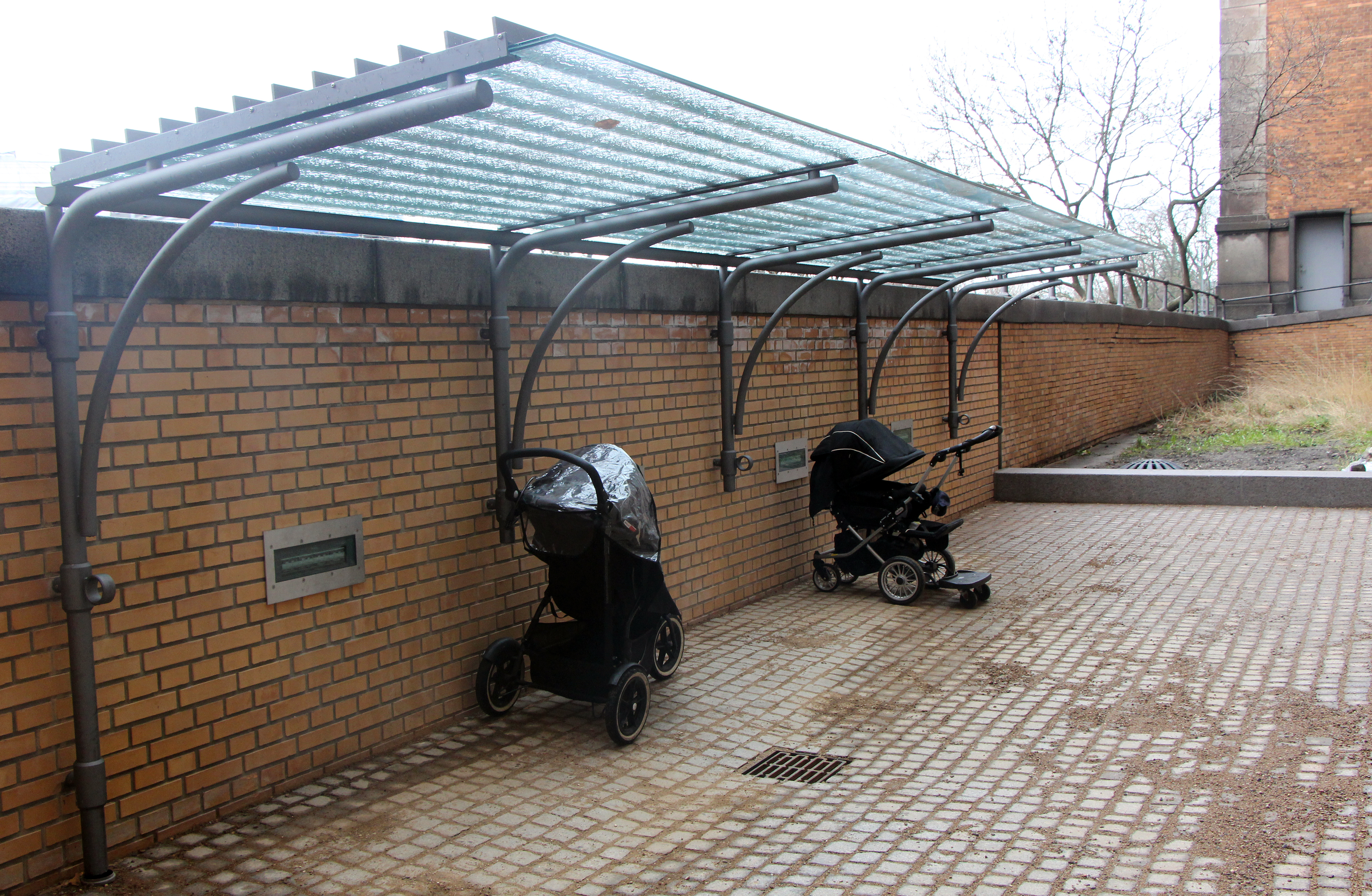 Opening Times: Tuesdays – Sundays, closed on Mondays (check for special opening times/ closures)
Admission: Full price adult day tickets are 120 DKK  (around £15). Discounts available for under 27s, families and groups. Free admission for under 18s. The Children's Workshop (see above) is included in admission.
Pushchair Policy: Due to security reasons, you aren't allowed to bring your pushchair in to the museum, and must park it outside. There is a dedicated 'pushchair parking' space this for next to the main entrance, with hooks to chain your pushchair to. If you don't have a lock, you can borrow one – as well as a rain cover – from the museum. You can also borrow a pushchair to use inside the museum.
WiFi: Free WiFi
Food: You can bring and eat your own food in the basement cloakroom area. The café offers a children's option, and at the weekend there's a brunch. Highchairs are available.