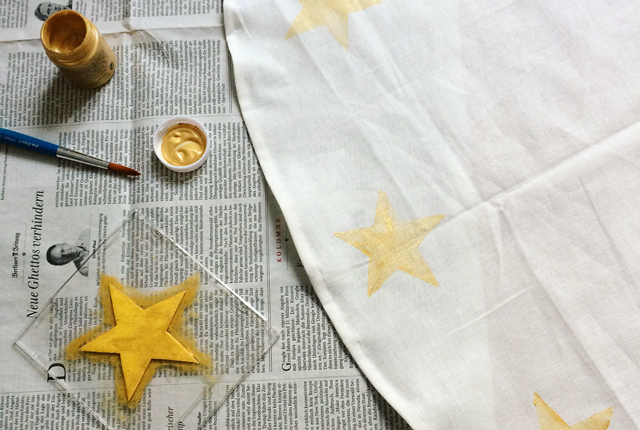 Make Your Own Christmas Tree Blanket
Happy St Nicholas Day everyone! So, with December now in full swing, it's time to talk about Christmas trees. In Germany, traditionally you don't put your tree up until Christmas Eve, which is how we used to do it when I lived at home – and how my parents still do it. The Husband, on the other hand, is more used to putting up his tree as early as possible. We found a compromise between the two cultures, by meeting somewhere in the middle of December, though that has slowly become earlier and earlier since we've had the boys. But I still dig my heels in and refuse to put up a tree before December, no matter how much the boys may beg. But the first December weekend has come and gone, so our tree is up now. Which really is all just a very long intro to tell you about my Christmas tree blanket. Or skirt. There's some discussion on Instagram about the correct terminology.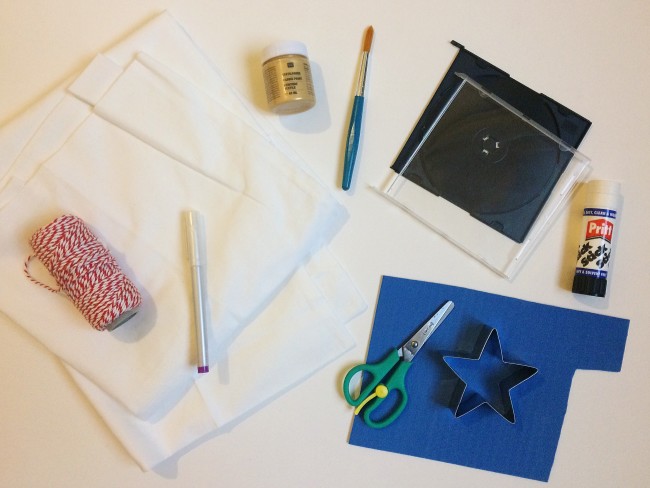 For years, due to space issues, we always had a smallish-tree that sat on top of a side table. When we moved house last year, we finally had the space to have a taller tree that sat in a stand on the ground, and I wanted to get one of those round Christmas tree blanket/skirt things to put underneath it, to make it look nicer. But I couldn't find one that both looked nice and didn't cost a fortune. We ended up just putting some wrapping paper underneath it, which inevitably ended up wet and soggy when my little helpers assisted me in watering the tree. So this year, I decided to just sew one myself. It was super simple and quick – the longest part was waiting for the fabric paint to dry. Here's what' you'll need:
A piece of cream cotton fabric, 120cm x 120cm
A pair of fabric scissors (not shown)
A pen (ideally one of those special pens for sewing, that fades from the fabric after a while)
A length of string, aprox. 80cm
Some pins & a sewing machine (not shown)
A scrap of craft foam (in Germany it's called 'Moosgummi', in the UK you can get it e.g. via Hobbycraft under the name 'Fab Foam')
A star shaped cookie cutter
A pair of craft scissors
An empty CD case
A glue stick
Some gold fabric paint
A paint brush
Step 1: Fold your piece of fabric in half, then in half again. Take the piece of string and tie the pen to one end. Now hold down the other end with your thumb, on the inside corner of the folded square of fabric. Stretch out the string along one of the folded edges, so that the pen is resting on the next corner, then draw a curved line from that corner to the corner opposite. It should look a bit like a quarter piece of pie. Then cut along the curved line, unfold and voila – a perfect circle.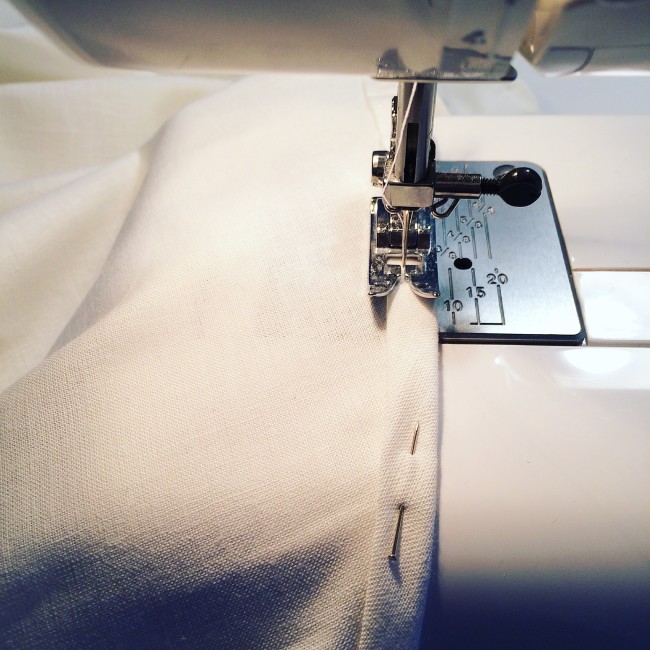 Step 2: Next, you need to hem the fabric. Fold over the edge of the circle twice and pin in place, then whizz around the edge with your sewing machine.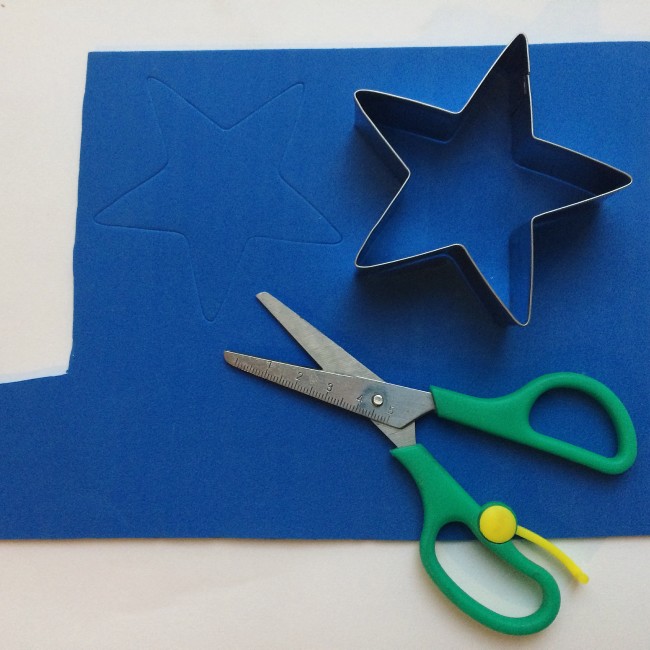 Step 3: Making the stamp for stamping the pattern around the edge of the blanket. For this, I pressed my cookie cutter really hard in to the craft foam, which left an impression of the star, then cut out it out and stuck it with the glue stick to the transparent cover of the CD case.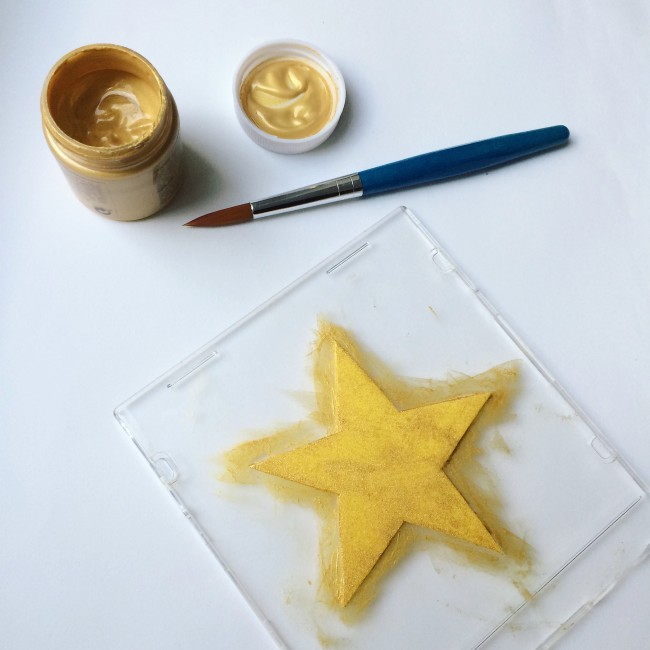 Step 4: Using the paintbrush to get an even coverage, I applied the gold paint to my stamp and then stamped stars all around the edge of my Christmas tree blanket, reapplying paint in between each star. The transparent CD case cover let me see exactly where I was positioning my stamp.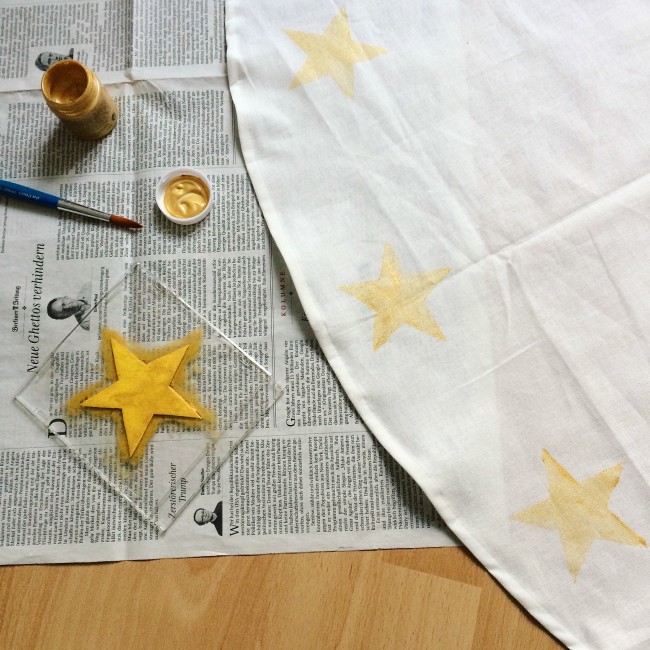 Step 5: The final step depends a bit on the paint you use. The fabric paint I have says you need to let it dry for six hours, then iron it for five minutes from the reverse. So that's what I did.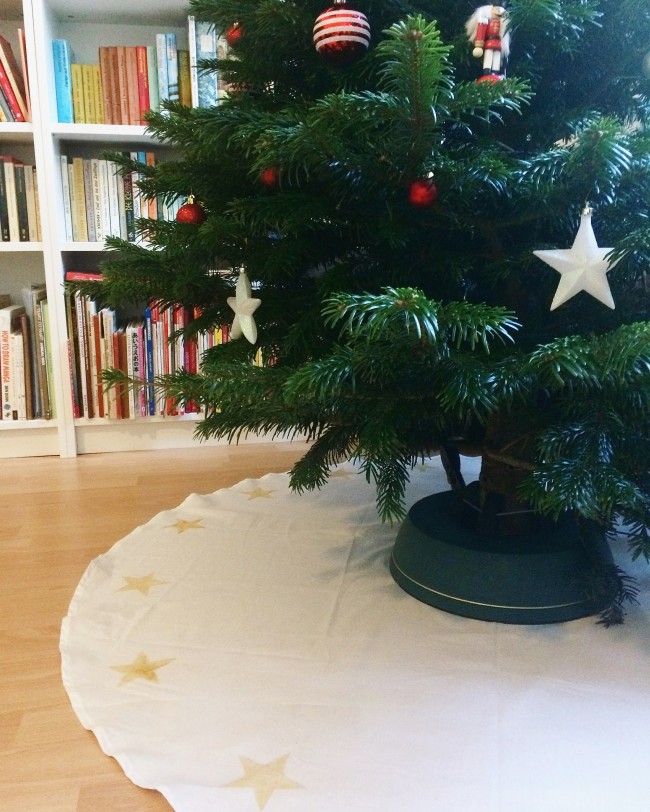 And here's the final Christmas tree blanket (or skirt?) in place. It's still a bit more crumpled than I would like, but that's because I can't use the steam function on my steam iron because it causes the electricity fuse box to trip every single time. And I kind of need the electricity to iron. Which causes the fuse to trip..and so on. Bit of a chicken and egg situation. Maybe I should ask Santa for a new iron, lol (by the way, that's not a hint, I *don't* want a new iron for Christmas!).
So, that's my little Christmas tree blanket. Finally. Of course, you can vary the colour of the fabric and paint, or use a different motif if you don't like stars. Whatever fits best with your Christmas decor.