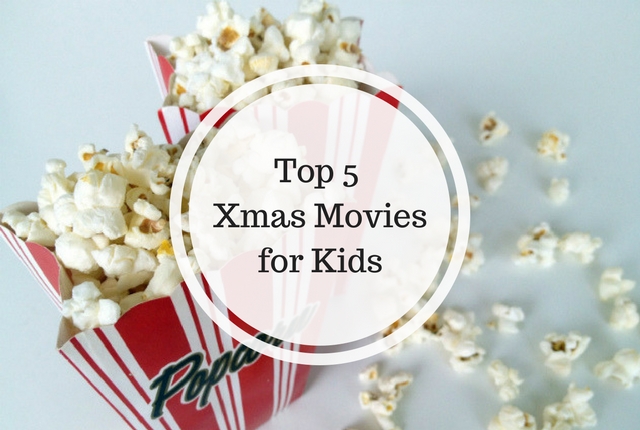 Our Top 5 Christmas Movies for Kids
For this week's Friday Five, I thought I'd do something a little different and share our Top 5 Christmas movies for kids with you. Prior to writing this post though, I did a little poll across some of my social media groups and channels as to what other people's favourite Christmas movies were, since I am curious like that, and over 200 votes were cast for 46 different movies! These were the Top 20 results (not all of them are kids movies):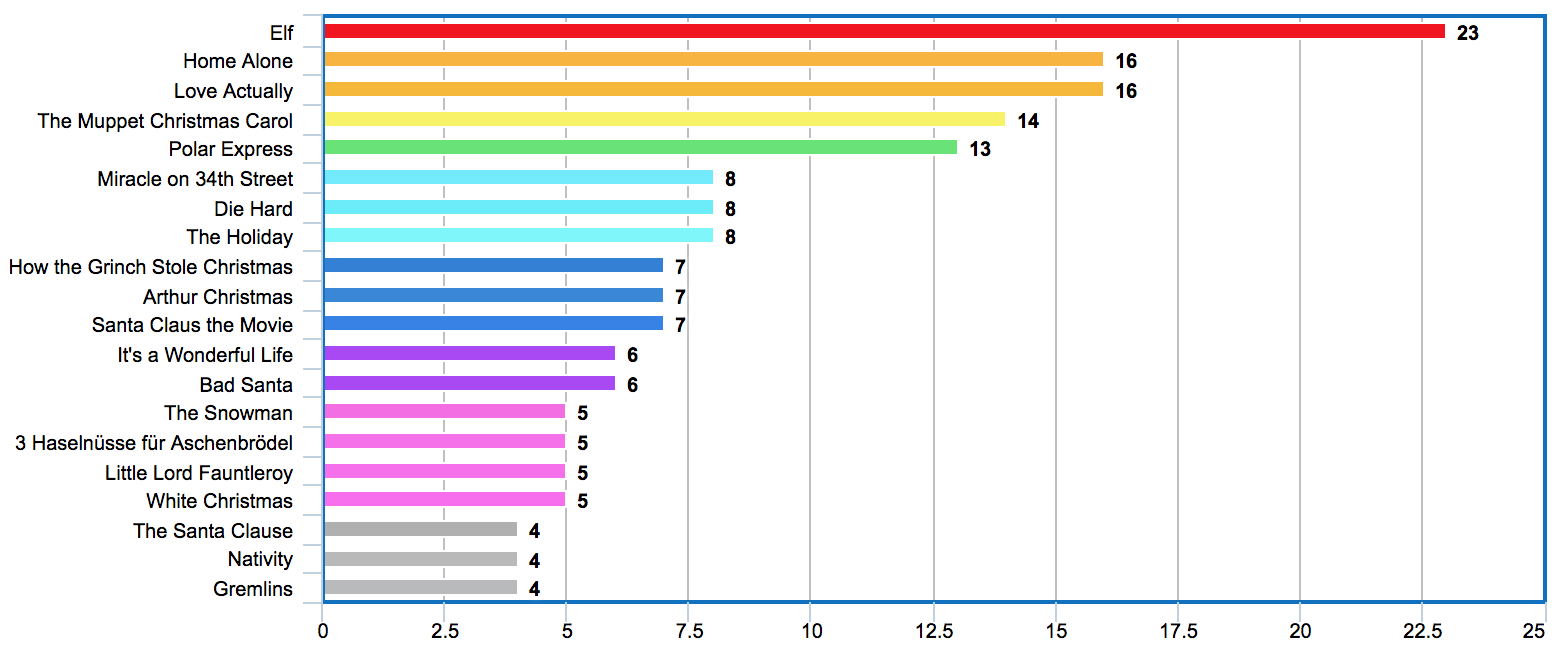 (chart created via www.meta-chart.com)
The only one of these I haven't seen, is Arthur Christmas, but I'm told it's on Netflix at the moment so we will be checking it out this year. And two of the movies were exclusively voted for by Germans (3 Haselnüsse für Aschenbrödel, and Little Lord Fauntleroy), so it's interesting to see how some seasonal classics are super popular there but virtually unknown of in the UK. I also thought it was interesting that the Top 5 were miles ahead of any of the others. I love Elf, but am a bit disappointed the Muppets only came in third. I used to like Home Alone as a kid, but don't enjoy the slapstick humour any more, and I must be about the only person I know who can't stand Love Actually! Finally, as much as I adore Die Hard (even though it's the reason my husband wouldn't agree to calling either of our boys Hans), it's not really a movie suitable for kids, which also goes for some others on this list. So, here are OUR Top 5 Christmas movies to watch with kids – we've already watched two of them so far, and have the other three scheduled in!
The Muppet Christmas Carol
What can I say? Only THE best Christmas movie ever, and should totally have come out tops in the poll. Sorry, Elf. The movie – which celebrates its 25th anniversary this year – stars Gonzo as the narrator, Charles Dickens, Michael Caine as Ebenezer Scrooge, and all your Muppets favourites in the supporting cast. Despite being a musical performed mostly with puppets, it actually sticks quite close to the original story. Some of the ghosts in the movie may be a bit scary for younger kids, but depends entirely on the kid. Our 3 year old is fine with it. It's around 85 mins long, so a do-able length for little ones. We ALWAYS watch this together as a family on Christmas Eve, without fail. Bring on the popcorn!
Drei Haselnüsse für Aschenbrödel (Three Wishes for Cinderella)
'Drei Haselnüsse für Aschenbrödel' literally translates as 'Three Hazelnuts for Cinderella' but has been known as 'Three Wishes for Cinderella', 'Three Gifts for Cinderella' and 'Three Nuts for Cinderella' in English. It is a Czech/East German production from 1973, and a beautiful adaptation of the Cinderella story. In this version, Cinderella is an orphan, living with her nasty step-mother and step-sister, who make life difficult for her. Along comes a handsome prince, who first encounters her when she throws a snowball at him to stop him killing a deer whilst out hunting. The second time they meet, Cinderella is dressed as a huntsman herself, and wins a shooting contest against the prince. The third time, is when she arrives incognito at a ball, and gives him a riddle to solve. There is, of course, a happily ever after for them both, and a comeuppance for the evil step-mother and sister. I love this version of the classic Cinderella tale, because the heroine is clever, and feisty, and sporty, and not just a pretty Princess falling in to a Prince's arms, waiting to be swept off her feet. Also, with the snow covered landscape scenes, this movie is just made to be watched at Christmas! The original title takes its name from 3 magical hazelnuts, which grant Cinderella wishes at relevant points in the story – not a fairy godmother in sight.
The movie was released in a Czech and a German version, with the actors speaking their respective native languages and being dubbed accordingly for each version. It has cult classic status in Germany, and is shown on all public television channels over the Christmas period, with about a dozen chances to watch it. I always watch it on Boxing Day, and I have bought it on DVD so that we can keep watching it now we are back in Scotland. Our youngest still finds it a bit boring, but our older son has watched it with me the last couple of years and was enthralled by it, so I would say it's from about age 5+. It's around 85 mins long. For years, this movie was not available to English speakers – though apparently there was an English dubbed version around at some point – but it was recently digitally restored and released last year with new English subtitle translation! This does mean though, that your kids need to be either able to read subtitles, or understand Czech or German to watch it, but if you do fall in to any of these three categories I would absolutely recommend this magical fairy-tale Christmas movie to you!
The subtitled DVD is available on Amazon (Affiliate link). 
Elf
Elf is the movie that came out tops in my poll, and although it's been around since 2003 I only watched it last year for the first time. It became an instant favourite though, and I couldn't wait to introduce my kids to it this year. We watched it together to kick off the Advent season. My 3 year enjoyed it to begin with, but then wandered off about half way through. My 7 year old, however, thought it was hilarious and stuck with it to the end, so I'd say 7+ is probably about the right age. Parents should also be aware that is does involve some potty language and mild swearing. For those not familiar with the story line, it revolves around Buddy, a human raised as one of Santa's elves who discovers at age 30 that he is not an elf after all, and has a father who lives in New York and is on Santa's naughty list. So Buddy goes in search of his father, who doesn't want to have anything to do with him at first, meets a pretty girl along the way, and ultimately saves Christmas. It's a funny, feel-good, family movie that I will look forward to each year from now on. It's around 90 mins long.
The Polar Express
The Polar Express has also been around for a while (since 2004) and is an absolute favourite with both my boys. It's based on a picture book by Chris Van Allsburg – which we also love –  which they have somehow managed to expand on and stretch to a 100 min long movie. It's the story of a little boy, who boards a magical train on Christmas Eve along with some other children, and the train takes them to the North Pole where Santa Claus lives. What follows is an adventure through ice and snow, with some perils to face along the way, but ultimately it's a journey of self discovery where the children learn about friendship, bravery and the spirit of Christmas. Some parents consider this movie too frightening – with some scary characters and cliff hanger moments – though my boys are fine with it. We watched it last year when my youngest was only 2, and he mostly just loved all the train scenes because he is obsessed with trains. So it depends a bit on the child, but to be on the safe side I would maybe say 5+.
The Nightmare Before Christmas
Last but not least, this stop-motion animation from 1993 is my husband's absolute favourite Christmas movie. I quite like it too, though he watched it with the boys for the first time the other week while I was catching up on some sewing for my new Etsy store. Surprisingly, out of the 217 total votes cast in my poll, not a single other vote went to this movie. I say surprisingly, because it is quite brilliant! Maybe it's just that people associate it more with Hallowe'en. The premise is that Jack Skellington, a resident of 'Halloween Town', stumbles across 'Christmas Town' and attempts to bring Christmas to his home, causing a lot of mayhem in the process. He then tries to put everything right again, also fighting an evil bogeyman along the way. The movie has been nominated for its animation and visual effects, and won awards for its musical score. Disney released the film under their Touchstone Pictures banner because they thought the film would be too dark and scary for kids, and Common Sense Media rates it as a 7+. However, as with some of the other movies about, it depends on your child.  My 3 year old has been obsessed with "spooky scary skeletons" since Hallowe'en, and sat through the whole movie without blinking an eyelid. And it's only 76 mins long.
BONUS: Little Lord Fauntleroy
Okay, so when I said 'last but not least' I was lying. I just had to include a sixth movie as a bonus. This 1980 adaptation of 'Little Lord Fauntleroy' – starring Alec Guinness and Connie Booth – is the other movie on the top 20 list (besides Aschenbrödel/Cinderella) that was only voted for by Germans. It's so interesting how some movies become cult classics in some countries but not others. At 105 mins, this is the longest movie on my list, and the reason I've included it as a bonus rather than in the Top 5 is because it's not really a movie I think my boys would sit through, at least not the younger one, and it's meant to be a Top 5 of kids movies. So maybe more one for the mums, lol. For those not familiar with the story, in revolves around young Cedric, who lives in New York with his widowed mother, and gets summoned to England by his grandfather, the Earl of Dorincourt. After the death of his father and two uncles, Cedric has become the heir presumptive to the earldom, and is now expected to live with his grandfather whilst his mother – whom the Early disapproves of – is banished to a house elsewhere on the estate. Cedric, unaware of what a mean spirited man his grandfather is, soon wins his heart and inspires his grandfather to be more caring towards his tenants and other around him. After a few ups and down, the story – which concludes at Christmas – comes to a happy ending. Yes, it's all very soppy. But Christmas is not Christmas for me without it, and I challenge you to watch it without shedding a tear at the emotional final scenes. I like to put it on while wrapping the Christmas presents.
How about you? What's your favourite Christmas movie? And your favourite one to watch with kids?