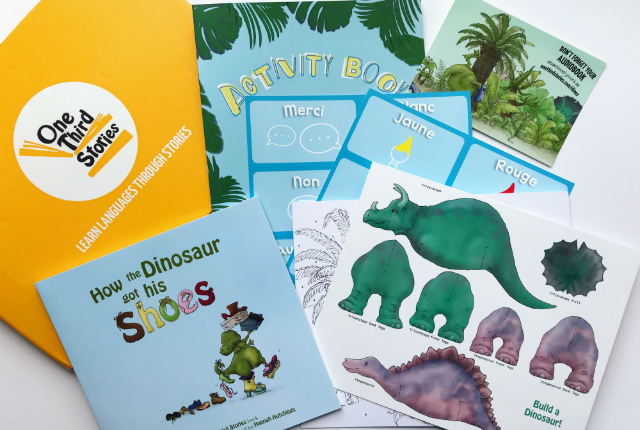 Review: One Third Stories [AD]
If you've been following this blog for a while, you may know that I am very passionate about nurturing language learning in children (in case you missed it, you can read the tips I shared in my previous post). Our boys are being raised bilingually just as I was myself. So far, the boys had only been learning their two mother tongues – English and German – but since moving to Edinburgh Oskar has been exposed to another language, as his primary school introduces French in to the curriculum from the early years onwards, something that is new since I went to primary school in Edinburgh myself around thirty years ago. As he went straight in to Primary 3, and had never done any French before, he has a bit of catching up to do. Although what he has missed is minimal, I have been researching some resources for supporting primary school French, and so I was delighted when I was contacted by One Third Stories, asking if we would like to try out and review one of their language subscription boxes.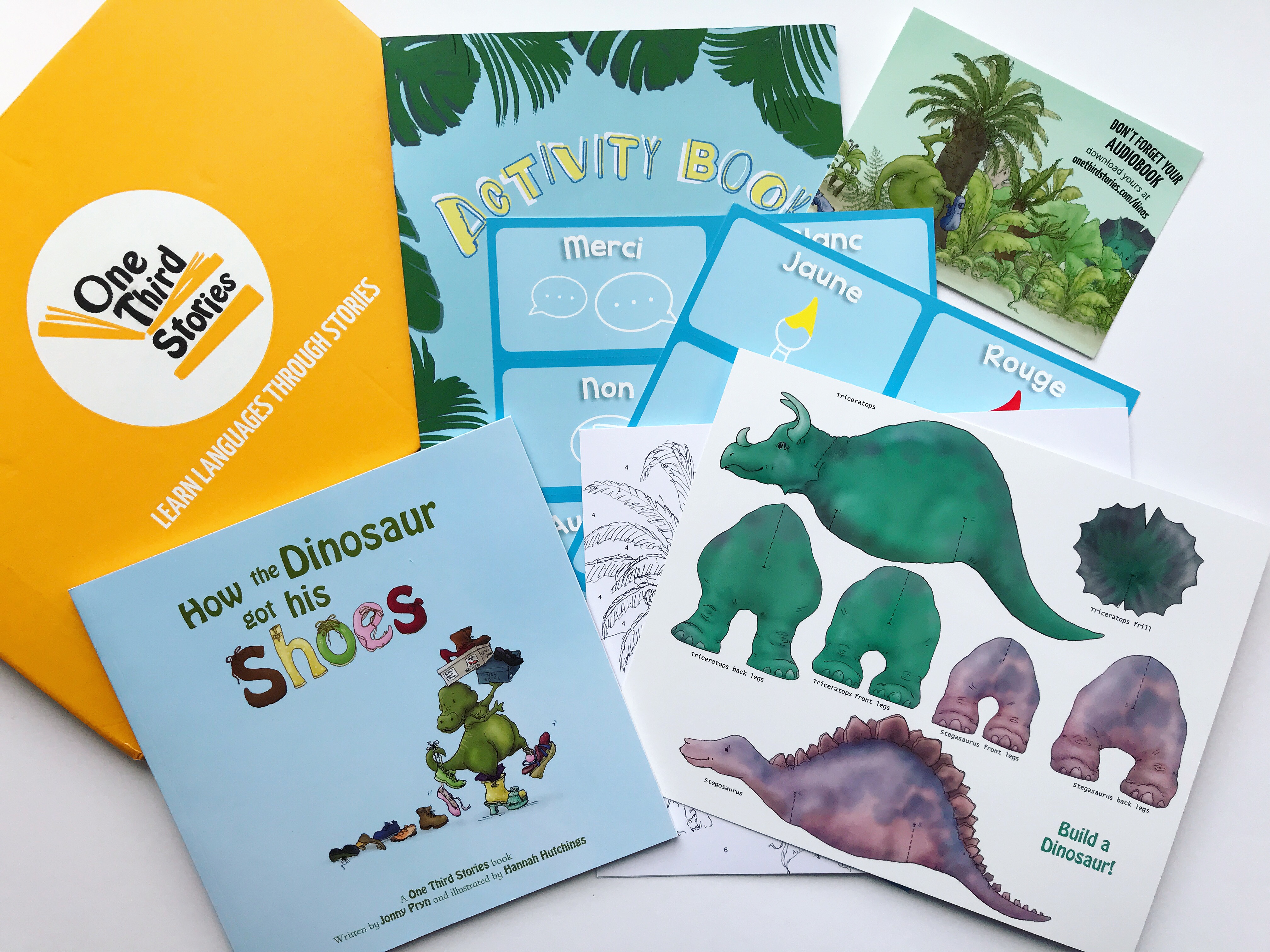 One Third Stories uses the Clockwork Methodology™ to introduce children to languages, and is currently available in French and Spanish. It is aimed at children aimed 4 to 9. The unique approach uses story books that start in English, and end in a different language. Words in the target language are gradually introduced as the story progresses, in a way that makes their meaning apparent from the context: first words, then phrases, then sentences, and finally whole pages of sentences. Here you can see an example of the story we received, showing the first and the last page of the book about a dinosaur who is looking for the perfect pair of shoes: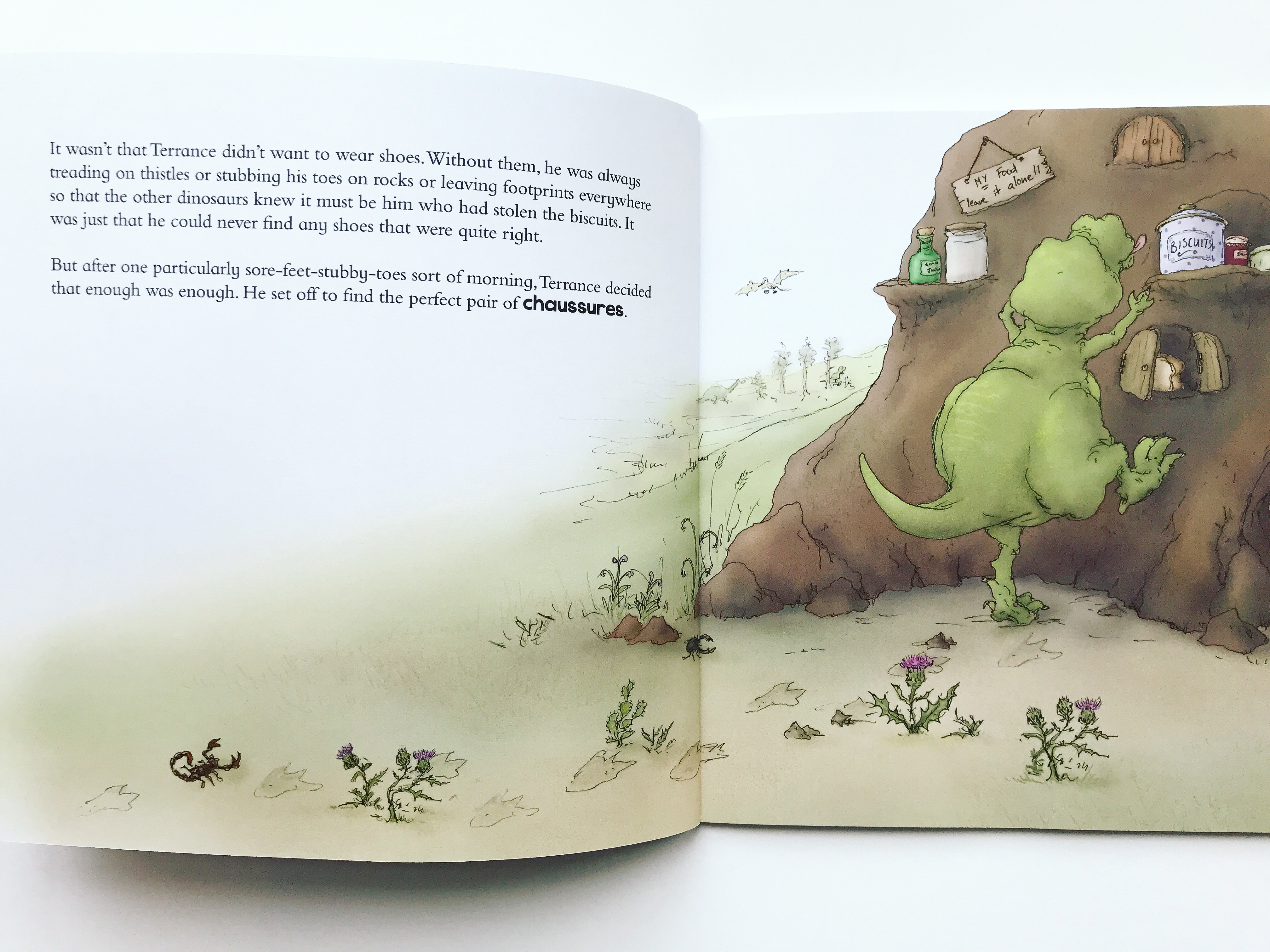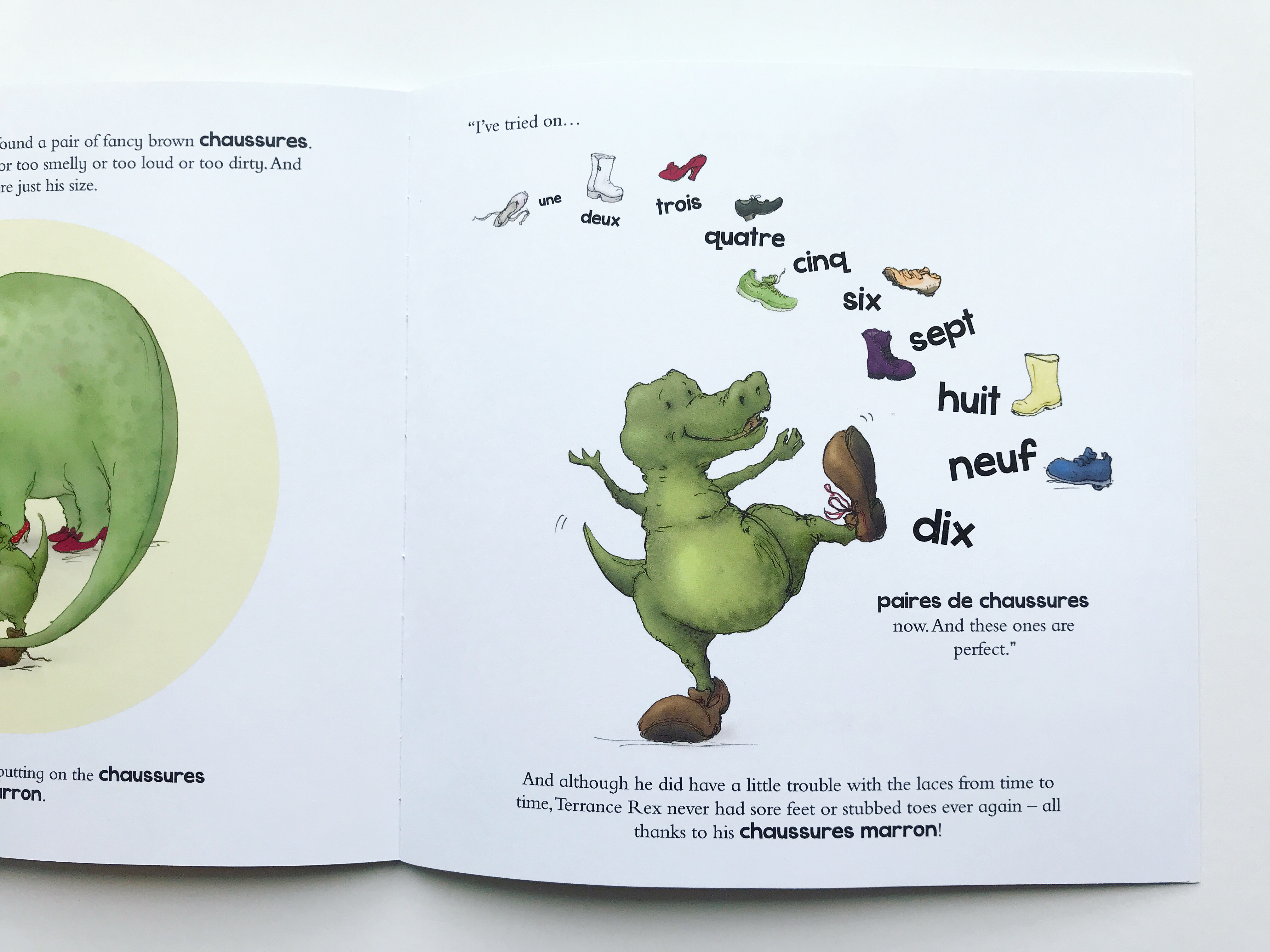 The illustrated story books are created exclusively for One Third Stories, though they form just one part of the subscription boxes. As well as reading, the boxes also aim to cover listening, speaking and writing. Each box comes with an audio file of the story, as well as some other fun learning resources. So let's take a closer look at the box we received.
The story book in our box was called 'How The Dinosaur got his shoes'. First of all, we downloaded the audio file and Oskar followed the story along in his book while we listened to it being read out. Then we listened to the story again, stopping the audio after each sentence so that he could read it aloud and repeat it. This really helped him get to grips with pronouncing the words, and there are also some exercises at the end of the audio to further reinforce the speaking practice. The story is about 10 minutes long, with about 5 minutes of exercises. Of course, you don't have to do these all in one go.
Next, we cut out the set of vocabulary flashcards included in the box, which cover colours and basic greetings. The little icons and colours on the cards kind of give away the answer, but they are good memory aides and I just cover them up when I am testing him. We now keep the cards in the kitchen, and sometimes whip them out for a quick 5 minute language test before dinner.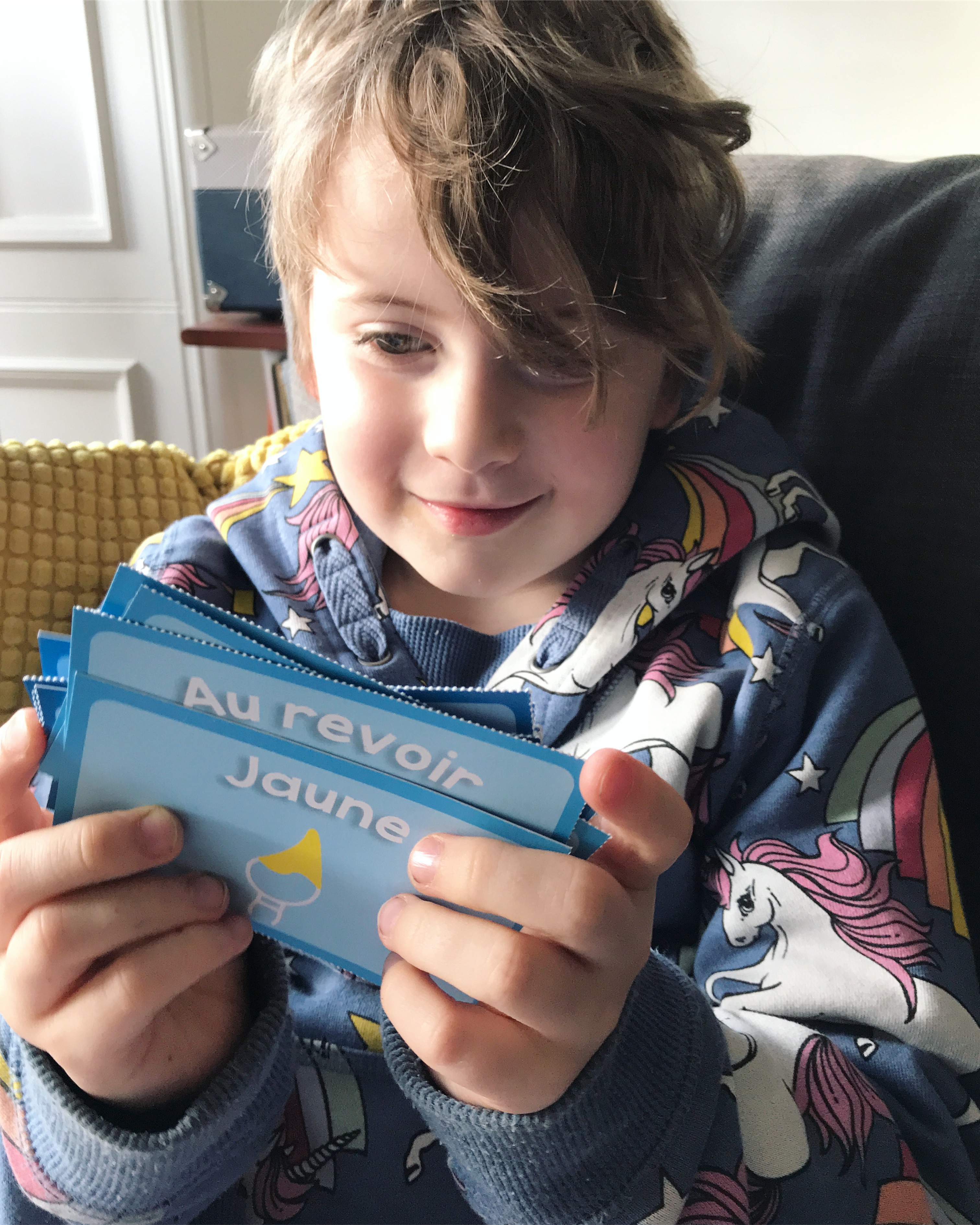 After all that listening, reading, and speaking, it was time for some writing so we turned to the activity booklet included in the box, which had some writing activities about numbers and colours. There was also a page where Oskar had to fill out a mini profile to introduce himself in French. I think this was his least favourite part of the box, but mostly because writing is his least favourite thing at school, rather than anything specific related to this box or to French.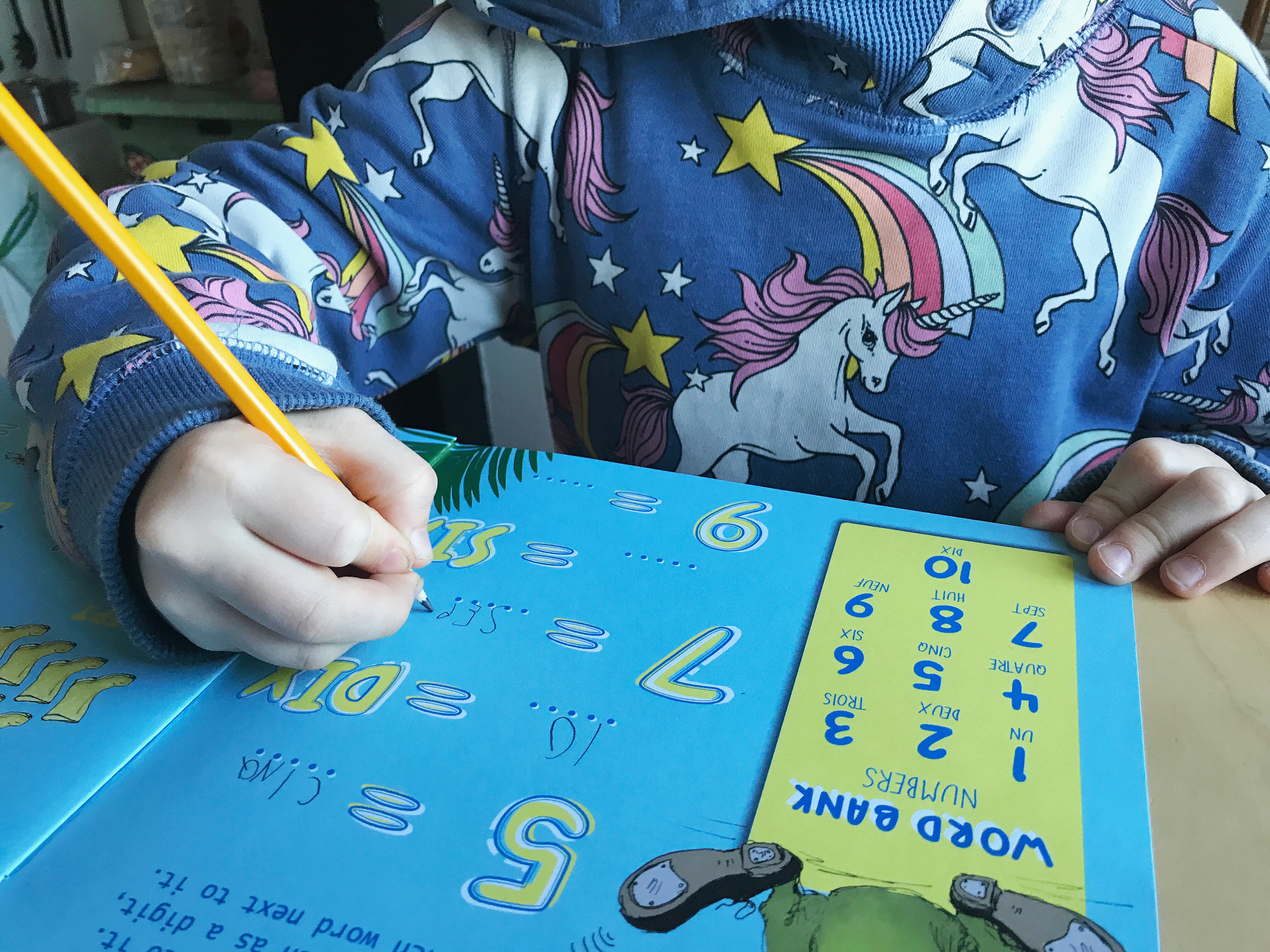 We finished off with a 'just for fun' craft activity of cutting out and assembling some dinosaur models, which you can then set up against a background you need to colour in, which again prompts you to revise colours and numbers. I think it would have been quite fun, given the premise of the story, if the craft activity had also included shoes – e.g. shoes to cut out and stick on the dinosaurs – but even so we enjoyed doing this activity together (some parts of the dinosaurs were very detailed, so I had to help a little with the cutting out).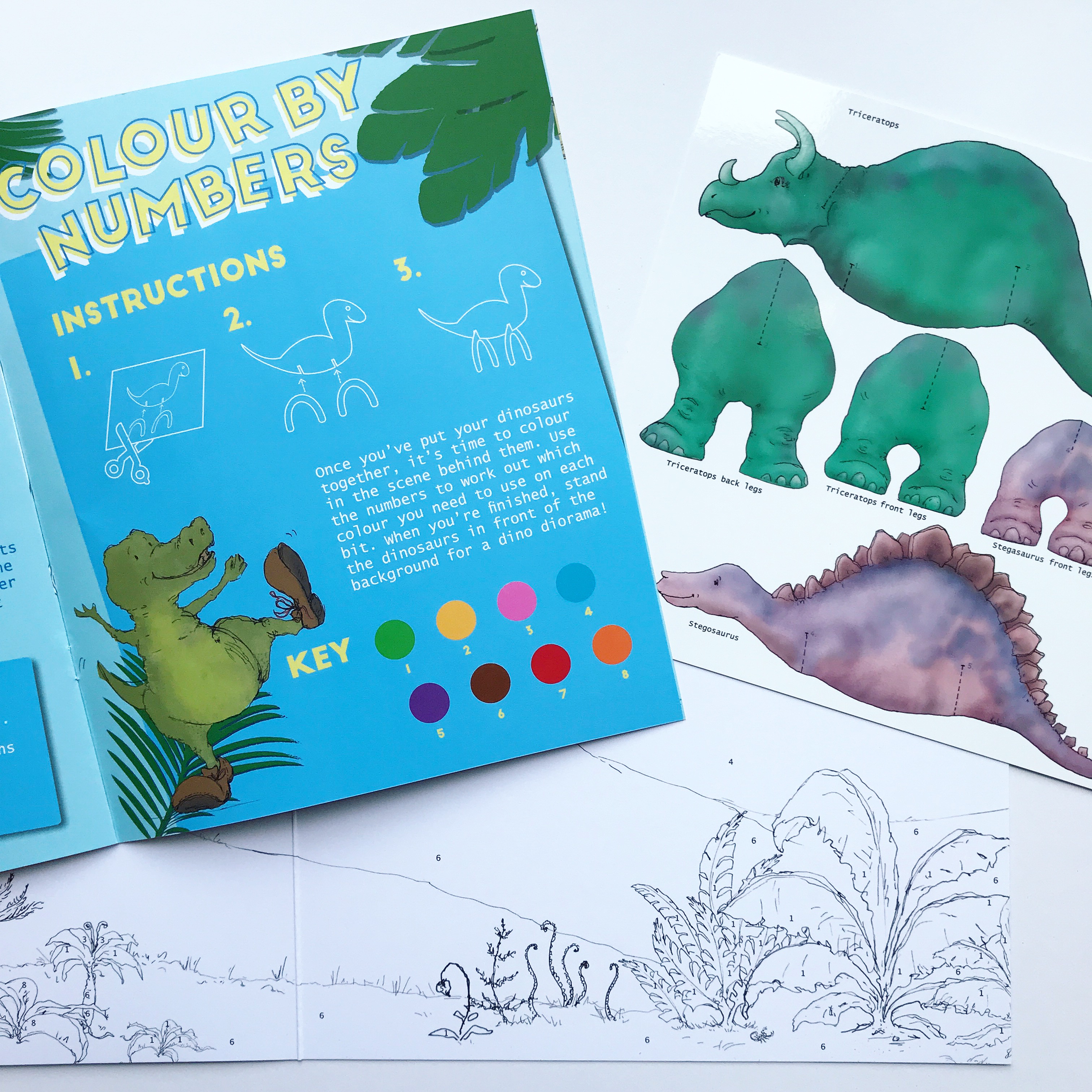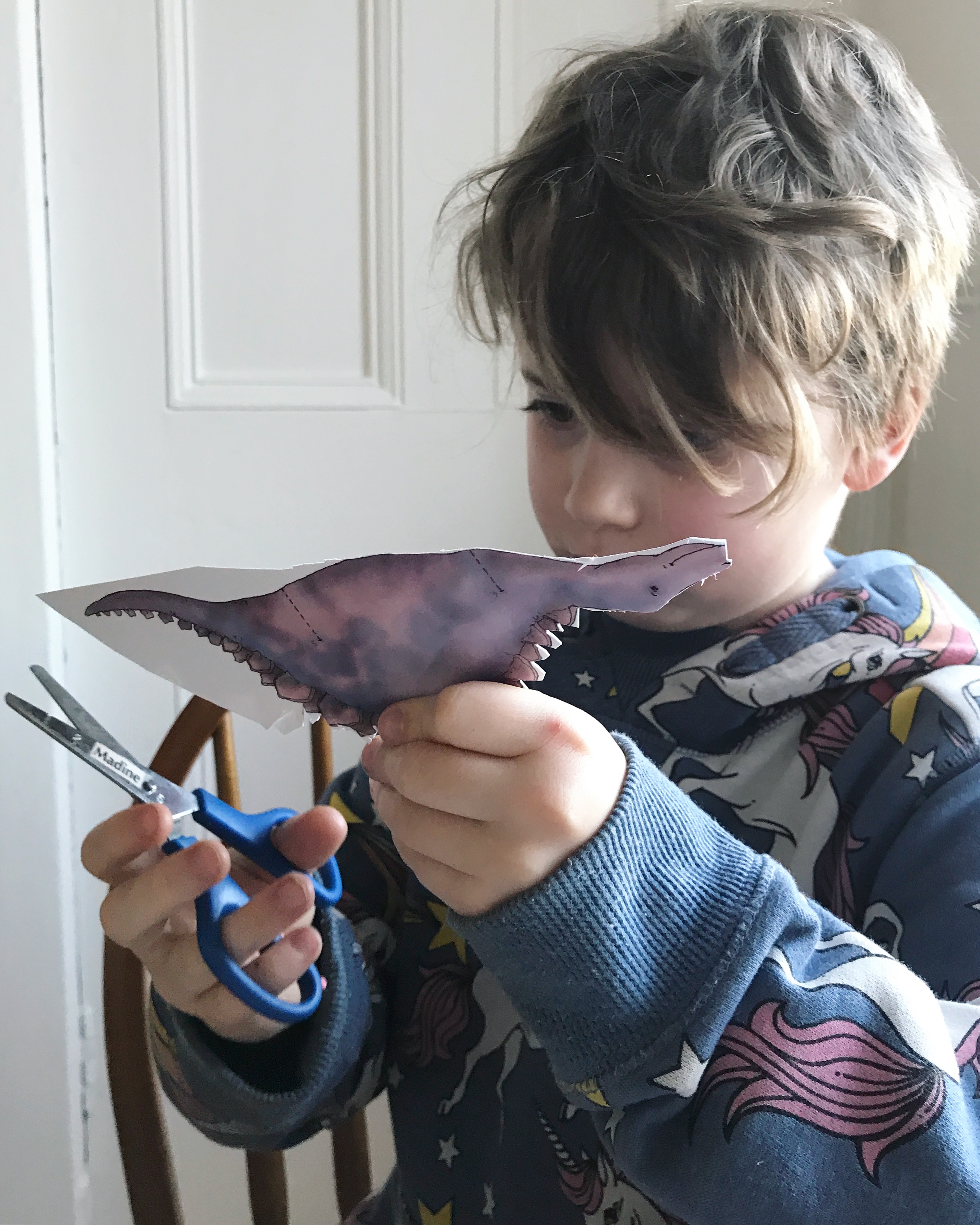 Obviously, we didn't do all of this in one day, but spread out over several afternoons. And apart from completing the craft activity and writing exercises in the activity booklet, these aren't resources you would use as a one off. The story book, recording and flashcards are all things we keep coming back to. After all, learning a language is not something that can be rushed or that happens in a day.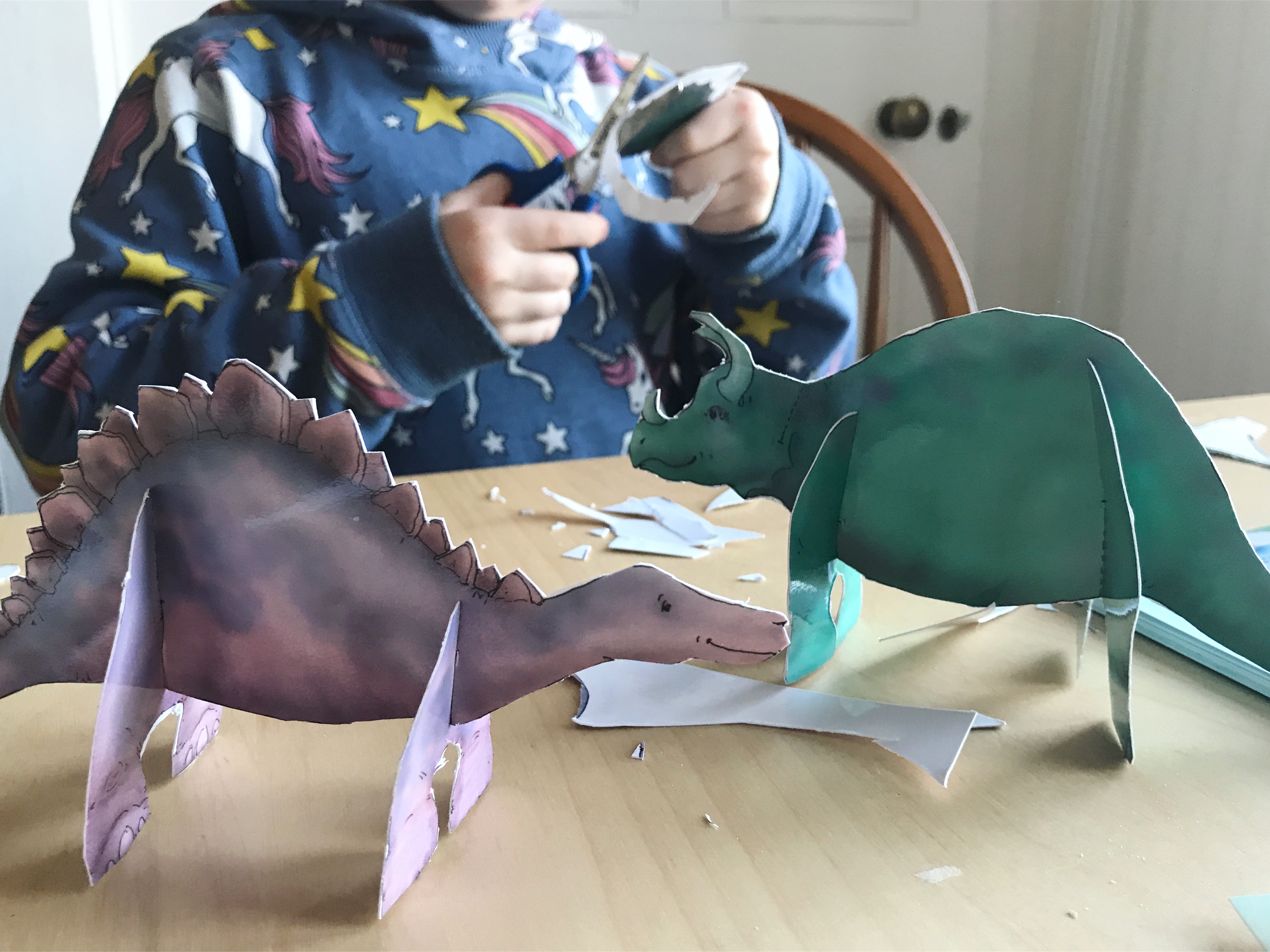 All in all, I think this is a really interesting concept and one that seems to be working. We started using the box at the start of the Christmas holidays, so we've been using it for about three weeks now, and already I have seen quite a bit of progress in what Oskar remembers. The fun story (dinosaurs are always a winner in our house!) really caught his attention and meant he actually *wanted* to read the book again and again, rather than being made to.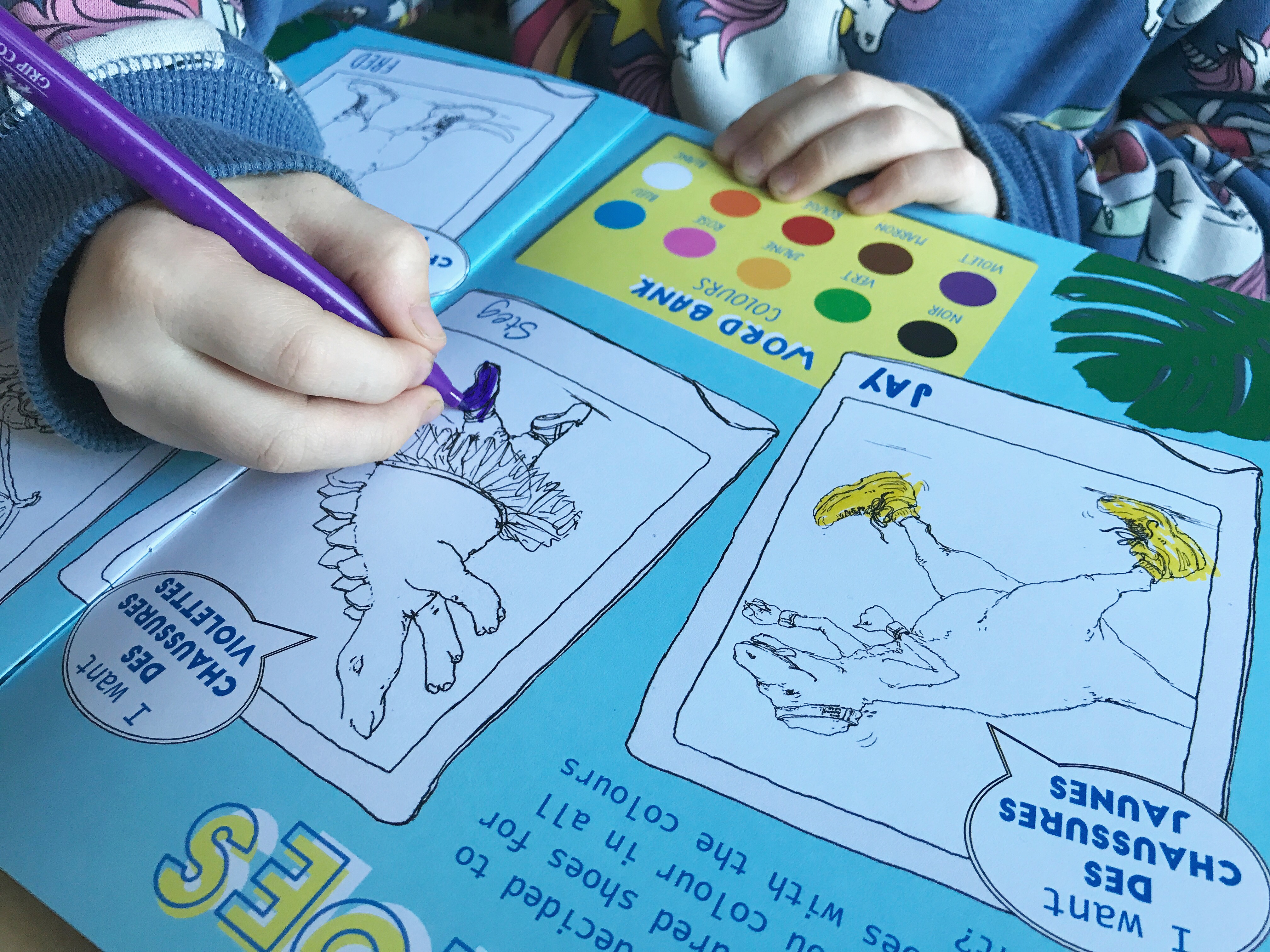 The One Third Stories website goes in to a lot more detail about how their method works, and addresses concerns such as whether mixing languages will confuse your child (short answer: it won't). Subscription packages come in blocks of 3 months, 6 months or 12 months, and if you don't love your first box you can get a full refund, no questions asked. We really liked ours though, and I'm thinking it would be a great gift to get Oskar a subscription for his next birthday.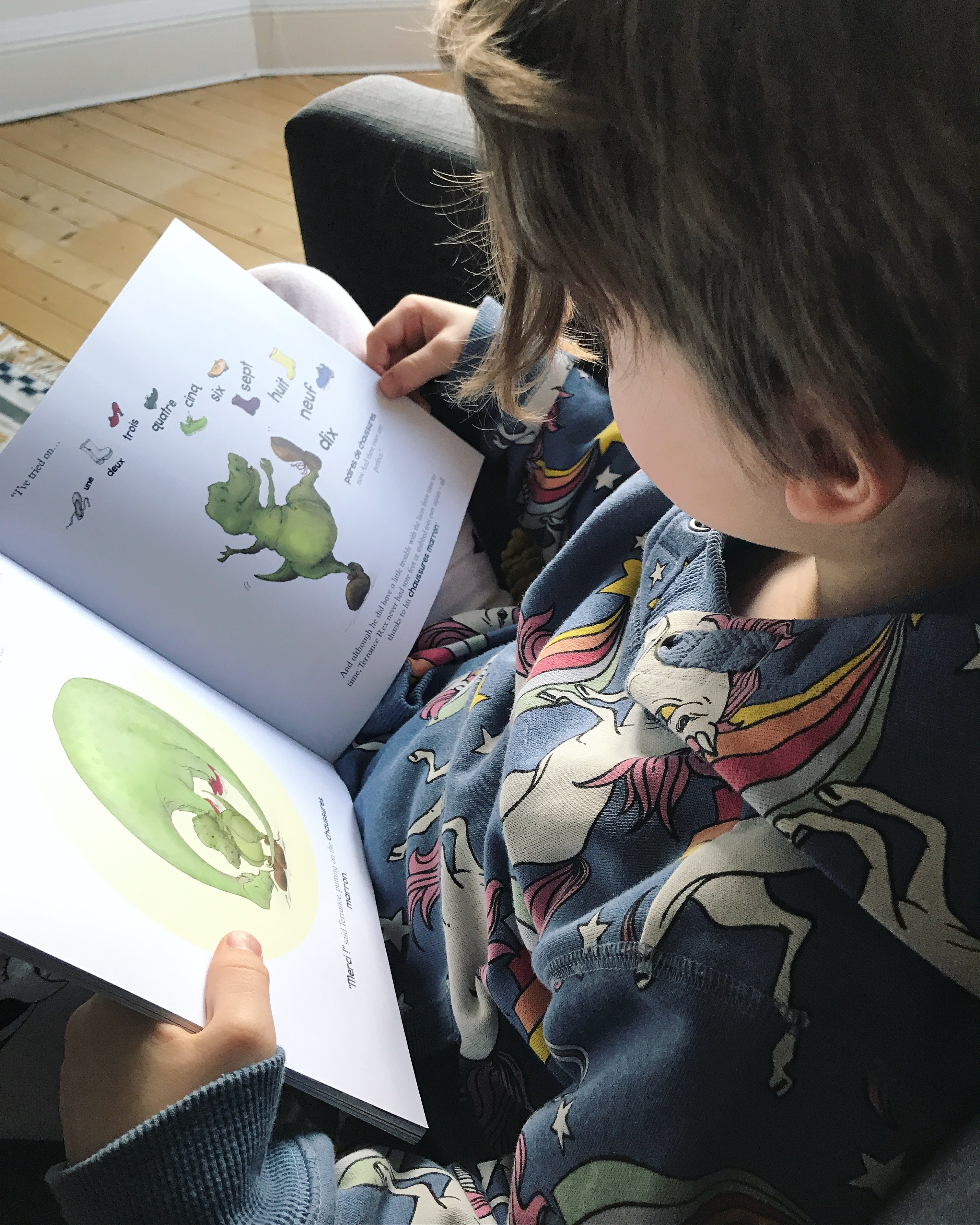 Disclosure: We received a free 'One Third Stories' box in return for an honest review. All images, words and opinions are our own.