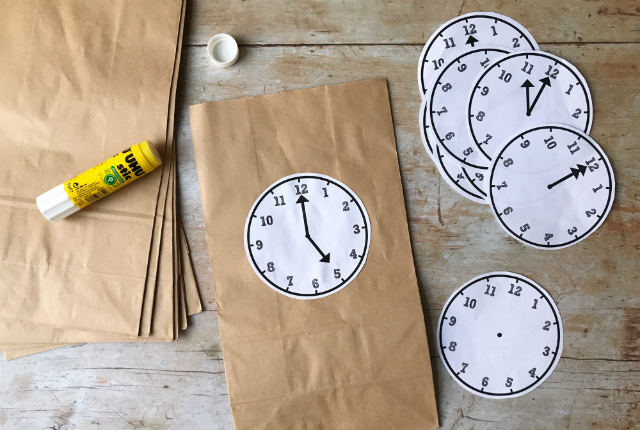 New Year Countdown with Kids
Last year was the first year we let the kids stay up as long as they liked on New Year's Eve, aka Hogmanay here in Scotland. Mr Fox (who was 3 then) made it to about 9pm, and Oskar (who was 7) fell asleep at 23:45 – though we did then wake him up again for the midnight fireworks. We just spent the afternoon and evening playing board games, watching TV, and of course having a special New Year's meal. We always – and I mean *always* – do Raclette at New Year's, which is something we picked up in Germany (where a typical New Year's meal would be either Raclette or Fondue). Since we have guests staying with us this year, we've decided to do something extra special so I'm preparing some activity bags that the boys can open each hour as we count down to the New Year, and I thought I'd share some of the ideas for our bags with you.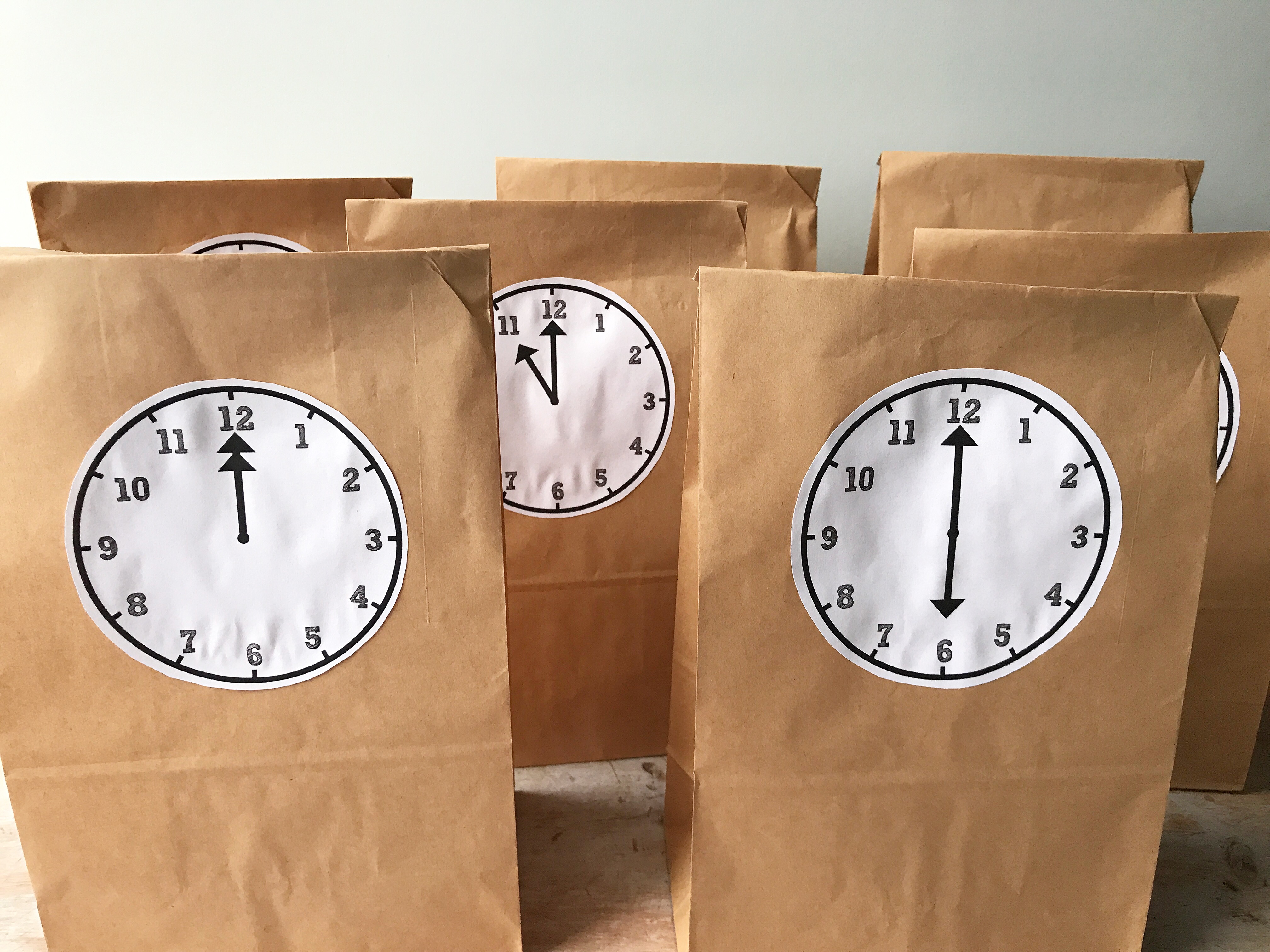 We'll probably start the bags around 4pm or 5pm, and I haven't quite decided when to make the last bag for as I don't know how long they'll last, but if you make the bags easy enough to open and re-reseal you can always swap things around a little depending on how your kids are doing. All you need is some large paper bags and some clock faces – either printed off or you could also draw on some clock faces or even just write on the times. My husband has kindly made some print-outs for the bags, which start at 4pm and go until midnight, and also include a blank one to add in your own time. There's a free download at the end of this post, for your own personal use. If you are using print outs, you'll also need a pair of scissors, a glue stick, and in either case some tape to seal the bags.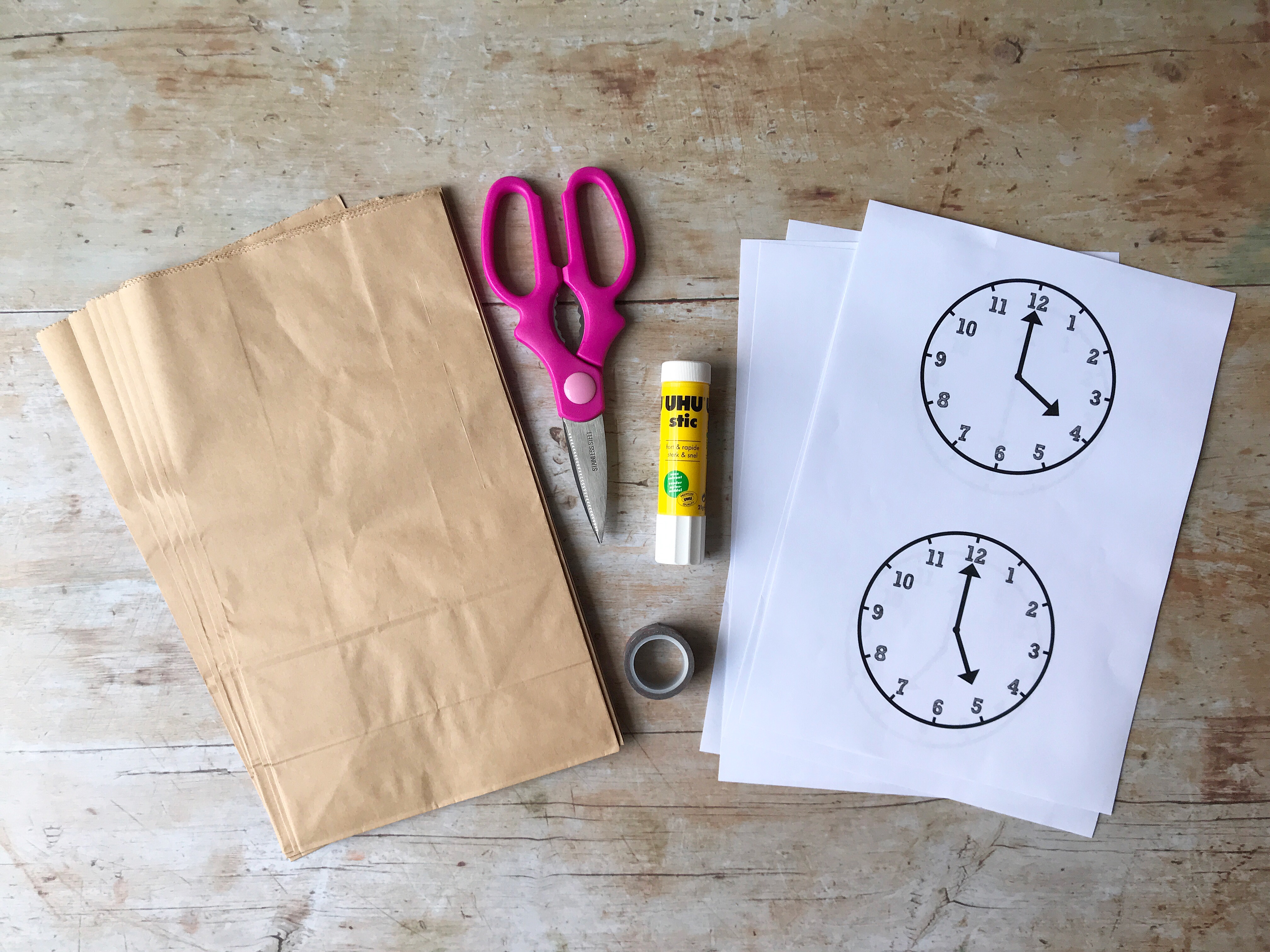 Just cut out the clock faces and stick one clock face on each paper bag – remember to leave some space at the top to fold them over!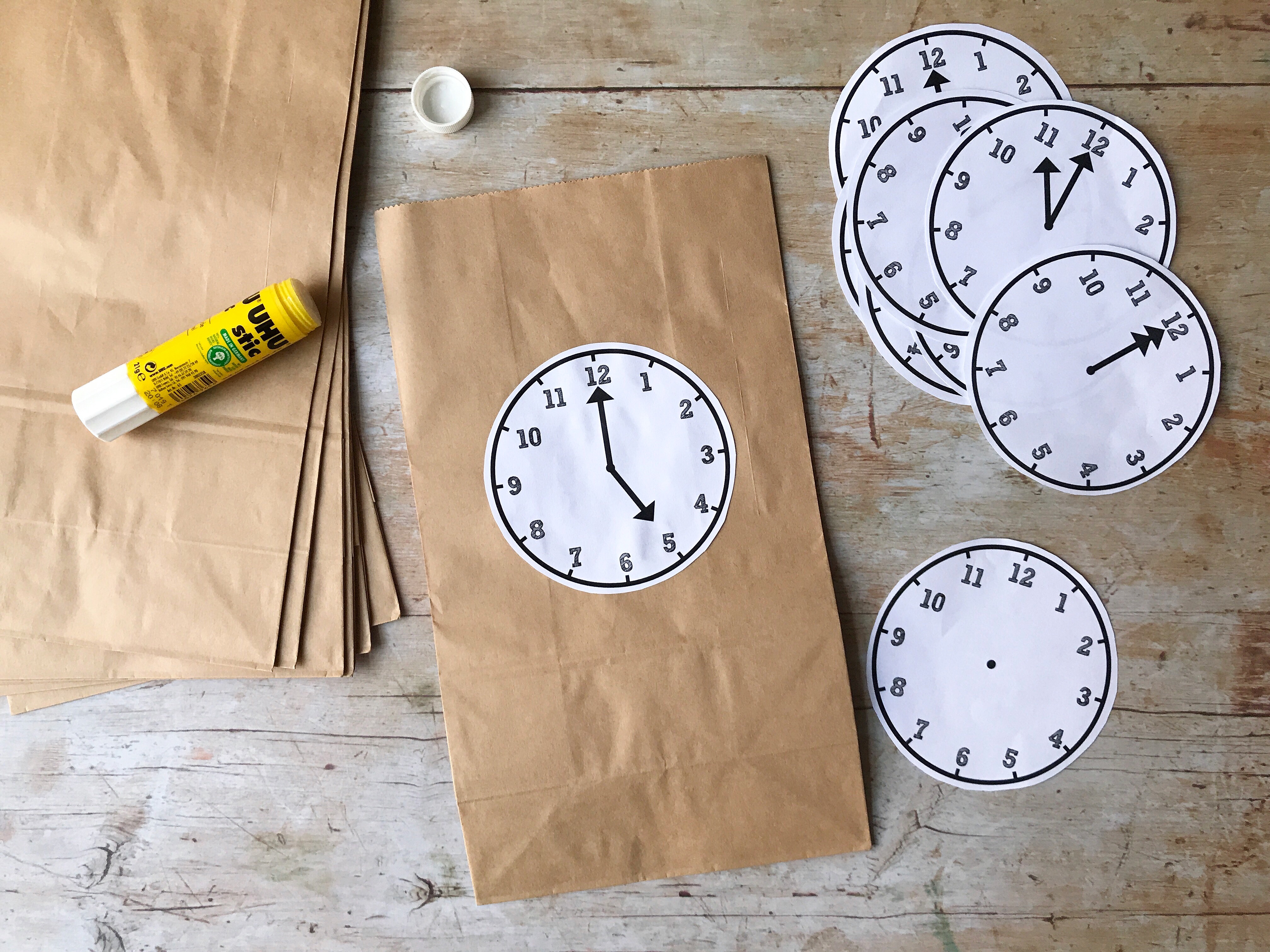 Now fill each bag with an activity, fold over the top and seal shut with a little bit of tape. I use washi tape, as it makes it easier to re-open the bags if necessary.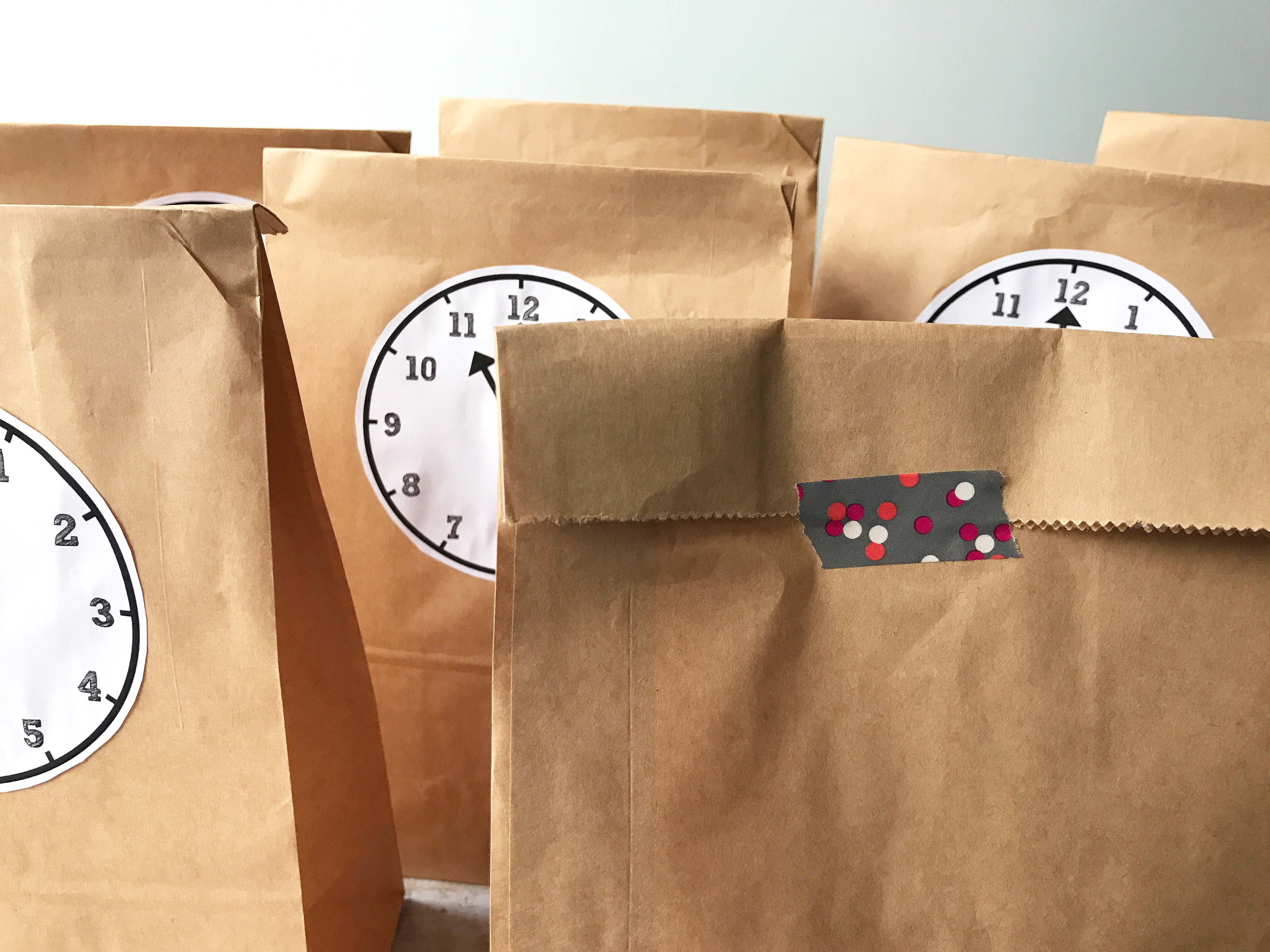 If you're stuck on ideas of what to put in the bags, here are some of the ideas we are planning to do (though I haven't quite decided in what order yet…)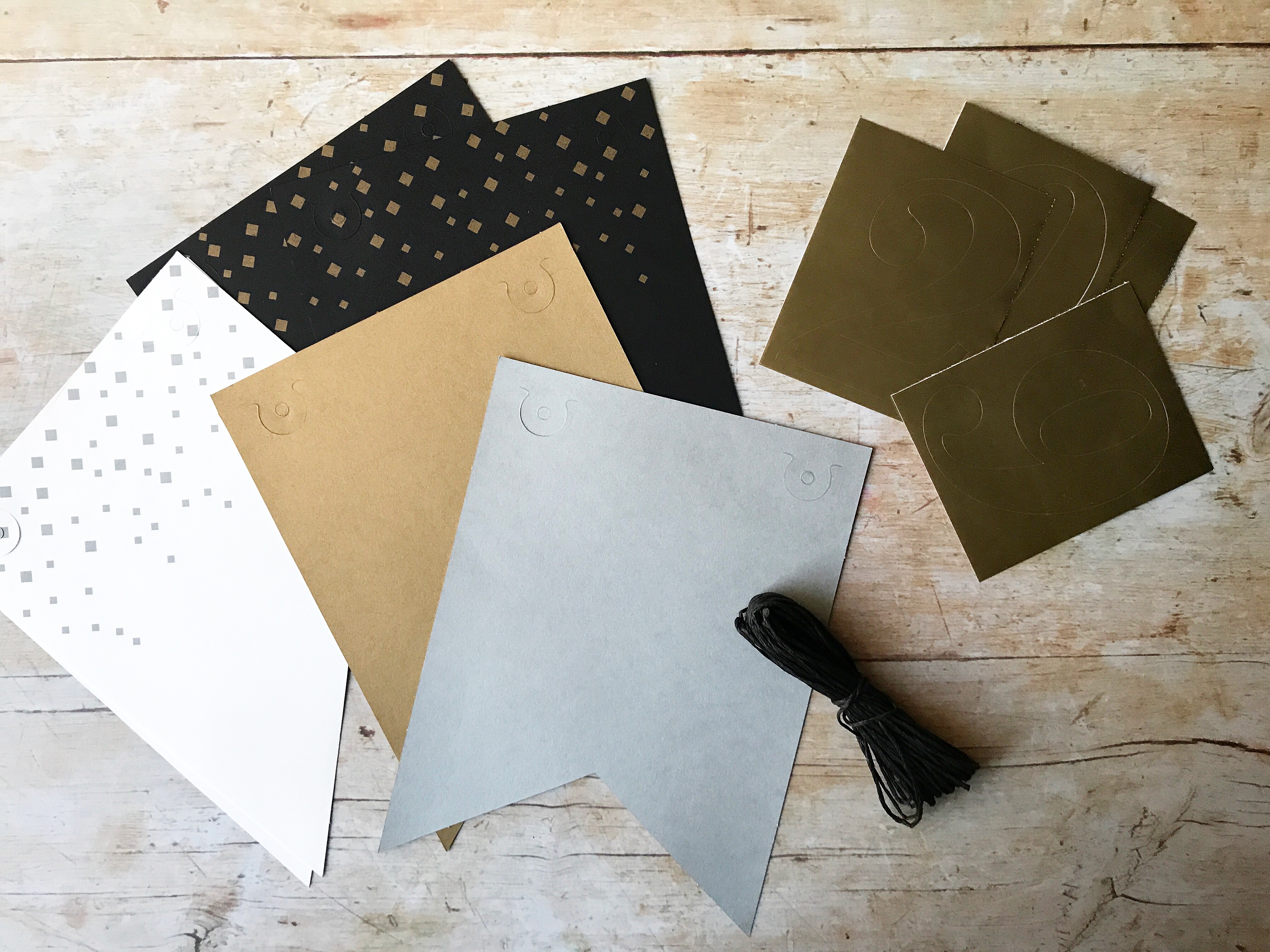 Bunting – We'll probably start with making some bunting to decorate our kitchen for New Year's Eve. This is a kit I got from Ikea, but it's really easy to just make your own from cardboard or paper, and string.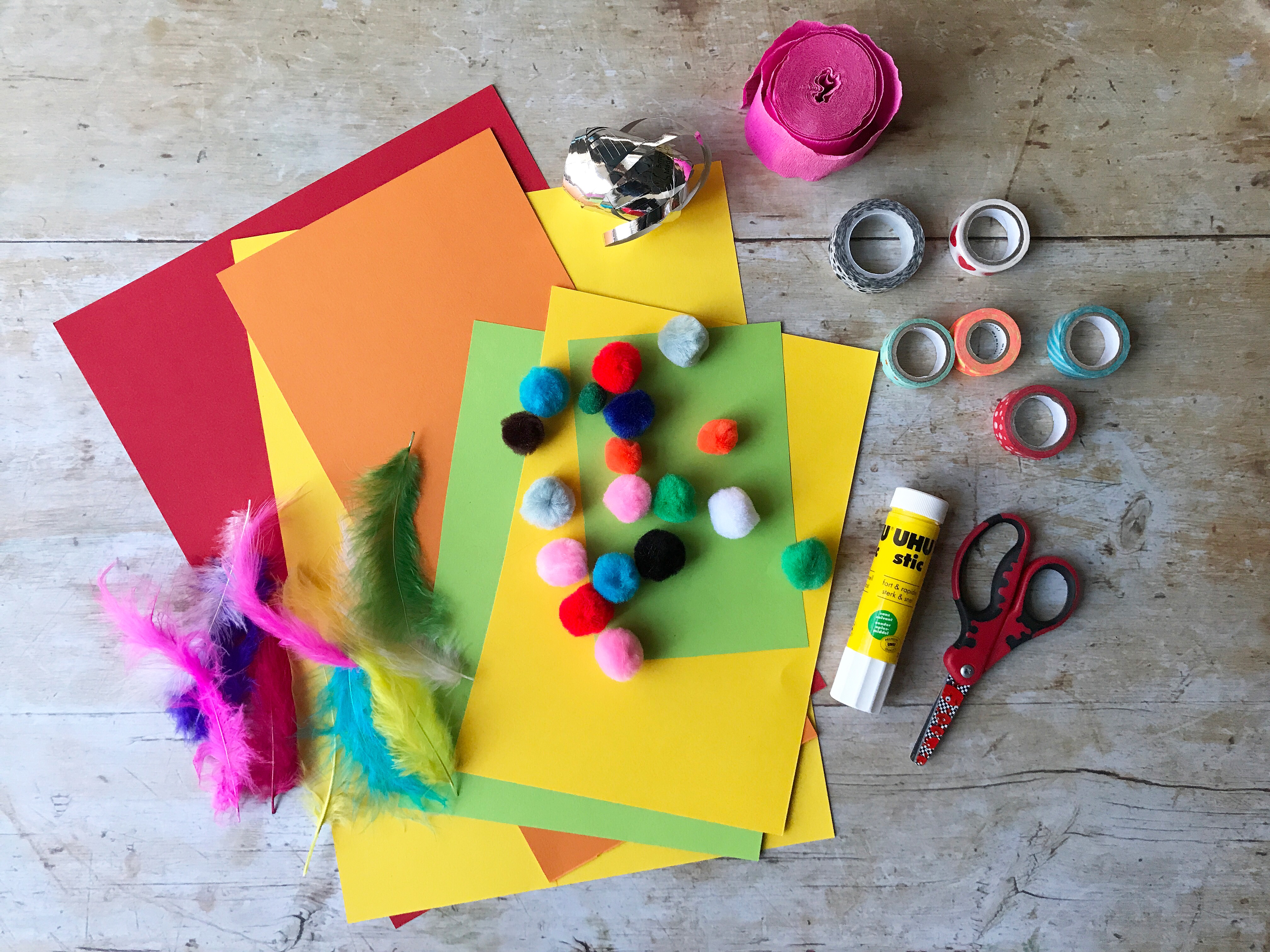 Party Hats – More crafting! (I'll probably space these two activities out better). I'm including lots of different materials to make party hats.The big sheets of paper won't actually fit in the paper bags, but all the other fun materials to embellish the hats with will.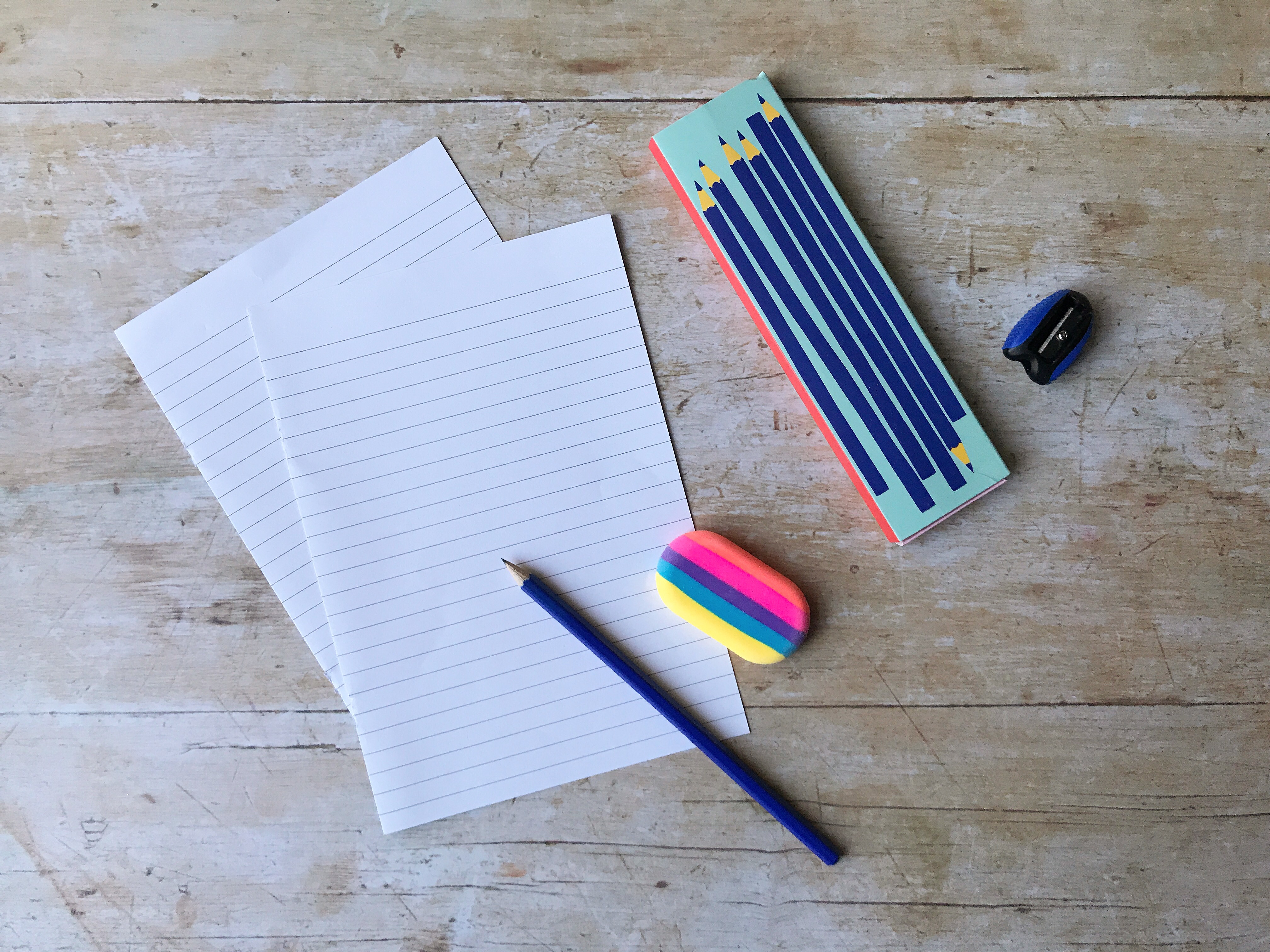 Year in Review/ New Year's Resolutions – This activity is to reflect on the past year and think about the year ahead. Questions you could reflect on include things like your favourite family holiday, your best memory, or what you are most proud of in the year past, and something you would like to see, do or learn in the year ahead. You could also record things like favourite colour, animal, food, song, movie, book, or best friends (and then compare year after year), but we always do a birthday 'interview' with the boys each year where we record those things.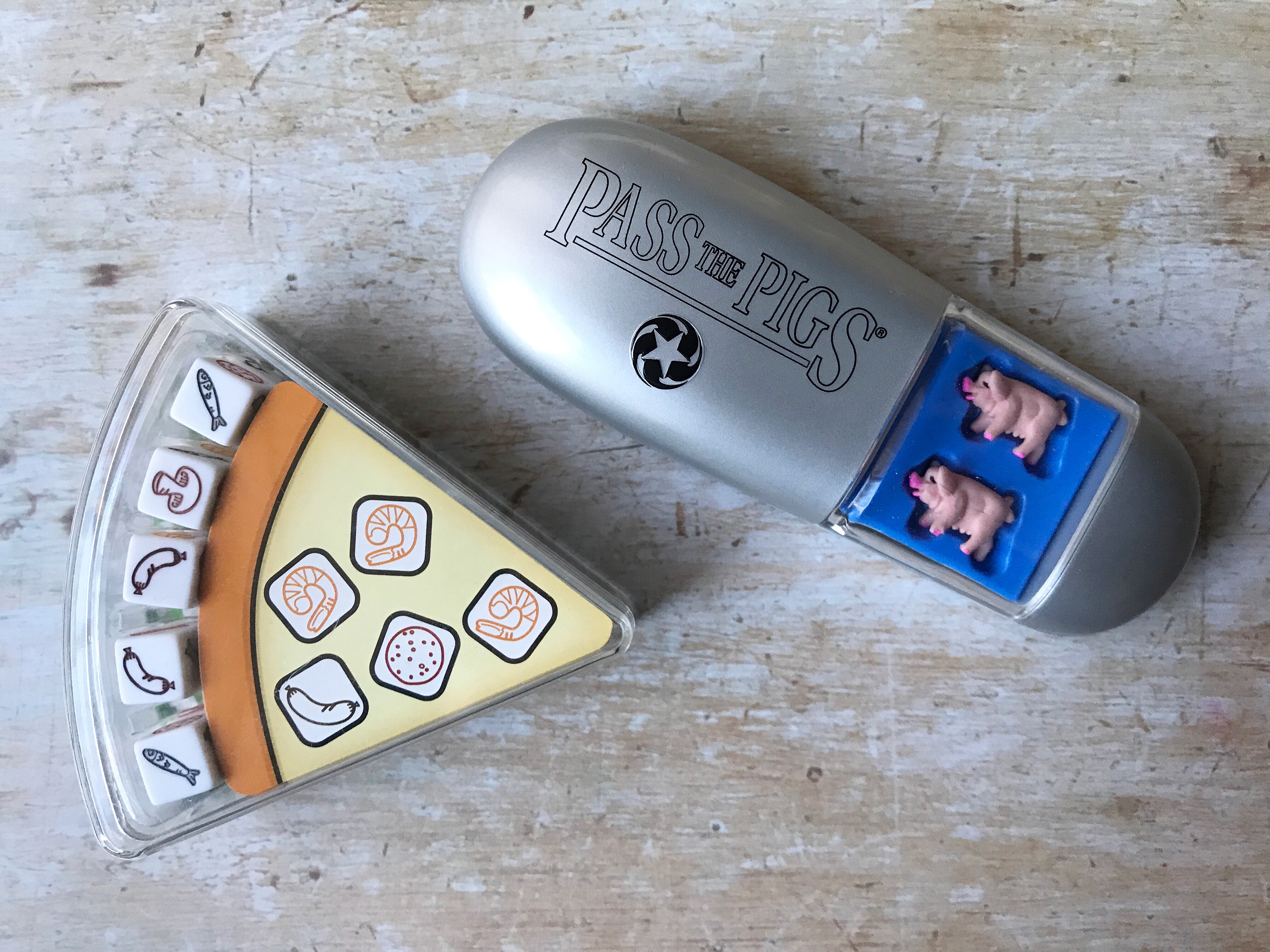 Games – We can't have a New Year's Eve without playing some family games together. I *was* going to create a special Hogmanay bingo for us to play, but I kind of ran out of time so I'm just throwing some of our favourite existing games in to a bag. The mini games from Orchard Toys would also be the perfect size for this! (disclosure: links to a review of a gifted product).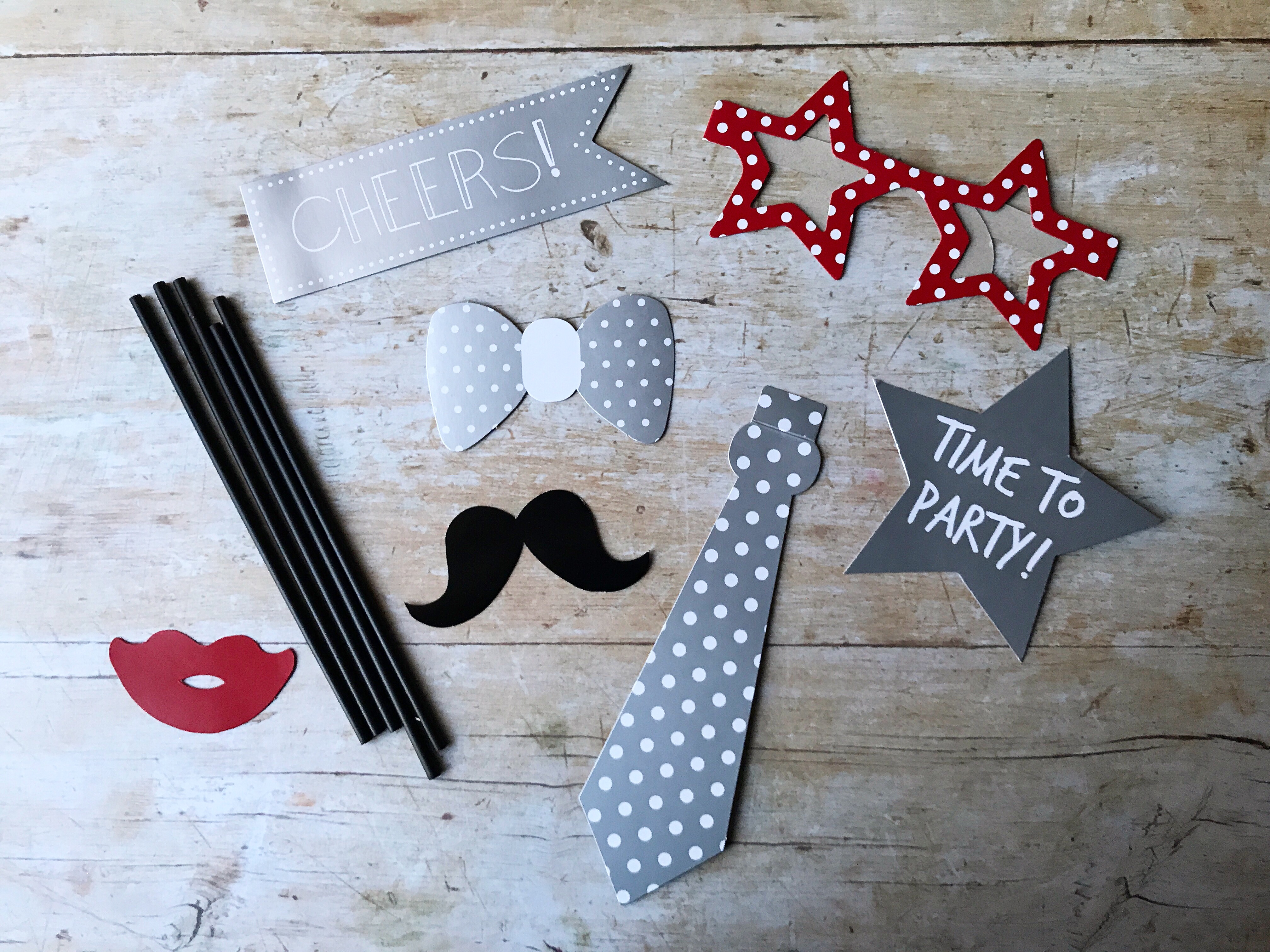 Photo Props – Nothing says 'party time' more than some fun, silly photo props. These ones came with our Christmas crackers last year, but you could easily make your own too.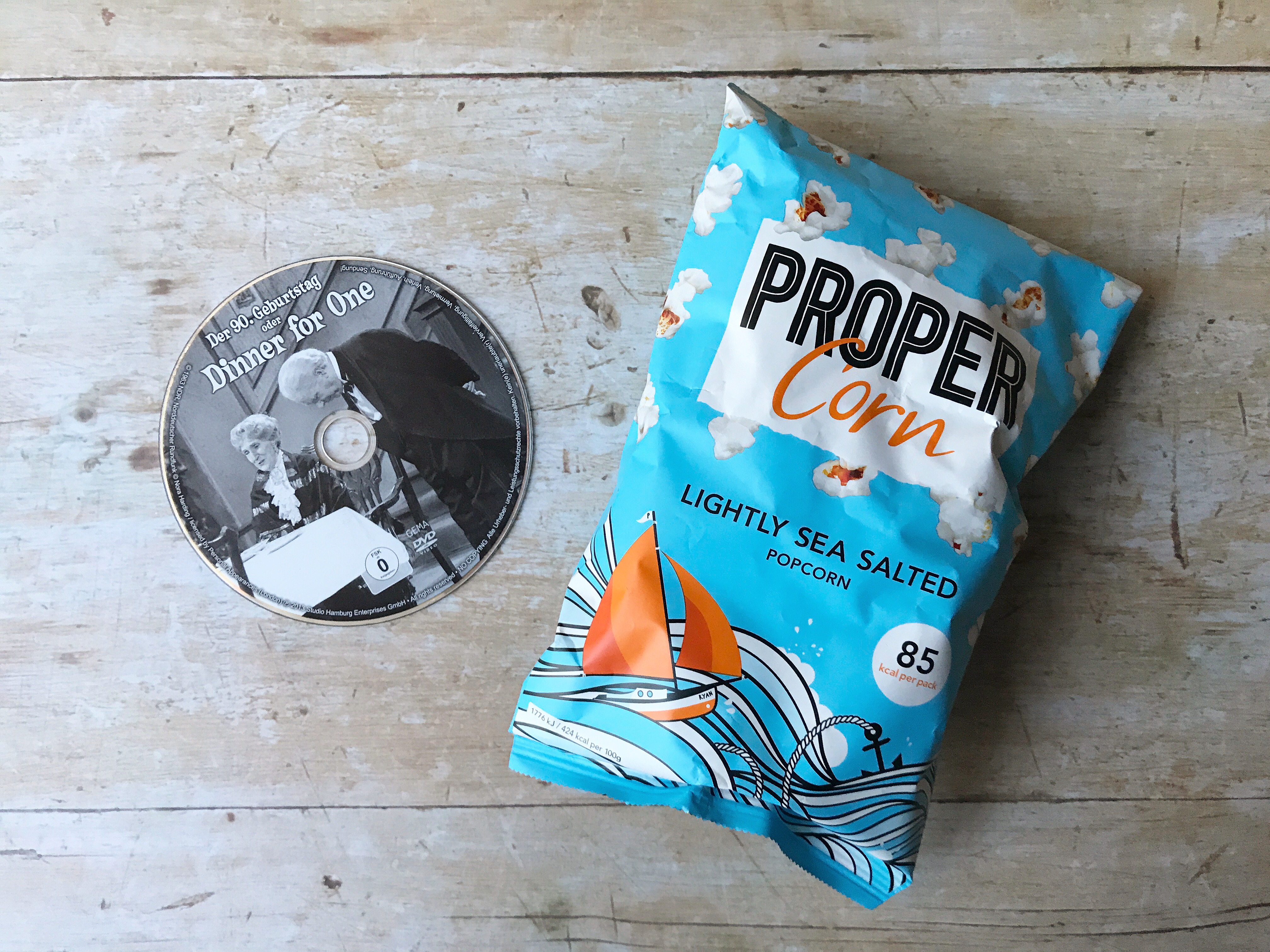 A Movie – Stick one of your favourite family movies in to a bag, and pair with some yummy popcorn. We always watch 'Dinner for One', which is screened every year on New Year's Eve in Germany (we got the DVD so we could continue the tradition in Scotland). It's an English language comedy sketch recorded for German television in 1963, and holds the record for most screened TV programme ever. Funnily enough though, it had never been screened in the UK until this year.
Fortune Telling – A popular activity in Germany on New Year's Eve is 'Bleigiessen' – which literally translates as 'led pouring' – where you melt small pieces of led over a candle, then tip them in to a bowl of water where they harden almost immediately. You then interpret the cooled down shaped to see what your future in the year ahead will bring. It actually became illegal to sell led kits as of this year, and they have been replaced with similar kits using wax instead (though we still have a couple of old led kits to use up). If you don't have access to any of these kits though, there are loads of other fortune telling activities you could do instead. If you Google for 'New Years Fortune Teller' you will find lots of results, such as this or this free printable.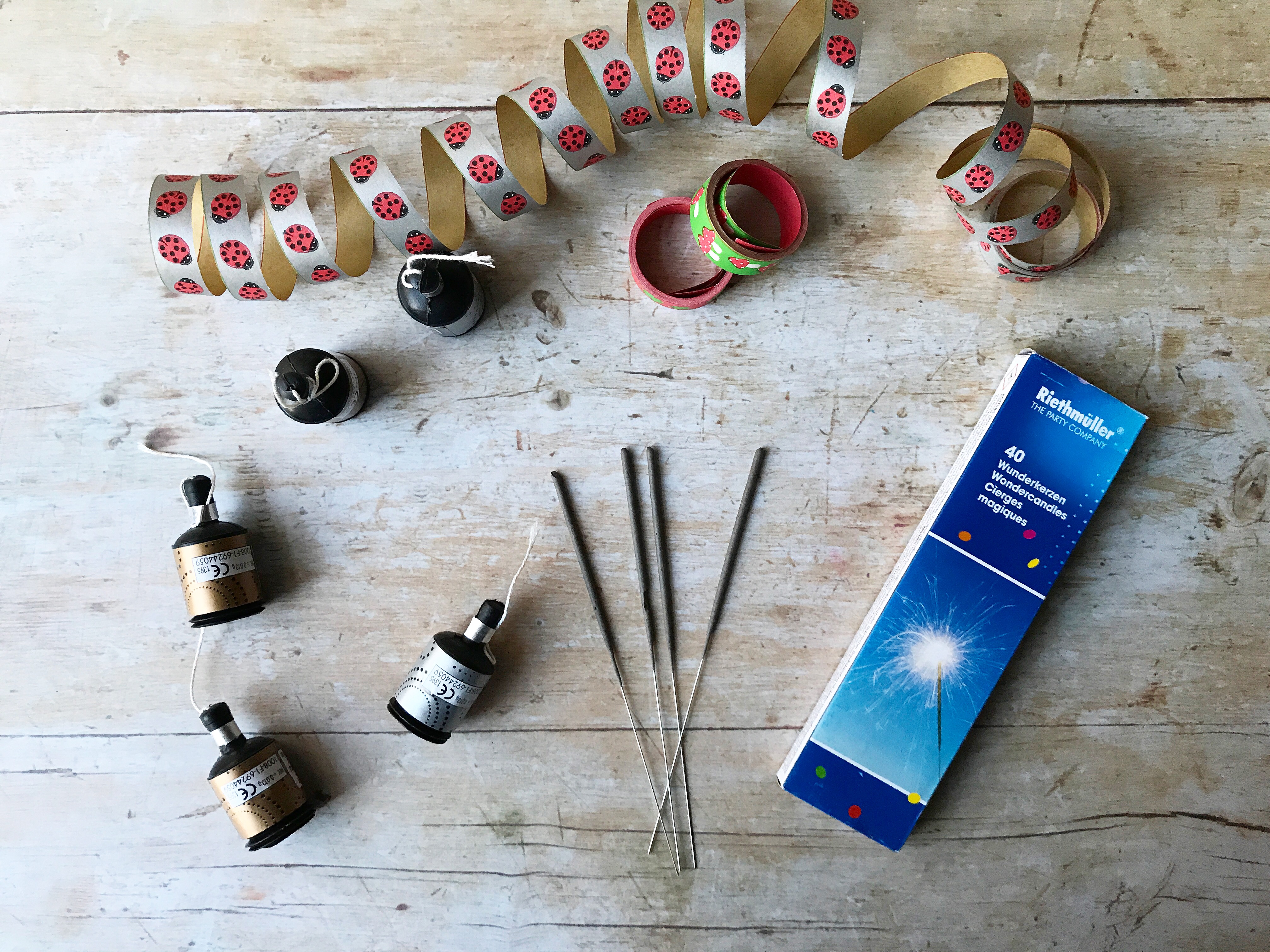 Sparklers & Party Poppers – And, finally, something I'll be putting in our final bag to welcome in the New Year. Obviously, both the party poppers and the sparklers should only be used under adult supervision (a safety tip I picked up on Bonfire Night was to stick the sparklers in to a carrot and let the kids hold the carrot instead!). The paper streamers are also great – you blow in to them and they fan out. It's fun for kids, and completely safe – and you can pop them in the paper recycling at the end of the evening. I've never actually seen them in the UK though, we get ours from Germany.
And that's it! Lots of fun ideas of what to out in your countdown bags. I've hope you've found some inspiration here, and if you have other suggestions for countdown bag activities I'd love to hear about them in the comments! Have a HAPPY NEW YEAR when it comes!
As always, all recipes, tutorials and other resources on this blog are free to enjoy and share, but if you feel able to and would like to make a small donation to help keep this blog running, then it would be very much appreciated. Just hit the support button. Thank you!
Pin For Later