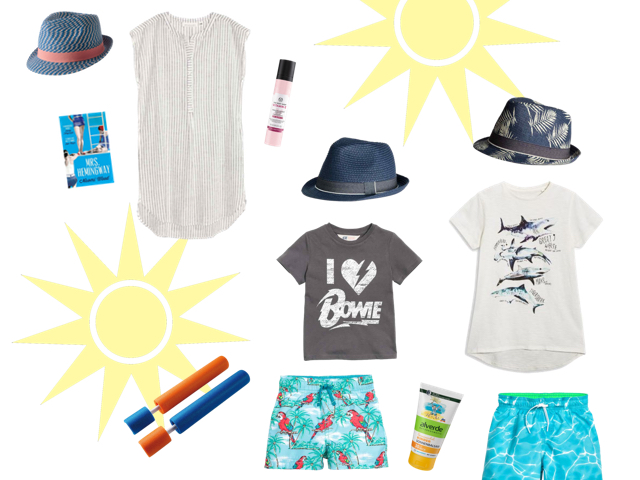 Mummy & Mini…at the Beach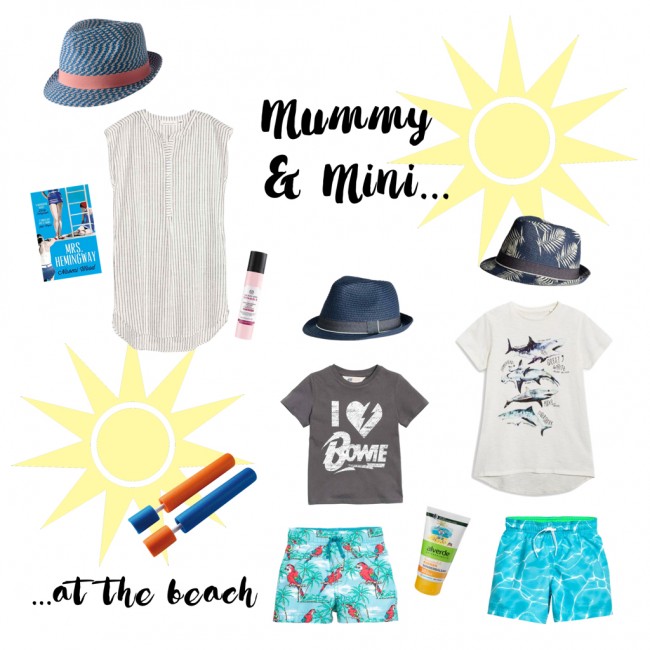 The boys and I are off on our first ever beach holiday today for a week! Unfortunately, the weather doesn't look too good, but we're being optimistic and have packed a few beach essentials.
Firstly, our beloved hats – I brought mine back from London in June, and the boys wanted ones 'just like mummy'. We found some similar ones in Berlin. Now we look like some kind of hat triplets, lol.
Next, some beach wear. The boys picked out swimming trunks each – the younger one doesn't really need any, since he wears swimming nappies, but when he saw his big brother getting one he wanted a pair too, bless. I love watching them pick out their own clothes, and their different tastes and personalities coming through. My older boy wanted some fairly plain ones, whilst the younger one was drawn to the colourful parrots! And whether we'll be covering up against the sun or a bit of a breeze, a couple of new T-shirts went in to the suitcase too. My older son chose the really cool shark T-shirt (which I would totally wear if it came in adult size), and I have to admit I chose younger son's T-shirt. Ditto on the adult size. For myself, I'm not really in to beach wear (did I mention I've never been on a beach holiday since I was a kid?), so I opted for cotton tunic instead.
Beach holidays are all about relaxing and taking time out – or so I'm told, I wouldn't know from experience – so we packed some things for entertainment. The boys really wanted to squeeze in their water shooters, and optimistic mummy has packed a summer read. Though I'll more likely be reading that at 11 o'clock at night when they've finally gone to sleep, rather than on the beach. Haha.
And, finally, whatever the weather, sunscreen always comes with us in summer, whether we are beach holiday or city trip bound. For my boys, I have the 'Sonnenbalsam' for kids from Alverde, a brand from German cosmetics and healthcare store DM. It was the only sunscreen product for kids to receive a 'sehr gut' (very good) rating from the German consumer organisation Stiftung Warentest last year. For myself, I was happy to discover the new Vitamin E moisturiser with SPF 30, which is much less sticky than the waterproof sunscreen I put on my kids when they doing their rough and tumble, but still protects my sensitive skin from the sun.
So, that's our beach holiday bag. Our holiday house also doesn't have any internet, so the blog will be taking a bit of a break over the coming week. Hope you are all having a great summer too!
Mummy – Hat: Oliver Bonas | Tunic: H&M | Book: Amazon (affiliate link) | Sunscreen: Bodyshop
Mini – Straw hats, swimming trunks, Bow T-shirt: all H&M | Shark T-shirt: Next | Water shooters: Woolworths, similar to these on Amazon (affiliate link) | Sunscreen: DM