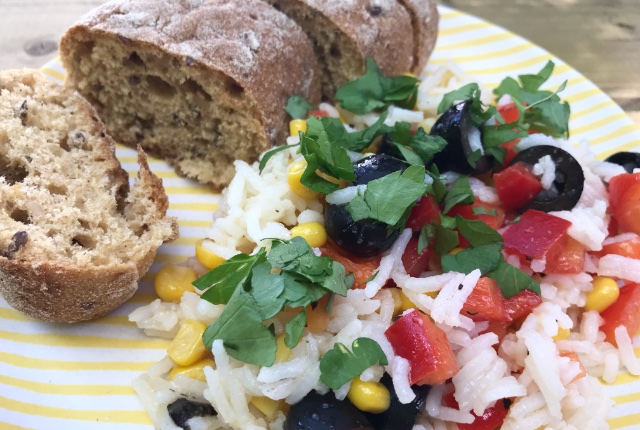 Multi-Coloured Rice Salad
Planning a picnic this summer? This rice salad is a perfect dish to eat at a picnic, alongside boiled eggs, rustic bread and chunks of cheese. Just pack it up in a tupper-box, and don't forget to bring forks to eat it with. Also makes a great side dish if you are having a BBQ closer to home.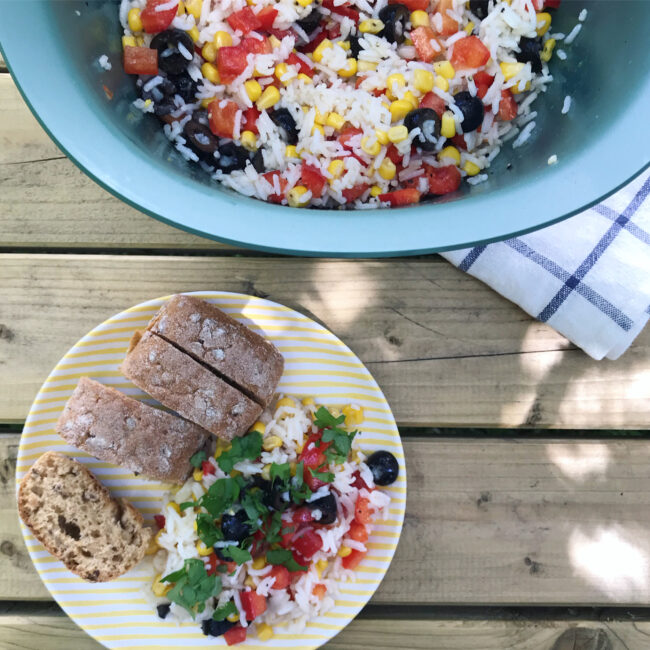 As before – and I always tell me children this – first read the whole recipe through from start to finish, then gather all your ingredients and utensils before you begin. And don't forget to wash your hands before cooking. At the end of the recipe, I've also highlighted which parts I think are particularly suitable for kids to help with, though of course you need to judge that a little yourselves depending in your kids' ages and abilities. So, happy cooking!
This recipe is suitable for: gluten free, vegetarian, dairy free, nut free; you use an alternative sweetener to honey to make it vegan.
Ingredients
(4-6 portions)
For the Salad
150g long grain rice (uncooked weight)
Pinch of salt
2 peppers in whatever colours you like best
100g pitted olives – we used black but you can use green if you prefer
1 large tin of sweetcorn, ca. 260g drained weight
Fresh flat-leafed parsley (optional)
For the Dressing
3 Tbsp orange juice
3 Tbsp olive oil
2 Tbsp apple cider vinegar
2 tsp runny honey
Salt and pepper
1/4 to 1/2 teaspoon Dijon mustard
Utensils
Kitchen scales
Saucepan
Sieve
Salad bowl or large tupper-box
Chopping board
Cutting knife
A tablespoon
A teaspoon
Clean, empty jam jar with lid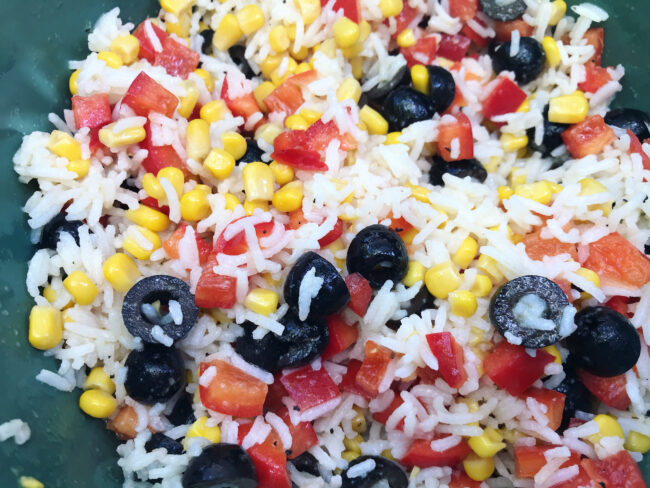 Directions
Cook the rice in a saucepan of salted water. Check the package instructions to see how long it should take. We used jasmine rice, which was cooked for around ten minutes but other kinds or rice might take longer. Drain the rice in a sieve once it is done and transfer to your salad bowl or tupper-box.
Cut the peppers in half, de-seed them, and chop them in to small bite-size pieces. Cut the olives in half. Drain the sweetcorn. Add everything to the rice and mix well.
Add all the ingredients for the dressing in to the jam jar, screw the lid on tightly and shake well. My kids aren't that keen on mustard, so I only add a little but you can adjust the mustard to your taste.
Mix the dressing in to the rice salad – it tastes best if it's had a while to infuse, so try to make it a couple of hours before you intend to eat it. You can keep it cool in the fridge.
If everyone likes parsley, you can also chop up a handful of fresh parsley (leaves only) and mix in to the salad. One of my boys didn't want any, so I served it on the side and those who wanted could sprinkle it on top.

What kids can help with
Measuring, adding, and mixing ingredients.
Plucking parsley leaves off the stems (if using)
Depending on age, kids can also help to chop up the pepper and the olives. Just show them how to safely use a cutting knife – my kids have been helping to peel and chop vegetables since they were around 3 or 4. I give them a knife that's not super sharp (you know those ones that cut right through you when you just lightly touch them – yeah, not those ones).
Adults only
Handling the hot saucepan and draining the hot rice.
If you enjoyed today's activity, please feel free to leave a comment or tag me in on Twitter and Instagram. Remember to use the hashtag #BearAndFoxSummerCamp if you are sharing any photos. If you are looking for other recipes to make, check out our complete recipe archive.
[line]
All Summer Camp activities are free to make them accessible to as many people as possible. However, if you enjoy the activities and are able to, you can support me with a donation on Ko-fi. Just hit the button below. Every little helps and is much appreciated. Thank you.