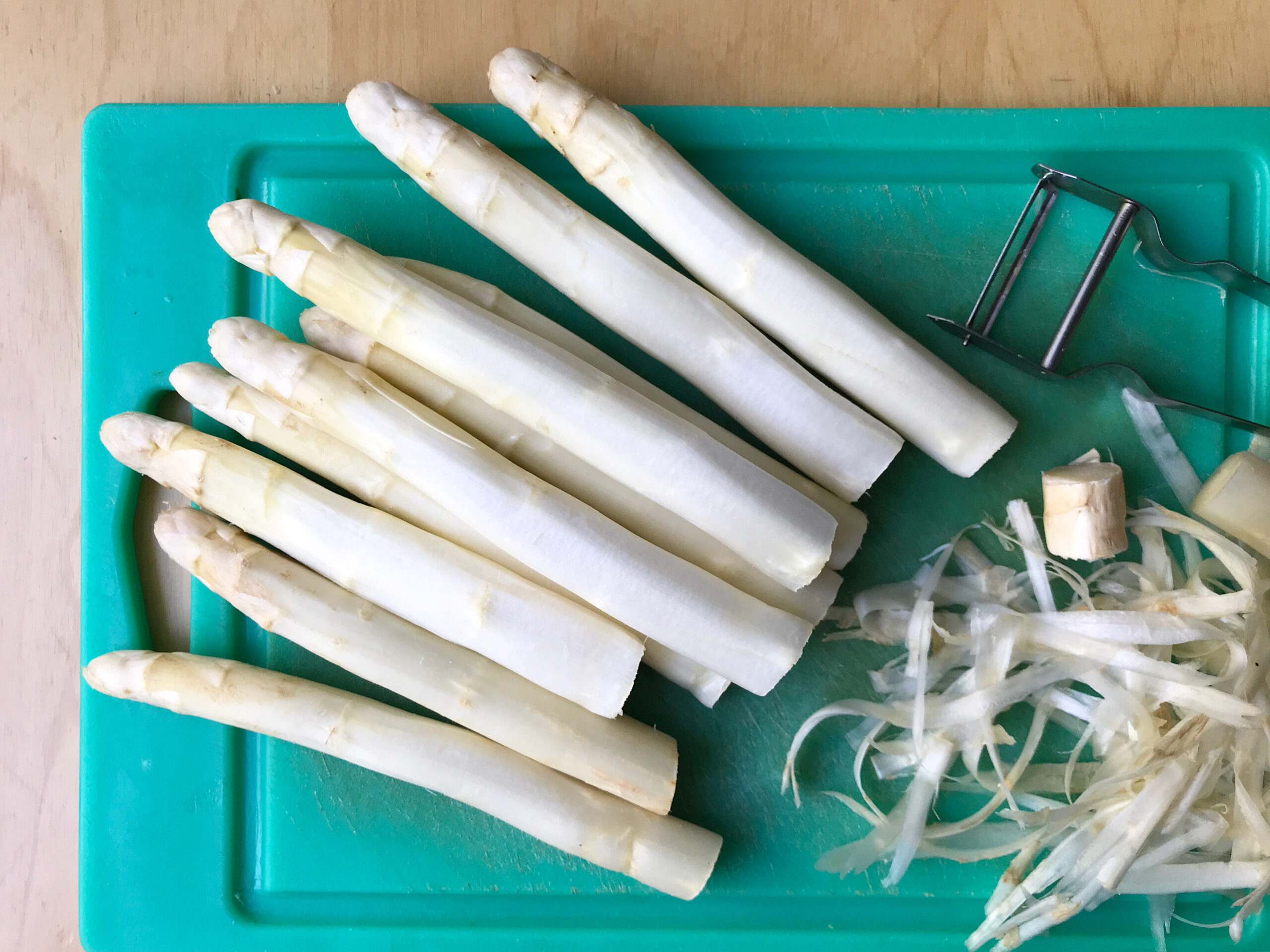 How to Cook White Asparagus
There are many things I love about spring: Easter eggs, cherry blossoms, the days getting longer and warmer. And then there's Spargelzeit. Or "asparagus time" in English. It's when the whole of Germany goes crazy for white asparagus. It's a national obsession, and unsurprisingly Germany is Europe's largest producer of white asparagus. Essentially, white and green asparagus are actually the same plant, just grown under different conditions. In simple terms, the white is grown underground, which inhibits the production of chlorophyll and the spears don't turn green.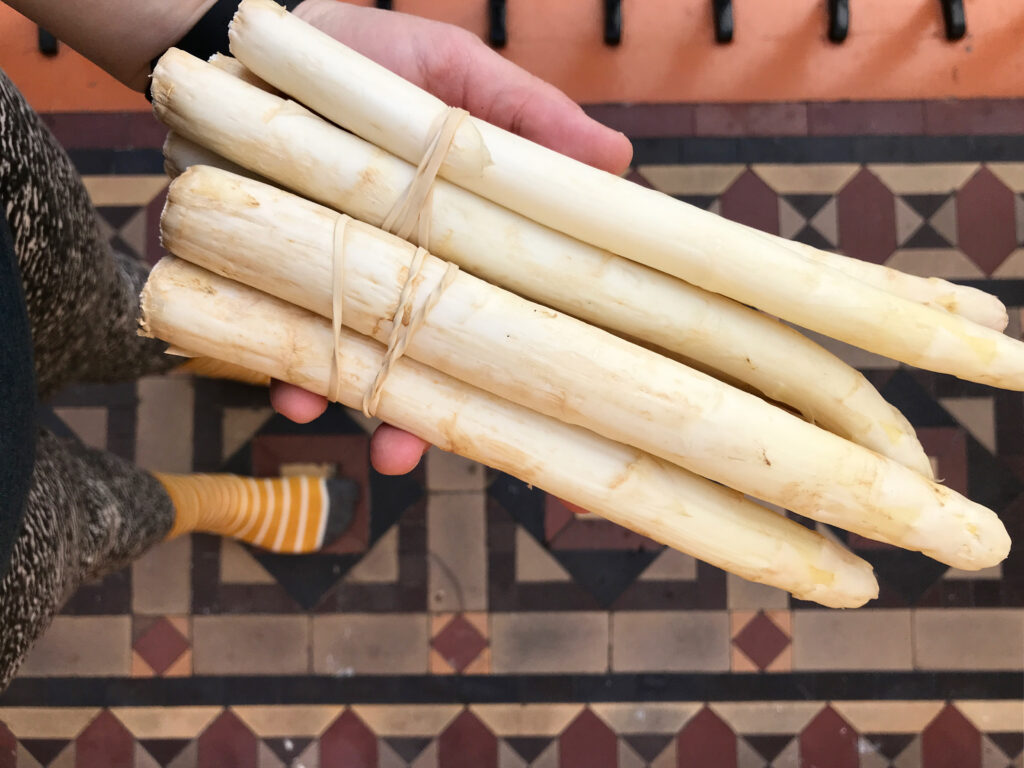 Spargelzeit usually starts sometime in April, but always ends on the 24th June. You can find white asparagus everywhere in abundance in Germany at this time of year – in supermarkets, at farmers markets, at roadside stalls. In Scotland, however, white asparagus is a lot harder to come by. I've come across quite a few people here who didn't even know white asparagus existed! And across a few who have tried it but didn't like it – only to find out they didn't cook it right…So I thought I would share my tips on how to get the best out of your white asparagus.
Prepping
To prepare your white asparagus for cooking, you must peel it! Unlike green asparagus, where peeling is optional, it is essential to peel white asparagus. The skin is quite tough and bitter, and this is where a lot of people who haven't cooked white asparagus before go wrong. In German supermarkets, you'll often find machines that do the peeling for you, but alas, for us here in Scotland it's a manual task. Use a vegetable peeler and peel the asparagus spears from just below the tips all the way down. Then cut off about 1-2cm off the bottoms, to get rid of any woody ends.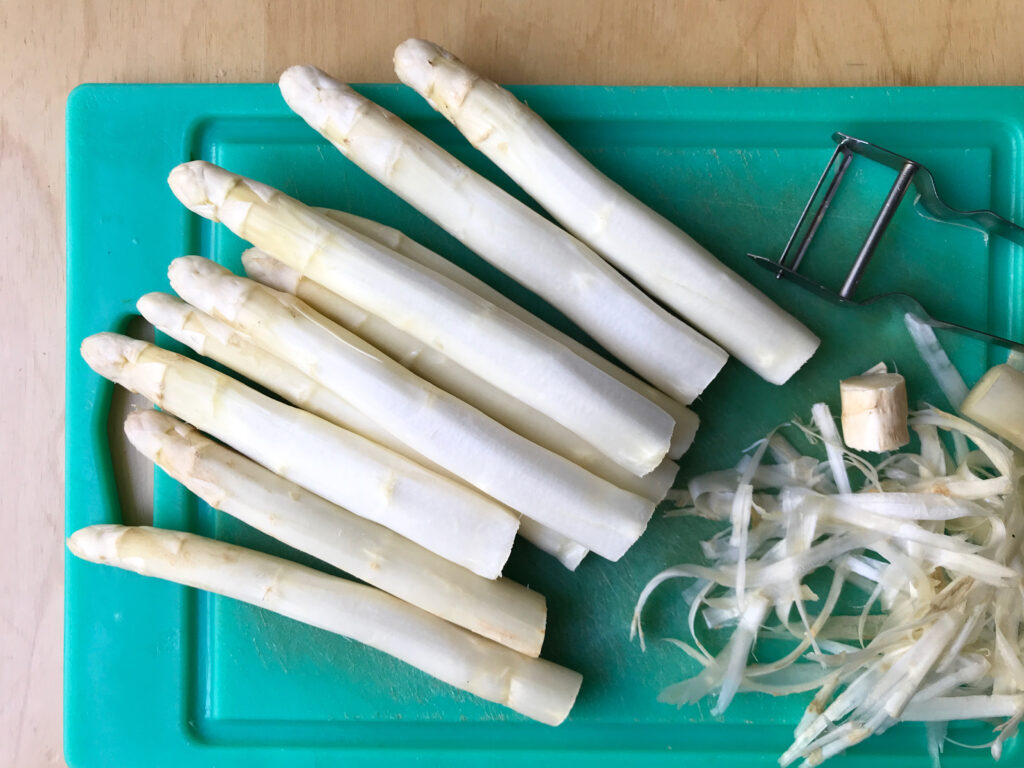 Cooking
To cook your white asparagus, you will need some salt, sugar, butter and lemon juice. Bring some lightly salted water to a boil in a large saucepan, together with a pinch of sugar, a teaspoon of butter (or dairy free equivalent) and a squeeze of lemon juice. Lower the heat, and let the asparagus simmer at medium heat for around 15 minutes, depending on thickness. If you have really thick spears, you may need as long as 20 minutes, if you have quite thin ones, they might be done in as little as 12 minutes. If you can easily pierce the spears with a fork, then they're done. Don't overcook them, otherwise they'll go all mushy and stringy.
Eating
One of the most popular and very traditional ways to eat white asparagus in Germany, is served with thick slices of cold ham, 'Salz Kartoffeln' (Engl: salted potatoes), and melted butter or Hollandaise sauce. Of course, if you are vegetarian you'll want to skip the ham. The salted potatoes are just potatoes peeled and cooked in very salty water, much saltier than you would normally cook them. The way I always explain it is, if you think you've added too much salt, add a little more. While I do quite like potatoes with the peel left one, this is one dish where I always peel them so the saltiness can infuse better.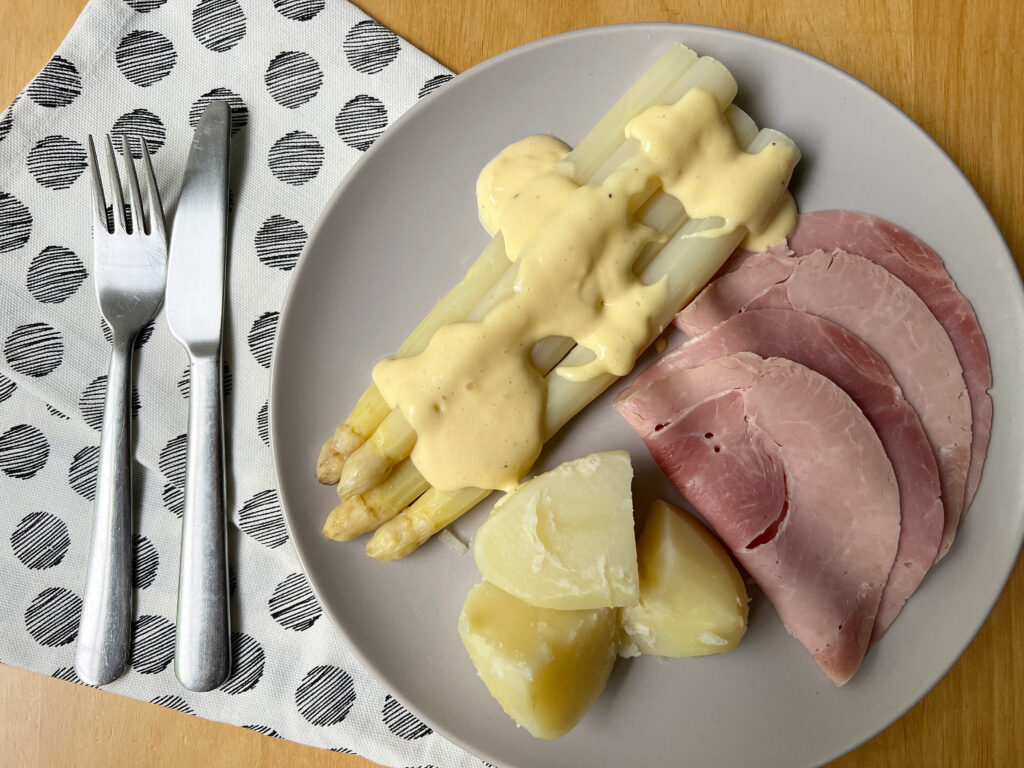 While I've eaten white asparagus both with melted butter and with Hollandaise sauce, I do prefer it with sauce. In Germany, it's sold everywhere alongside the asparagus, but here in Scotland I make my own. It's really not that hard once you've got the knack of it. Here's my recipe:
Hollandaise Sauce
Ingredients
150g butter (or dairy free equivalent)
3 egg yolks, room temperature
1 Tbsp white wine vinegar
1 Tbsp cold water
1 Tbsp lemon juice
1/2 tsp salt
black pepper
Directions
Melt the butter in a saucepan, skim any foam off the top and set aside but keep it warm.
Whisk the egg yolks, vinegar, water, lemon juice and salt together in a heat proof bowl.
Set the bowl over a small pan filled with about half an inch of simmering water.
Keep whisking for about 5 minutes, until the egg mixture becomes thick and creamy.
Remove the bowl from the heat, and slowly drizzle in the warm butter while continuing to whisk. Don't be tempted to pour all the butter in at once, just a little at a time. If it gets too thick, add a splash of warm water. Keep doing this until you have whisked all of the butter in.
Season with some black pepper, and keep warm until needed.
So that's my recommendation on how to cook and eat Spargel. Once you've tried it, you'll never look back. My kids were a bit sceptical at first, but even they love it now. Which on the one hand I'm pleased about, on the other hand it means less Spargel for me, haha. One last word of warning, if you're not used to eating asparagus, don't be surprised if it makes your pee smell a bit funny, it's nothing to worry about!