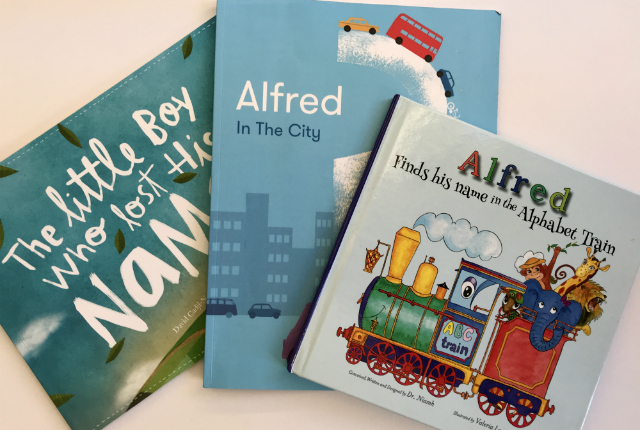 Gift Idea: Personalised Children's Books
This week, I have a slightly smaller round of book recommendations for you – just three, instead of five – because I would like to go in to a little more detail. With Christmas fast approaching, everyone is on the look out for great gift ideas, and in my eyes, books are always a perfect gift. But to make a book gift just that little bit more special, how about a personalised book? There are many different kinds of personalised books on the market these days, and today I will be sharing with you three that we own and love.
The Little Boy Who Lost His Name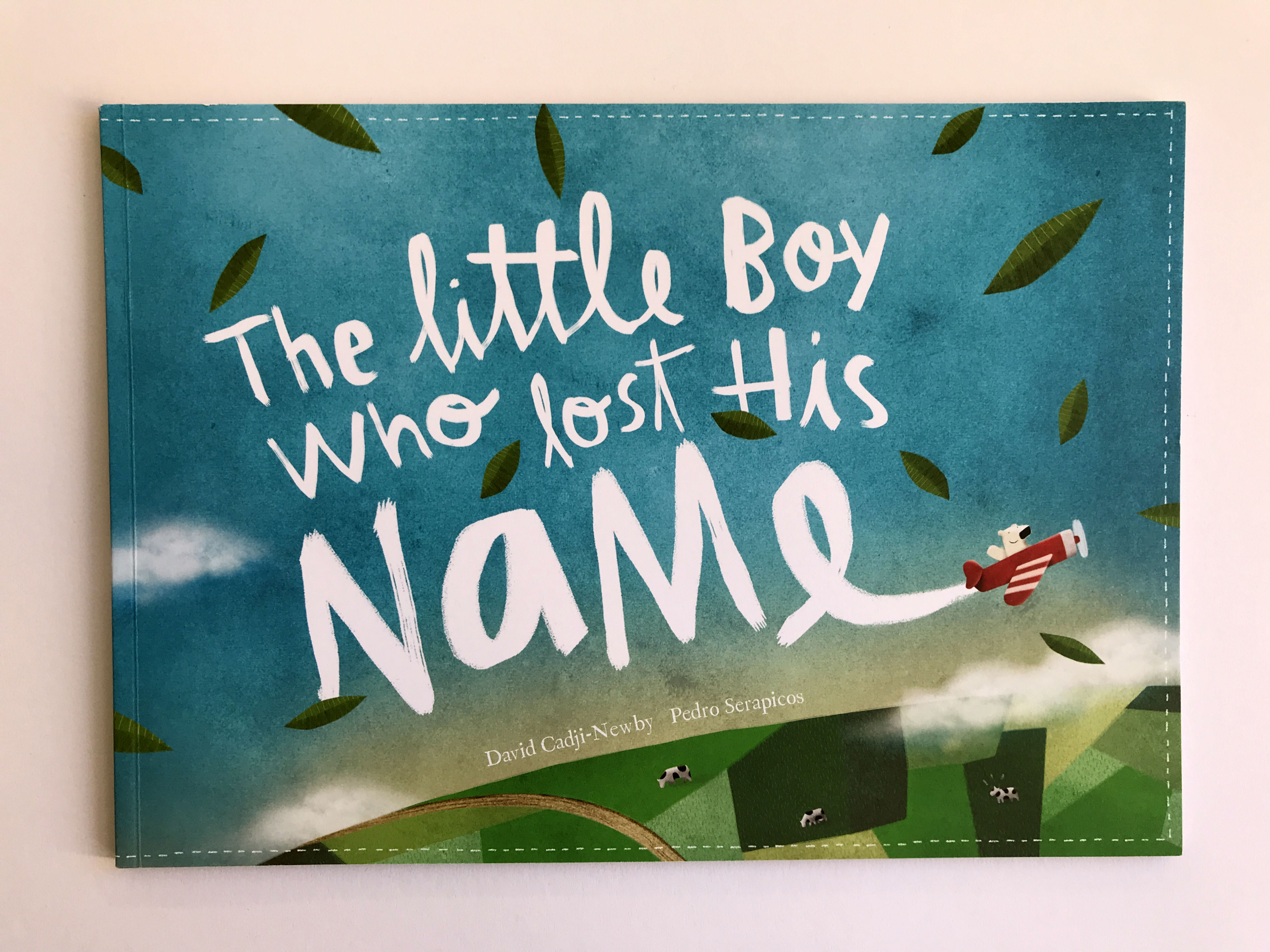 The very first personalised book that we had, was 'The Little Boy Who Lost His Name', by Wonderbly, which each of the boys received from Granny a couple of years ago. The book is written in rhyme, and the storyline is that a little boy wakes up one morning and his name has vanished.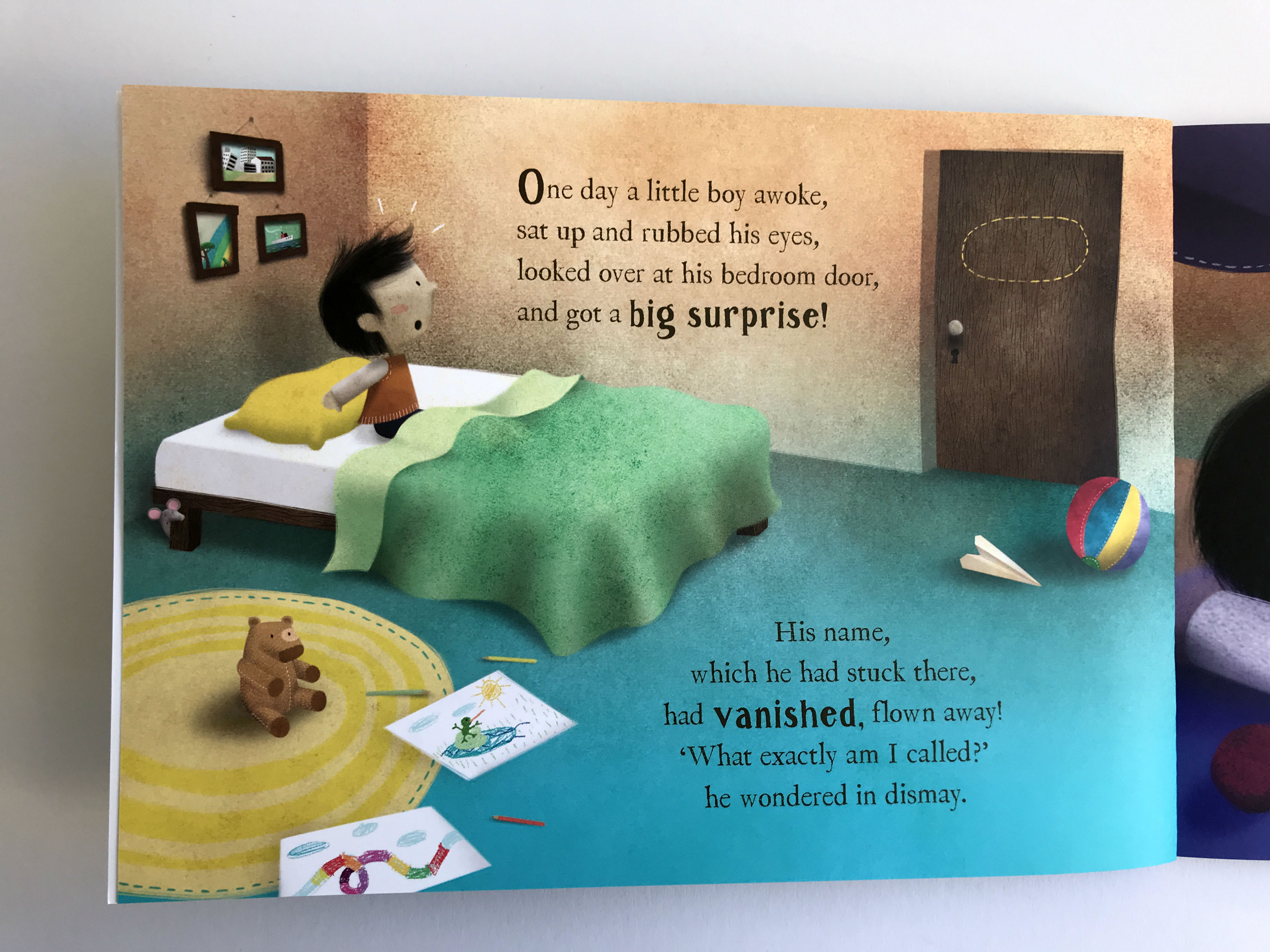 So he goes on an adventurous journey and meets different characters along the way, who each give him a letter, and they themselves begin with that letter too (A for Alligator, L for Lion and so on). At the end of the book, all those letters put together spell the boy's name, which is also the name of the recipient of the book, i.e. in our case Alfred and Oskar.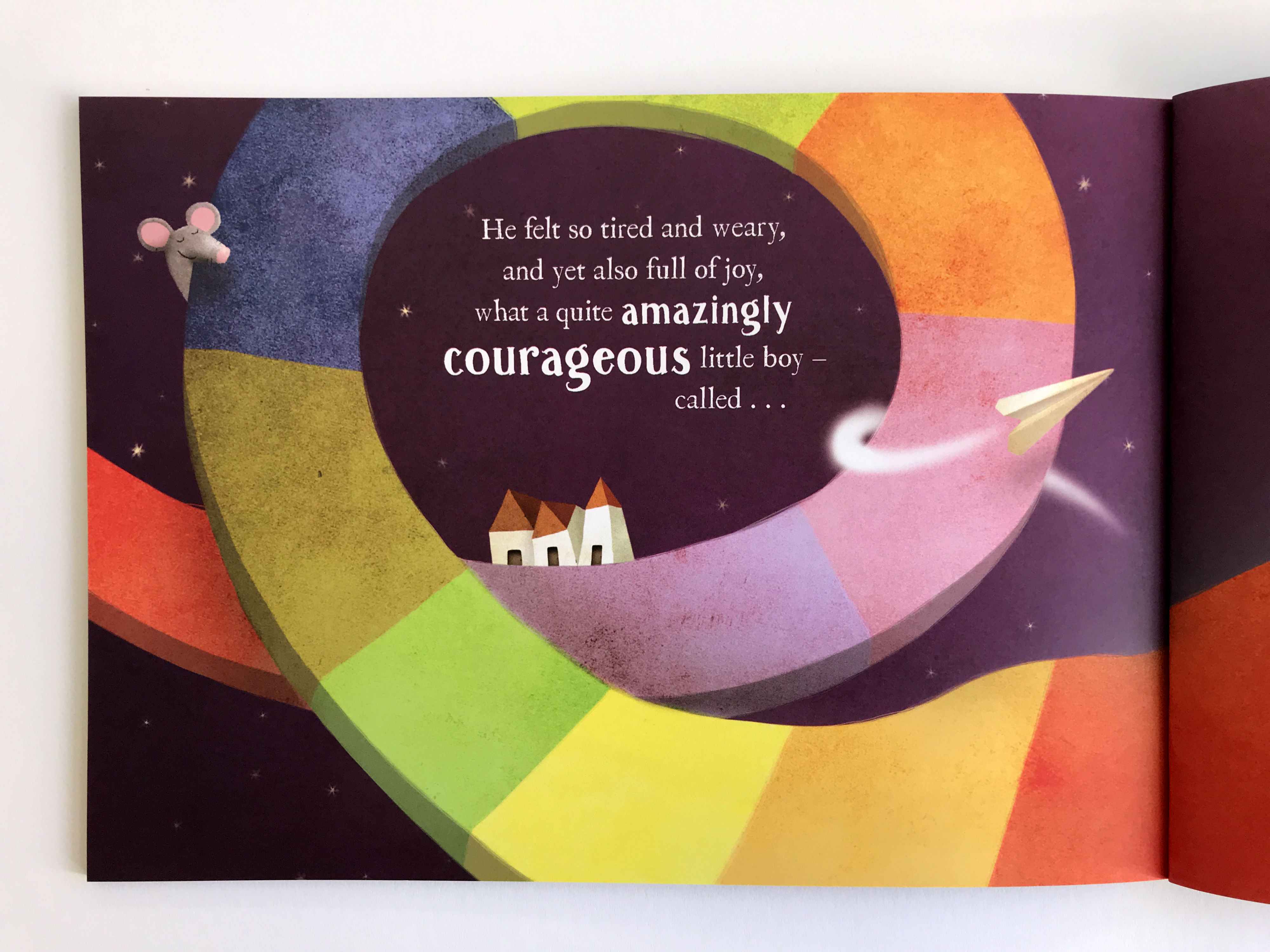 The book can be customised by selecting a boy or girl protagonist (i.e. it's also available as 'The Little Girl Who Lost Her Name'), and by selecting dark or fair hair and skin. You can also choose from a couple of options for each letter, so e.g. although Alfred and Oskar both have an R in their name, Alfred has R for Rabbit and Oskar has R for Robot in his story, so they both have completely individual books, just the beginning is the same.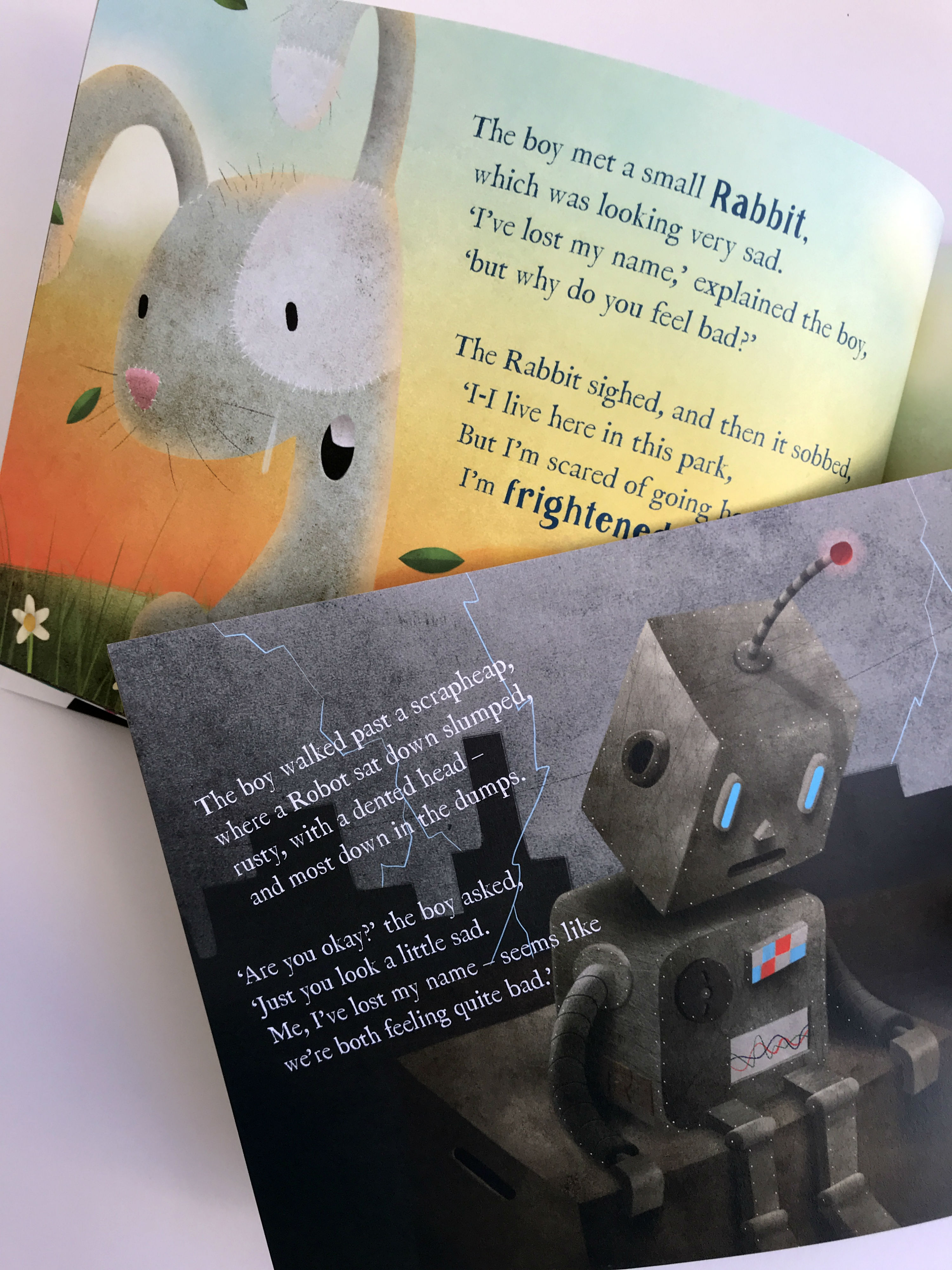 This is great for siblings, because unlike other personalised books where just the character or the name is different but the storyline is the same, it means we can read both books without them being repetitive. The book is also available in different languages. It retails at £16.99 (though keep your eyes open for special discounts) and is available via Wonderbly.
Alfred in the City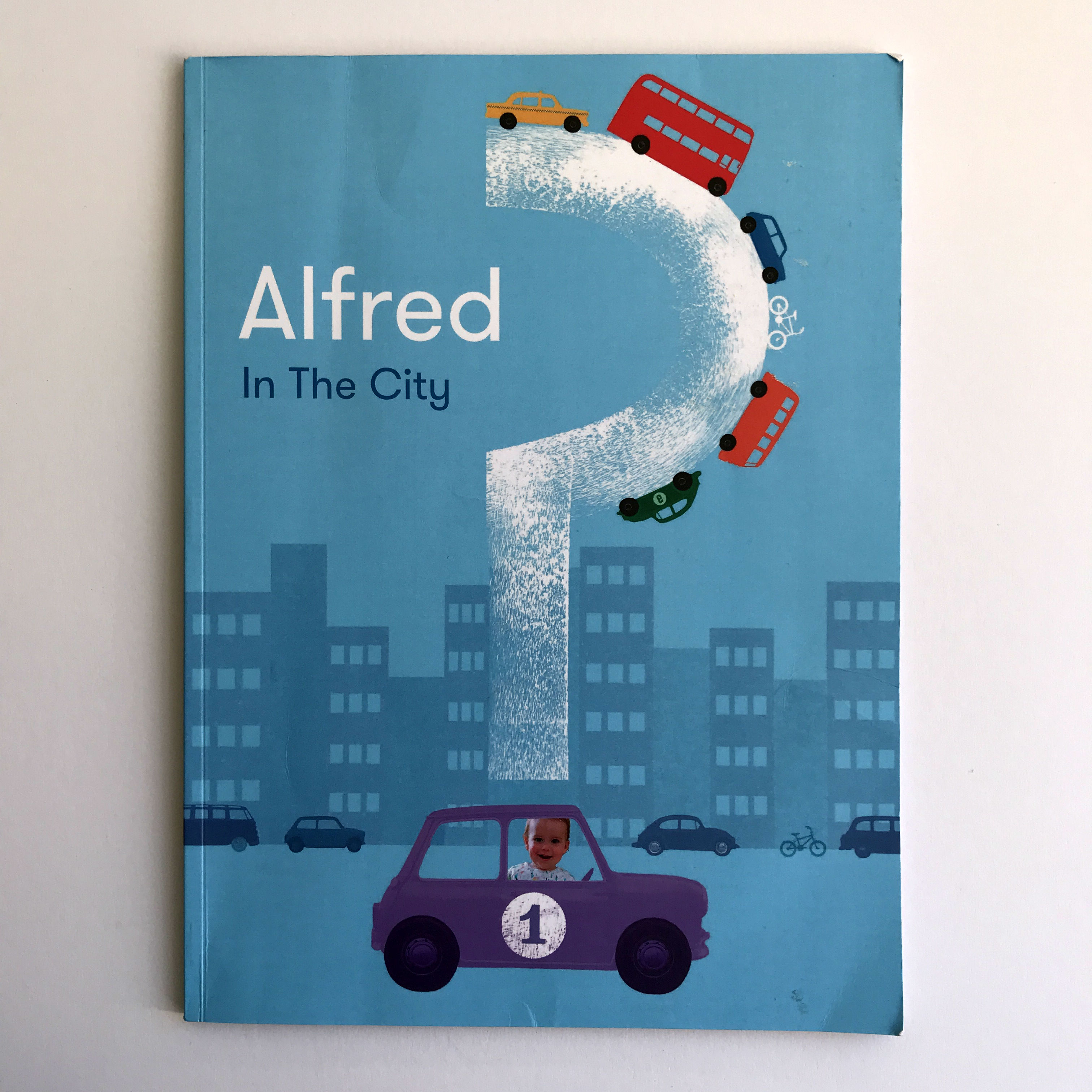 The …in the City book is a project from Hey Wow! that I backed on Kickstarter. Produced by husband and wife team Lorna and Daniel Freytag from Oban, in Scotland, this seek-and-find book puts your child literally right in the centre of things.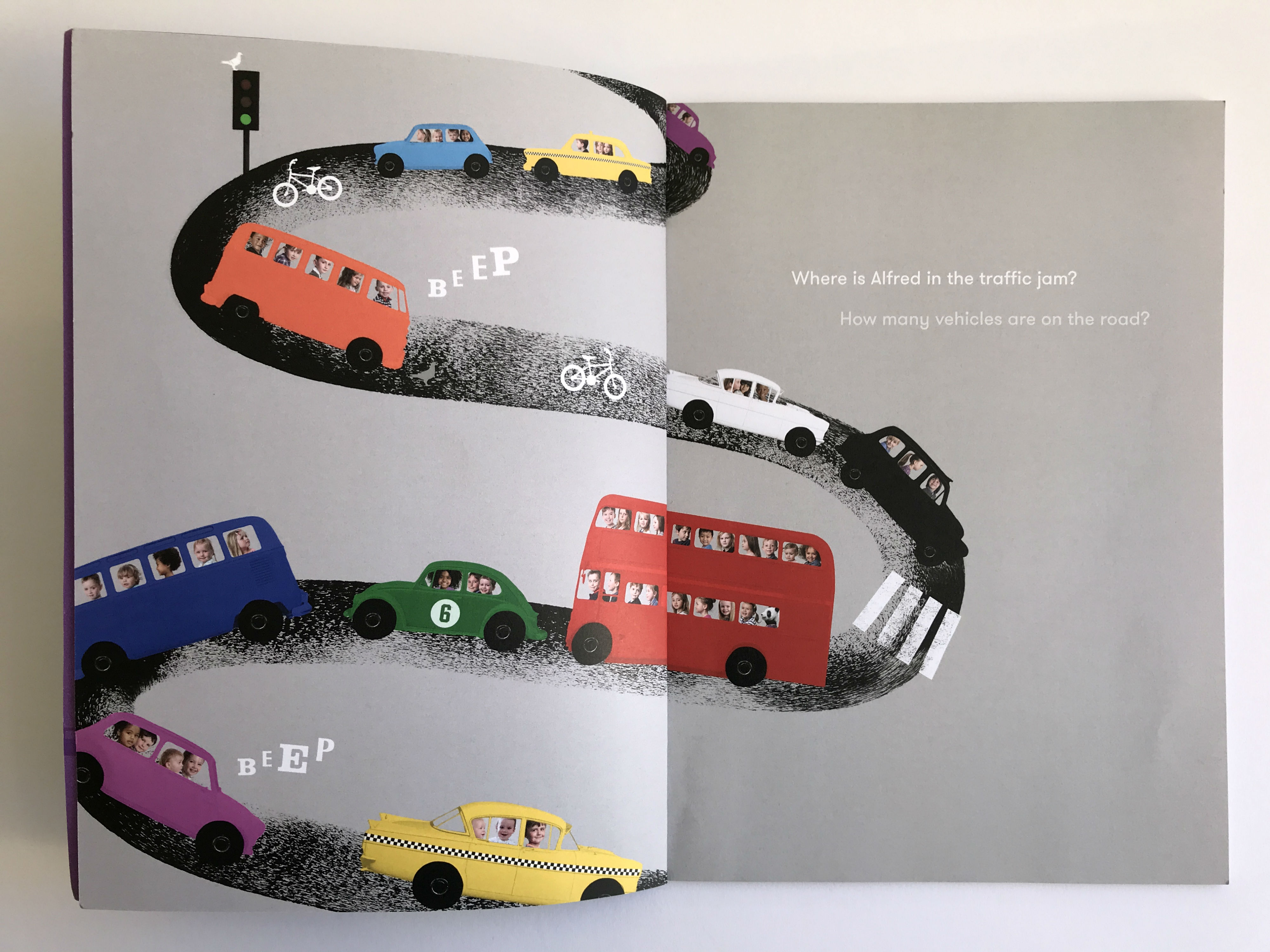 Each double page spread shows different illustrated city scenes, e.g. at the cinema, in the park, at the museum, but the children in the scenes are real photographs – and one of them is your child! For this, you send in a portrait head shot of your child, according to certain specifications, and they are then 'inserted' in to the book. The other children in the book are from Oban.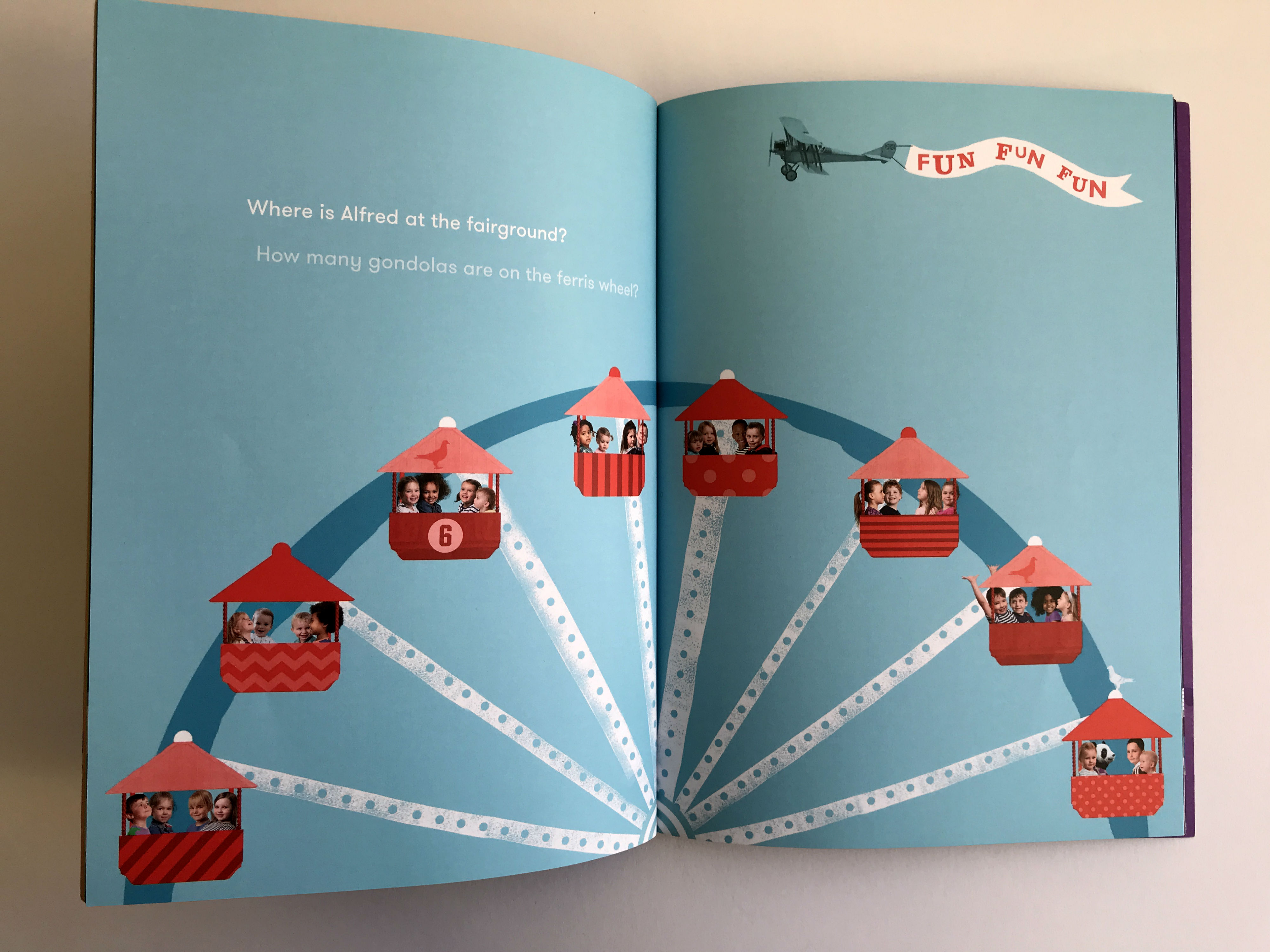 As well as the child trying to find themselves on each page, there is also a panda to find in each page as well as a question to answer e.g. 'How many vehicles are on the road?' or 'How many gondolas are on the ferris wheel?'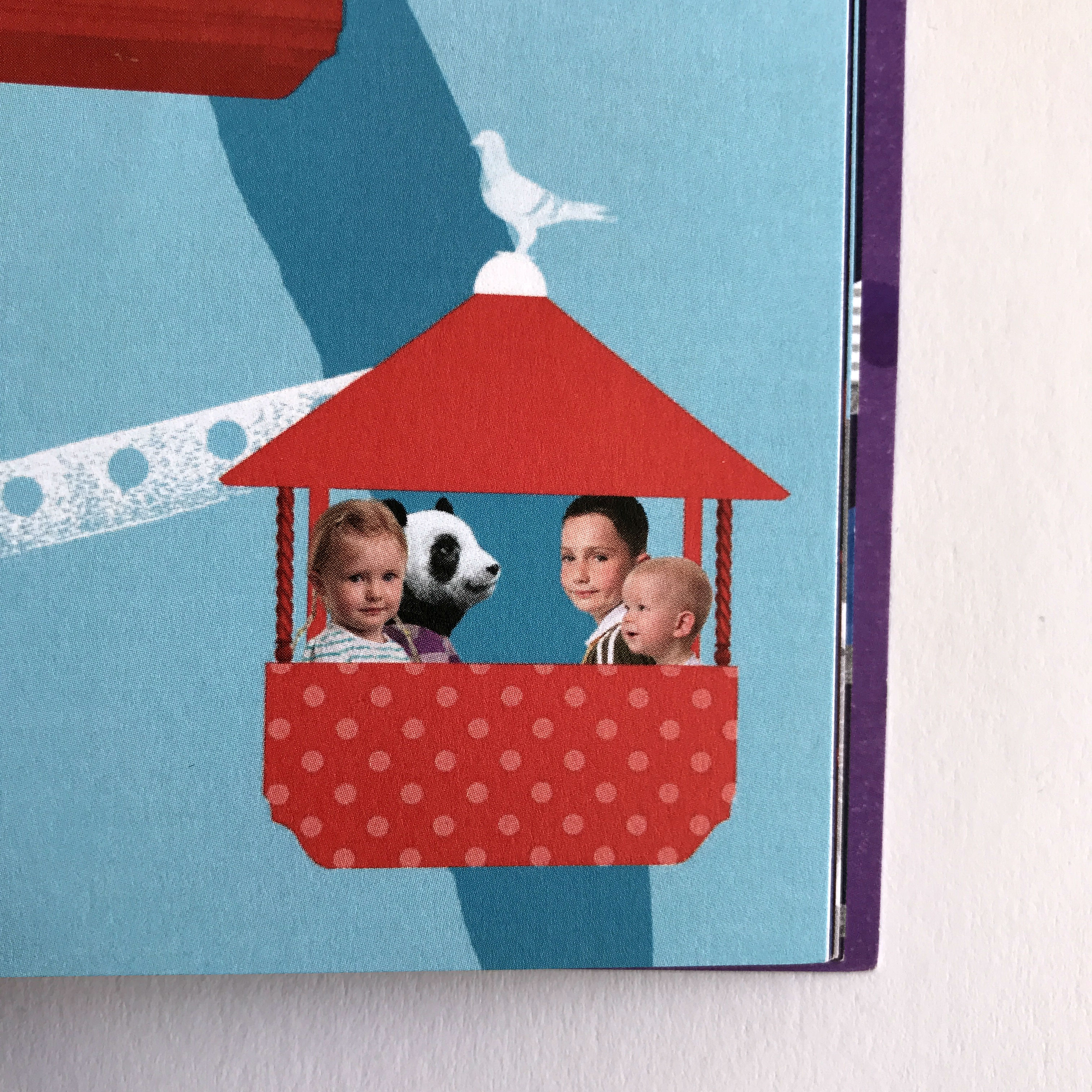 Alfred loves his book and refers to it as 'The Alfred Book'. It retails at £19.99 and is available via Hey Wow! And if you sign up to their updates, you'll get a code for 10% off your first order.
Alfred Finds his name in the Alphabet Train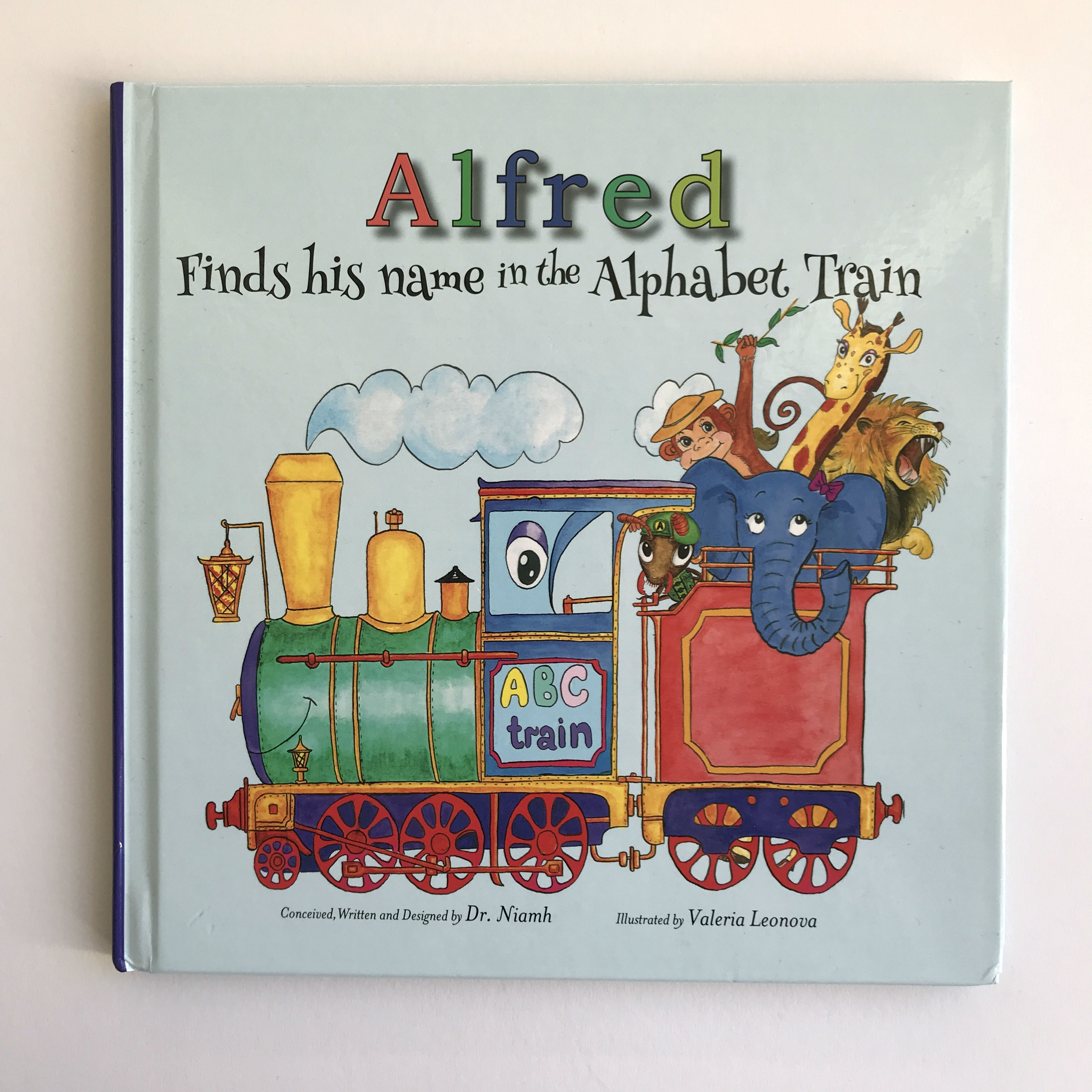 The Alphabet Train is the most recent addition to our collection of personalised books, and was kindly provided to us for free by the author, Dr Niamh Clune, for review. The book follows the letters of the alphabet from A to Z.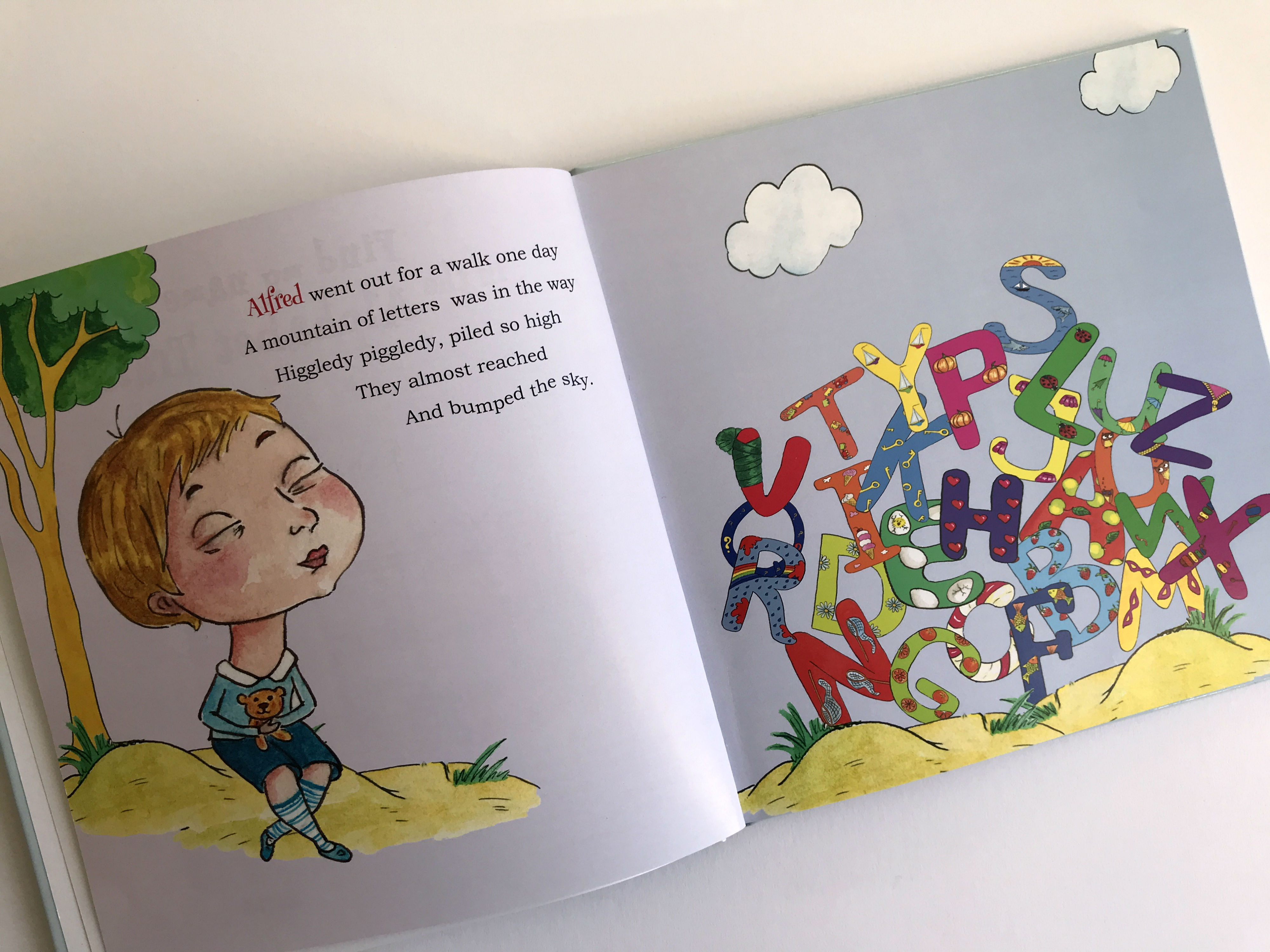 On each page, there is a phonetic rhyme relating to the letter in question, with relating animal characters – e.g. A for Ant or F for Fox – and a train engine or carriage. If the letter in question features in your child's name, it will appear on the side of the train on that page (see 'A' below), if not, the train remains blank. The book is also customised by choosing the gender, skin and hair colour of the child, and glasses and even a wheelchair can be added too.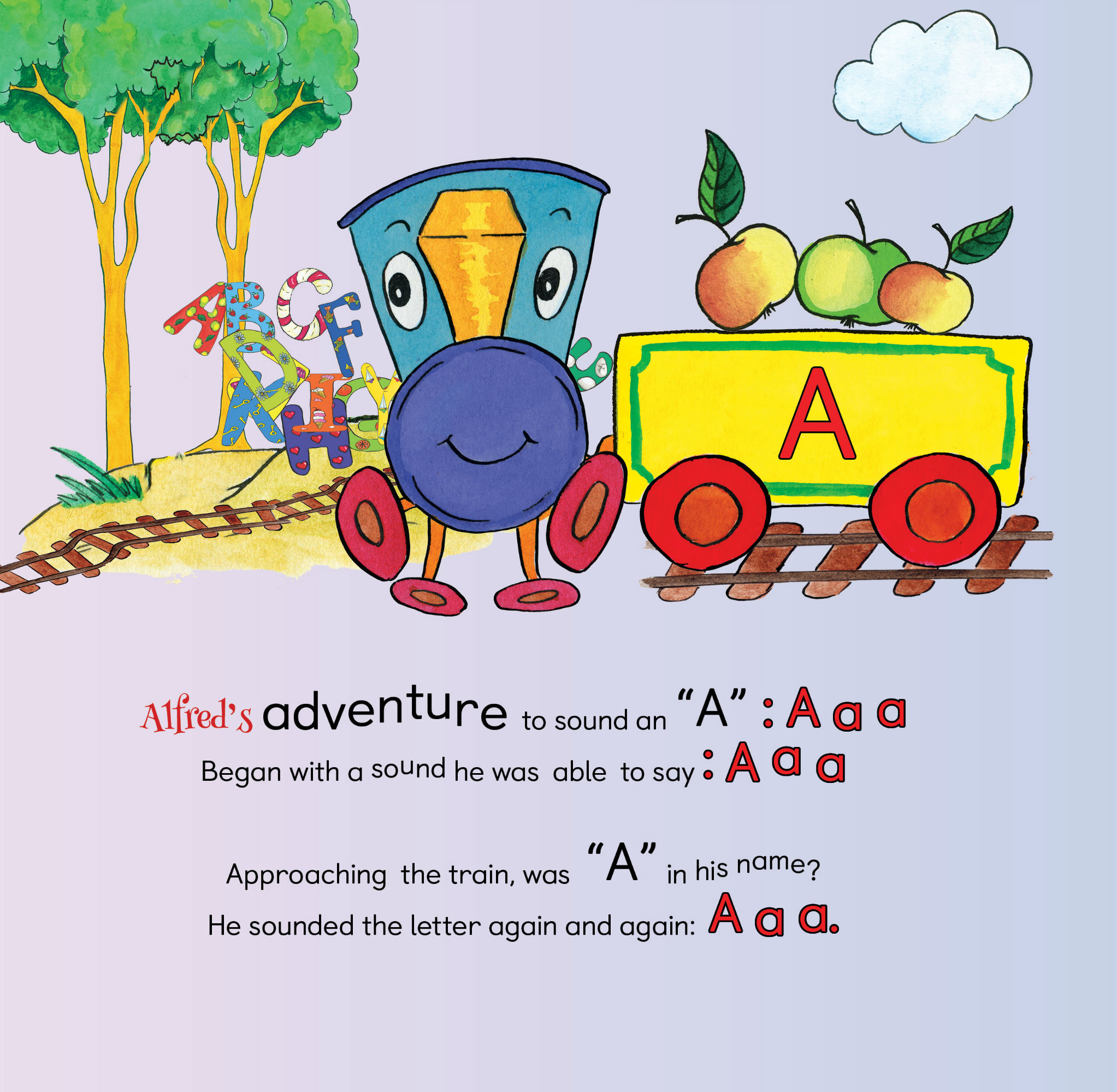 Unlike 'The Little Boy Who Lost His Name' (see above), this book does not spell out the child's name in order, i.e. A-L-F-R-E-D in our case, but introduces them in alphabetical order, i.e. A-D-E-F-L-R. This is a great way for them to learn which letters they have in their name, i.e. rather than just memorising what their name looks like, and in addition their full name is mentioned on each page, for them to refer back to. The alliterative phonetic rhymes are also a good way to reinforce each of the letter sounds, and the way the second half of the rhyme pattern repeats on each page is really great too.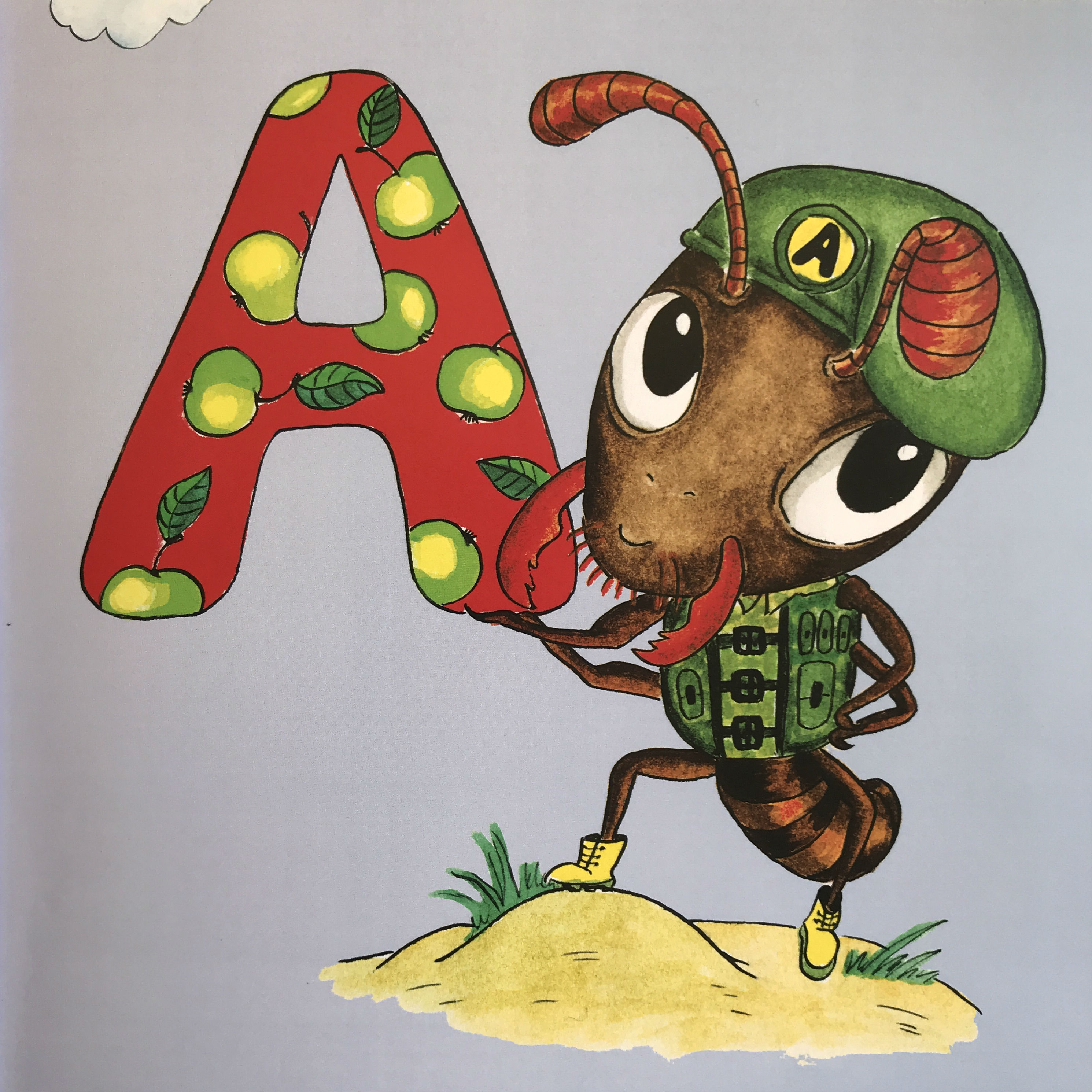 Since this book works its way through all 26 letters of the alphabet, it's a little longer than other children's books we own, but that is fine since it is intended as a book to learn phonics in a fun and playful manner, and to dip in and out of, rather than a bedtime story to be read in one go. Alfred loves to point out the pages to me with 'his' letters on them, and I have also caught him just browsing the book on his own, pointing to the letter and pictures and saying the words that go with them.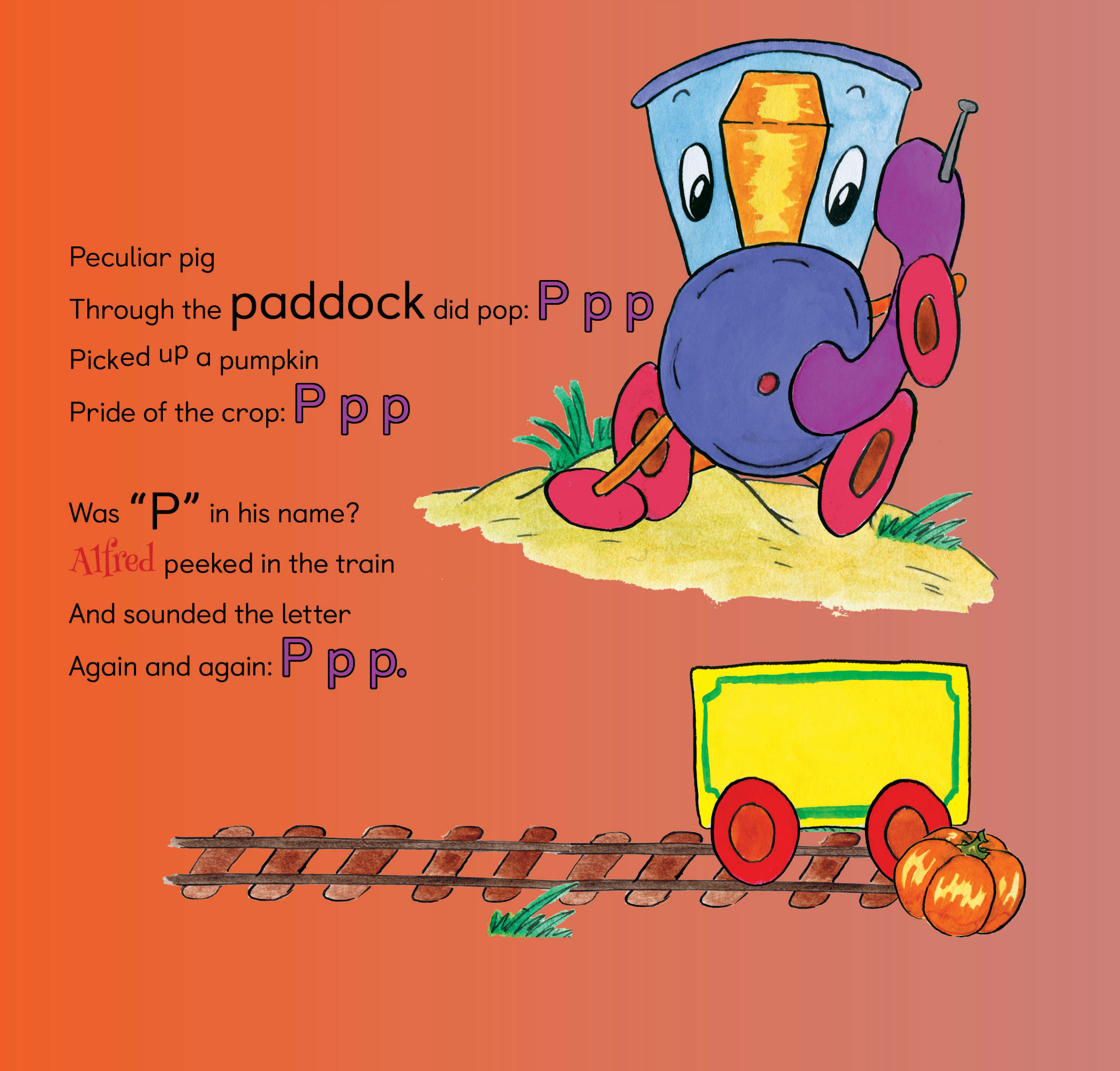 It won't be long until he is a pre-schooler, so this is a great book for preparing him for his pre-school phonics. Disclaimer: We kindly received a copy from Dr Niamh Cluny for free, but all words and opinions are our own. Edit (28/01/20): Dr Niamh's website no longer seems to be available.
So, which out of these three books is our favourite? Well, they are all great in their different ways: The Little Boy Who Lost His Name is a great bedtime story, Alfred in the City is a perfect activity book to pull out e.g. when travelling or waiting for an appointment somewhere, and the Alphabet Train makes learning phonics fun. So I think they complement each other, and all have their space on our bookshelf! How about you? Which one would you choose? Or do you have another favourite altogether that you would recommend? Feel free to share your thoughts in the comments below! And check back next week, when I'll be sharing some more gift ideas for all those little book bugs in your life.