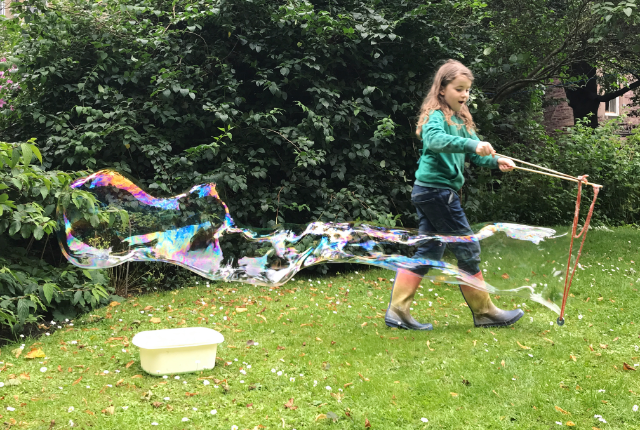 Giant Bubble Wands & DIY Bubble Solution
In this week's science session we are going to be doing something a little different – we are going to make giant bubble wands! I've always wanted to try this, and after putting it off every summer this year we finally did it. As well as being lots of fun, creating bubbles is also a great opportunity to investigate different science concepts with kids.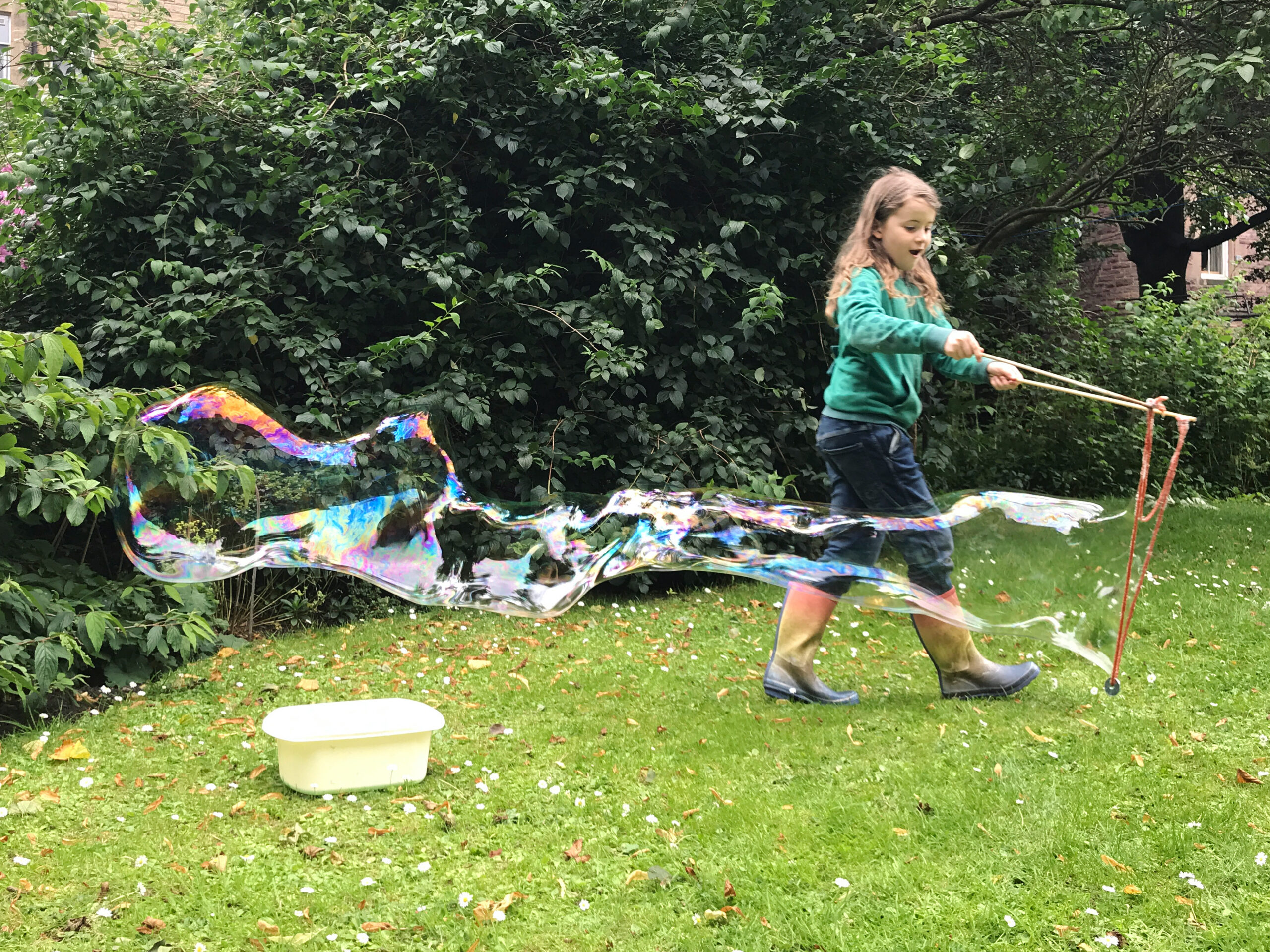 First, let's make a bubble wand. Here's what you will need:
2 long sticks (ours were 50cm long)
2 eyelets
a washer
string, thin rope, or thick wool (we used wool) – you will need one shorter piece, and one longer piece roughly double in length. Ours were 75cm and 150cm.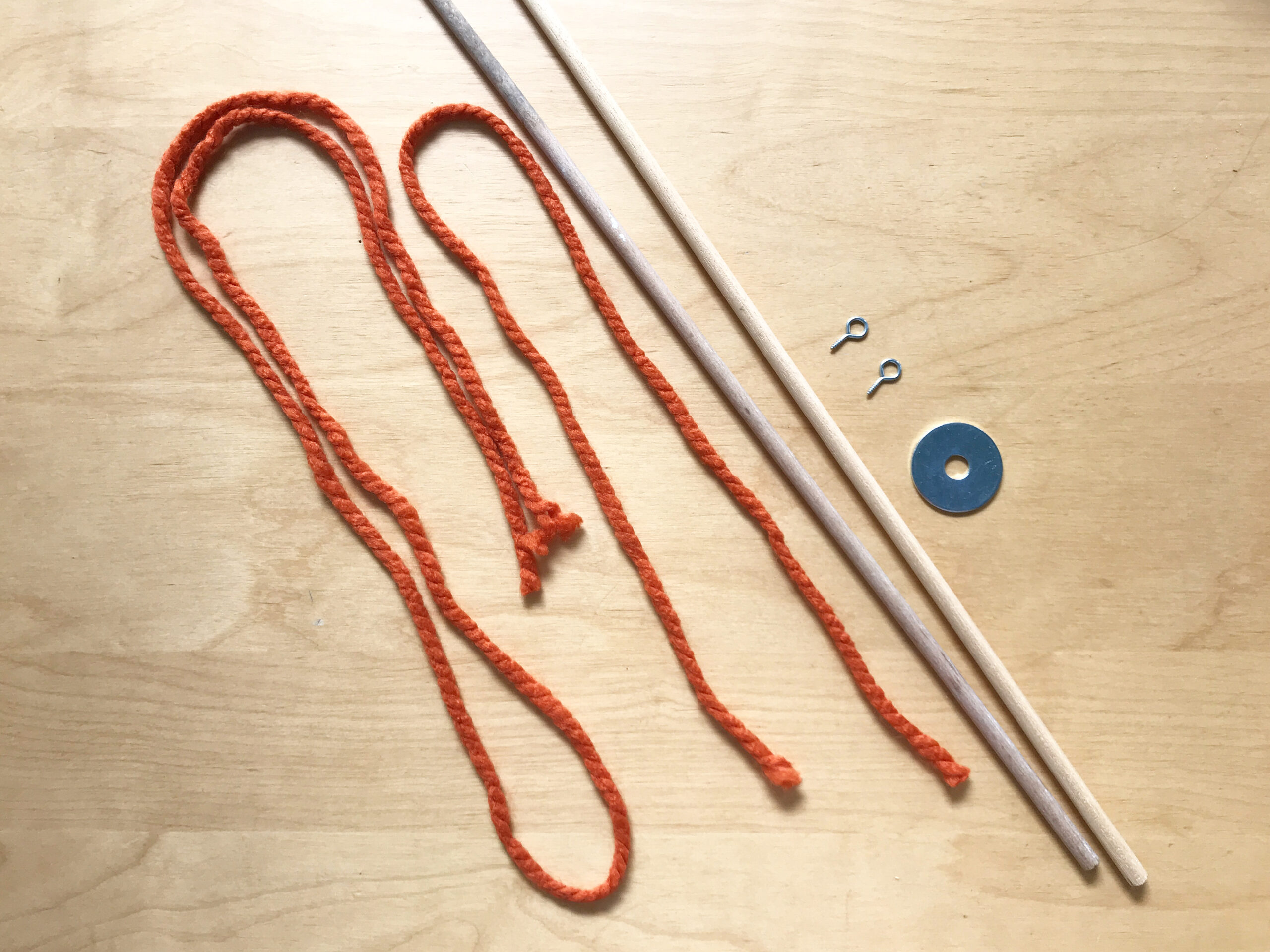 Step 1: Screw the eyelets in to sides of the sticks, a couple of cm from the end.
Step 2: Take the shorter piece of wool/ string and tie one end of it to one of the eyelets, leaving a little bit of a 'tail'.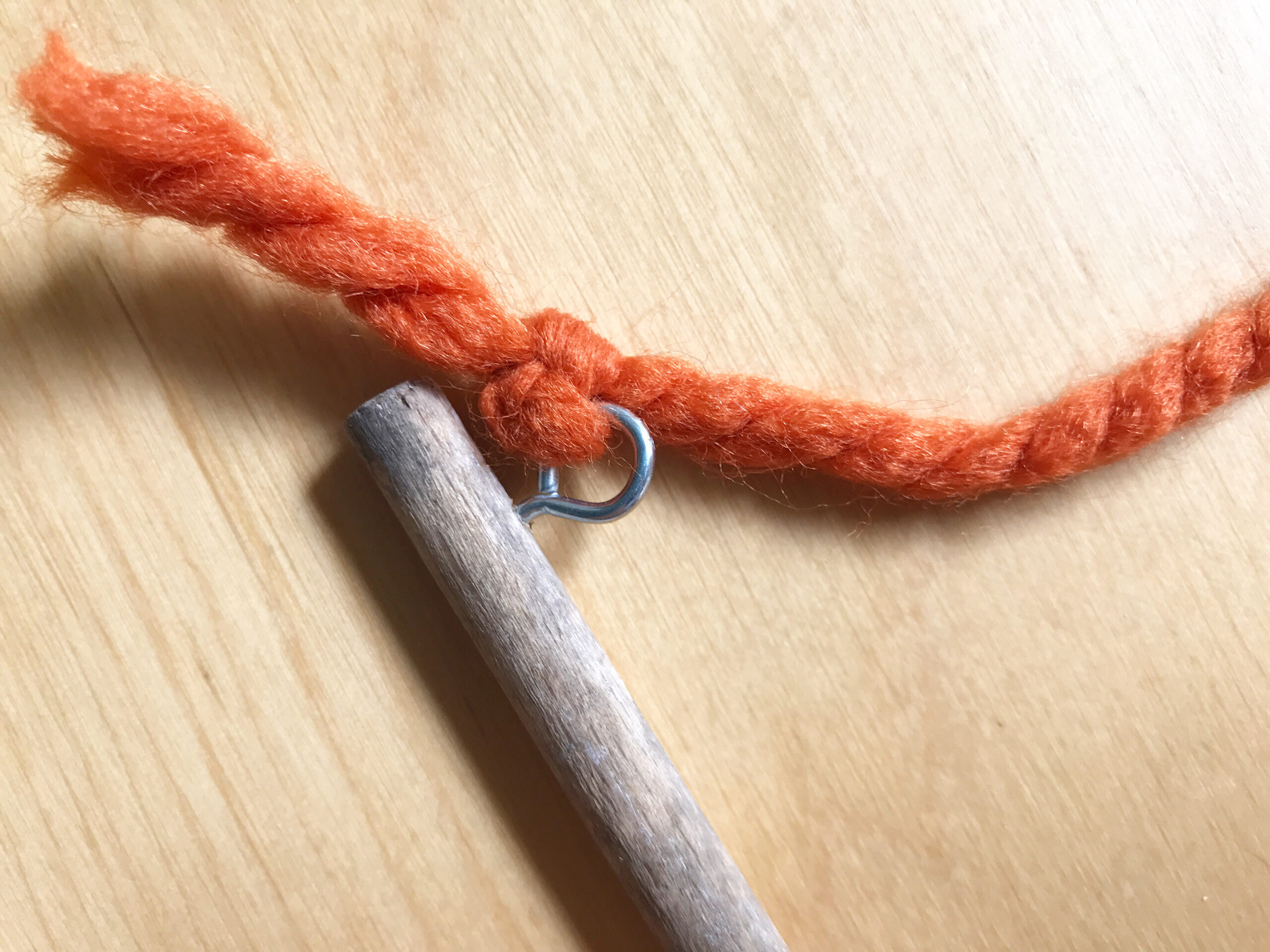 Step 3: Take the longer piece, and tie one of it to the shorter piece right below where you tied the shorter piece to the eyelet. Also leave a small 'tail'.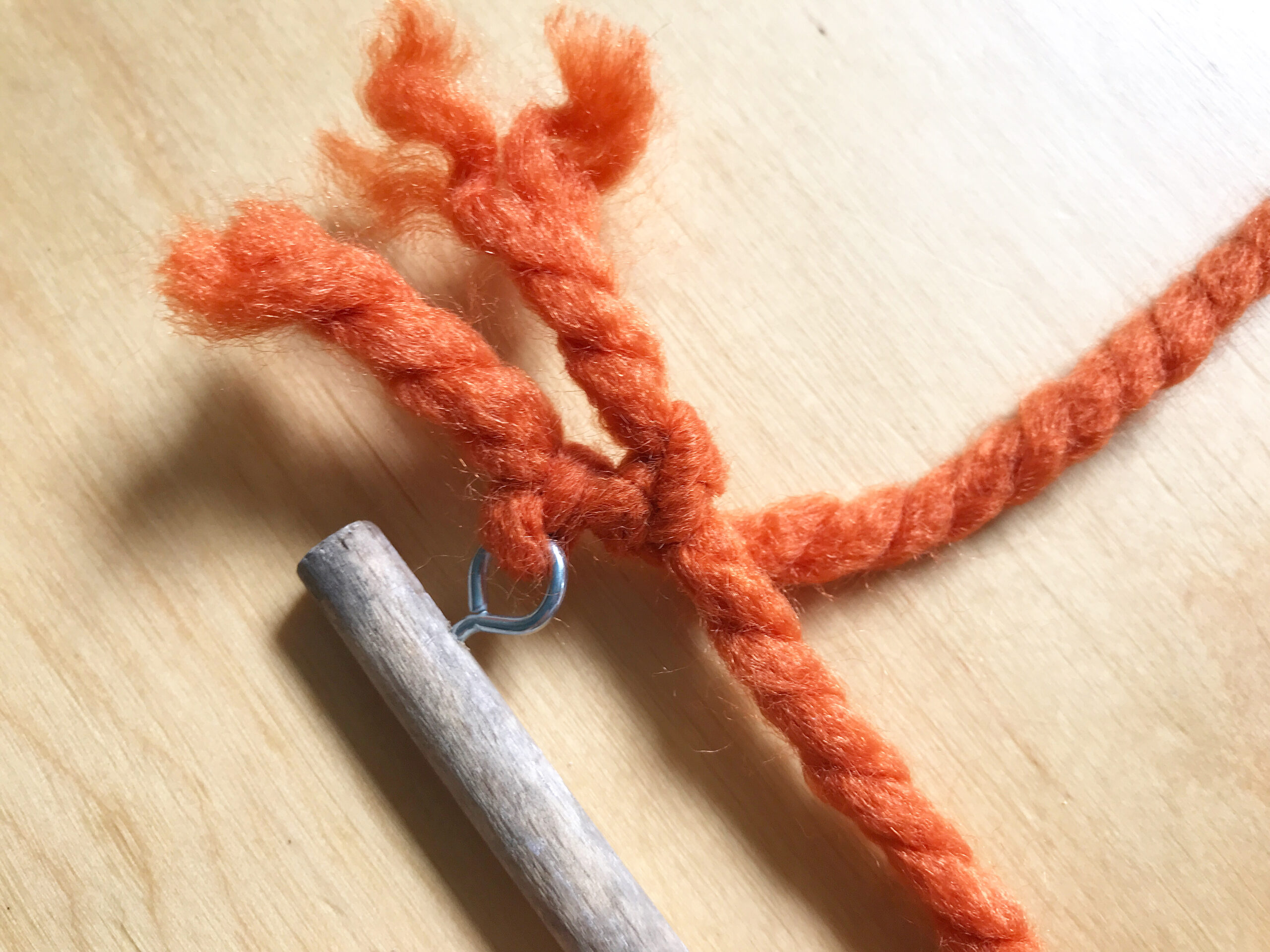 Step 4: Now tie the two 'tails' together, to stop the second piece slipping down.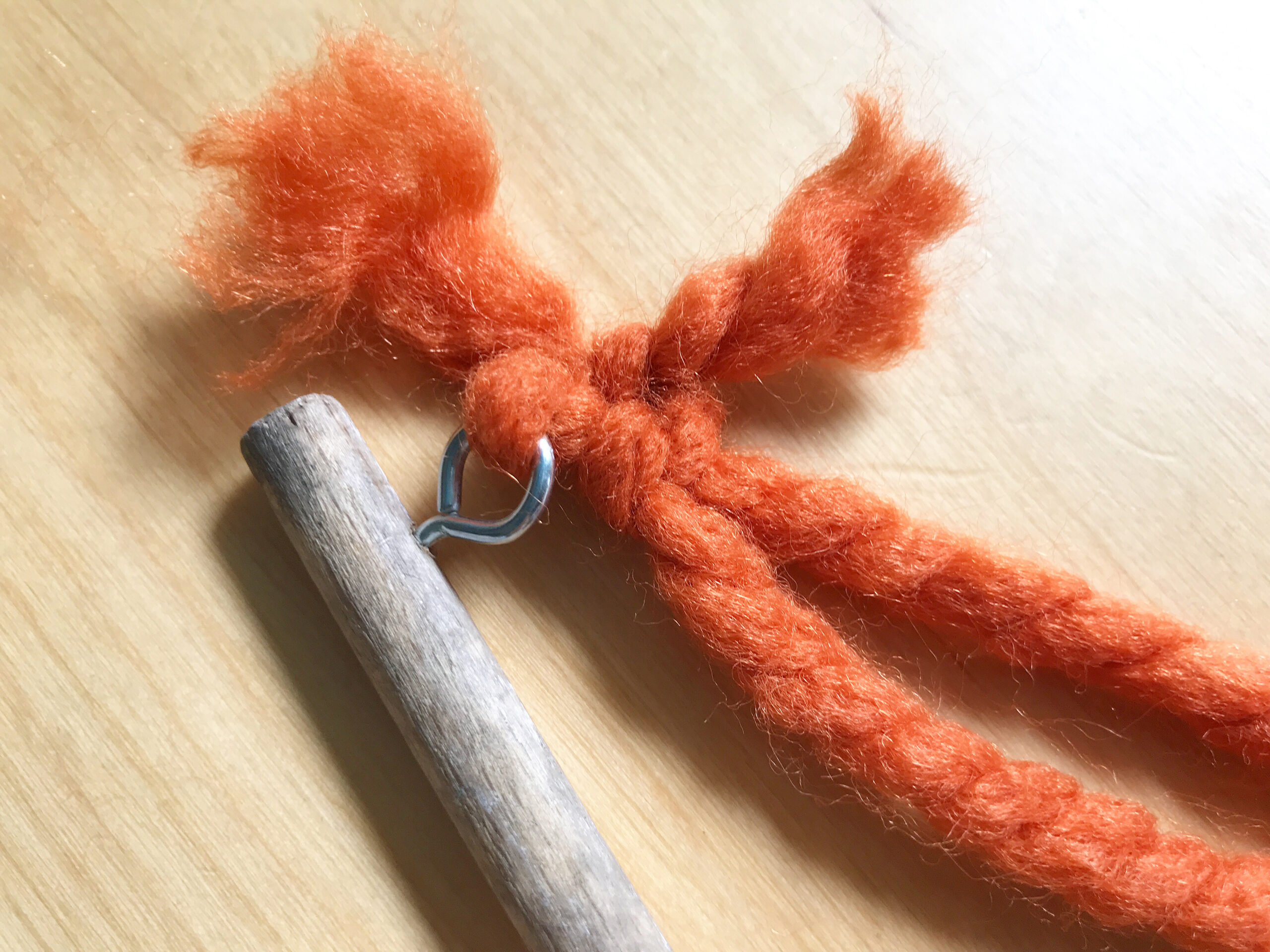 Step 5: Repeat with the second eyelet and the other ends of the wool/string – thread the washer on to the longer piece before securing it.
Your should have a bubble wand that looks something like this: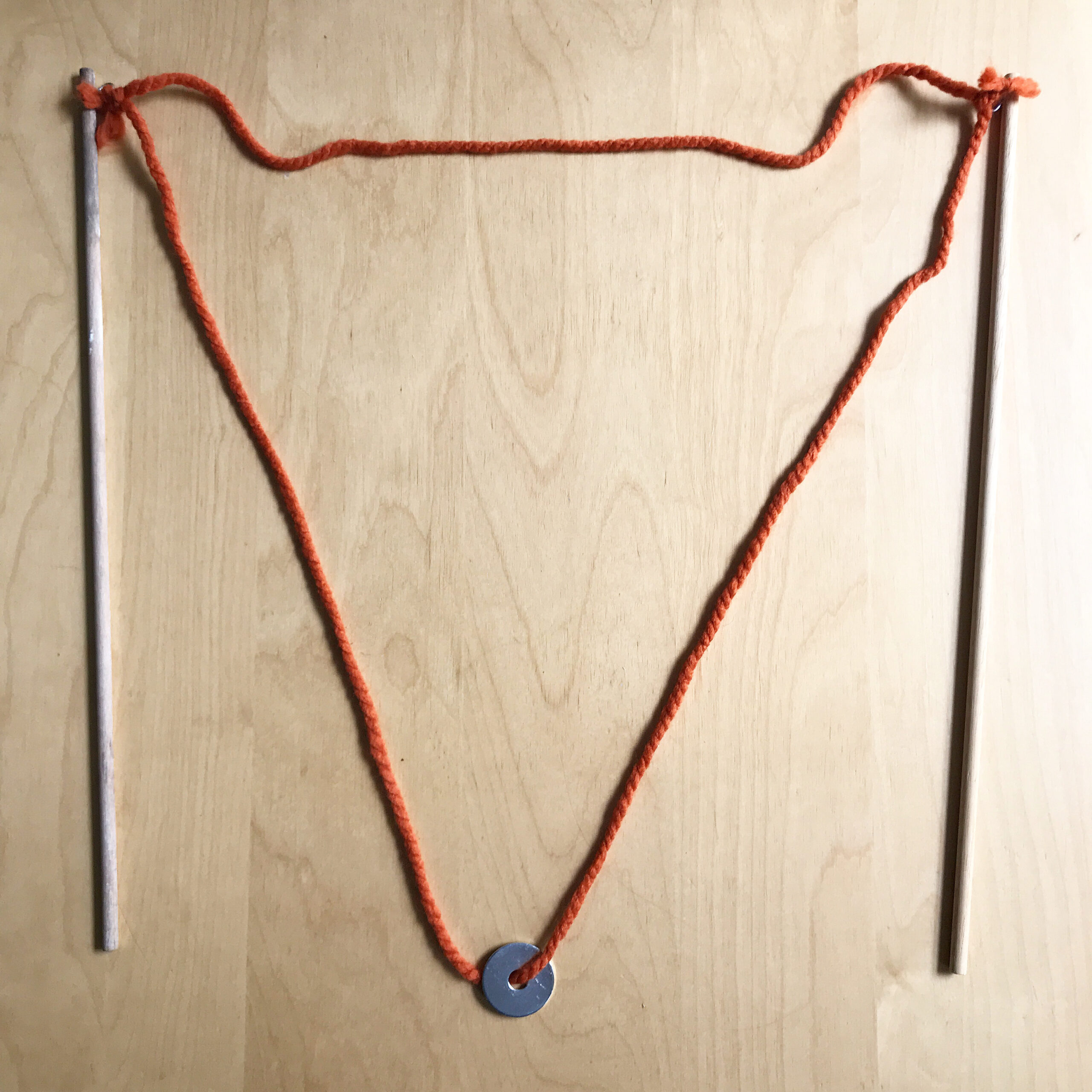 The wool/ string creates a triangle, with the washer weighing down the longer piece in the middle.
Now that we have our wand, we need some bubble solution. There are different ways of doing this. For a very basic solution, add a couple tablespoons of good quality washing up liquid to a litre of warm water.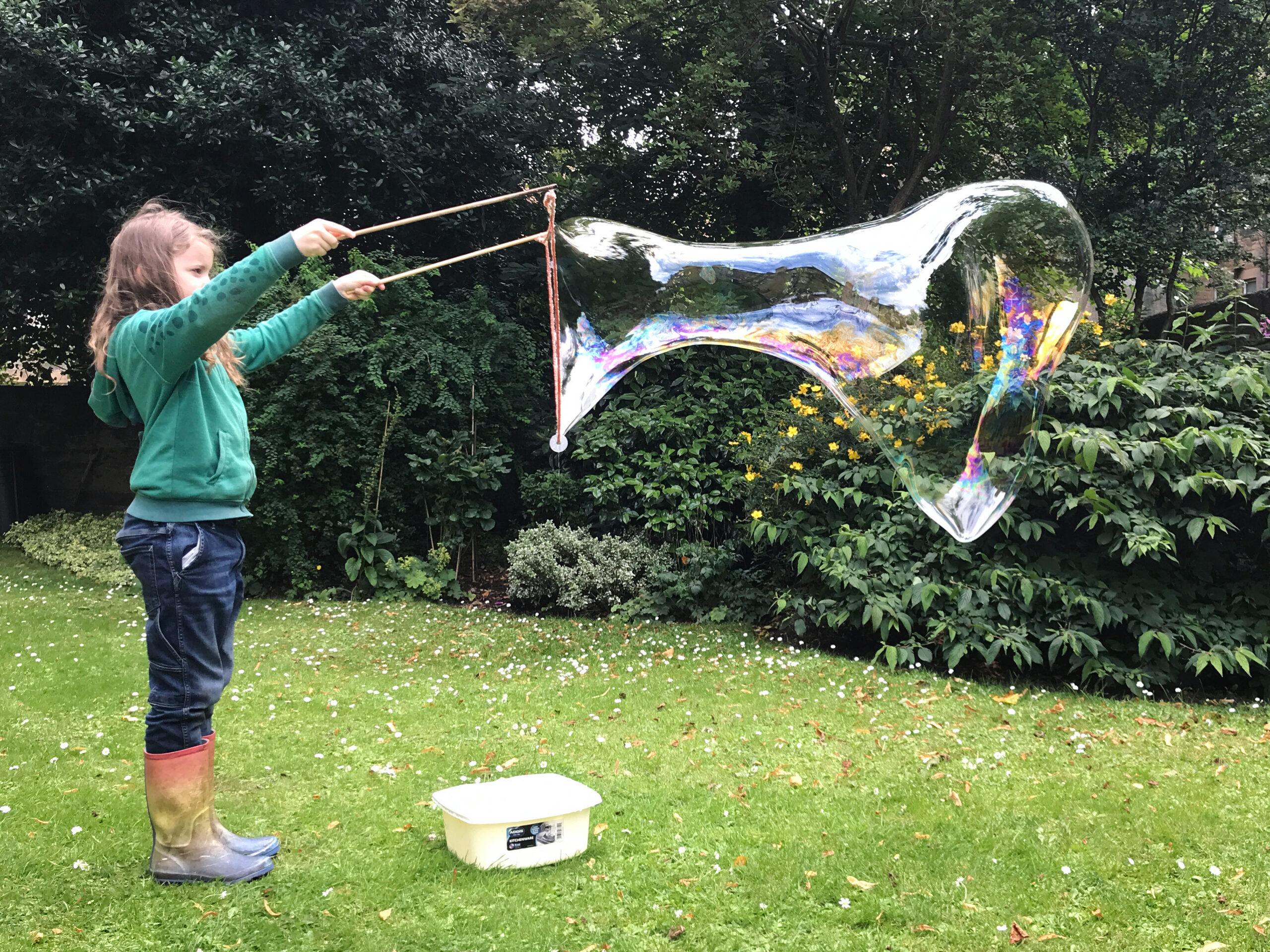 However, to create giant bubbles, you want a solution that creates more stable and long lasting bubbles, so we turned to the recipe that the Science Museum in London uses for their bubbles shows and have kindly shared on their website. They suggest using 95% water, 3% and 2% glycerine. So for a litre of bubble solution that would be 950ml water, 30ml washing up liquid, and 20ml glycerine. We picked up some glycerine for this in the baking aisle at Waitrose.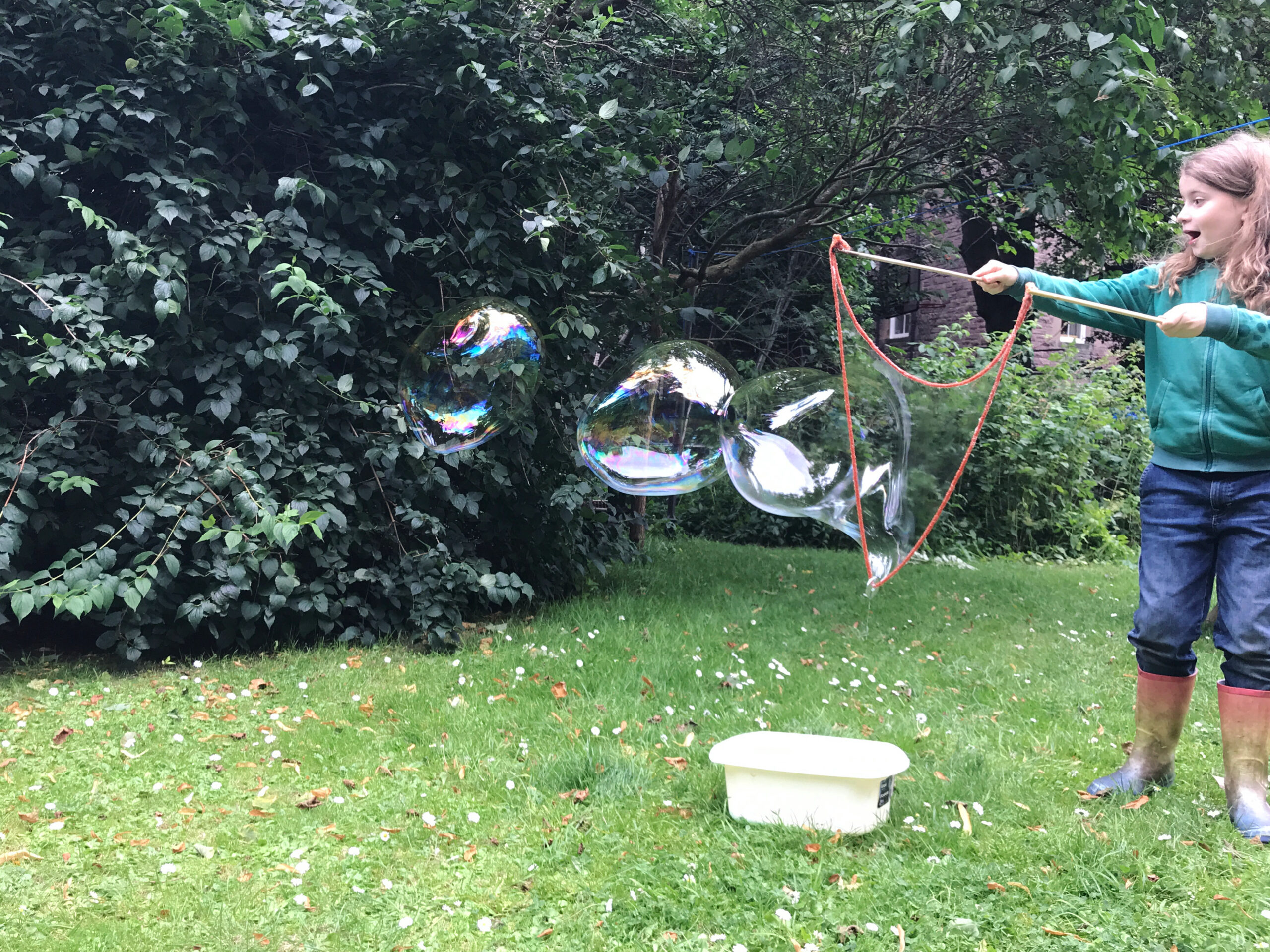 To use your giant bubble wand, submerge it in the bubble mixture and 'swoosh' it around a little without creating too much foam, and being careful not to tangle your wool/ string. Gently lift the wand out of the water with the sticks held together and the eyelets pointing inwards. One the wool/ string is clear of the water and hanging down tangle free, gently pull the stick apart.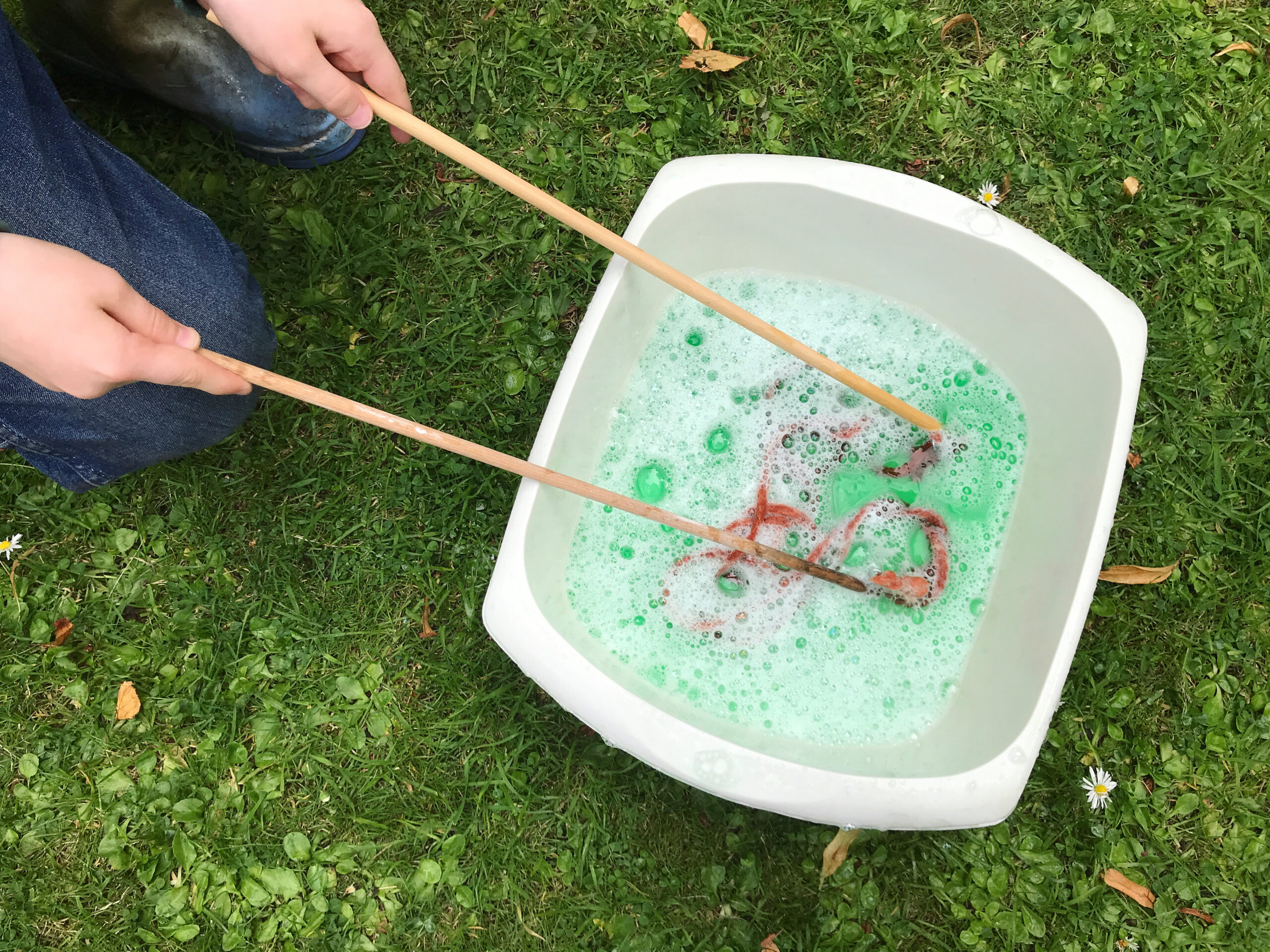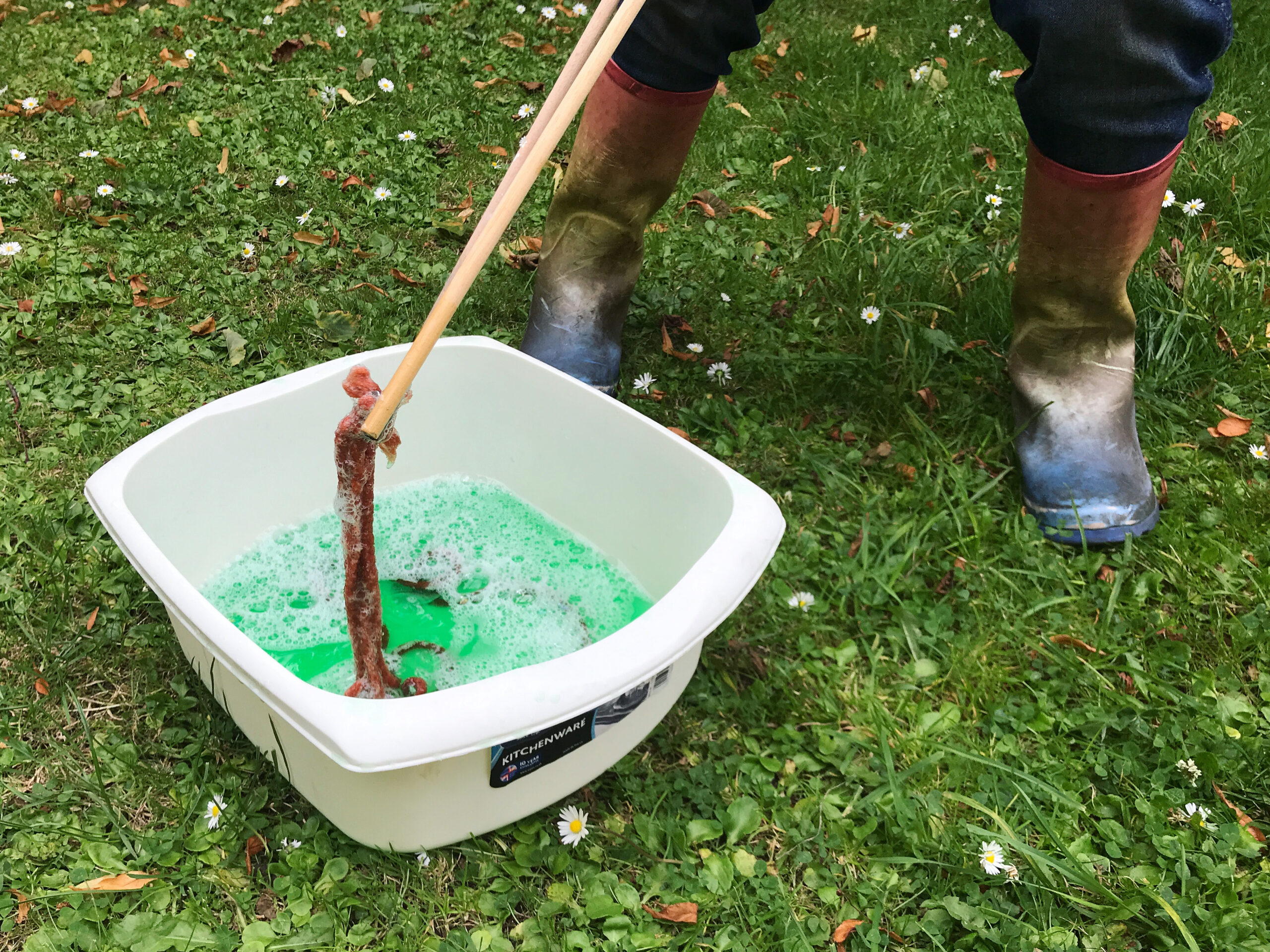 You can now blow or carefully walk with the sticks to create bubbles. Sometimes the wind will blow the bubbles for you without you even having to move, though if it is too windy the bubbles will just pop straight away. You can try sticking your hand inside a giant bubble, or using a smaller bubble wand to blow smaller bubbles in to it.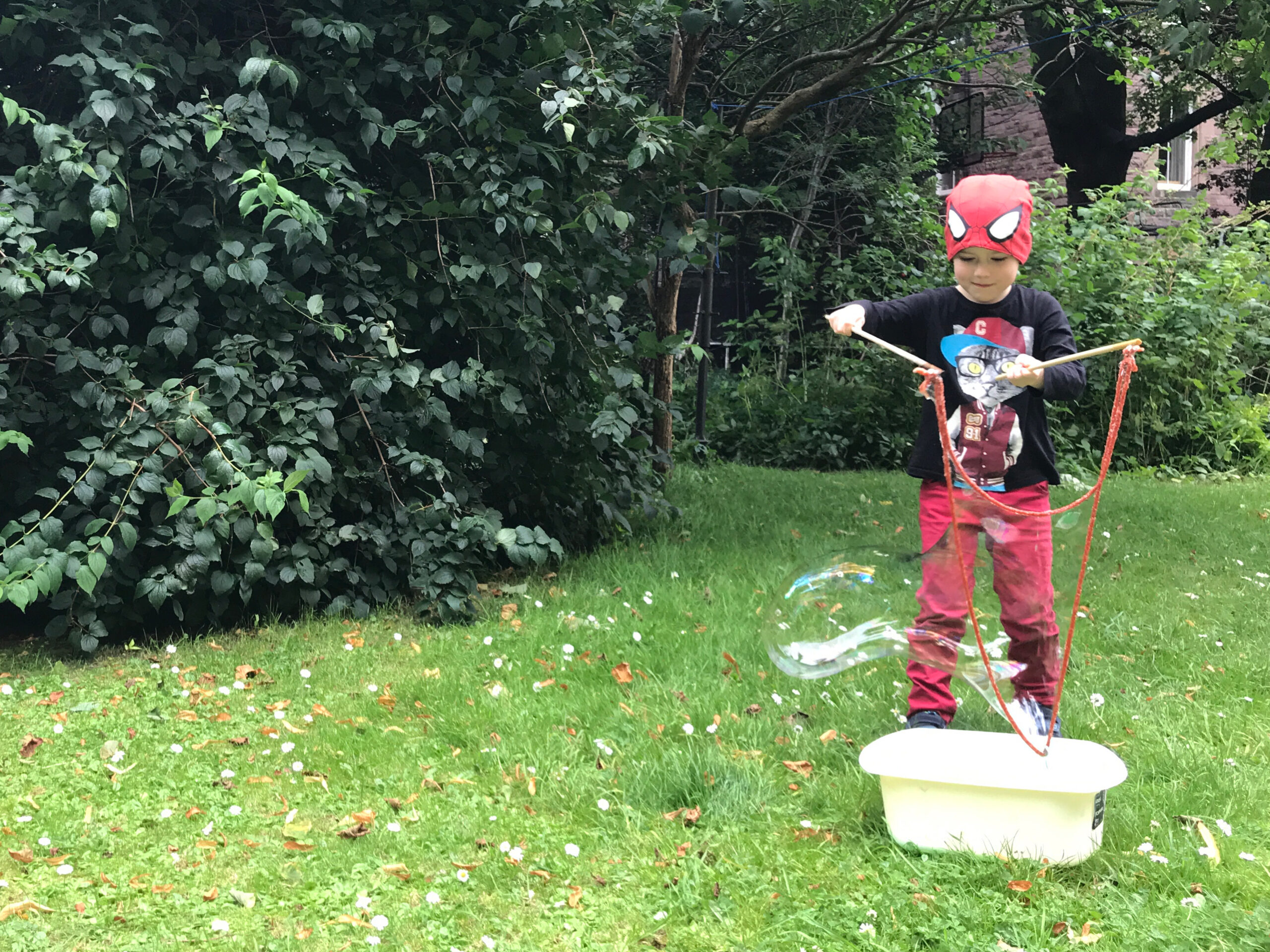 So what's the science behind it? 
The negatively charged hydrogen atoms in one water molecule and the positively charged oxygen atoms in another water molecule attract each other and the water molecules cling together. This causes the surface tension that allows insects to 'walk' on water. The washing up liquid stabilises the water molecules and allows them to 'stretch'. That's how you can blow bubbles. The glycerine slows down evaporation and stops the bubbles from drying out and popping too quickly (evaporation causes bubbles to pop faster).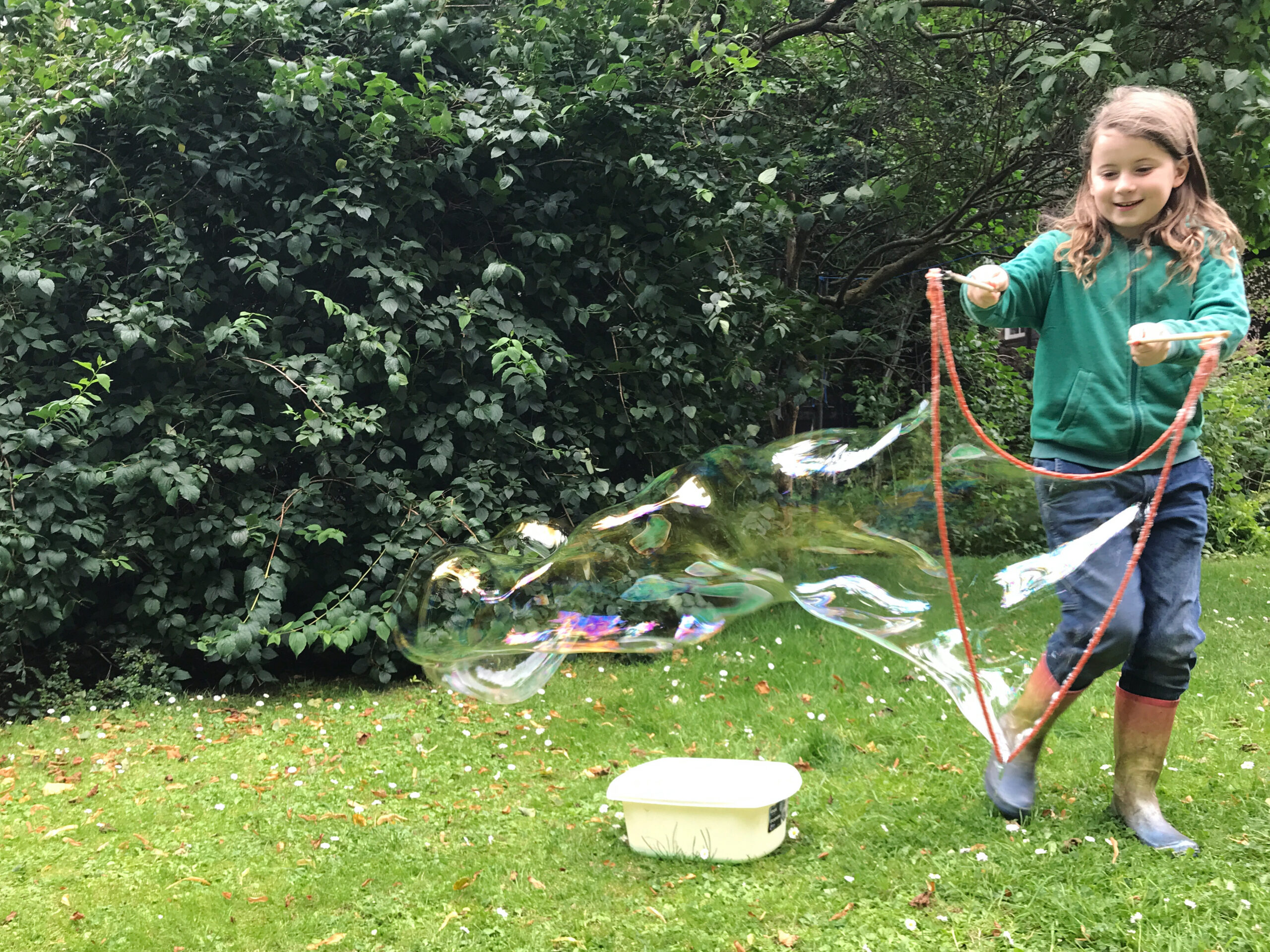 This Science Museum's bubble solution worked pretty well for us – but then I got sucked in to the Soap Bubble Wiki and started reading all about how to make the perfect bubble solution (or 'bubble juice' as they call it). Their main ingredients are water, washing up liquid, and a polymer (or 'goo maker' as they call it) such as guar gum. The polymer can help the bubbles last longer by making them more stretchy and supple. The Wiki also suggests adding in a ph-adjuster, such as baking powder, which can impact on a bubble's thickness, longevity and strength. I ordered a small pack of guar gum online, and using one of the Guar Gum Recipes on the Soap Bubble Wiki as a guide, we made the following solution:
1 litre warm tap water
3 Tbsp washing up liquid
1/4 heaped tsp guar gum powder
1/2 heaped tsp baking power
2 tsp glycerine
Measure the water in to a bucket or large bowl (we used a washing up bowl). Measure the guar gum powder in to a cup, add in the glycerine and mix them together. Pour the mixture in to the water. If there is some residue left in the cup, pour some water back in to the cup to wash out the residue on to your bowl. Stir in the washing up liquid, and then the baking powder. Don't stir too vigorously, as you don't want your bubble solution to become too frothy. The baking powder won't fully dissolve and will leave some residue at the bottom of your bowl, but don't worry about that.
Tip: Whatever recipe you follow, they all seem to have in common that they say bubble solution gets better over time, so we make ours the day before we want to use it and leave it over night.
With the guar gum bubble solution, we had much better results. We were able to create much bigger bubbles, and they lasted longer too. So I'd say it is definitely worth the extra effort of making the more complex solution.
If you enjoyed today's activity, please feel free to leave a comment or tag me in on Twitter and Instagram. Remember to use the hashtag #BearAndFoxSummerCamp if you are sharing any photos.
[line]
All Summer Camp activities are free to make them accessible to as many people as possible. However, if you enjoy the activities and are able to, you can support me with a donation on Ko-fi. Just hit the button below. Every little helps and is much appreciated. Thank you.