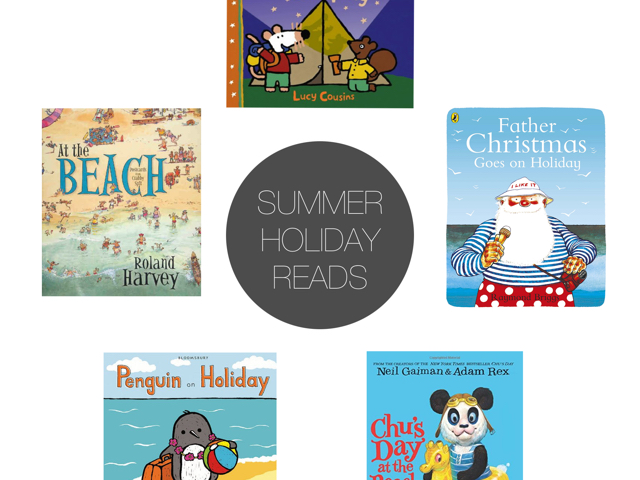 Summer Holiday Reads for Kids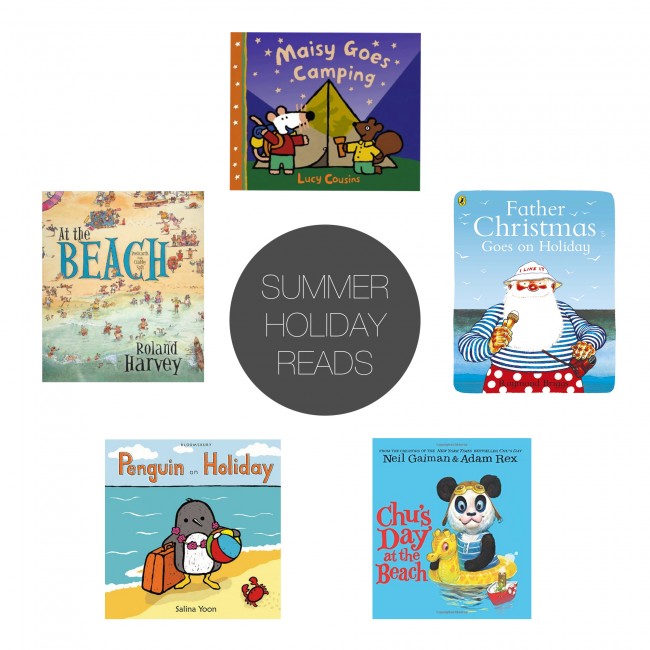 So, the school summer holidays have finally started here in Berlin, though the boys' still have another week until their nurseries go on their summer breaks (and the older boy is actually finishing nursery altogether, as he starts at school after summer!) Looking ahead to our vacation – the boys' first beach holiday ever, and my first in…oh, goodness, I have no idea – I've pulled together some recommendations for kids' summer picture book reads.
Clockwise, starting top left:
In Roland Harvey's At the Beach*, Henry, Penny & Frankie go on a camping holiday with their parents to Crabby Spit, and write lots of postcards to their grandma. Kids can look for the things mentioned in the postcards, as well as try to find the items belonging to an artist, who lost them at the beginning of the book. I'm hoping this book will keep us entertained on the four hour train journey.
We are big fans of Lucy Cousins' Maisy the mouse, and even though this is not specifically a summer book nor are we ourselves going camping (we're renting a holiday cottage) I thought this Maisy Goes Camping*  story would fit perfectly in to a summer reading list. Any excuse to expand our Maisy collection!
Raymond Briggs is perhaps best known for his Snowman book, but this story of how a rather grumpy Father Christmas Goes on Holiday* is just as brilliant. Afraid of being recognised, he keeps moving on to the next destination – France, Scotland, Las Vegas..
Chu's Day at the Beach* features a super cute, sneezing panda, and was written by New York Times bestselling team Neil Gaiman and Adam Rex. What more could you want? Available as a board book too.
And, finally, from one cute animal to another, in Salina Yoon's Penguin on Holiday*, we follow the adventures of Penguin as he leaves behind his familiar ice and snow for a tropical beach getaway, only to discover that skiing, sledging and skating don't work so well on sand.
Do you have any favourite summer time picture books you love to read with your kids? Please feel free to share any recommendations in the comments below.
---
Please note, links marked with an * are affiliate links, which means if you shop via these links I will receive a small percentage of the revenue. Thank you.