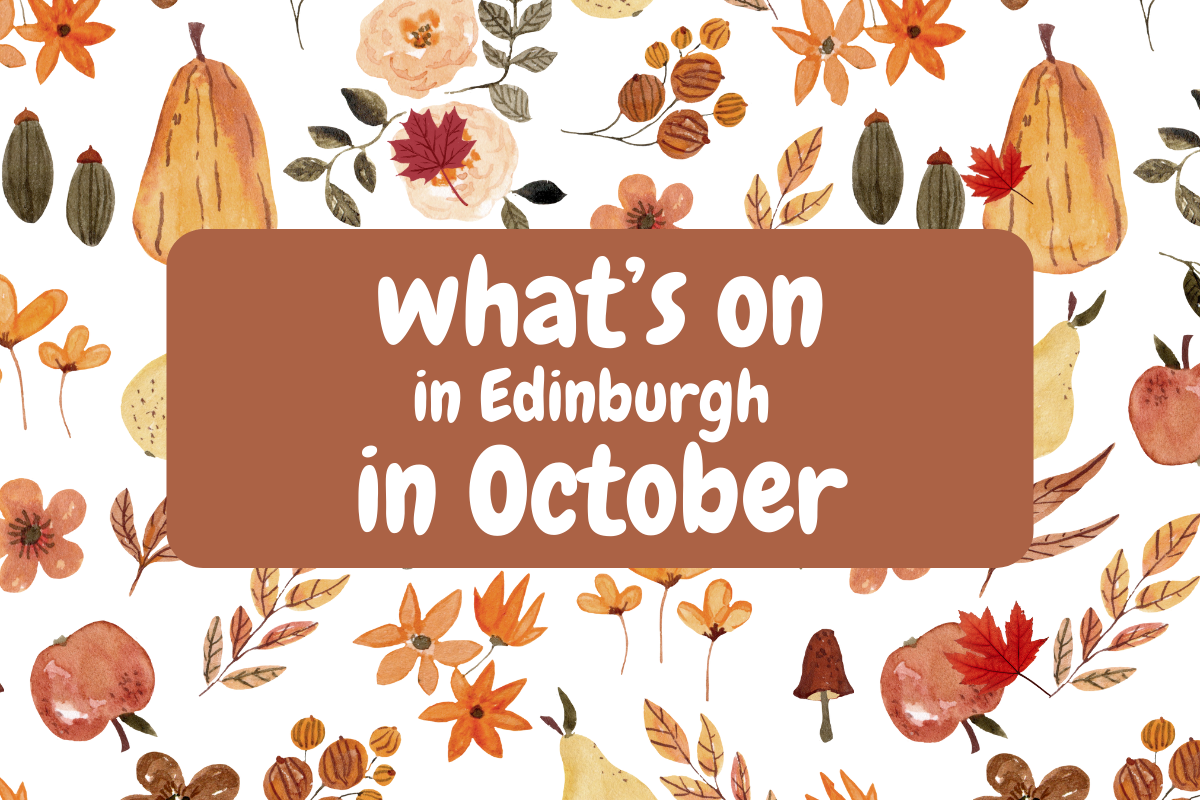 Free or Low-cost October Holiday Events in Edinburgh
It seems like only yesterday that the kids went back to school, but lo and behold the October holidays are only a week away. I'm taking the week off work, and have been on the search for things to do that won't break the bank, so I thought I'd do a wee round-up here. Most of these options are either free or low cost.
MUSEUMS
Museum of Scottish Fire Heritage
The museum is running a few 'Sums of Fire' family activities during the October holidays, all about the maths behind fire fighting.
Tues 17 to Sat 21 October, 10am – 4pm: Free drop-in gallery activities for all ages.
Tues 17 October at 10:30am, 1pm & 2pm: Paint your own mini helmet. £3 each, pre-booking required.
Sat 21 October at 10:30am, 12:30pm & 2pm) Family workshops, suitable for ages 9+ (45 mins long each). Free but pre-booking required.
>> Book Museum of Fire workshops
National Museum of Scotland
The National Museum of Scotland has a programme of half term events for families running from Mon 16 to Sat 21 Oct, various times. Mostly free-drop in with a couple of paid activities that require pre-booking. The theme of the week of the week is "Cultural Connections".
>> View National Museum of Scotland programme
The museum also has several interactive galleries aimed at families, and a host of free trails to choose from. Check out the online Family Hub for more details.
National Galleries of Scotland
The National Gallery of Scotland is running "Craft Club: Inspired by Grayson Perry" for families from Mon 16 to Fri 20 Oct, 2pm – 4pm. Free but ticketed. Booking up fast so be quick!
It's also worth going along to check out the National Gallery's new Scottish galleries, which recently opened. There's free family trails, an art trolley and sensory bags (as well as "Family Fridays" during term time).
At the National Gallery of Modern Art, there the free Art Space 2, a free drop-in picnic and play space for families with art books, building blocks and plenty of materials to make your own masterpieces. As well as free family trails and self-guided sensory walks for both indoors and outdoors.
>> Read our review of Art Space 2
And at the National Portrait Gallery, you'll also find a free family trail and art trolley.
All three galleries are open daily, 10am – 5pm.
>> Find out more about visiting National Galleries Scotland with kids
Museum on the Mound
The Museum on the Mound's activity room will be available 10-5pm during the October holiday week, and there will also be a chance to strike your own coin from 2.30-4pm from Tuesday 17 October to Saturday 21 October. The museum is open Tuesdays to Saturdays, and on Bank Holiday Mondays.
Lauriston Castle
Lauriston Castle always has some great family events throughout the year. During the October holidays, they are hosting 'The Big Draw' on Tuesday 17 and Thursday 19 October, 10am – 12 noon. Free, drop-in.
City Art Centre & Museum of Edinburgh
The City Art Centre & Museum of Edinburgh both have free Family Activity Spaces, that are open daily from 10am – 5pm. Both spaces are packed full of art materials and worksheets relating to the relevant exhibitions, and at the Museum of Edinburgh there's also a reading corner and some replica objects you can explore.
>> Read our reviews of the Museum of Edinburgh and the City Art Centre family activity spaces
The Museum of Childhood
The Museum of Childhood has finally reopened. Whilst refurbishments are still ongoing in some of the upper galleries, the ground floor – which had a complete overhaul just before the pandemic – has plenty of hands-on activities to keep kids busy, including games, dressing up and a story corner.
LIBRARIES
National Library of Scotland
As part of the Scottish International Storytelling Festival, the National Library of Scotland is hosting some free events, including:
Gaelic stories and crafts for 0-5 year olds, Monday 16 October, 2pm – 3pm.
Family storytelling with Allison Galbraith, Friday 20 Oct, 2pm – 3pm.
Free but pre-booking required.
>> Book Gaelic stories & crafts tickets
City Libraries
Many of the Edinburgh City Libraries run free events during schools holidays and throughout the year. Unfortunately, there's not a central page that lists all the events, you need to check out each library individually. We have found the best place to do that is on Facebook (e.g. we follow Fountainbridge, Morningside and Edinburgh Central Library on Facebook), as that's where they seem to post about it. Activities include weekly Bookbug sessions, board game meet-ups, arts & crafts afternoons, Lego clubs, and family story time. Why not go and bookmark your nearest library on Facebook now!
OTHER INDOOR EVENTS
Ikea Edinburgh Workshops
Did you know that Ikea offers free family events throughout the year? They've got quite a few activities lined up for the October holidays. Most of these are drop-in ones that you don't need to pre-book for, except for one as indicated below.
Craft your own rocket, 14/15 Oct & 21/22 Oct
'How on earth' short story competition, Sat 14 – Mon 23 Oct
'Alien invasion' scavenger hunt, Sat 14 – Mon 23 Oct
'Welcome to the Galaxy' face painting, Wed 18 Oct
Paper plant craft session, Tue 17 & Fri Oct (IKEA Family members only; booking required)
>> Check out Ikea workshop details
Pets at Home Stores Workshops
Pets at Home have teamed up with Paw Patrol: The Mighty Movie for some fun filled, educational workshops to learn about mighty pets. Kids will receive a PAW Patrol: The Mighty Moviecharacter mask, activity sheet, sticker and a certificate of attendance. There will also be a chance to meet some animals.
Daily from Sat 21 to Sun 20 October at 1pm, at the Corstorphine, Craigleith, Fort Kinnaird and Pentland stores. Free but pre-booking required.
>> Book Pets at Home workshops
OUTDOORS
While it's getting to that time of year where you just want to hunker down indoors with a mug of hot chocolate, here's some suggestions to get you outdoors over the October holidays.
Botanic Gardens
The Botanic Gardens are running their Halloween Trail again this year, Sat 14 to Tues 31 October. If you've not been before, you get a wee booklet to go around with, find clues, solve the answers, and get a chocolate prize at the end. £3 per child. No need to pre-book.
>> Check Halloween Trail details
Water of Leith Visitor Centre
These workshops aren't free, but at only £7 for one child + adult, I think they're still fairly reasonably priced.
While you're there, you can also check out the free interactive exhibition inside the Water of Leith Visitor Centre, open dailt 10am – 4pm.
Hermitage of Braid Murder Mystery Trail
The murder mystery trail around the Hermitage of Braid, that I wrote for one of my boys' birthdays a couple of years ago, is still available to download for free here on my blog if you're looking for something a bit different to do on one of your Autumn walks.
>> Download Murdery Mystery Trail
Visit a Pumpkin Patch
It wouldn't be Autumn without a visit to a pumpkin patch. To make it easier to find the best pumpkin patch nearest to you, I've compiled all the Scottish pumpkin patches I could find on a handy map! Many of them require pre-booking, so be sure to double check the details before travelling anyway.
Play Parks
And, of course, Edinburgh has over 100 public playgrounds to choose from, some of them set within bigger parks. Check out our A to Z map of public playgrounds in Edinburgh, including reviews of the around 30 playgrounds we have visited so far.
DAY TRIPS
If you want to venture a bit further afield during the holidays, there's always the option of a day trip. We don't have a car, but have travelled to lots of places within 1.5 hours of Edinburgh by train. Here are some reviews of a few of our favourite trips that won't break the bank:
Don't forget to claim your Kids for a Quid rail ticket, to keep travel costs down too. Only available from station ticket counters (or on the train if no ticket counter available).
---
I'm sure there's probably more free events that are missing, but if you know of any other great free events in Edinburgh this Autumn, just leave a comment or send me a message and I'll add them in!