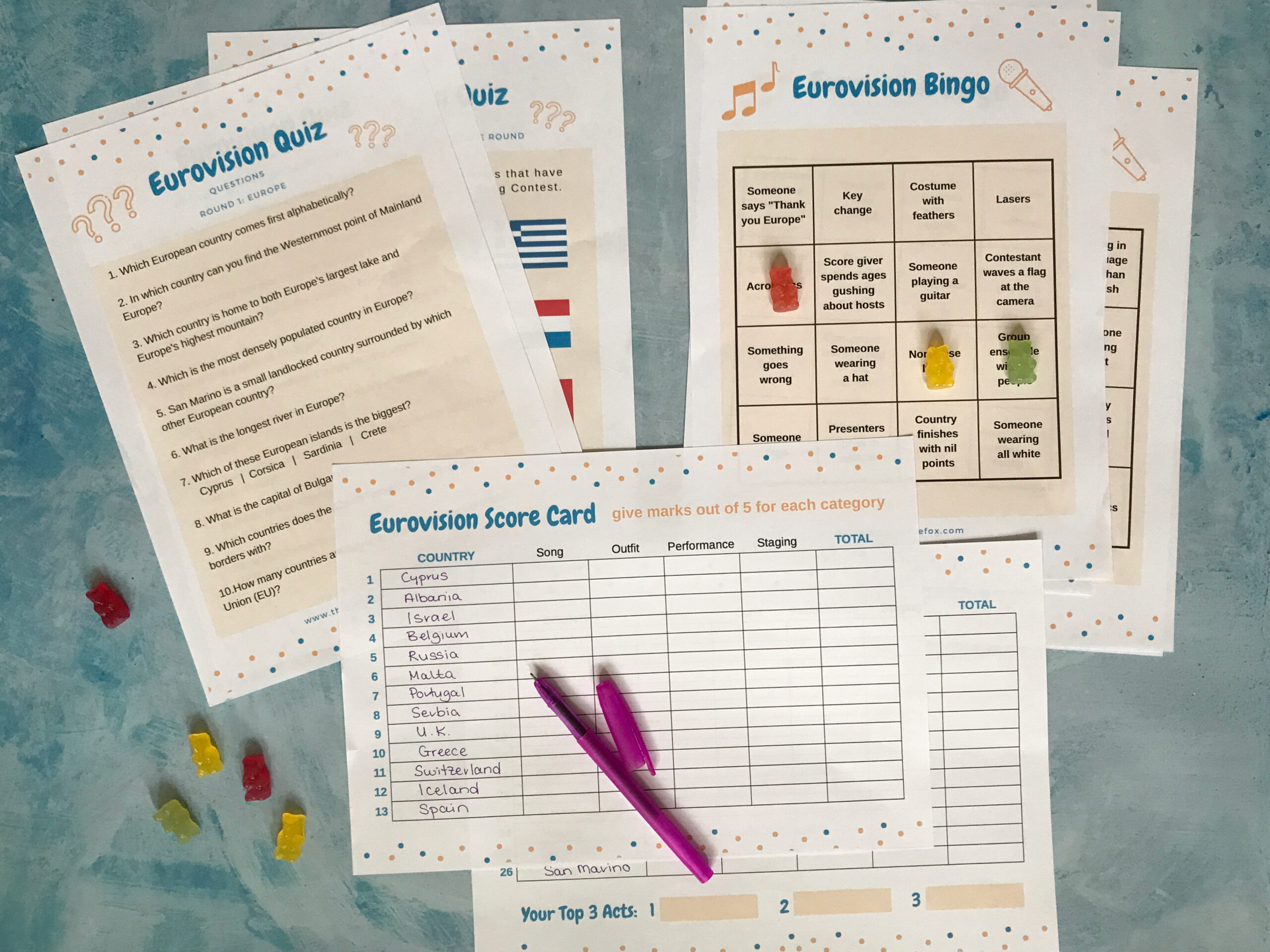 Free Eurovision Printables & Party Ideas
As I've mentioned before here on the blog, we are major Eurovision Song Contest fans in this house and can't wait to watch this year's Grand Final tomorrow night. If you too love all things Eurovision, then I've got the perfect freebie for you. I've updated my Eurovision Quiz from a couple of years ago, and added an additional picture round. I've also created matching Eurovision Score Sheets and Eurovision Bingo Cards, to make your Eurovision night go that little bit further. Plus I've got a few party tips to share. All the printables are free to download, but if you'd like to support me with a small donation to help keep this blog running, it would be much appreciated. Just hit the 'support' button at the end of this post. Thank you! So, are you ready?
Eurovision Party Decor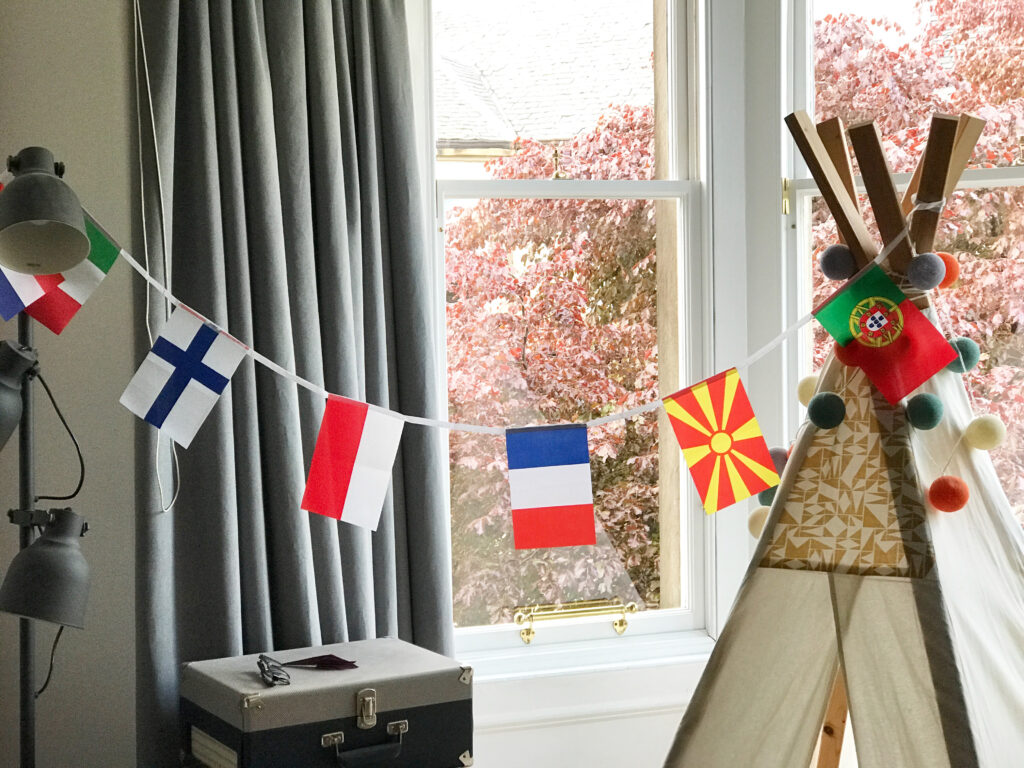 Flags of Europe are the obvious choice here. If you can get your hands on some pre-made bunting, which will serve you for years to come, that would be the easiest way. But if it's too late to get hold of any for this year, you could either print some off the internet, or – a more printer friendly version – why not get the kids involved in drawing some. You can squeeze in a little geography lesson as a bonus!
Eurovision Party Food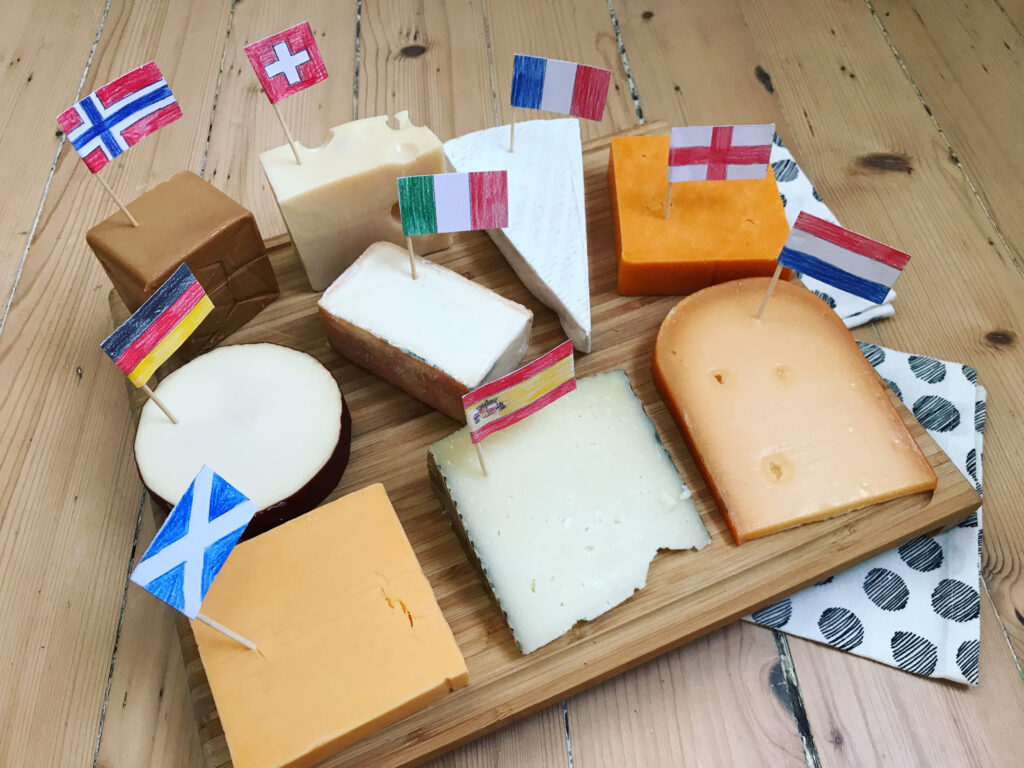 When we've had Eurovision parties in the past, we had each guest bring a dish from a different country, which was always lots of fun. Due to obvious reasons (I'm looking at you, Covid pandemic) big parties are still off the table this year and it will just be a family affair, so we are having a European cheese board with 7 different cheese from 7 different European countries. I've got the kids to help me make wee flags to stick in them.
The Warm-Up
Eurovision Playlist
To get in to party mode, a playlist with Eurovision winners – and other notable entries – from previous years is a must! I've compiled a playlist of my favourites on Spotify, if you want to tune in, with ABBA, Lulu, Bucks Fizz, Katrina and the Waves, Conchita Wurst, Nicole, Dana International, Lordi, and Charlotte Nilsson to name just a few. And yes, I still think that The Ark and Texas Lightning were both robbed of a win (and are of course also included in my playlist).
>> OPEN 'BEST OF EUROVISION' PLAYLIST ON SPOTIFY
Eurovision Quiz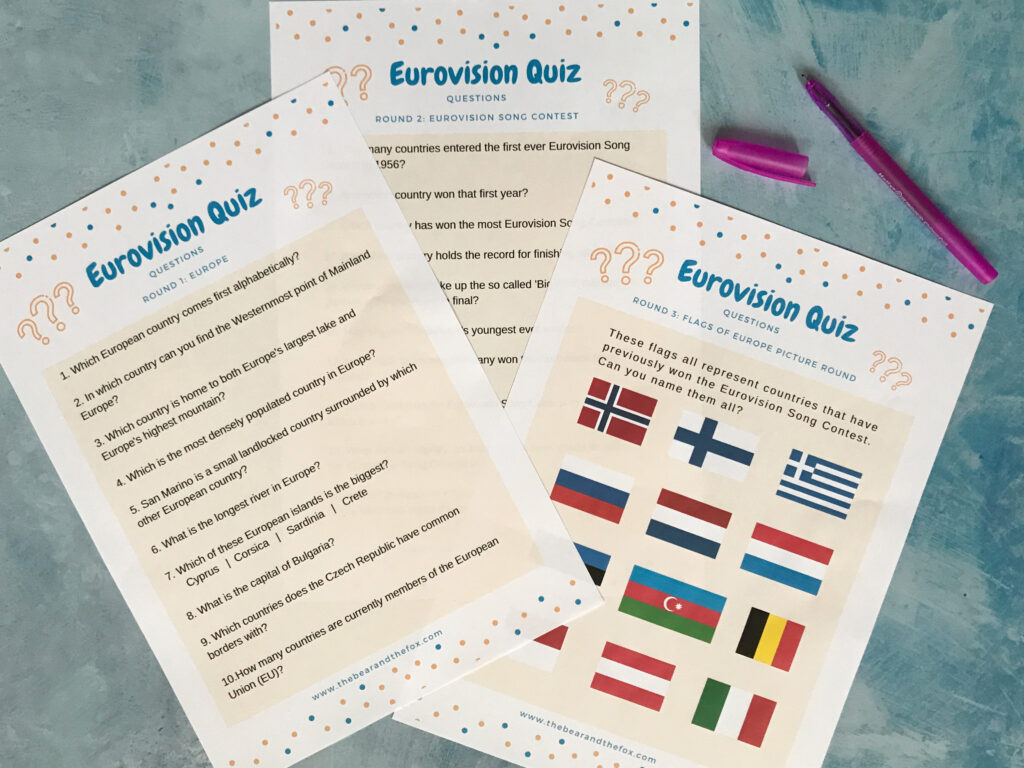 Another fun way to get warmed up for the big event itself, is a good old quiz. I've updated my Eurovision Song Contest Quiz from a couple of years ago, and also added another round. The three rounds now include: Questions about Europe, Eurovision Trivia, and a picture round with flags of Europe.
>> DOWNLOAD FREE EUROVISION QUIZ QUESTIONS
>> DOWNLOAD FREE EUROVISION QUIZ ANSWERS
The Viewing
Eurovision Sweepstake
Up the ante, and have a Eurovision sweepstake. Everyone picks the name of a country performing in the Grand Final out of a hat, and the person with the winning country gets a wee prize. With 26 countries taking part in the finale, you may not have enough people to pick one each, especially not this year, but you could either team up with friends who are also watching, even if you're not together, or just pick several countries each. There will only be the four of us this year, so we'll be picking a handful of countries each and I've bought a wee trophy for a couple of quid for the winner (if one of the boys wins and I'm feeling generous, I may pop a small pocket money bonus inside the trophy).
Eurovision Score Card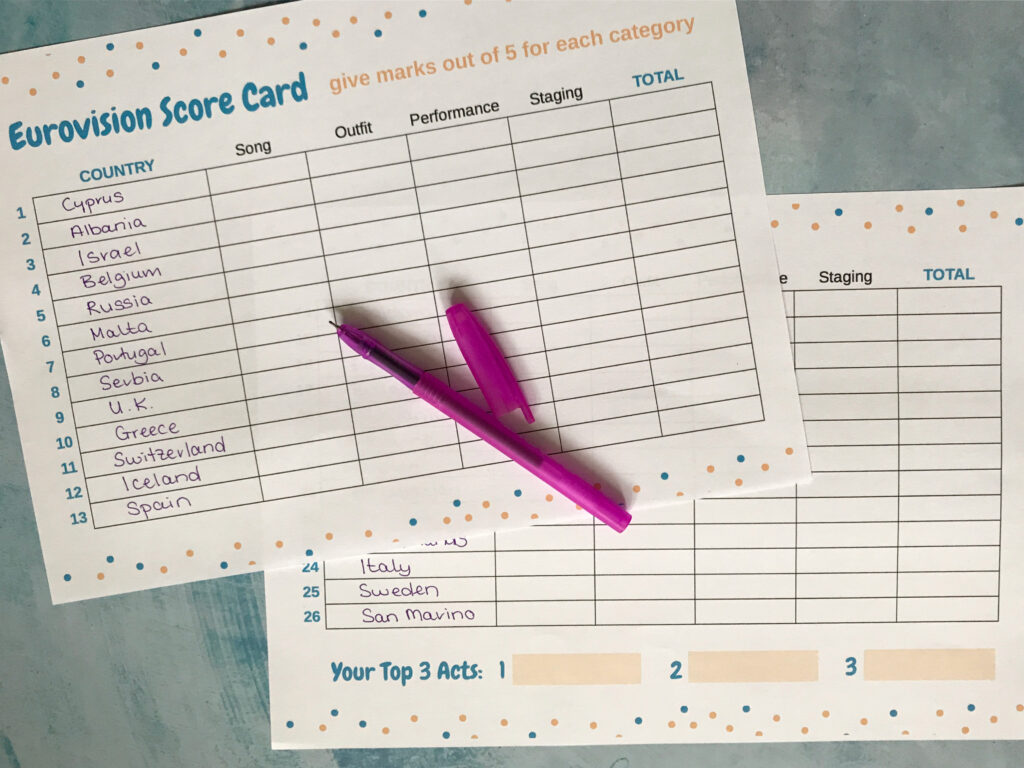 It's much more fun watching the performances if you hand out your own scores. We've been doing this for years, but for this year I've designed some free Eurovision Song Contest Score Cards, with the categories we like to rate: song (i.e. how good is the actual song); outfit (or outfits, if they have a costume change half way through!); performance (this could cover anything from whether they are in tune, to dance routines), and staging (props, lighting, special effects etc). Give marks out of 5 for each category, tot up the scores, and then see who your top 3 acts are and compare to the votes they actually get.
(Update for 2022: There are only 25 countries in the finale this year, as the host country is also one of the Big Five, but you can still use the same score card – just leave out the final row)
>> DOWNLOAD FREE EUROVISION SCORE CARD
Eurovision Bingo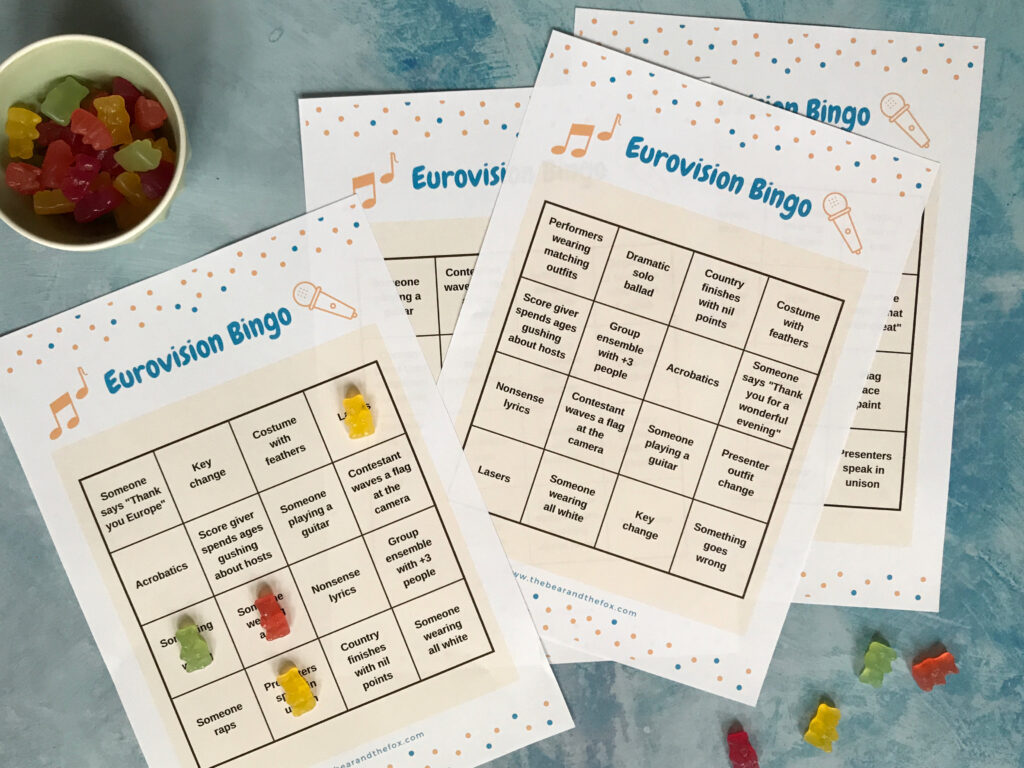 Another fun thing to do, while watching the performances, is to play Eurovision Bingo. I've designed some free Eurovision Song Contest Bingo Cards for you to download. There are 12 different cards in total, each of them slightly different so that there are no repeats if you are playing with a larger group. You could either use these with family at home, or share with friends who are also watching but are maybe not with you. We're using gummy bears to mark the categories we get, but you could use marshmallows, chocolate buttons, or anything else you fancy. If you get a BINGO you get to eat your sweets.
>> DOWNLOAD FREE EUROVISION BINGO CARDS
---
So, here's hoping you all have a great Eurovision night! If you use any of my printables and want to share photos of your party, I would love to see them – feel free to tag me on Facebook, Twitter or Instagram.
One last thing. I'm offering all these printables for free, because I want to share the Eurovision love. However, if you would like to support me with a small donation, which helps to keep this blog running, it would be much appreciated. Just hit the support button below. Thank you x