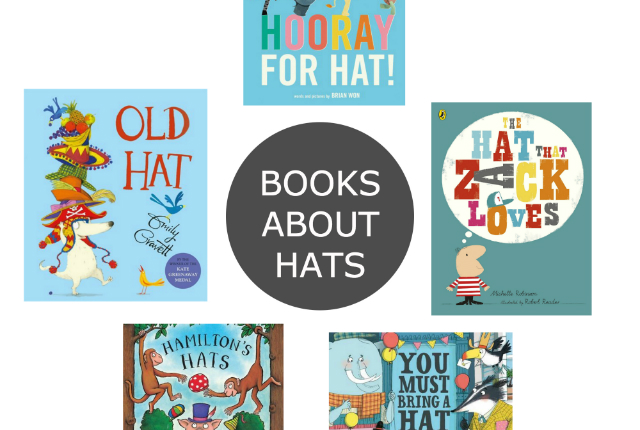 5 Great Picture Books About Hats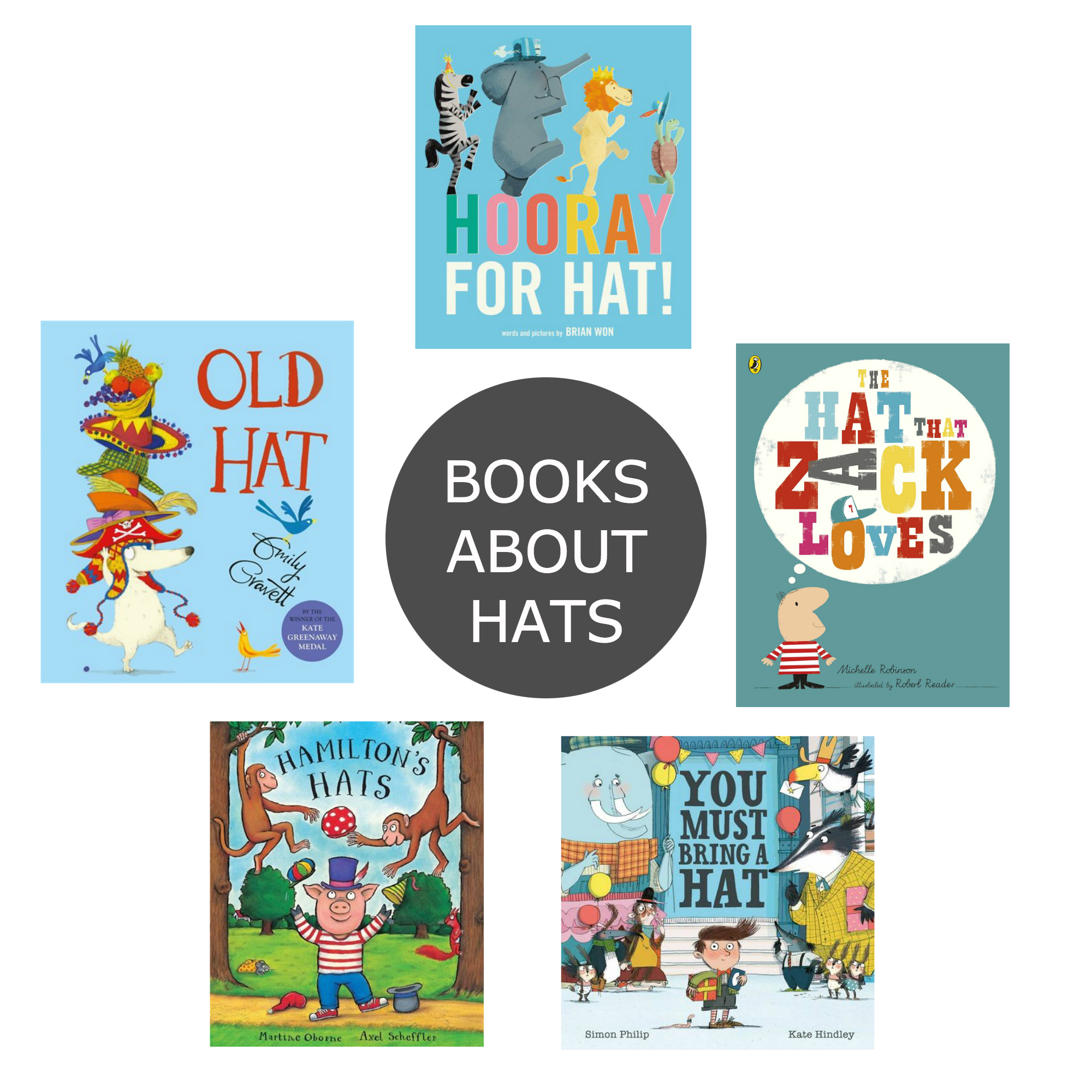 I love putting together book round-ups on random themes, so I had a lot of fun pulling together these recommendations for our favourite picture books featuring hats! And there's another YouTube video this week too, where you can get a sneak peek inside the books! So, clockwise, starting from the top:
Hooray for Hat! by Brian Won – In this story, elephant wakes up in a grumpy mood, until a mysterious parcel appears at his door, full of hats. It's hard to stay grumpy, when you have a fabulous hat to wear. Elephant goes to show Zebra, who is also grumpy, until elephant shares a hat with him. And so it goes on, until there is a whole parade of animals that turn up at Giraffe's, who isn't feeling well. But thanks to the hats – and a little something else – Giraffe is feeling better very soon. This is a funny and delightful story, with lots of repetition that appeals particularly to little ones.
The Hat That Zack Loves, by Michelle Robinson (author) & Robert Reader (illustrator) – This is a fun, hat themed variation of the popular nursery rhyme "This is the House That Jack Built". In this story, a dog snatches Zack's new hat and runs off with it. Zack chases him through the city, joined by a cat, a goose and a horse. And all's well that end's well. A fun rhyming adventure with a great rhythm, and again there is lots of repetition to get kids involved.
You Must Bring a Hat, by Simon Philip (author) & Kate Hindley (illustrator) – The story starts with a boy, who has been invited to a party. It's the biggest, bestest, hattiest party of all time, and you must bring a hat to attend. The only problem is, he doesn't have a hat. But he's allowed to bring a guest, so he invites a hat-wearing monkey along. Only problem is, hat-wearing monkeys are only allowed in wearing a monocle. And so the list of absurd requirements, and the troop of assorted guests grows, culminating in an unexpected and hilarious ending. This book is an absolutely joy to read again and again, and the illustrations are really gorgeous too.
Hamilton's Hats, by Martine Oborne (author) & Axel Scheffler (illustrator) – Hamilton the pig is very fond of hats, and he has a huge collection of them. His mum is a little worried that he is growing to vain. She thinks he still has many lessons to learn in life, but that he won't learn those from hats. She couldn't be more wrong. The hats teach him how to be determined, brave, and patient, and most important of all, how to be compassionate and kind. This is a funny and amusing book, that manages to teach kids a few life lessons along the way.
Old Hat, by Emily Gravett – This story features Harbet, who loves his wooly hat that his Nana knitted him. But the others make fun of him for his 'old hat' so he looks for a new one. But no matter what kind of hat he buys to try and keep up with them, they keep jeering at him for being one step behind. So one day he decides to do something unexpected, and takes off his hat – now the others are all trying to copy him! This is a funny and charming story, which teaches kids to think for themselves instead of just trying to copy everyone else, and about the joy of finding your own style.
You can find a video of this week's book round-up over on YouTube, where I talk you through this week's recommendations and give a bit more insight in to each book! Check it out here >> Hats Off to Books | Picture Book Round-up Of course, I'd also be really grateful if you would subscribe. Thanks!
Do you have any other favourite picture books about HATS? Please feel free to share your recommendations in the comments below!
---
Please note that all the book links in this post are Amazon affiliate links. That means if you buy any books via these links, I receive a small percentage – at no extra cost to you! – which helps to keep this blog running. Thank you.