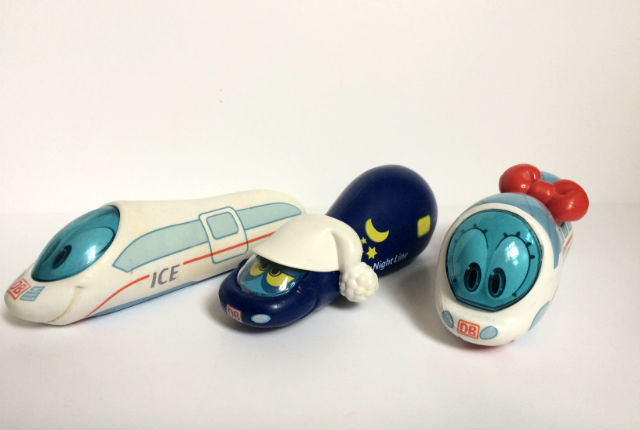 Travelling on the ICE with Kids
In my travel guide to Wuppertal from the other week, I mentioned that we always took the ICE high speed train from Berlin to Wuppertal, so I thought I would tell you a bit more about travelling with the ICE in Germany. ICE is short for Intercity-Express, and is a system of high-speed trains running mostly in Germany, and it surrounding countries. The ICE offers some great services for families.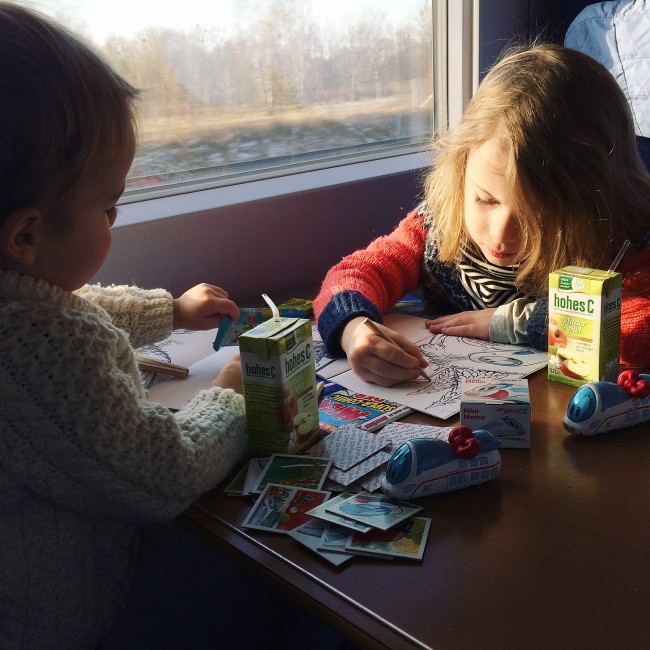 Tickets
Children age 0-5 always travel for free. Children age 6-14 travel for free if they are travelling with a parent or grandparent AND if you add them to your adult ticket at the time of booking! If they are travelling with someone else or on their own, they pay 50% of the full ticket price. There are also family tickets available for anyone travelling with 4 or more children. Kids age 15+ pay the regular full ticket price.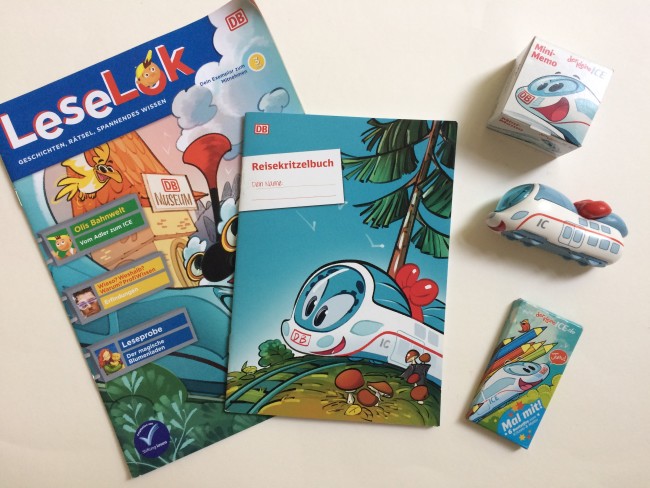 Seats
Most ICE trains have either a 'Kleinkinderabteil' (a compartment aimed at families with children up to 3 years, i.e. babies and toddlers) or a 'Familienbereich' (a family area aimed at families with children of pre-school and primary school age). The Kleinkinderabteil is usually a separate compartment with doors you can close, with table seats (the ones we have travelled in always had two tables i.e. 8 seats in total), space to park a couple of strollers, and extra floor space for playing. These are the type of seats we always reserve when we can – they book out quickly, and I've sometimes booked trains for a different time than intended so we can get the seats. Some people hate these seats, they find it too noisy with lots of kids in a confined space, or the floor too dirty to put their kids down. But I think it's great that you can close the doors and your kids can't run off down the length of the train, especially since my younger boy is a runner! The train aisle runs past the compartment, so no other passengers need to pass through. If you are worried about putting babies down on the floor, just bring a light blanket to put down. And we've always found it fun to meet other families to play with.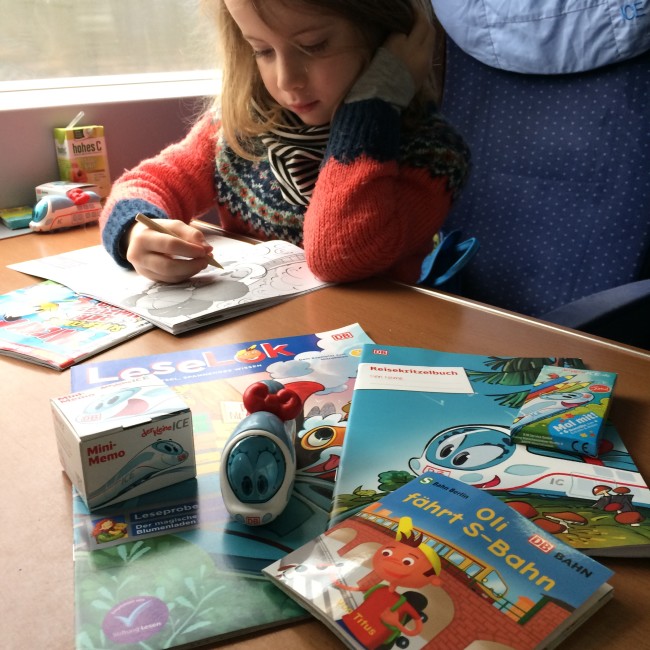 We've never travelled on an ICE so far that had a Familienbereich, but I have read that they have between 8 and 24 seats and are a bit more open space. Some ICE trains also have a 'Familienbetreuer' on board, who offers family activities such as crafts, drawing, storytelling or face painting. We've never managed to catch one of those trains, but we have met other families along the way who have. They run on weekends in selected trains, and you can check on the Deutsche Bahn website which routes offer this service.
Both types of family areas – Kleinkinderabteil and Familienbereich – are almost always near a train entrance and near a toilet. You can reserve seats – both the special ones and regular seats – at a cost of 9 Euros for a family of up to 5 people, which saves you some money as usually it's 4.50 Euros per person/seat. That's for 2nd class, by the way. For 1st class, it's 11.80 Euros for families and 5.90 Euros for single seats, but we've never gone 1st class as the family compartments are in 2nd class.
Freebies for Kids
Undoubtedly, the thing my kids most look forward to when we travel with the ICE, is the freebies. If you go to the dining car – which is usually somewhere near the family compartment/area, you can collect a free  kids magazine with stories, games and colouring pages. The magazine changes a couple of times a year, so if you are a frequent traveller it won't always be the same. On our last trip, the magazine had a pull out card game in the middle, so that was another extra to keep us occupied.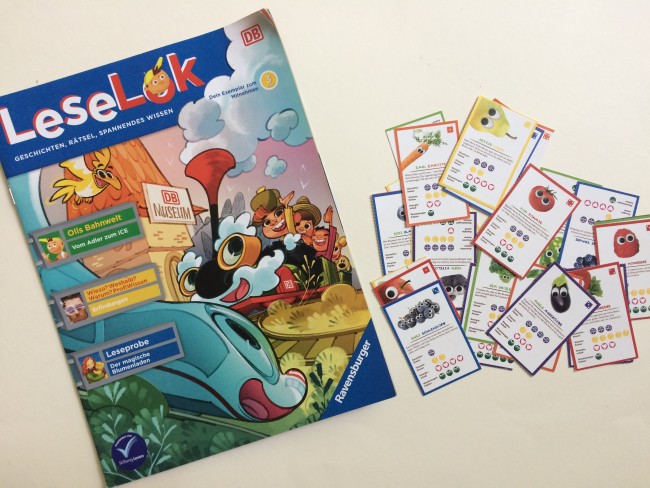 You can also ask for a free colouring activity book, which comes with coloured pencils. Again, this changes periodically and we've had several different versions over the past years. Finally, if you are lucky and they haven't run out, you can collect a free little toy ICE. They've started bringing out different versions of this too, so we've had the Little ICE, the night train, and the girl train Ida.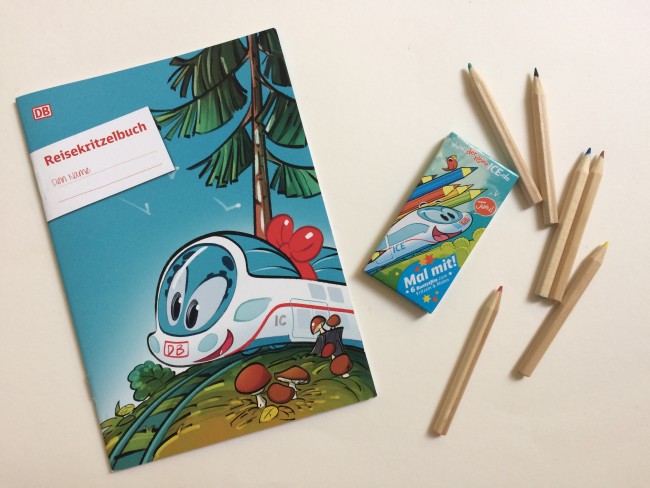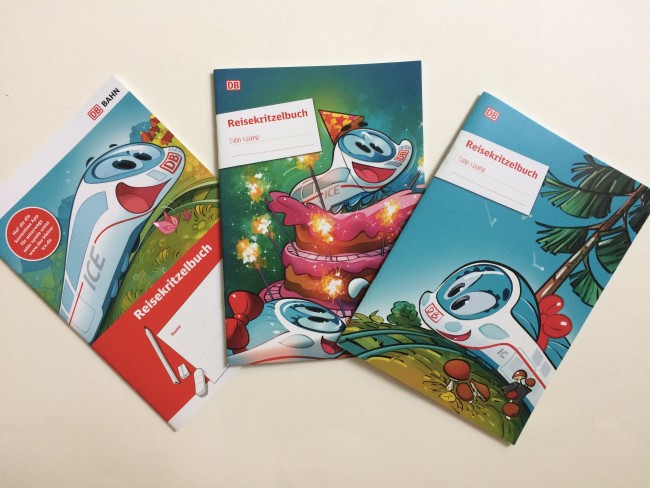 At one point, we had accumulated over a dozen of these, as we'd have four at the end of each trip to visit the grandparents (two on the way there – one per kid – and two on the way back), but we recently had a clear out and now just have six – one of each train per kid. One time, they had run out of toy trains and we were given a Little ICE memory game instead, and on our last trip we lucked out and got the whole lot: magazine, colouring book and pencils, card game and toy train! And it was all free!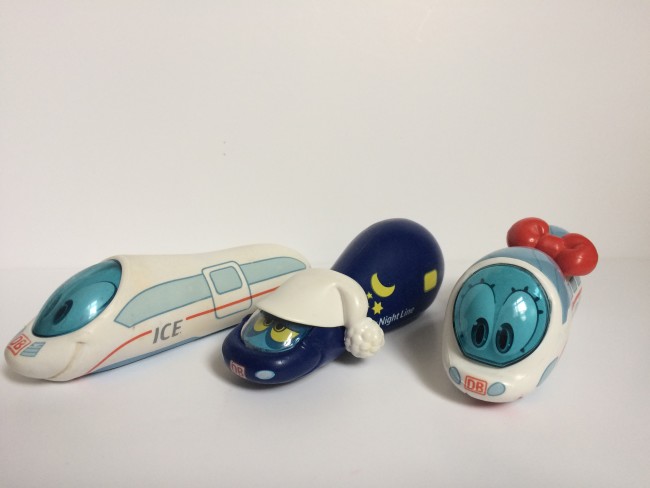 Finally, the little story book in the picture, about Oli riding the train, is not actually from the ICE, it's from the S-Bahn which is a local railway that also runs out of Berlin. We got it at the information desk at Berlin Central Station – you can just go and ask for it.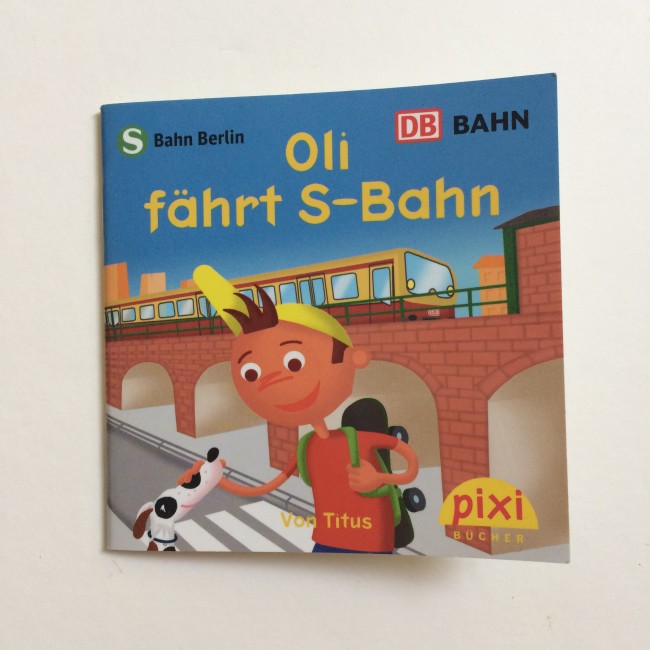 So, you can see why we love riding the ICE! Maybe next time you are travelling around Germany, you will take your kids on the ICE too.