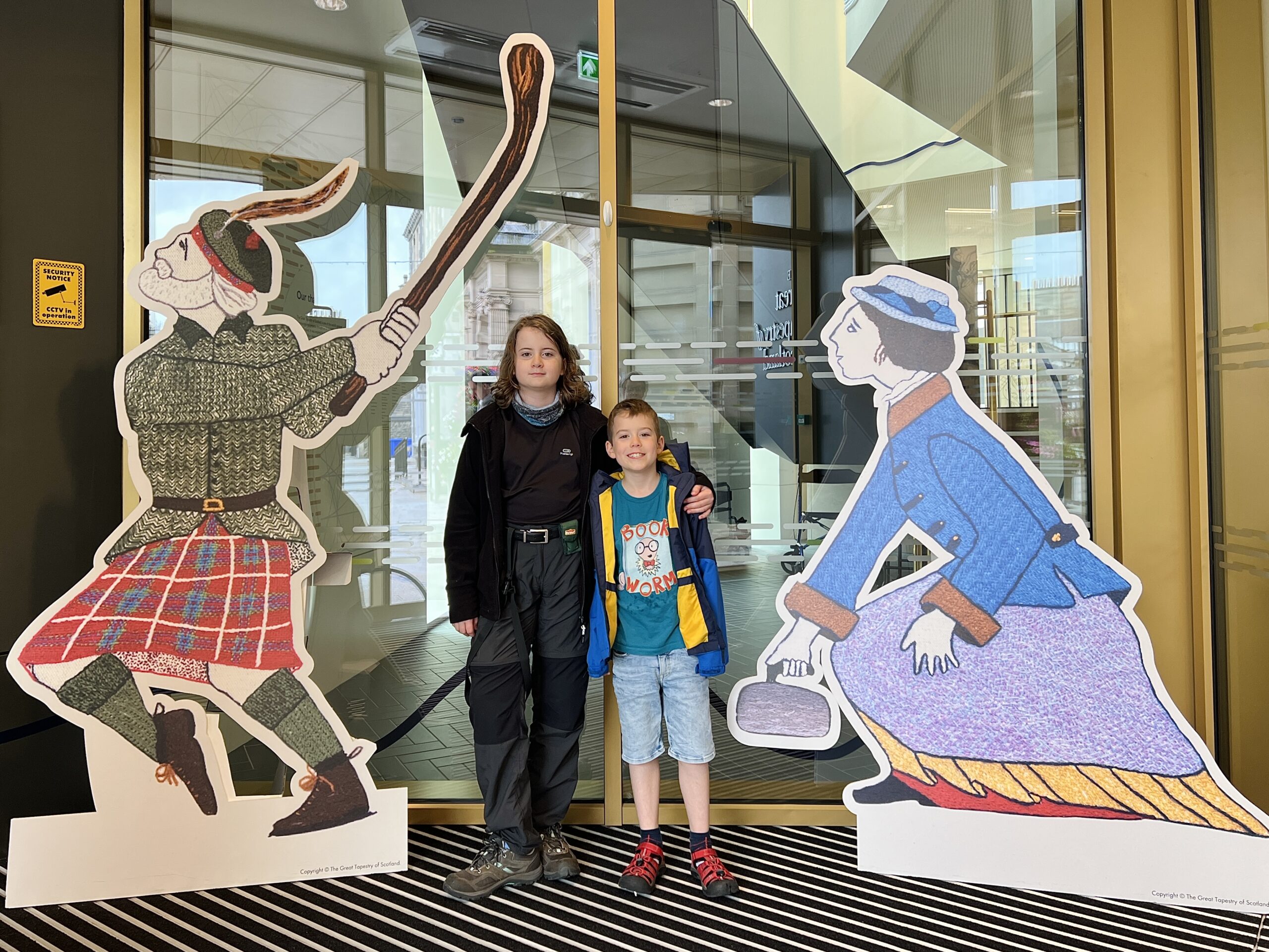 The Great Tapestry of Scotland with Kids
Happy Museum Monday! This past Saturday, we made the best of a rainy weekend and jumped on a train to Galashiels, for a day trip to see The Great Tapestry of Scotland. When I first heard about this, I wasn't sure if my boys would be interested, but a friend of mine said it was really good and we should go, and we were not disappointed.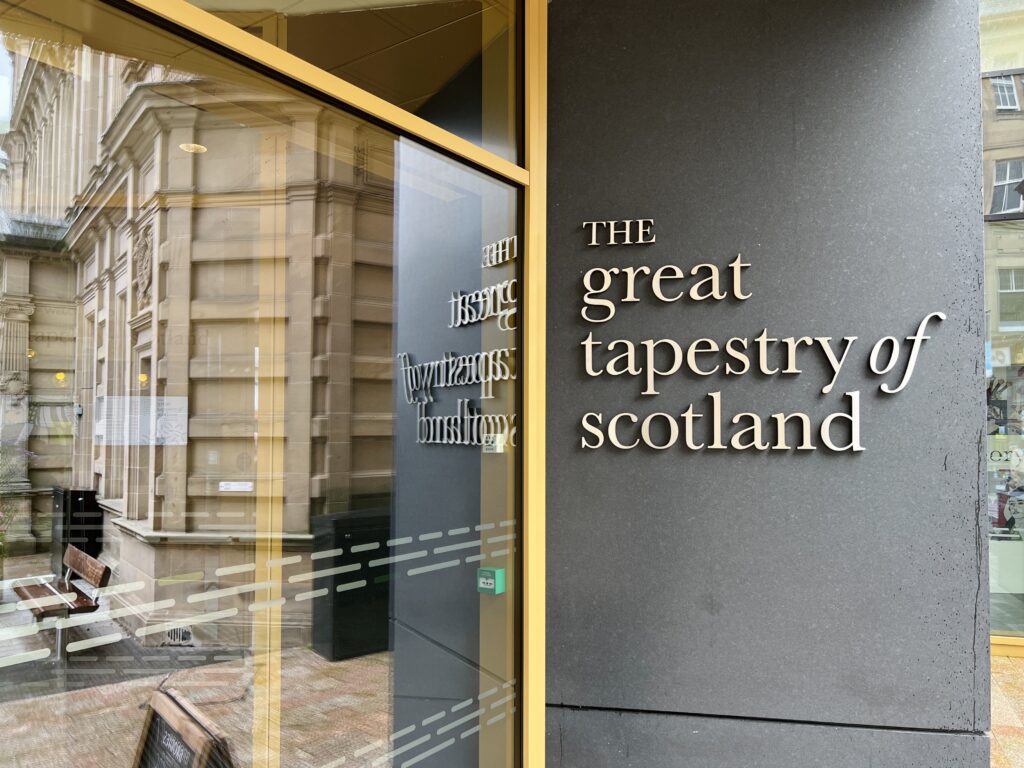 The Great Tapestry of Scotland is a series of 160 embroidered panels that tell the of Scotland's history, heritage, innovations and culture, in chronological order from the formation of Scotland right through to the present day. Split across seven zones, it includes key dates, events, places and people in Scotland's history, as well as shining a spotlight on some of Scotland's unsung heroes. The Tapestry is one of the most ambitious community projects ever undertaken in Scotland. It involved around one thousand volunteer stitchers of all ages, from a broad cross section of society. Although it's called a tapestry, the technique used is actually embroidery. Galashiels was chosen as the location for the Tapestry, because of its textiles history.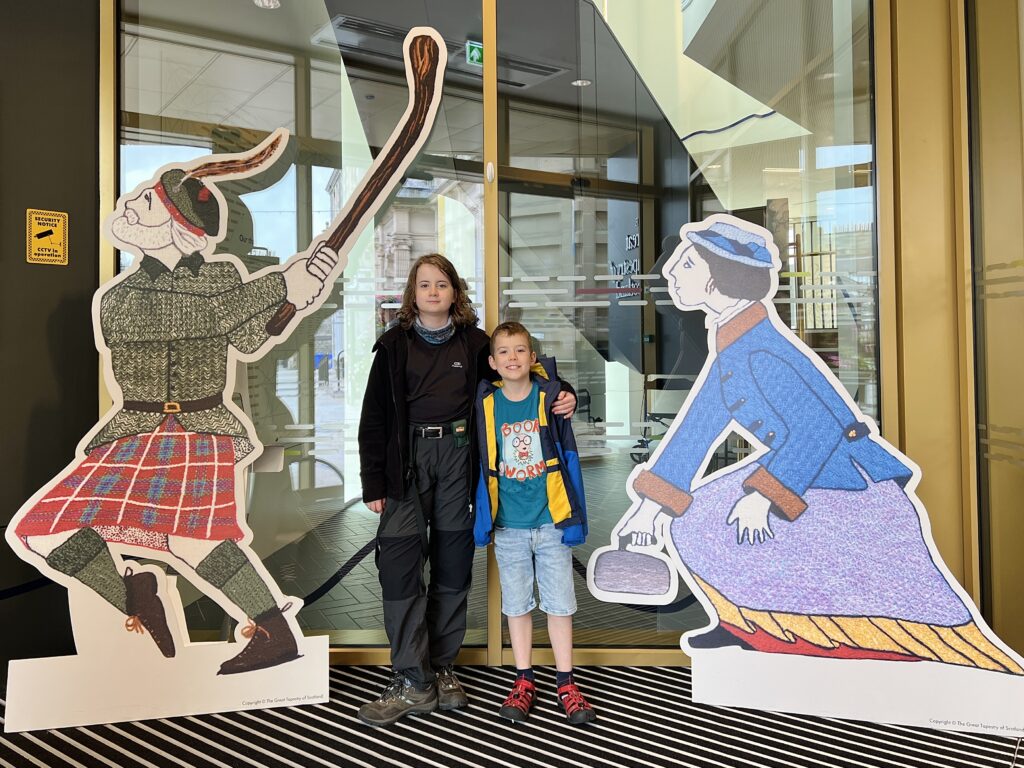 The information in the exhibition is very layered, which is great for catering to different ages, and interest & learning levels. You can read or listen, you can go through all 160 panels in detail or focus on highlights, and there were various options to keep the kids engaged too. Let me briefly talk you through them.
Tapestry Tours App
First, there's the exhibition app. You'll need to download this to your own device, so it's advised to do this in advance. Our younger son doesn't have his own phone yet, but luckily we had prepared in advance and sorted out an old spare phone for him to use during our visit. Don't forget to bring headphones too!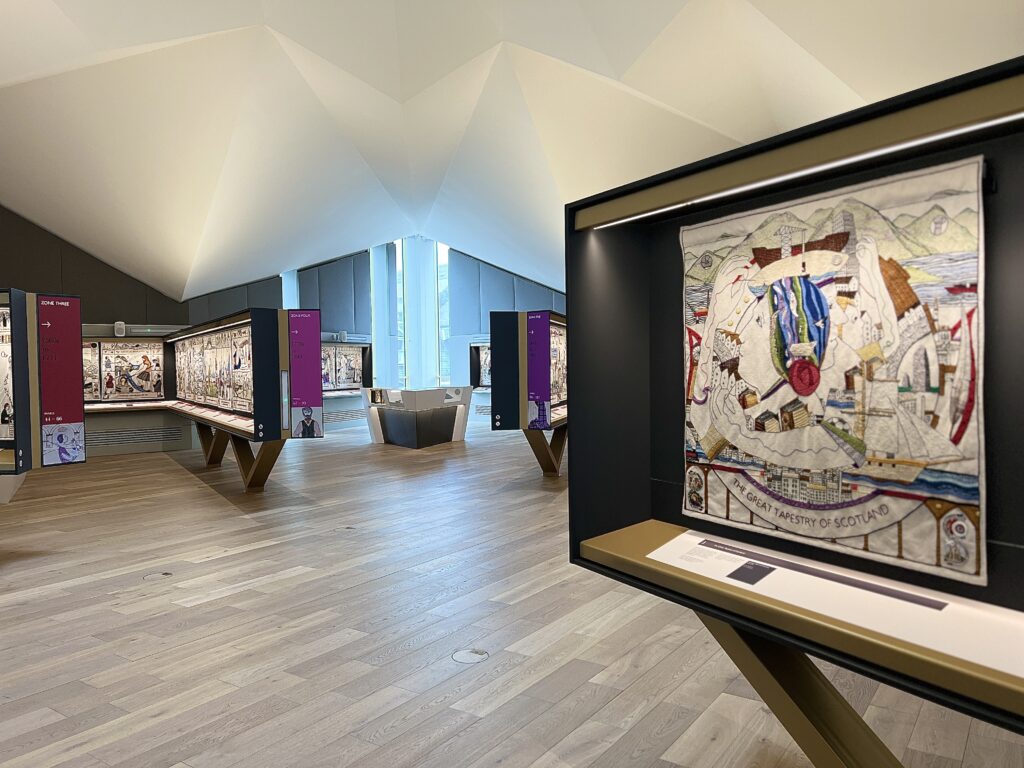 The app had three options. There's the 'Short History of Scotland' audio guide, which picks out 30 of the panels across the exhibition to give you a whistle stop tour of Scotland's history. The recordings are all around half a minute to a minute, and each include an additional image, e.g. photographs of landscapes or portraits of historical figures, that is relevant to the specific Tapestry panel. Although they're not very long, I'd say content and language wise these are probably aimed more at adults or older children. My 12 year old listened to a few of them.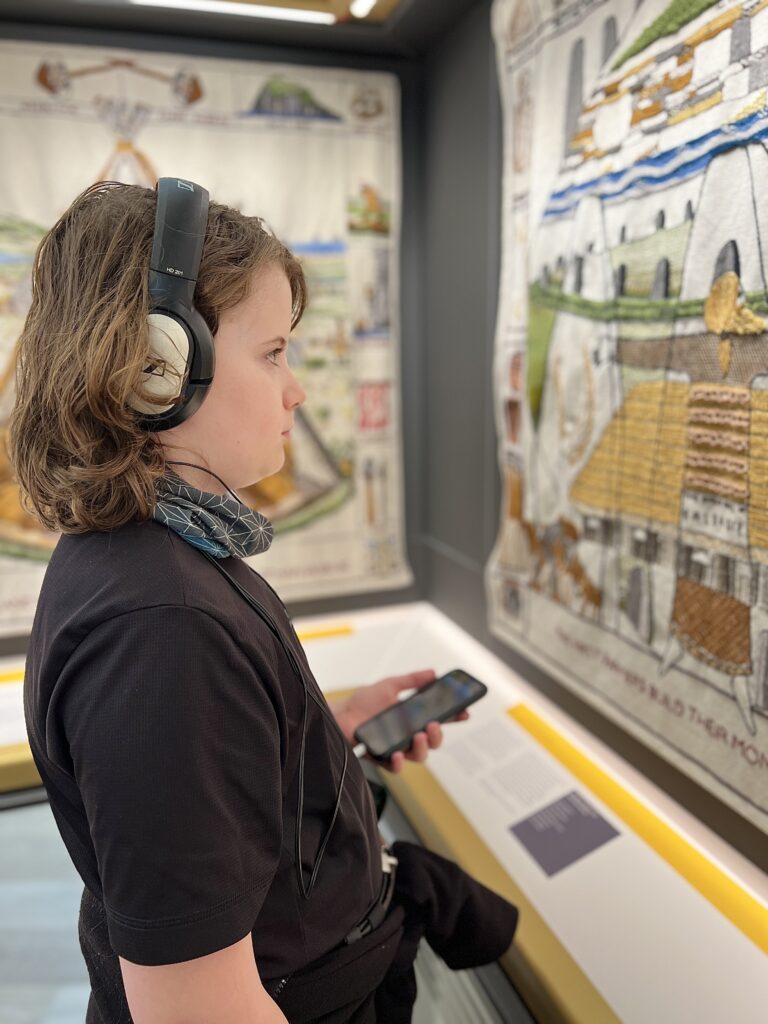 Then there's 'Hidden Stories', where some of the stitchers talk a bit more about ten selected panels – which are different from the ones in the 'Short History', the stories behind their creation, and some of the hidden things to look out for in the panels, such as a flea bite on a welder's neck, or three flying ducks where you wouldn't expect them. My 8 yr old really enjoyed listening to the Hidden Stories.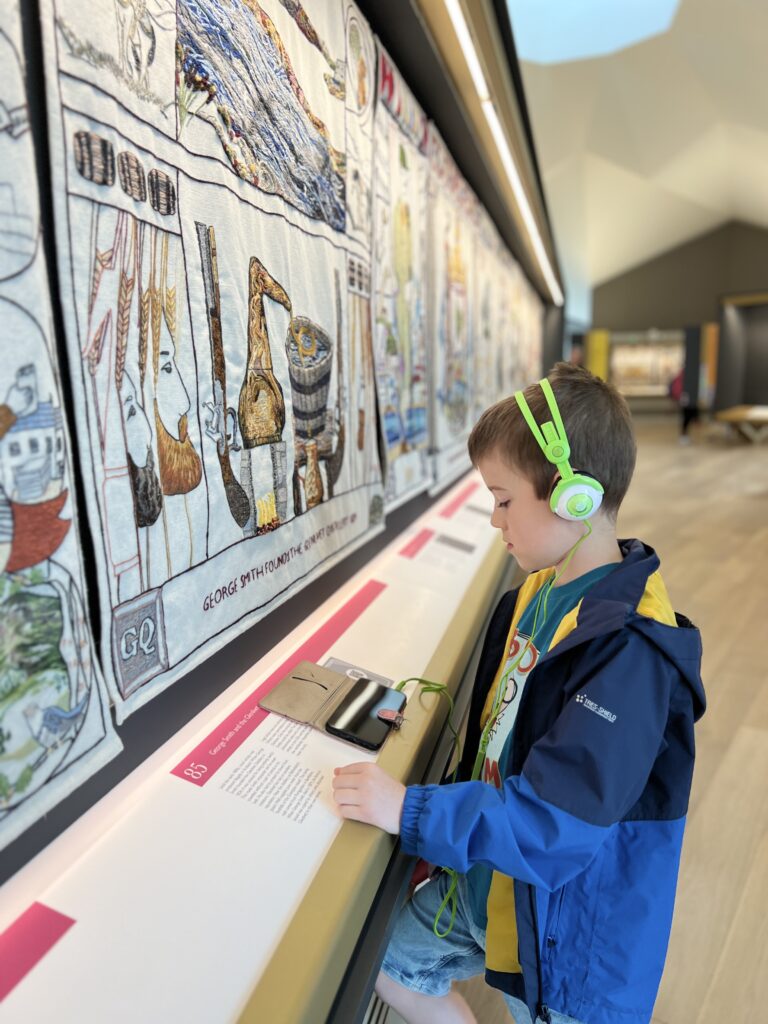 The last app option is called 'Stitch Seekers' and is aimed at children (though us grown ups had fun doing it too). This takes you round another ten panels, and each stop in all has a clue that for something you need to find. Once you've spotted it, you use the app to scan the panel, and the item will appear in your app. You can then arrange the collected items to 'create' your own virtual tapestry panel. Stitch Seekers does not include audio, which means you don't need headphones for this option.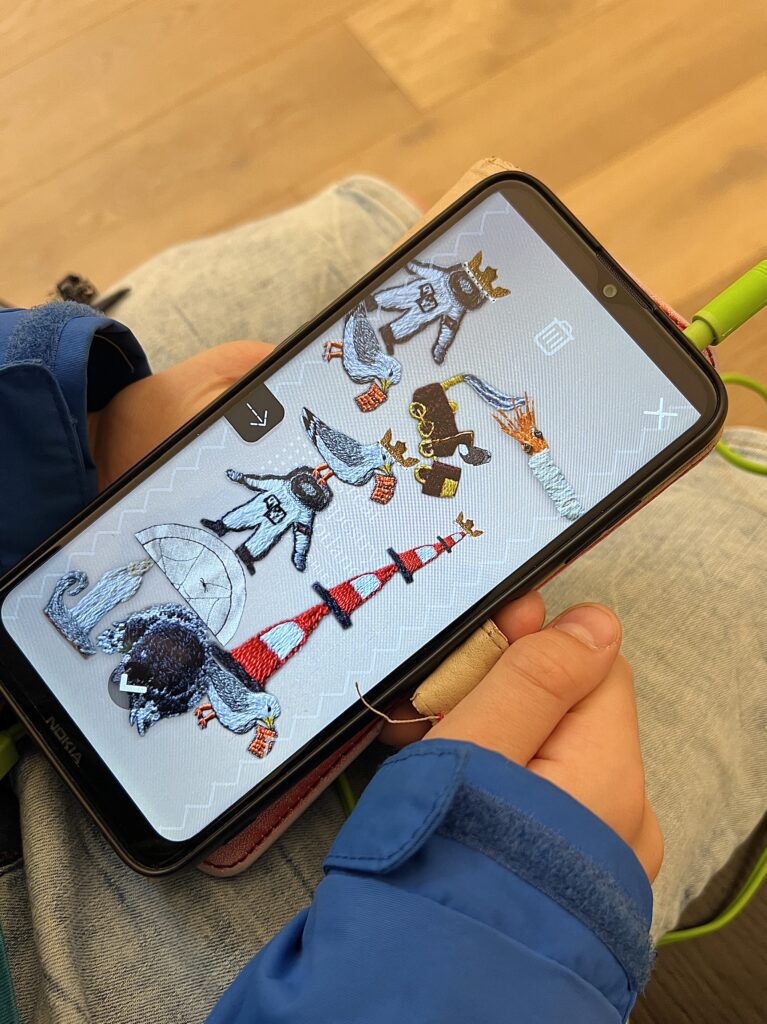 Sound Scapes
This is actually part of the 'Short History of Scotland' audio guide. On ten of the tracks (5, 7, 8, 14, 19, 20, 21, 24, 27, 30) you can additionally scan a QR code to listen to a sound recording. Some a soundscapes, to evoke the atmosphere of the relevant panel – e.g. Vikings at sea, a battlefield, or railroad tracks – whilst others include e.g. a recital of a Burns poem, and the opening words when the Scottish Parliament reconvened in 1999. My 8 year old went round and listened to all of them.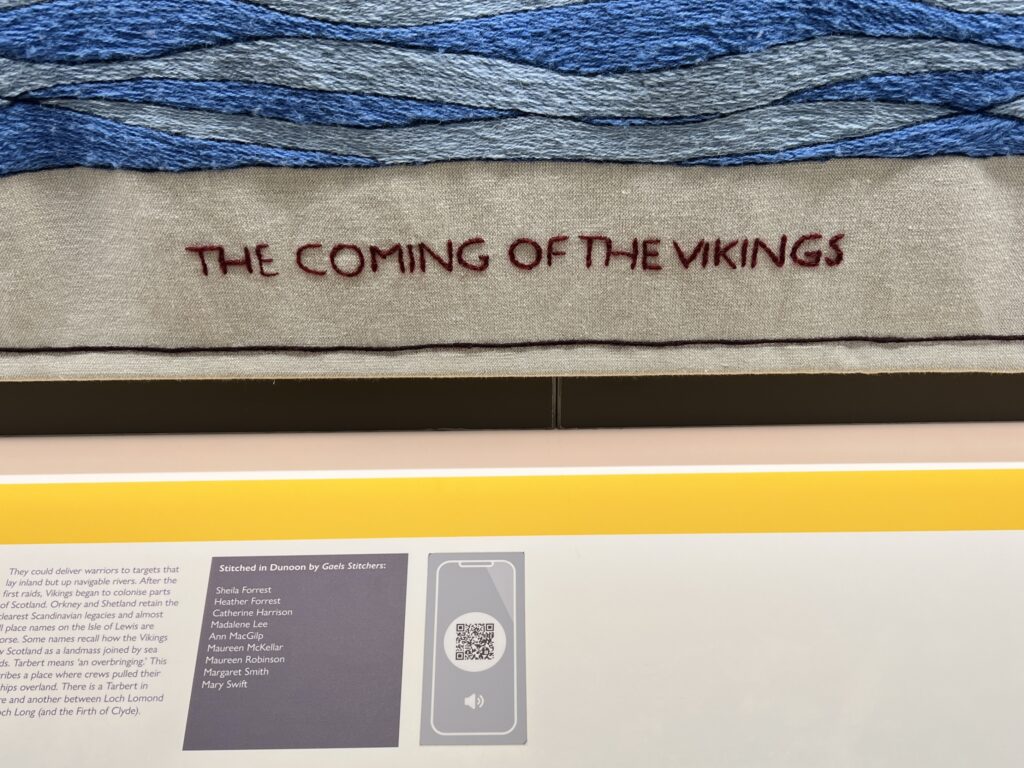 Kids Corner
Below each Tapestry panel, was some text on what the panel is about, details on who stitched it and where they were from. For some of the Tapestry panels – we counted fifteen in total – there was additional text specifically aimed at children. You can easily spot these, as they say 'Kids Corner' in big letters. It was a mixture of things to look for ("Can you find the baby?" "What does Greyfriar's Bobby want to eat?"), things to count ("How many shields can you see?"), and pointing out things that a child might be able to relate to, e.g. one of the Tapestry panels included the words to a nursery rhyme, so the Kids Corner gave some more information about the meaning of the nursery rhyme.
Tapestry Samples
Although the Tapestry panels are not behind glass, you are not allowed to touch them. However, there are three spots around the gallery where you can look at – and touch – some Tapestry samples close up. It's a great opportunity to have a close up look at the different stitches and textures used.
Quiz Book
The boys were each given an 8-page booklet when we entered the gallery. The booklets splits the panels in to five sections, and each section has a different challenge to complete: spot the difference; find the names of famous faces; answer the quiz questions; find the animals; and a word search. For each challenge, the answers can be found in the Tapestry panels. There's also space in the booklet to design your own Tapestry panels, plus some ideas to try at home.
Match the Makers Quiz
As well as the booklets, the boys also reach received a 'Match the Makers' quiz sheet. The stitchers who made the panels worked in groups. Each groups designed a special picture and used it to sign their panels. In the gallery, there are five seating areas, which have copies of the maker's pictures set in to them. In the Match the Makers quiz, you need to find eight of these pictures, and from the clues next to them work out which of the nearby Tapestry panels is being described. Write down the numbers of the panels, and when you have all eight of them, take your sheet to reception to collect a prize! The prize was a Tapestry postcard, which the boys got to choose themselves from a selection in the gift shop. I thought this was a really nice touch, as they each got to choose a different one and then they had a nice wee souvenir to take home.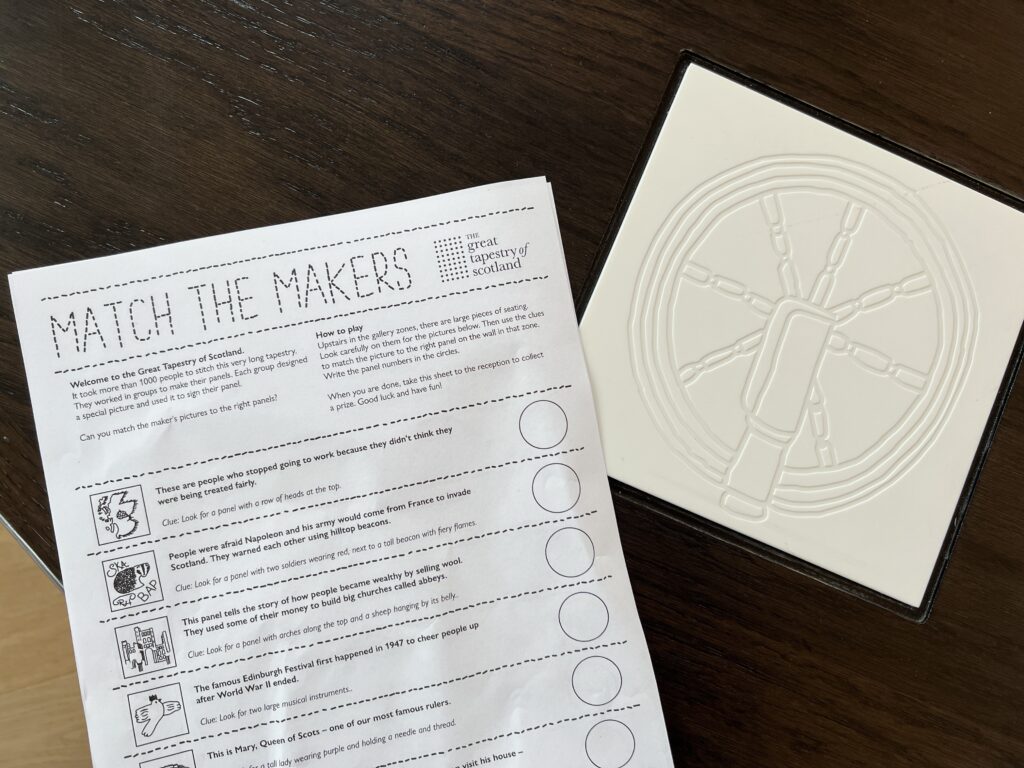 Magnifying Glasses
It's not really a layer of interpretation, but the big chunky magnifying glasses you could borrow definitely added to the experience of viewing the Tapestry. My kids took great joy in taking them around to look at the panels more closely. We gave them the challenge to see how many different textures they could spot.
Overall, I have to say, I was really impressed with how much there was to engage children with the Tapestry. There is a barrier to using the app, if you don't have your own device, but then there's still the Kids Corner challenges to do, and the Tapestry samples to look at, as well as the Quiz Book and Match the Makers quiz. There's also a couple of display cases to look at, showing e.g. sketches that were made in the design phase of the project, or stitching supplies used.
And when my 12 yr old ran out of things to do and the rest of us hadn't quite finished (surprisingly, my 8 yr old actually lasted the longest out of all of us, we ended up almost having to drag him out to go for tea in the cafe…), we challenged him to go round and pick a favourite panel in each of the seven zones. He also remembered the game we usually play when we visit art galleries, and picked out the artwork with the best moustache!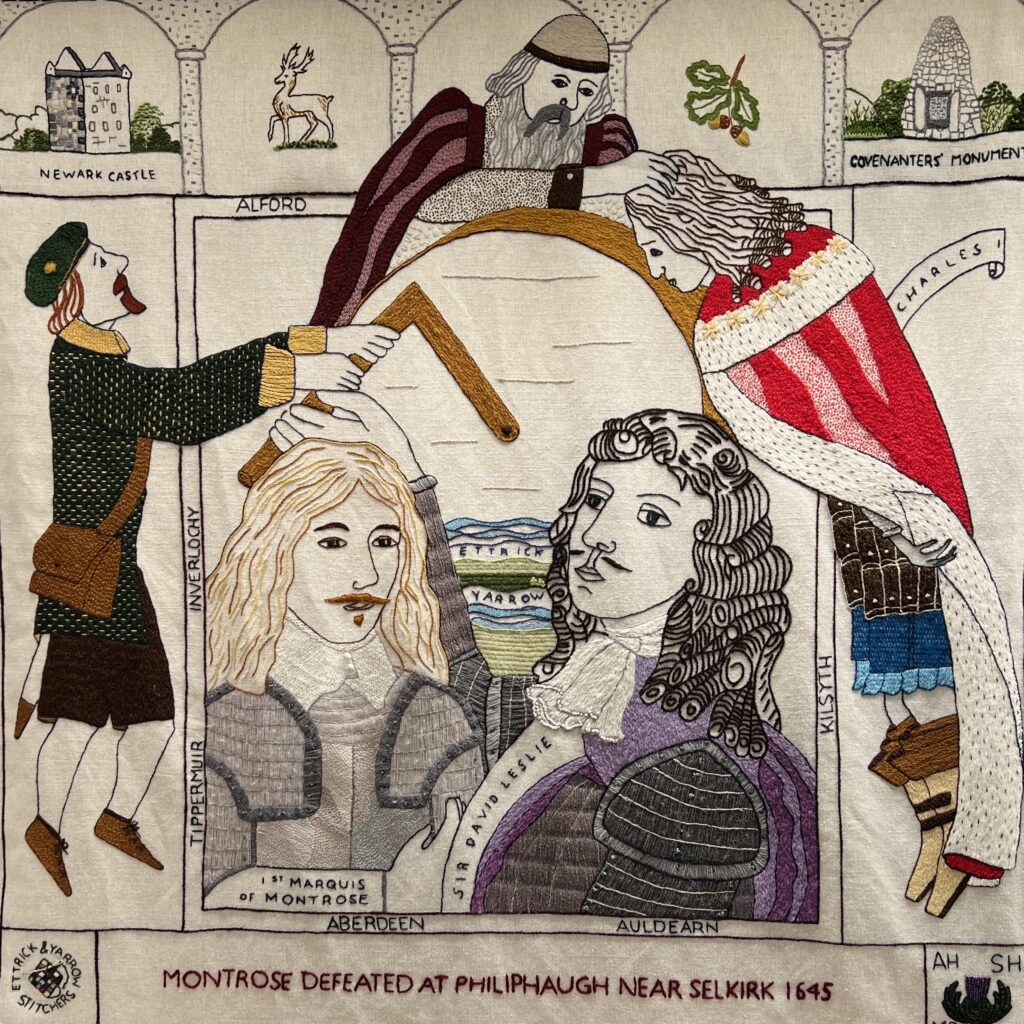 We spent around three hours in the exhibition itself, and you can go in and out all day with your ticket, so we took a break half way through to have lunch and get some fresh air.
I wouldn't have initially expected it, but it was definitely a great family day out! I would really recommend it. Also, keep your eyes out for special activities and events during school holidays. Oh, and don't forget to check out the toilets – each one has a different stitching technique highlighted on the walls.
How to get there
Location: 14 – 20 High Street, Galashiels, TD1 1SD
The Great Tapestry of Scotland is really easy to get to via public transport. You can take a direct train from Edinburgh Waverley to Galashiels, which takes just under an hour, and then it's only a five minute walk from Galashiels train station.
Visitor Info
Opening hours: Monday – Sunday, 9:30 – 17:00
Cost: Adult £10.50, Child (age 5-17) £4.50, under 5s free; Family tickets £16.00 to £24.50, depending on size of family; Annual tickets available
Website: www.greattapestryofscotland.com