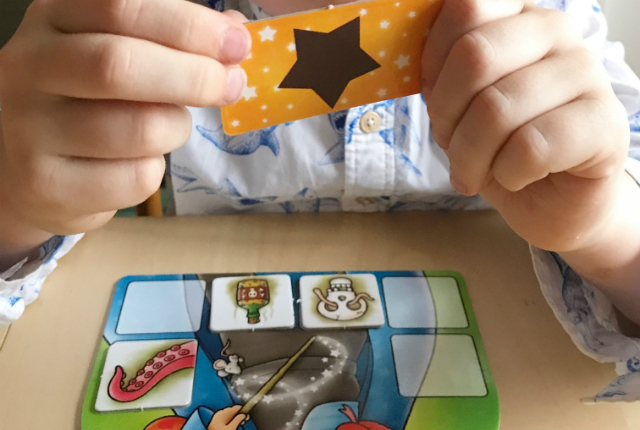 Review: Magic Maths Game [AD]
Today, I want to share a great little educational game with you. As I mentioned before, I was approached a while ago by Orchard Toys, to join their team of bloggers, so we have been testing some games for them. We previously reviewed Cheeky Monkeys for them, which was a big hit with the whole family, and this time we have been testing a game called 'Magic Maths' just with Oskar, who is in Primary 3 (equivalent to Primary 2 in England), and which focuses – as you can maybe guess by the name – on furthering maths skills in a fun and playful way.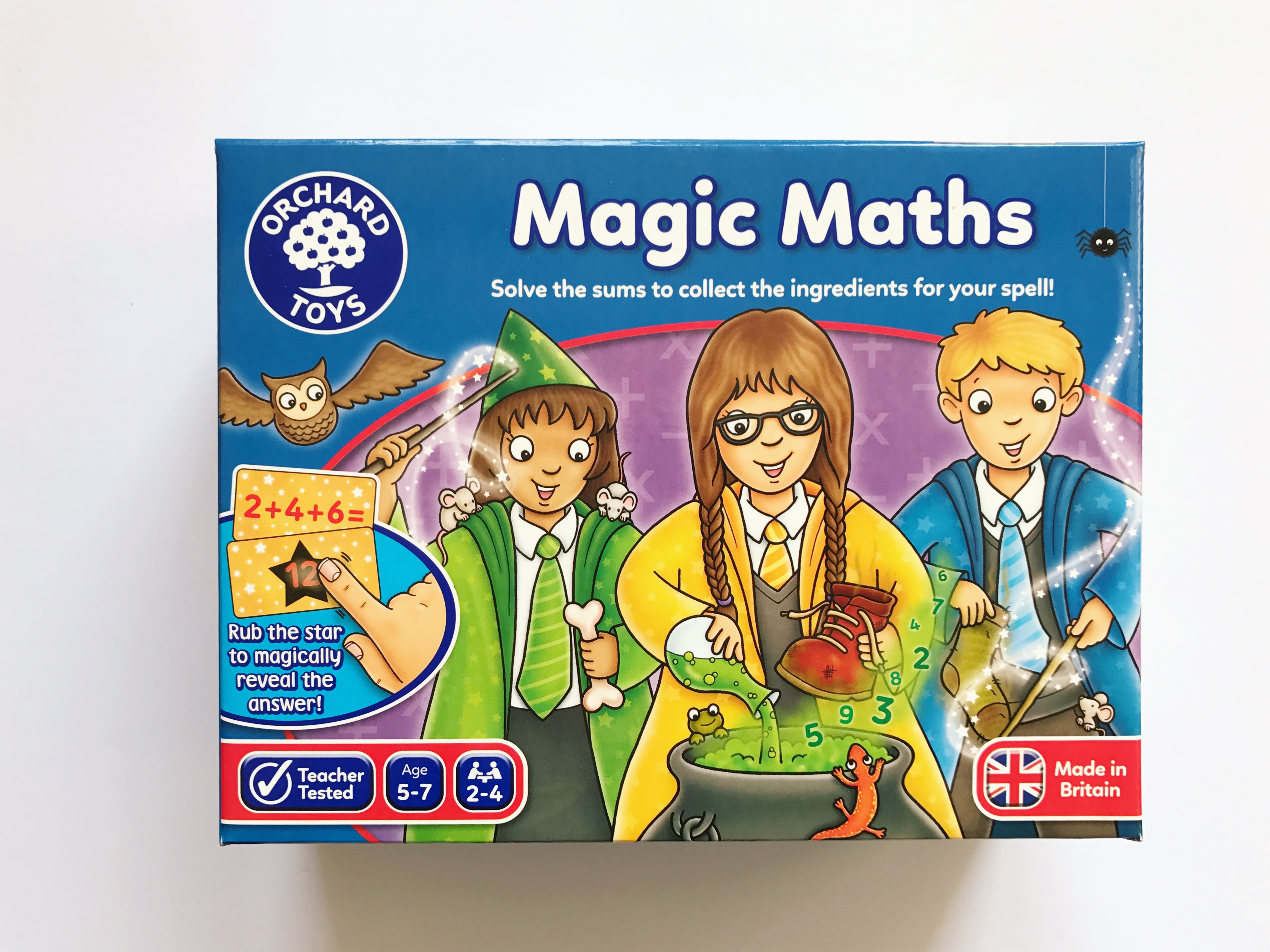 What's in the box? In the box, you will find 4 wizard boards, 30 magic sum cards (which have a sum on one side, and a star on the reverse), 30 spell ingredient cards (which have a number on one side, and a picture of an ingredient on the reverse), and one set of instructions. Before you play it for the first time, you will need to pop out all the cards.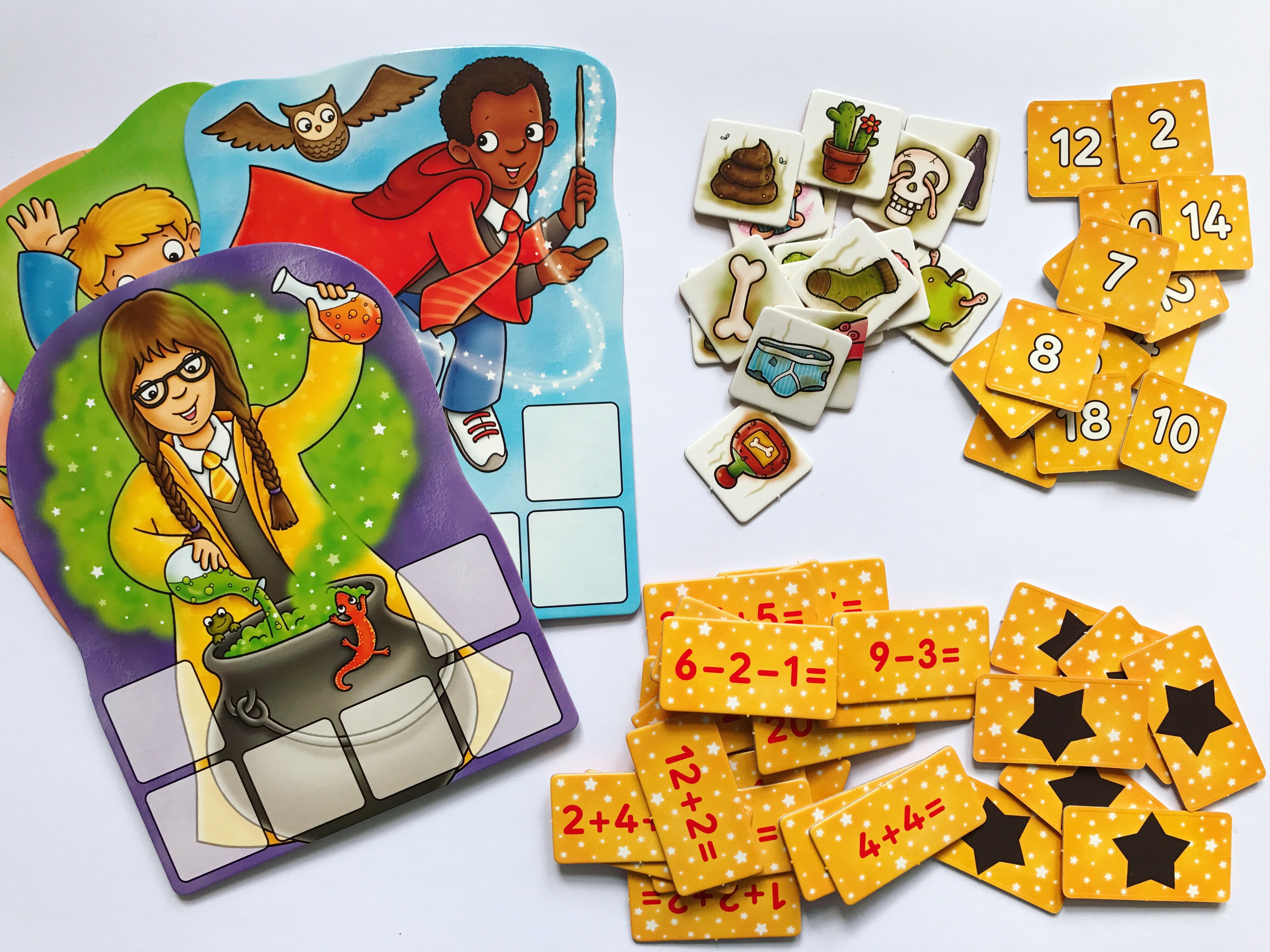 The sums include fourteen addition sums, adding two or three numbers together, mostly up to 20 but with a couple that go higher; eleven subtraction sums, mostly up to ten, with two larger sums and one subtracting three numbers; and, finally, five multiplication sums, with one from the five times table, one from the ten times table, and the others from the two times table.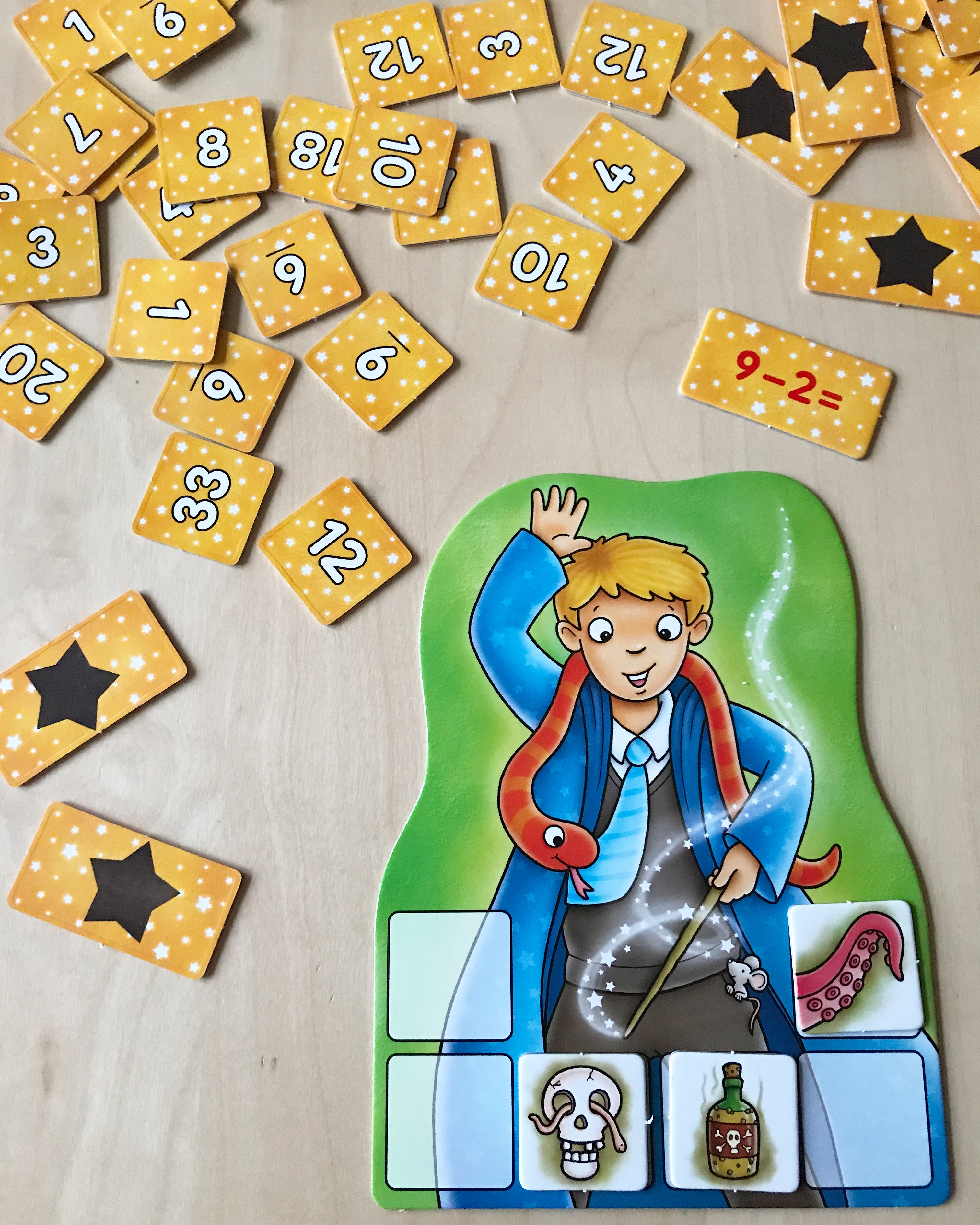 Game Play: Before you start the game, everyone chooses a wizard board, and gets dealt 6 spell ingredient cards which you put number side up in front of you. The magic sum cards are spread star side up on the table. When it is your turn, you pick a sum card and try to solve the sum, without showing anyone your card. Once you think you have solved the sum, check the numbers on your spell ingredient cards to see if any of the numbers match your answer. If you have a matching card, you shout 'Abracadabra!' and rub the star on the back of the sum card – which will reveal a hidden number – to check if your answer is correct. If you are right, you can place the ingredient card picture side up on your wizard board, and the game continues with the next player.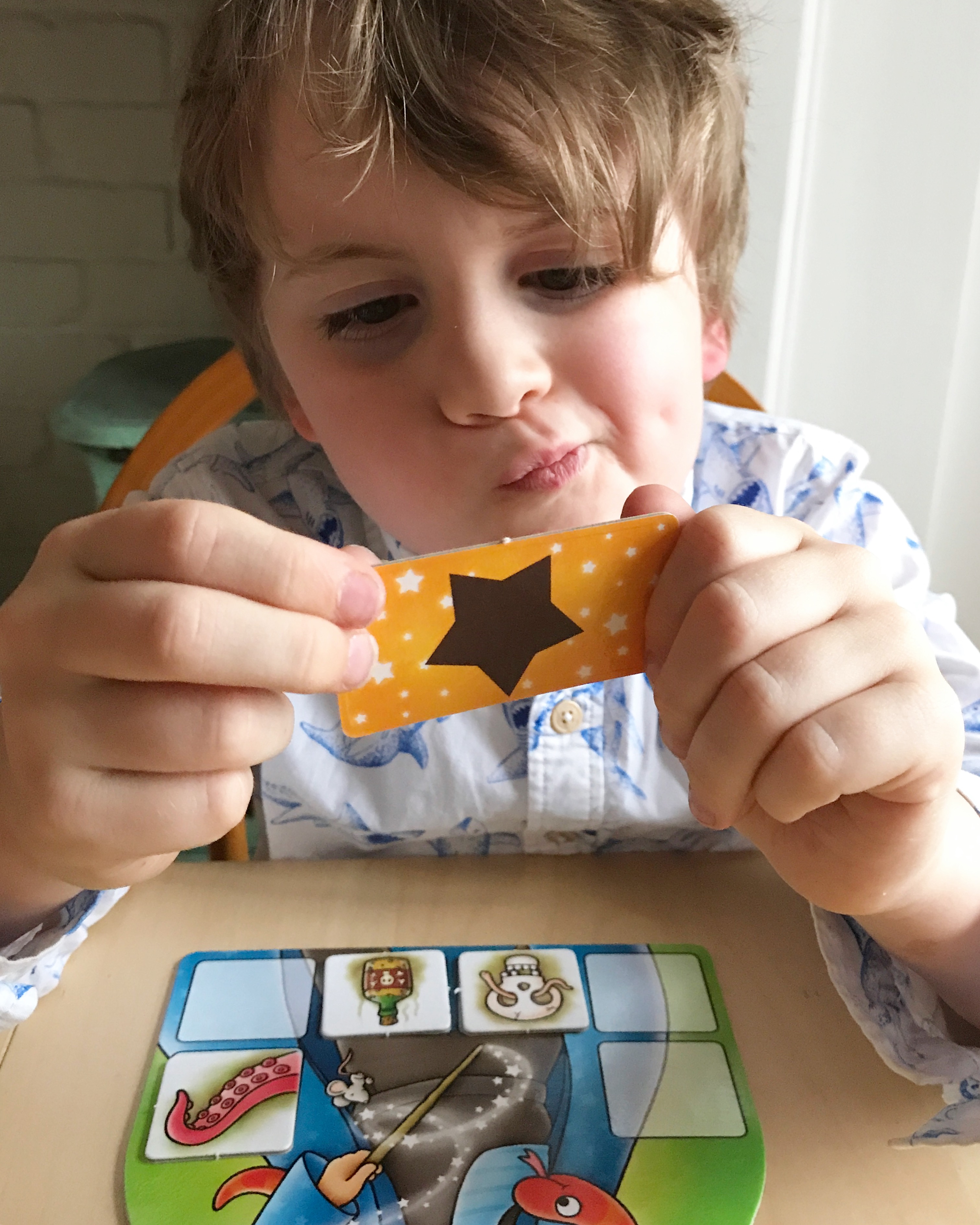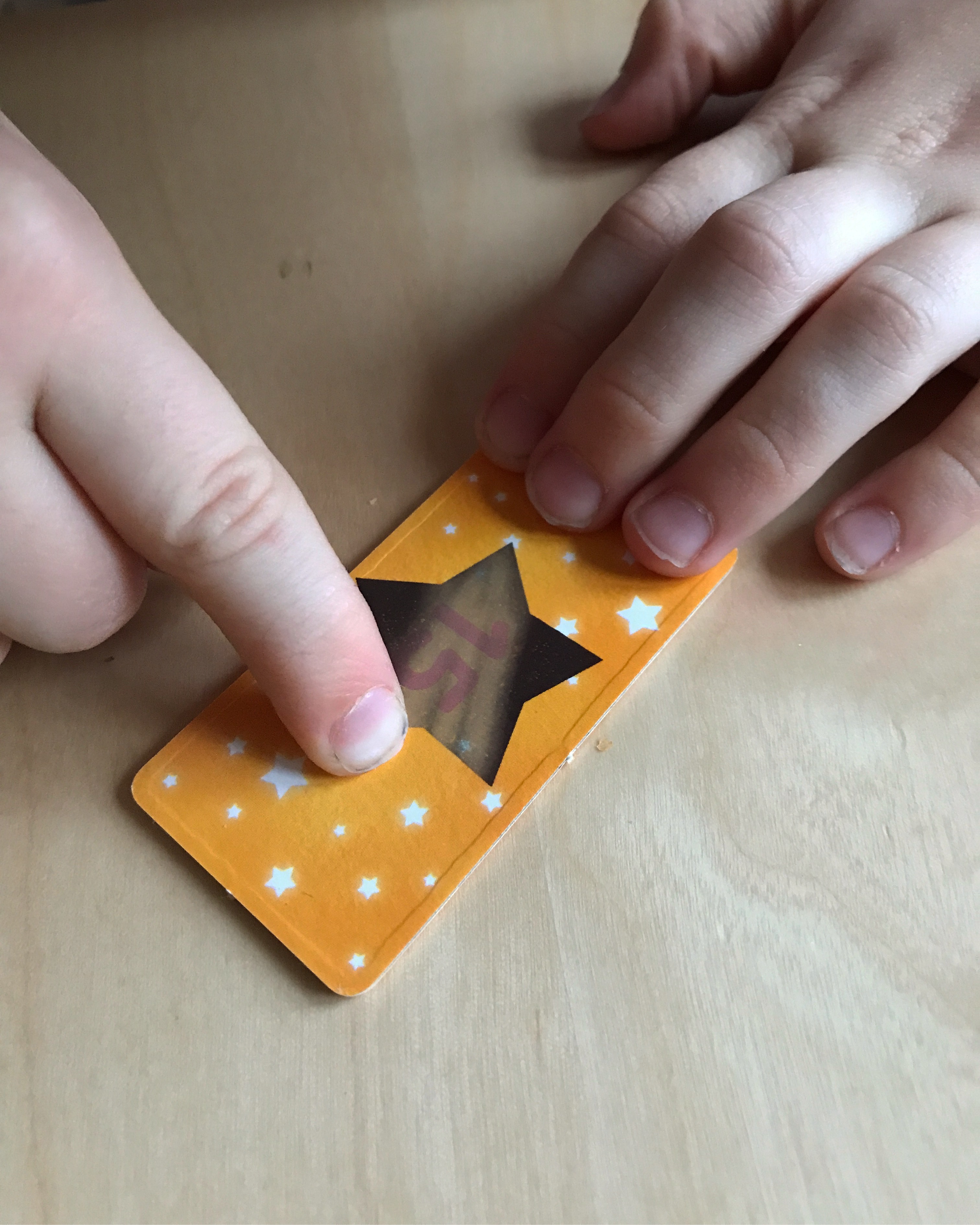 However, if you are wrong, or if none of the numbers on the ingredient cards in front of you match the answer to your sum, the other players get a chance to answer, and the first person with a correct match, to shout 'Abracadabra', gets a card for their wizard board. If nobody has the matching answer, the sum card gets put aside and the game continues with the next player. The winner of the game, is the first person to place six ingredient cards on their wizard board.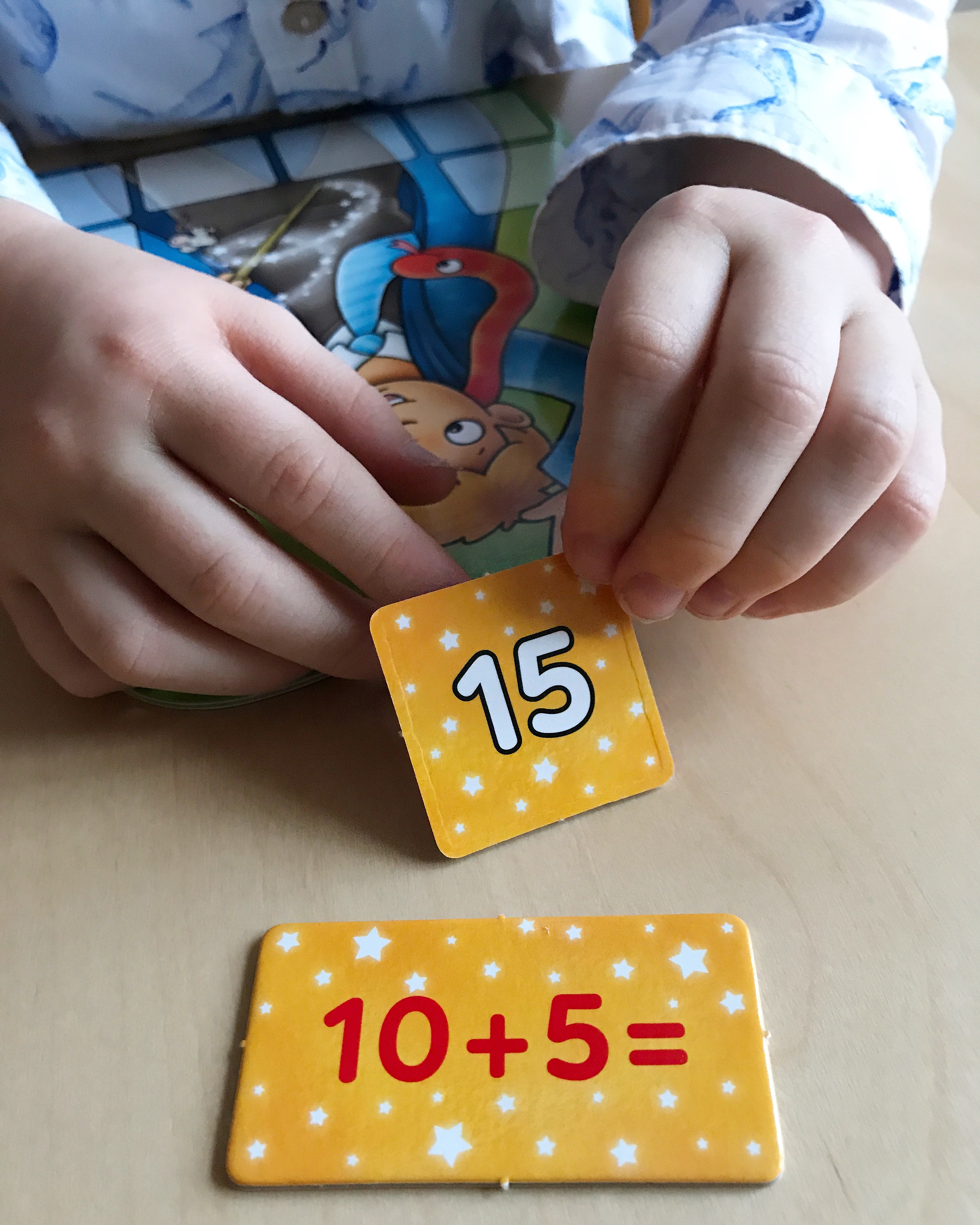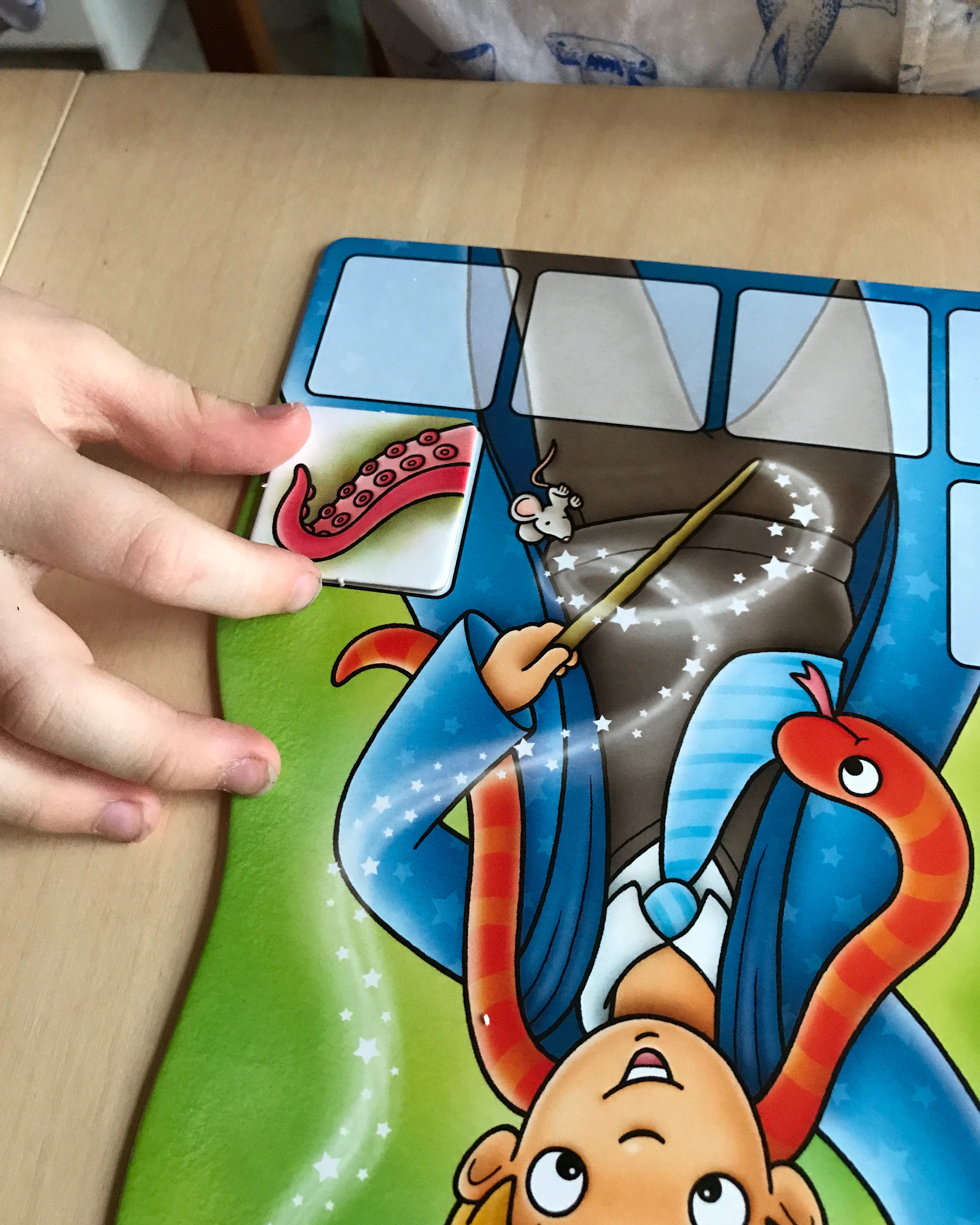 Some variations we play: When there are only two of us playing together, it can get a bit boring if there are lots of sums that no one has the answer to, so we increase the number of ingredient cards each player has in front of them to ten cards instead of six. Another variation we play, just to mix things up a little, is to have all the ingredient cards on a pile in the middle, and once a player thinks they have solved their sum, they have ten seconds to find the right answer card in the pile (we use a timer from another game for this).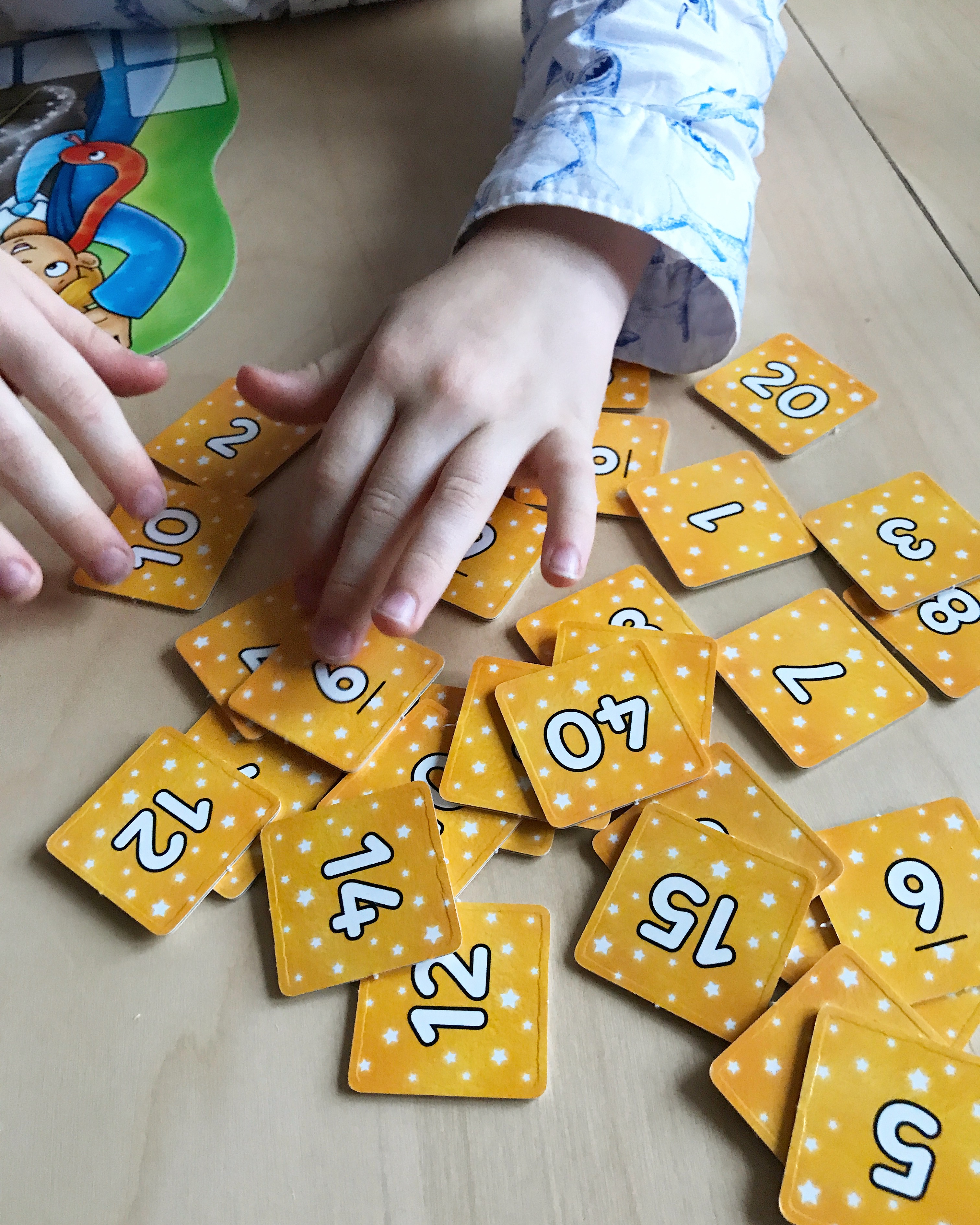 What Oskar thought: To be perfectly honest – and since this is an honest review – Oskar wasn't too keen on this game at first. I guess it sounded too much like homework, haha. But once I'd persuaded him to give it a go, he really got in to it. Hey, maths *can* be fun! His favourite part is rubbing the magic stars to reveal the hidden numbers, and he also loves the pictures of the 'yucky' spell ingredients, like the eyeballs, or the brain, or the smelly underpants.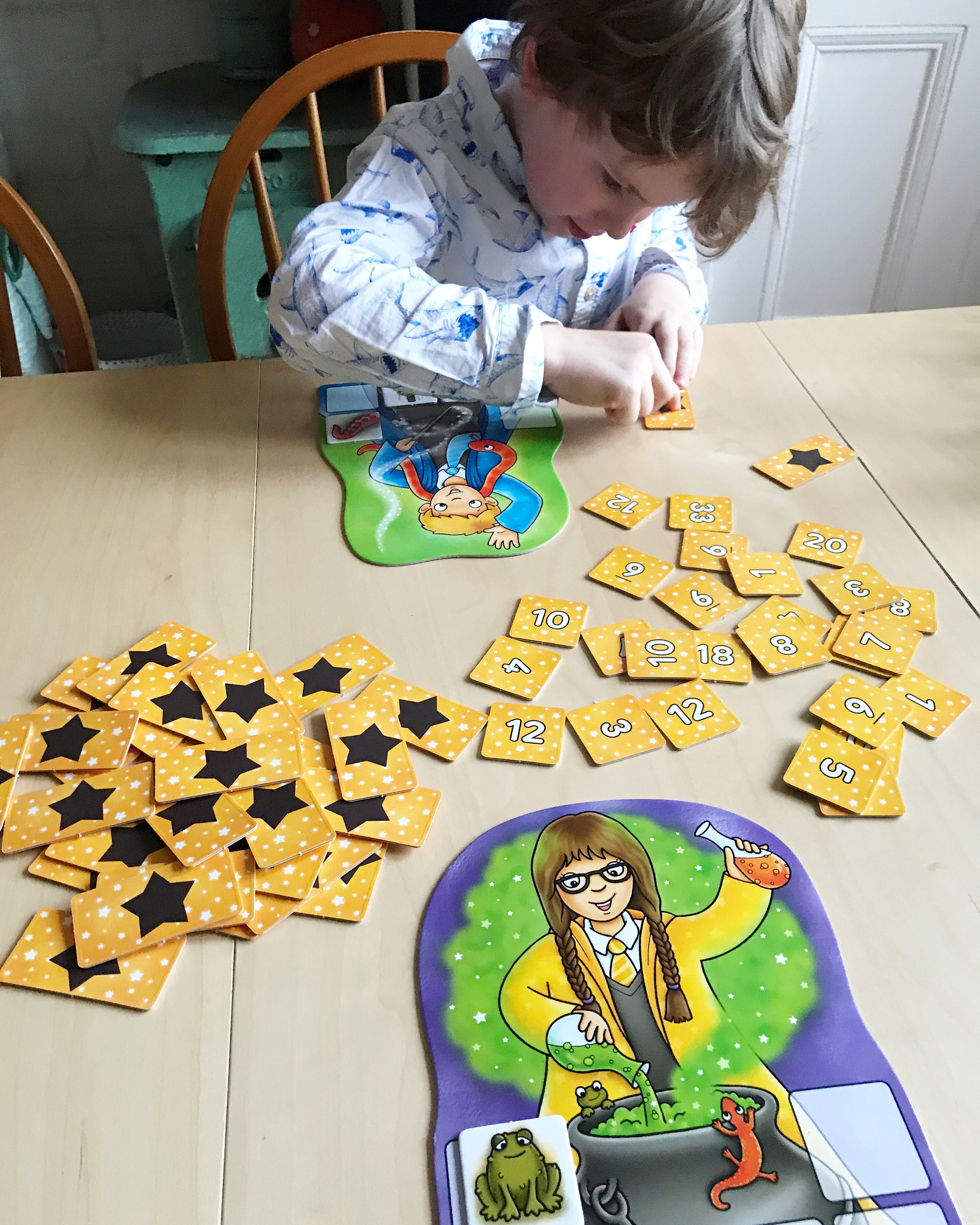 What mummy thought: This game is aimed at ages 5-7, and according to Orchard Toys "has been designed specifically for KS1 maths in collaboration with teachers and educational professionals". Oskar has just turned 7, so is at the upper end of the age range, but due to the different school systems in Germany and Scotland, he had to jump from Primary 1 straight in to Primary 3 (equivalent to Reception & Primary 2 in England) when we moved in the summer. This means that he has a few gaps to catch up on, and is a bit weak on his number facts and mental maths. We've been working with him to get him away from using his fingers, so this game has been excellent in reinforcing mental maths in a fun way. This is a game we have just played with Oskar, since his little brother at age 3 is just too young for it. But that is okay, not every game we have needs to be able to be played by the whole family.
Magic Maths is available from the Orchard Toys website, and retails at £12.00
---
Disclosure: We received a free copy of Magic Maths from Orchard Toys, in return for an honest review. All images, words and opinions are our own.