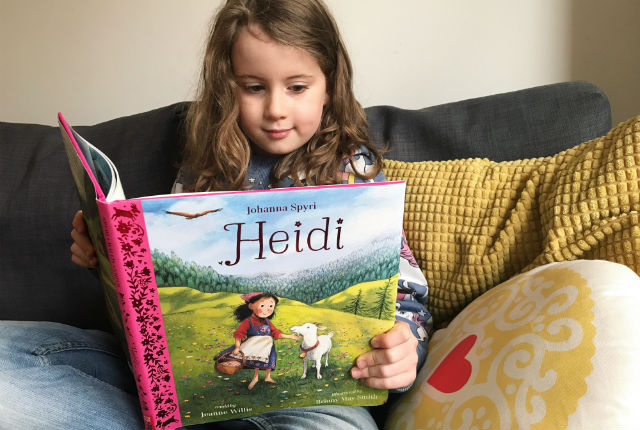 Review: Heidi – A Favourite Childhood Classic [AD]
If there is anything I love more than reading books with my kids, it's reading books with them that I used to love myself as a child. One childhood classic my parents used to read to me is Heidi, by Swiss author Johanna Spyri, first published in 1881. So when Nosy Crow offered to send me a copy of their new edition of Heidi for review, I jumped at the chance!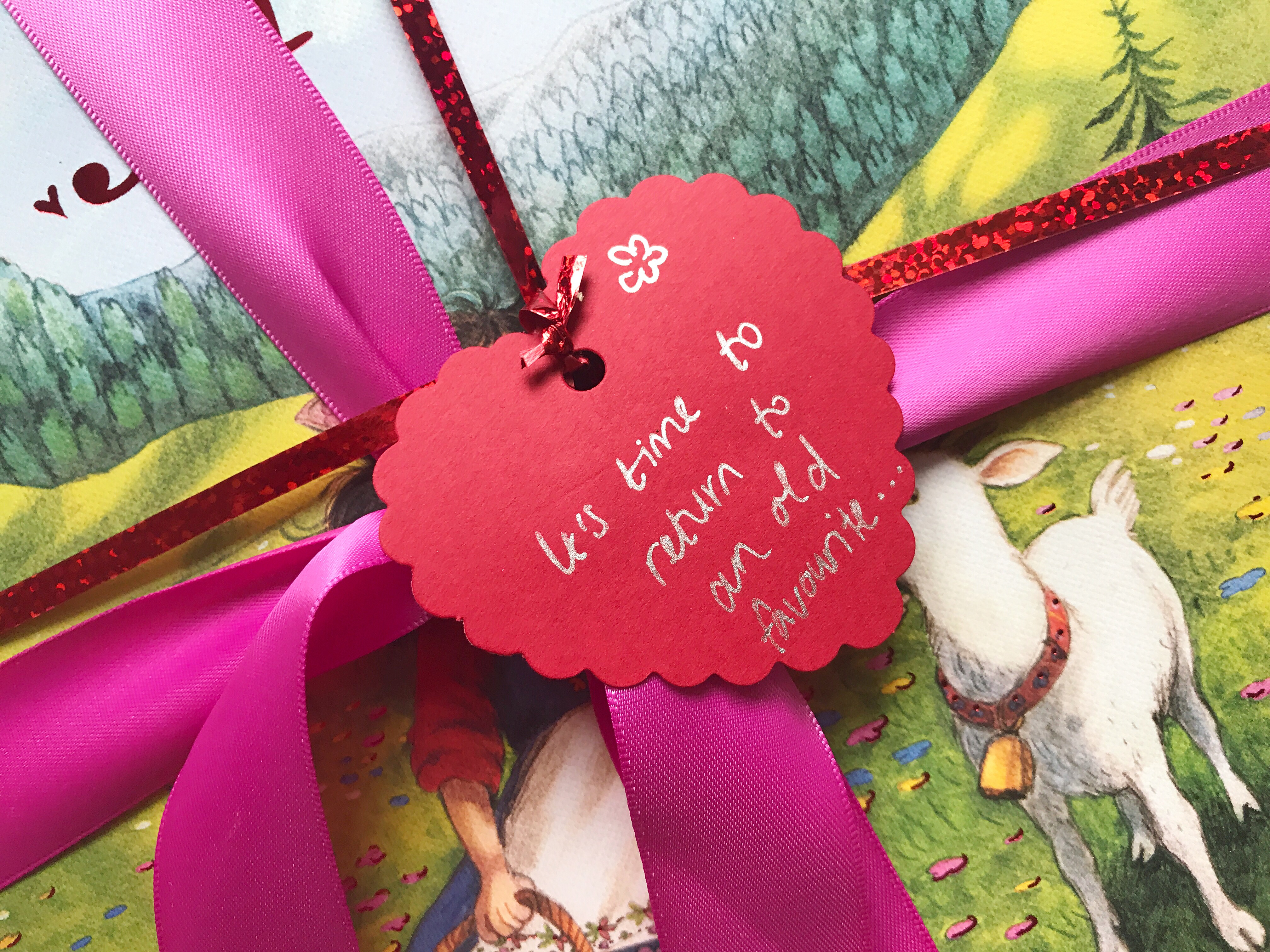 Heidi tells the story of a little orphaned girl who, at age five, is taken by her Aunt Dete – who had been looking after her since her parents' death – to live with her grandfather in the Swiss Alps. Her grandfather is known as being an unfriendly old grouch who lives in seclusion on the mountainside, but Heidi soon warms his heart and discovers a kind and gentle man behind the gruff facade. Heidi grows to love her new life, running wild in the mountains and making friends with Peter the goatherd and his family. Until the day she is whisked away again by her Aunt Dete, this time to the big city of Frankfurt in Germany, to be the companion of wheelchair-bound little Clara.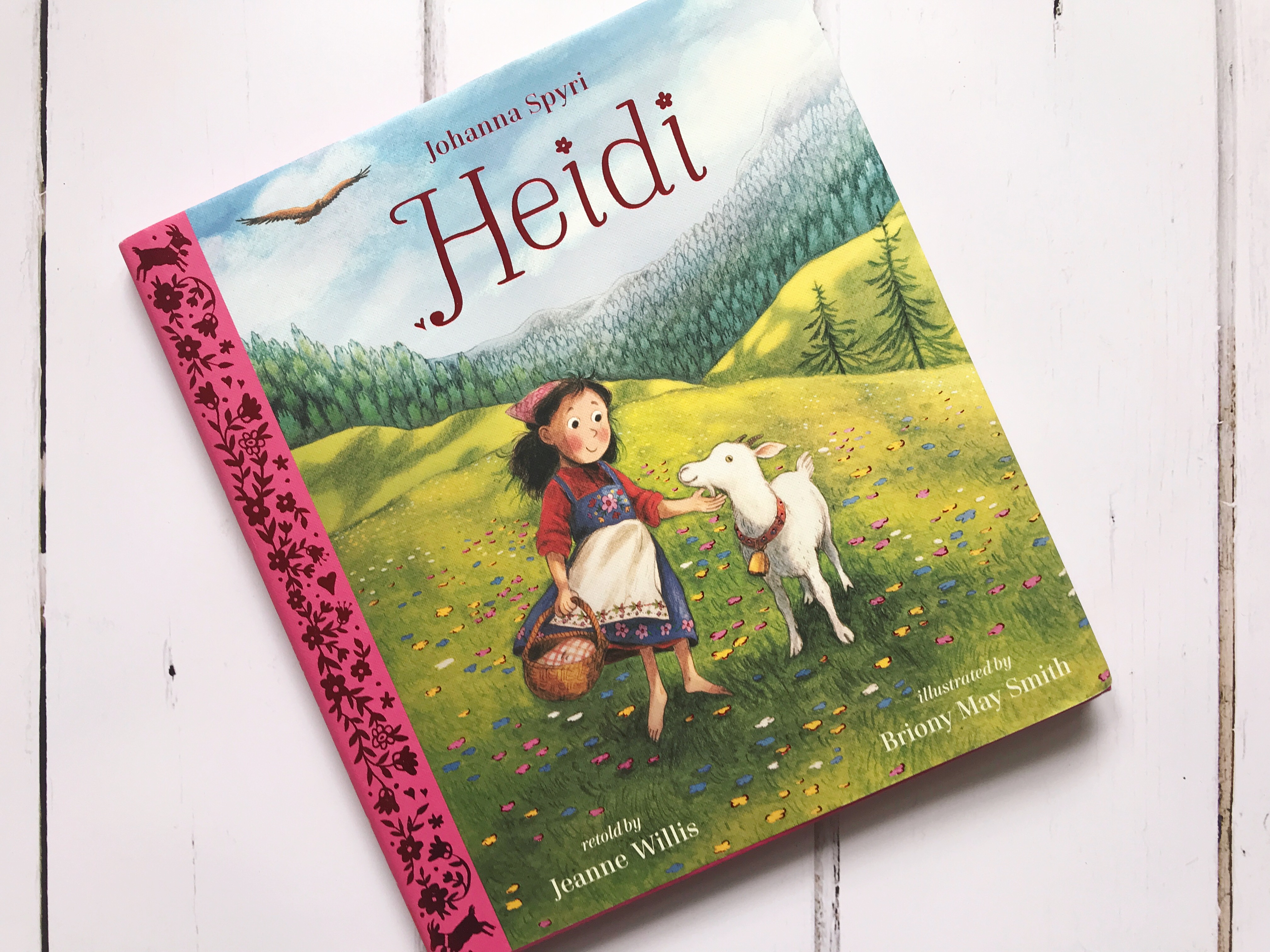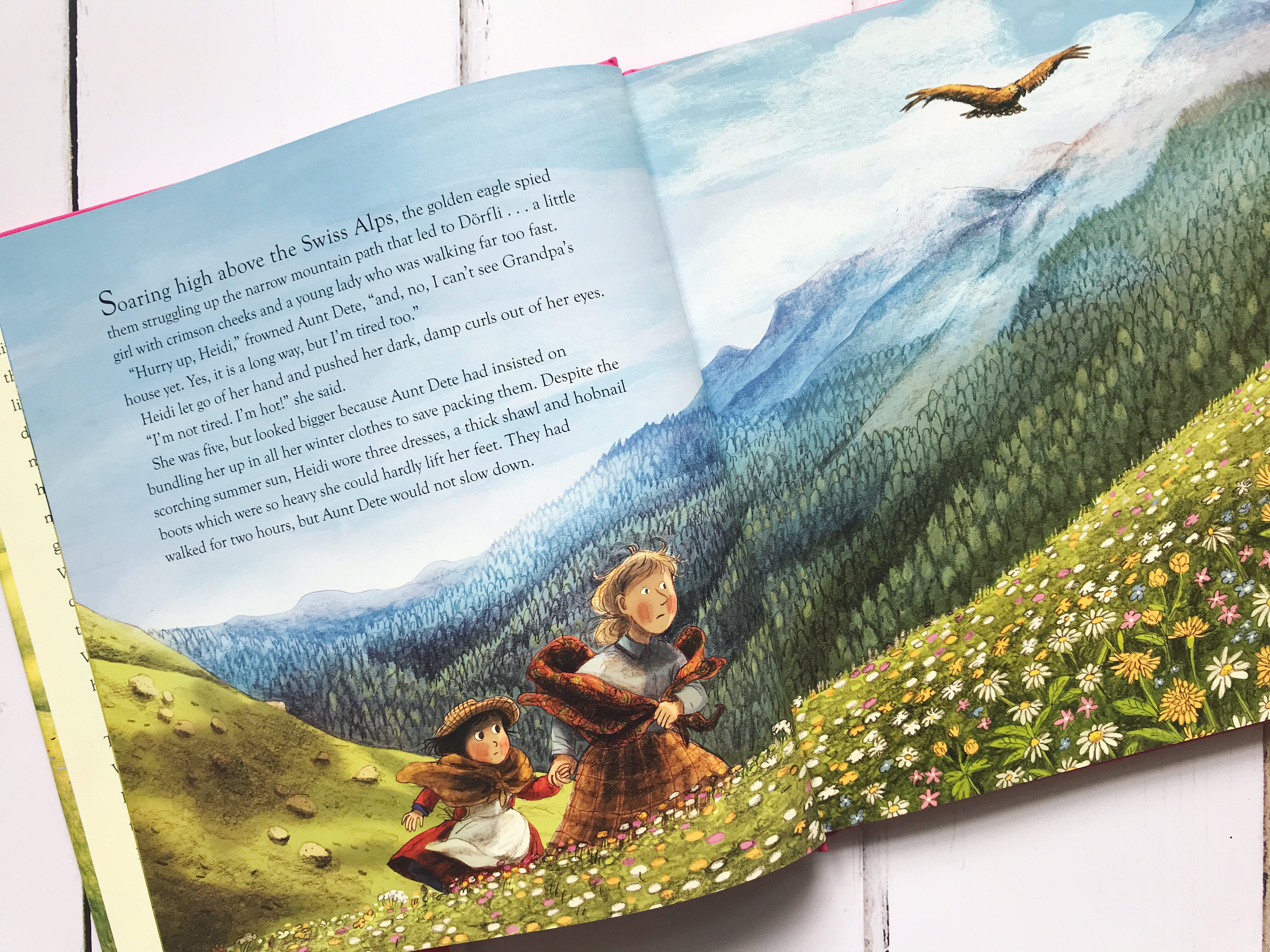 Although Heidi and Clara become good friends, Heidi cannot adjust to life in the city, and strict Fräulein Rottenmeier who runs the household doesn't make it any easier for her. When Heidi almost makes herself ill with homesickness, Clara's father eventually concedes and lets her return to her grandfather in the Alps. But will Clara and Heidi ever see each other again? For those not familiar with the book, I don't want to spoil it too much so I'll stop the synopsis there.
"I must go back to the mountains," she sighed. "The wind in the fir trees is calling me…"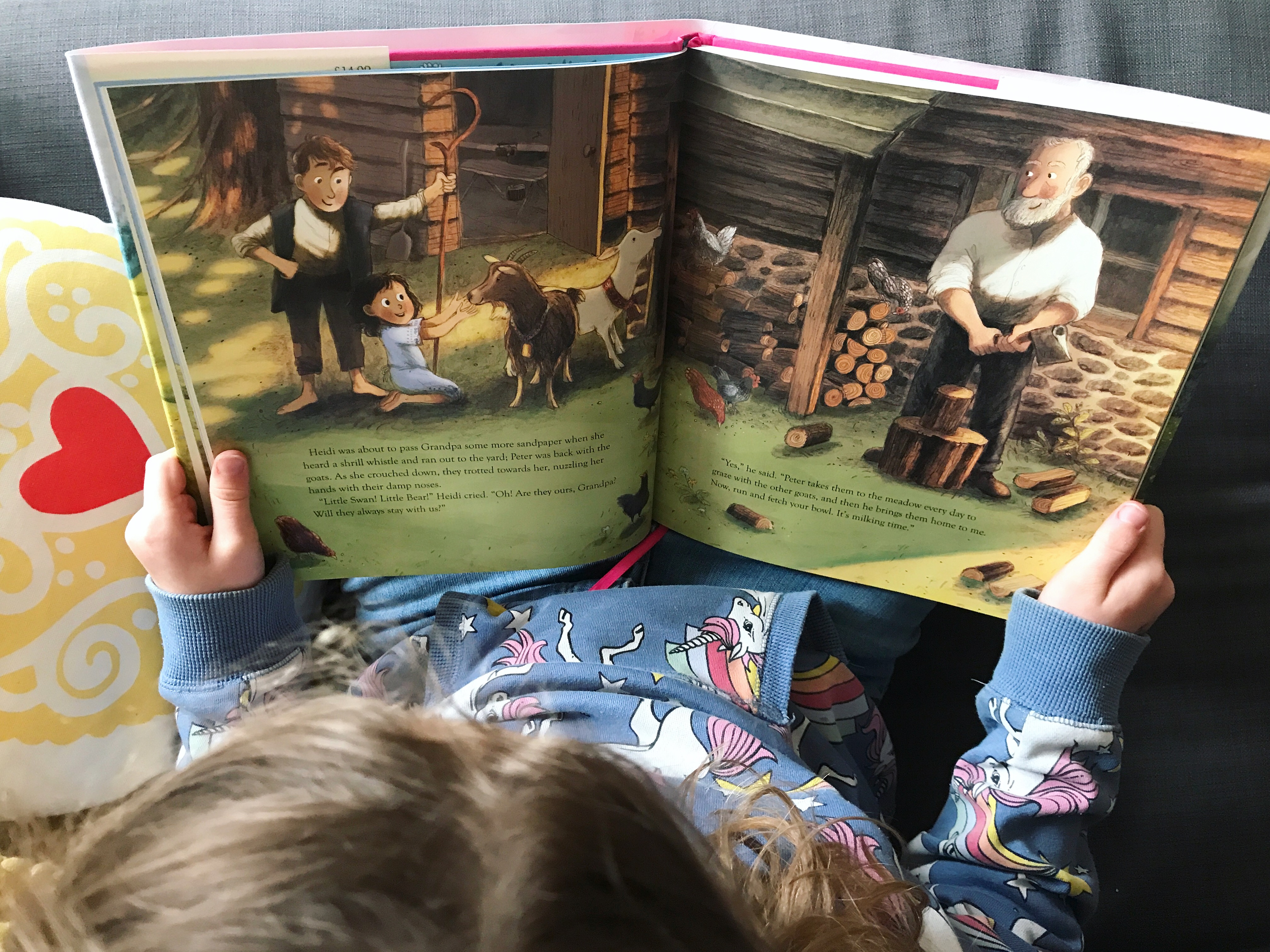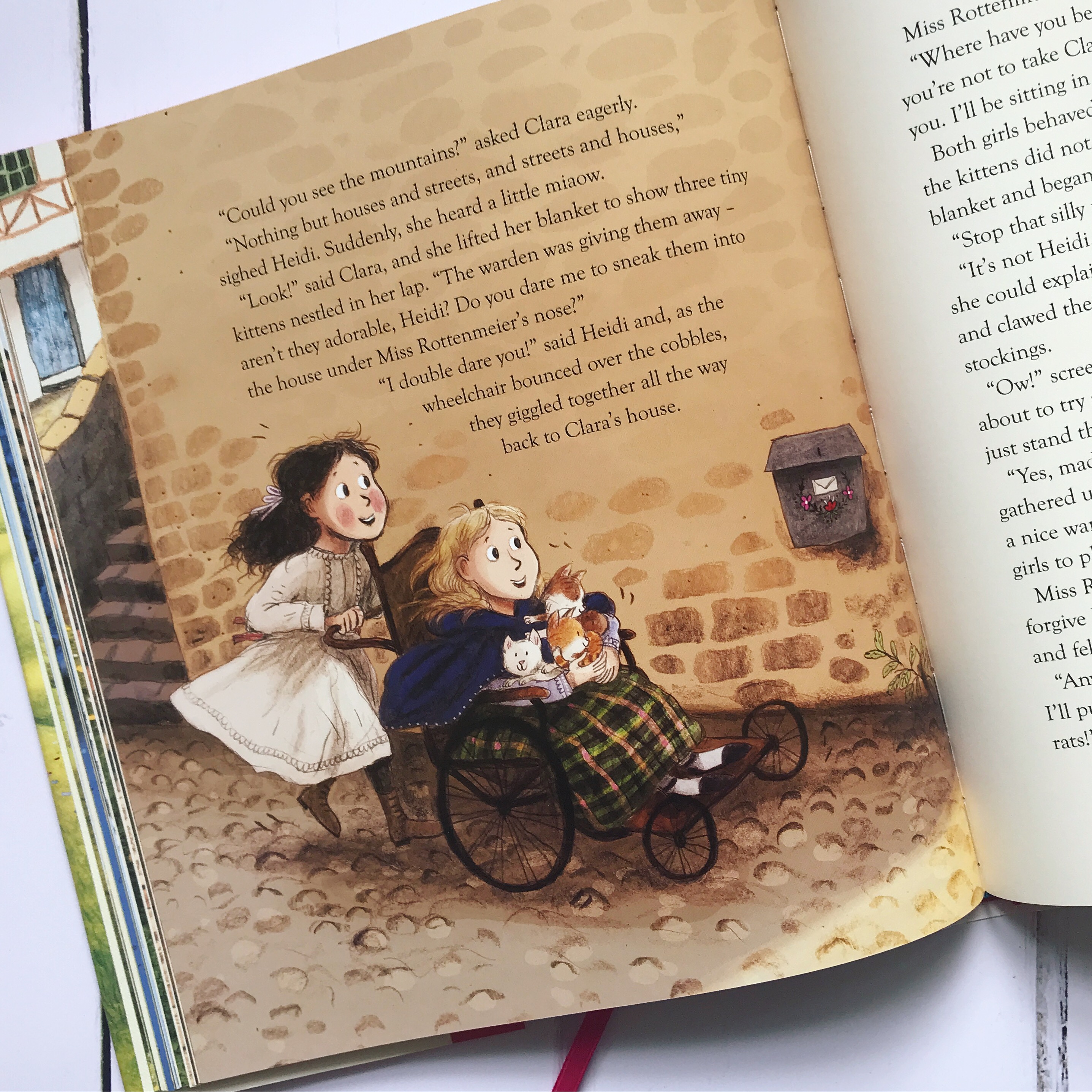 As mentioned earlier, Heidi is a beloved classic I grew up with as a child. Not only did my parents read me the novel, I listened to audio books of Heidi until my tape cassettes wore thin (yes, I'm that old). Heidi was also made in to a Japanese anime series in the 1970s, which became hugely popular in Germany where I grew up, and which we watched on repeat – I can still sing the theme tune off by heart today!
So I was thrilled to hear that Nosy Crow were publishing a new edition of Heidi to introduce this much-loved classic to a new generation. Having originally been written in the 1800s, author Jeanne Willis has risen to the challenge of retelling the story for a modern day audience without losing any of the original charm I remember so well. The book itself is stunning too. Under the shimmering foiled cover, a surprise awaits – a full cloth binding in dark pink with more shimmering foil features! And it's gloriously illustrated throughout by Briony May Smith, bringing alive all the key moments of the story.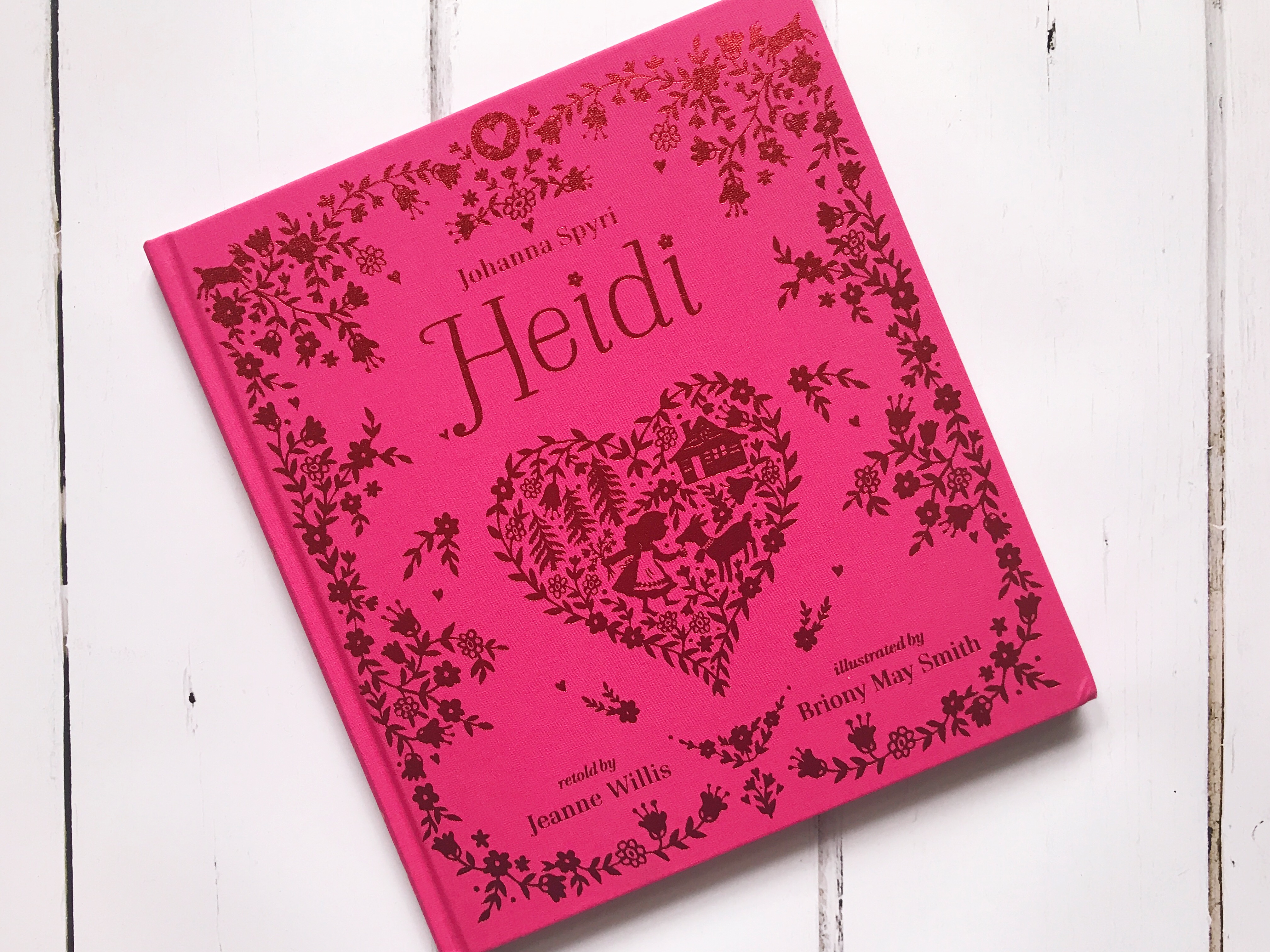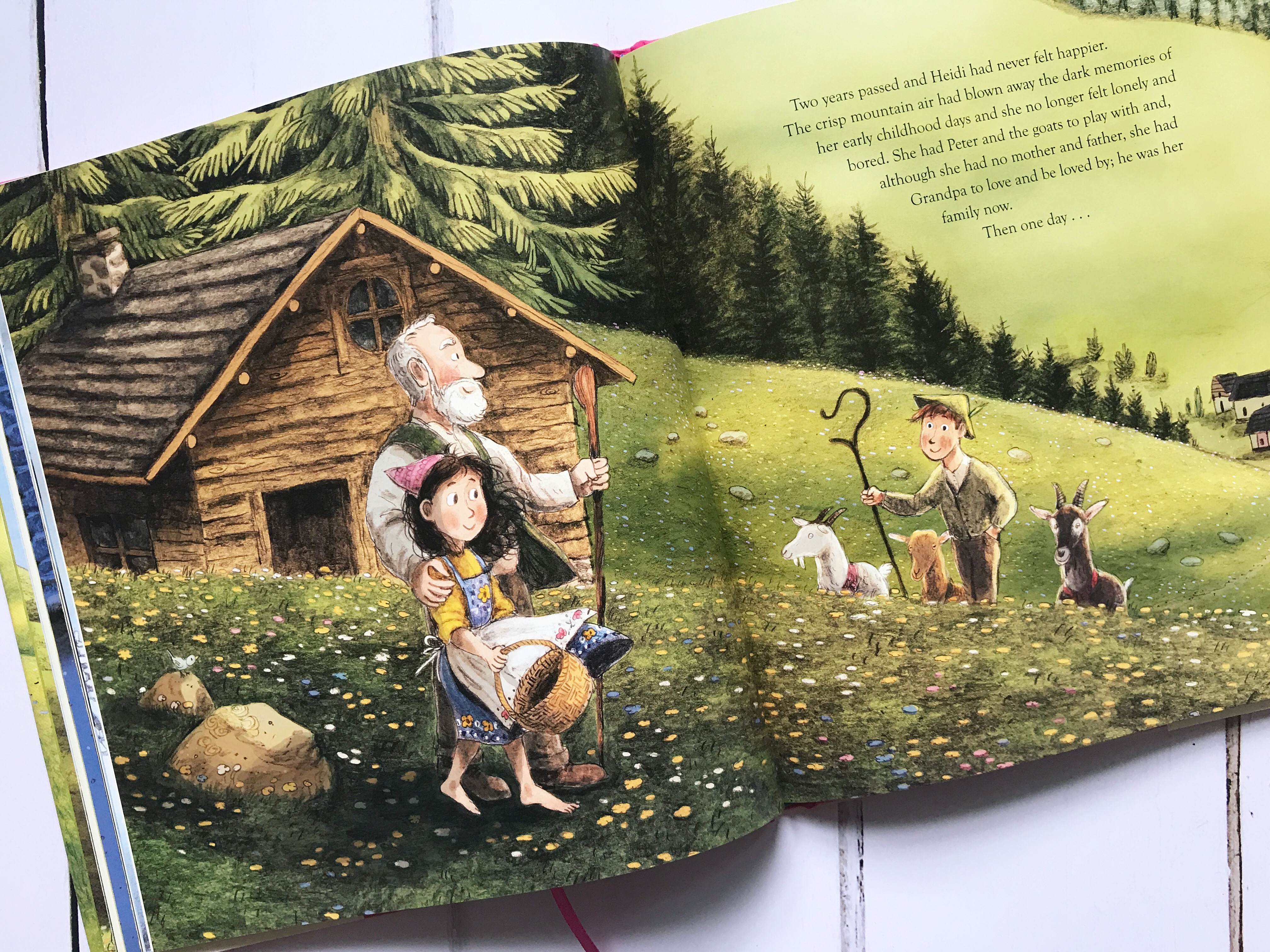 Although the book is fully illustrated, it's much longer than your average picture book, so we read it bit by bit every night at bedtime, over the course of several days. There were lots of cliffhanger moments, with my boys begging me to read just one more page – Would grandfather become nicer? Would Heidi have to leave the Alps forever? What would Fräulein Rottenmeier do next to poor Heidi? Was there really a ghost haunting the house in Frankfurt? And would Peter's jealousy lead to disaster?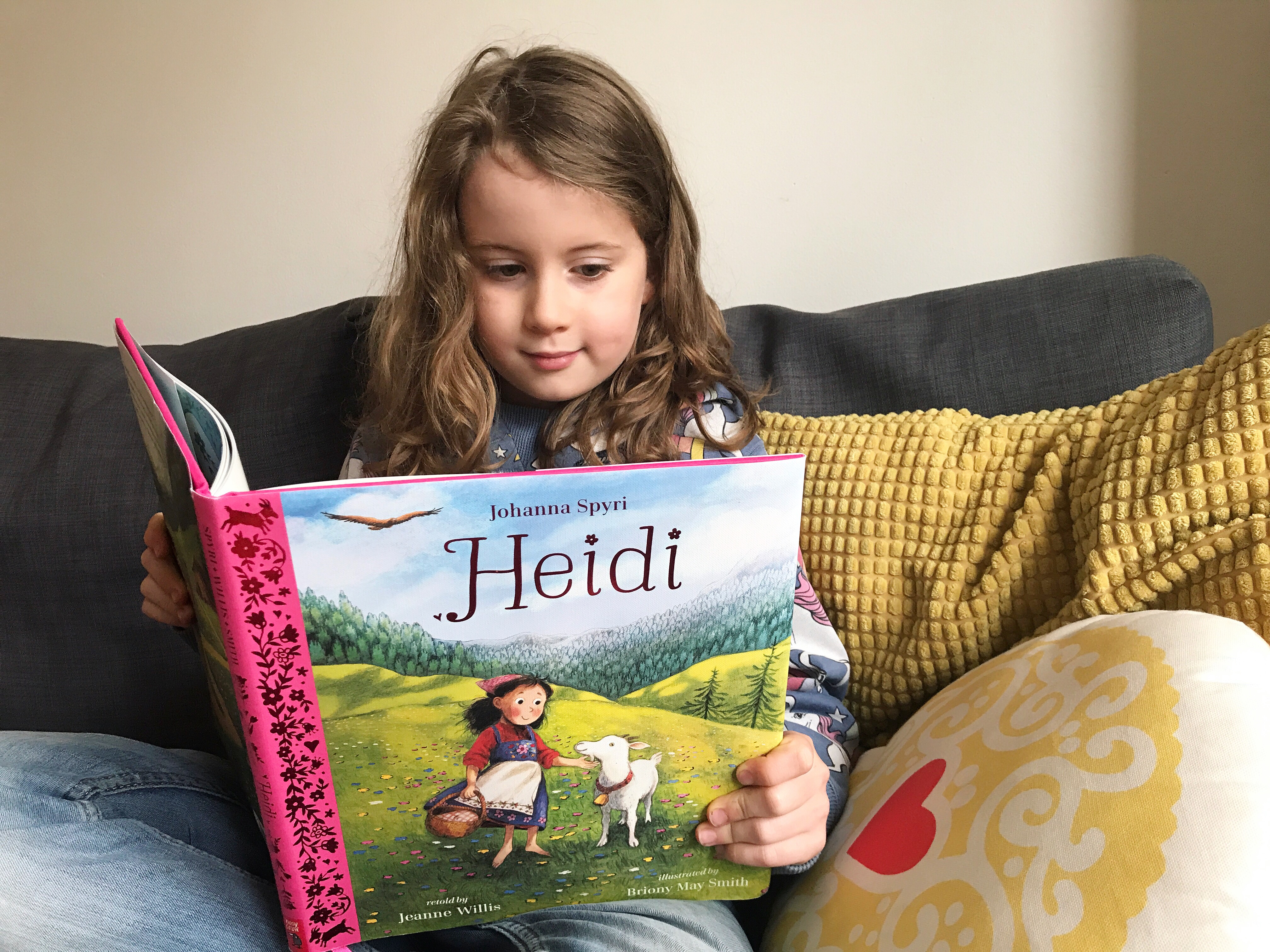 Although the book was originally written such a long time ago, it offers a lot of talking points that children can relate to today. About family, about separation, about knowing where you belong, about not judging people on first appearances, and about the longing to run free. We cried together when Heidi was taken from her grandfather, and rejoiced when they were reunited again, the feeling of being separated from beloved grandparents being a familiar one to the boys. We felt Heidi's helplessness when she was homesick – another familiar feeling – and we wished we could run along the mountainsides with her.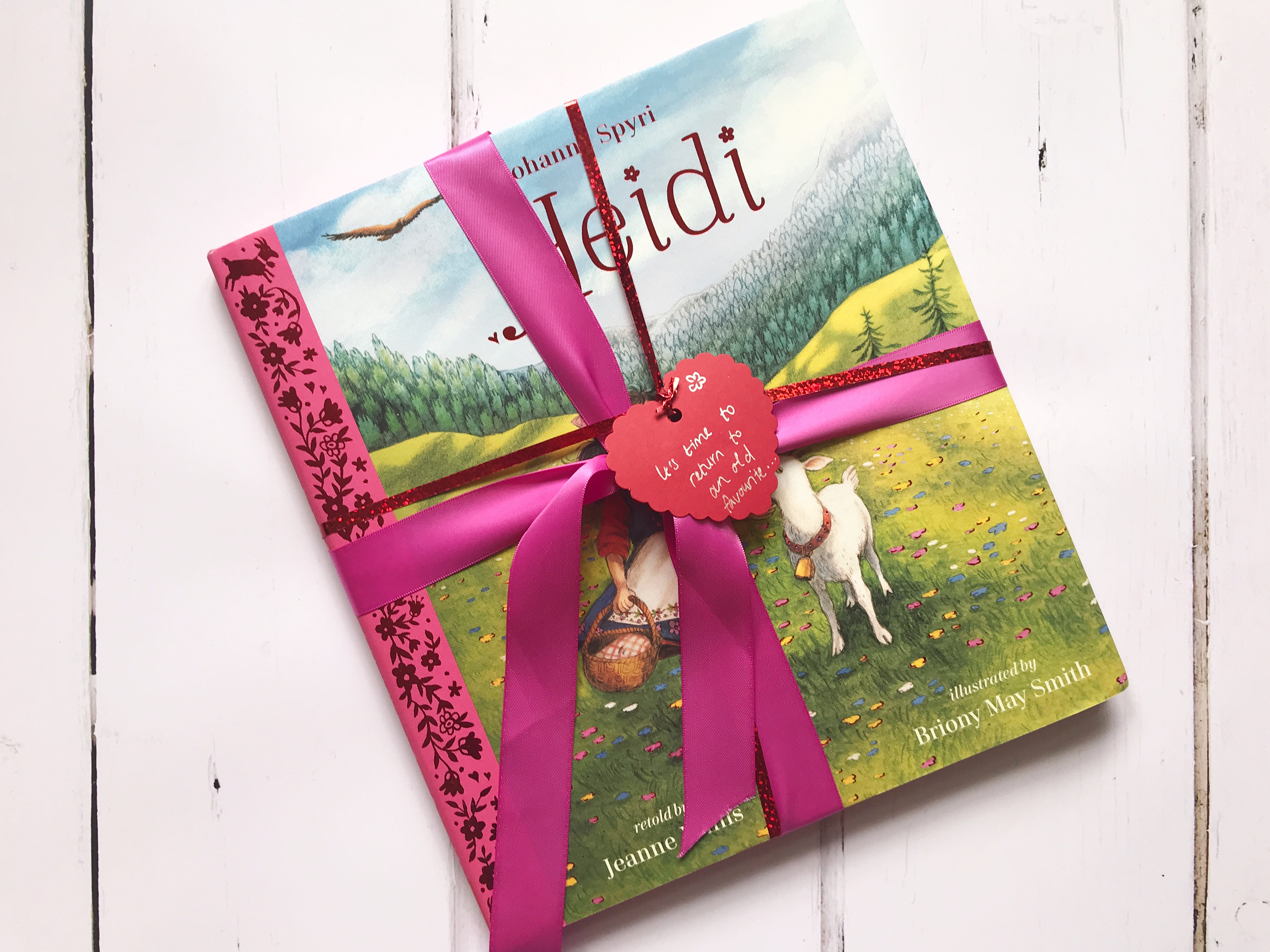 If you are looking for a beautiful classic to add to your children's book collection, then look no further – Nosy Crow's edition of Heidi ticks all the boxes.
[line]
Disclosure: We were sent a free copy of Heidi by Nosy Crow, in return for an honest review. All views and opinions are my own – and if you think I'm exaggerating about how much I love this book, just ask my parents who used to call me Heidi when we went hiking in the mountains as a child!