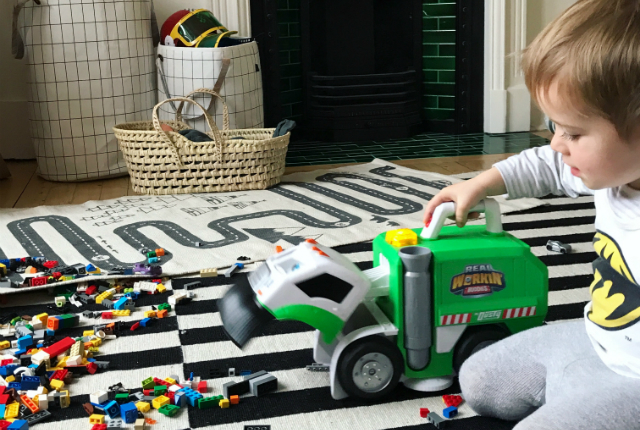 Review: Mr Dusty the Garbage Truck [AD]
Imagine you are 3 years old and absolutely LOVE garbage trucks (yup, never understood this obsession myself, but apparently it's a thing among kids). Then one day, you come home from nursery and there's a humungous garbage truck sitting in the middle of your bedroom, waiting for you to play with it. Not only that, it actually guzzles up your toys, and it talks to you too! The other day, this dream came true for Mr Fox, prompting him to ask "Is it my birthday?" Bless.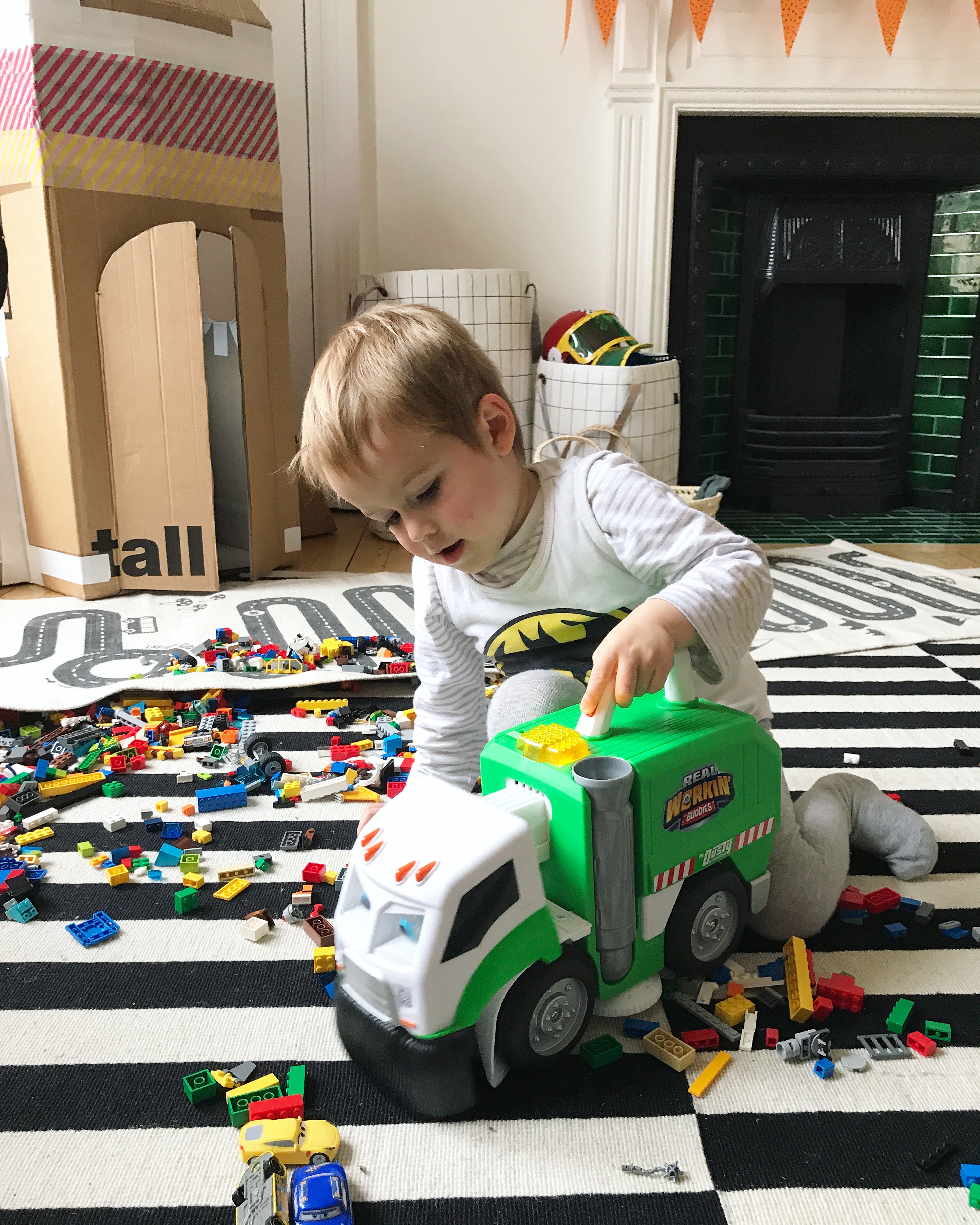 When I attended the BlogOn conference in September, I met and connected with some lovely brands, which means my lucky kids get to live out their phantasies as toy testers in the run up to Christmas. So following on from the bundle of board games we reviewed a couple of weeks ago, there will be a whole bunch of other toy and game reviews coming up this month. Starting with Dusty, the Garbage Truck!
Disclosure: We received a free Dusty from  Norton PR, in return for an honest review. All images, words and opinions are our own.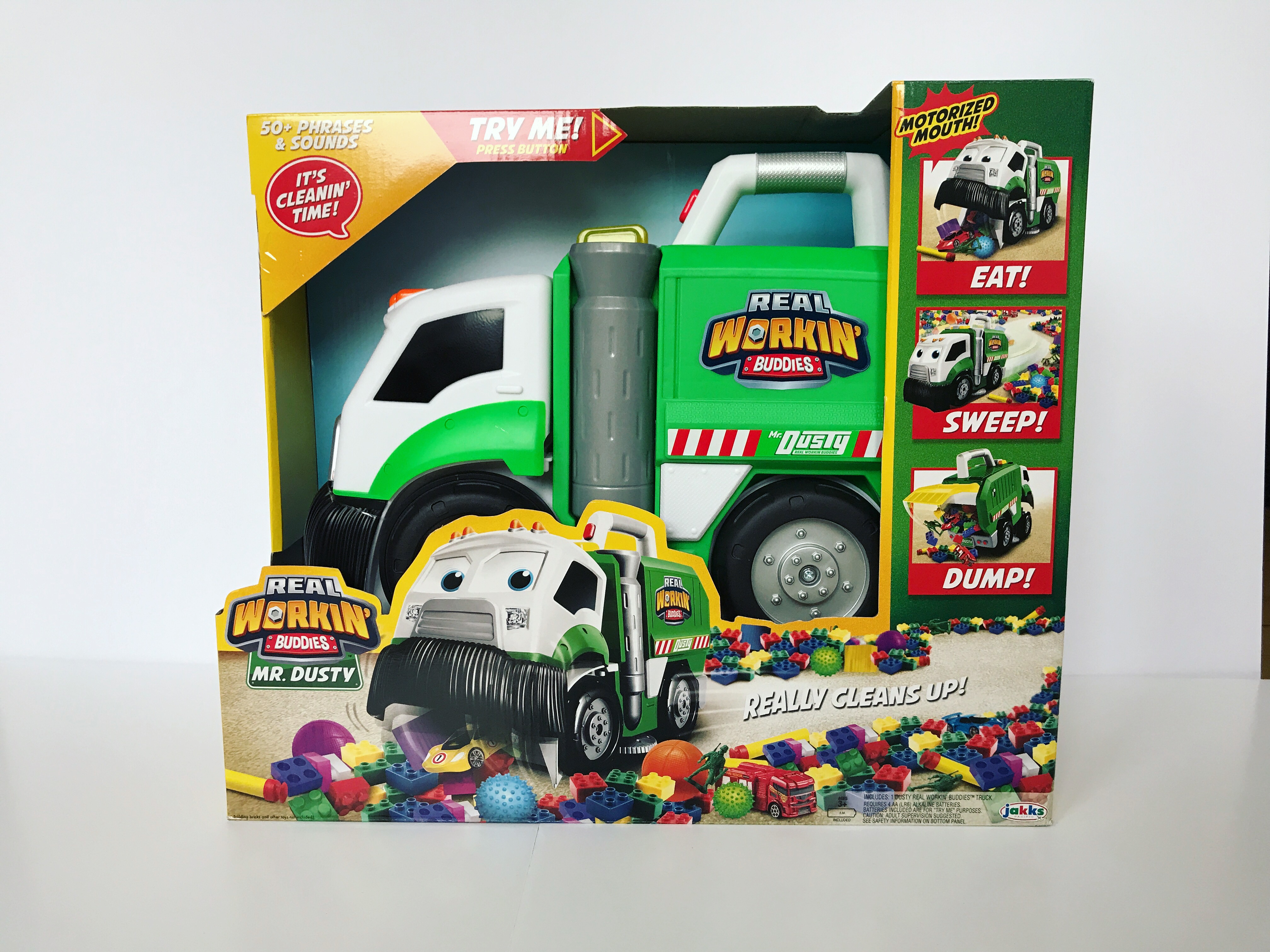 So, what's in the box? One Dusty truck, or to give him his full name, 'Real Workin' Buddies Mr. Dusty', plus an instruction guide. I'd actually refer to him as a bin lorry, but Mr Fox identified him immediately as a garbage truck, which probably means he has been watching too many US American cartoons on Netflix! Dusty needs four AA batteries but THEY ARE INCLUDED! Always a winner for parents, as it means no sad faces when your kids unpack their present and you realise you forgot to buy batteries. Keep in mind they are included for 'try me' purposes (the demonstration mode) so may not last as long as fresh batteries. So you may want to have some back up batteries and a screwdriver on hand too, just in case, but for the first part you are ready to go as soon as Dusty comes out of the box. I undid all the ties etc. before Mr Fox came home, so that he'd be able to just lift Dusty right out without faffing around first. He is quite substantial, measuring over 30cm long, so something quite big and chunky and not too fiddly for small hands.
"Cleanin' time is my lunch time!"
Dusty's big selling point, is that he can really help clean up your room, by picking up toys as you roll him along the floor, making clean-up time into play time. This only works for small-sized toys, and nothing too fragile, soft or squishy, but is perfect for all those Lego bricks and small cars that inevitably end up all over the floor. He also has a motorised mouth, flashing lights, and as mentioned above, he can talk.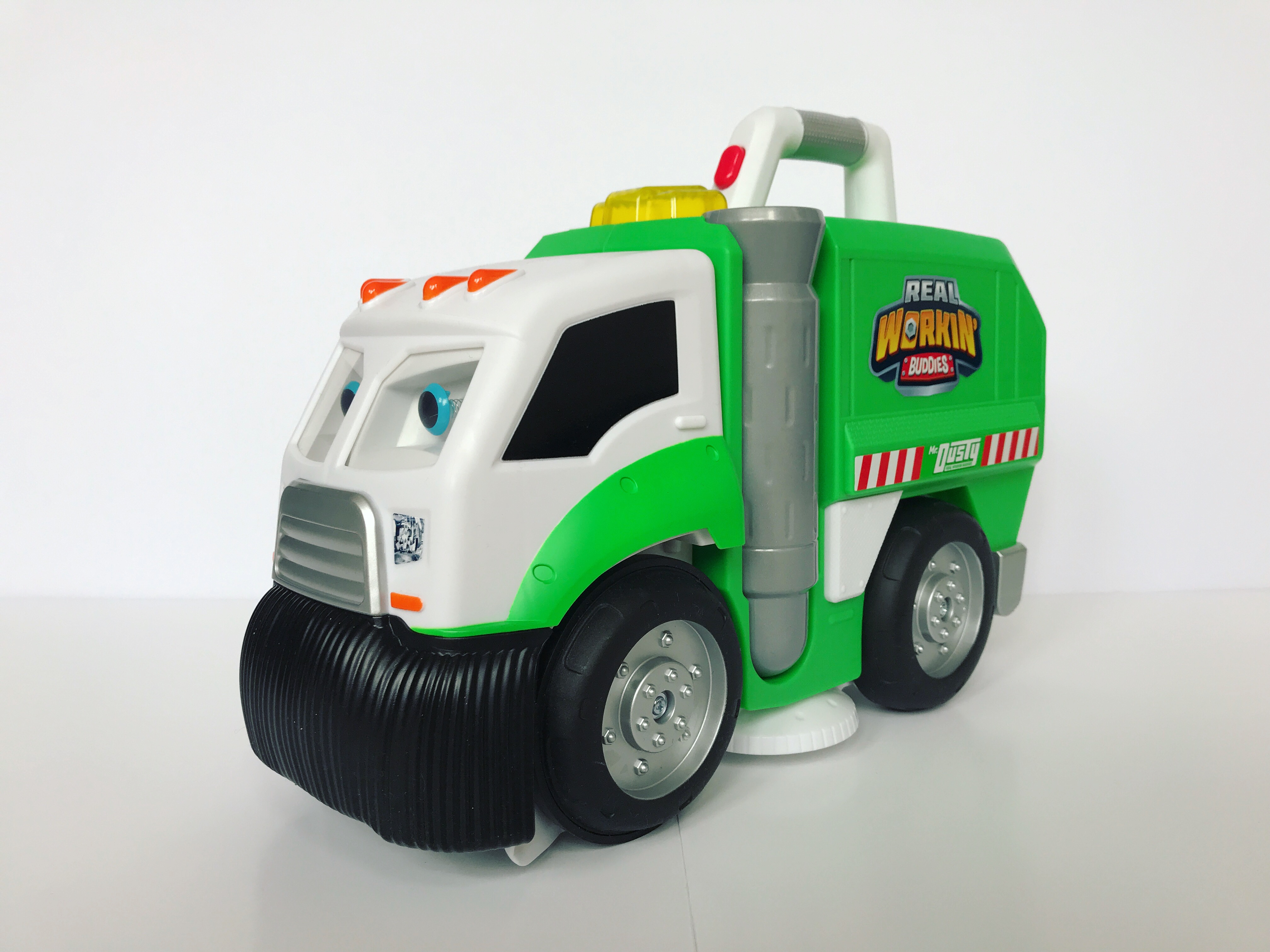 There are three modes to play with Dusty: Sweep! Eat! Dump! To sweep up objects, simply push him along the floor, and he will sweep smaller objects up inside of him via a rotating paddle. Make sure the dump lock is in the lock position. The Sweep mode actually works even if Dusty is turned off. For the 'Eat!' mode, he needs to be turned on so that the motorised mouth will work. For this, you need to press the red button on the top as you push him along, to activate the mouth. It will pull bigger toys in to his mouth, before the paddle then pushes them inside. We've made a little video to show Dusty in action (see below), so you will see what I mean. Again, make sure the dump lock is locked. Finally, for the 'Dump!' mode, the lock needs to be unlocked this time. You can then lift the handle backwards, to raise the truck back and the objects will fall out the flap at the back. There is also a little exhaust pipe at the side of the truck, which you can drop small objects in to directly. This is something you need to manually, i.e. maybe doesn't seem as cool as the toy guzzling modes, but Mr Fox actually spent quite some time filling Dusty up that way.
(Disclaimer: Yes, I let me 3 year old play with 'big boy' Lego. He has been doing so *under supervision* since he was about 2 years old as he always showed more interest trying to copy what his big brother was building than trying to put anything in his mouth. This does not mean I advocate ignoring the safety age restrictions on Lego toys – each child is different, and you know your child best!)
"Vroom, vroom, let's clean your room!"
So does it work? Yes! Dusty does actually work as advertised. He will pick up small toys, which you can then empty out the back flap straight in to a toy box. As you can see in the video above, we are still working a bit on the logistics of emptying him out the back not the front, but my older son had a go with Dusty too and managed to empty him out the back perfectly. So I think it will just take a little practice for Mr Fox to get the knack of it too. He's already doing a bit better here in this photo: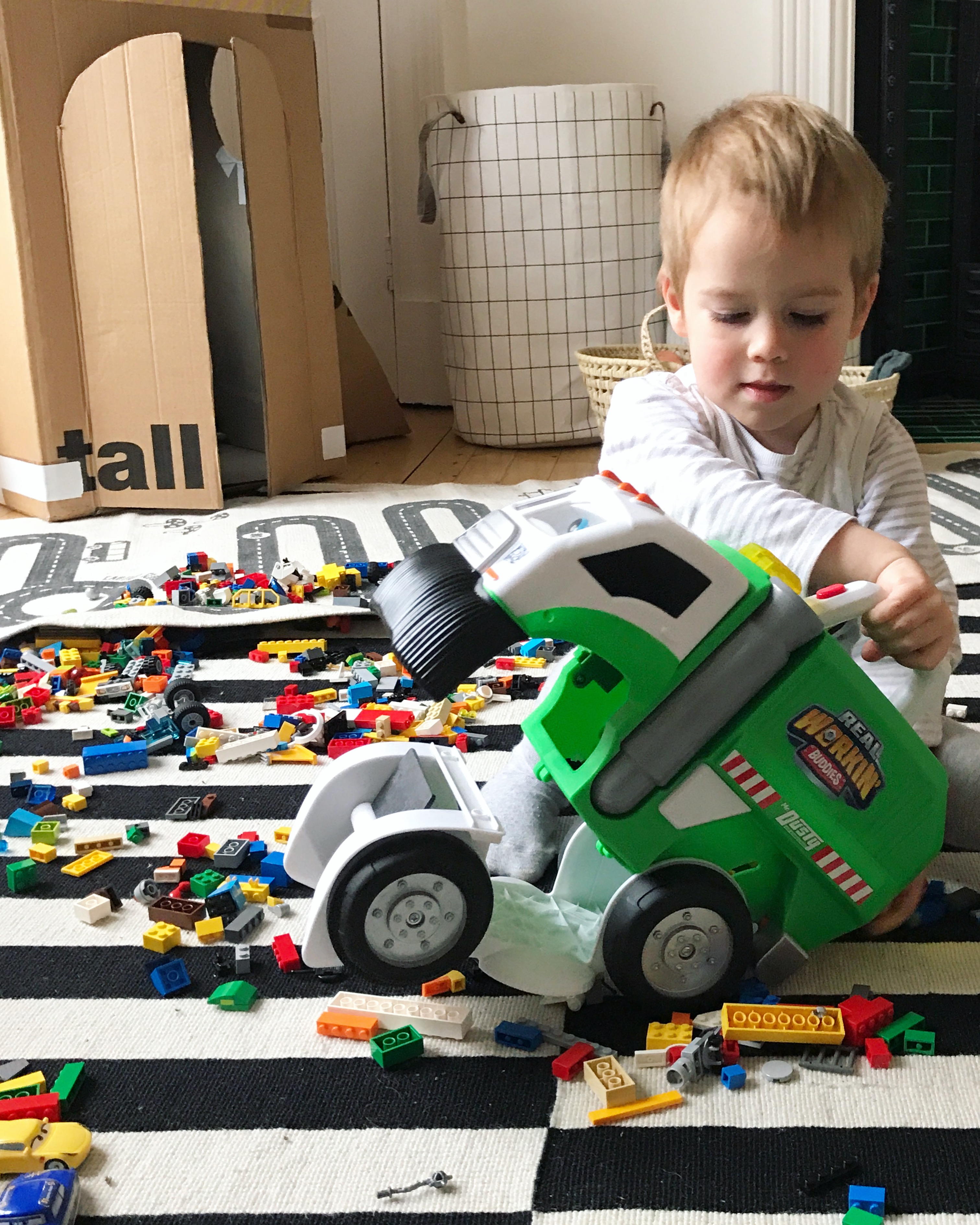 Obviously, it's not perfect. It only works with toys up to a certain size, so you'll still need to tidy up the rest of the messy playroom floor by hand, and we also noticed it didn't work as well on some of the heavier metal cars. You also need to make sure you empty Dusty out before he gets too full, otherwise things can get stuck inside. The box says Dusty works best on hardwood, tiles, (short pile) carpet and concrete floors. We don't have any tiles or concrete in our flat, but we have tried him out on the wooden floor and the rug in the kids' room, and he worked on both. One thing I also noticed, is that Dusty picks things up much better when you apply a little bit of downwards pressure while you are pushing him along, but again, that is just another matter of practice.
One last thing…
So, let's talk about the elephant in the room. Dusty talks! I don't know about other parents, but toys that make noises always fill me with a little bit of dread. However, there are two things that go in Dusty's favour. Firstly, he apparently has over 50 different sounds and phrases (I haven't counted them all, but that's what the box says), so it won't drive you as insane as toys that just repeat the same thing over and over and over again. And secondly, he has an off button and, with the exception of the motormouth in the Eat! mode, he still works when he is switched off. That means kids can still sweep, and dump, and fill him up through the exhaust pipe. So I much prefer him to other battery operated talking toys we have had – my only criticism would be, that he is quite loud. Two different volume levels would have been great, or just having him talk not quite as loud overall. It's not just a parent thing either, Mr Fox himself turned Dusty off for short periods whilst playing to take a break from the noise, saying "Dusty is too loud". But he kept playing with him whilst in off mode, and then turned him on again after a while. He likes to chat with him too, responding to what he says, and telling me to be quiet while Dusty was making snoring noises because "the garbage truck is sleeping."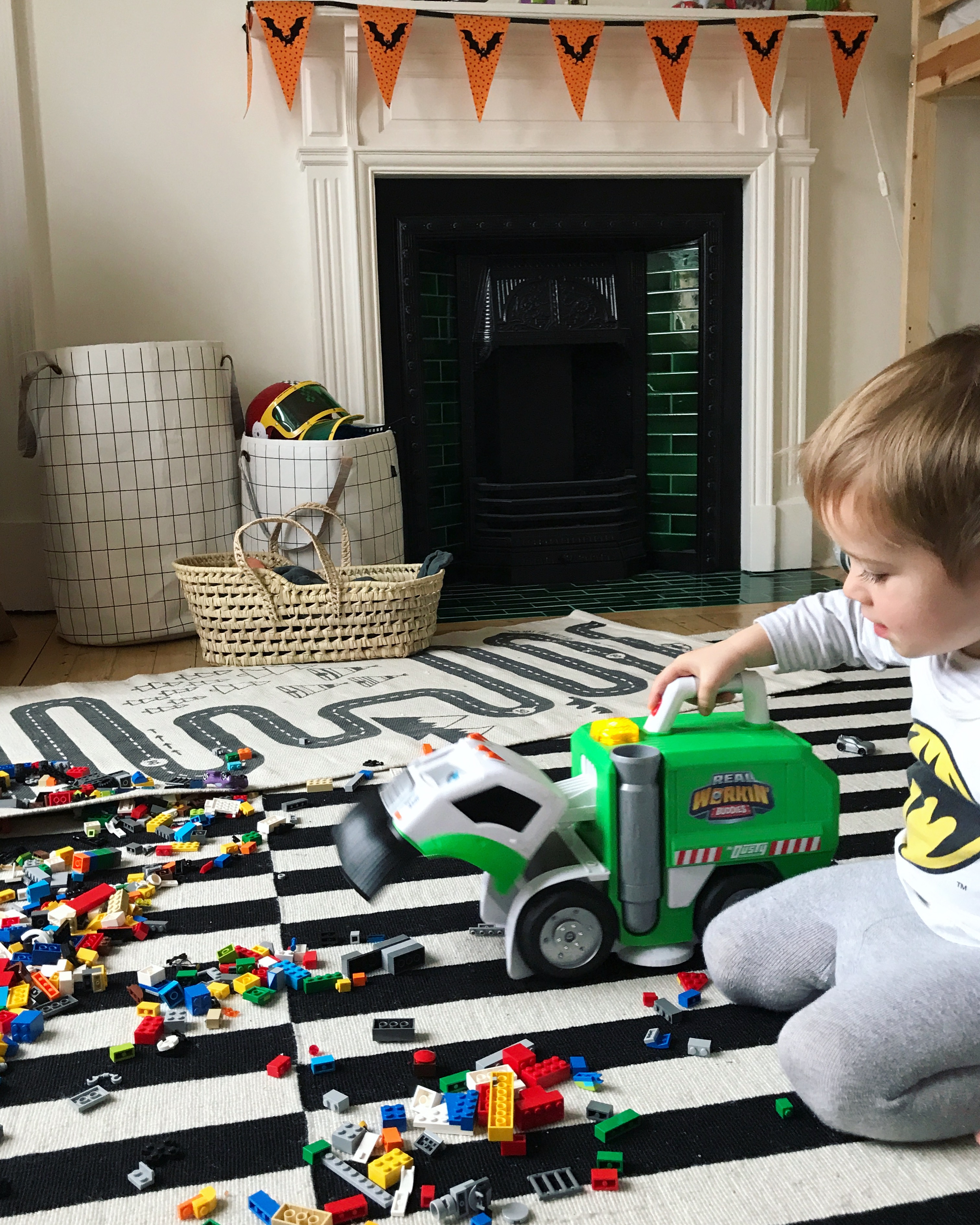 In conclusion, my boys both love Dusty, and despite the noise he's a toy I can live with too. He does what it says on the box, and while I'm not sure he is going to make my boys any more tidy – apparently being allowed to empty Lego all over the floor was one of the best bits of doing the review – I'm pretty sure if the last few days are anything to go by Dusty will give them hours of play time pleasure. Definitely a gift to consider for little garbage truck (or bin lorry) fans. Real Workin' Buddies Mr. Dusty is produced by Jakks Pacific, and is available through various toy retailers at around £40 to £45. We received a free Dusty in return for an honest review, and all opinions here are our own.
---
Note: I know reviews are a bit of a new thing here on the blog, but I want to assure you that we'll only be reviewing toys I am genuinely happy for my kids to play with. And you'll still be getting your usual dose of recipes, craft ideas, book reviews and reflections on parenting.