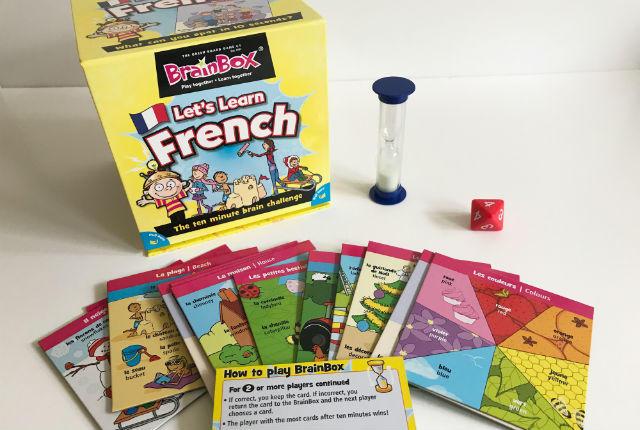 Review: BrainBox – Let's Learn French [AD]
Have you heard of BrainBox? It's a fun game concept for kids to learn about lots of different kinds of subjects. We were recently sent a copy of "Let's Learn French" to review. My eldest is in P5 at Primary School and has been learning beginner's French for a couple of years now, so this was perfect for him to consolidate his learning.
Disclosure: We were sent a free copy of BrainBox Let's Learn French in return for an honest review. All views and opinions are our own.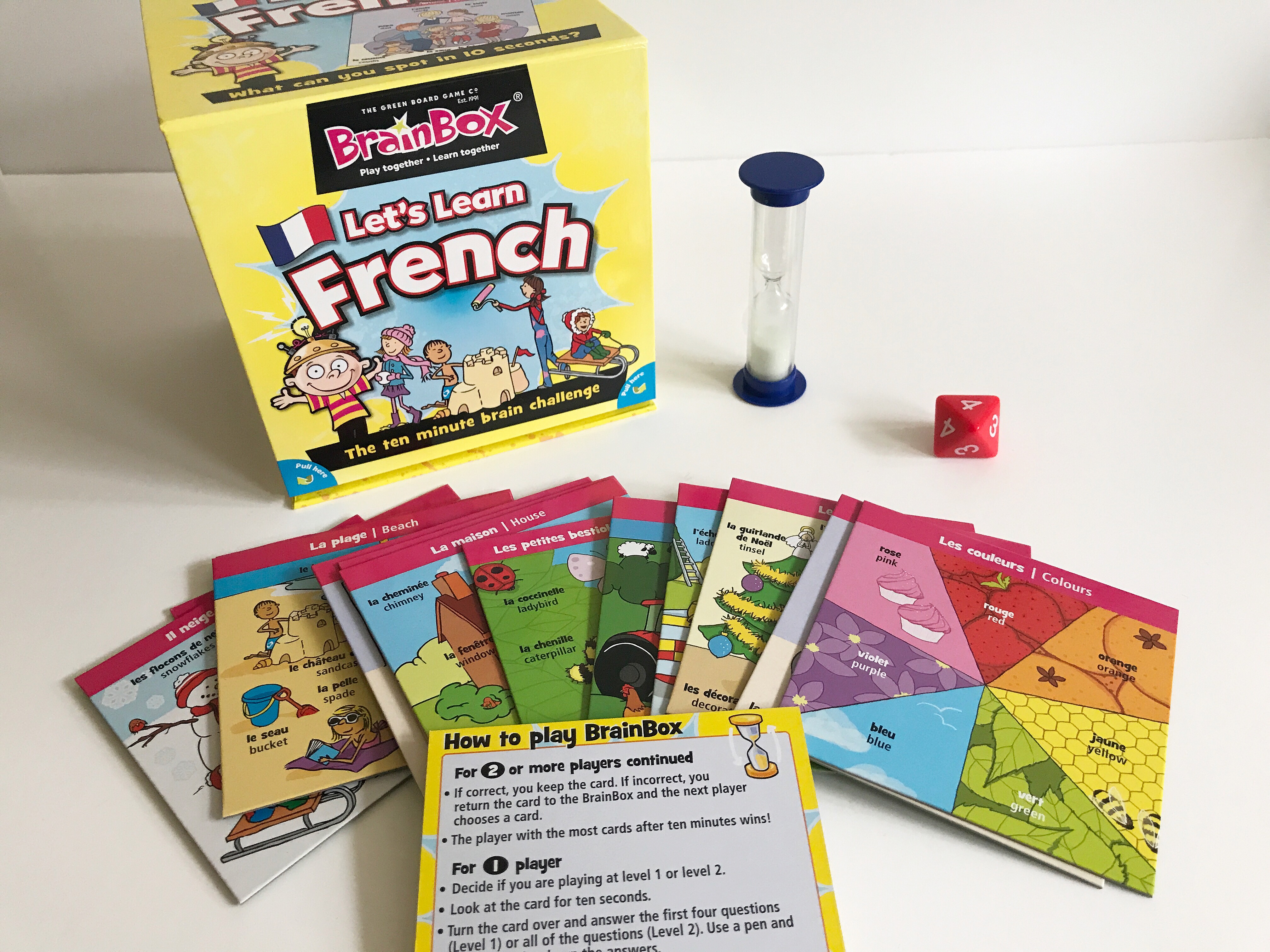 What's in the Box? You get 55 picture cards, one rules card, a die, and a sand timer.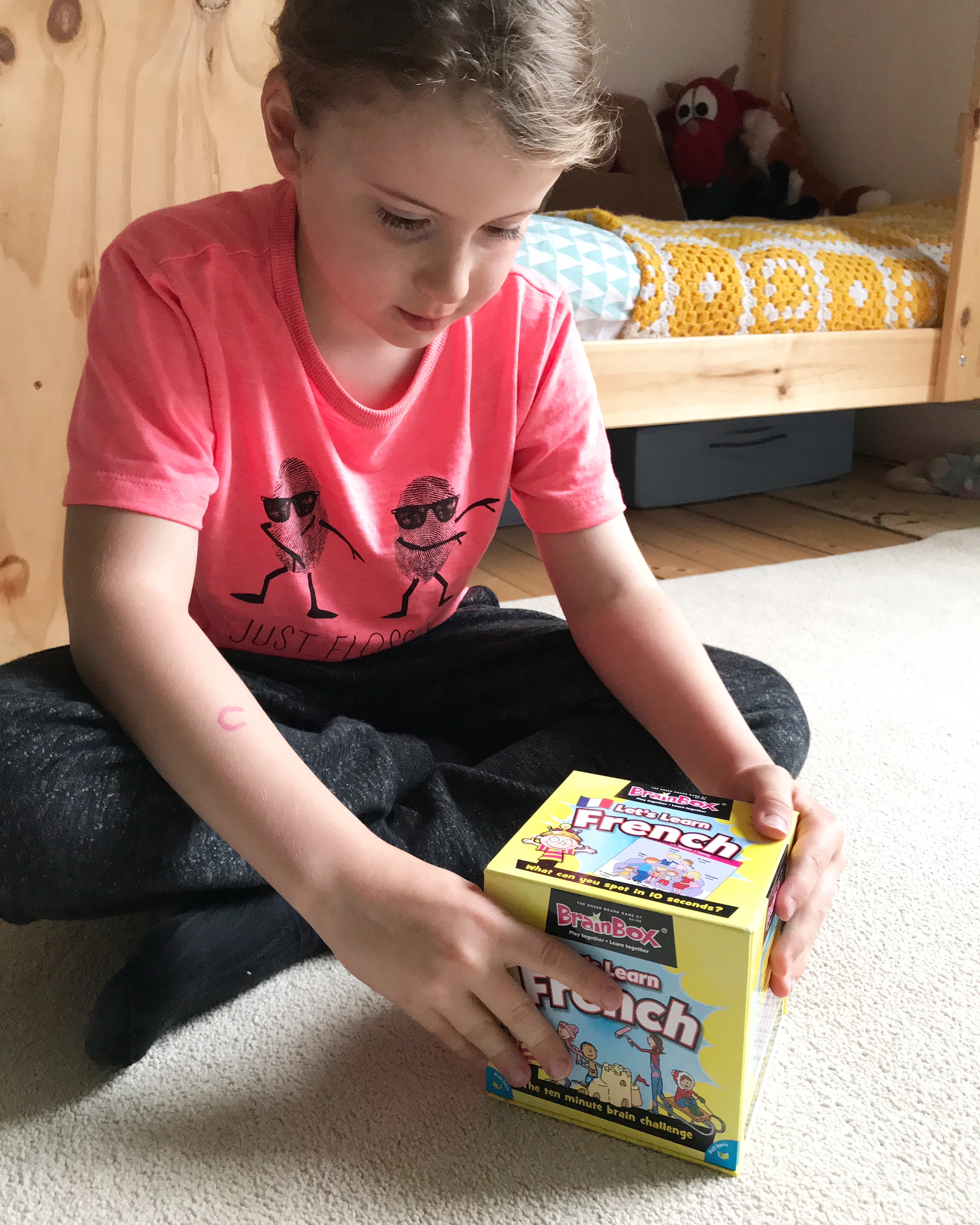 The game play is really simple. One the front of each picture cards shows a scene such as a farmyard, a cafe, a beach, or a bathroom, with a number of things in each scene labelled both in French and in English. On the back of each picture card, there are two sets of questions with four questions each. The first set of questions (Level 1) only use the French words which appear on the front of the card and don't assume any prior knowledge of French. The second set of questions (Level 2) assume some advance knowledge and are written entirely in French. Since my son is still a beginner, we played with the Level 1 questions.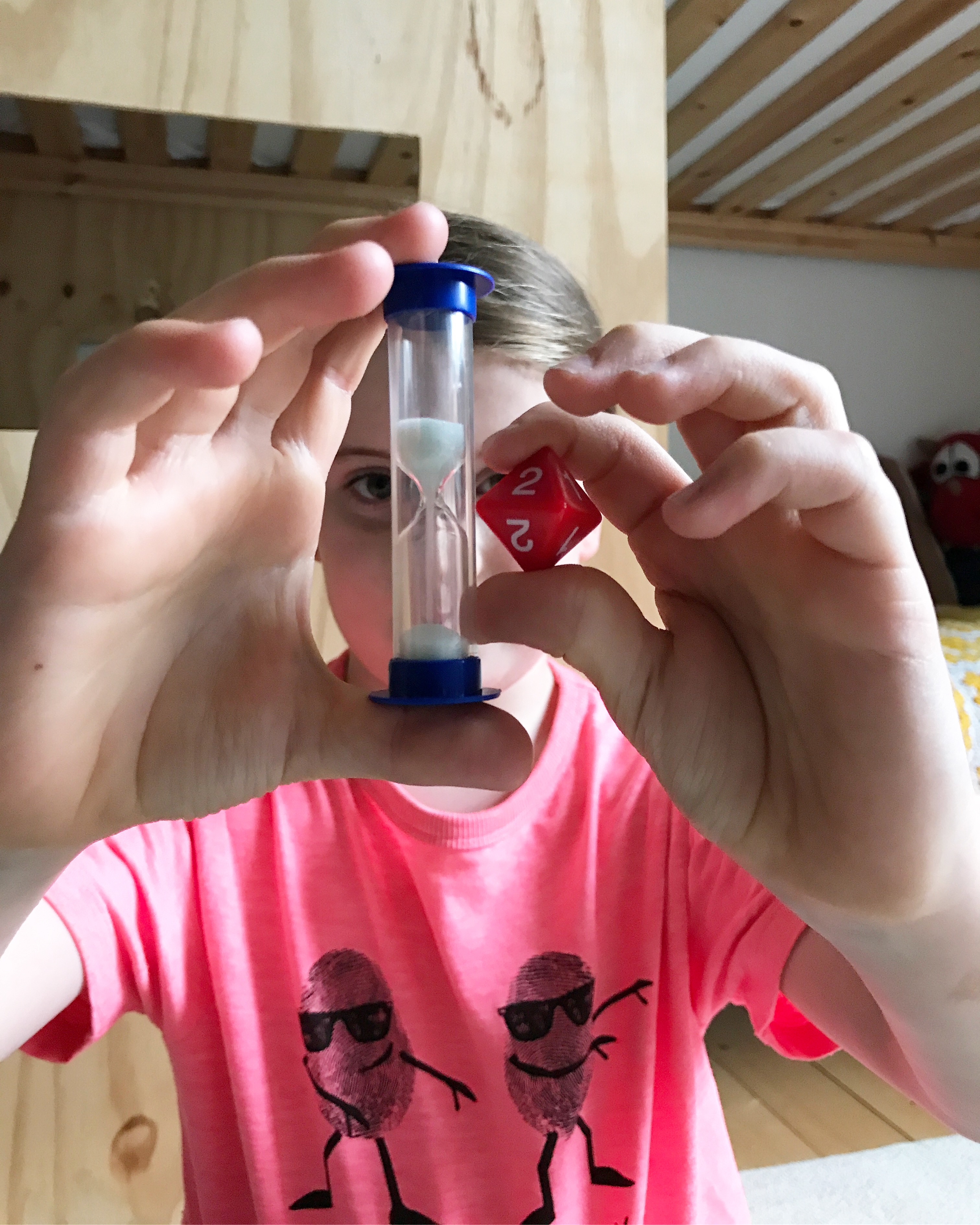 Game Play: For a game with two or more players, the player takes a card from the box picture side up, turns the timer over and studies the picture for ten seconds until the timer runs out. If you are playing with different ages, you can turn the timer a second time for younger players to even the playing field a little.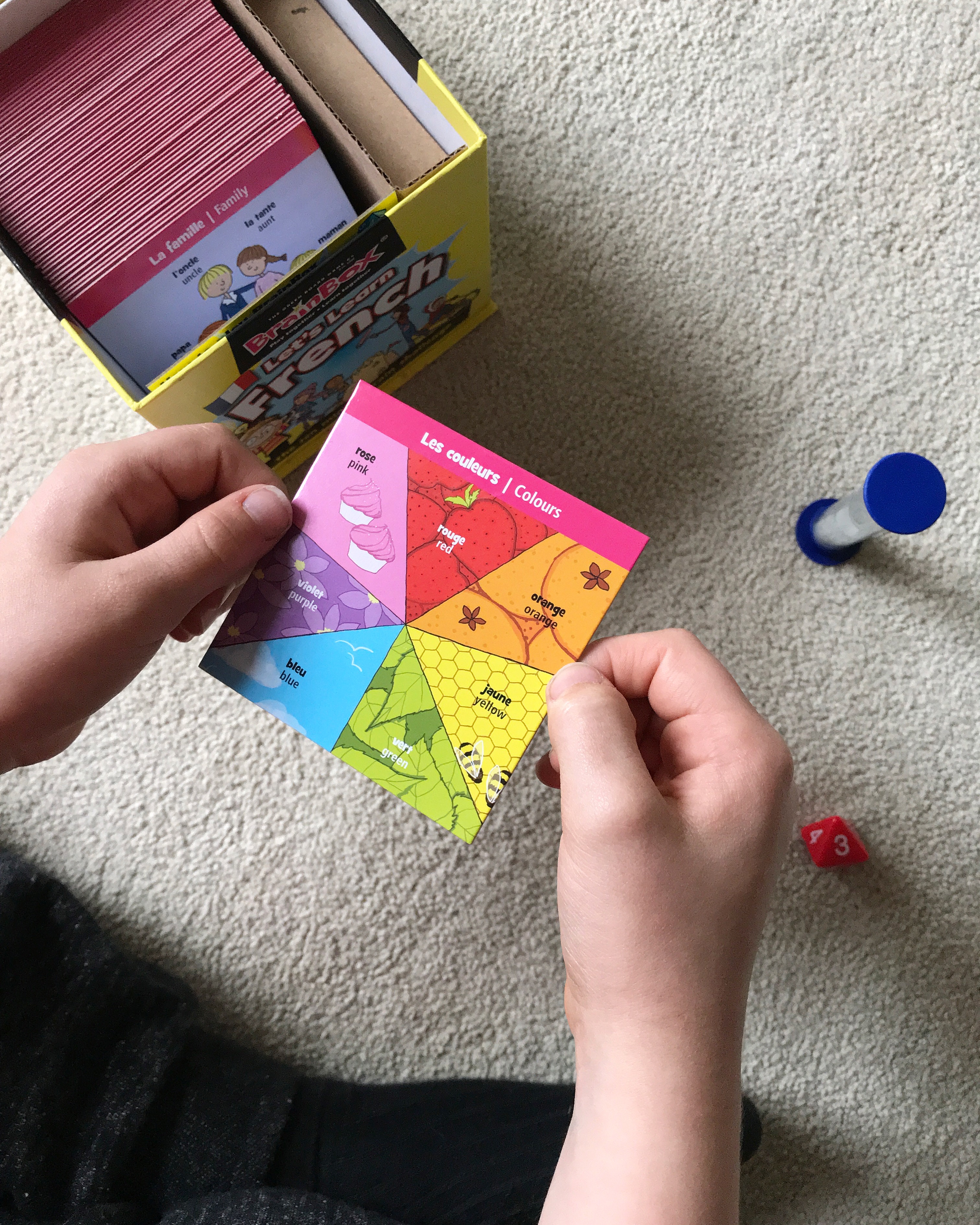 Once time is up, the player rolls the die. One of the other player then reads out the corresponding question from the back of the card, for the previously agreed level. For example, the card with pictures of different colours on the front had Level 1 questions such as "What insects shown are 'jaune'?" or "How do you say 'rouge' in English? So you don't just have the memorise the words, you really have to study the picture! The question must be answered without looking at the picture! If answered correctly, the player gets to keep the card. If answered incorrectly, the card gets returned to the box. The player with most cards after ten minutes wins the game!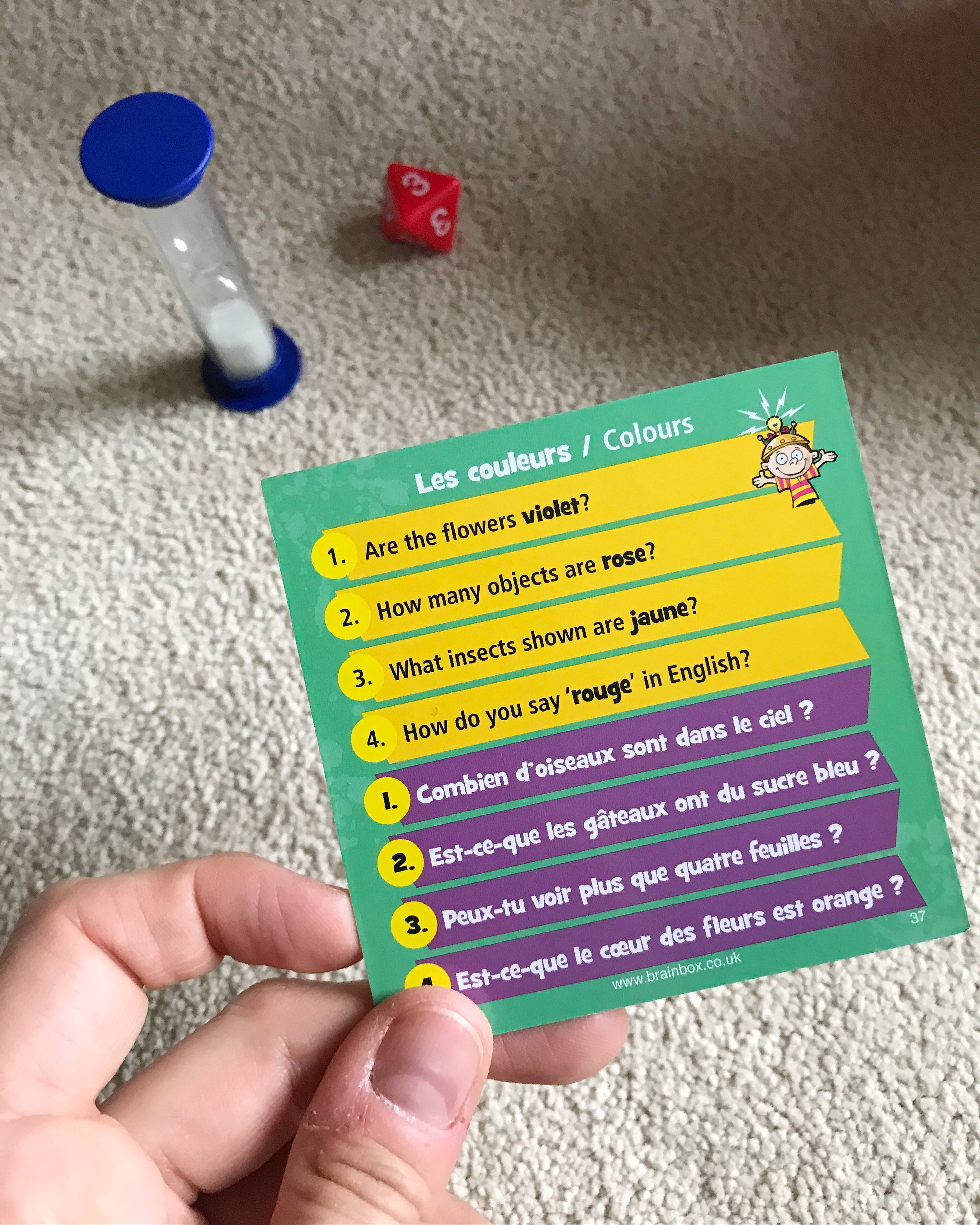 You can also play this game with just one person, for some fun fuelled French revision. Again, you start by picking a card and studying the picture for 10 (or 20) seconds. Then turn over the cards and answer either the first four questions (for beginners) or all eight questions (for advanced learners), using a pen and paper to write down the answers. Then check your answers against the picture.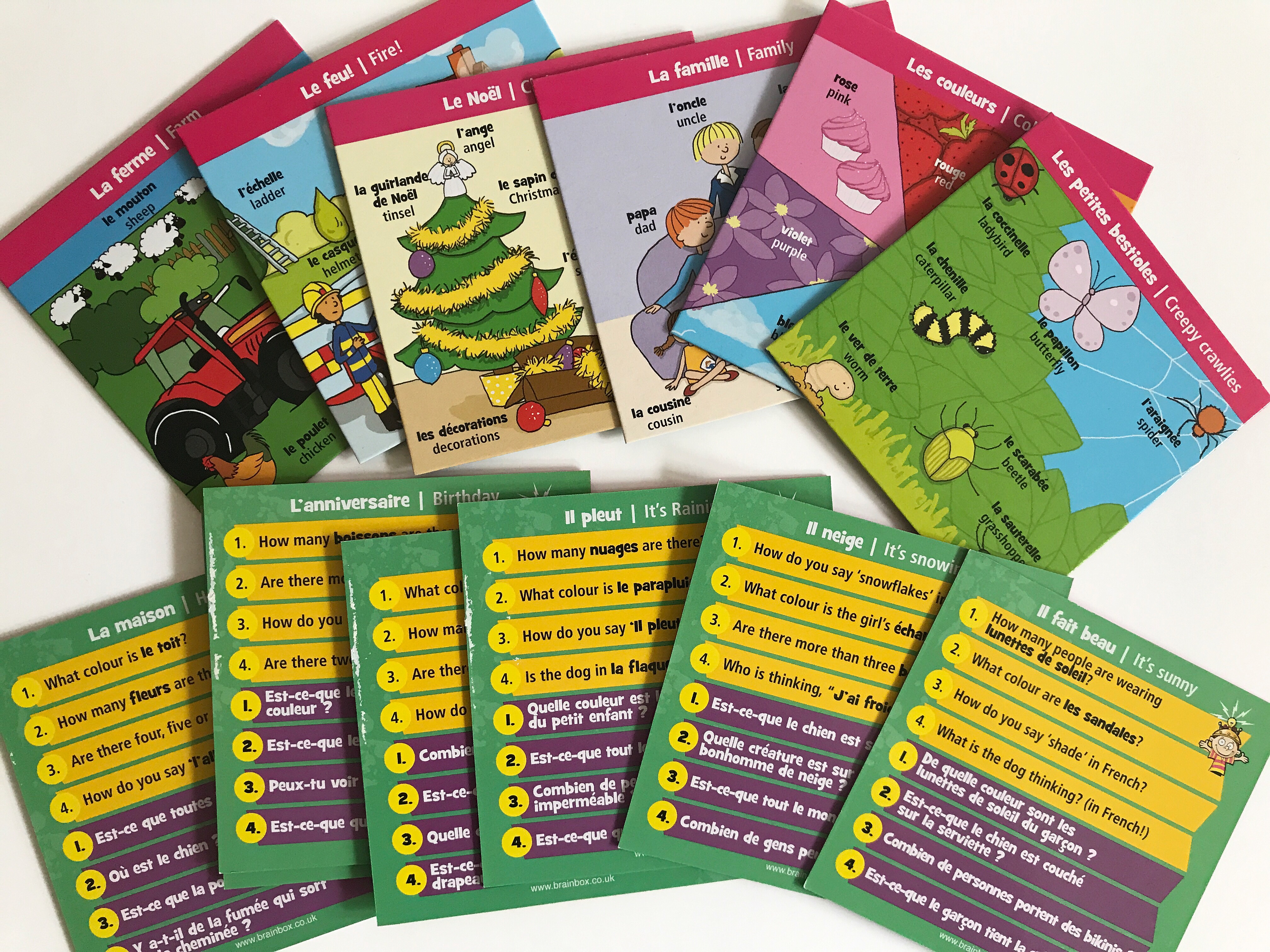 BrainBox is a great way to either revise or learn more French in a fun way. We usually just do a couple of cards at a time, as my son is still at beginner's level so there is only so much vocabulary he can internalise in one sitting. But it's perfect for a quick round of French before or after dinner, and the playful aspect of it has certainly made him more enthusiastic about learning French.
BrainBox Let's Learn French is available from Amazon (affiliate link) and the BrainBox range – which also includes other languages as well as many other topics include science, nature, maths, history, art, geography – is also available at Argos, John Lewis and all good toy stores.