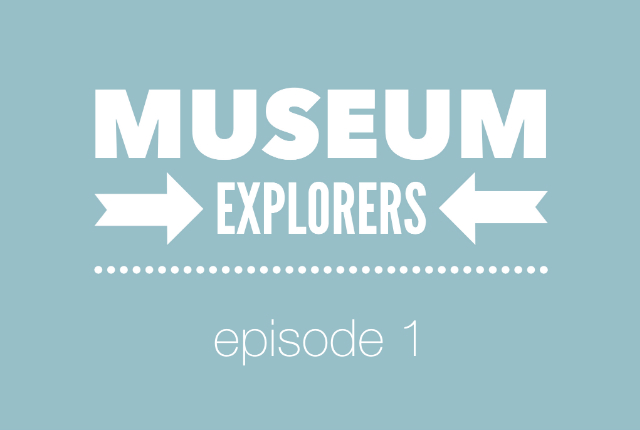 Museum Explorers #1
Happy Museum Monday everyone! As part of my new series introducing you to family friendly museums around the world, I thought I'd mix it up a little and let other families have their say too. So in 'Museum Explorers' I will be interviewing a new family each month, inviting them to share their favourite museums with you.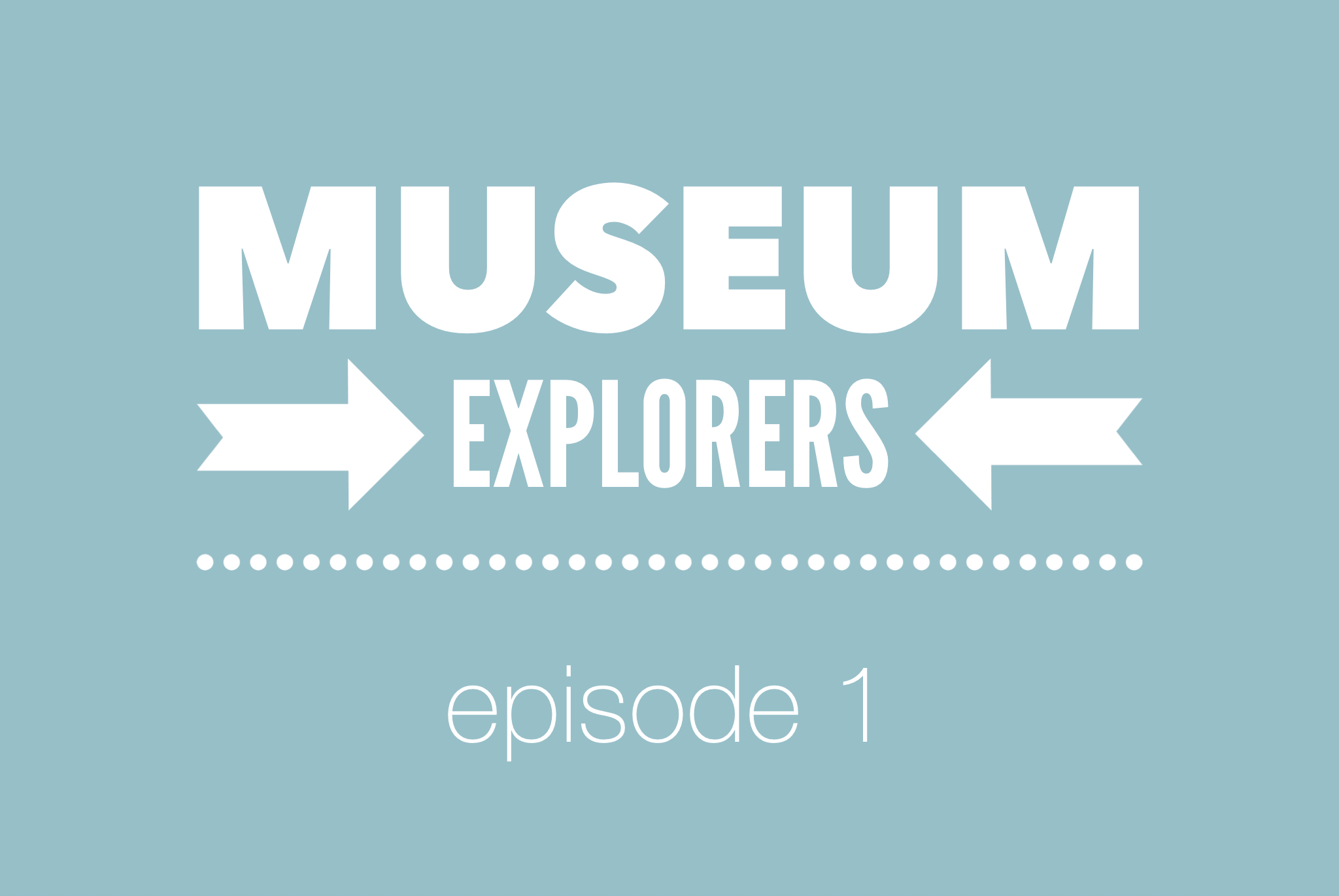 First up is Lynn from Glasgow, who writes the blog Glasgow with Kids (which I have been busy perusing as we are planning a trip to Glasgow in the near future). Here's what Lynn had to say:
1. Why don't you start by telling us a bit about yourself and your family?
I'm Lynn and I live in Glasgow with my two kids aged 5 and 2, my husband and our lovely labrador. We love getting out on little adventures as a family. Most weekends you'll find us exploring new places and finding new things to do around our lovely city.
2. How old were your kids when you started taking them to museums, and what was the first museum you remember taking them to?
We've been going to museums since my eldest was about 6 months old. The first museum I remember taking her to was Kelvingrove Art Galleries & Museum in Glasgow's west end. We were so lucky that this was our local museum at the time; it's one of Glasgow's best. My kids still love having a wander round there looking at all the animals and the floating heads.
3. What's the last museum you visited as a family and how was it?
This is funny, because we were just at Kelvingrove today to see Dippy the dinosaur who's stopped there on her UK tour at the moment! It was extraordinarily busy, most probably because Dippy is there. The kids had a great time wandering (in my youngest's case constantly running) around all their favourite parts. I found it a bit more stressful than they did today trying to keep track of both of them when it was so much busier than usual though. Before today, our last museum visit was to The Tall Ship at Riverside. It's a Victorian sailing ship called the Glenlee that's been turned into a 3 floor museum. It's a brilliant place to explore and let the kids play.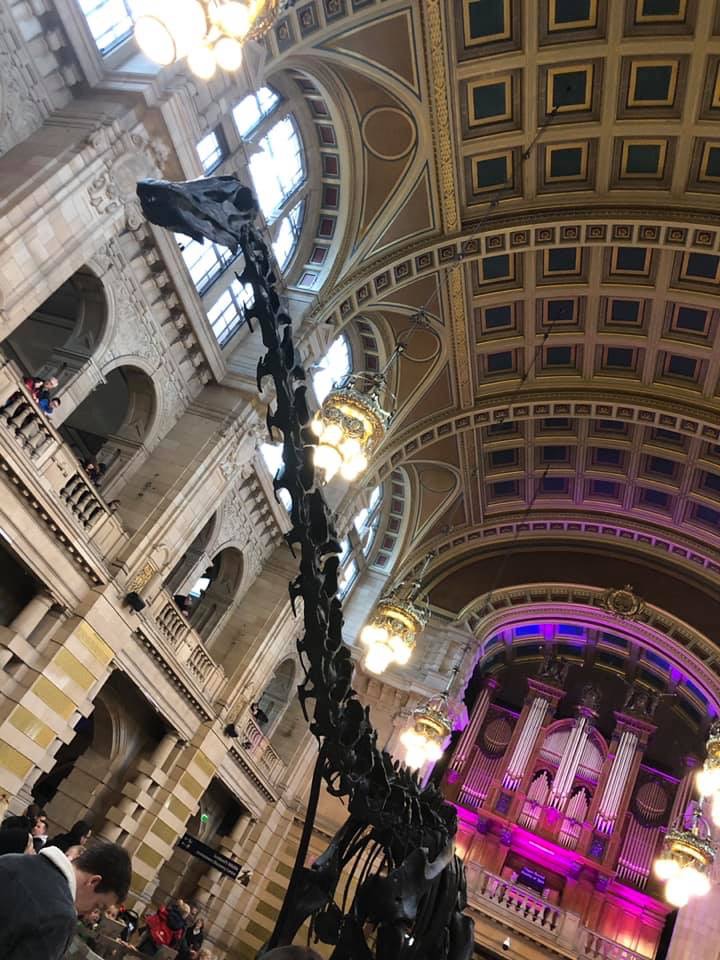 Dippy the dinosaur at Kelvingrove Museum – photo courtesy of Lynn at Glasgow with Kids
4. Can you share any particularly memorable family museum experience?
That depends on the type of memorable experience… We were visiting the National Museum of Rural Life in East Kilbride, just south of Glasgow. This is a fantastic museum with 2 parts. There's a big building with tractors and a bumble bee exhibit and lots of interactive games plus loads more. Then there's the working farm that you can visit; here you can see the cows being milked, meet calves and lambs (at the right time of year), visit the old farmhouse and see a few other animals too. My kids are always suited up in wellies and waterproofs here. It's the only way to do the farm. Anyway, my son was about 15 months old – he'd been walking for 6 months by this point so he was pretty steady on his feet. We were round looking at the pigs and he lost his footing and face-planted his entire front of body right into what I can only describe as a puddle of pig swill. I pretty much had to bath him in the disabled toilet. And the stench was horrendous! I was incredibly glad that he was mostly protected by the snowsuit and welly combo he was kitted out in that day.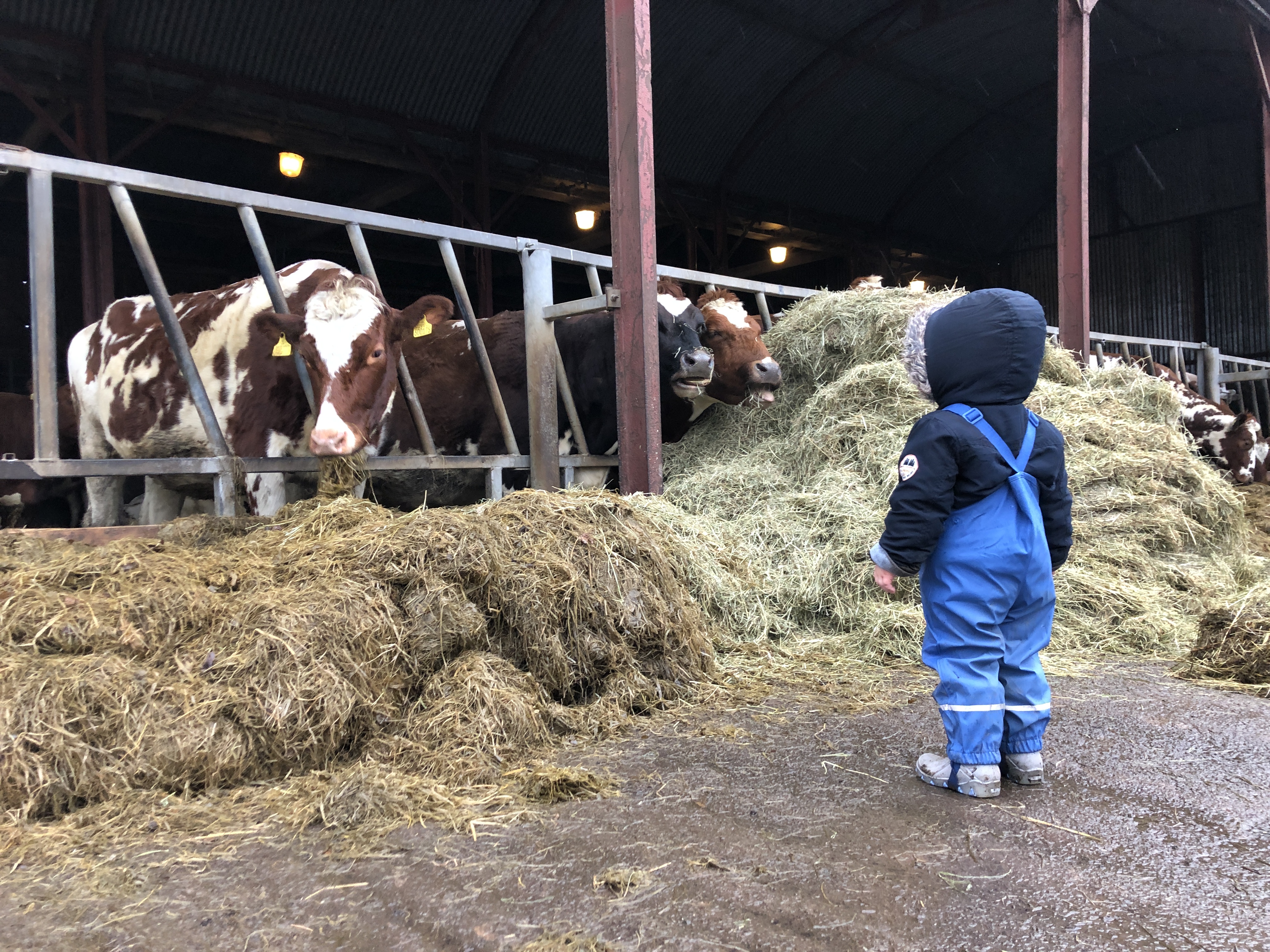 National Museum of Rural Life – photo courtesy of Lynn at Glasgow with Kids
5. What is your all time favourite museum to visit as a family?
Our favourite museum is the Glasgow Science Centre. We're there a bit less now that my daughter is at school but before that we were there at least twice a month. There is so much to do in here; 3 huge floors jam packed with exhibits that they both love to explore. They have a section on the first floor just for under 7's that we've spent a whole afternoon in without even going anywhere else! It also has science shows, workshops, an amazing planetarium and an IMAX cinema too. The cafe is pretty good as well.
6. What is the most unusual museum you've ever visited as a family?
There's a little museum of dolls in the visitor centre at Finlaystone Estate, just outside Glasgow. It's the most random and the oddest museum I've ever come across. It's unusual firstly that there's a museum of dolls in the visitor centre of this very outdoorsy place. Secondly a museum of dolls is pretty strange. (Maybe even a little bit creepy…!) My kids want to go in and see it every time we're there though, so perhaps I just watched too many 80's movies.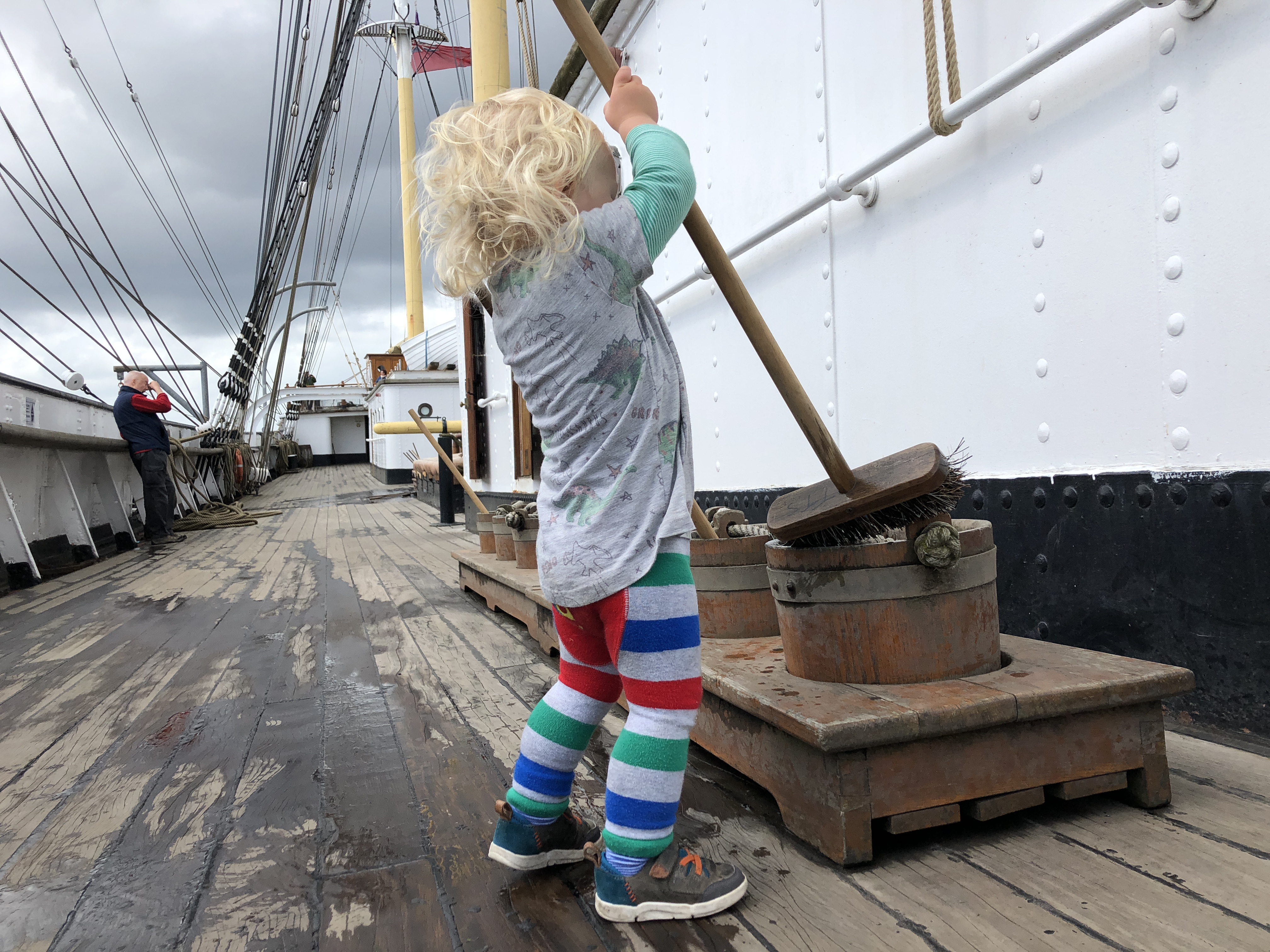 Scrubbing the decks at the Tall Ship – photo courtesy of Lynn at Glasgow with Kids
7. What museum that you have not yet been to would you love to visit with your kids?
We've been to every museum I know of in and around Glasgow. There are a few others I'd like to take the kids to though. I really want to get along to the V&A museum in Dundee. It's on my hit list for this year. I'd also like to visit Dynamic Earth in Edinburgh. I went there when I was a student and really enjoyed it. I'll wait until my kids are a bit older though as I think they'll appreciate it more in a couple of years.
8. And, finally, do you have any tips or advice for other families on how to make museum visits with kids run more smoothly?
My 2 year old likes to walk (and by walk I really mean run and climb) absolutely everywhere. To make life a bit easier I usually take the buggy with us when we're out. If we're in a museum I'll find somewhere to park the buggy, so if he gets overexcited or tired I can easily get the buggy and pop him in to calm down or have a rest. Also, take snacks. That's just a general rule though, not specific to museums!
[line]
Many thanks to Lynn for sharing her family's museum experiences. We're definitely pencilling in a trip trip to go visit Dippy at Kelvingrove, seeing as Glasgow is just along the road from us. Lynn also has a great blog called Glasgow with Kids, which you should definitely check out if you're planning a trip to the area. You can also connect with Lynn on Facebook and Twitter. And if you would like to take part in a Museum Explorers interview, just get in touch!