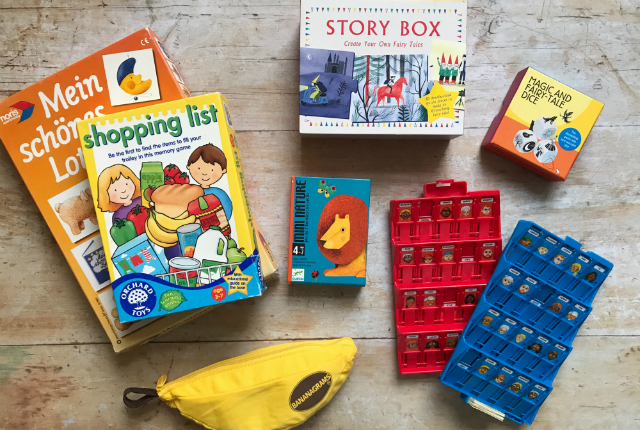 5 Great Games for Bilingual Children
Today is International Mother Language Day, a worldwide observance held annually on 21st February to promote awareness of linguistic and cultural diversity and multilingualism. Having been brought up bilingually myself, and now raising my boys with two languages and two cultures, this day holds some significance for us and I like to use it as an opportunity to share some of your tips and experiences. This year, I'm sharing some of our favourite games we found work particularly well with bilingual or multilingual children. Of course, they work equally well for children who are maybe learning a foreign language, as well as for nurturing language skills in monolingual children.
Storytelling Games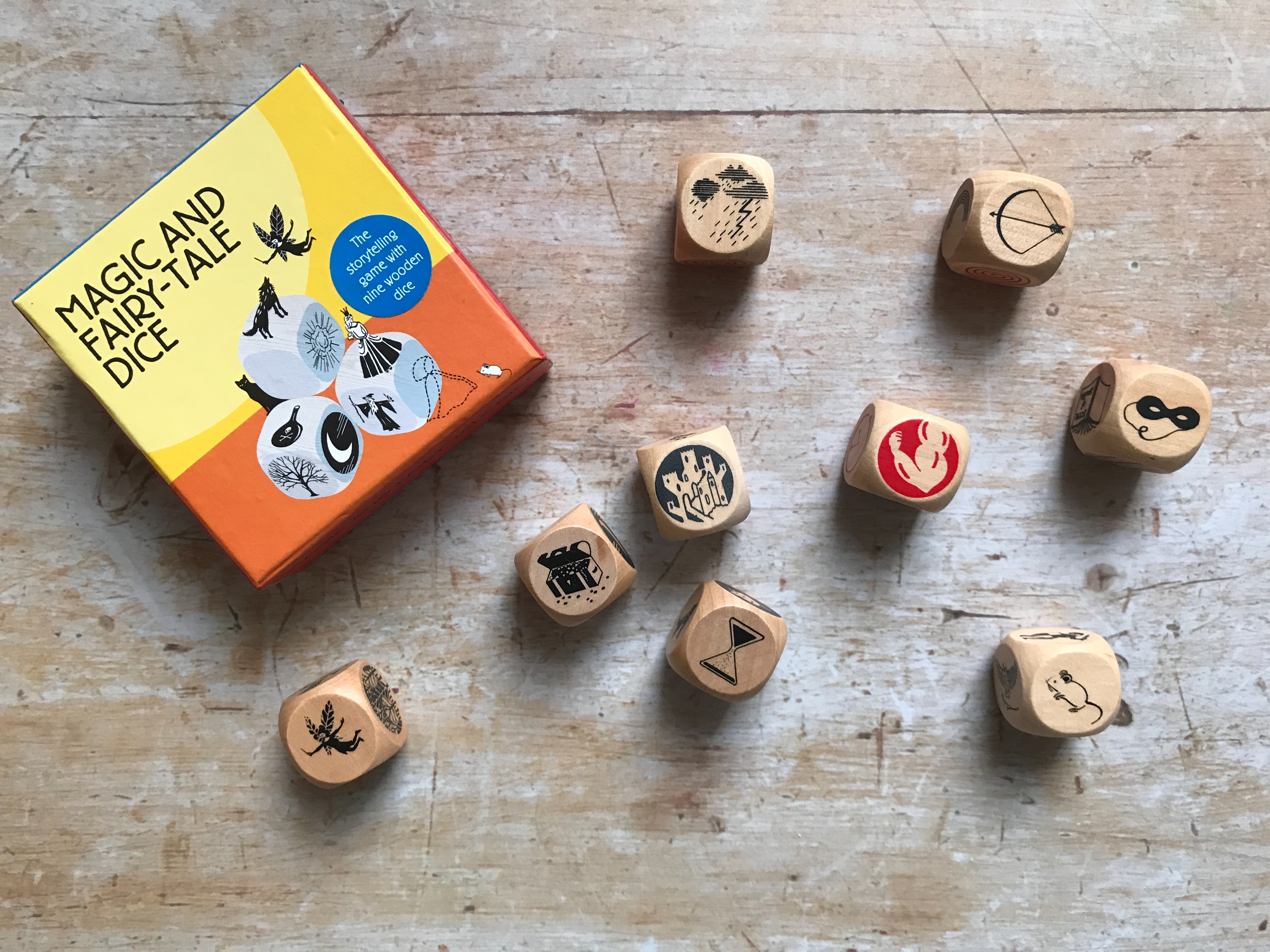 Any games that don't have a load of rules and don't have elements heavily reliant on a particular language, such as cards that need to be read out, are great for playing in different languages. One of the most open ended games that fall in this category are storytelling games. Not only can they be played in any language, but they also actively encourage the creative use of language. We have a beautiful set of wooden storytelling dice, with different fairy-tale elements, which we use with the boys to create stories in both English and German. My 8 year old in particular loves using these dice. There are loads of different kinds of storytelling dice you can get these days, with different themes – you could even try making your own!
In a similar fashion, these beautiful double-sided fairy-tale 'Story Box' cards by Magma invite children to create a new story every time by changing the sequence of the cards. My 4 year old finds these a little easier than the dice, as the cards start the story off for you rather than having to start a story from scratch. We have fun creating a new sequence of events each time, and then we talk about what is happening in the story, in either English or German. Or both. The box contains 20 pieces, which are nice and chunky for little hands. You can make a story up to 8 foot long! There is a ghost themed Story Box too, and last Autumn they released a new Animal Adventures themed one.
Letter Games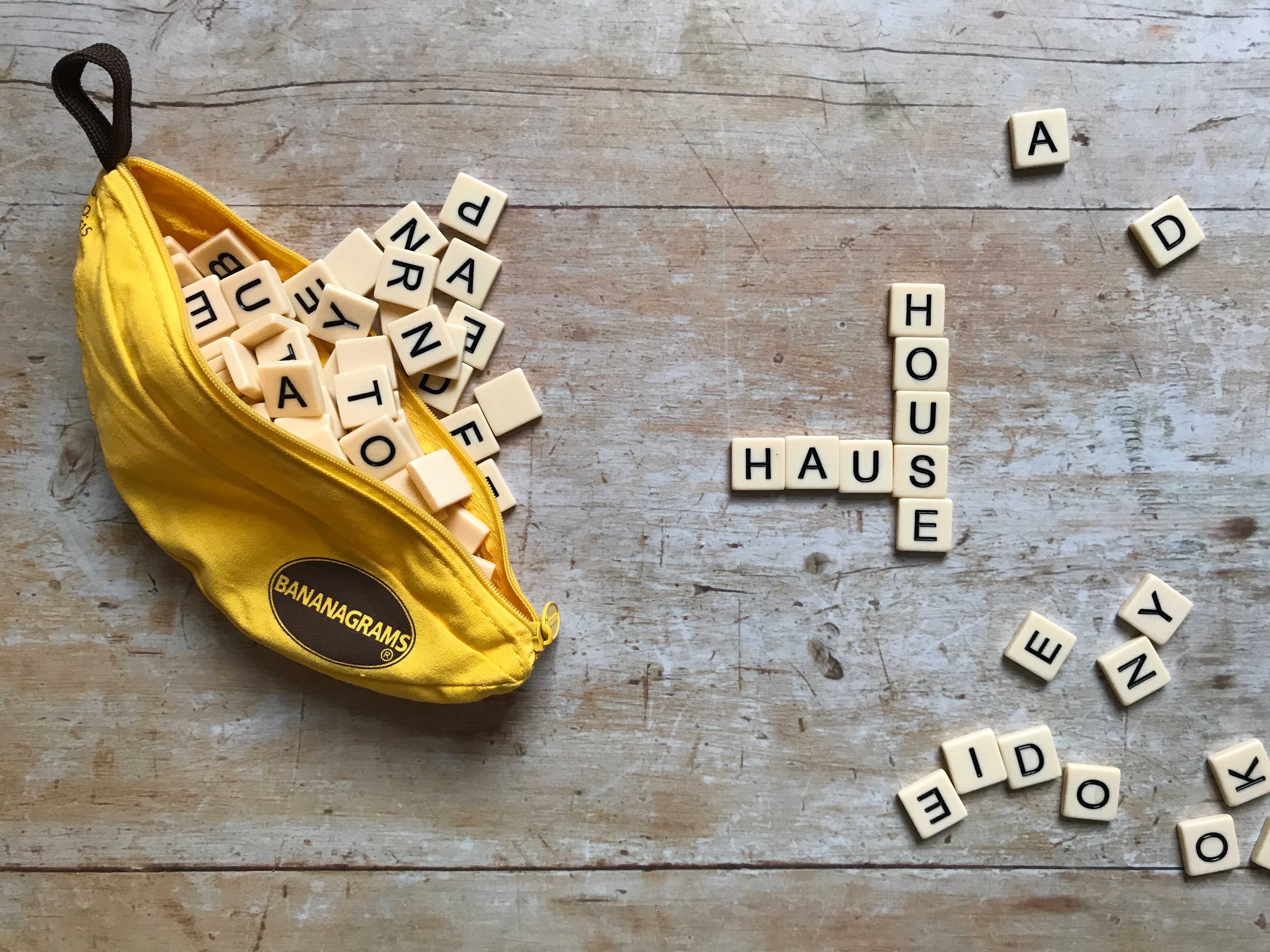 For children who have already learned to read, games that involve letter tiles are great for not only nurturing language but also squeezing in a bit of spelling practice. Scrabble is of course the first game that comes to mind, but we prefer the more free flow rules of Bananagrams. We don't always follow the rules too strictly though, sometimes we just use the tiles to make words together, for example the same word in English and in German and then we compare. Some words are completely different, some sound similar but are spelled differently. German does have some additional letters not found in English, but we are getting round that by avoiding those for now (did you know, special letters aside, that different languages have differing letter distributions of Scrabble tiles because the frequency of each letter of the alphabet is different for every language.
Card Games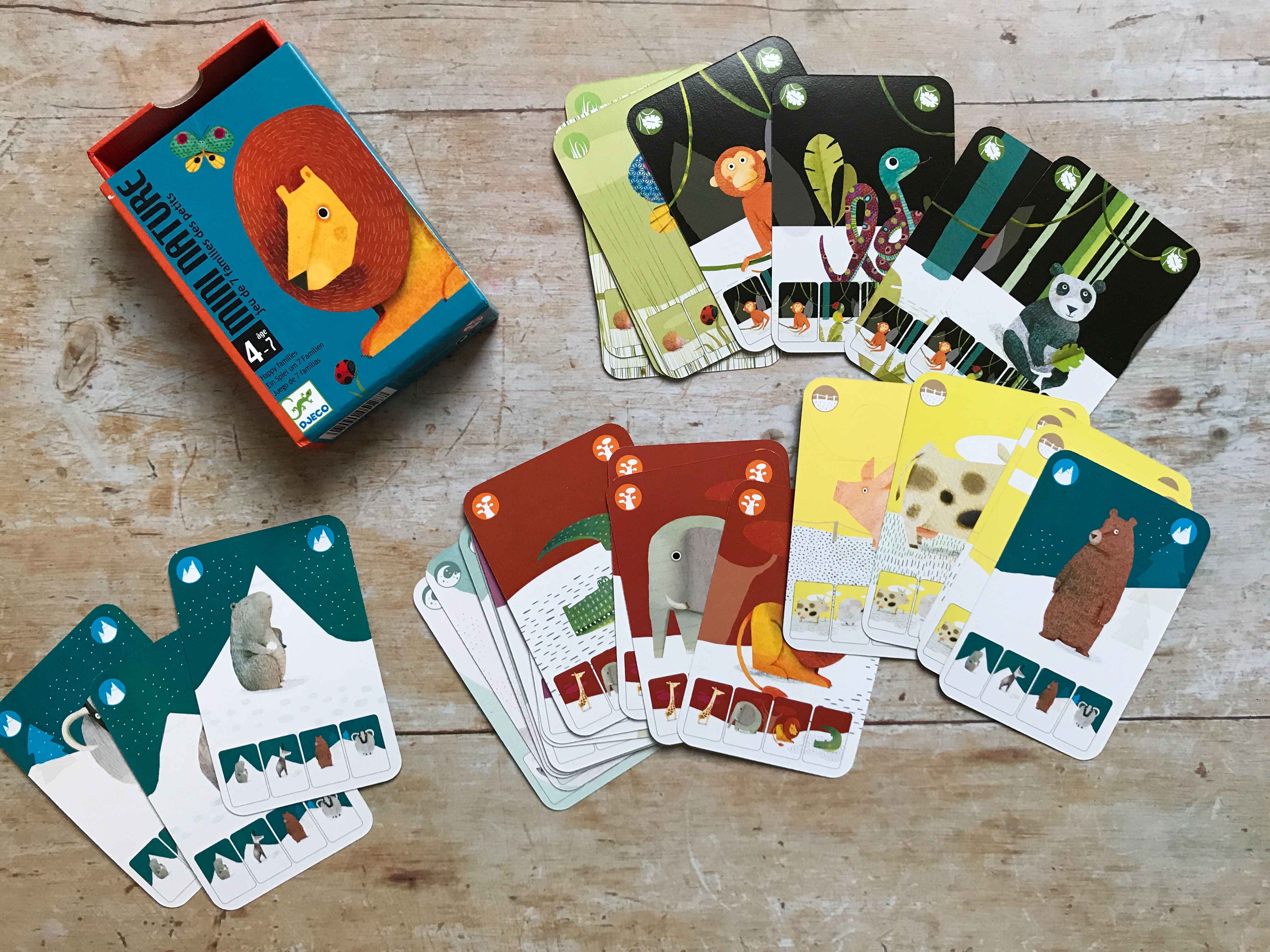 One of our favourite card games to play is a version of 'Happy Families' (known as Quartett in German), where you have to collect sets of four. We have a lovely animal themed set from Djeco. This game is great for language development because you have to ask players for cards, so e.g. in our animal set you might ask someone "do you have the bear from the mountain family?" or "do you have the monkey from the jungle family?" We can play this in either English and German, meaning we can practice the words for various animals and environments, as well as asking and responding to questions, in both languages.
Lotto or Bingo
Another favourite game, that is brilliant for nurturing languages and practicing vocabulary, is picture Lotto or Bingo. Each player has a board with pictures, and then you pick up cards that are face down in the middle and players match them to their boards. Whoever completes their board first wins. There are different ways to play this game – the way we play it, a player picks a cards, shows it and asks e.g. "who has the colouring pencils?" or "who has the ladybird?" That way, the boys need to say the names of the pictures our loud each time, and it's easy to play in either English or German. I picked the wonderful set below up from a second hand sale in Germany, and it's brilliant because it has 54 different picture cards in total covering a wide range of vocabulary from household items to different plants and animals.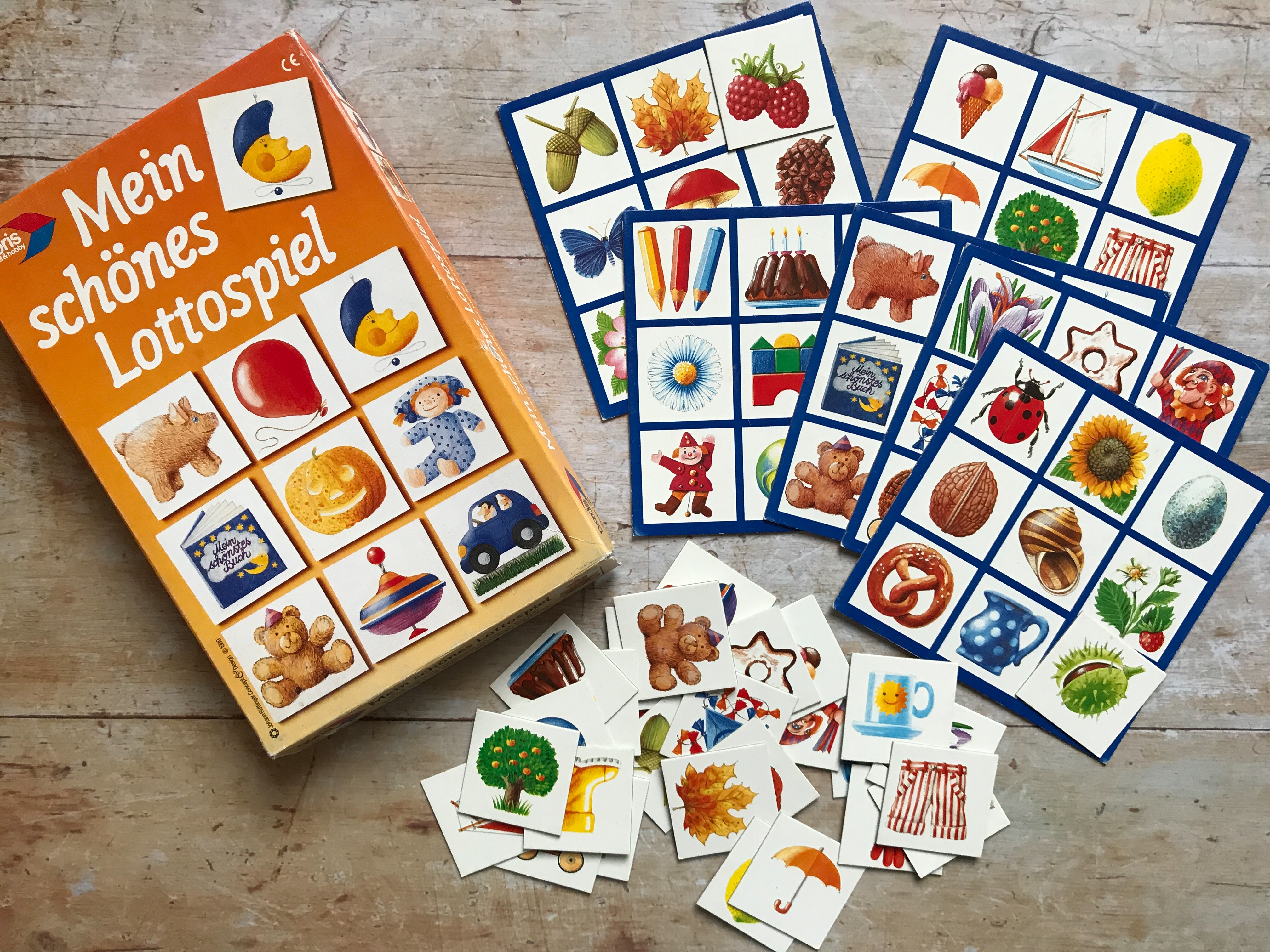 Orchard Toys also have a great selection of Lotto/ Bingo games. We have a Dinosaur Lotto and a Superhero Lotto, with a range of cards in each. Our favourite one though is Shopping List, where each player gets a list of supermarket items they need to collect, and a shopping cart board to collect them on. The lists are on English, but as there is a picture for each item too – and my younger boy can't read yet anyway – we can also easily play this in German. (NOTE: Although we are testers for Orchard Toys games and often get sent free gmes for review, this game is one we bought ourselves!)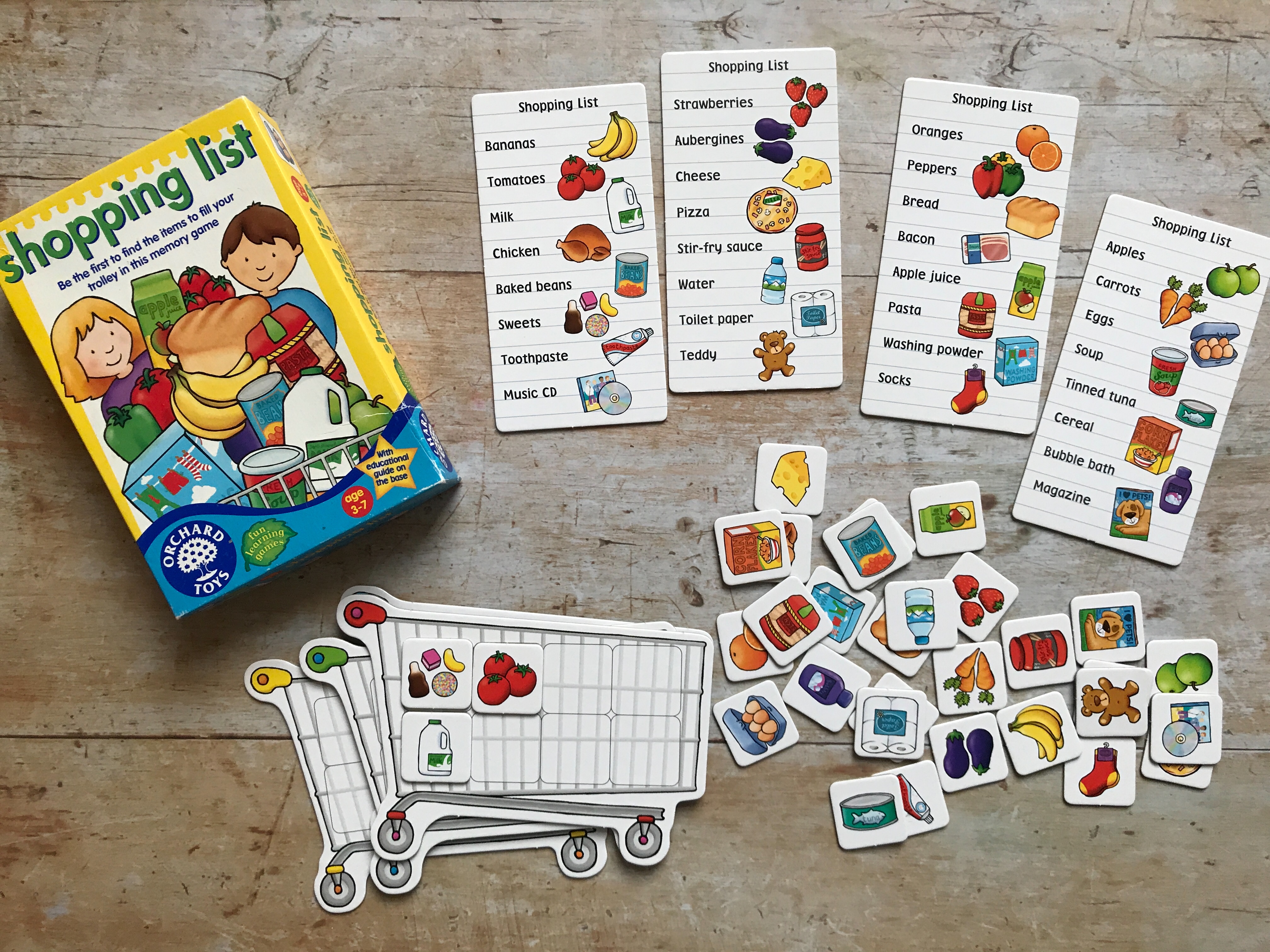 Guess Who
And, finally, Guess Who is another great game for nurturing vocabulary, this time for words relating to people. Each player has a set of people in front of them, and picks a card which shows one of those people that their opponent has to guess. By a process of elimination, asking whether the person you have to guess has certain features or not, you are eventually left with just win. The winner is whoever can figure out their opponent's card first. It's a great game for building vocabulary for things like eye and hair colour, whether they are wearing glasses, hats, earrings etc. And it's easy to play in any language.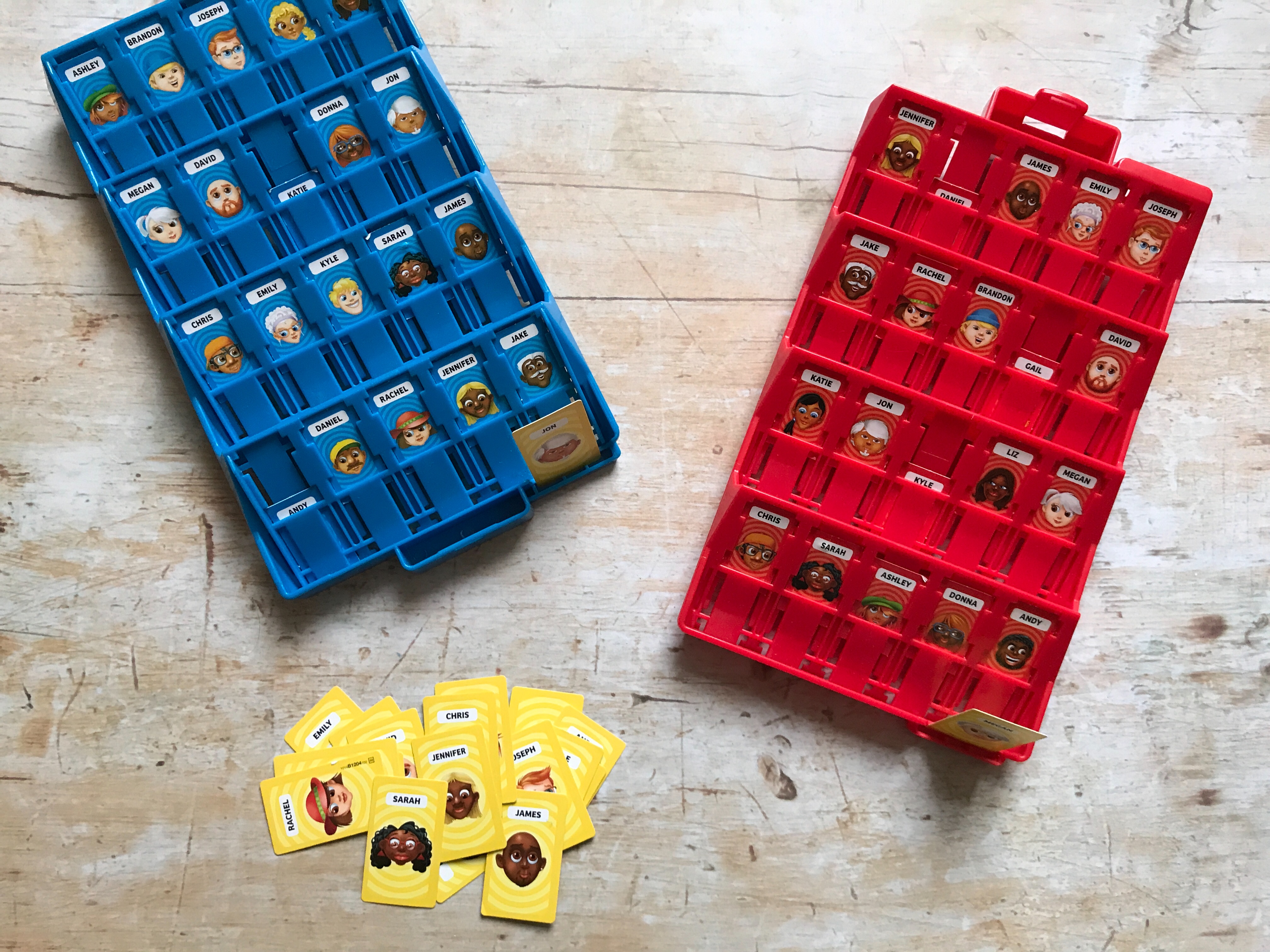 So, those are our favourite games for nurturing language, that we like to play on both English and German. Do you have any other great suggestions to add? Please feel free to share them in the comments!
[line]
If you enjoyed this month, you may also like: