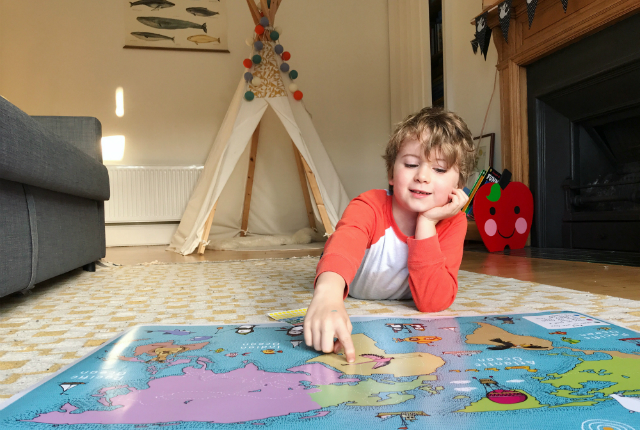 Mapping Our World
Today, I'd like to talk to you about maps. I love maps! My dad taught me how to read maps when I was a kid, and I've always liked to have some hanging up, first in my room, then in my student digs and now in our family home. I've had maps of the world, of Europe, of countries and places I've lived and of favourite places I've travelled too. Thankfully, my husband loves maps as much as I do – he even works for a digital mapping company – so we've always been in agreement at having them as part of our home decor.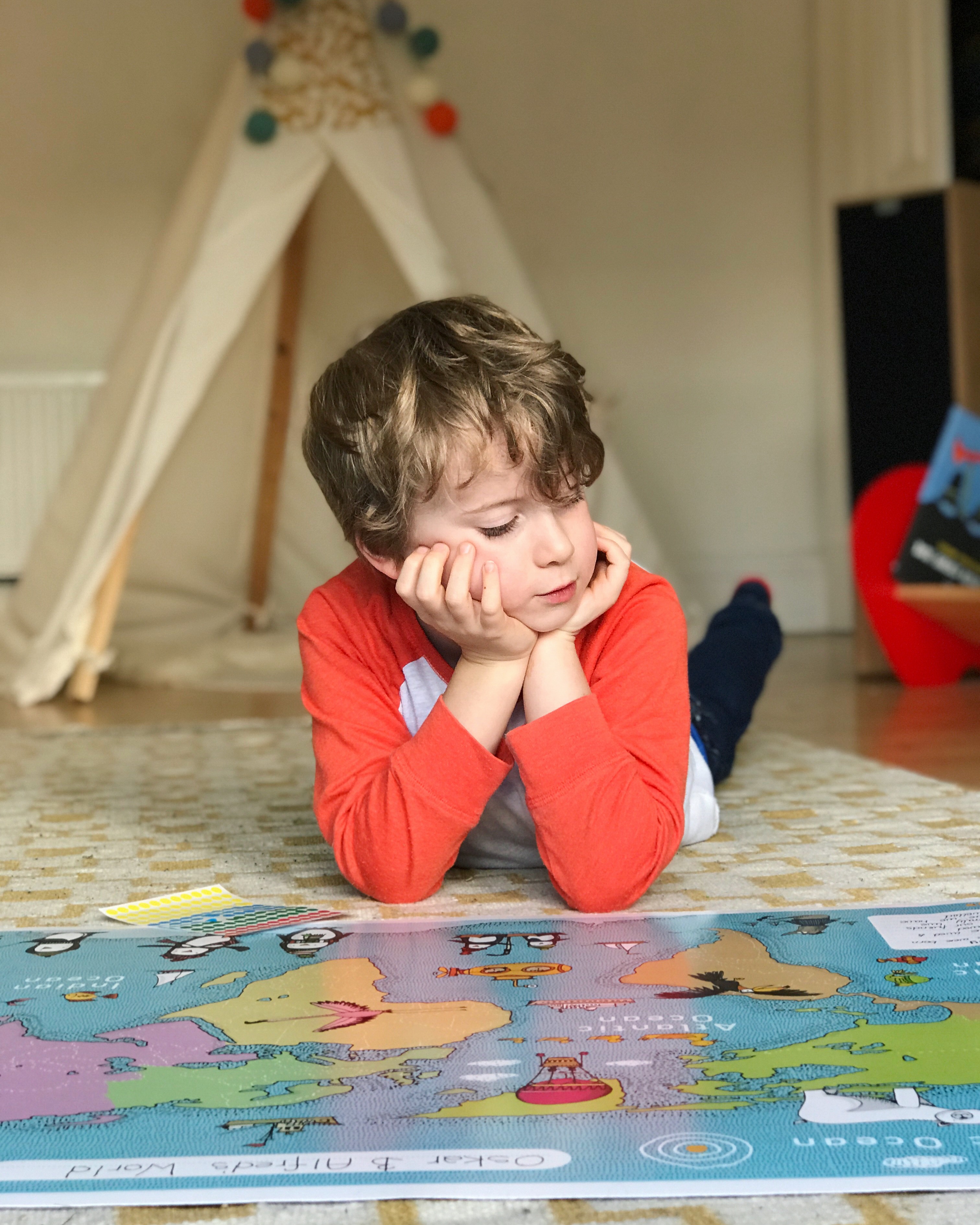 Being a bi-cultural family, with the four of us born in three different places, and with both immediate and extended family spread across the world, maps are also a great resources to visualise for our boys where they come from, where they've been, and where the rest of their family lives. My husband and older son were both born in Scotland, my younger son and I were both born in German though on different sides of the country, and all three of my 'boys' have dual nationality (something I'm a wee bit jealous of). We also have family in the USA, and as well as having visited them, have also travelled around Europe quite a bit with the boys. So all in all, plenty of places to trace on a map.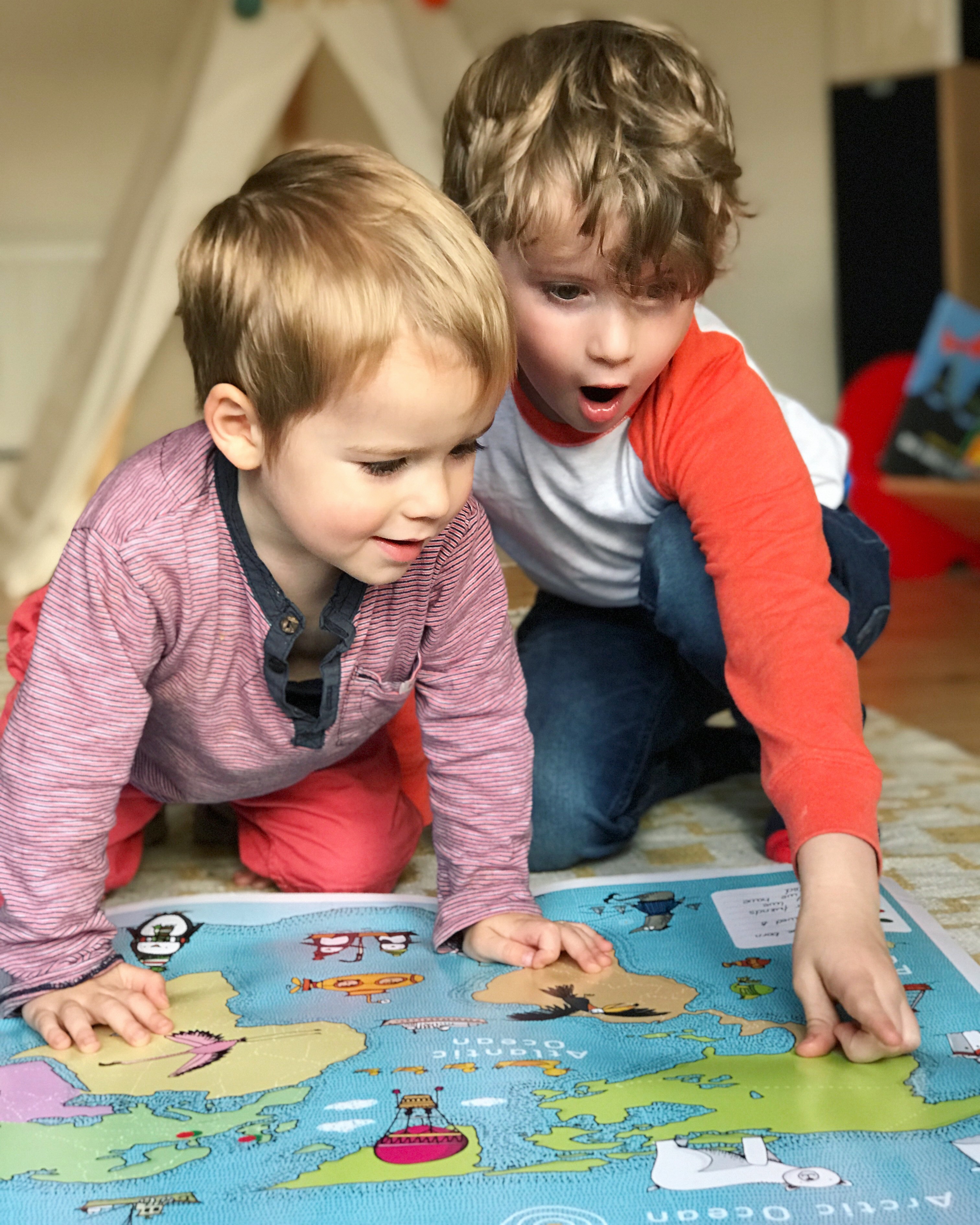 The maps we've had hanging around our home in the past, have been a mix of road maps and poster sized maps bought from bookshops, and freebie maps from tourist shops as well as some souvenir maps, brought map from travels. But recently, we were sent a very special map that I wanted to share with you. About a month ago, I joined the champion's network over at Lil'ollo, a small business I discovered on Instagram, which produces beautiful bilingual flashcards and games, that you will be hearing more about soon. Lil'ollo was founded by Alex, who lives in the UK with her Italian husband and two children, so is herself raising a bi-cultural and bilingual family. You can find out a little bit more about her and the story behind her business in her introductory blog post on the Lil'olli website.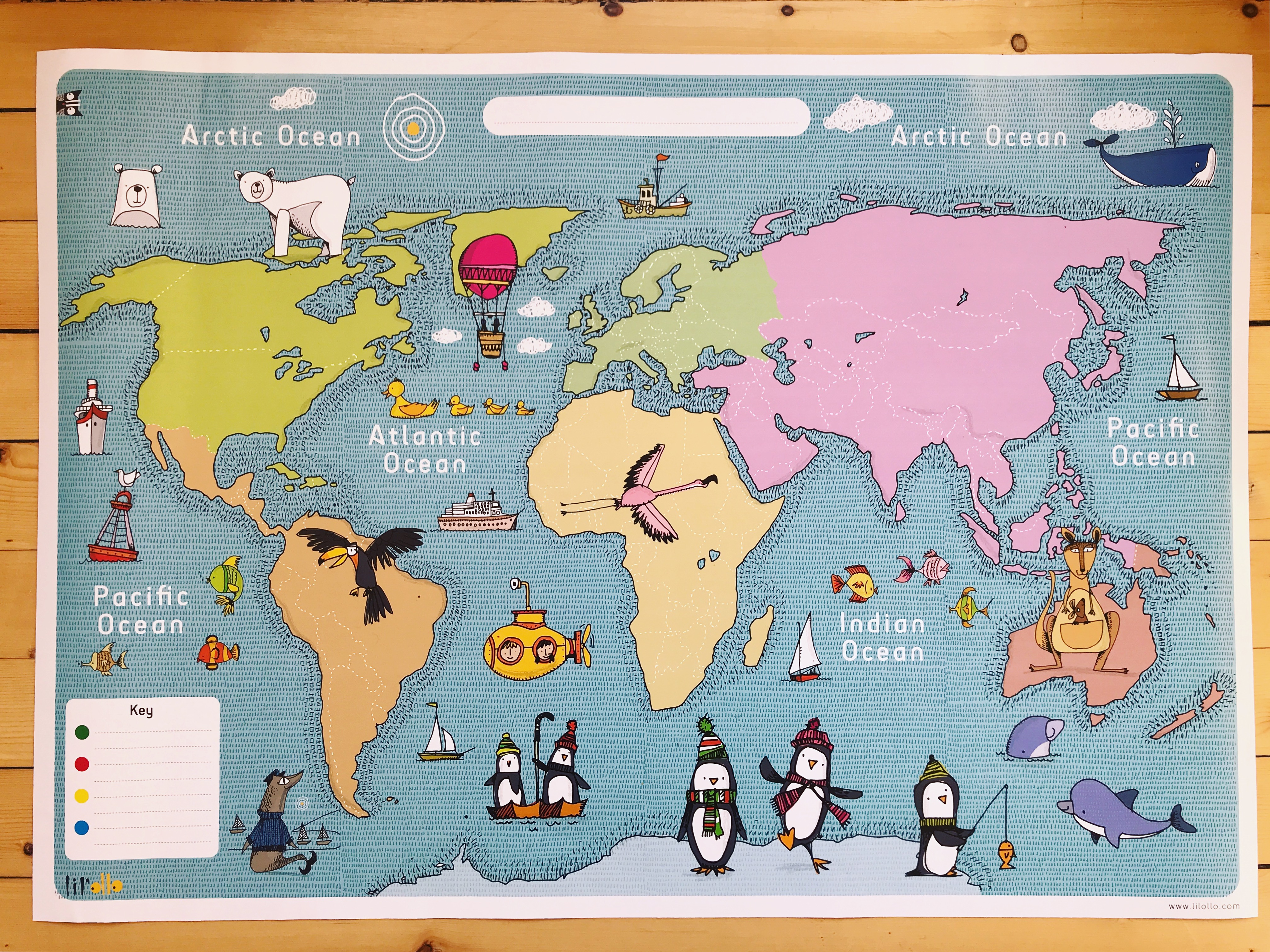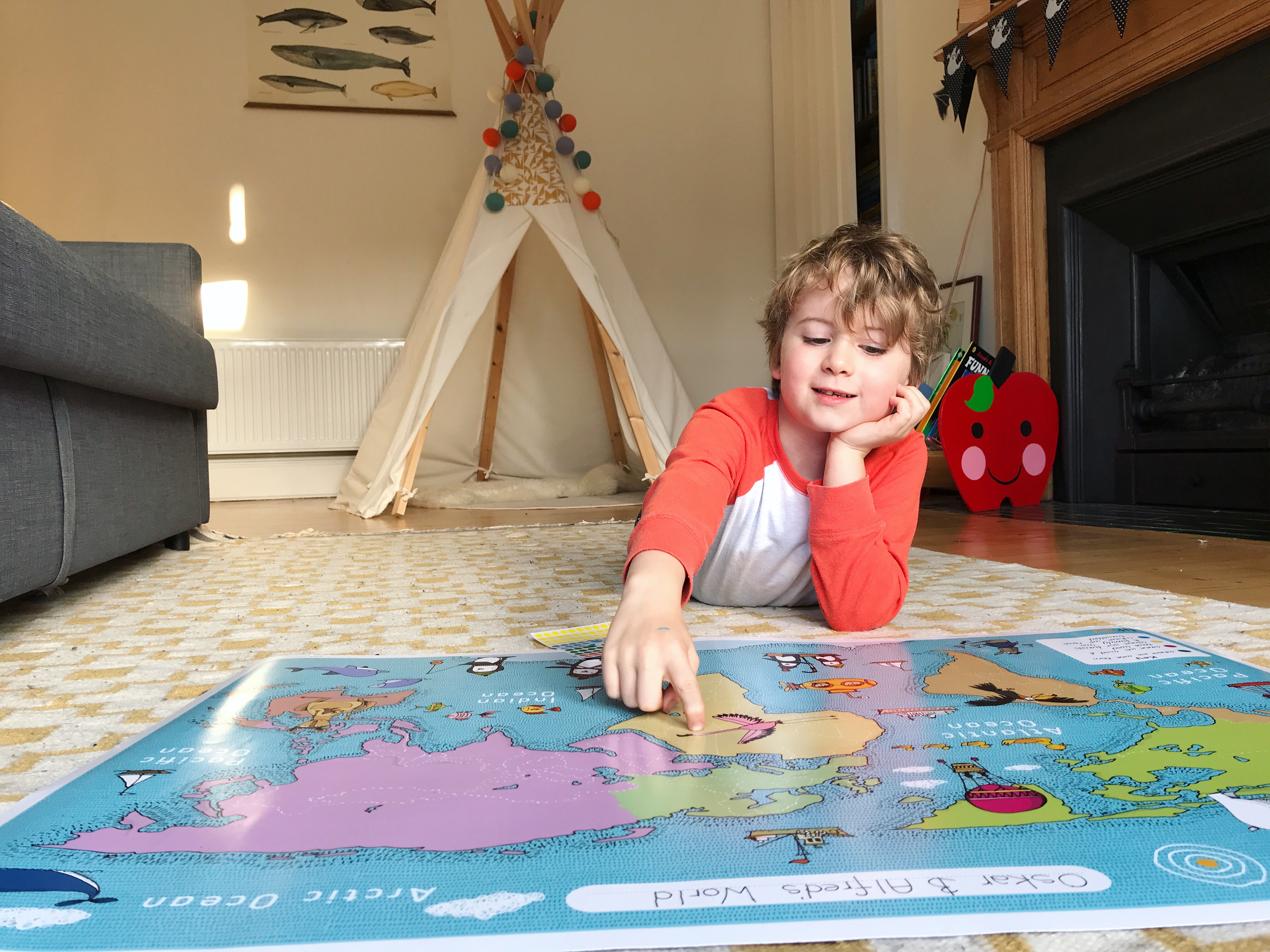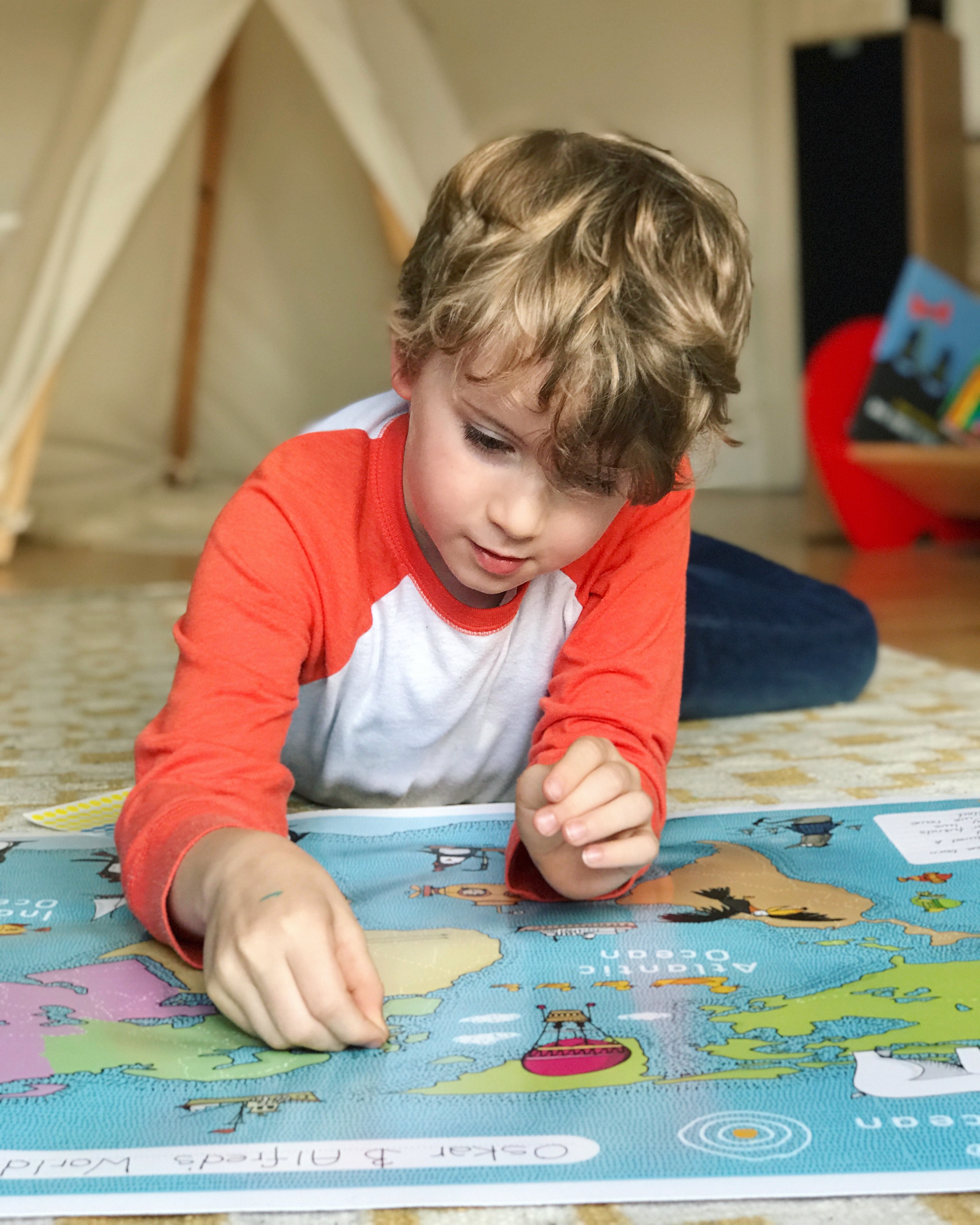 As well as the flashcards and games, Lil'ollo also produces beautifully illustrated maps, and very kindly sent us a 'My Writeable World Map' to create together with the boys. The map shows the continents in different colours, and has countries roughly marked out in dotted lines, though no countries or cities are actually marked or written on to the map, the only words on it being the names of the oceans. I quite like this though, as it makes the map uncluttered and more like an art print, and also means we can get the boys to do a bit of 'detective' work, consulting an atlas – or the digital maps their dad works on – to match up outlines and pinpoint places. The boys also really loved the cute animals illustrations, which feature on all of Lil'ollo products.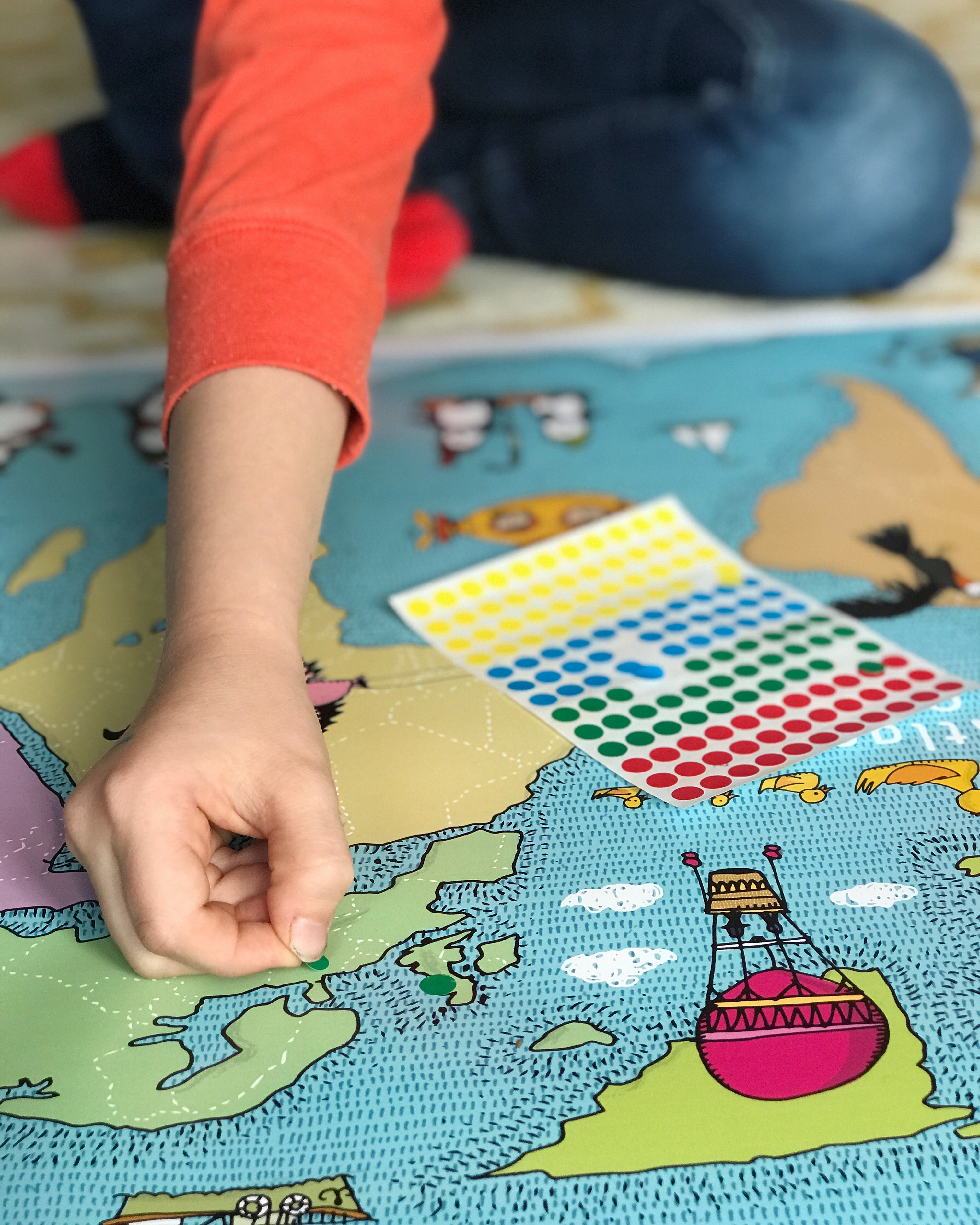 'My Writeable World Map' comes with a set of 143 dot stickers in 4 different colours, as well as space to write your own key and give your map a title. The only other thing you need is a pen, and as the paper is slightly shiny, I used a thin black permanent marker. You just need to decide what you want each colour to represent, then make a note of it in the space for your map key (bottom left) and stick on the dots in the appropriate places. The categories were chose were 'Where we were born', 'Where we live and have lived', 'Where our friends & family live', and 'Where we have travelled'. We decided to create the map focusing on just places that were meaningful to the boys (and names it 'Oskar & Alfred's World'), which means placed like Japan, Iceland, and other parts of the USA, that only my husband and I have been to, do not feature.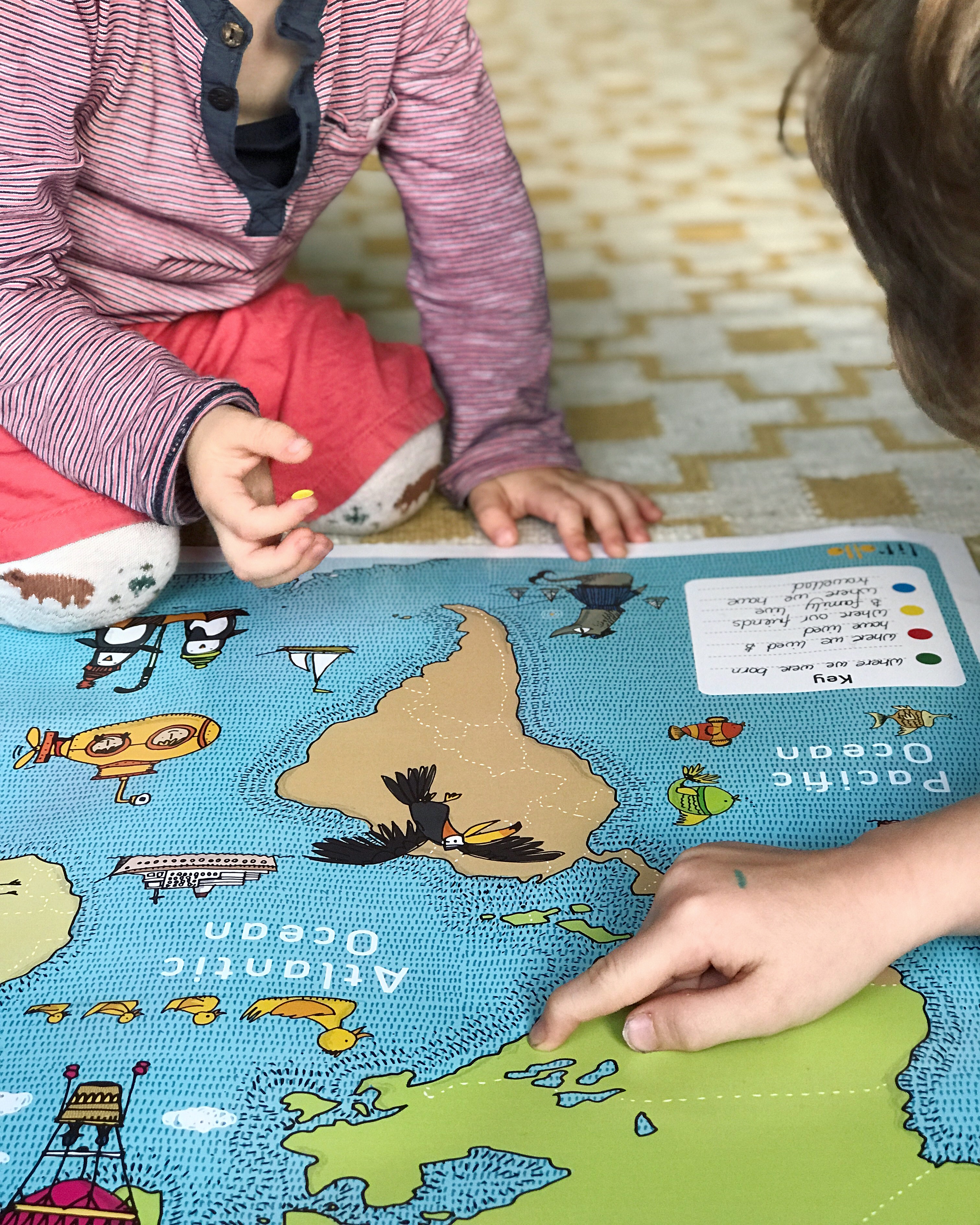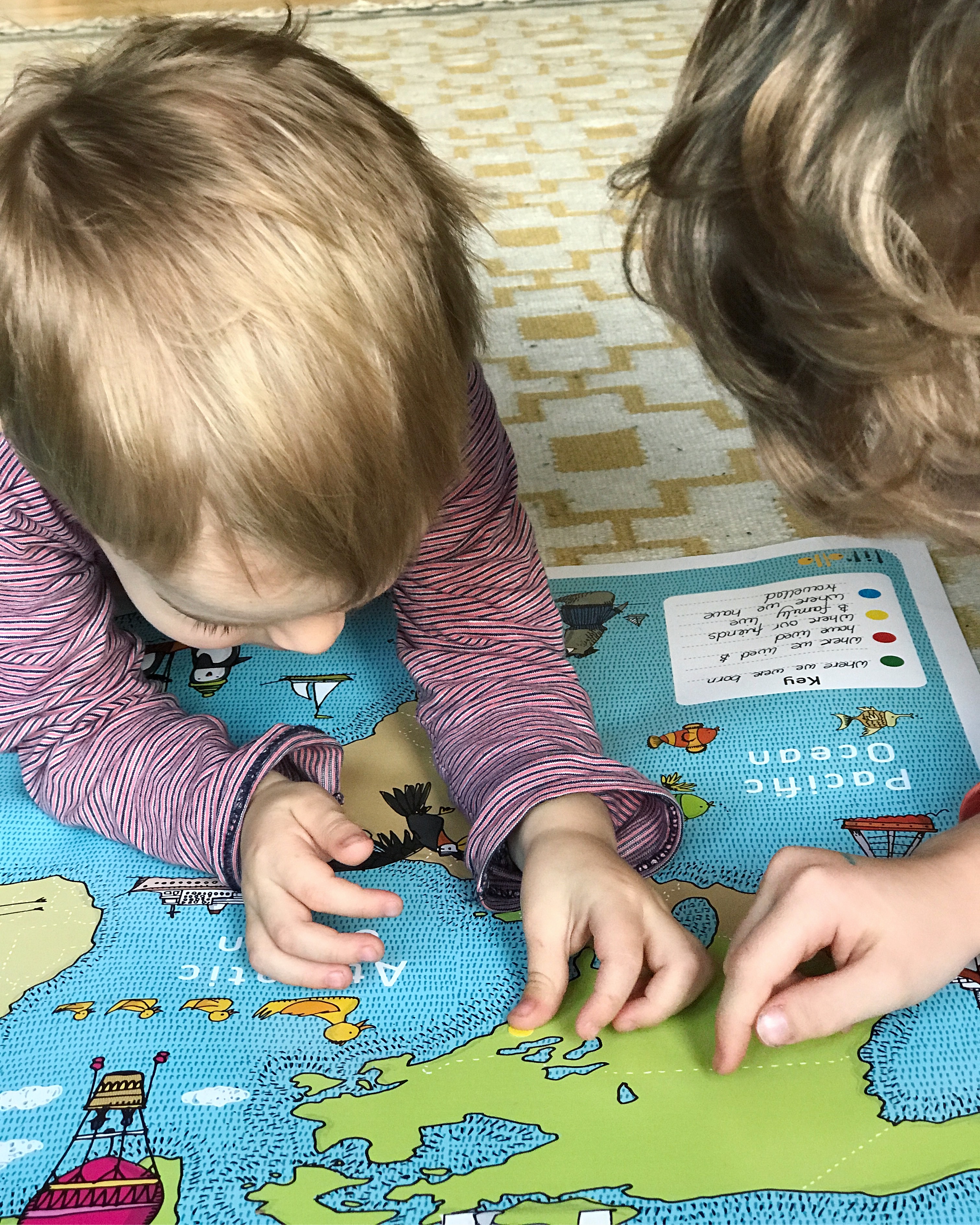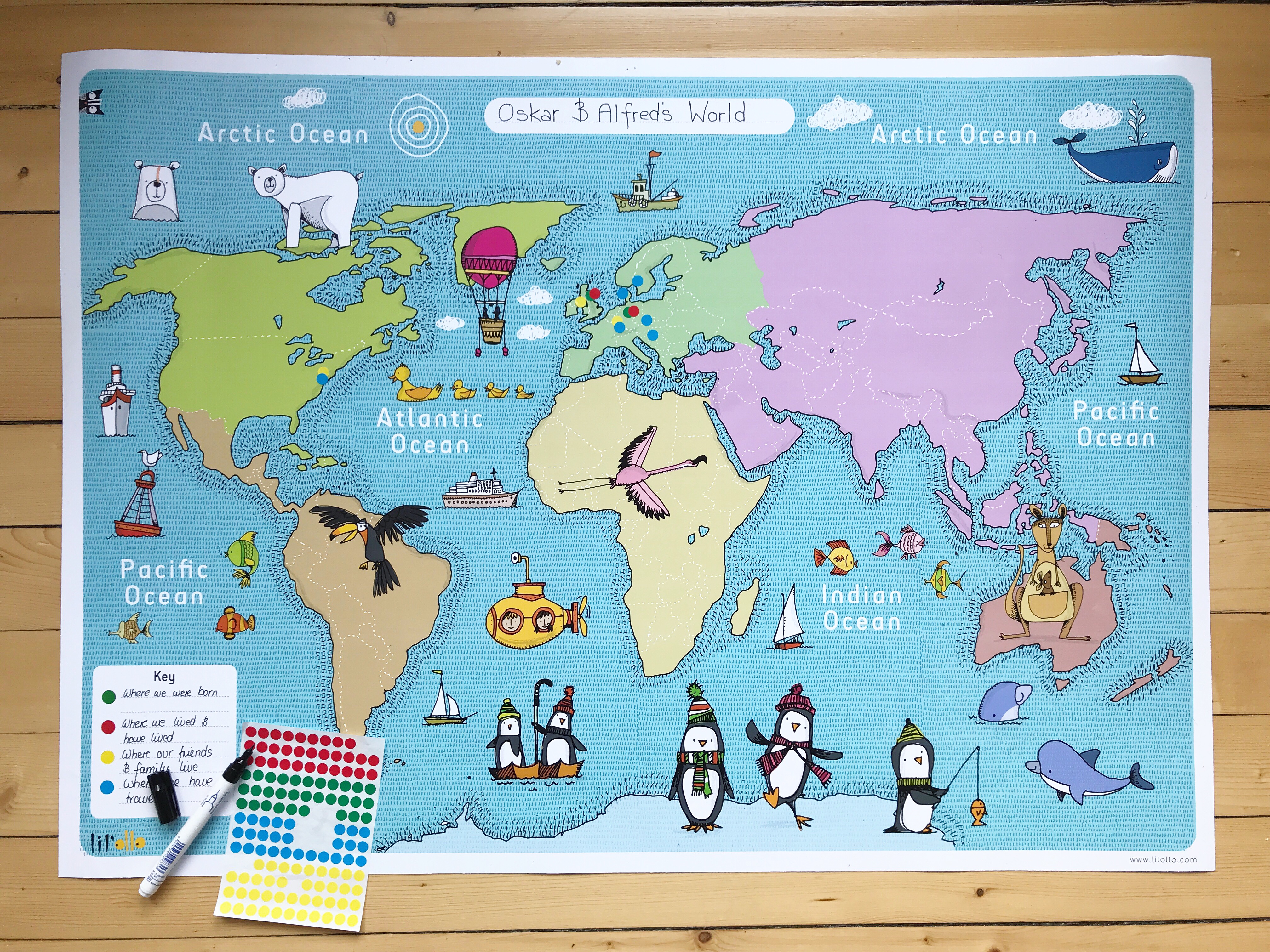 This was a really fun activity to do, together with the boys. I just love how they sat down and really studied the map, pointing things out to each other, and then when Oskar helped his little brother to stick on the dots, my heart just melted. If only they were so peaceful and calm together all the time, lol. Afterwards, we hung the map up in the hall, and they kept running up to it, or stopping when they passed by, to look at it some more. We have since moved it to their room, as we have FINALLY managed to unpack all our pictures and prints and get those up on the wall, and the hall was the only place left that was large enough to hang our gigantic world map, which has all countries and capital cities of the world marked in, as well as country flags. Which means we now have a world map in the hall AND in the boys' room, but in my view, you can never have too many maps hung around the house. Don't get me started on atlases – or, in fact, do get me started, because I will be sharing some recommendations for kids atlases in my next book round up at the end of the the week, so be sure to check back then!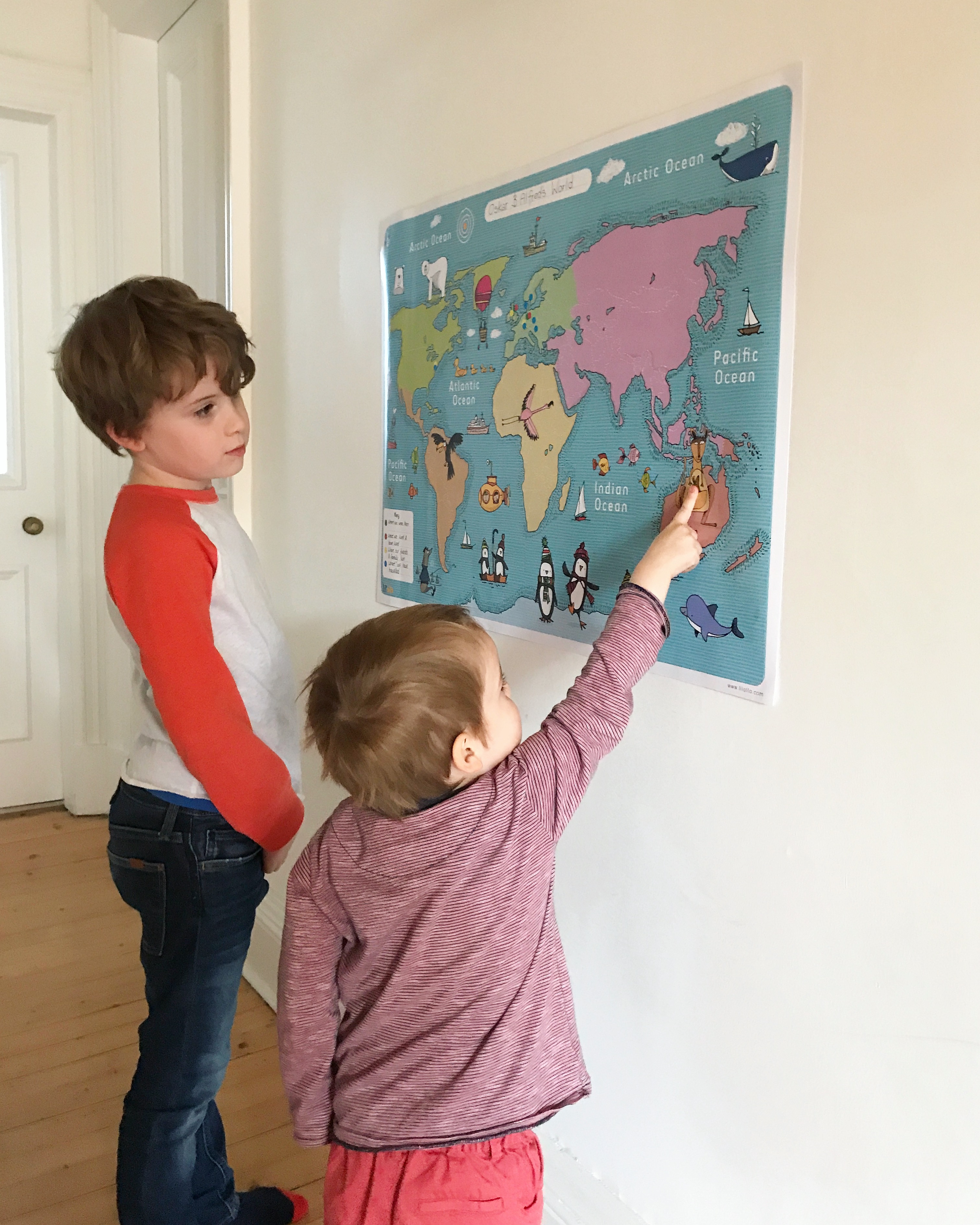 But getting back to Lil'ollo for a moment, you can find the 'My Writeable World Map' on their website, along with all their other products, and if you use the code BEARANDFOX at the checkout, you will get 10% off your order! Even better, keep an eye for a Lil'ollo map giveaway coming your way this week – just follow them on Instagram and/or Facebook to enter!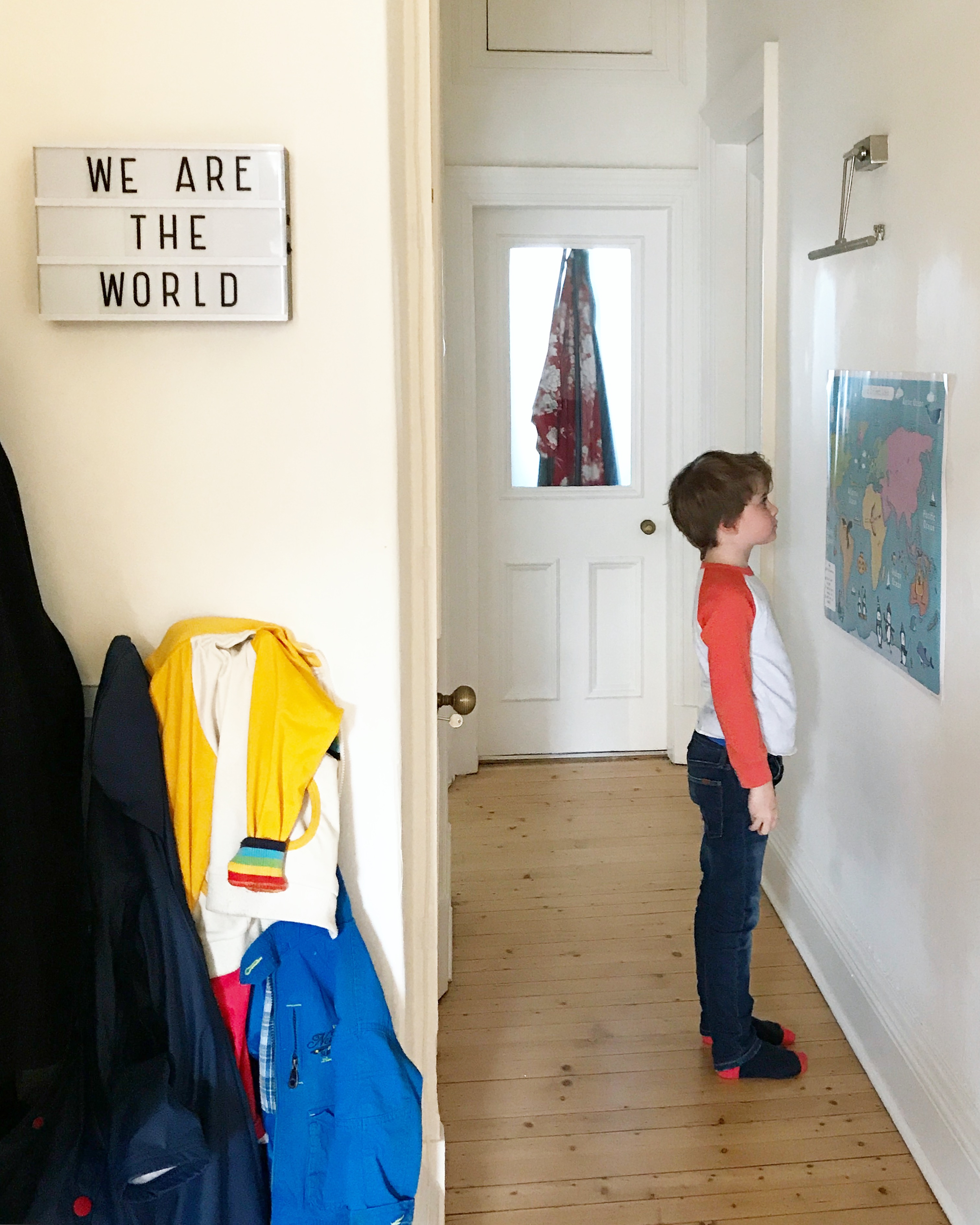 Disclosure: We received a free copy of the 'My Writeable World Map' from Lil'ollo, but all images and views are our own. Also, if you use the discount code, not only will you get 10% off your order, but I will get a 15% commission, at no extra cost to you.