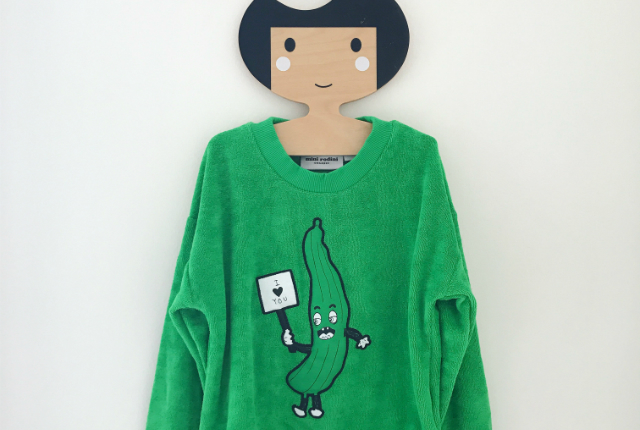 Review: Muddy Creatures
Today I wanted to share with you something a little different – Muddy Creatures, a cross between a kids clothing service and a surprise subscription box, is not something I would have used in the past, but I recently won a shopping voucher for them in a giveaway, which gave me the chance to try our their service with no strings attached. Just to be clear, I was under no obligation to review them, but I thought is was such a great a idea and the clothes really are beautiful, so I wanted to share it with you anyway.
I first came across Muddy Creatures on Instagram. The idea is very simple: you get sent a box full of cool, stylish kids clothes to peruse at your leisure, then you send back what you don't want within 10 days and only pay for the items you decide to keep. There are no sign-up or membership fees, and postage is free too. The majority of the brands are from Scandinavia – such as MarMar Copenhagen, Mini Rodini and FUB – though other brands from the UK, Spain, France and the US have been added to the repertoire. A box usually includes around 20 to 25 items, so you do get plenty to choose from, and depending on your budget you can just choose just one or two pieces to top up your high street purchases, or choose to go all out and use Muddy Creatures as a one-stop solution.
After registering on the Muddy Creatures website, you can create profiles for as many children as you like and order individual boxes for them. Boxes are available from newborn up to age 6. Since my older boys is already 7, I created a profile for my 3 year old. You are asked to give your child's size for tops, bottoms, and shoes. You can also select your child's favourite colours, and choose what kind of styles you would prefer, from categories such as 'Glad Rags' or 'Back to Basics' to more adventurous sounding ones like 'Hear Them Roar' or 'Over the Fjords and Far Away'. However, while your information and preferences are used to tailor a box to your child, you'll never know exactly what you will get, so things like colours are just for guidance. A lot of Scandinavian kids clothes they carry do have quite muted tones, though you do get pops of colour throughout their collections. At the end of the day, the element of surprise is, after all, part of the fun of it. And there's nothing to lose, since – as mentioned above – you only pay for what you keep and there are no additional costs.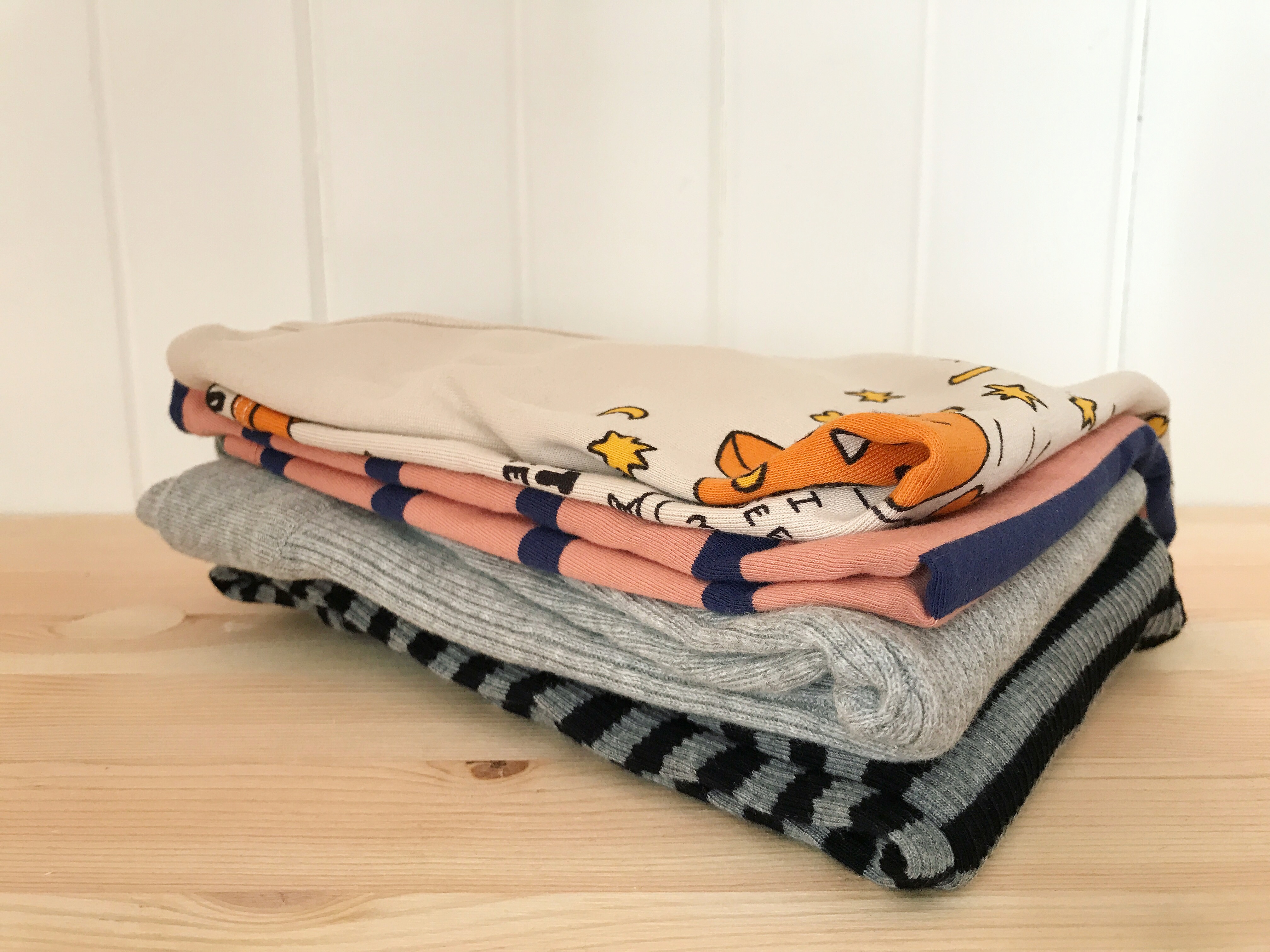 Within 24 hours of placing my oder, I received a phone call from Anja, the founder of Muddy Creatures, checking up on the information I had put in to make sure it was all correct, and having a wee chat with me to see if there were any holidays, special occasions etc coming up that we might be needing clothes for. I thought this was a fantastic personal touch to their customer service. It also proved really helpful, as in chatting with Anja I voiced my doubts about the size of clothes I had selected for my son as he is in between sizes, and Anja recommended going up a size which turned out to be the right decision.
Our box arrived a few days later, and included a selection of trousers and leggings, T-shirts and sweatshirts, as well as a pair of shoes, a bag and sunglasses, and a selection of socks. Heading in to summer, we had requested not to receive knitwear, and also no outerwear as we were already well stocked for jackets and coats. A couple of leggings and T-shirts caught our eye, but the piece de resistance turned out to be a bright green terry sweatshirt with a gherkin on it! I hadn't even selected green in our colour choices, so it just goes to show that the element of surprise can sometimes be spot on. To be honest, I had not expected my boy to choose this, but as he put it "I love gherkins! I love this jumper!" And it's true, he does love gherkins. He eats them as if they were sweeties.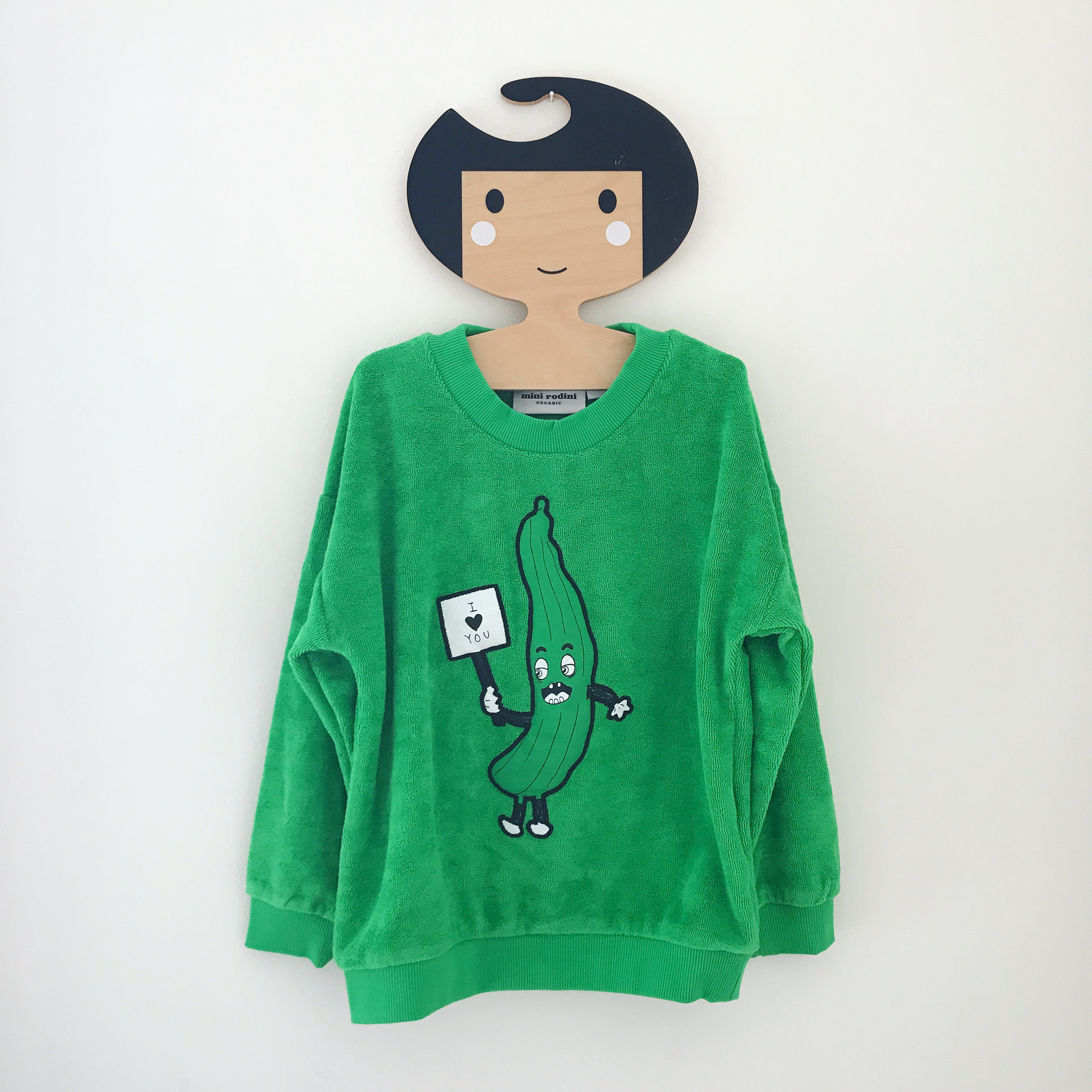 With the popularity of subscription boxes and online shopping on a rise, you can see how this hybrid service would appeal to parents. It takes the pain out of clothes shopping, and if like me you like the idea of shopping for independent brands but have no idea where to start, then this is a great way of discovering new brands you had maybe never even heard of before. I have to admit, I'm usually slightly reluctant to buy brands that cost a bit more for my younger son, as they grow out of things so quickly at that age whereas for my older son I know he will wear them for longer AND then his younger brother will get use out of them too. But it was great for my wee man to get treated to some nice new togs of his own and not just live in his brother's hand-me-downs.
So why not give Muddy Creatures a try! You can either order a one of box, order boxes as and when you want or need, or request a repeat order which lets you choose the interval at which you receive them, depending on whether you want to make it a regular habit or just order the occasional box as a treat. Remember, you have nothing to loose.
[line]
Disclosure: I won a £200 gift voucher in an Instagram giveaway, to spend on a Muddy Creatures box. However, I was under no obligation to review the box in return. The decision to do so was entirely my own, and all views and opinions are mine.