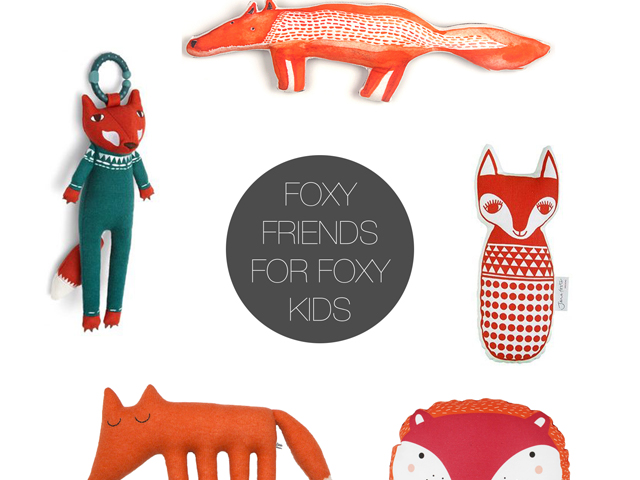 Foxy Friends for Foxy Kids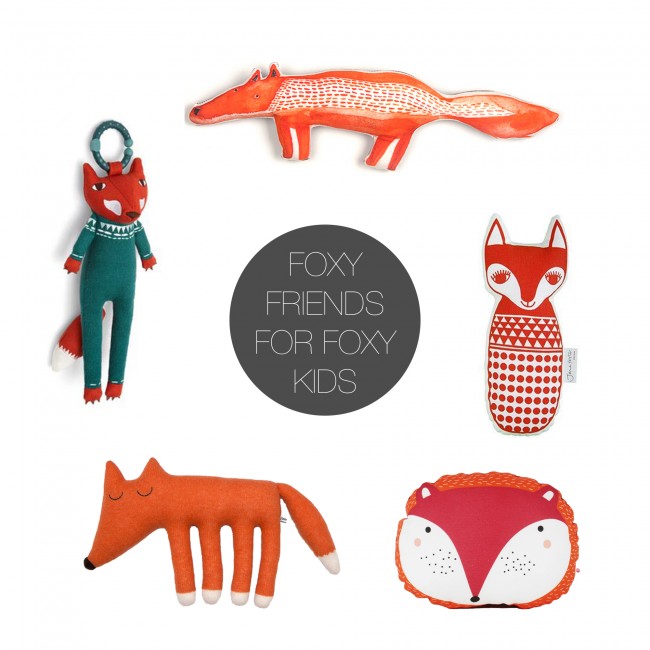 When you name your kid Fox, even if it's just his middle name, you shouldn't be surprised when you are inundated with fox themed gifts (well, okay, I admit I was responsible for at least half of them). When Mr Fox was born, fox print everything was still at the height of the kids fashion trend, so needless to say there are loads of pics of him dressed in fox trousers, T-shirts, jackets, hats…you get the idea. A menagerie of cuddly foxy friends soon followed, and I wanted to share some of your favourites with you in today's Friday Five. So, clockwise, starting on the left:
This pram toy, from the Mamas & Papas Donna Wilson range, was the very first fox we received. It comes with a head that squeaks, a tail that vibrates, and a body that rattles. It's actually sold out now, but I've included it anyway because it's brilliant and you never know, you may be able to hunt one down on Ebay.
Mr Fox was probably already too old for this adorable baby toy, which crackles when you squeeze it, when we added it to his collection, but the cute softie by Berlin label Greta's Schwester was called Fred Fox. So it goes without saying that (Al)fred Fox absolutely had to have one!
The red fox softie with geometrical patterns was a Christening gift. It's by Devon based designer and illustrator Jane Foster.
The small fox cushion from German label Ava & Yves was a gift for Mr Fox's 1st birthday. Together with a copy of Roald Dahl's Fantastic Mr Fox. Of course.
This is the only fox in this round up that Mr Fox doesn't already own. He probably needs another fox toy as much as he needs a hole in the head, but how could anyone resist this hand knitted lambswool cutie? Sara Carr's Monty is definitely top of my wish list, at least.