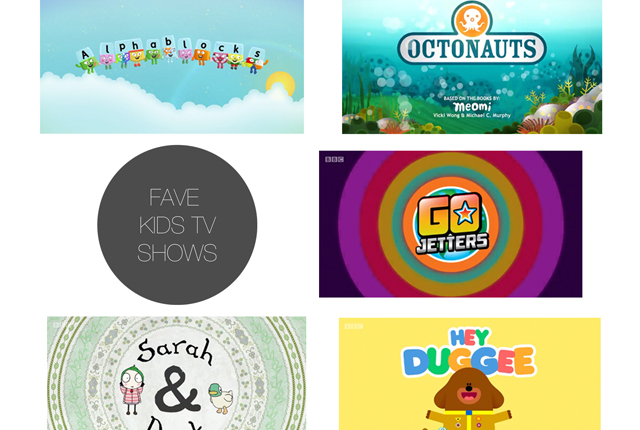 Our Favourite Kids TV Shows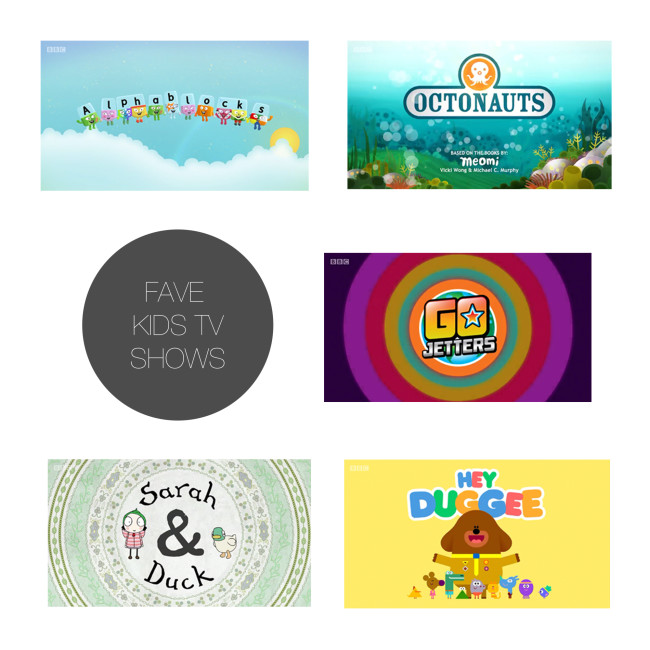 After opening that whole screen time can of worms the other week, when I shared some of our favourite toddler apps with you, I thought I'd return to the topic and address the other side of screen time: tv shows. While there are certainly a lot of rubbish or questionable tv shows produced for kids out there – Peppa Pig gives me the creeps and is banned in our house! – there are also some real gems, so I wanted to share some of our favourites with you. These are all shows aimed at pre-school aged children, but loved by both our toddler and our first grader, as well as by us parents! So, clockwise starting from the top left:
Alphablocks
Hands down the best thing to come out of kids TV in recent years. Our elder son taught himself the entire alphabet and to read his first words by the time he was three, just by watching this show. The premise is simple yet genius: each letter of the alphabet has its own personality, and when they join hands and create a word, those words happen or appear. The words get more complex as the show progresses, and it has some great music too. We really wish they would release an album with all the songs from the show!
Octonauts
Coming in a close second, or possibly joined in first place, is the fabulous Octonauts. Once you look past the question of how and why a polar bear, penguin, cat, rabbit and dog are heading up an underwater exploring crew, this series is pure gold. I've even watched this show on my own without the kids, to catch up on episodes I've missed. While the setting itself is science fiction, the marine animals and habitats they encounter – usually when having to help or rescue someone – are real. When we visited the aquarium on our trip to Gothenburg last year, I was astonished when our elder son walked around pointing out what all the creatures and habitats on display were called. When I asked him how he knew all this, he replied "From watching Octonauts!"
Go Jetters
Another show with an explorer crew, this time it's the four cadets of the Go Jetters Academy and their mentor Ubercorn. In each episode, they visit a different country and landmark, which Ubercorn shares three 'funky facts' about. Inevitably, their nemeses Grandmaster Glitch turns up in the same place and ends up destroying something which the Go Jetters then need to fix. It's a bit overly formulaic, but the kids don't seem to mind. They've learned a lot about different places and famous landmarks by watching this show. And hey, it has a funky-disco grooving unicorn – what more could you want?
Hey Duggee
Whereas the first three shows have a very educational focus (literacy, science, geography) this one trumps with its cute illustrations, happy musical score, and general feel good attitude. The show is based around an activity club, headed by Duggee the dog, where various pre-schoolers including an octopus, crocodile, hippo, rhino and a mouse, learn new skills to resolve a situation and earn badges, such as the Drawing Badge, the Decorating Badge or the Birdwatching Badge. Each episode ends with a 'Duggee Hug'.
Sarah & Duck
And, finally, this show is also one of my husband's favourites. It follows the adventures of a little girl named Sarah and her best friend Duck. Who is a duck. The central theme is their friendship and imagination, but they also often have problems to solve. As well as the quirky illustrations, the show boasts a supporting cast of interesting characters such as Rainbow, Umbrella, Flamingo, Scooter Boy and Scarf Lady.
Do you have any favourite kids TV shows that are a cut above the rest? Do feel free to share in the comments below. Thanks x
---
Image sources: Screenshots from BBC iPlayer