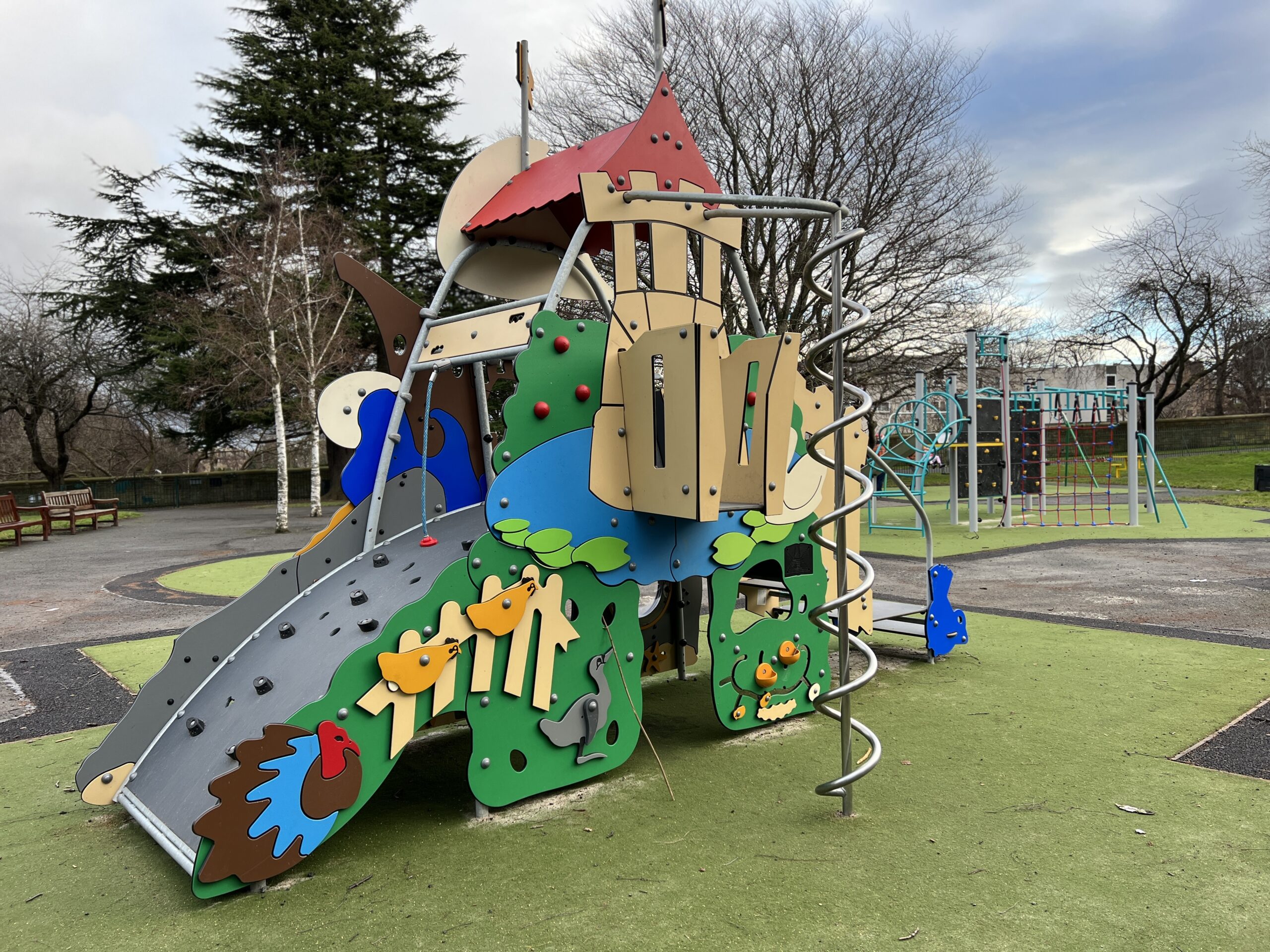 {Edinburgh} Morningside Park Playground
Last updated: 7 January 2023
Morningside Park is a nice wee park in the middle of a busy residential and shopping area. It's tucked away behind Morningside Cemetery, and we didn't realise at first that it was there. Since discovering it though, we've visited multiple times. We first reviewed Morningside Park Playground almost a year ago (Feb 2022), but it's had a complete refurbishment since then so forget anything you've previously read about it as almost all of the play equipment has been switched out. For those who remember the old playground, the two multi-play units have been upgraded, the spinning bowl has been replaced with a carousel, and the helter-skelter slide has made way for a trampoline.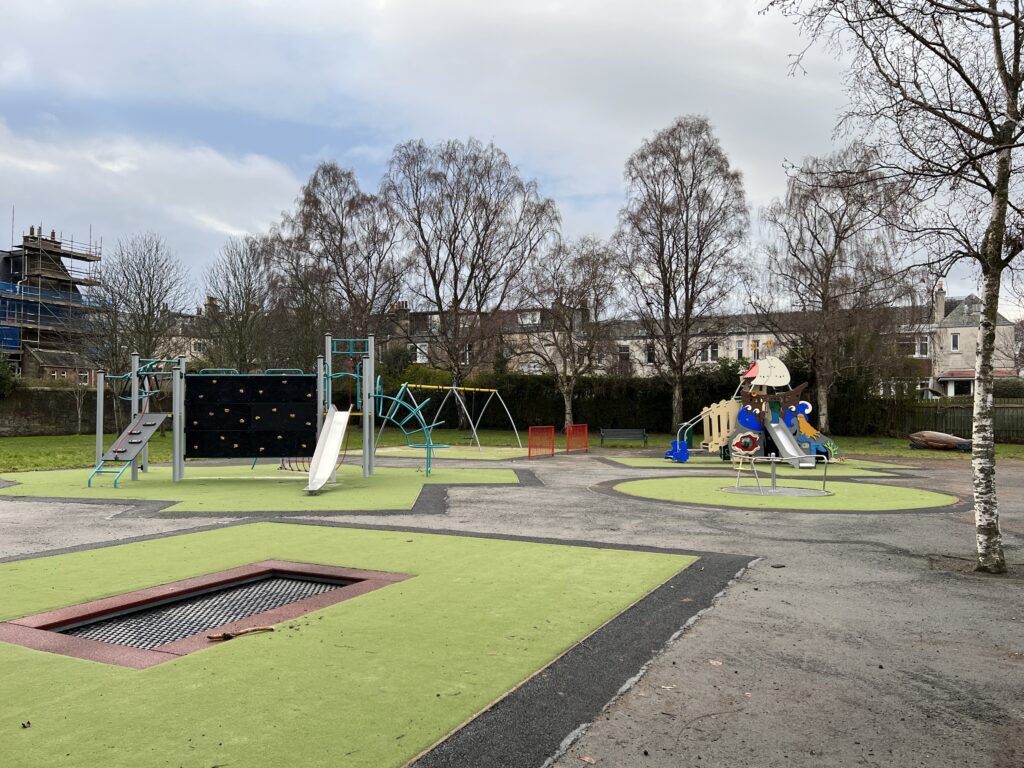 The loss of the heater-skelter was met with much dismay by my kids, as this was their favourite part of the playground. It offered a big enough slide to engage even my older boy. The trampoline seems like a bit of a downgrade, especially as it's fairly small. I was surprised they didn't at least go for either a bigger trampoline, or several smaller ones side by side, as there would have been enough space for this. The trampoline also does not appear to drain water very well, which may lead to some wet feet in Scotland's rainy climate.
Out of the two new multi-play units, one is obviously aimed at younger kids and has a very colourful design, with a pirate ship theme on one side and a fairytale castle on the other. Lots of opportunities for imaginative play. It includes climbing elements and a short slide. The other multi-play unit is less decorative and more functional, and includes various climbing elements such as a climbing wall and net, as well as monkey bars and a longer slide. Elsewhere, a basket swing has been added to the regular swings. The toddler swings seem to have disappeared for now, but three of the swing 'slots' are still empty so hopefully the toddler swings will make a come back and just haven't been hung yet. 
Edit: Someone on Facebook has shared the information that the toddler swings were apparently vandalised shortly after the playground re-opened, and subsequently removed. What a shame. Hopefully they will be replaced.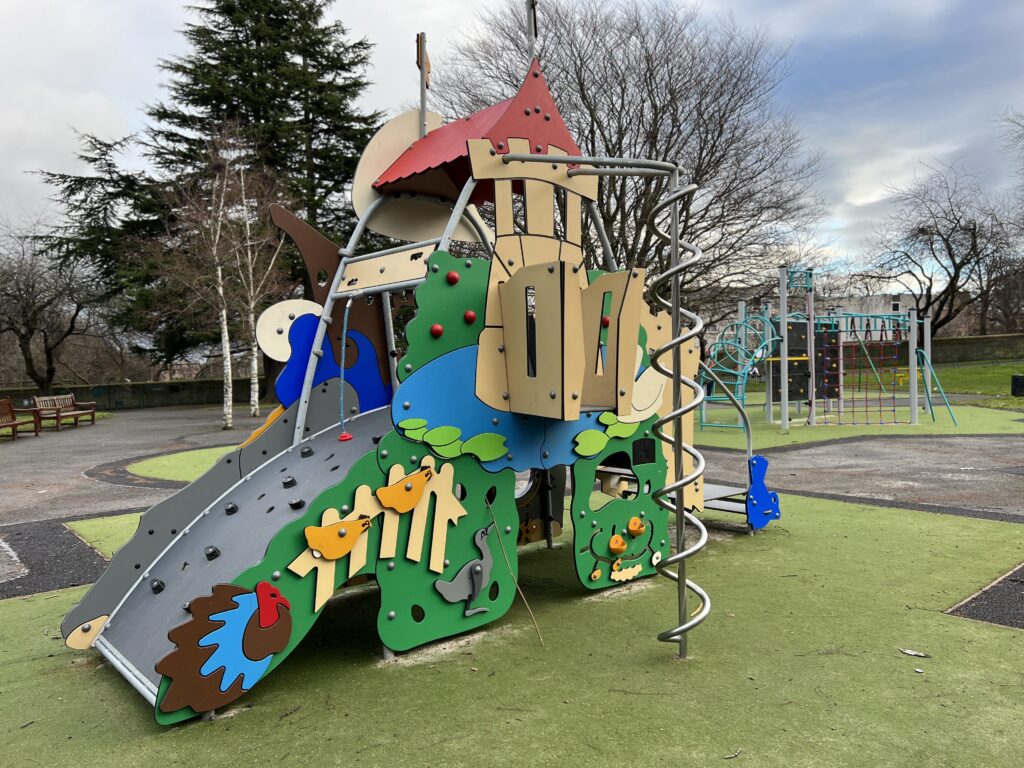 There is also a beautiful new wooden sculpture of Julia Donaldson's 'The Snail and the Whale', in memory of a local little boy who tragically died in an accident a couple of years ago in Morningside. And if you get hungry or are craving a coffee, there is a variety shops and cafes not that far away. The Leaf & Bean on Comiston Road (ca 10 min walk) is a favourite of ours.
Overall, my 8 yr old still enjoys this playground, especially the new multi-play unit for older kids with the climbing wall and monkey bars, though the loss of the helter-skelter is keenly felt and my 12 yr old isn't as interested now the slides are all too short for him (and it's not an age thing, as he still enjoys other playgrounds). However, within the wider Morningside Park there's also an adjacent ball and tennis court, and a grassy area for running around, so if you are visiting with children of mixed ages you could bring along a ball for older kids to kick around. If you don't know the old playground, then you won't have the same feelings of disappointment and can come at this playground with a fresh outlook. Personally, we probably won't visit as often as we used to, but we'll still pop in if we are passing.
Gallery
Playground Stats
Name: Morningside Play Park
Location: Morningside, Edinburgh
Map coordinates: 55.92331, -3.21717
Best for: Toddlers, Juniors
Ground cover: Rubber
Rating: Neutral
Last visited: 4 January 2023
Play Equipment
Multi-play unit with slide, monkey bars, and climbing elements including climbing wall & net
Toddler play unit with climbing elements and slide
Trampoline
Carousel
Swings
Basket swing
Facilities
Benches
Picnic tables
Ball court with goals and basketball hoops
Nearby shops and cafes
How to get there
Morningside Park is tucked away behind Morningside Cemetery, between Morningside Drive and Balcarres Street. There are a couple of buses to chose from, that stop right next to the park.
Closest Bus Stops
No. 23, 38 Lothian Bus: Balcarres Court or Bruce Street (nearest stop depends on which direction you are coming from)
No. 36 Lothian Bus: St Fillans Terrace
---
Check out our A to Z map of public playgrounds in Edinburgh to plan your next playground visit, and let us know your favourites that you think we should check out in the comments below!