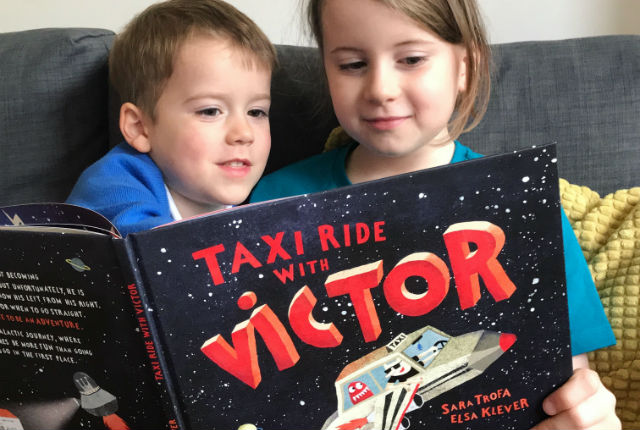 Book Tour: Taxi Ride with Victor
Happy Friday, folks! I have a real book treat for you in store, as we are today's host on the blog tour for 'Taxi Ride with Victor' – written by Sara Trofa, illustrated by Elsa Klever and published in English by Prestel for the first time.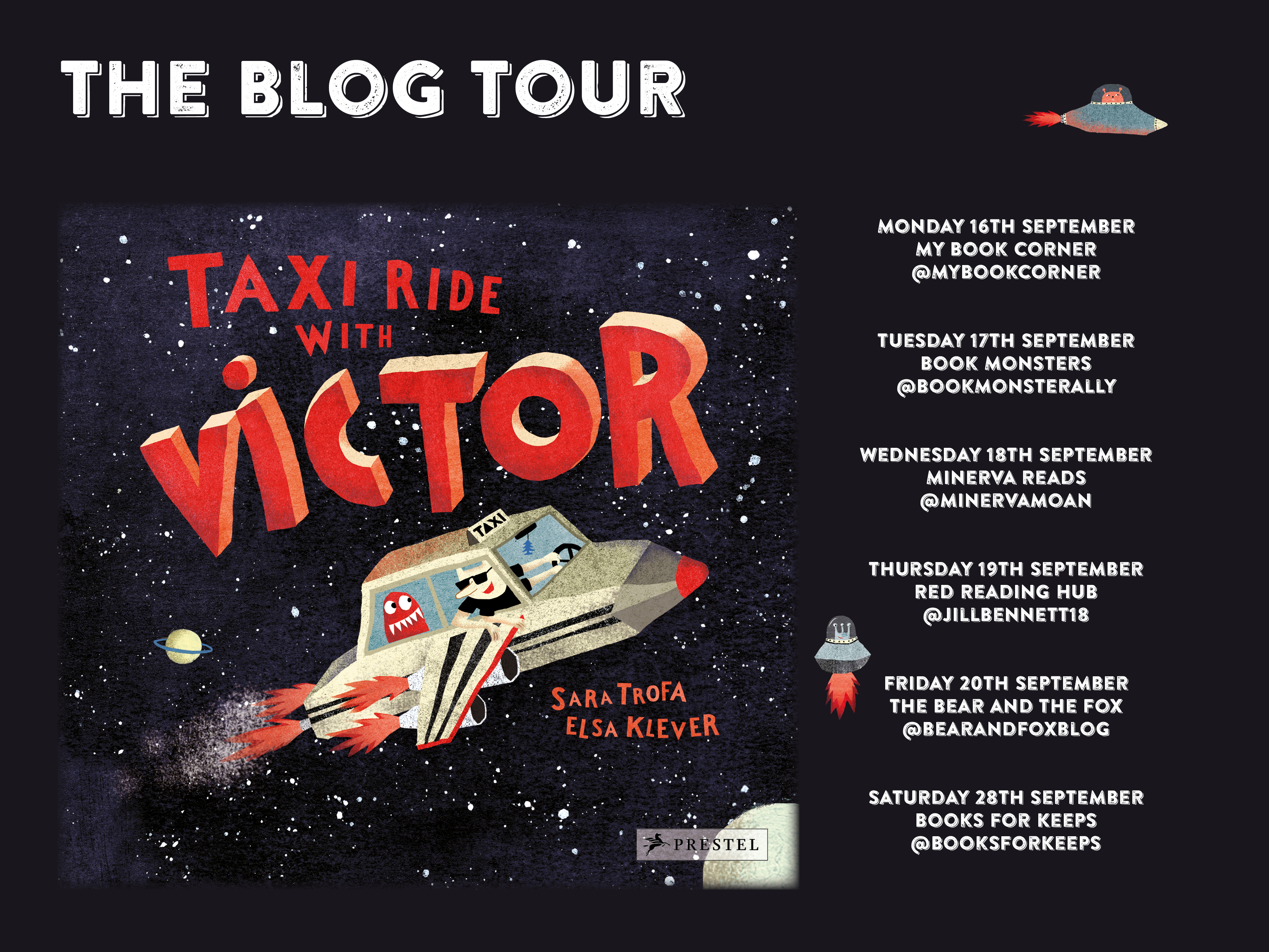 Taxi Ride with Victor is a laugh-out-loud intergalactic journey full or wrong turns, unexpected outcomes, new opportunities, and friendship. It stars Victor in his title role, a four-armed space dweller who has always dreamed of becoming the galaxy's greatest taxi driver but whose sense of direction unfortunately lets him down time after time no matter how hard he tries.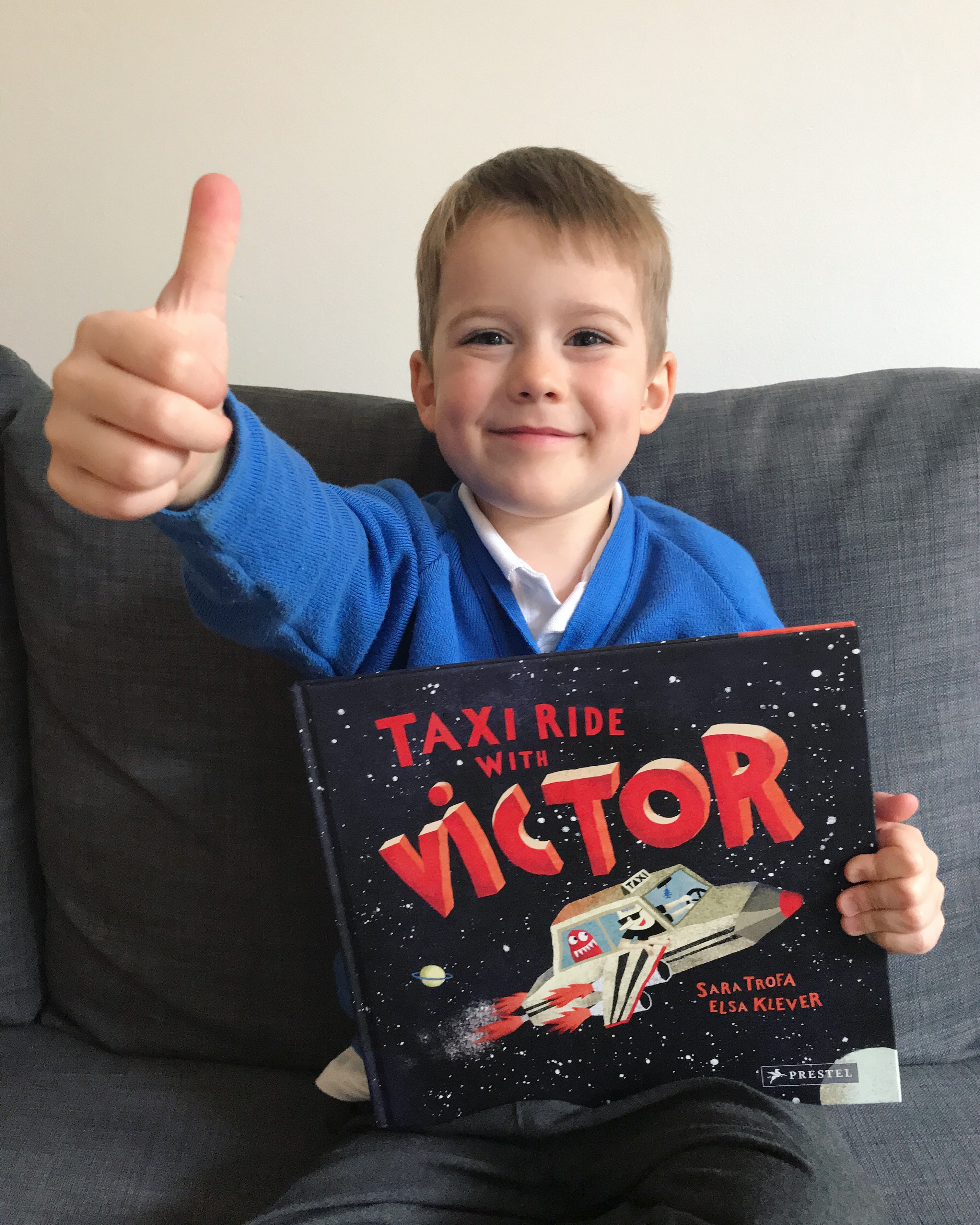 As you read the book, you travel through the week with Victor and his passengers, who all end up in different places than they intended to go. But instead of being cross with him, they all embrace their adventures and there's a lovely surprise in store for Victor at the end, which I don't want to spoil for you. My boys and I absolutely love this quirky, funny story with its host of unusual characters and have been reading it on repeat.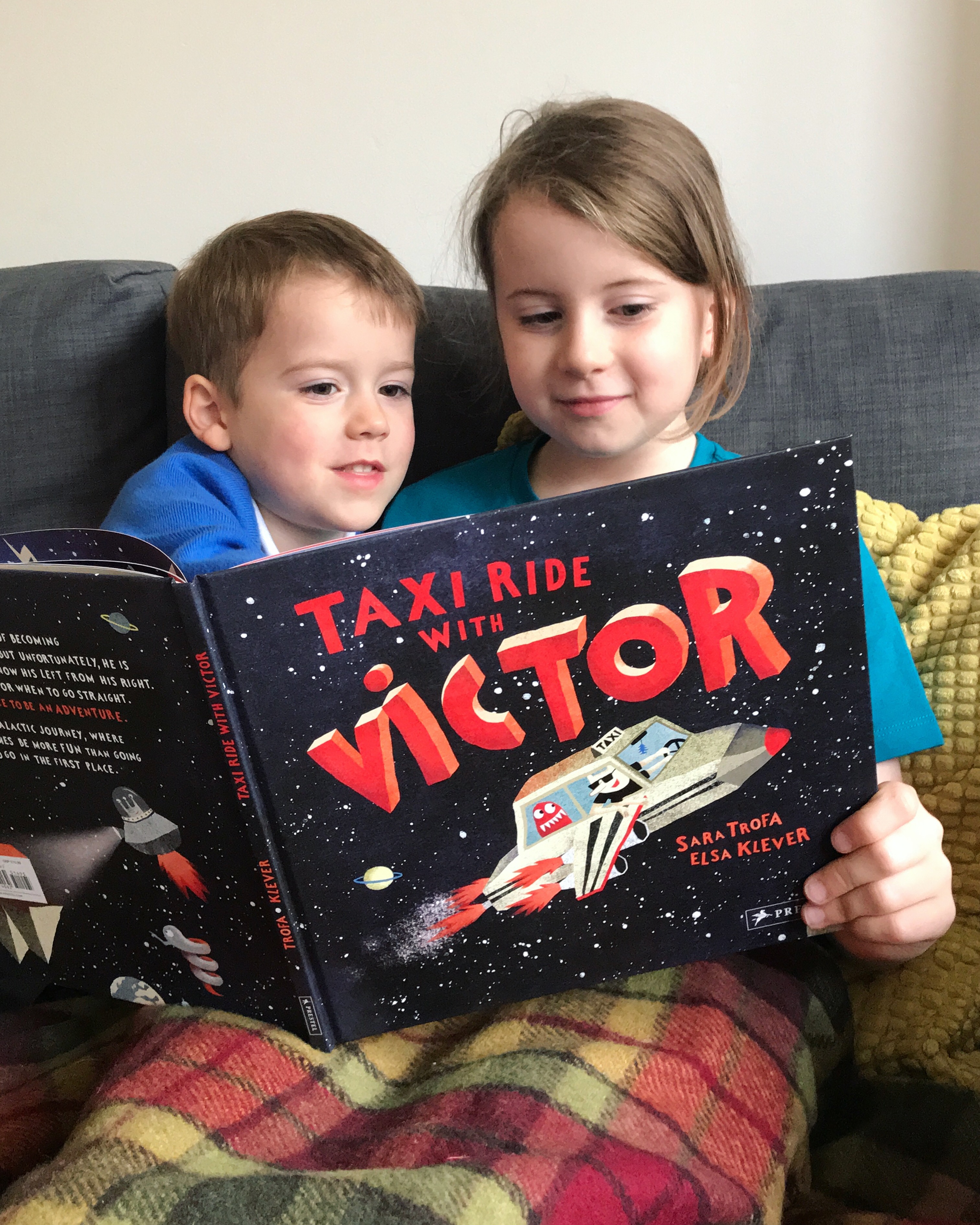 The stunning detailed illustrations are a real bonus too, and it won't surprise you to hear that the book, which was originally published in German last year, was shortlisted both for the World Illustration Award 2018 and for the Most Beautiful German Books 2018.
[line]
And as an extra little treat for my readers, author Sara Trofa has kindly answered some questions!
Hi Sara, welcome to The Bear & The Fox! Could you tell us a little bit about yourself?
Thank you for having me! I was born and raised in the northwest region of Italy but I have also lived in Vancouver and in Edinburgh. Travelling and exploring nature makes me happy as well as storytelling and performing theatre. My favourite things to read are fairy/folk tales, children's books, surreal fiction novels, and poetry. I have a big passion for languages and linguistics. For my day job, I get to teach Italian to foreigners, and that means I can learn many different things from my students! I write children's books, short stories and poems. My first picture book was published in France in 2015.
My boys and I have really been enjoying reading Taxi Ride with Victor. How did the idea
for the book come about?
I'm so happy you enjoyed reading the book! I got the idea for this story many years ago, starting with the main character. I often create characters that I would like to meet in real life and that's how I came up with a taxi driver that doesn't take you where you ask him to, but where you need to go.
Victor goes on quite a ride! Do you have a favourite part of the story?
I always laugh when Victor meets the cloud! I guess I often feel like that cloudy cloud.
Also, I love the last page because from there a new story could start, the reader's story. Did
you take a taxi ride with Victor and where did he take you? I can't wait to know!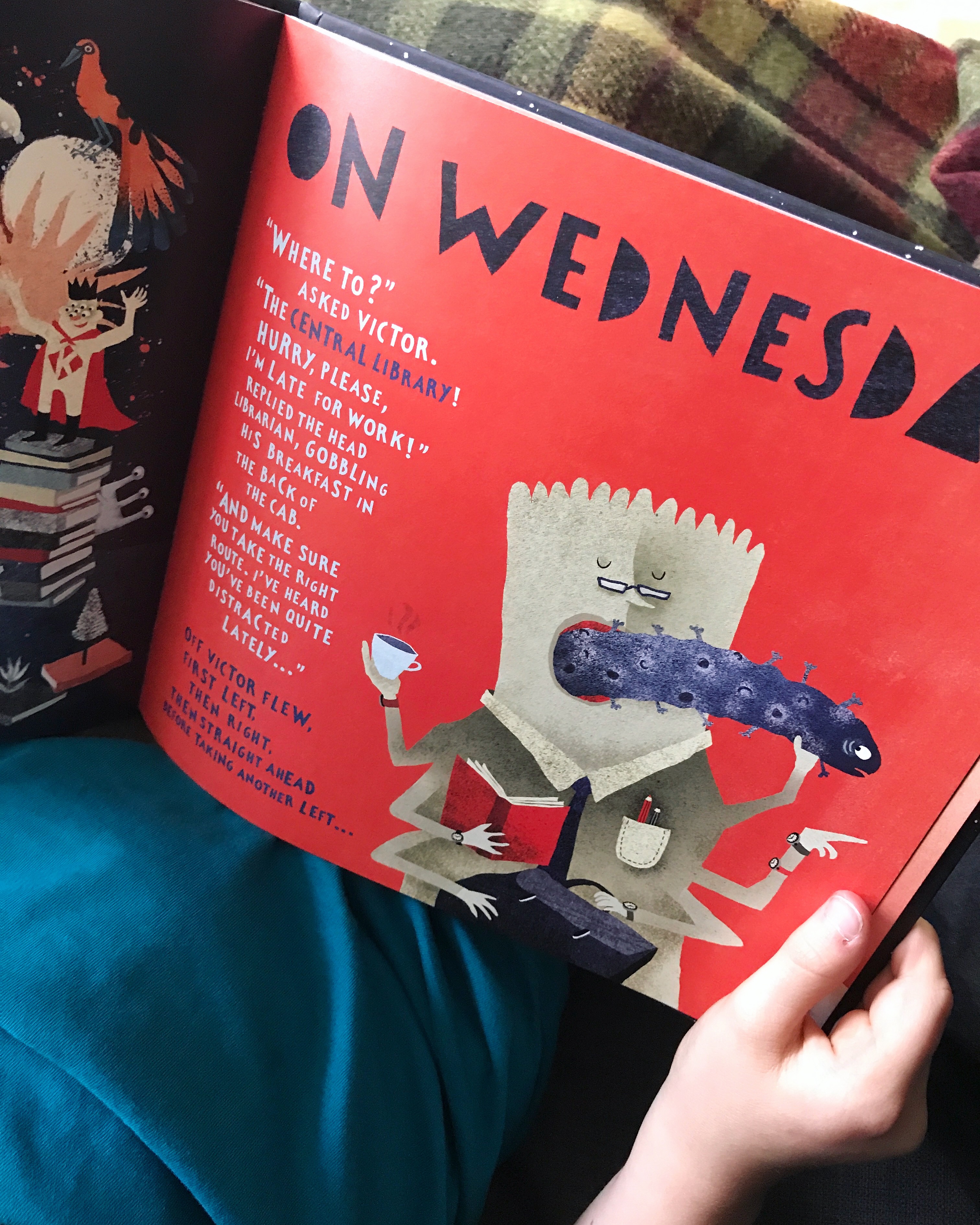 My 4 year old would really like to know, why does Victor have four arms?
So that he could give bigger hugs to his friends!
How much collaboration did you have with Elsa, your illustrator?
After completing my manuscript, I was looking for a partner-in-crime. Leafing through the
anthology Little Big Books: Illustrations for Children's Picture Books at the Edinburgh library, I found Elsa's work and it was love-at-first-drawing. I contacted her and when she accepted my offer to collaborate I couldn't have been happier. In my manuscript, there were notes on the structure of the book and on the page turns in particular, because as you can see the illustrations are key to understanding what the passengers feel. At the same time, though, I tried to leave as much space as I could for the illustrator's interpretation (this kind of collaboration is one of the things I love the most about making picture books!). Elsa visualised Victor going around the universe. She asked if I would be happy with that and of course I was! So that's also how Victor got his four arms. Since the beginning, even though I didn't know Elsa personally, I felt a creative trust that allowed the book to develop in its best form. Then we submitted the whole project and here we are!
Victor's passengers all end up somewhere different from where they wanted to go, but
find unexpected happiness. Have you ever taken a wrong turn that worked out for the best?
Oh yes, several times! It takes practice to make mistakes and to be able to see the outcomes under a different light. In life as in writing, I believe mistakes are great creative catalysts. If I'm writing a story about a kind lady who lost her bug… (but I meant "bag"), isn't that much more interesting?! You misread or mistype a word, even just for a single letter, and all of a sudden you get a new idea, a new twist. Something you wouldn't have come up with otherwise.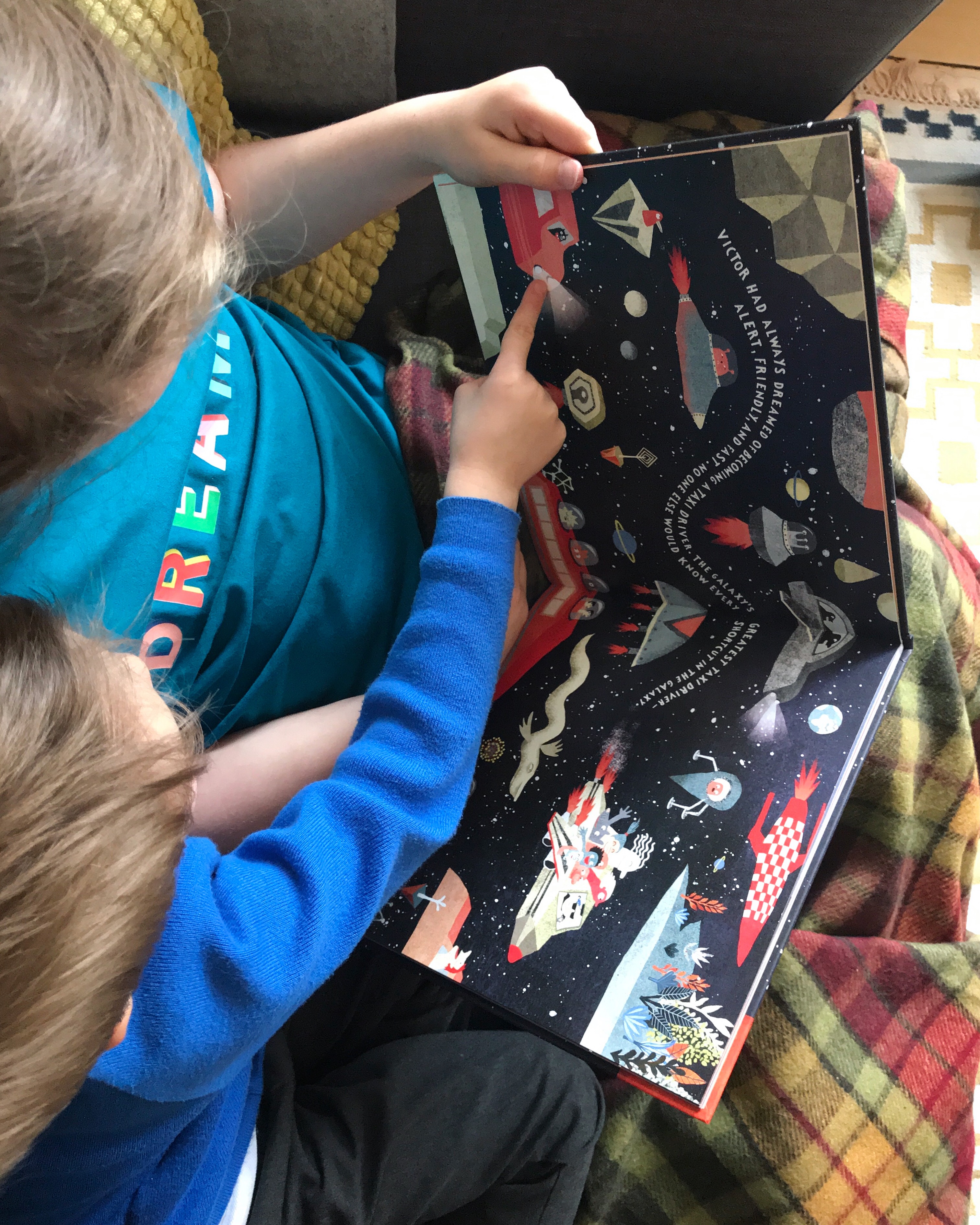 If you could go on a crazy taxi ride anywhere in the universe, where would you like to end up?
In every city I travel to, the very first place I search for is the library. So I think I'd like to visit the same library our little kid in the book ended up at. I wonder how many exciting stories are collected there… I want to read them all! And there must be a great section dedicated to intergalactic languages as well. I'll ask Victor to get me to… Luna Park?!
And, finally, do you have a favourite children's picture book?
There are so many wonderful picture books that it is too hard to choose only one. Some of my favourites are: Journey by Aaron Becker, Use your imagination by Nicola O'Byrne and Phileas's Fortune by Agnés de Lestrade and Valeria Docampo.
[line]
Thank you so much Sara for answering our questions! Taxi Ride with Victor is available from Waterstones, Hive and other major book retailers, or feel free to support your local indie bookstore and order a copy from there!
Disclaimer: We were sent a free copy of the book Taxi Ride with Victor in return for an honest review. All opinions are our own.