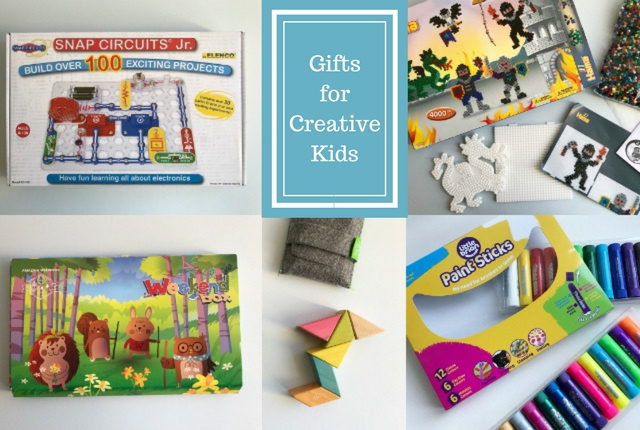 Gifts for Creative Kids
I had such fun putting together the Gift Guide for Little Book Bugs last week, that I thought I would put together another one with some of my favourite ideas for kids to get creative. Of course, there are the obvious things, such as art supplies, play dough, dressing up clothes and Lego, which you can always add to, but here are a few other ideas:
Weekend Box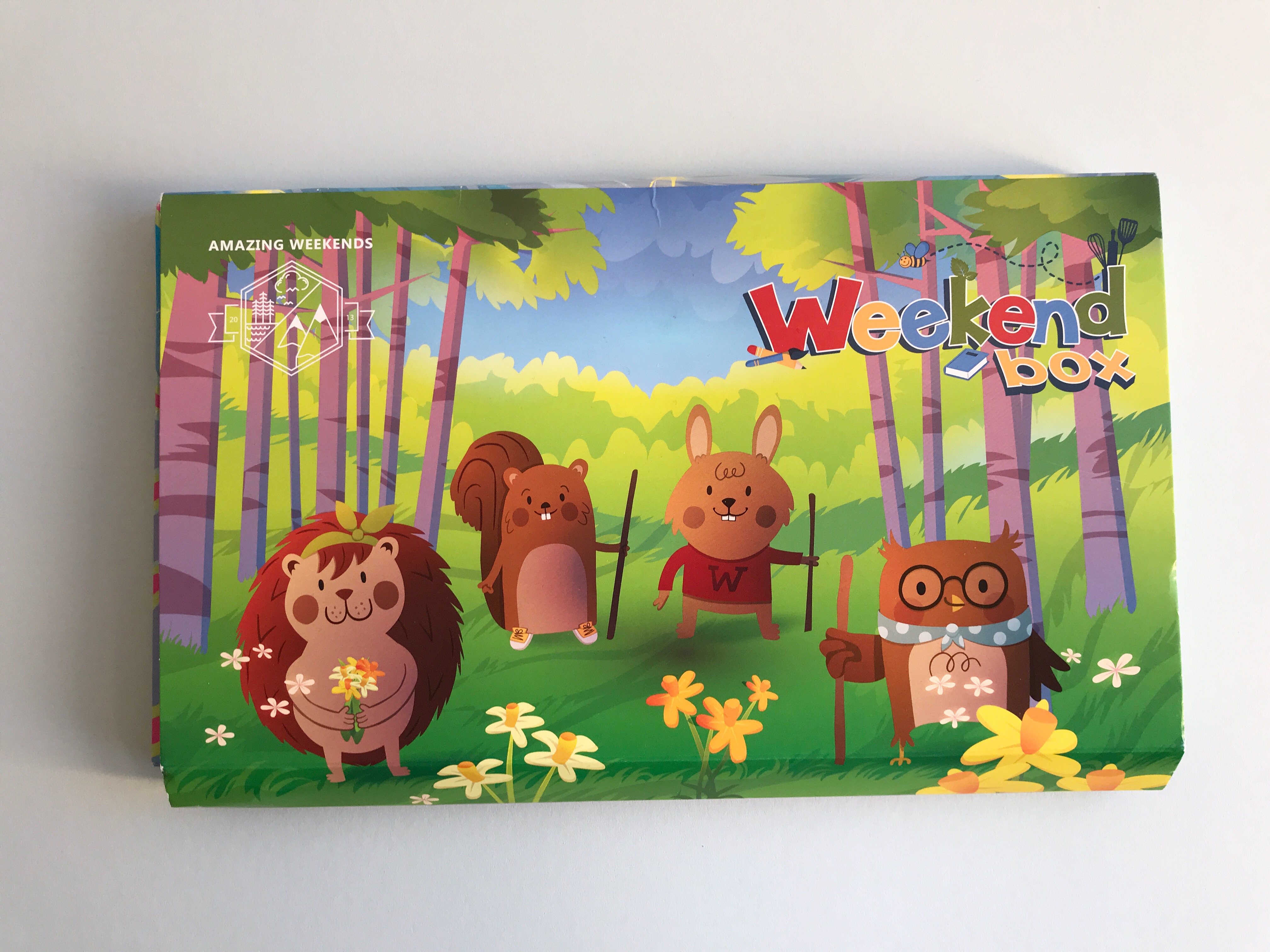 I love subscription boxes. You can get subscription boxes for all kinds of things these days, including arts and crafts ones. And for kids too. Even though we probably already have more arts and crafts supplies than we need, I just love getting something through the post each month, as do my kids, and I love getting sent a project that has everything you need for it already in one box. We've been testing out some different kids' arts & crafts subscription boxes over the past few months, as there are quite a few where you can get a taster box for free, and the one we liked the most and that we have stuck with, is the Weekend Box, which is aimed at 3 to 8 year olds.
The Weekend Box has a supporting cast of cute characters – Hattie Hedgehog, Oswald Owl, Sammy Squirrel and Wooster Wabbit – and comes with activities in four different categories: make, bake, explore, and more. Each activity comes in a little paper bag, with any bigger items at the bottom of the box, and opening each individual paper bag when you choose which activity to do adds to the excitement. You can choose between a  Mini Box, which contains two out of the four activities and is delivered every fortnight, or a Bumper Box with four activities and the choice of fortnightly or monthly delivery. Besides the materials, the boxes contain an A5 card for each activity, with the instructions on what you need to do, as well as collectible character stickers, and there are often other things included such as extra tips, or in our most recent box we had a bonus colouring in sheet.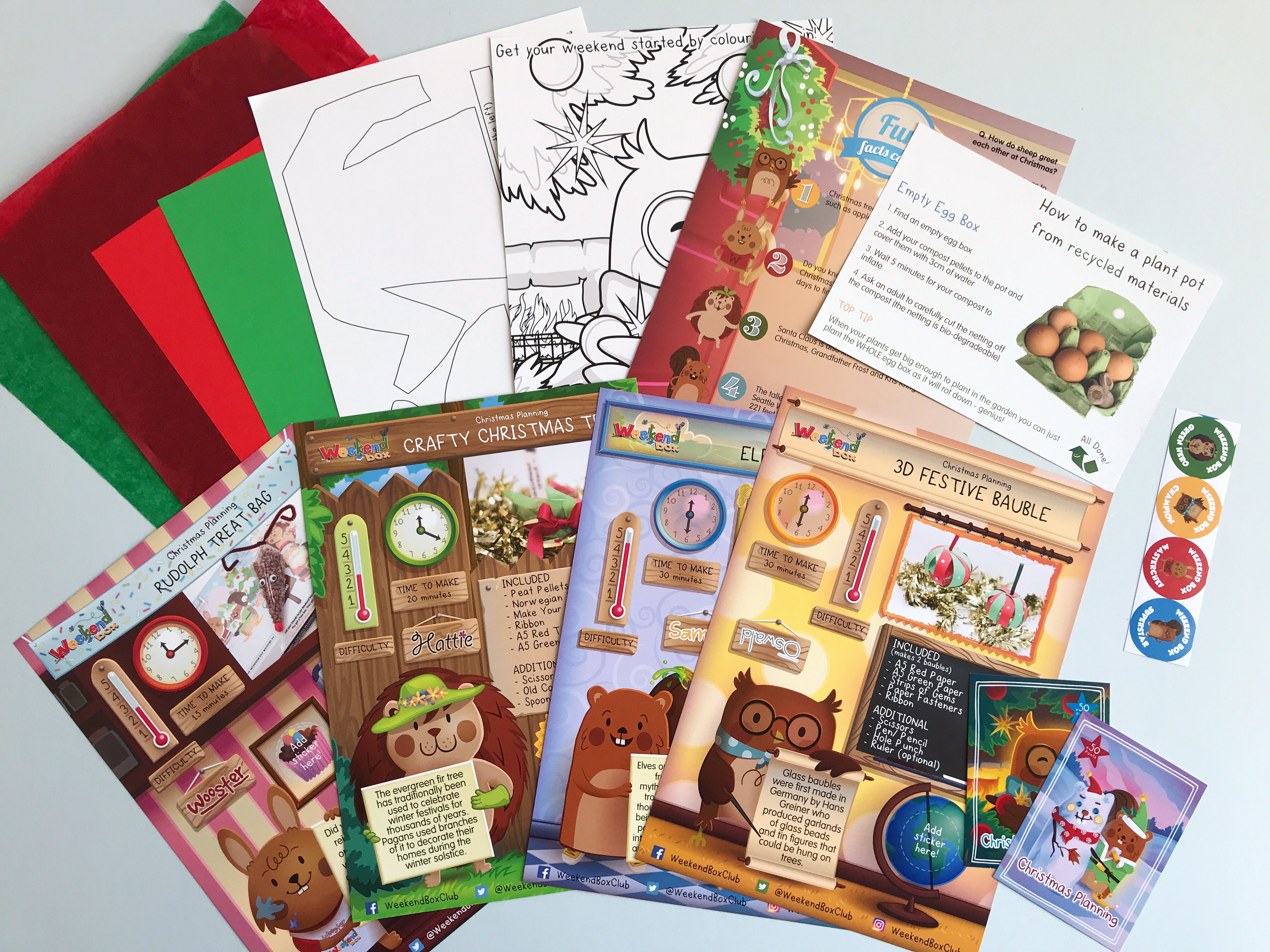 Edit (28/01/20): Weekend Box Club has now merged with First Wonder Box
Paint Sticks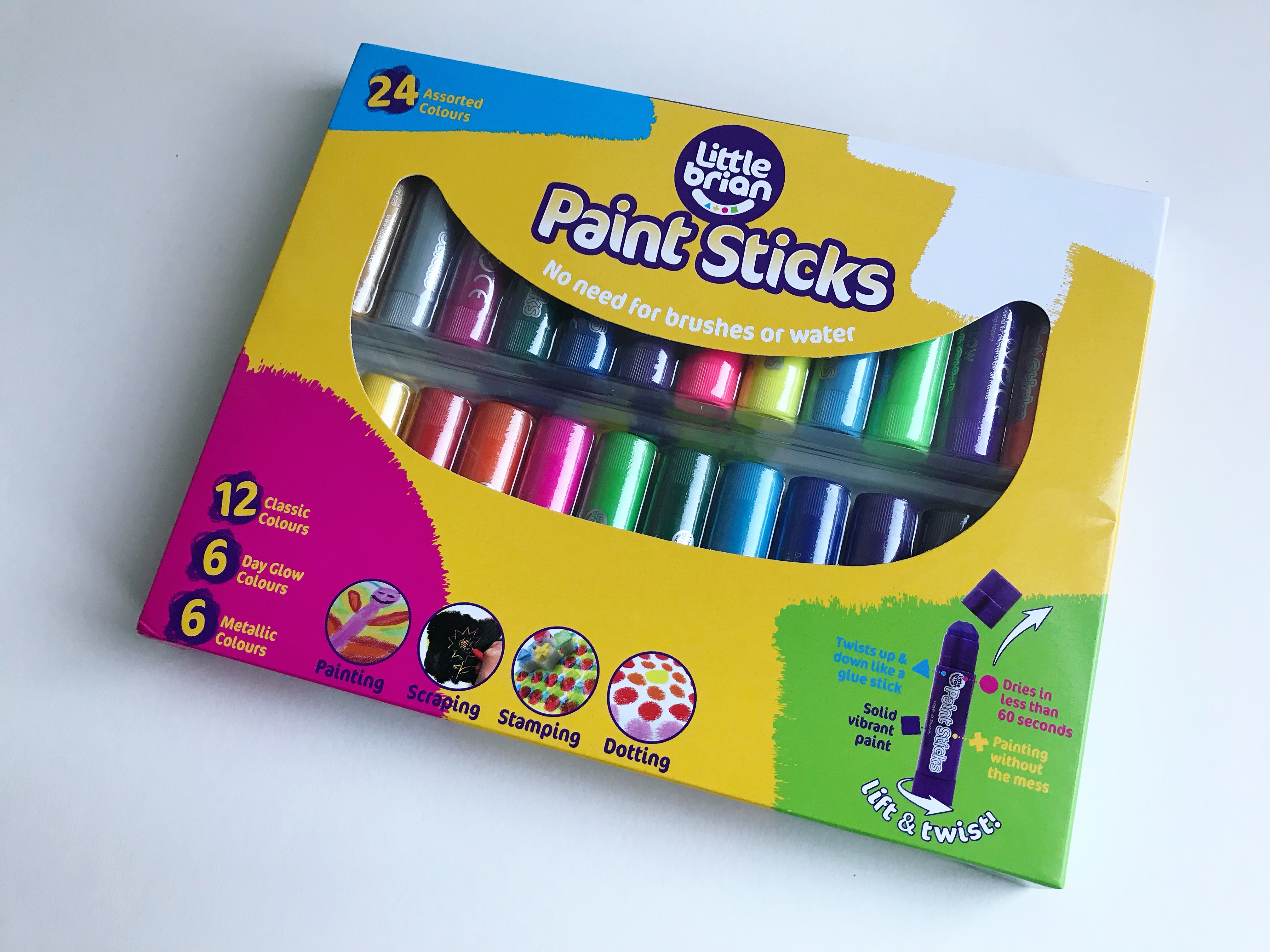 As much as I love arts and crafts, I don't cope well with mess. Haha, yes, and yet I went ahead and had two children. The irony, I know. I get mild feelings of panic when I see all these pictures online, of children engaging in 'messy play', covered head to toe in paint, and so it's usually pens and crayons for us. But when I attended the BlogOn conference in September, we received some 'Paint Sticks' samples in our goodie bags, and they sounded like a brilliant idea: "Painting without the mess"!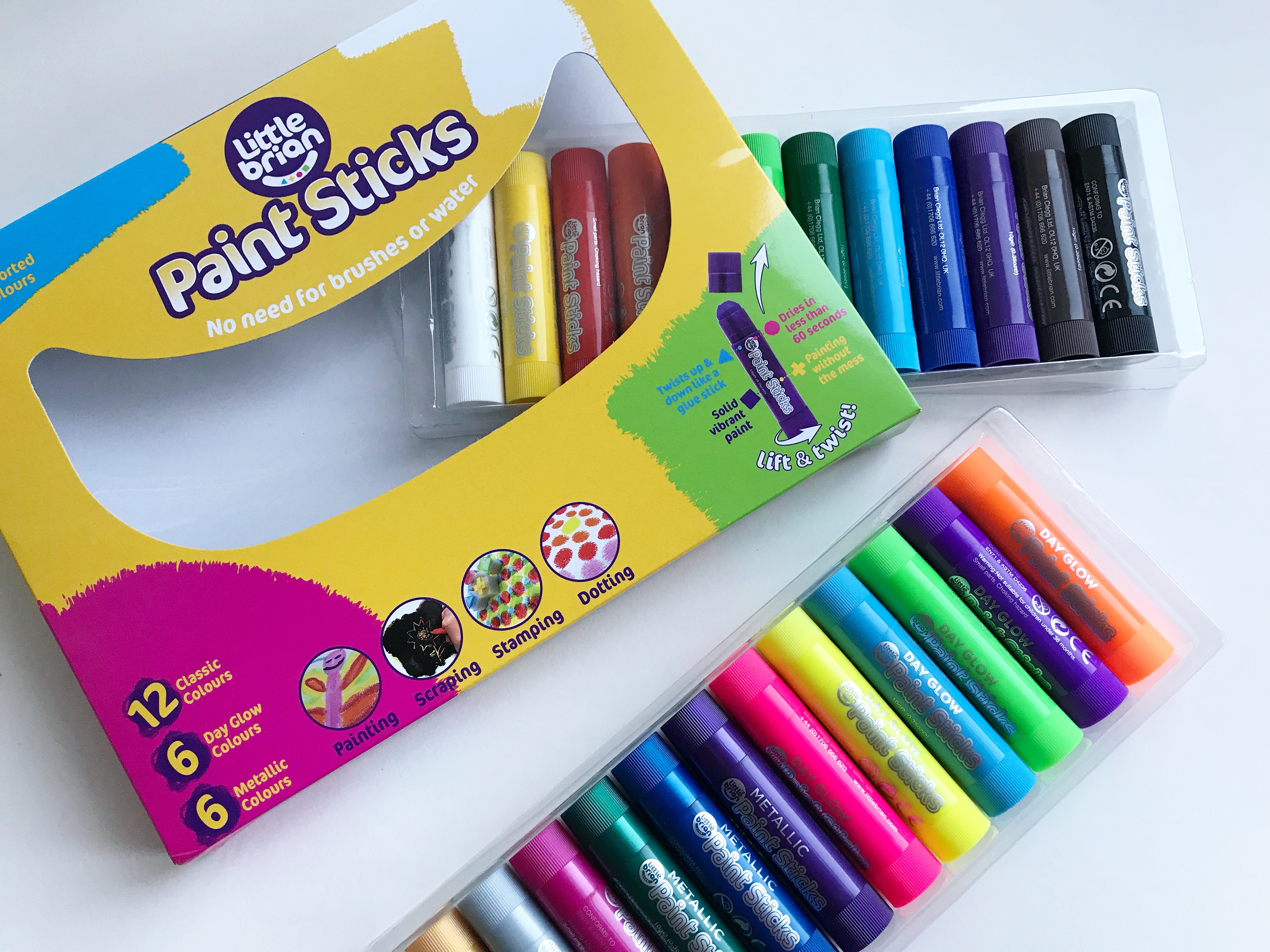 Paint Sticks from Little Brian are, as the name implies, solid sticks of paint. They twist up and down like glue sticks, don't require any water or brushes, and dry in less than 60 seconds. This sounded like the perfect thing for us, and we were kindly sent a bumper pack of Paint Sticks, by the folk at KRPR, so that we could test out a wider range. The pack contains 12 classic colours, 6 day glow colours and 6 metallic colours.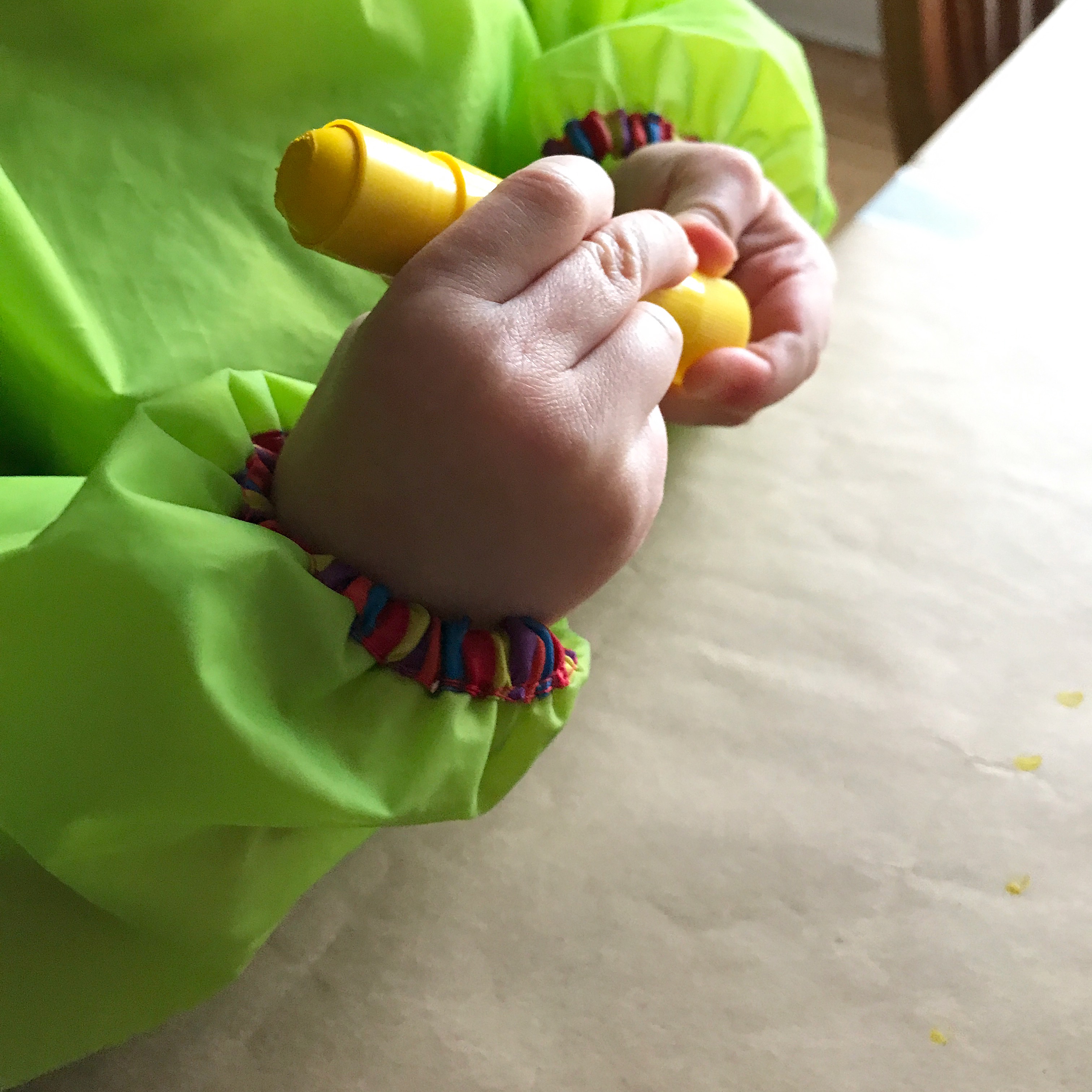 Mr Fox couldn't wait to open the packet, and got stuck right in! I had taped down some brown kraft paper to the table, originally just to protect the table, but when I went to give him some drawing paper to paint on, he insisted on painting on the craft paper instead! But that actually gave us a good opportunity to test out the coverage of the paint and how vibrant it looks on paper that isn't white, and as you can see from the photos, it turns out really well on the craft paper. The paint sticks also claim to dry in less than 60 seconds, and I can confirm that is also mostly true, except for in places where Mr Fox laid it on really thick, those did take a little longer but compared with actual paint still dried A LOT faster.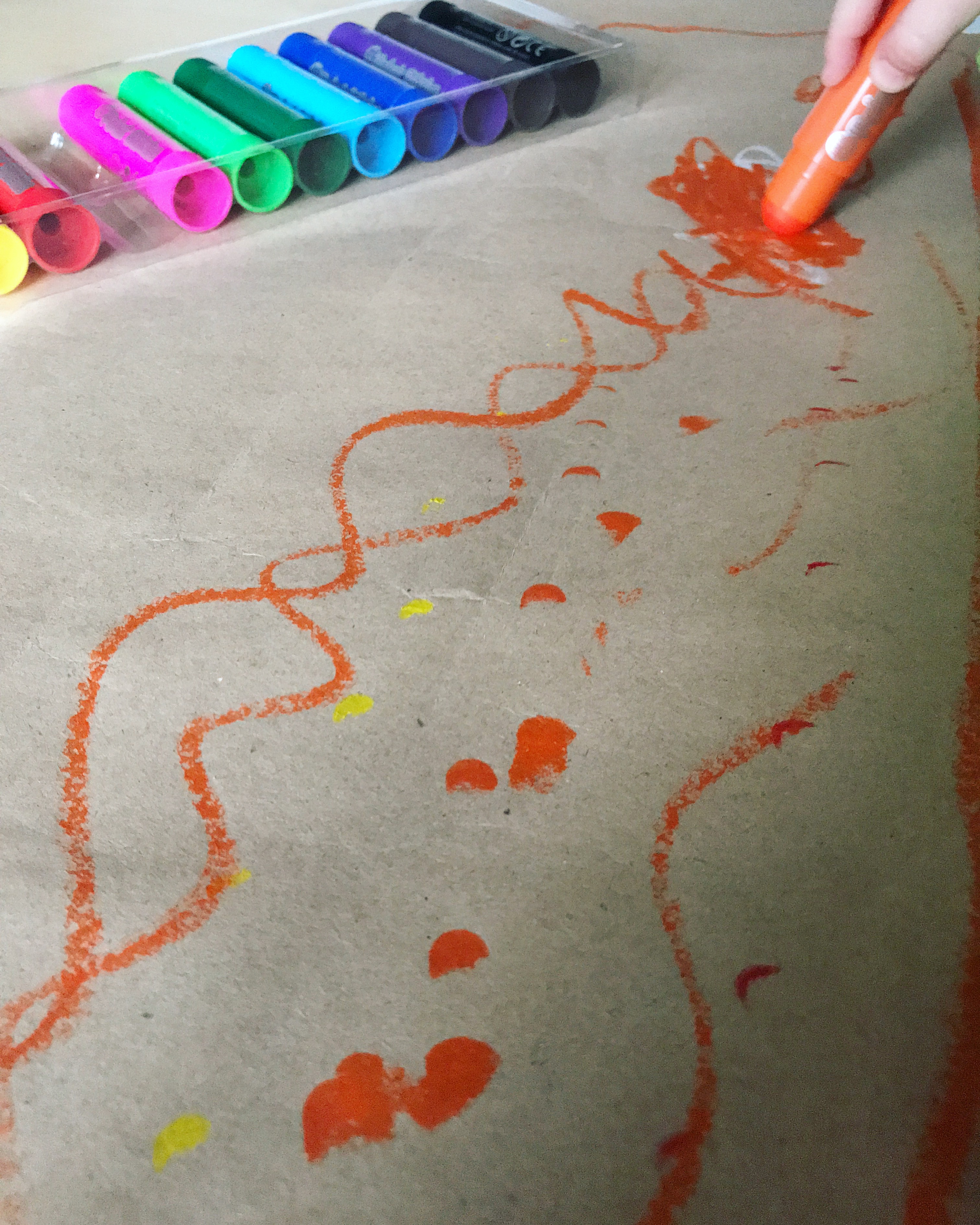 All in all, for a mess phobic Mama these Paint Sticks are great, and Mr Fox really loved them too and has used them a fair amount since our initial test, as has his big brother. So they get a big thumbs up from us! Recommended for ages 3+ and available at all good toy stores and on Amazon (Affiliate link).
Tegu Blocks
My boys absolutely love their Tegu blocks! I first discovered these, when I was looking for some things to keep them occupied while we were travelling, when we went to the USA last year. The wooden blocks contain magnets, and click together in endless combinations. No batteries, no instructions, just a simple toy to inspire endless creativity across all ages. Loved by my 3 year old and 7 year old alike. It is by far one of their favourite toys, not just when we are on-the-go.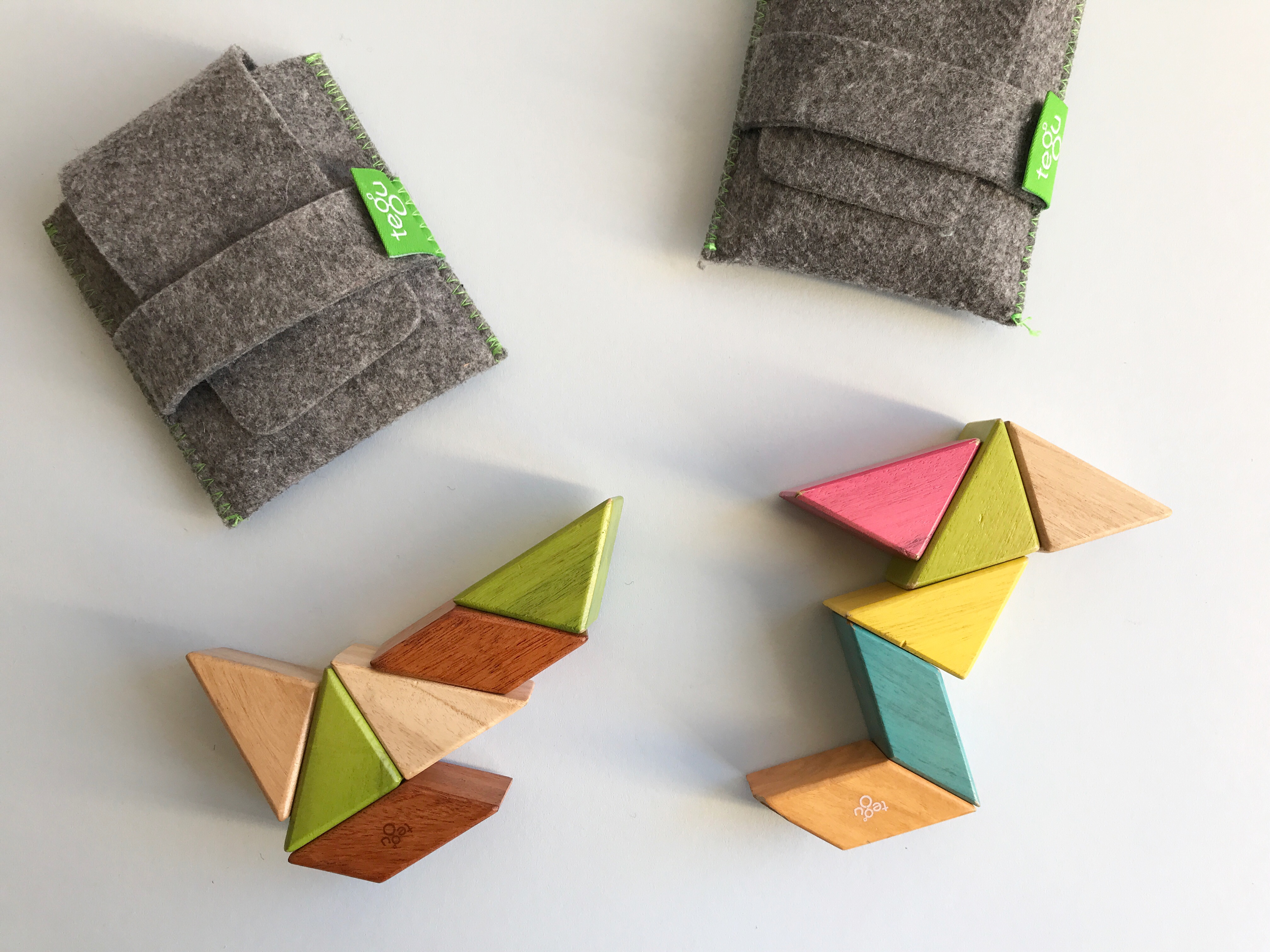 This set of six blocks, which contains 2 parallelograms and 4 triangular prisms, comes in a handy little felt pouch, so is perfect for travelling, but Tegu also do bigger sets which also include different shapes. The magnets are strong enough to hold the blocks together, but not so strong that little fingers would get trapped, so really are suitable for any age that can hold them. We got ours just before Mr Fox turned 2. You can find the Six Piece Tegu Pocket Pouch on Amazon (Affiliate link), and it comes in several different colours so perfect for getting siblings their own set each, without them getting mixed up.
Hama Beads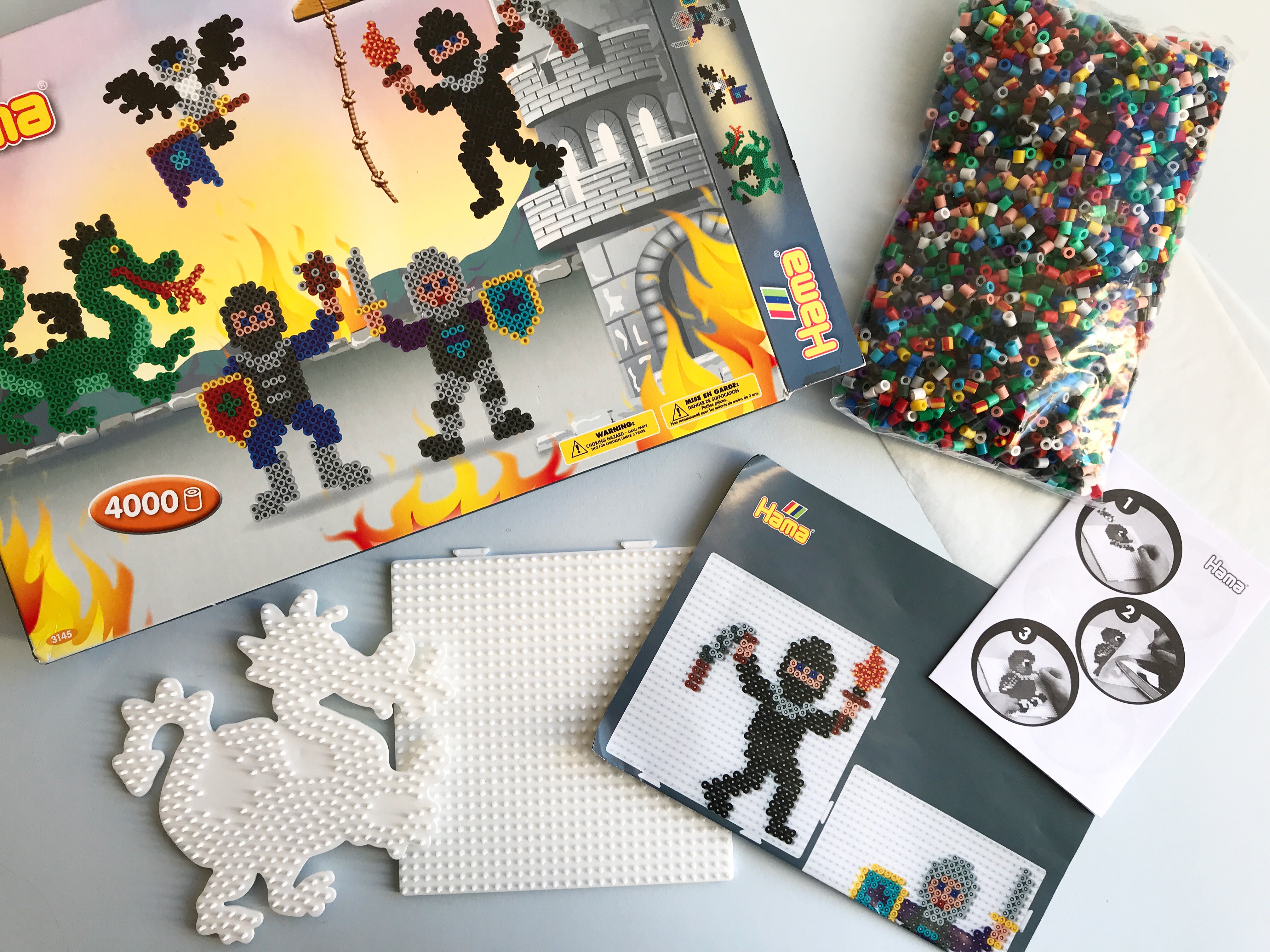 I've written before about fuse beads, those little plastic beads which you put together on a peg board, then iron over to fuse them together and make a picture or ornament. Oskar absolutely loves crafting with these, he discovered them at his old school in the after school club. I'm always astonished to see how this boy, who can barely keep still for 5 minute, will sit for half an hour or an hour at a time, calmly concentrating over getting those tiny beads on to the board. The kind folk at Norton PR have sent us a free 'Knights' set of Hama beads, for inclusion in this gift guide. It includes two peg boards – one square, and one in the shape of a dragon – some ironing paper, a guide with templates for creating different knights and other things, and, of course, a bag with around 4000 beads in different colours. Perfect for any little fans of knights and dragons. I've set this aside to give to Oskar at Christmas, and I know with his love of fuse beads he will absolutely love this set! And it will be great for keeping him occupied during the Christmas holidays. Suitable for ages 5+ and available at all good toy stores and on Amazon (Affiliate link).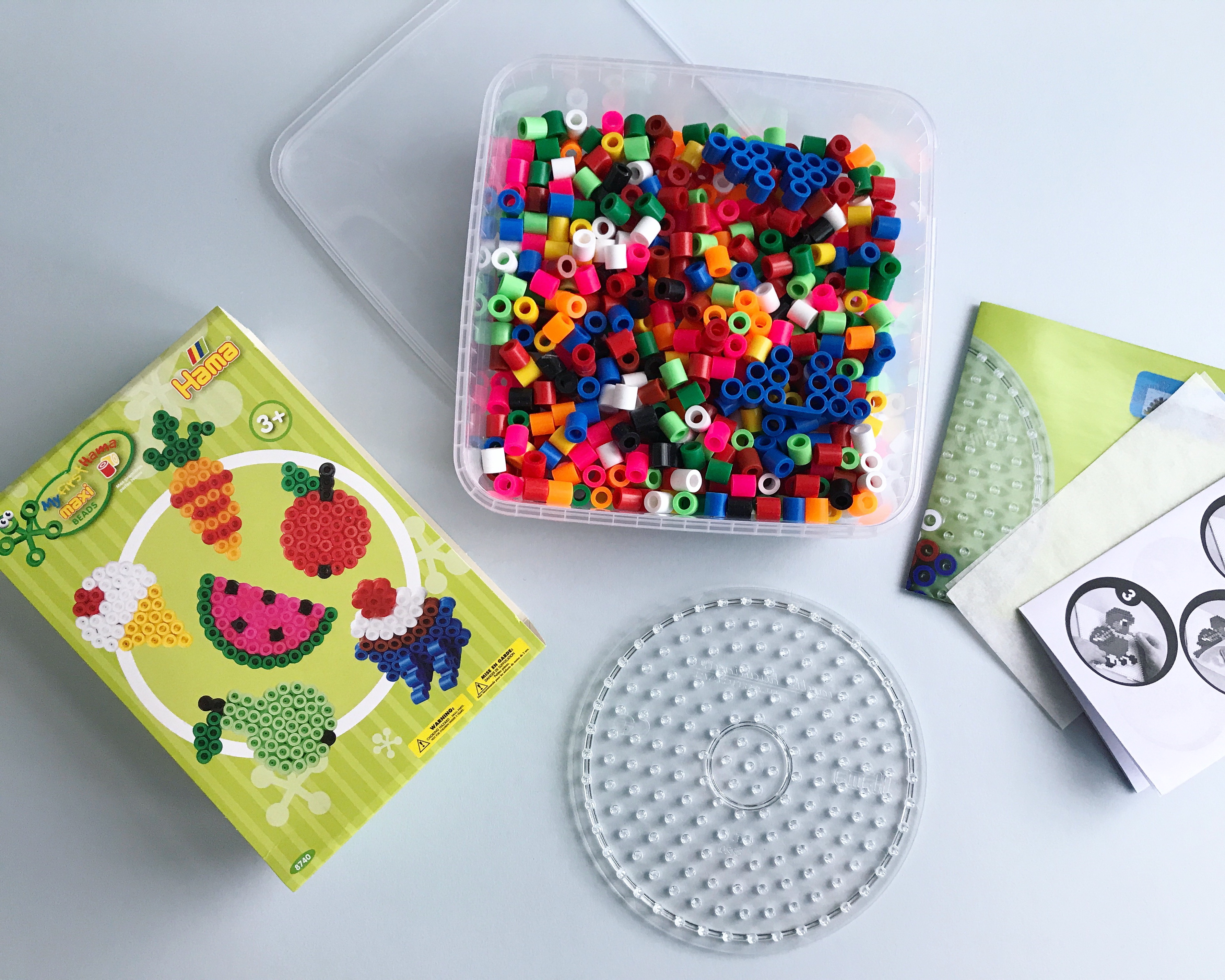 Hama now also have a range of beads – the Hama Beads Maxi –  for younger children, age 3+. We were kindly sent a set of these too, to test out with Mr Fox who has just turned three, and I will be posting a full review of them soon!
Snap Circuits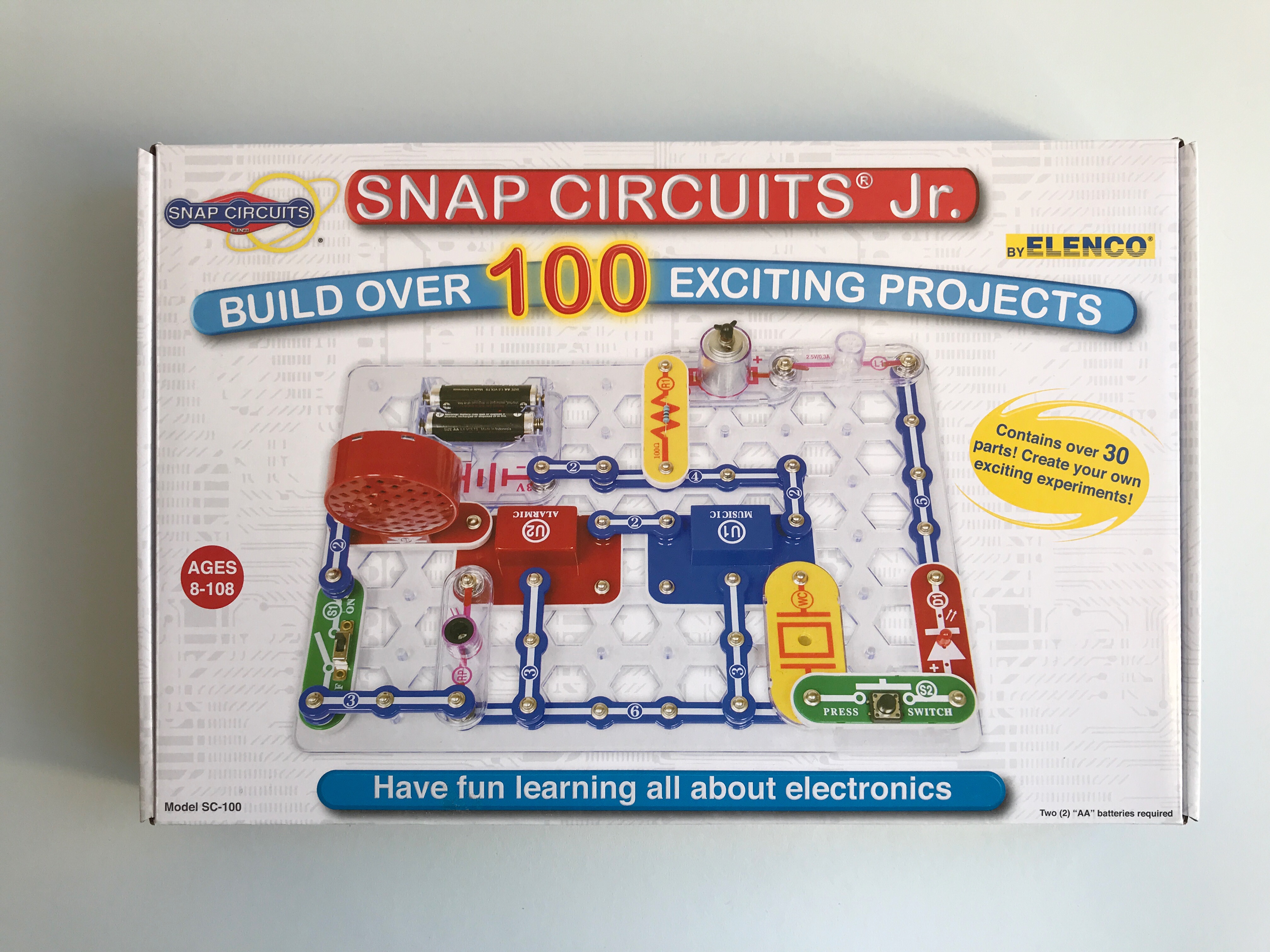 And, finally, a recommendation for creative kids who are maybe not so interested in arty or crafty stuff. Oskar received this electronics 'Snap Circuits' set for his birthday last month. It contains over 30 parts, which easily snap together on the provided board to create over 100 different projects, no soldering required. The pieces include include snap wires, slide switches, an alarm circuit, a music integrated circuit, and a speaker, to create things such as a burglar alarm, a musical doorbell, or a voice controlled lamp.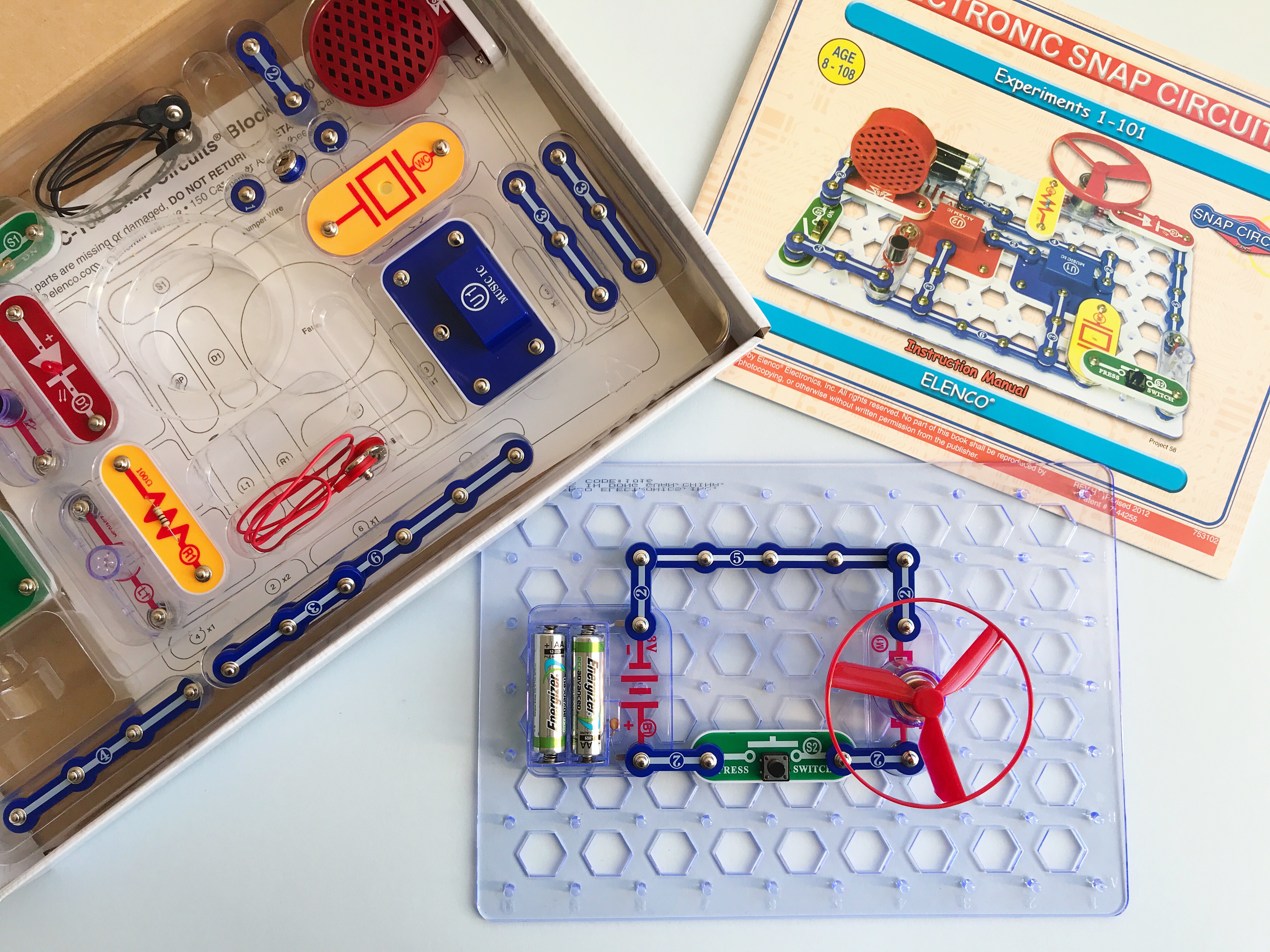 The set is recommended for ages 8+ but Oskar, who has just turned 7, has no problems doing the projects. He had a little help from daddy to get him started, and now he will happily sit there on his own and work through project after project. There are also bigger kits available, but we decided to start with the smaller one and see if he likes it first. You can always upgrade your sets if they are a success, which it looks like we might be doing. Snap Circuit sets are available from Amazon (Affiliate link).
Do you have any great gift recommendations for creative kids? Feel free to tell us about them in the comments below!
---
Disclosure: Some of the products in this post have been provided to us free of charge, for inclusion in the gift guide, and are noted accordingly where relevant. However, all images, words and opinions are our own. Products marked as Amazon Affiliate links mean, that if you buy these products via the links, I will receive a small commission at no extra cost to you, which helps to keep this blog running. Thank you.