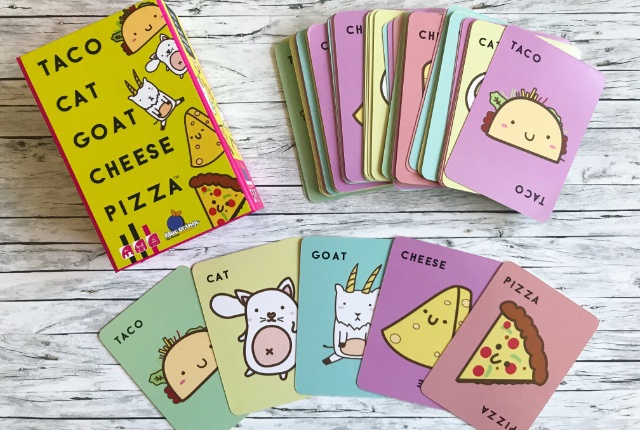 Review: Taco Cat Goat Cheese Pizza [AD]
We're back with another great game review today. It's our review for this month's Asmodee UK Blogger Board Game Club, whom we are currently working with. Asmodee UK is an established distributor of toys and games, and the Board Game Club works with bloggers by providing a free game each month in return for an honest review. This month we are reviewing the card game Taco Cat Goat Cheese Pizza.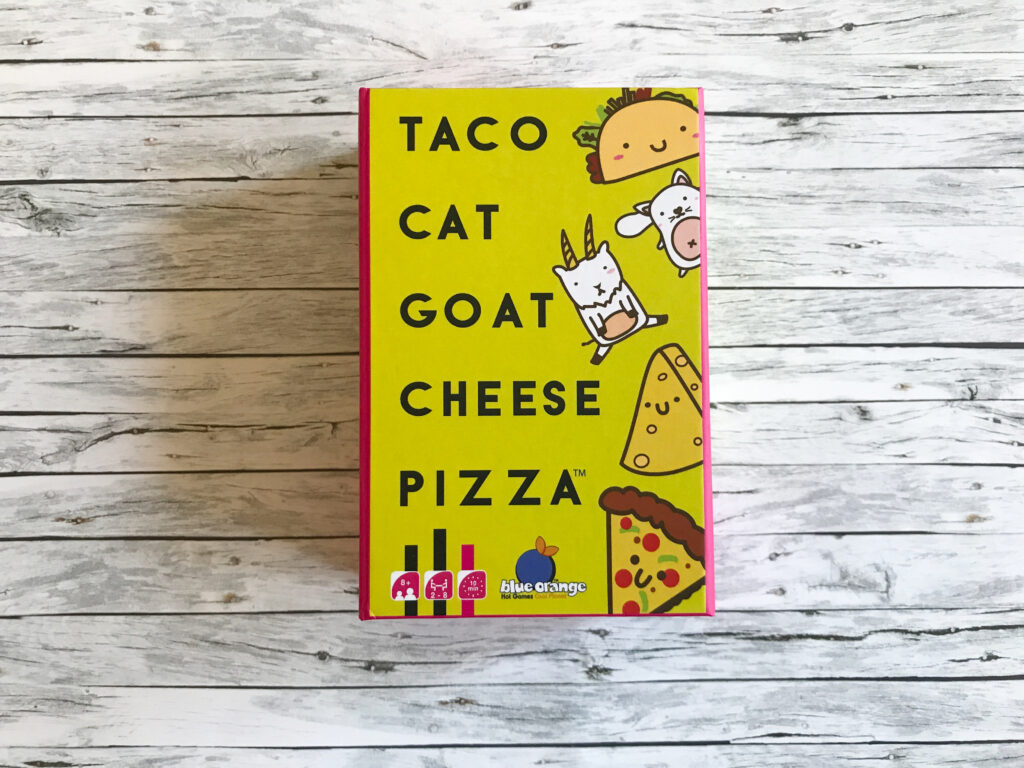 Disclosure: We received a free copy of Taco Cat Goat Cheese Pizza in return for an honest review. All opinions are our own.
Taco Cat Goat Cheese Pizza is a card game with simple rules that's quick to learn but provides hours of fun. In the box, you get a deck of 64 cards (which, as an aside, have really cute illustrations). There are two types of cards: The taco, cat, goat, cheese and pizza cards, and three special cards which we will come to in a moment.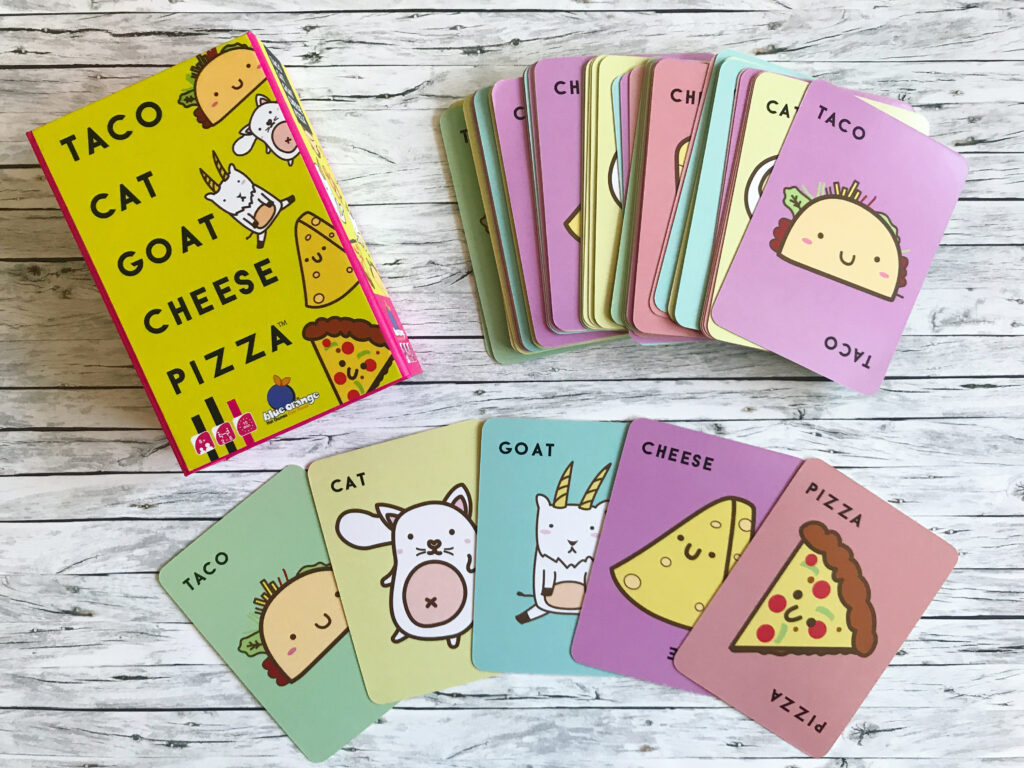 Setting up to play takes just minutes. Simply shuffle the pack, and deal out the cards evenly among all the players, picture side down. No one is allowed to look at their cards! The game is for 2 to 8 players, but if you are playing with 5 players or fewer than everyone just gets dealt 12 cards and the rest go back in the box.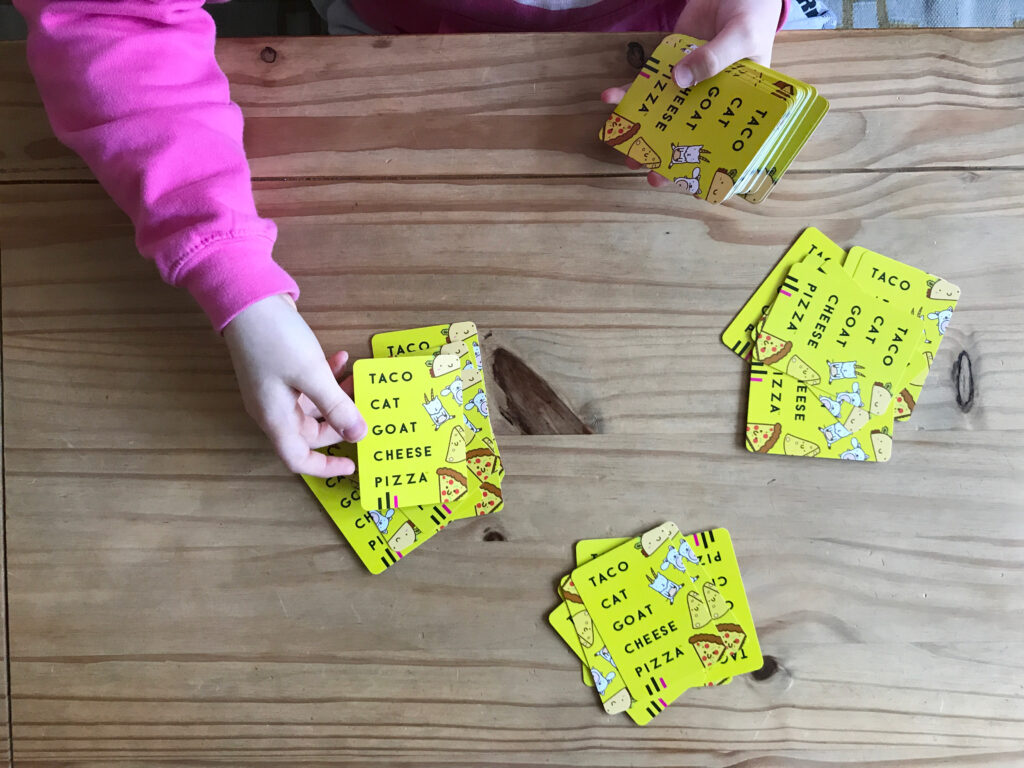 Players then take it in turns to turn over a card and place it in the middle. Whilst doing this, the first player says "taco", the next players says "cat", then "goat", "cheese", "pizza" and so on , starting again with "taco" – REGARDLESS of what the card shows! So, for example, if it's your turn to say "taco" but the card you turn over is a goat, you still say "taco"!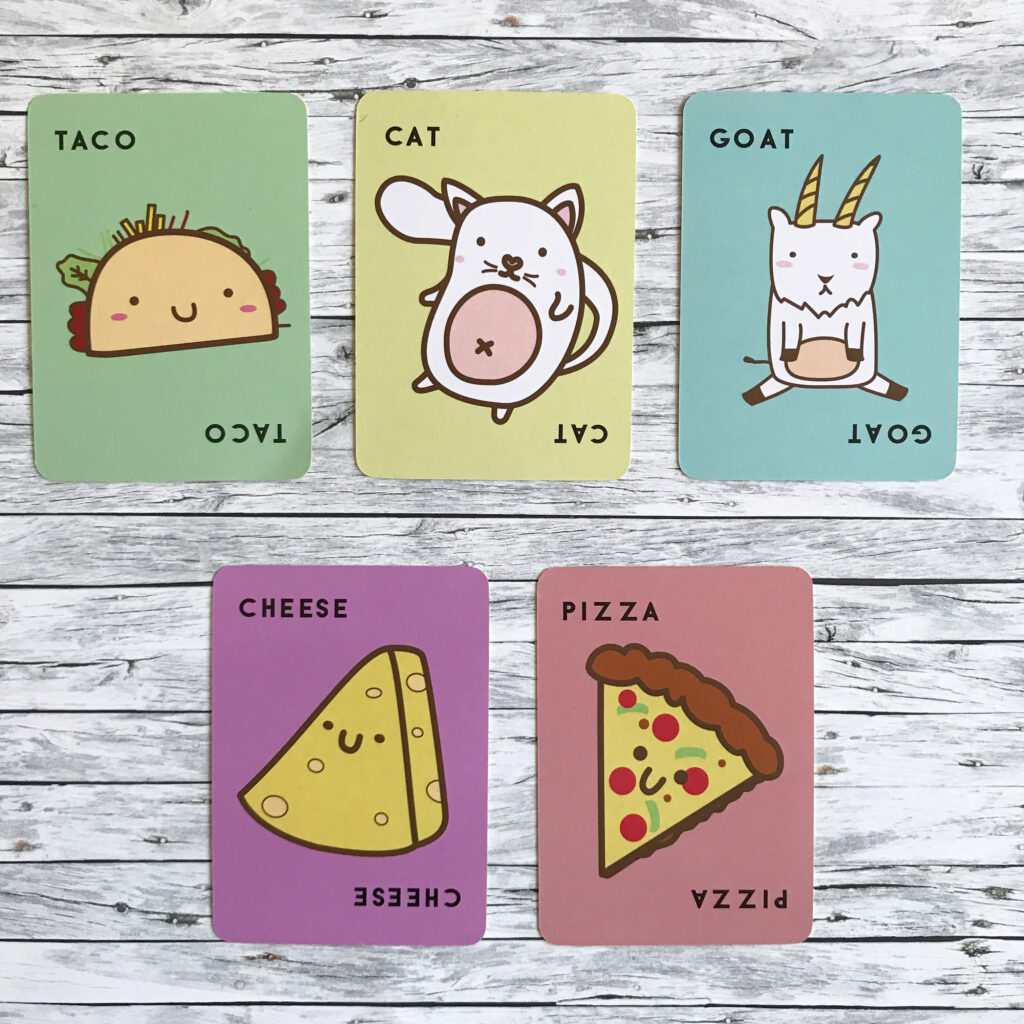 HOWEVER, whenever the word spoken MATCHES the card put down, then all players must slap down their hands on the card pile in the centre as quickly ad they can. The last player to slap their hand down gets all the discarded cards.
So far, so simple. But remember those special cards. Well, here they are: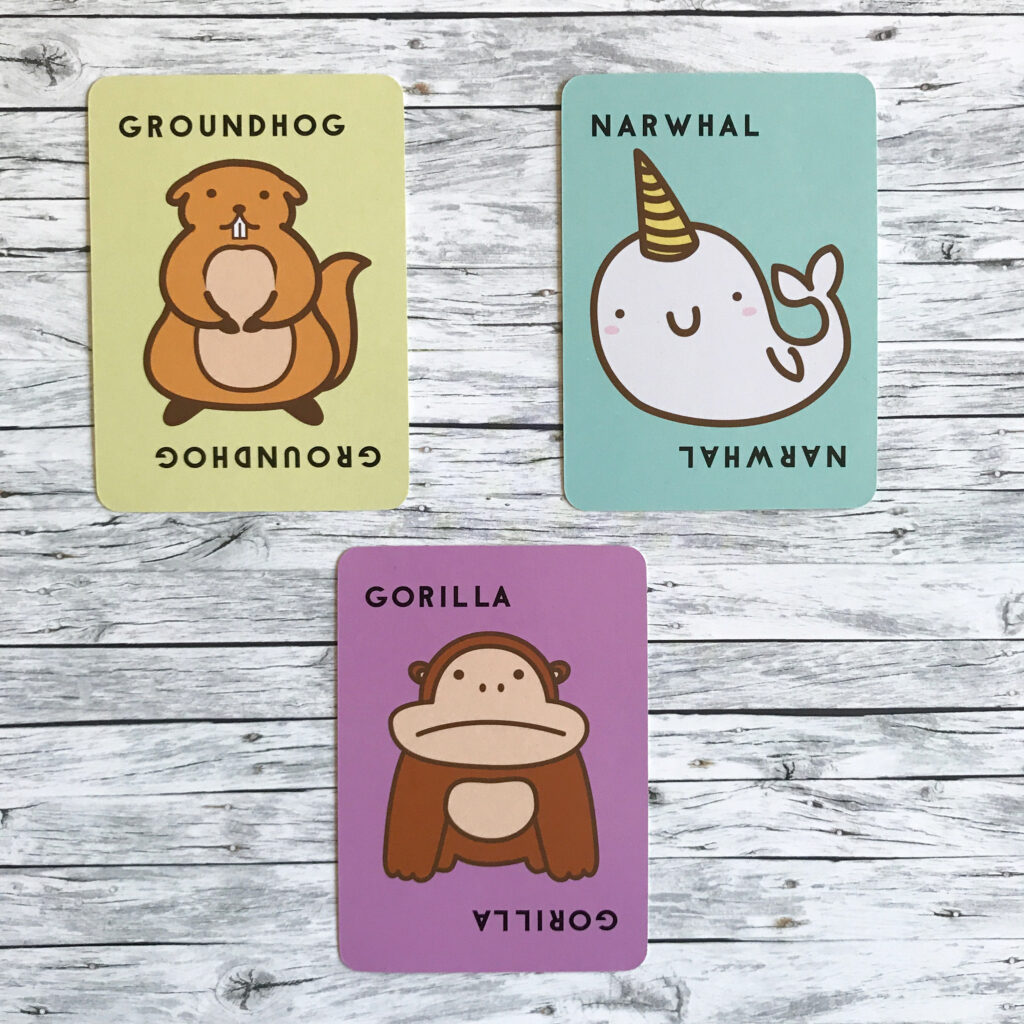 Whenever one of these special cards come up, ALL players have to carry out a specific action before slapping their hands down. Here are my boys kindly demonstrating the actions for you.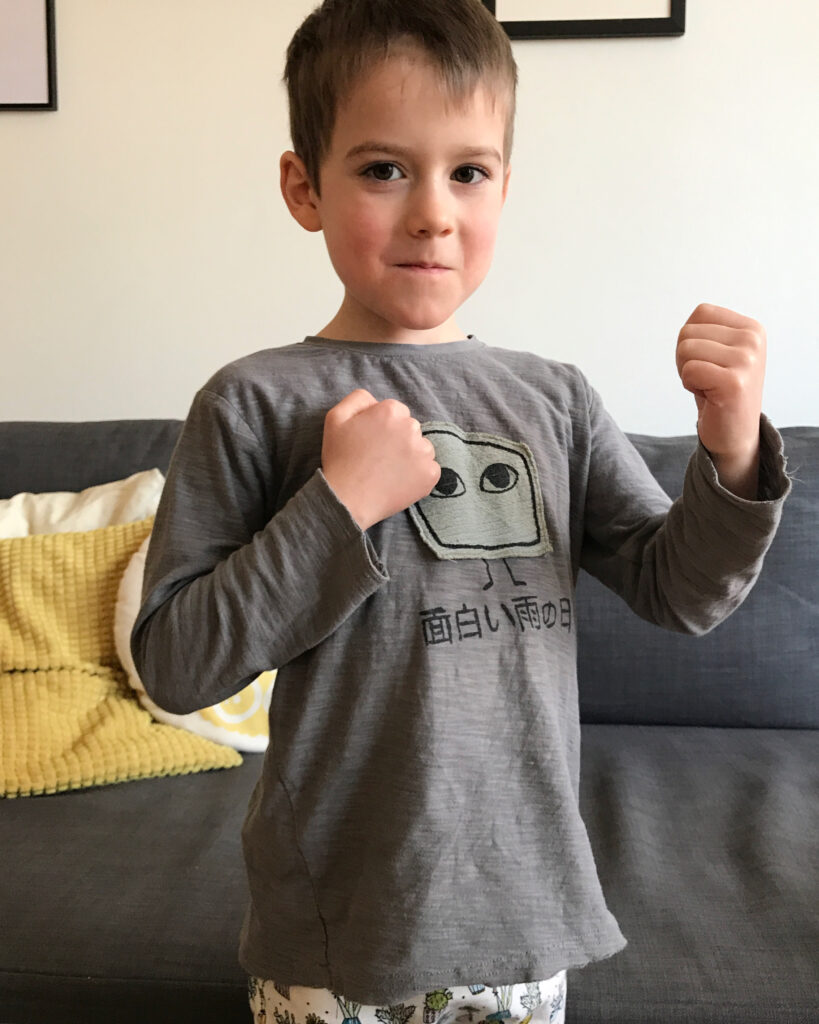 If the gorilla comes up, players have to beat their chest.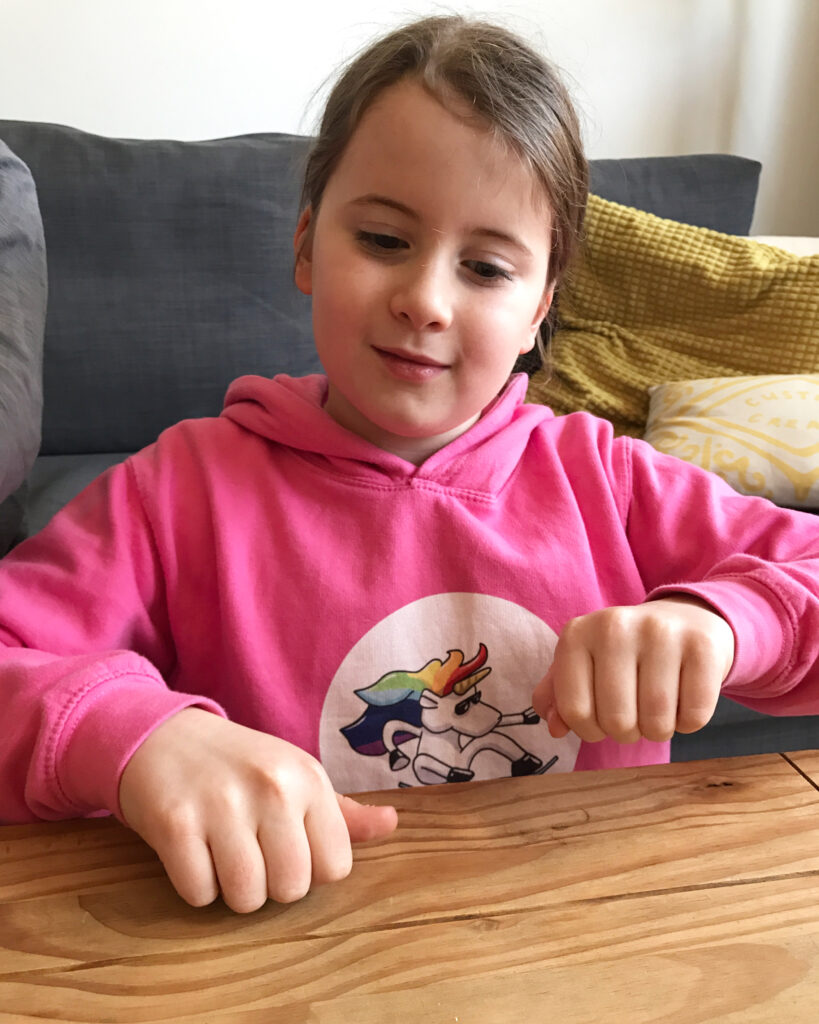 If the groundhog comes up, you have to knock on the table with both hands.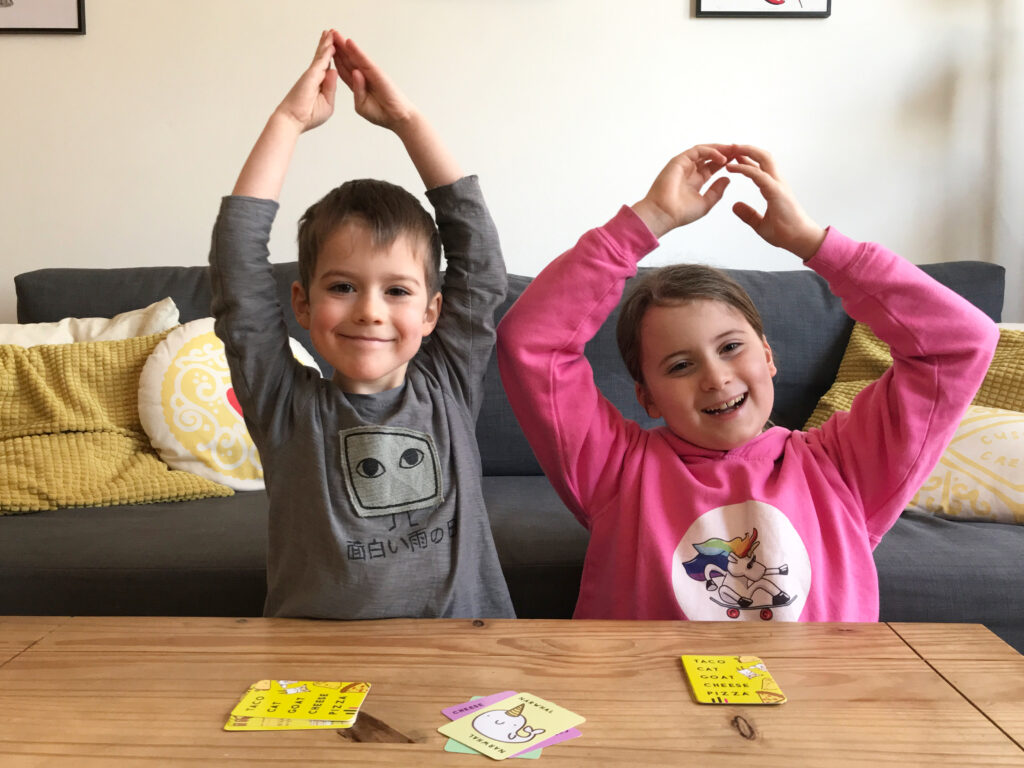 And if the narwhal comes up, everyone has to form a horn above their heads with their hands.
After each slap down – whether it's a match or a special card, play continues with the player who lost the round starting again with "taco" and so forth. The aim of the the game is to be the first person to get rid of all their cards and then be the FIRST to slap their hand down when the next match or special card comes up.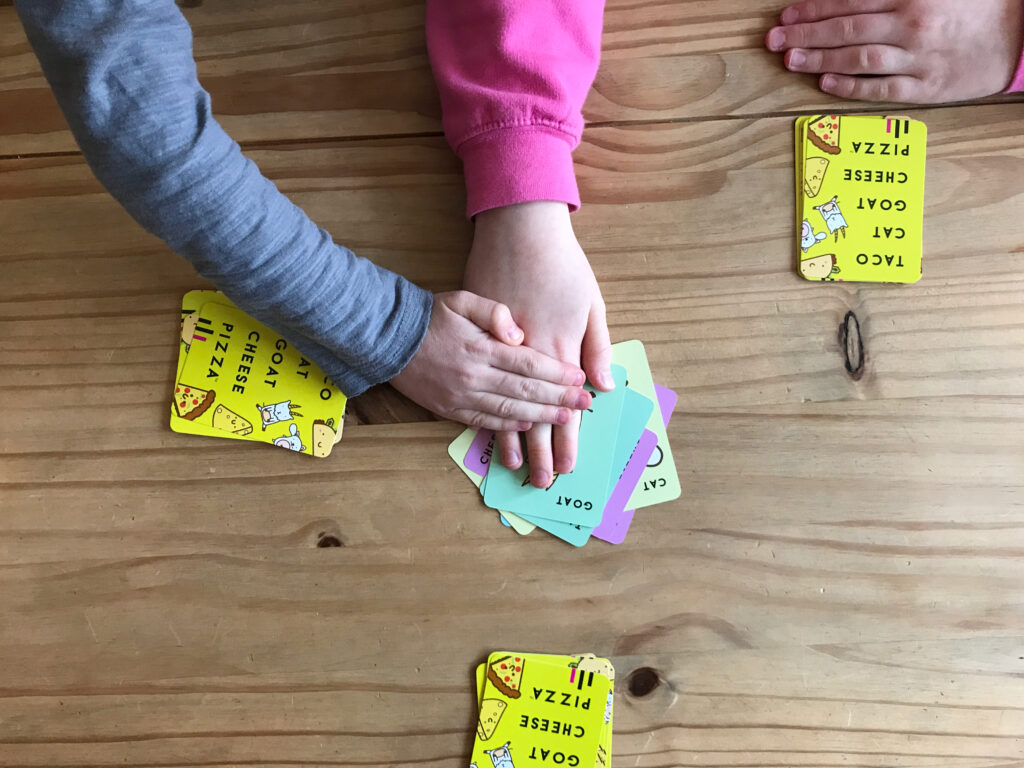 There are a couple of other rules, with penalties for flinching, dropping the pace, or turning your card over the wrong way, but if you're playing with younger children you can be a bit flexible on those. The game is recommended for ages 8+ but our 6 year old has fun joining in too. So far, we've only played this with the four of us, but as mentioned above you can play with up to eight players so we look forward to playing this with a bigger group once lockdown restrictions ease up.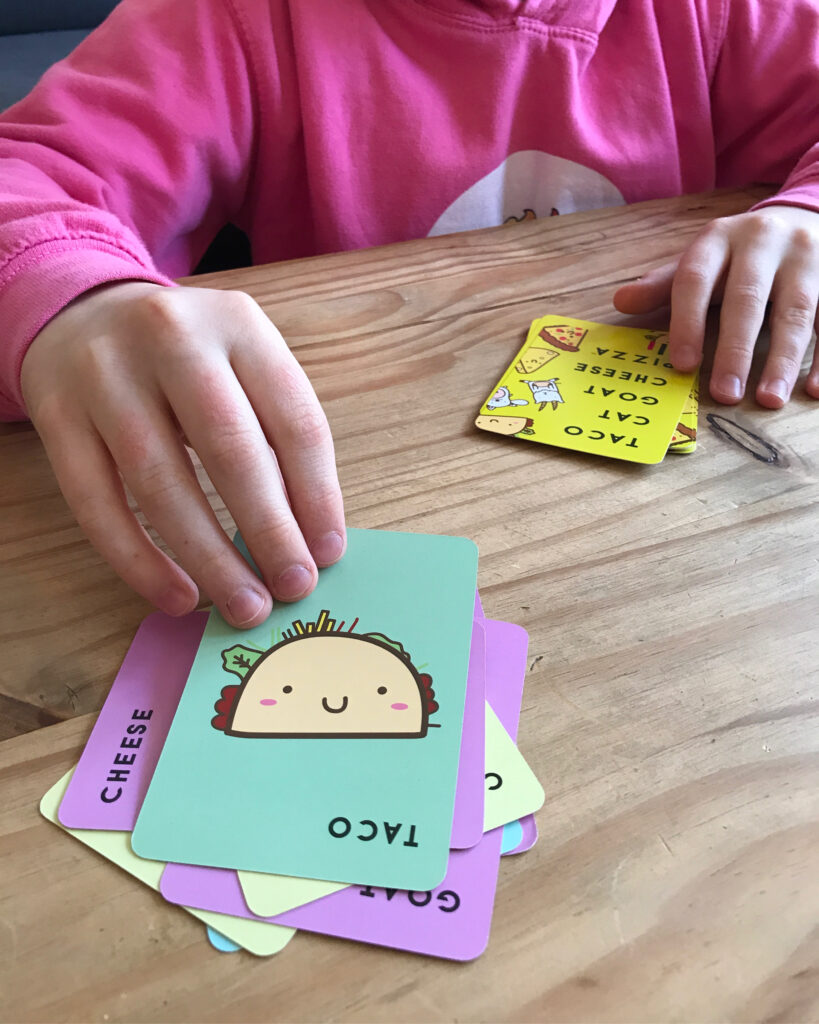 Taco Cat Goat Cheese Pizza is a really fun game, which all of us enjoy. It takes moments to set up and learn, so would be great for playing with guests as you don't need to spend ages explaining rules. It's also small enough to tuck in a bag if you are travelling, or just to take to the part if you're heading out for a picnic. Besides being fun, it also encourages concentration skills, as it's not as easy as it sounds to keep saying the words when the cards show something different, and it challenges your reaction skills too. All in all, a neat little game which we would recommend without hesitation.
Taco Cat Goat Cheese Pizza available to buy from a number of toys and games retailers, as well as on Amazon (affiliate link).
If you enjoyed this review, check out all the other games we have tested and loved!
---
Disclosure: We are members of Asmodee UK Blogger Board Game Club and received a free sample game for the purposes of writing an honest review. However, all thoughts and opinions remain our own. This post contains an Amazon affiliate link. If you shop via this link I will receive a small percentage of the revenue, without any extra cost to you, which helps to keep this blog running. Thank you.