So, I've told you all about the amazing Gleisdreick Park, shared out favourite themed kids playgrounds with you, all that's missing for a family weekend in Berlin Schöneberg this summer – apart from the usual sightseeing spots – are some tips on where to get the best ice cream! After all, I post so many ice cream pics on Instagram, it was about time I let you in on where to get some yourself, don't you think?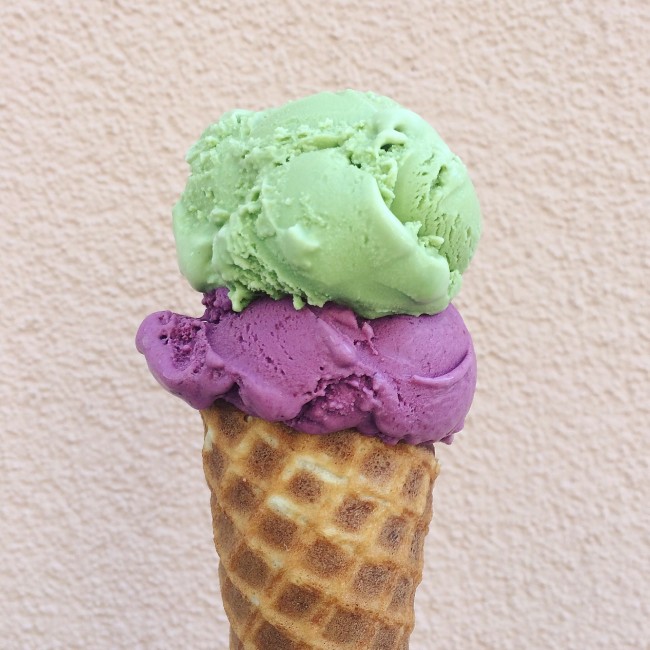 1. Jones
Our number one favourite place to get ice cream – not just in Schöneberg but in all of Berlin – is Jones. Scoops cost between 1.50 and 2 Euros, but they are huge and the quality and taste is amazing, so it's absolutely worth the price, and you can get slightly smaller kids portions for a reduced price. For an extra 50 cents, you can also get a hand made cone, made freshly on the premises. Sadly I can't eat them, but if they taste half as good as they smell I can tell you it's 50 cents well spent. And yes, there are coloured sprinkles available too – for free – which is pretty much how my kids measure the quality of an ice cream shop, lol.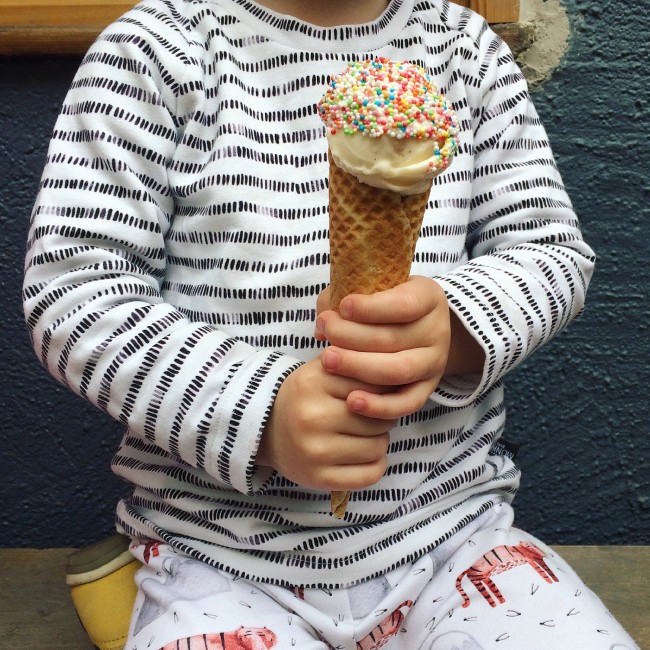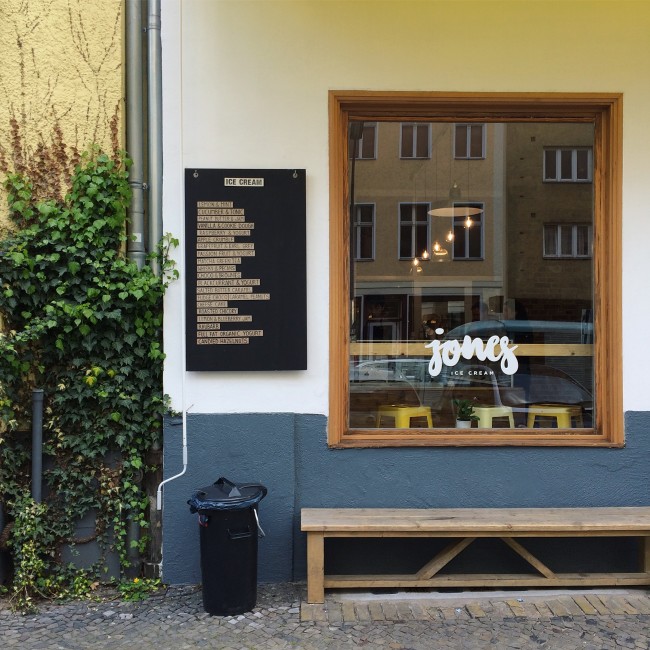 Favourite flavour: Salted Butter Caramel (me), Vanilla Cookie Dough (the kids)
Other flavours I love: Whisky & Pecan, Blackcurrant & Yogurt (see photo at the top), Grapefruit & Earl Grey Sorbet
Unusual sounding flavour you should try: Roast Chicory (see photo below) – yes, really, it's very yummy!
Address: Goltzstrasse 3, 10781 Berlin, http://www.jonesicecream.com/ice-cream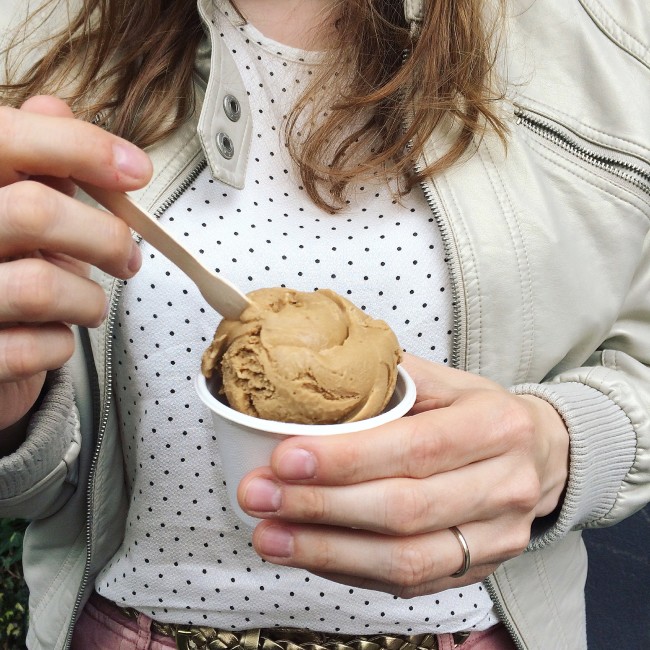 2. Franken & Grunewald
When we feel like an ice cream sundae instead of just a couple of scoops, then Franken & Grunewald is our favourite place to head to. They offer a selection of cups including strawberry, chocolate and even egg nog sundaes. Our favourite is the 'Spaghetti Eis' – one of the most well known and popular ice cream sundaes in Germany – so called because its strands of vanilla ice cream topped with strawberry sauce and grated white chocolate resembles a bowl of spaghetti. The kids portion comes in at only 3.50 Euros and is plenty for me too. Of course, they also sell regular scoops of ice cream here, ranging from traditonal flavours such as strawberry, chocolate and vanilla, to more exotic ones like Goats Cheese & Walnut or White Chocolate Pumpkin Seed. Scoops cost between 1.20 and 1.50 Euros. No coloured sprinkles available here, but they do offer dark or white chocolate sprinkles at a small extra cost. And if you order your scoop of ice cream as an 'Eis Zwerg' you will find Smarties 'hidden' at the bottom of your cone!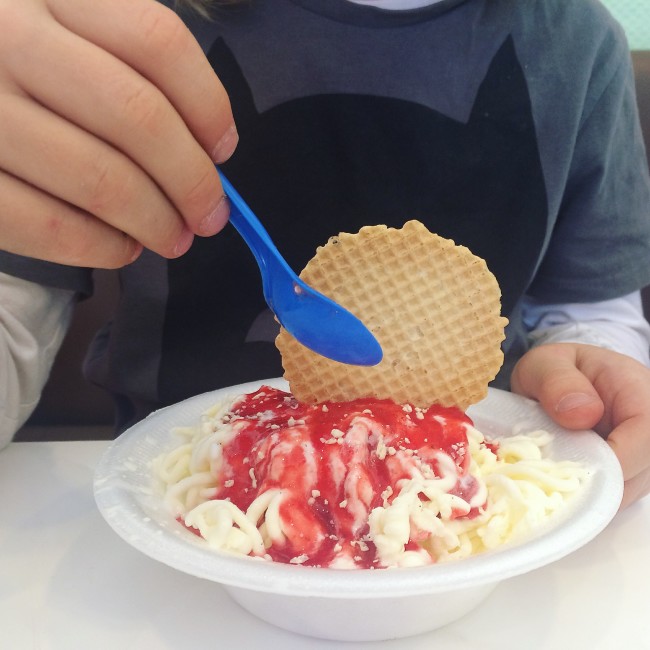 Favourite flavour: Spaghetti Eis all round!
Other flavours I love: Matcha Green Tea, Coconut Sorbet (made with pure coconut cream)
Unusual sounding flavour you should try: Orange & Ginger
Address: Gossowstraße 6, Ecke Motzstraße, 10777 Berlin AND they also have another branch at Kolonnenstraße 56, 10827 Berlin, http://www.franken-grunewald-eis.de
3. Kiez Eis
And, finally, Kiez Eis is a new kid on the block, they only opened this summer. At first we were sad to lose the frozen yoghurt place that was there instead last year, but now Kiez Eis has quickly become a firm favourite, especially since it's on our route home from school! Just like the other two above, the ice cream here is really creamy and flavoursome and the service is super friendly. On our last visit, the young man behind the counter let Oskar taste about 5 different flavours before he made up his mind which one he wanted, and when his naughty little brother threw his wafer in the bin, he gave Oskar a new one for free. It's a very small shop, so the flavours rotate, and there are no extra frills, but they're not really needed. Scoops cost 1.20 Euros.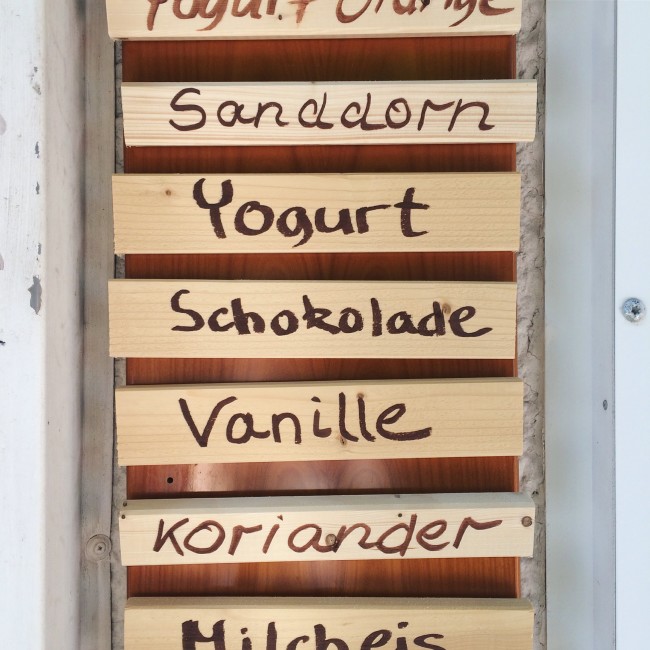 Favourite flavour: Rosewater (me), banana chocolate chip (Oskar), "the red one" a.k.a. strawberry sorbet (Alfred)
Other flavours I love: Almond, Koriander
Unusual sounding flavour you should try: Sea Buckthorn ("Sanddorn")
Address: Winterfeldtstraße 46, 10781 Berlin, http://www.facebook.com/kiezeis
---
Did any of these places take your fancy? What's your favourite flavour of ice cream?