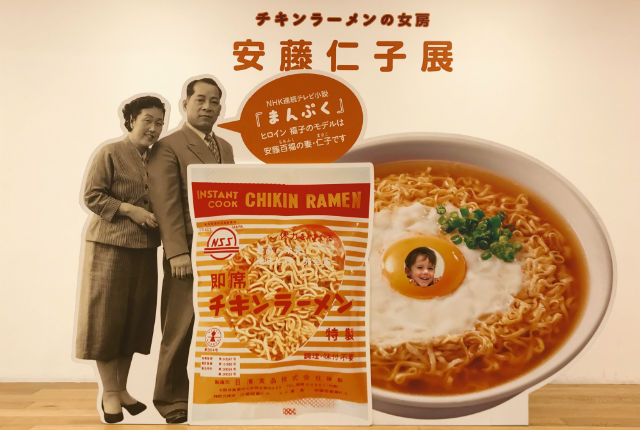 Yokohama Cupnoodles Museum with Kids
Happy Museum Monday! We have another great kid-friendly museum to share with you, and as we're just back from an amazing three week trip to Japan, this week's recommendation comes from Yokohama. We love seeking out quirky and unusual museums when we travel, so when we heard that Yokohama had a Cupnoodles Museum, we just had to check it out!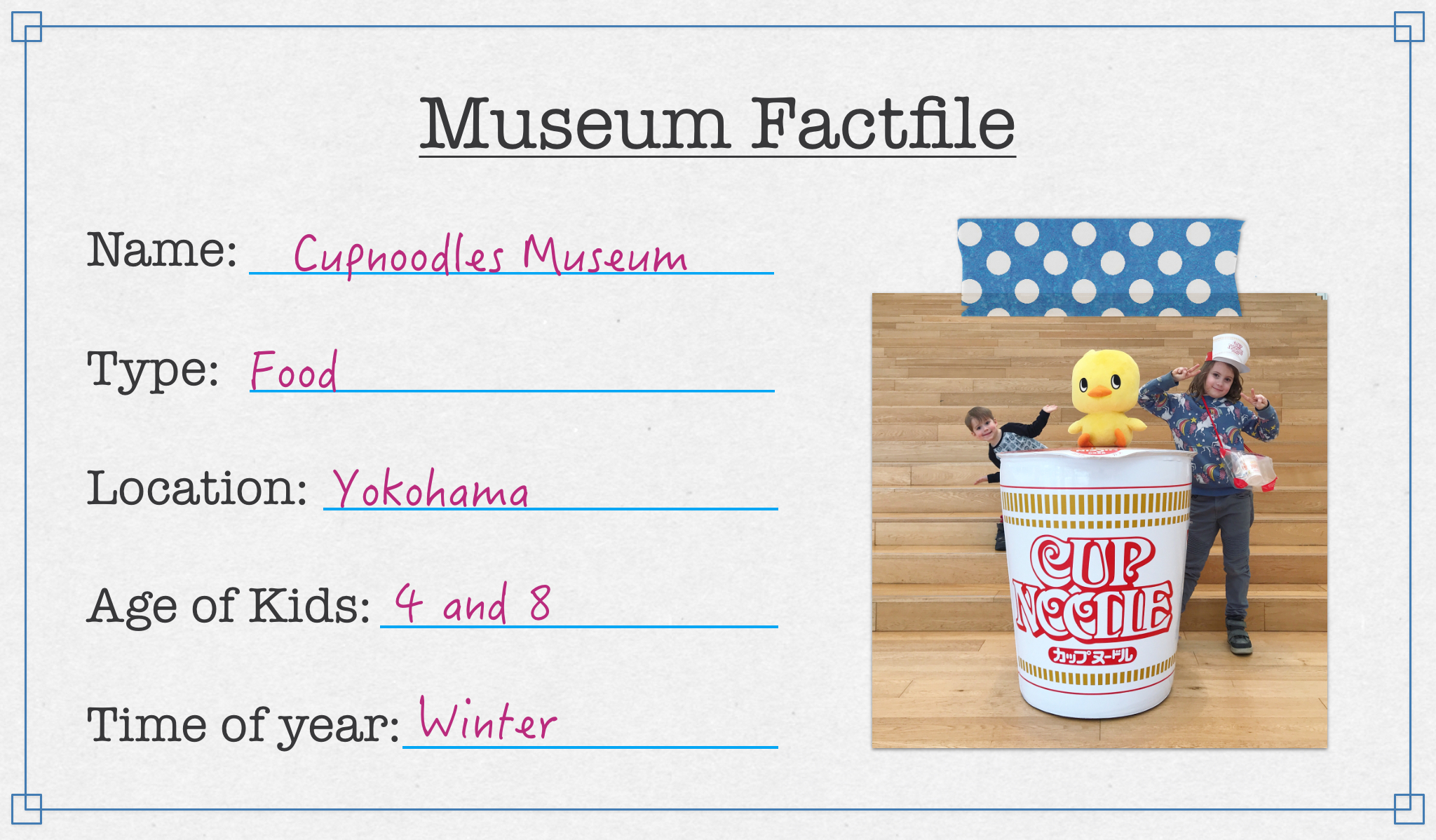 The Cupnoodles Museum is an interactive museum which, according to the little guidebook we were handed at the entrance, is "designed to stir the creativity and curiosity within every child and provide a rich educational experience" (though there were plenty of adults visiting without children too!) The museum invites visitors to see, touch, play, listen and, of course, eat.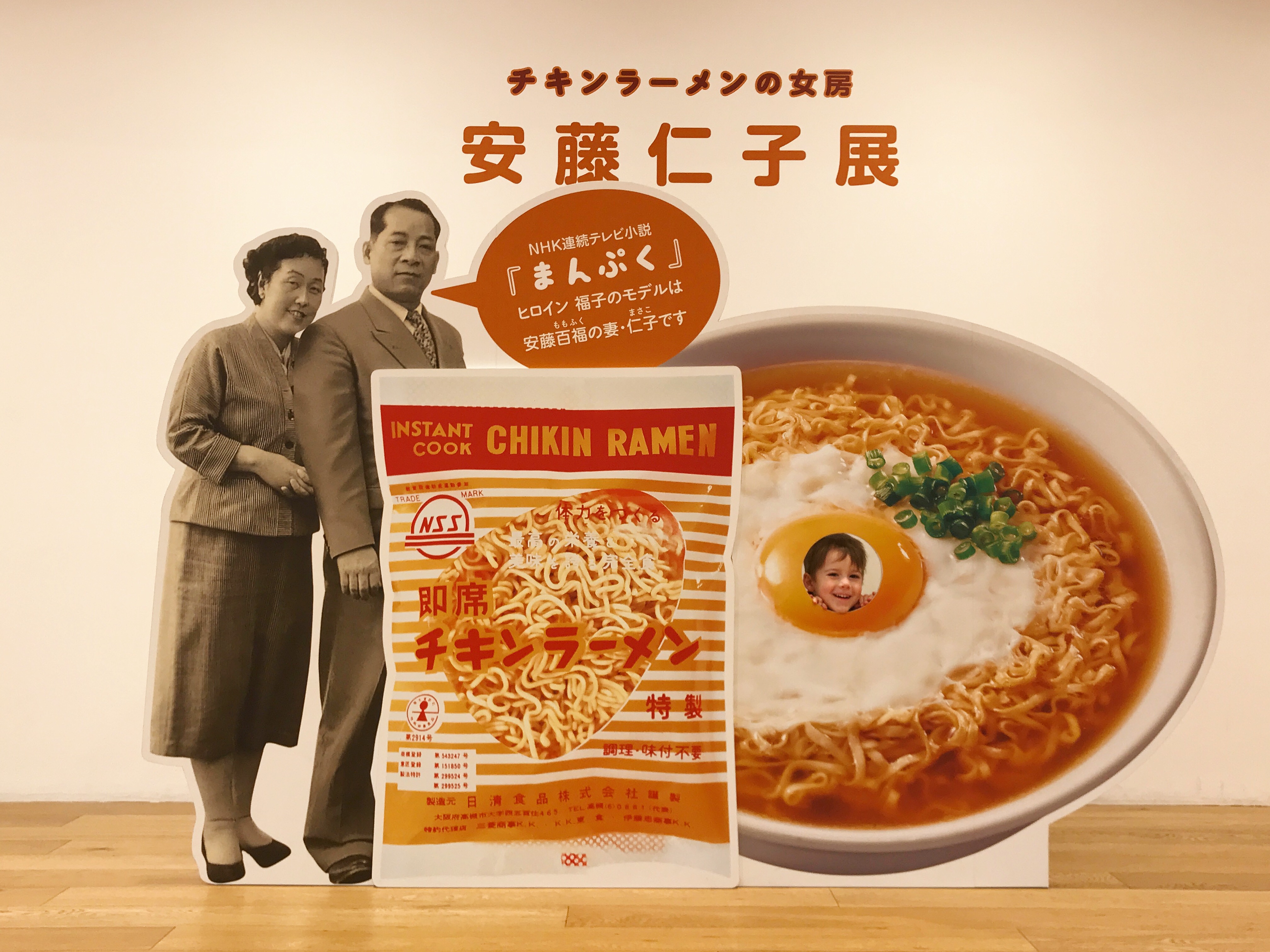 Cupnoodles are the brainchild of Momofuku Ando, the inventor of the world's first instant noodles and the Cupnoodles brand. Across three floors, the museum follows the story of the invention of instant noodles and how it impacted and changed eating customs all around the world. The first floor we went to, was dedicated to the history of instant noodles and the life story of Momofuku Ando. In the 'Instant Noodles History Cube' visitors can marvel at astonishing collection of over 3,000 different product instant noodle packages, which shows how one single invention grew in to a global phenomenon.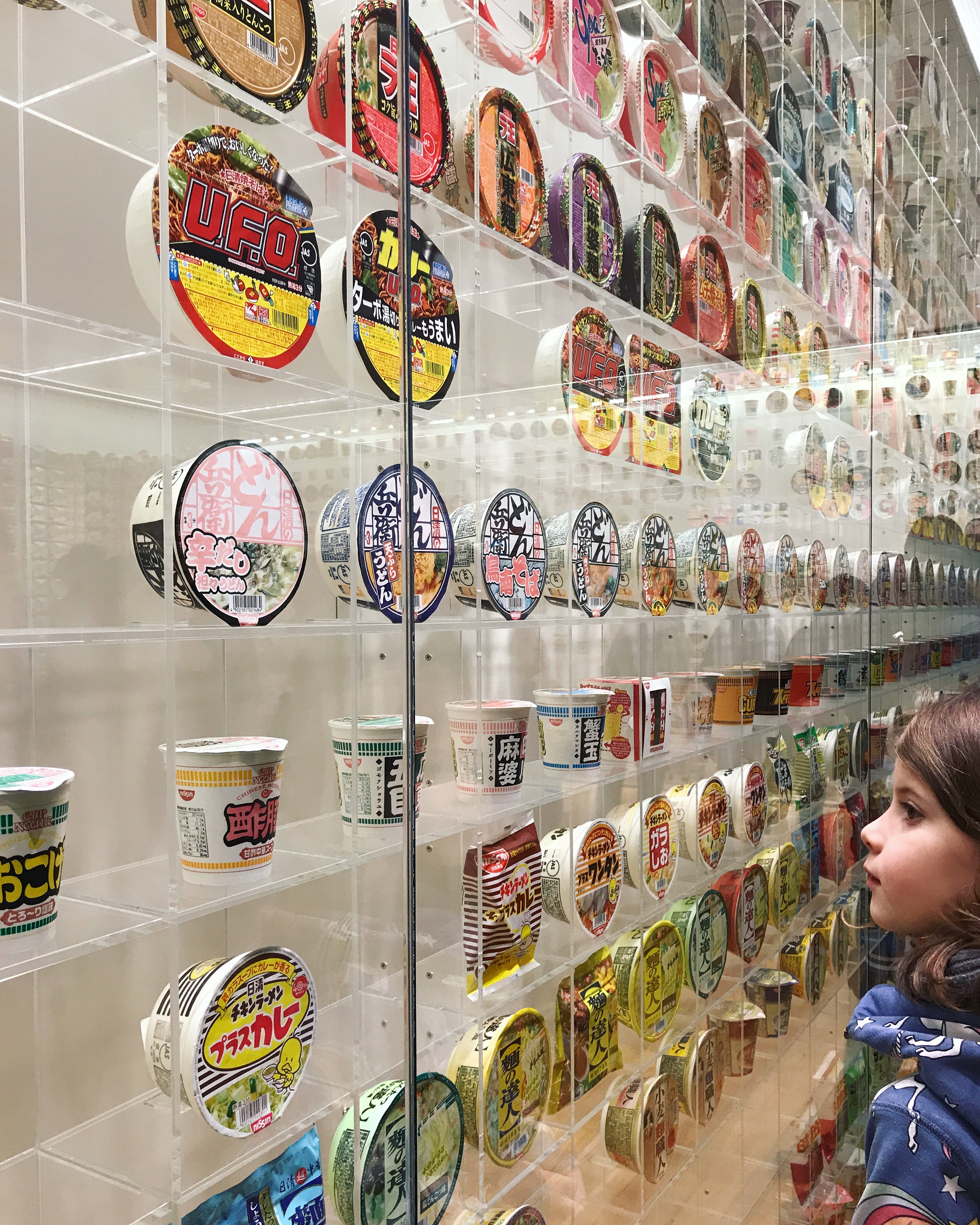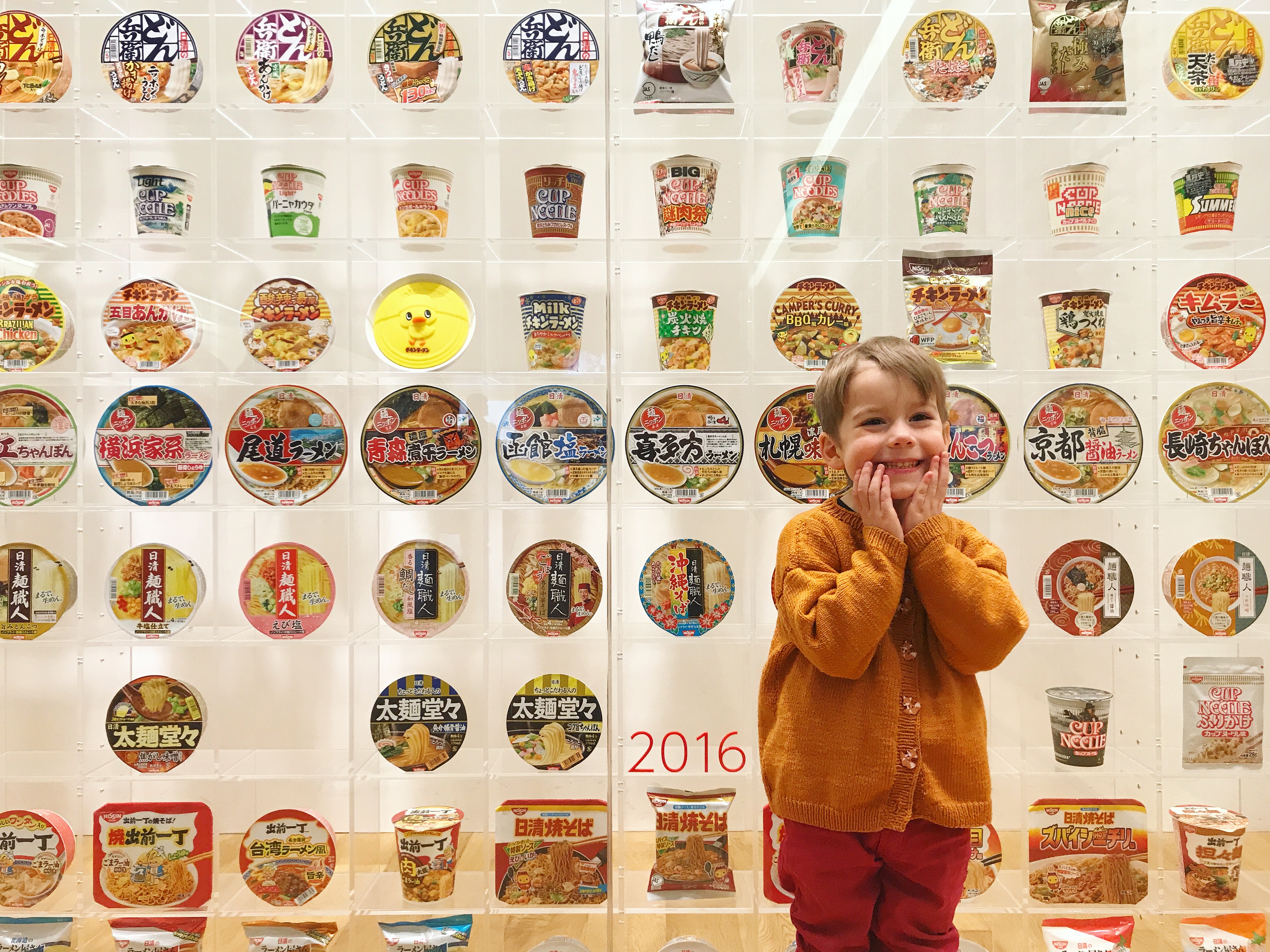 Next, there is the Momofuku Theater, which introduces visitors to Ando's life story through a 20 minute CG animation. The presentation is in Japanese, but you can get an earpiece which provides an English audio (Chinese and Korean audio is also available). Both boys sat through the entire presentation without fidgeting once, and my 8 yr old was still able to recall most of the key pieces of information hours later! Upon exiting the Theater, you see a recreation of Ando's workshed – where he invented Chicken Ramen in 1958 – followed by a 58 metre long timeline of 'The Momofuku Ando Story'. The timeline is largely in Japanese, with headlines and image captions translated in to English, but you get the main idea especially if you've watched the presentation beforehand. Whilst the museum probably tells Ando's life story from a fairly one-sided perspective, there is no doubt that he was a truly inspirational character who was always trying to find new ways of solving problems through creative thinking, and who never gave up until he achieved his goals.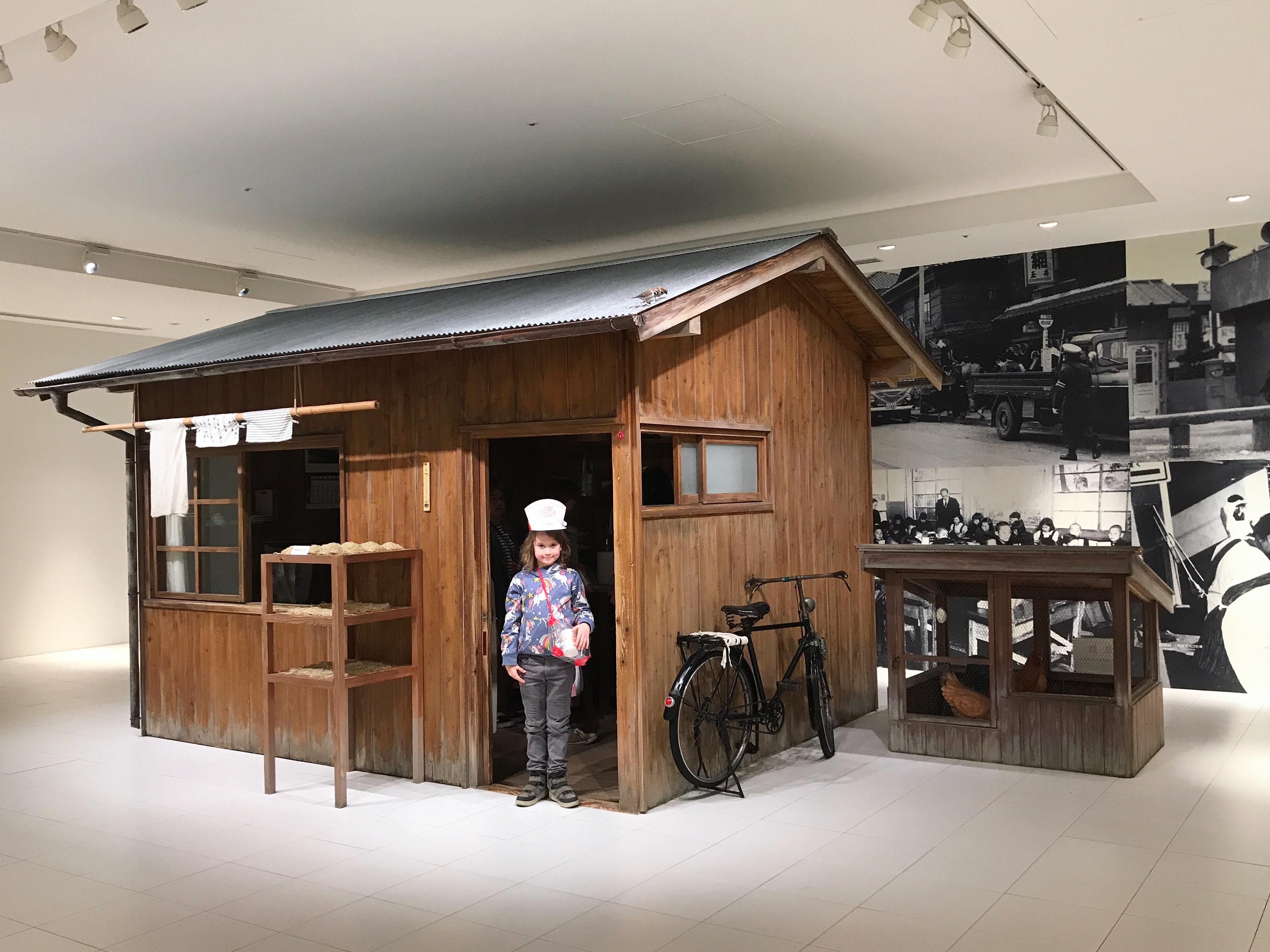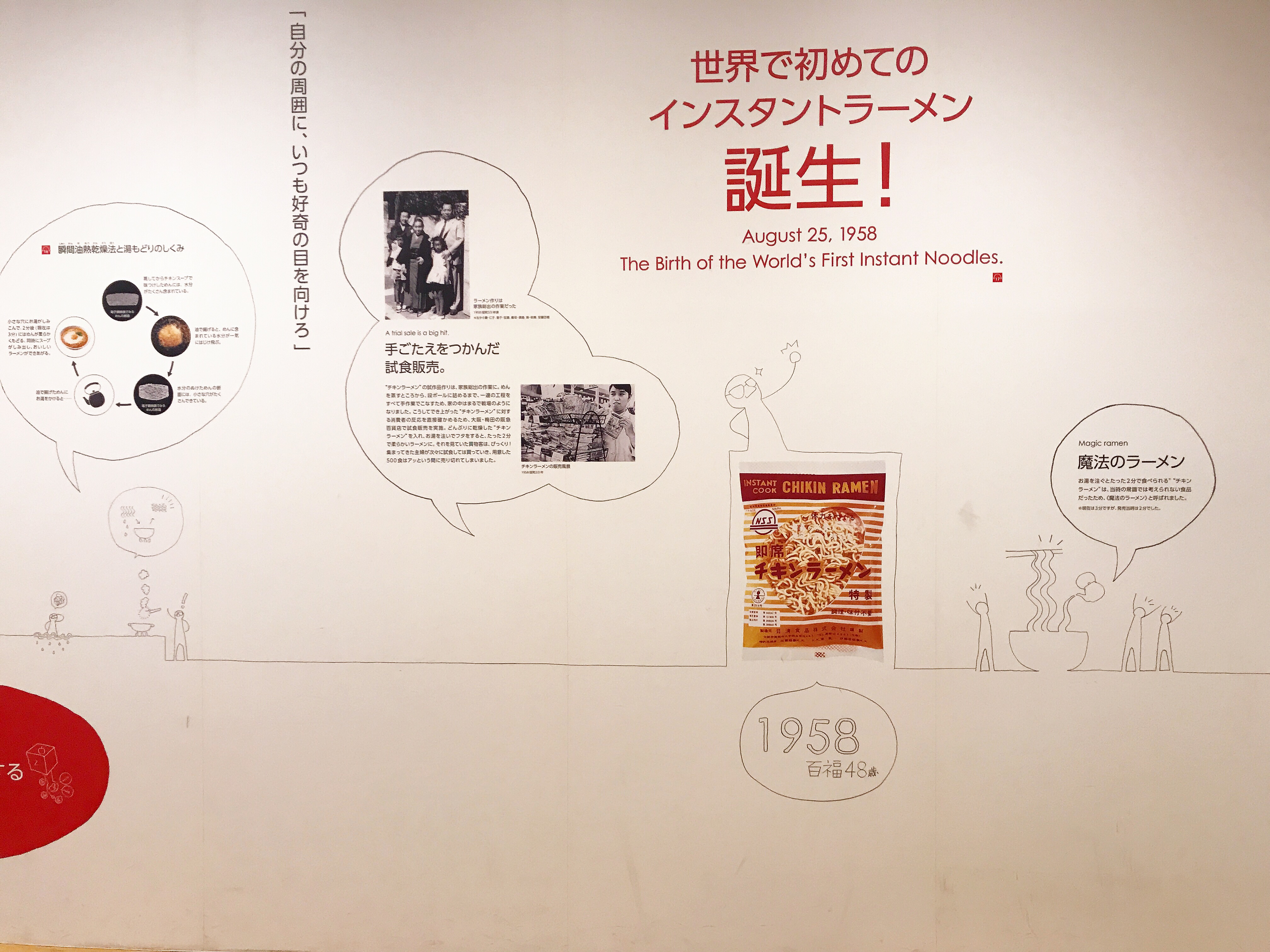 Finally, on this floor, there were the 'Creative Thinking Boxes' which presented the six key ideas which inspired Ando's creative thinking. One our favourites, was a wall full of shapes of things like a helicopter, a vacuum cleaner, a steam engine, an umbrella, and of course Cupnoodles. When you touched each shape, an animation would appear above it on the wall, first of the object itself then of the idea that inspired it.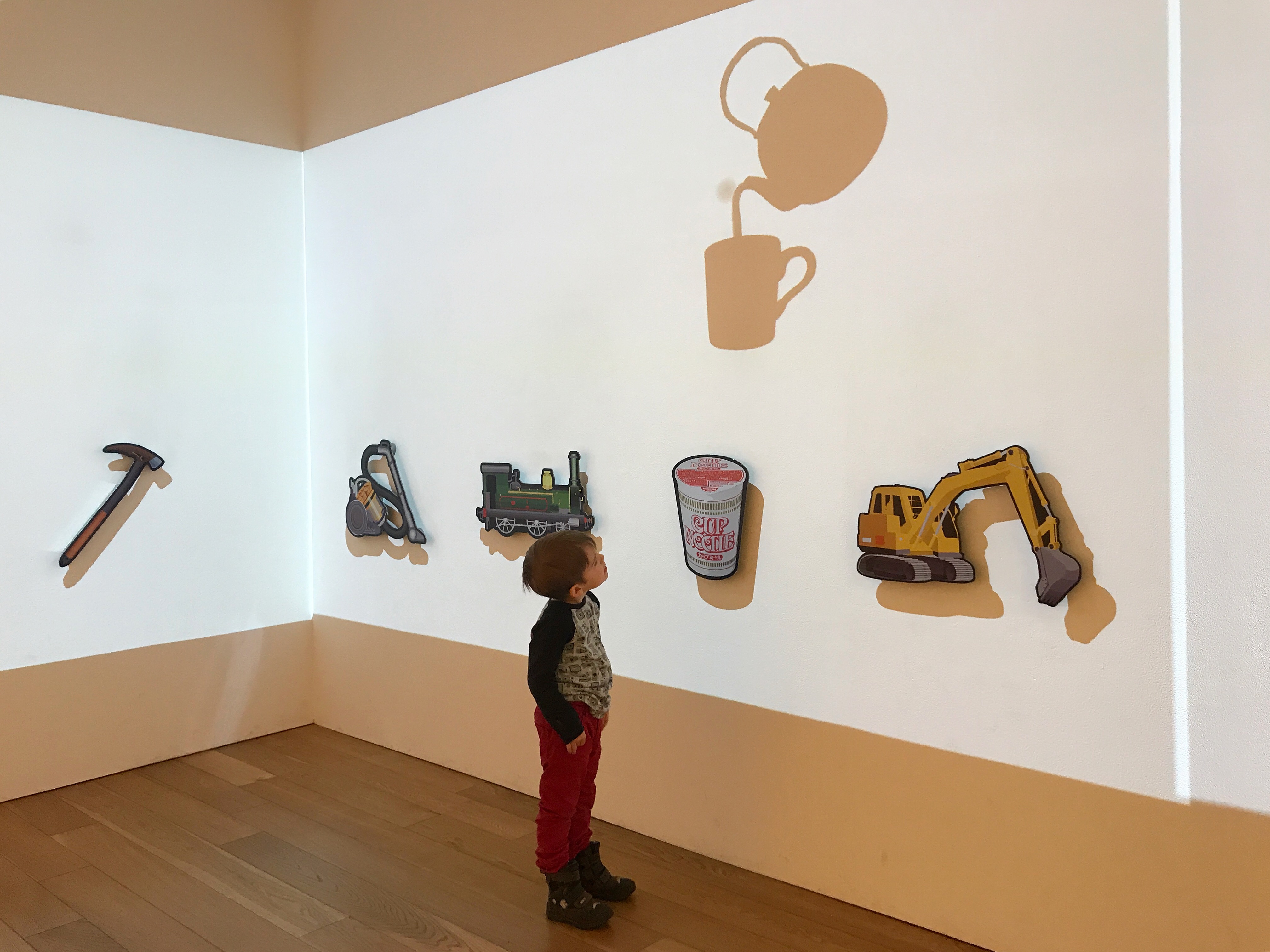 Other fun ones were the room the skewed your perspective to make people appear much bigger or smaller than they really are, and a giant sculpture of an exploding pot of Cupnoodles, with words hidden amongst the 'noodles' that you could only see and read it you looked at it from different spots and perspectives.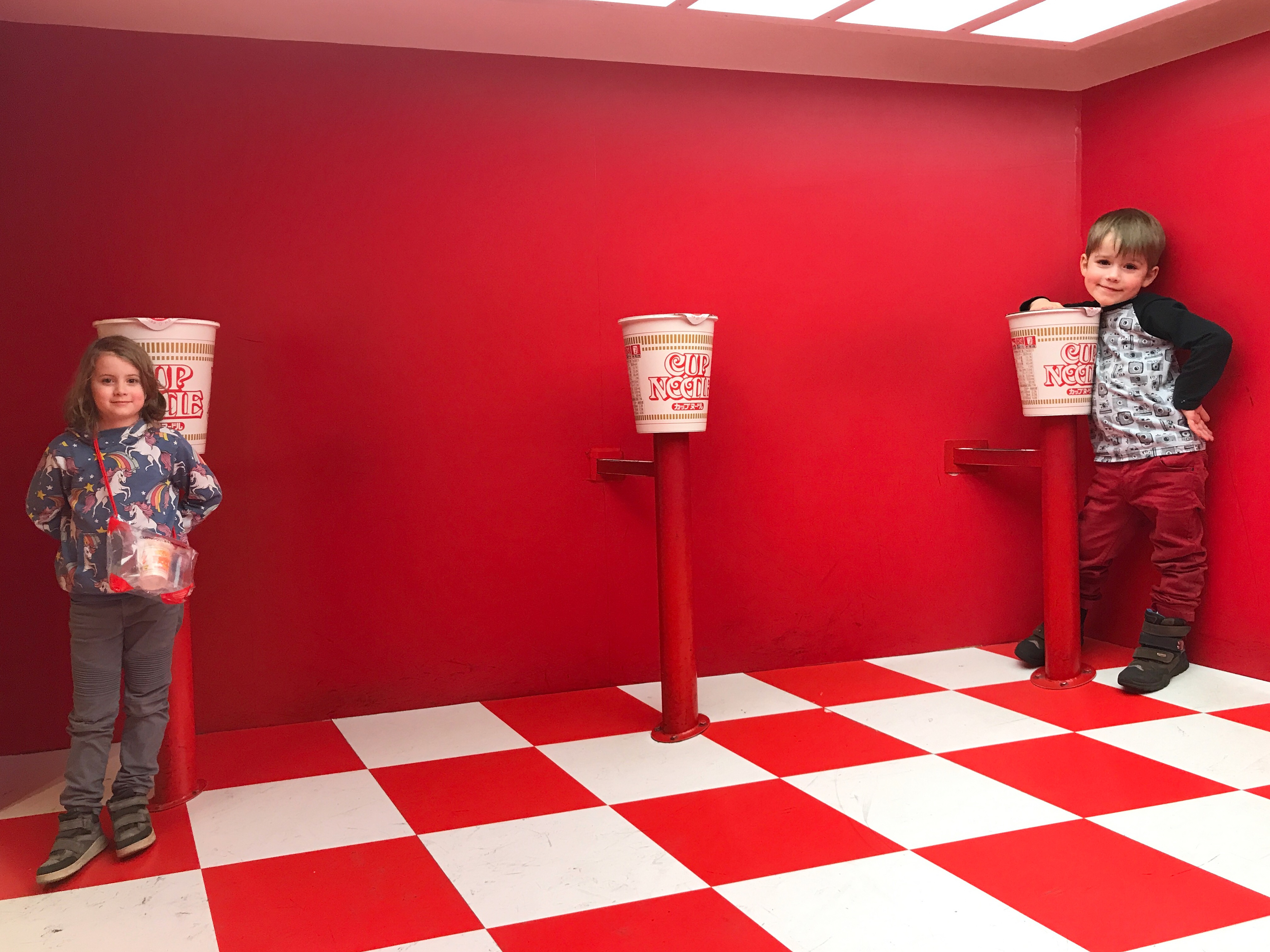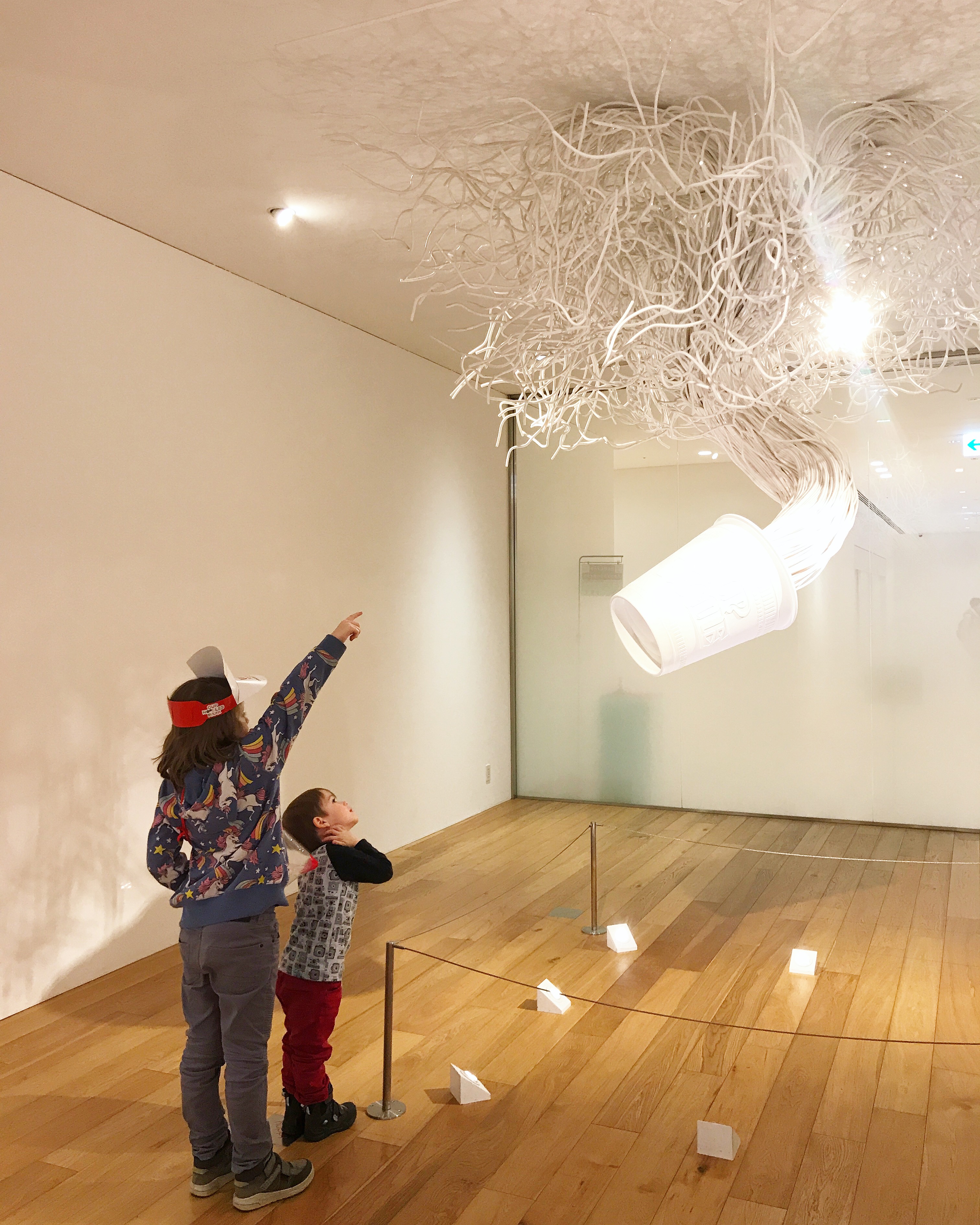 On the next floor up, was the 'My Cupnoodles Factory'. Here you can create your own cup of Cupnoodles – first you design and decorate your cup, then you go and get your noodles and choice of four extra toppings added, and then you watch as your cup is sealed and shrink wrapped.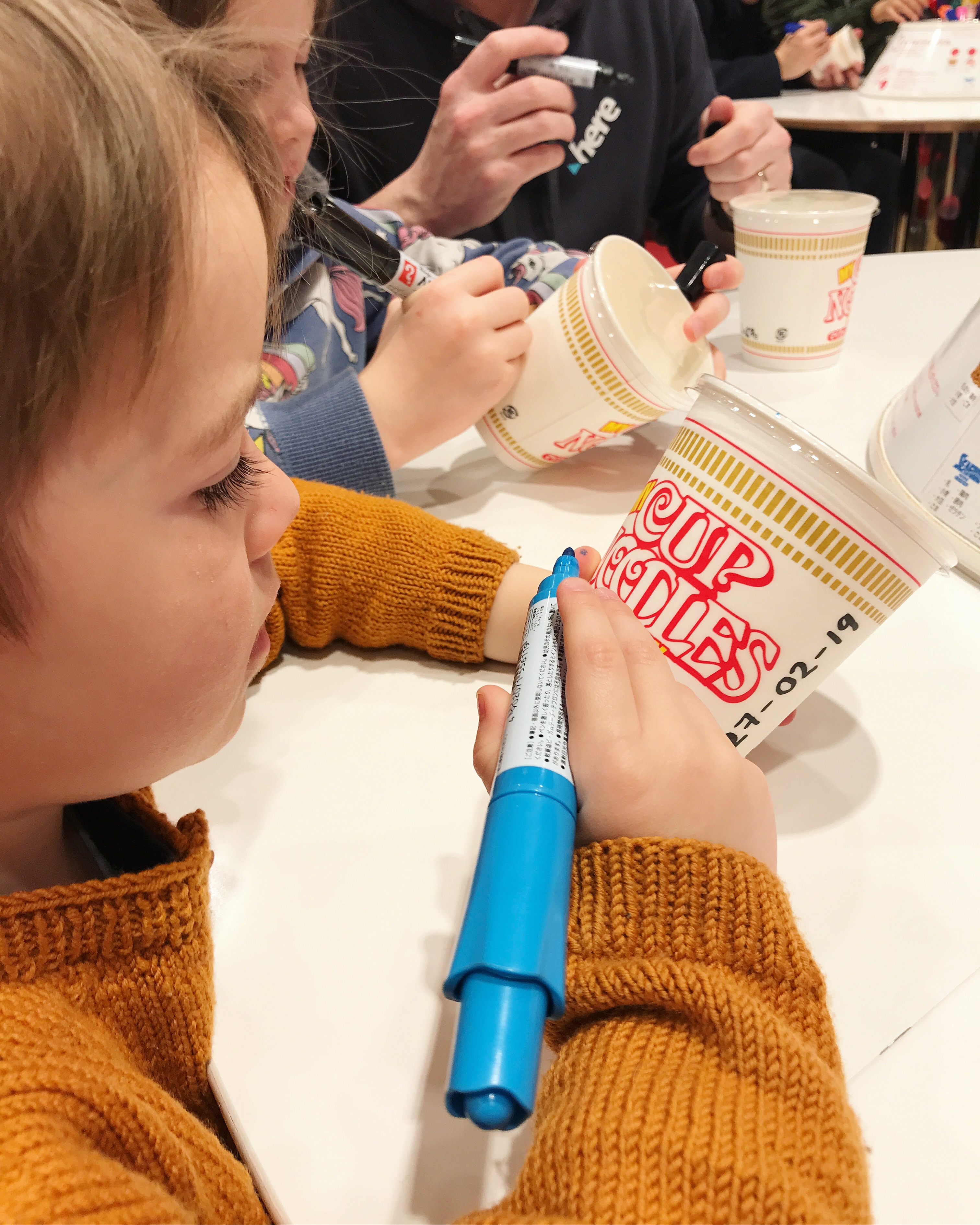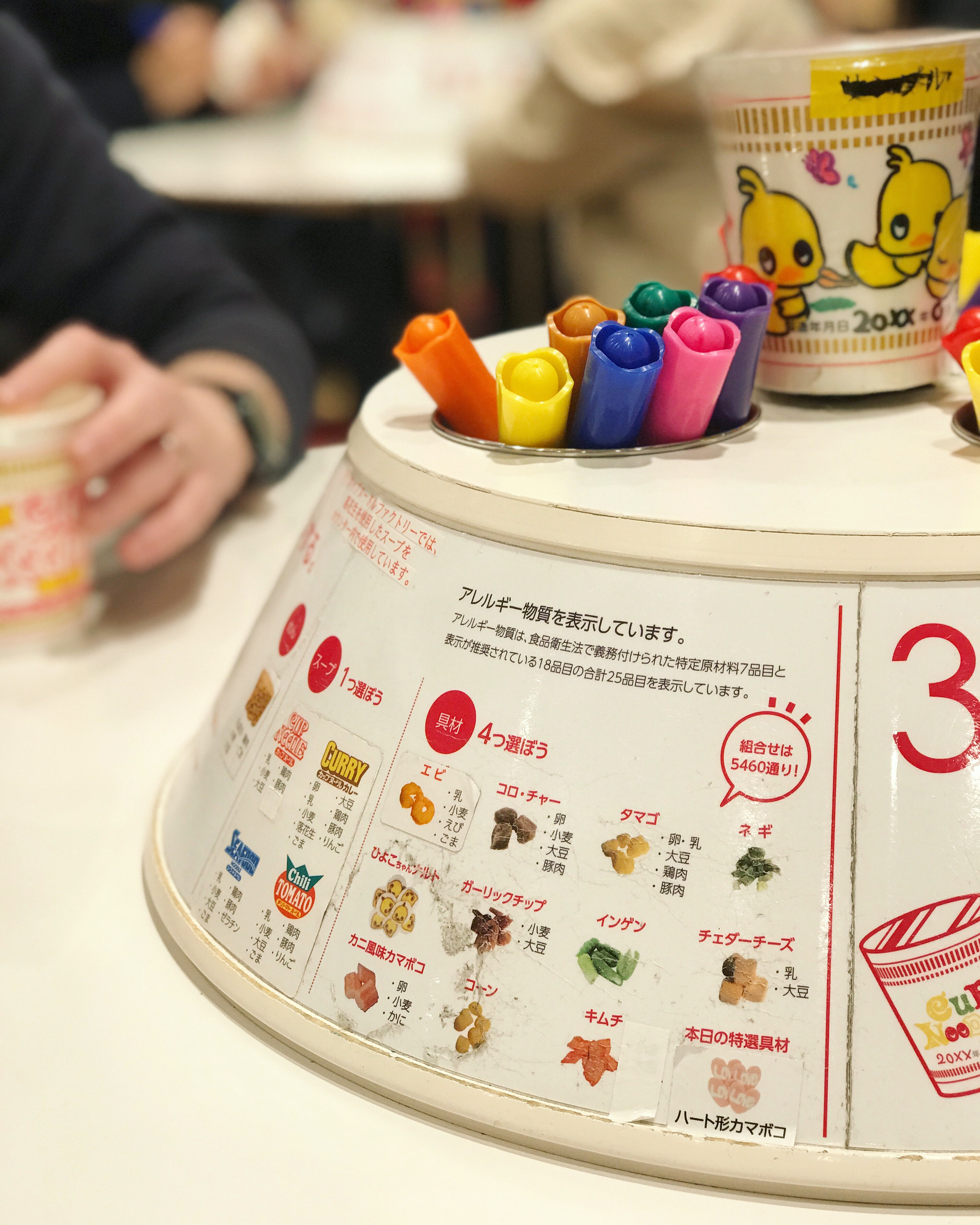 Instructions are provided in English, by the way. There is a separate fee and specific time slots for the 'My Cupnoodles Factory', so be sure to reserve your slot when you buy your tickets! We spent almost an hour here, so keep this in mind when reserving time slots for other things (see below).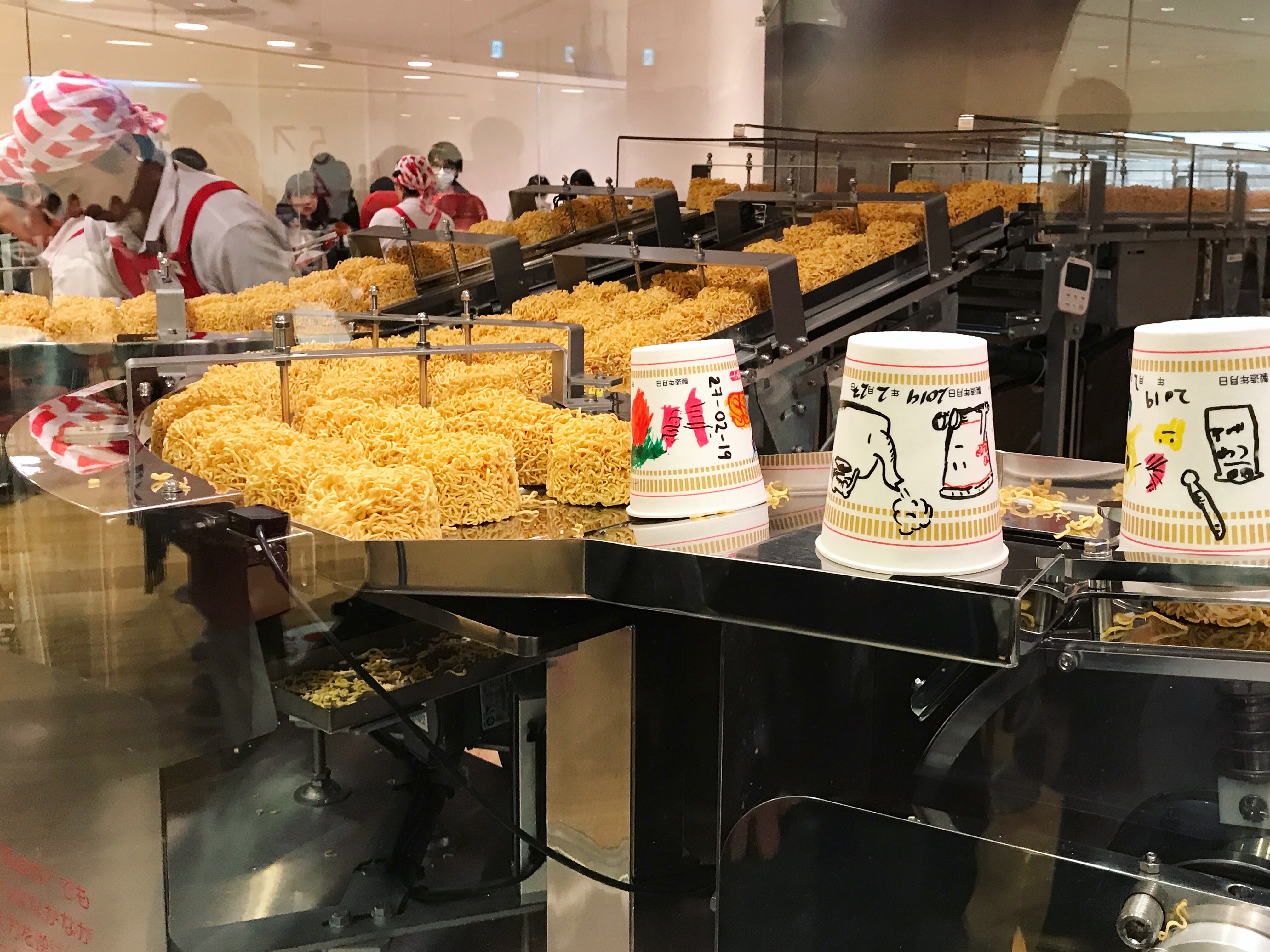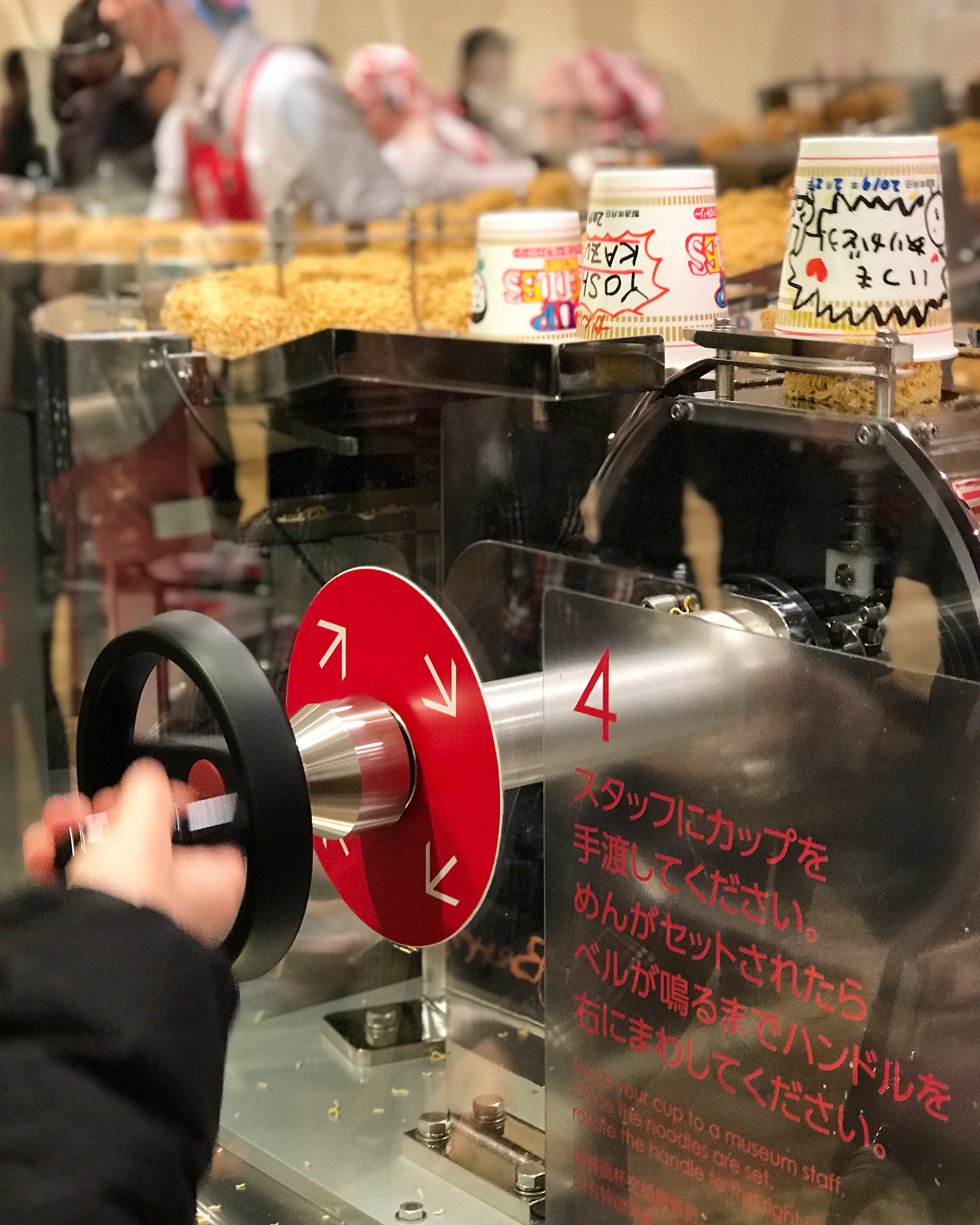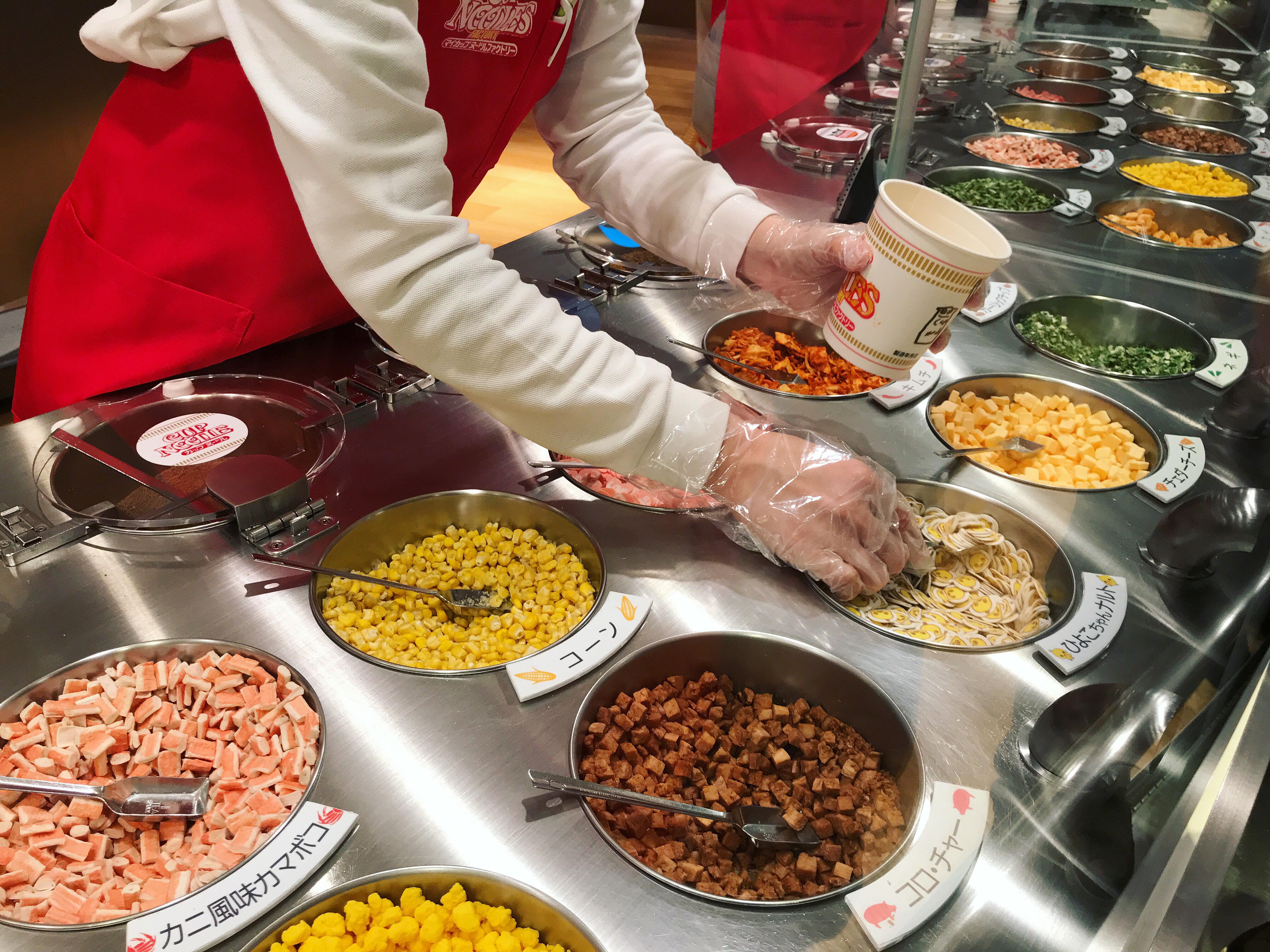 On the final floor, there is the 'Cupnoodles Park', an indoor playground aimed at pre-schoolers aged 3+ (minimum 90cm tall) and primary school children. Here, the children can experience the Cupnoodles production cycle from the noodle's point of view – from being sorted, fried, and dried, to being sorted and packaged! The parcours includes a climbing net, ball pit, slides, floor projection, touch screen game, and a couple other fun things.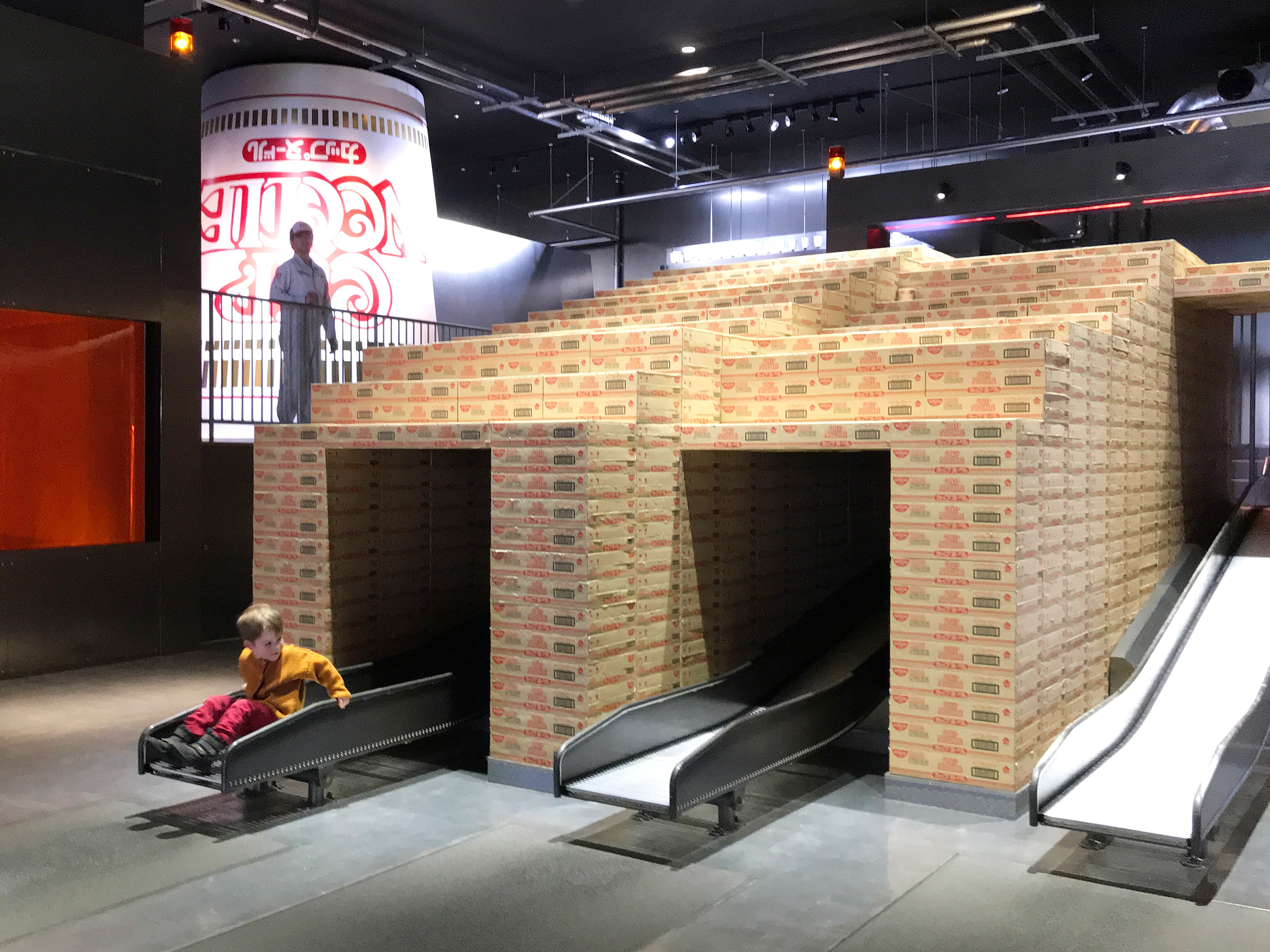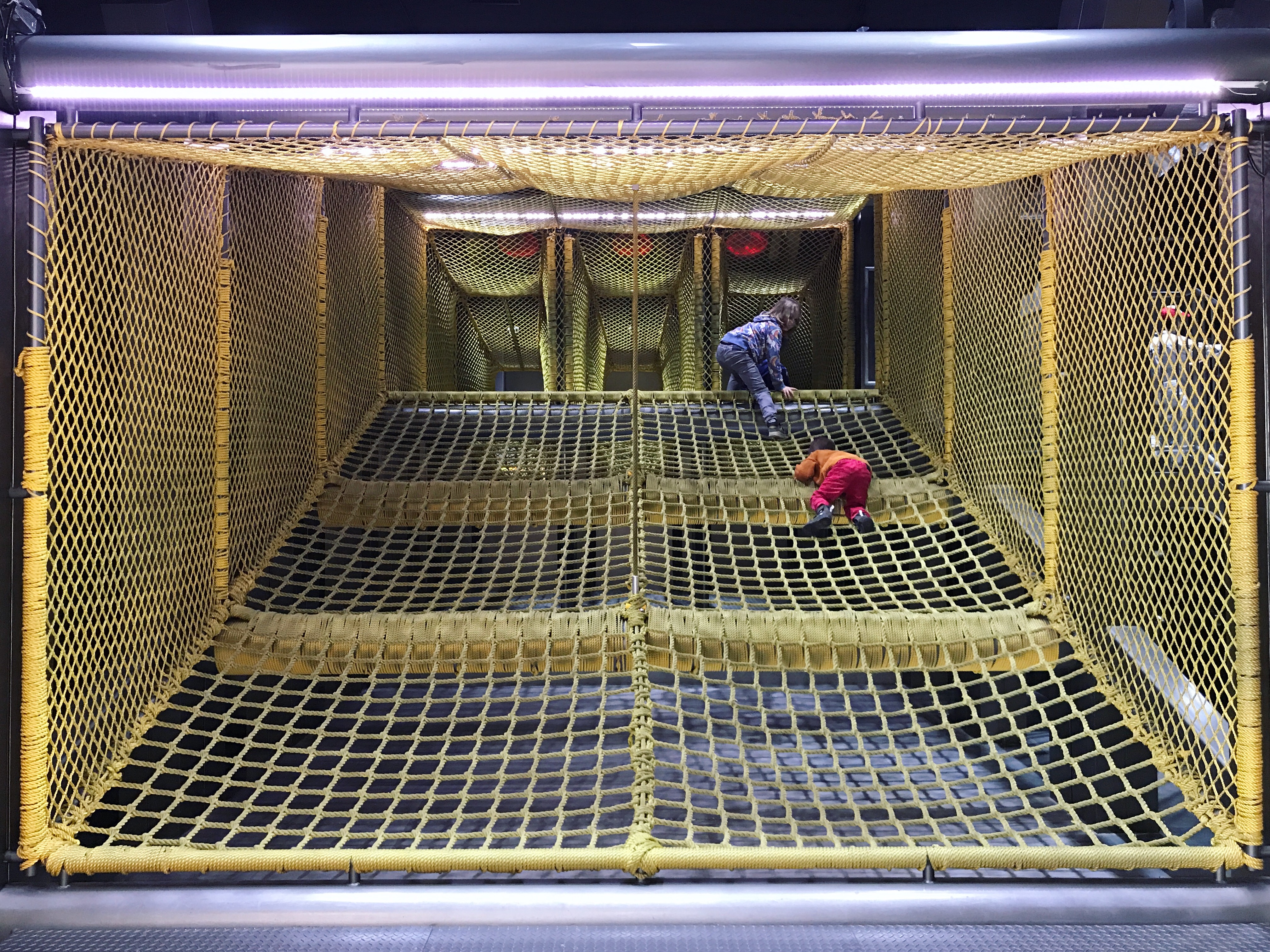 There was an extra cost for this too, and again a specific time slot of 25 minutes, but it was brilliant fun so totally worth it. My 4 year old managed to go round the whole course six times, and my 8 year old who was a lot quicker must have been round it about a dozen times. TIP: It wasn't clear when we bought our admission tickets and reserved out time slots for the Cupnoodles Factory (see above) that you also needed to reserve slots for the Cupnoodles Park. We found this out by accident, but luckily there were still spots available. So I would advise heading straight there, once you enter, to reserve some slots for later.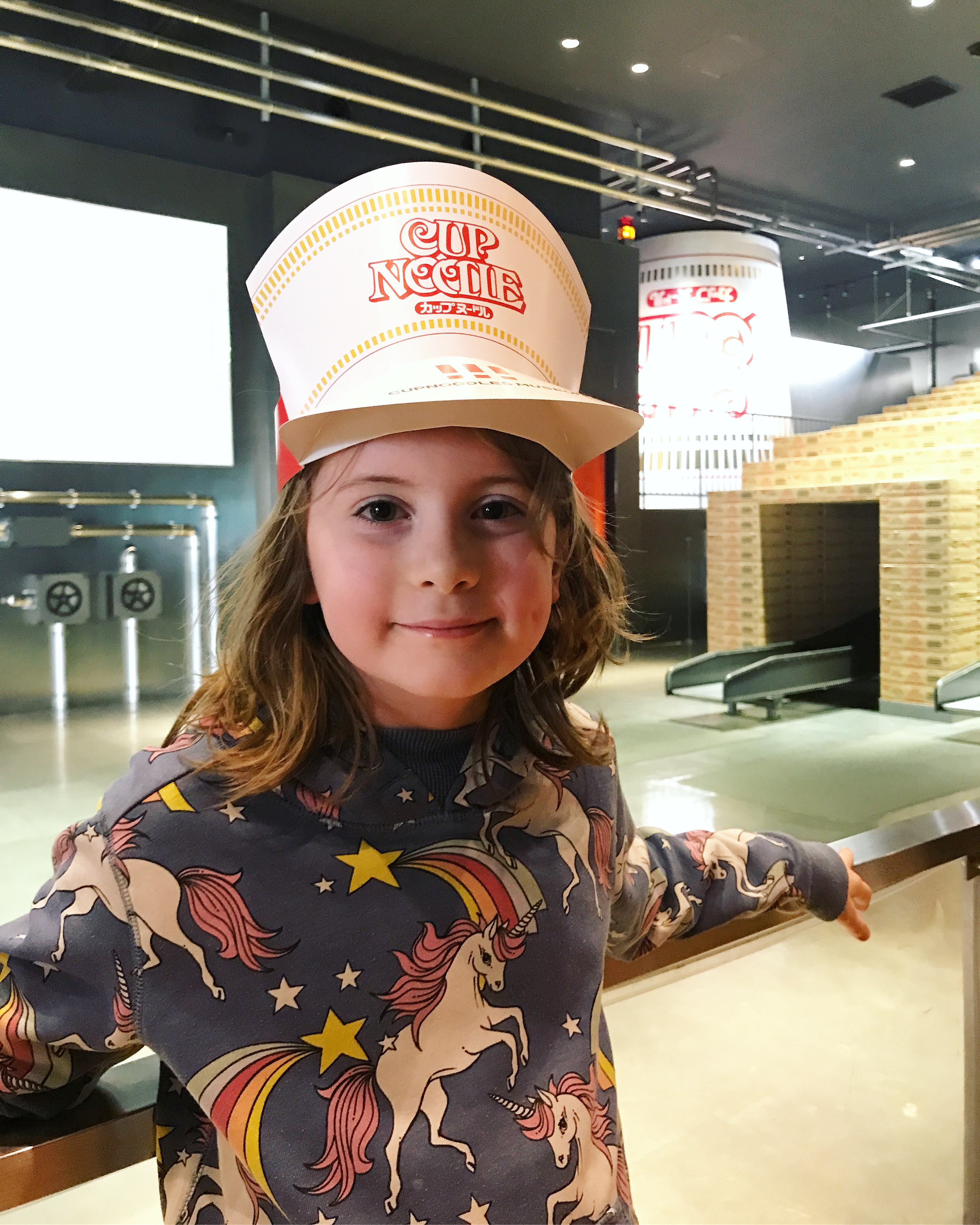 Finally, next to the Cupnoodles Park is the 'Noodles Bazar' where you can sample eight different types of noodles from around the world, including Italy, Kazakhstan, China, Korea, Vietnam, Thailand, Malaysia and Indonesia. The menu indicates how spicy each dish is, and which ones are child friendly, though you can also just get a bowl of simple ramen. Since the dishes also included one with rice noodles that I could eat, it was the perfect place to stop for lunch.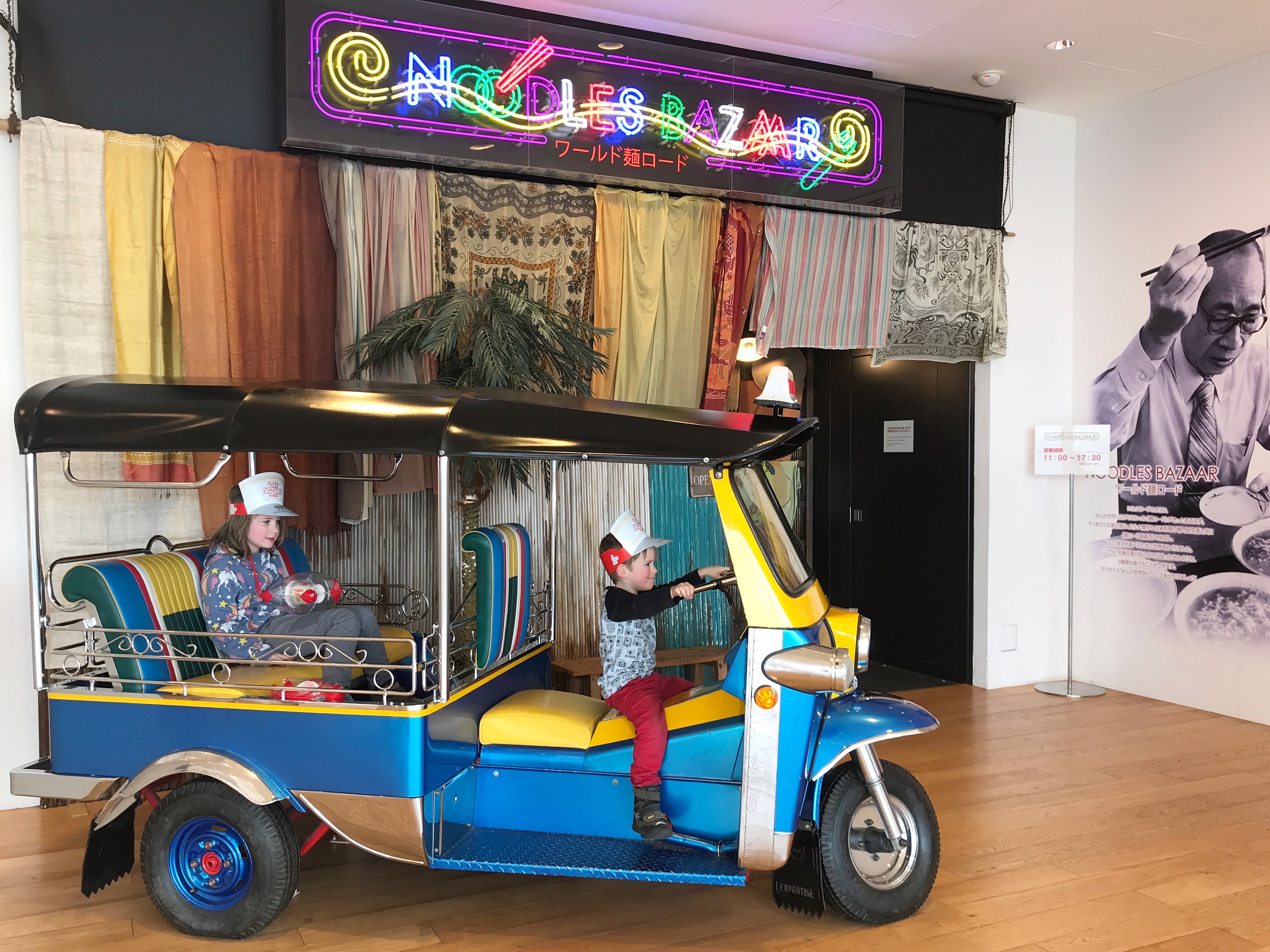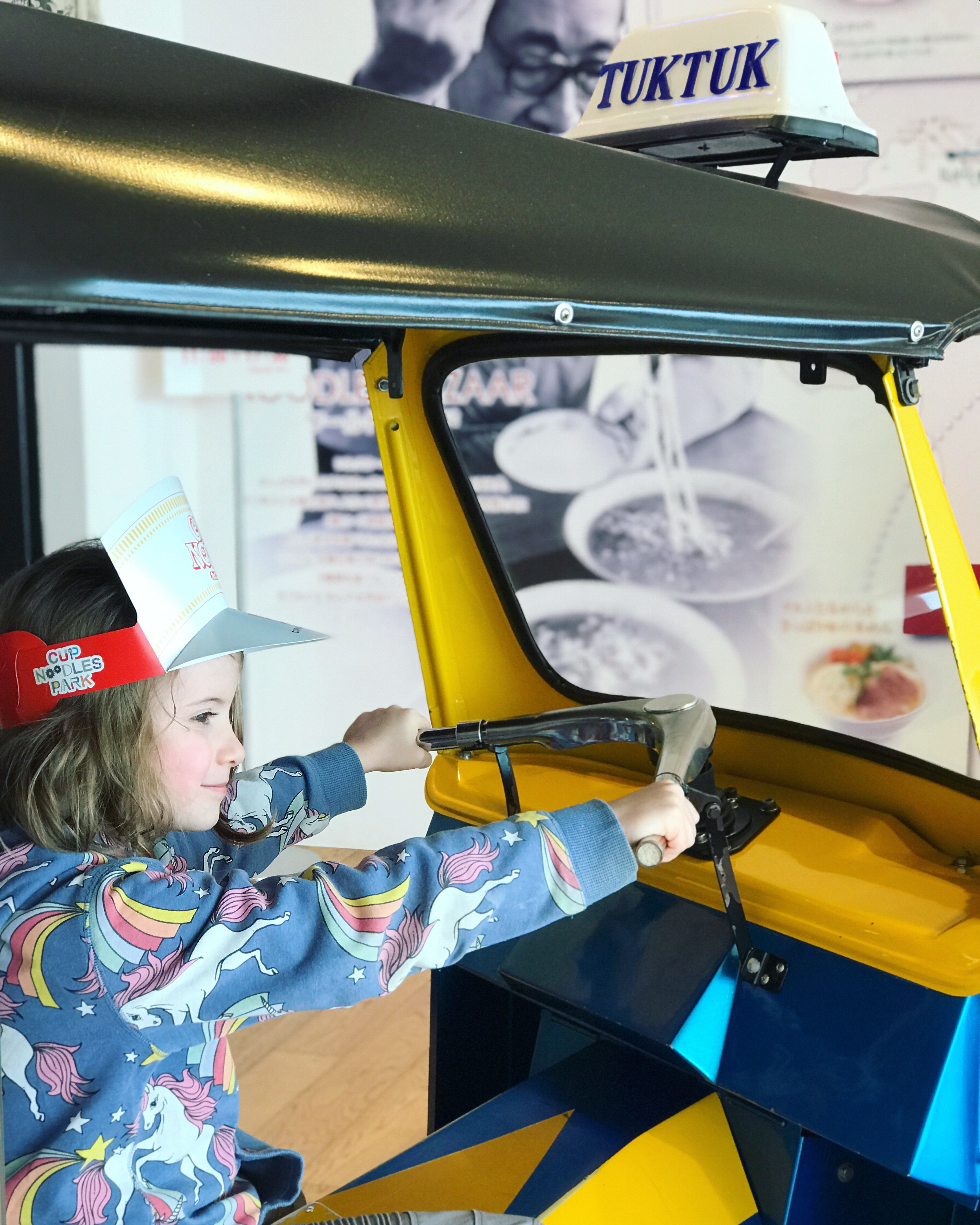 All in all, lunch included, we stayed at the Cupnoodles Museum for four hours! We had expected to be there for maybe two hours, so we totally got our money's worth. Admission at the time of writing was 500 yen for adults, children go free. Then 300 yen each for the Cupnoodles Factory, though you don't all have to make one. I can't eat Cupnoodles, so we just paid for three. The Cupnoodles Factory was also 300 yen per child (pre-school children need to be accompanied by an adult, who can enter for free). So in total, we paid 1000 yen (around £7) for admission, and 1500 yen (around £10) for all the activities, and lunch also came to around 1500 yen including drinks. For a family of four, and a four hour visit, I would say that is excellent value!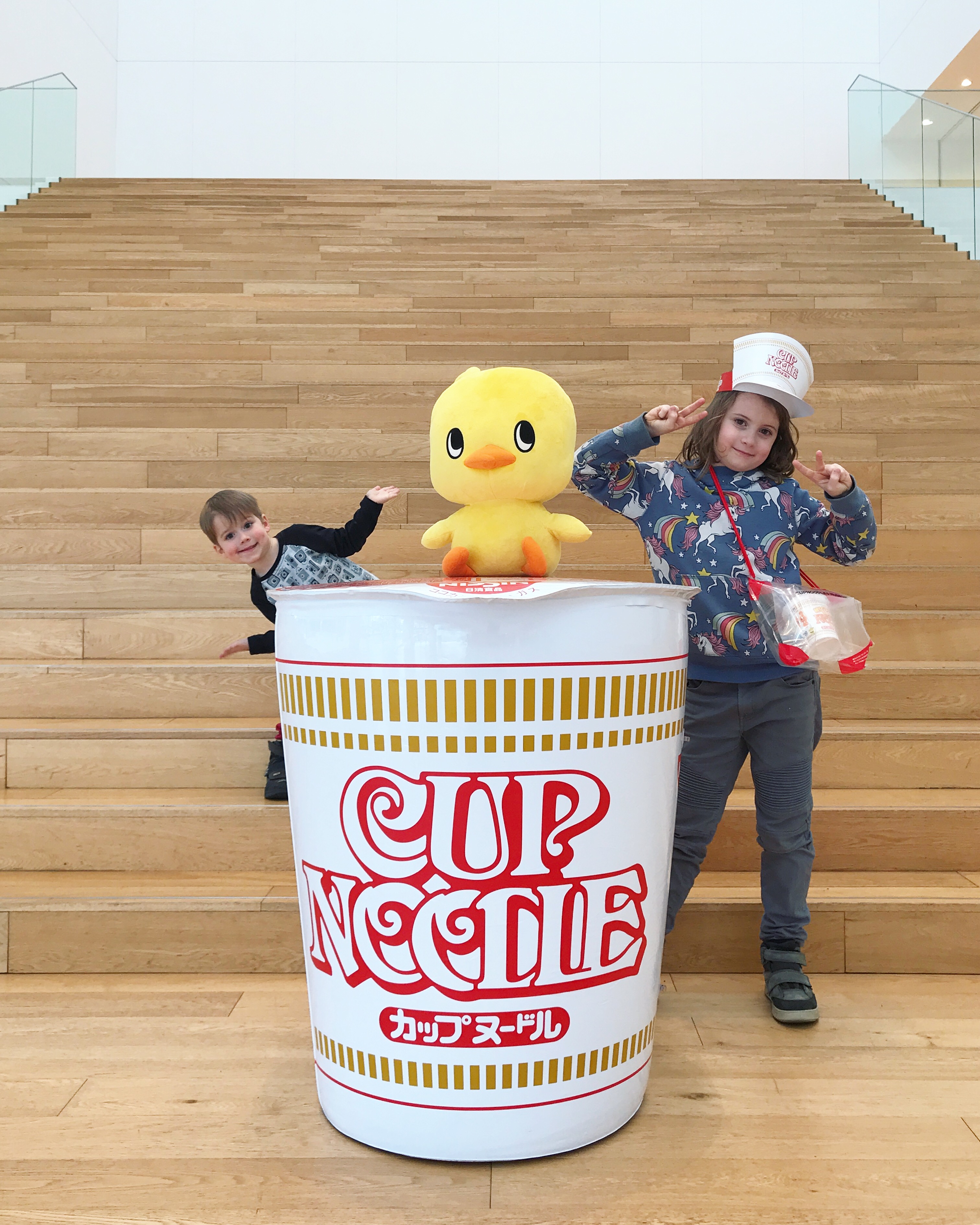 The Yokohama Cupnoodles Museum is open daily except for Tuesdays and around the New Year. You can find all full details on opening hours and admission prices over on the museum website.